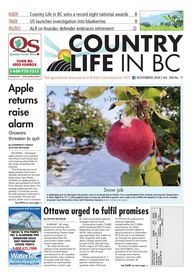 Return to flip book view
NOVEMBER 2020
Page 1
Postmaster, Please return Undeliverable labels to: Country Life in BC 36 Dale Road Enderby, BC V0E 1V4CANADA POSTES POST CANADA Postage paid Port payé Publications Mail Post-Publications 40012122Vol. 106 No. 11The agricultural news source in British Columbia since 1915 NOVEMBER 2020 | Vol. 106 No. 11KUDOSCountry Life in BC wins a record eight national awards 8 TRADEUS launches investigation into blueberries 9 POLITICSALR co-founder, defender embraces retirement23by PETER MITHAM BURNABY – BC dairy farmers are joining with producers across the country in demanding Ottawa make good on promises to compensate them for concessions made under recent trade deals. "BC dairy farmers are calling on the government to full its compensation commitment to all Canadian dairy farmers, who continue to supply milk and dairy products to communities around the country," says BC Dairy Association general manager Jeremy Dunn. Concessions under CUSMA, which replaced NAFTA at the beginning of July, have cost the BC dairy industry approximately $8.6 million to date. Together with trade deals Canada signed with Europe (CETA) and the Asia-Pacic region (CP-TPP), dairy producers will no longer have access to 18% of local markets. Ottawa announced $1.7 billion in compensation last year for market access granted under CETA and CP-TPP, but it's announced nothing regarding compensation for CUSMA concessions. An initial payment of $345 million to dairy producers in December 2019 has yet to be followed up, though the government promised action in the throne speech in September. "It's been complete silence," says David Wiens, vice-president of the Dairy Farmers of Canada, who shared industry's concerns with media on October 20. A challenging year for Okanagan fruit growers came to an abrupt end on October 24 as snow blanketed their orchards and vineyards. Temperatures in Oliver dipped to -15° C, cold enough to make ice wine, but well before growers were ready to do so. While the majority of crops are in, a number of growers have led notices of loss with Production Insurance. PHOTO / MYRNA STARK LEADEROttawa urged to fulfil promises1-888-770-7333 Quality Seeds ... where quality counts!YOUR BC SEED SOURCESee DAIRY on next page oGrowing more with less waterwatertecna.comttttttttIRRIGATION LTD1.888.675.7999 888 6 9999888669999 Diesel & PTO Pumps PVC & Aluminum PipeIrrigation ReelsDRIP IRRIGATIONCentre PivotsApple returns raise alarm Growers threaten to quit by SARBMEET SINGH & PETER MITHAM KELOWNA – Okanagan apple growers say ongoing low returns and rising input costs have pushed them to the verge of quitting the industry. "The nancial returns of apple growers have been steadily declining for the past three years," says Pinder Dhaliwal, an apple grower in Oliver and president of the BC Fruit Growers Association. "On average, apple growers are getting 12 cents per pound for their produce. However, it cost growers 30 cents per pound. Under such a scenario, Snow jobSee APPLE on next page o
Page 2
APPLE growers face tough decisions as losses continue nfrom page 1DAIRY producers face shrinking market nfrom page 1it is very dicult for the farmers to survive." The data shows that Ambrosia apples have been hit hardest. Returns dropped from 34 cents a pound in 2016 to only 13 cents a pound in 2019. Similarly, Spartans returned 15 cents a pound in 2016 but farmers received just 2 cents a pound in 2019. Growers say the main reasons for declining returns are competition from Washington growers and a lack of support from retailers. "The common practice of retailers buying apples from other countries is a major reason for the drop in prices in BC," said Amarjit Singh Lalli, a Kelowna grower with 20 acres. Lalli backed a late resolution at the BCFGA annual convention last winter seeking immediate, short-term nancial support from the province for losses in 2019, and urging anti-dumping duties against US apples among other measures. Competition from Washington, the largest producer of apples in North America, remains an ongoing issue. "Apple production in British Columbia reduced to 70,300 tons in 2019 from 155,000 tons in 1964. In contrast, apple production in Washington increased to 2,746,000 [tons] in comparison to 465,000 in 1964," says BCFGA general manager Glen Lucas He says the Columbia River Treaty, ratied in 1964 and now being renegotiated by Canada and the US, delivered a stable supply of irrigation water to Washington State, allowing production there to expand signicantly at the expense of BC growers. Growers would like to see a renegotiated treaty compensate them for benets that Washington growers have received under the treaty. BCFGA has asked government to consider an annual allocation in the range of $9.25 million. Apple dumping Dumping of apples is also a concern. Growers won an anti-dumping case against Red Delicious apples in 1995. The decision resulted in ve years of duties, but those ended in 2000. However, some would like to see ongoing monitoring of imports. "There should be proper checking at the border to avoid any dumping of apples," says Lalli. The low cost of imports has helped boost retailers' margins on apples, which have increased more than 75% since 2016 to $1.48 a pound. "It is only the producers that are facing the heat. If we look at the gures, retail returns continuously increased while growers continue to face the losses," says Lucas. Packing houses also have a role to play, says Lalli, one of the more than 350 growers who ship to the BC Tree Fruits Co-operative. "Another reason behind the low returns are the expenses of packing," he says. BC Tree Fruits has been working to cut packing costs this year. A governance report the co-op received in February urged it to improve fruit quality, setting minimum standards rather than accepting whatever growers delivered. By accepting better fruit, it could cut handling and disposal costs, improving its margins and the returns growers receive. This year, an incentive program reduced the volume of low-value fruit the co-op received, benetting growers. Better returns will improve farmers' livelihoods, but also make farming more rewarding. This hasn't been the case for apple growers in recent years. Nirmal Singh, who has 14 acres of apples, says persistent low returns over the past several years have been frustrating. "Survival is very dicult. Leave aside the prot – we are not even getting the input costs," he says. To raise awareness of the issue, growers have taken several steps to make their concerns heard. They've met with the province's agriculture minister, most recently this past February, and on October 10 the BCFGA sold apples at 12 cents a pound at the Kelowna Farmers and Crafters Market to raise public awareness. The association called it the "BC Apples Farewell Tour," indicating that apple growers are being forced to quit apple growing. Apple growers believe the BC government's contribution to agricultural support programs is the lowest in Canada, and Canada's support level is below any other developed nation. Talwinder Singh Bassi, a grower in Oliver, says it's high time government made policies that put food security rst. "As farmers are facing losses, they will be forced to quit agriculture. Emphasis should be laid on selling of local food rst," he says. A statement from the BCFGA says that producers are squeezing every penny they can to increase eciency, and the packing industry is also seeking to improve returns to growers, but government also has a role to play. While the province has devoted signicant eort to strengthening farmland protection, it also needs to protect farmers. "On one hand, eorts and announcements are being made to save the Agriculture Land Reserve, but on the other hand, nothing substantial has been done for the growers," says Dhaliwal. "A cash subsidy of seven cents per pound was given to [Washington] apple growers during August this year. This kind of support should also be provided to BC apple growers." While some growers will give up growing altogether as a result of low returns, others are looking at new crops. "Many farmers have shifted from apples to cherries in the Okanagan Valley," says Lalli, who is sticking with apples but replacing Red Delicious with Honeycrisp. "I am working on changing the varieties to survive and get better returns." 2 | NOVEMBER 2020 COUNTRY LIFE IN BC"Without the compensation that has been promised to us, dairy farmers may have to postpone or forgo investments, which will have serious consequences for rural communities across the country." The loss would also be felt by government. According to DFC, the sector contributes $4 billion in tax revenues to government coers each year. The compensation is far from a hand-out, Wiens explained. Supply management allows dairy farmers to recoup their costs from the market, but concessions to foreign producers mean their costs are spread over a smaller customer base. The smaller market, and consumer resistance to higher prices, risks pushing producers out of business. The threat comes at a time when the COVID-19 pandemic has reduced demand from foodservice channels and growing competition from dairy alternatives. "Throughout this pandemic, dairy farmers have not asked for compensation as a result of the pandemic," says Wiens. "But when parts of our markets are being given away to foreign producers, that requires compensation, because that is a very direct hit on every dairy farm family in the country." www.tractorparts4sale.caABBOTSFORD, BC Bus. 604/807-2391 Fax. 604/854-6708 email: sales@tractorparts4sale.caWe accept Interact, Visa and Mastercard CLAAS 350T AND 370T PULL TYPE ROTARY RAKES . . . $4,500 & $6,500 SIP 165G THREE POINT DRUM MOWERS, GD COND. . . . . . . . 2,800 ea KUHN 1219 SINGLE AXLE MANURE SPREADER WITH GATE . . . . 6,500 DEUTZ FAHR AGROLUX 67 4X4, LOADER, 70HP . . . . . . . . . . . . . 18,000 JOHN DEERE 7000 4 ROW, DRY FERT, MECH MARKERS, NEW FINGERS . . . . . . . . . . . . . . . . . . . . . . . . . . . . . . . . . . . . . . . . . . 5,500 JOHN DEERE HD BALE CONVEYOR 40FT ON ADJ FRAME WITH AXLE, PTO DRIVEN . . . . . . . . . . . . . . . . . . . . . . . . . . . . . . . . . . . . . . . . . . . 1,200 MASCHIO DM 4500 POWER HARROW 14 FT WIDE W/ROLLER, GOOD CONDITION . . . . . . . . . . . . . . . . . . . . . . . . . . . . . . . . . . . . 14,000 NH 8160 4X4, CAB, 3358 HRS, 100 HP, PS TRANS, 5401000, GOOD CONDITION . . . . . . . . . . . . . . . . . . . . . . . . . . . . . . . . . . . . 45,000 MF 265 2WD, CAB, 60 PTO HP, INDUSTRIAL LOADER, GMC CAB OVER 5 TON DIESEL TRUCK WITH 18 FT TYCROP SILAGE BOX, GOOD CONDITION . . . . . . . . . . . . . 14,000 LOEWEN 9612 VERTICAL MIXER . GOOD CONDITION . . . . . . . 14,000NEW REPLACEMENT PARTS for MOST TRACTORS & FARM IMPLEMENTSGD Repair LtdTractor/Equipment Repair Mobile Service Available
Page 3
by PETER MITHAM VICTORIA – With the BC NDP emerging from the October 24 election holding a majority, stakeholders are jostling to advocate on key issues the new government will have to address. While the NDP platform prioritized a new tech-driven regenerative agriculture network as the centrepiece of its agricultural platform, stakeholders say safeguards for farmers and water regulations need to be addressed. Groundwater is a particular concern thanks to new rules that require registration of existing wells for non-domestic water use by February 28, 2022, just 16 months away. Through October 23, 4,055 applications had been received and just 1,068 licences issued. The British Columbia Ground Water Association has circulated an open letter urging all parties to make groundwater licensing a priority during the next session of the legislature. "We plan to follow-up with the new government as soon as cabinet ministers are announced to request a meeting to further discuss licensing," says general manager Dave Mercer. The letter reiterates concerns originally expressed in late 2018 in a letter that prompted an extension of the deadline to register existing wells until 2022. Two years later, little has changed. "We are concerned by, 1) a continuing lack of licensing applications from existing groundwater users, and 2) unacceptable delays in processing of licence applications that are submitted," the letter states. "Simply maintaining the status quo is insucient and puts the entire licensing program at risk." Processing times of two years are not uncommon for groundwater licence applications, Mercer says, and more than one year is the norm. "Businesses simply cannot survive waiting potentially multiple years to be granted a licence," the letter states. "Expanding the agrifood sector has been identied as a priority for BC, yet farmers simply cannot survive a two-year gap between their decision to invest in developing groundwater supplies and being able to put that investment to work." Only the BC Greens had responded to the letter by election day, emphasizing watershed protection rather than groundwater specically. Trespass protection Ranchers and livestock producers generally also want stronger protections from trespassers. While farmers applauded amendments last fall to the province's Trespass Act, it took months for the province to bring them into force. However, the BC Cattlemen's Association say they lack teeth. "The province has made some eort to strengthen the rules but more substantial changes are needed to increase nes and lay charges quickly so that the laws are a deterrent to this behaviour," says Elaine Stovin, assistant general manager with BC Cattlemen's. The shortcomings of the current law were amply highlighted in the recent case of a protest outside a Kelowna turkey farm led by Amy Soranno, who is facing charges of break and enter and mischief in connection with the occupation of an Abbotsford hog farm in April 2019. It took nearly a year to lay charges, and Soranno remains active in protests. "Our hope for reinforcing the Trespass Act is to deter criminal activity, making rural living safer for farmers and ranchers. In our view, nes should be hefty and increase with repeat oences," says Stovin. COUNTRY LIFE IN BC NOVEMBER 2020 | 3Caught in the actDespite restrictions on foreign labour this year, migrant workers were essential to bringing in the crops at Summer Hill Farm in Kelowna and elsewhere across the province this fall. PHOTO / MYRNA STARK LEADERBC Cattlemen's would also like to see a designated Crown counsel handling the cases to ensure familiarity with precedents and continuity in prosecutions. Stronger protections for farmers from trespass was part of the BC Liberal platform, but absent from the BC NDP platform. However, it says it formed a working group prior to the election that includes both industry and law-enforcement representation. "[It] is already at work on next steps and a BC NDP government will continue with this work," the party says. The focus of the BC NDP platform is building on the successes of the past three years. In addition to the Grow BC, Feed BC and Buy BC programs, it plans a new "Regenerative Agricultural Network" that combines natural systems of production with agri-technologies such as "robotics, precision farming, and mesh networks." The emphasis on agri-tech in the network reects the government's most recent BC FRUIT GROWERS' ASSOCIATION 1-800-619-9022 (ext 1) email: replant@bcfga.com www.bcfga.comANNOUNCEMENT: Application forms and the updated requirements of the 2021 Tree Fruit Replant Program are now available on the BCFGA website, www.bcfga.com. Project applications (along with the required documents) will be received by November 30, 2020. Please avoid the last minute rush and get your application in early. An horticultural advisor is required to sign individual applications for the 2021 Tree Fruit Replant Program. The following information will be provided to assist growers in completing applications. a. A list of qualied advisors. b. Program operational policies. c. A series of reports on replanting and variety performance and selection are available and should be referenced when preparing a Tree Fruit Replant Program Application. The Tree Fruit Replant Program provides funding for quality projects. Project approval is subject to funding availability and is allocated by the date of receipt of applications. Completed projects are veried by inspection and must attain minimum program standards. The Tree Fruit Replant Program is a 7 year program, funded by the Province of BC. 2021 Tree Fruit Replant Programeconomic plan. It also echoes a controversial recommendation of the province's food security task force that 28,500 acres of farmland be allocated for agri-industrial use. While no further updates were issued, the details may appear as part of plans for the new network. The use of the term "regenerative" to describe the network appeals to the province's organic sector. COABC executive director Eva-Lena Lang looks forward to discussing network details with the province. "Organic and regenerative agriculture stem from each other, and we are looking forward to engaging with the ministry as the opportunity arises," she said. "However, it is also crucial that any new program is based in science, guards against greenwashing, and engages sector participants for increased collaboration to decrease duplicity." Groundwater, trespassing issues carry over from last sessionNew government faces old issues in next termProudly certifying Producers and Processorswithin BC and Alberta.FVOPA provides year round certification services compliant with the Canadian Organic Standards (CAN/CGSB) and in accordance with the BC Certified Organic ISO 17065 recognized program. Products may be sold Canada-wide and in international markets. FVOPA ensures an efficient, professional certification process for all farm, processing and handling operations. Inspectors are lOlA trained and qualified making FVOPA a leading Certification Agency.Message 604-607-1655Email: admin@fvopa.cawww.fvopa.caPhone 604-789-7586P.O. Box 18591Delta, BC V4K 4V7Phone: 778-434-3070 PO Box 19052 Email: admin@fvopa.ca Delta, BC V4L2P8 www.fvopa.ca FVOPA delivers year-round certication services to all regions of Canada, in compliance with the Canadian Organic Standards, the BC Certied Organic Accreditation Equivalent Program, and ISO 17065. Products may bear the Canada Or-ganic logo and be marketed Canada-wide and internationally. FVOPA provides procient certication services for all types of Producers, Processors, Packers and Distributors. FVOPA is a self-sustaining, proactive, leading edge Certication Agency. Proudly certifying Producers and Processors across Canada
Page 4
Advertising is accepted on the condition that in the event of a typographical error, that portion of the advertising space occupied by the erroneous item, together with reasonable allowance for signature will not be charged, but the balance of the advertisement will be paid for at the applicable rate. In the event of a typographical error which advertises goods or services at a wrong price, such goods or services need not be sold at the advertised price. Advertising is an offer to sell, and may be withdrawn at any time. All advertising is accepted subject to publisher's approval. All of Country Life in British Columbia's content is covered by Canadian copyright law. Opinions expressed in signed articles are those of the writer and not necessarily those of Country Life in British Columbia. Letters are welcome, though they may be edited in the interest of brevity before publication. All errors brought to our attention will be corrected.36 Dale Road, Enderby BC V0E 1V4 . Publication Mail Agreement: 0399159 . GST Reg. No. 86878 7375 . Subscriptions: $2/issue . $18.90/year . $33.60/2 years . $37.80/3 years incl GSTThe agricultural news source in British Columbia since 1915 Vol.106 No. 11 . NOVEMBER 2020Published monthly by Country Life 2000 Ltd. www.countrylifeinbc.comPublisher Cathy Glover 604-328-3814 . publisher@countrylifeinbc.com Editor Emeritus David Schmidt Associate Editor Peter Mitham news@countrylifeinbc.com Advertising Sales & Marketing Cathy Glover sales@countrylifeinbc.com Production Designer Tina Rezansoff Lest we forget, PW! Time for actionWithin 90 minutes of the polls closing on October 24, observers were declaring the BC NDP victors with a rm majority in the legislature. While more than mail-in 500,000 ballots have yet to be counted, few expect the results to change signicantly. The election saw the BC Liberals largely relegated to the ridings beyond Hope, although residents of the Interior and northern BC looking towards Victoria might well say the same thing about the NDP. The divide is one Lana Popham – the once and presumed future agriculture minister – acknowledged to Country Life in BC during her rst term in cabinet. "I'm an urban minister of agriculture," she said. "So there's a fear I won't recognize rural BC for what it is." While urban pundits have suggested a housing aordability crisis that drove NDP voters into traditional BC Liberal ridings helped give the NDP a majority in urban ridings, many have felt the NDP is pursuing an agenda divorced from realities outside Victoria. The furore over changes to the Agricultural Land Reserve and the lack of meaningful change to date on rural slaughter capacity are two key issues where the government has repeatedly drawn re. This doesn't mean the agriculture sector isn't well represented in the legislature, of course. Popham retained her seat in Saanich South and her sunny disposition (she's known to describe herself as "Polly-Lana") will continue to stand her and the province in good stead. Ian Paton, who has often spoken of how changes to the Agricultural Land Reserve regulations aect him personally, won re-election in South Delta. In the Okanagan, former agriculture minister Norm Letnick and vintner Ben Stewart were re-elected. Further north, Dan Davies was returned in Peace River and, on Vancouver Island, Ronna-Rae Leonard – a member of the legislature's select standing committee on agriculture, sh and food – once more represents Courtenay-Comox. The return of several experienced MLAs across the political spectrum means farmers can – for better, for worse – expect a measure of continuity regarding their issues. While incoming MLAs will miss a chance to get up to speed on agricultural issues this fall thanks to COVID-19 cancelling BC Agriculture Council plans for an in-person Ag Day event, their constituents will undoubtedly make Out of adversity comes opportunity. This bit of wisdom is attributed to Benjamin Franklin. It is unlikely he was the rst to realize it. It is fundamental to mankind's problem-solving nature. COVID-19 has delivered adversity in full measure, and the need to overcome it leads to another old proverb: necessity is the mother of invention. All segments of society have been faced with the need to overcome some level of COVID adversity. Agriculture is no exception. The scope of the challenge has varied widely. A family-run beef ranch in the Blackwater may have experienced little change in day to day operations, while a large greenhouse operation in the Fraser Valley might have required a complete re-write of workplace protocols. There are signicant hurdles to public engagement on any level and farm market, u-pick and agri-tourism operators have had their thinking caps on for months. We have seen both ends of the spectrum here on our farm. Aside from some custom work to make hay and silage, work with the beef cows is covered exclusively by family members, and the cows are notoriously stand-osh when it comes to strangers. It's a totally dierent story on the other side of the fence in the pumpkin eld. The entire crop relies on u-pick marketing. Over the years, it has evolved into an event wherein customers are hauled on a hayride wagon from a parking area at our oce, through the woods, to the eld. There is food service, baby goats and chickens, and a communal re pit back at the oce. It all ran like clockwork – until COVID-19 changed the ground rules. Reimagining We realized before the pumpkins were planted that the pandemic was unlikely to be over before October, and the hayrides, food service, petting farm and re pit were all o the table. The reimagining was well underway before the plants came up. Sta would need to be reduced and distanced from customers, customers would need to be kept in household groups and distanced from one another, common surfaces would need to be sanitized, hand sanitizer would be available coming and going from the eld, and a name and contact information would be required from each vehicle when arriving. A plan came together: extend open days and hours, ask customers to give their contact info verbally from their vehicle, direct them to follow the scarecrows through the woods and be shown parking spots in the barnyard, have them walk in isolated groups to the gate, and provide them a wheelbarrow and pruning shears, instruct them to maintain distance from other groups and proceed on a one-way route ending at a touchless pay station. None of this was rocket science. It did require some road work and several loads of gravel in the barnyard, an armful of pruning shears, a major expansion of the wheelbarrow eet, and a touchless card reader that functions through an app on a cell phone. Several things became apparent as soon as the season started: customers were ne with driving to the patch, everyone was on board with the family groups and social distancing, they were given a wheelbarrow and left to follow a set course through the patch. Each group bought multiple pumpkins (in some cases needing a second wheelbarrow), the in-eld touchless pay option was well received, simplifying the whole payment process for us and providing detailed sales statistics to boot. What began as a response to COVID-19 adversity ended up being an opportunity to do things dierently. Many of the changes, made by necessity, will be permanent because they turned out to be a better way of doing things that will foster more innovation. By its very nature, agriculture is a great training ground for dealing with adversity. There is no shortage of farmers and ranchers ready to reimagine their operations and change course in the face of adversity. COVID-19 isn't the same kind of adversity as drought, frost, hail and hoppers. It demands respect and it will take ongoing diligence and innovation to manage it. It seems destined to cause lasting social change and with the change, there are bound to be opportunities for agriculture. Bob Collins raises beef cattle and grows produce on his farm in the Alberni Valley.The Back Forty BOB COLLINSthem aware in short order of what needs to be done. Yet with more than three years in Victoria under its belt, the BC NDP have not been re-elected to learn the ropes. When normal government operations resume the week of November 16, the new, stronger mandate requires the NDP to show that it knows what's what. Consultations on several intentions papers are also set to wrap up, and government needs to provide farmers and ranchers with clarity on how its intentions will be implemented. Premier John Horgan won the trust of urban voters; now his government must deliver results for the vast swathe of country represented on the Opposition benches. Finding the perks in a pandemic world4 | NOVEMBER 2020 COUNTRY LIFE IN BC
Page 5
Changing times require a flexible vision for BC agriculture The sector's economic impact makes it key to the province's successeconomic impact assessment of the sector. In addition to the regular economic metrics of GDP, output and employment, the report includes an assessment of the sector's strengths, opportunities, threats and weaknesses and case studies that illustrate how BC agriculture contributes to other areas of society. An additional highlight of the report was how the sector can play a major role in helping the province weather and recover from the pandemic-induced economic downturn, particularly in rural communities. This report is an important foundational document for a sector-wide vision and can be viewed on BCAC's and IAF's websites [http://bit.do/BCAC-IAFBC-EIA2020]. We have three goals in mind for a sector vision. The rst is the tools we need to communicate how BC agriculture provides solutions to public sector issues. Ranchers in the Cariboo know how their stewardship of land directly impacts wildre management, species at risk and ood mitigation. We need to be able to eectively communicate the ways we are actively addressing important issues. Second, we need to hear from our sector and acknowledge the whole value chain. We need to continue recognizing the role that food processors play in getting our The early days of the COVID-19 pandemic were a shock to many British Columbians. The sight of empty grocery store shelves and food hoarding unsettled our urban population. But it didn't take long for our farmers, food producers, and retailers to restock the shelves and restore balance. Our food system, with BC farmers at its heart, is resilient, innovative, and able to adapt to sudden crises. Before COVID-19, the provincial and federal governments made eorts to develop strategies for Canada's and BC's food systems. In early 2017, the federal government identied the agriculture and food sector as an economic engine with great potential for growth. Its Agri-Food Economic Strategy Table came out with an ambitious vision: "By 2025, Canada will be one of the top ve competitors in the agri-food sector, recognized as the most trusted, competitive and reliable supplier of safe, sustainable, high-quality agri-food products and an innovator in value-added products to feed the dynamic global consumer." In January 2020, BC's own food security task force recommended that the province "fully embrace" the United Nations Sustainable Development Goals by implementing them in BC's agricultural policies. Its report also highlighted BC's potential to become a global leader in the agri-tech space, provided we support innovation and education, and make land available to accommodate the sector's growth. While compelling and complementary to the sector, something was missing. Our response. How do we, as farmers, plan to meet ambitious export targets? How can we contribute to the broader societal challenges identied by the food security task force? To answer these questions, BC agriculture needs to come together and express its own plan for the future. Times have certainly changed and we collectively need to embrace new ideas, work on new ways to tell our story, tackle the challenges facing our industry, and nurture prosperity for our sector and province. To initiate a sector-wide vision, the BC Agriculture Council and Investment Agriculture Foundation of BC commissioned a consulting rm (MNP) to develop an COUNTRY LIFE IN BC NOVEMBER 2020 | 5products into the hands of consumers. Likewise, we need to acknowledge the substantial size of the aquaculture and seafood industry in our province and the contributions it makes to our food supply and the economy. We understand the challenges that come with including dierent groups and interests, but we know that we can identify key issues to rally behind and propel our entire industry forward. The third goal for the vision is the maintenance and development of strategic partnerships. We will increase our engagement with other government departments, First Nations, the private sector, and not-for-prot groups. By collaborating with these groups, we can create opportunities for growth and positive change along the value chain. It is essential that we have a concrete plan for responding to government strategies and emerging public priorities. In the coming months, we will be engaging industry to ensure the vision reects our reality. Lastly, know that our work is with farm sustainability in mind. It is critical to ensure that family farms, ranches, shers and food processors in BC thrive, now and over the coming years. Agriculture and food processing are changing, as it has for hundreds of years. The vision will help the entire food chain focus on what needs to be done to let businesses evolve and adapt to changing conditions. Healthy, sustainable and, dare we say, protable farms and processors are key to cultivating prosperity for all of BC. Stan Vander Waal is president of the BC Agriculture Council and owner of Rainbow Greenhouses Inc., a wholesale grower and distributor of potted plants in Chilliwack. Don Low is the chair of the Investment Agriculture Foundation of BC and a cherry grower from Creston. Viewpoint by DON LOW & STAN VANDER WAAL PROGRAM FUNDING PROVIDED BYCONTACT US TODAY ABOUT FUNDING OPPORTUNITIES:T 250.940.6150 E funding@iafbc.ca W iafbc.ca facebook.com/InvestAgBC instagram.com/IAFBC twitter.com/iafbcFor more information visit iafbc.ca/market-developmentBC Agrifood & Seafood Market Development Program Helps B.C. agri-food producers, agri-food and seafood processors, co-operatives, and associations to identify, access, target and develop market opportunities to increase their sales outside of B.C.Applications accepted until November 30, 2020.We deliver project funding to support B.C. organizations pursue market opportunities to increase sales across interprovincial and international markets.TRYING TO TAP INTO NEW MARKETS? Funding Through IAF Delivered Programs Can Help!Downtown Realty 4007 - 32nd Street, Vernon, BC V1T 5P2 1-800-434-9122 www.royallegpage.caPAT DUGGAN Personal Real Estate Corporation Royal LePage Downtown Realty Ltd. Farm | Ranch | Residential Bus: 250/545-5371 (24 hr) Cell: 250/308-0938 patduggan@royallepage.cawww.OkLandBuyers.ca Build your dream home! 44 acres of irrigated property ready for your new home, orchard, cattle or crops. Mostly usable land with shop. All perimeter and cross fenced ready for your ideas. Great valley views from all sides. MLS®10204233 $1,395,000Downtown Realty 4007 - 32nd Street, Vernon, BC V1T 5P2 1-800-434-9122 www.royallegpage.caPAT DUGGAN Personal Real Estate Corporation Royal LePage Downtown Realty Ltd. Farm | Ranch | Residential Bus: 250/545-5371 (24 hr) Cell: 250/308-0938 patduggan@royallepage.ca414 MALLORY RD, ENDERBYwww.OkLandBuyers.ca "Farmers helping farmers with their real estate needs"Almost 40 acres good farmland w/3 bed home, 3 bay detached garage/workshop, 45x80 enclosed pole barn on bench overlooking the farmland. Home needs updating. Quick drive to Enderby or Salmon Arm. Currently planted to Alfalfa. MLS®10217952 $1,150,000w ww.countr ytractor.ca778.921.0004claudio@countrytrac tor.caN\_Xm\X^i\Xkj\c\Zk`fef]`e$jkfZbjefni\dfmXcXkkXZ_d\ekkpg\jXe[j`q\j%
Page 6
6 | NOVEMBER 2020 COUNTRY LIFE IN BC*Cannot be combined with any other offer. Offer based on the purchase of eligible equipment defined in promotional program. Additional fees may apply. Pricing, payments and models may vary by dealer. Customers must take delivery prior to the end of the program period. Some customers will not qualify. Some restrictions apply. Financing subject to credit approval. Offer available on new equipment only. Pricing and rebates in CAD dollars. Prior purchases are not eligible. 6 Year Warranty for Non-Commercial, residential use only. 6 Year Warranty applies to CS, CK10, DK10 and NX model KIOTI tractors and must be purchased and registered between September 1, 2016 – June 30, 2020. Offer valid only at participating Dealers. Offer subject to change without notice. See your dealer for details. © 2020 Daedong-Canada, Inc. Kioti Canada.Timberstar Tractor Vernon B.C. 250-545-5441 Harbour City EquipmentDuncan B.C. 778-422-3376Matsqui Ag RepairAbbotsford B.C. 604-826-3281 Northern Acreage SupplyPrince George B.C. 250-596-22730%FinancingCASHBack OffersUnlimited HourPowertrain WarrantyRangeland Equipment LtdCranbrook B.C. 250-426-0600
Page 7
Invasive hornet nest destroyed south of Langley0 Avenue hornet capture had border beekeepers on edgeA tiny tracking device was tted to an Asian Giant Hornet just south of the Canada-US border in October and that led state ofcials to a nest in Blaine, WA. PHOTO / SHERI HARTMANCOUNTRY LIFE IN BC NOVEMBER 2020 | 7PTO GENERATORS1-866-820-7603 | BAUMALIGHT.COM Dale Howe 403-462-1975 | dale@baumalight.comMFG A VARIETY OF ATTACHMENTSBRUSH MULCHERS | BOOM MOWERSSTUMP GRINDERS | TREE SAWS & SHEARSTREE SPADES | ROTARY BRUSH CUTTERS TRENCHERS | DRAINAGE PLOWS | PTO GENERATORS EXCAVATOR ADAPTERS | FELLER BUNCHERSTREE PULLERS | SCREW SPLITTERS | AUGER DRIVESPre-order your Baumalightgenerator now for delivery in8 weeks and get an 8% discount.Financing the future of agriculture.At BMO, we know that farming is more than just a business – it's a way of life. And as a longstanding supporter of the BC farming community, we've been committed to agriculture since we began working with farmers in 1817.by BARBARA JOHNSTONE GRIMMER LANGLEY – Washington agriculture sta destroyed North America's second-known invasive hornet nest on October 24, following positive identication of the insect in Langley and elsewhere. Two of the Asian Giant Hornets were captured on October 9, one along 0 Avenue in Langley and another in Blaine, and beekeepers were asked to be vigilant. "Beekeepers in the area have been alerted," says provincial apiculturist Paul van Westendorp, who also notied the Washington State Department of Agriculture. "The nd may assist in nding the location of the nest through geo-triangulation." That's what happened on October 22, when a hornet tagged with a tracking device led WSDA sta to a nest in the crevice of a tree on a residential property. "Dozens of the hornets were seen entering and exiting the tree while the WSDA team was present," a press release stated. The nd in Langley was the second AGH found in BC this year. The rst was identied in May, also in Langley. AGH are non-native invasive honeybee predators which can be up to 5 cm. in length. Reproductive females and males emerge in late fall to feed in preparation for mating and overwintering. An international eort has been trying to locate and eradicate them before they have time to do this. WSDA has a special call-in line for the state's beekeepers to report hive attacks. Close to two dozen hornets had been captured in traps in Whatcom County as of October 22. AGH deliver a sting and toxic venom that can be serious or life-threatening if someone is allergic or receives repeated stings, so caution around the insects is advised. "Last year a beekeeper was checking his hives in October south of Sumas," says WSDA entomologist Chris Looney. "Dead bees were piled up outside one hive, and when he opened it, three to four [AGH] came out, one stung him and he was in pain for over a week." Some members of the team that dismantled the rst known AGH nest in North America in Nanaimo last fall have also experienced the hornet's sting. "It was like a red-hot thumb tack driven into the esh," says Conrad Berube, an entomologist with 35 years of beekeeping experience. "Typical beekeeping attire will not protect you." During the Nanaimo operation he was wearing a Kevlar vest, a double layer of clothing, and braces to guard against chainsaw injuries. Despite the hornets' erce reputation, WSDA managed to live-trap several specimens and attach a radio transmitter to them with dental oss in the hopes of tracking them to their nests. University of Washington electrical and computer engineering doctoral student Vikram Iyer, who works on insect robotics and wireless technologies, developed a sensor small enough and light enough to attach to an AGH so that it could still y and be tracked to its nest. The trackers can be picked up by cell phones, but the battery life was low. The October 22 discovery was made possible using trackers USDA was using to monitor Spotted Lanterny infestations in the US Northeast. The trackers have not been without challenges. The signal can be lost in thick forest. Several hornets have disappeared. One chewed o its transmitter. WSDA entomologists believe two or three hornet nests exist in Whatcom County. Besides the one found in Blaine, trapping indicates there could be another one in the vicinity as well as around Birch Bay. "We are trying to nd them because they are approaching breeding season now," says WSDA managing entomologist Sven Spichiger. "With the Canadian nd, we know our Canadian counterparts are doing everything they can, also."
Page 8
8 | NOVEMBER 2020 COUNTRY LIFE IN BCMarketing British Columbia to the World®www.landquest.comToll Free 1-866-558-LAND (5263)"The Source" for Oceanfront, Lakefront, Islands, Ranches, Resorts & Land in BC®KETTLE RIVER WILDLIFE SANCTUARY NEAR ROCK CREEK, BC80 ACRE TROPHY OCEANFRONTSUNSHINE COASTSTUNNING LOG HOME LAKESHORE ESTATE - FRANCOIS LAKE5.15 PRIVATE ACRES IN THE BEAUTIFUL REGION OF BOWRON LAKE, BCDEEP CREEK RANCHVANDERHOOF, BCESCAPE TO YOUR CABIN IN THE WOODS WITH COWICHAN LAKEFRONT ACCESSALL SEASONS RANCH LIFEBRIDGE LAKE - SOUTH CARIBOOHIGH-END EQUESTRIAN ESTATEKAMLOOPS, BCHIGH QUALITY ACREAGE AT THE FOOT OF THE ROCKY MOUNTAINS - EDGEWATER, BCWATERFRONT HOME WITH MOORAGESALT SPRING ISLANDVery private parcel 3 minutes off the Highway. 185 acres in one title with 2 parcels divided by piece of Crown land and 2.5 km of river frontage. Wildlife corridor with elk, deer, turkeys and trout fishing. Quality timber frame style cabin. RV parking with washroom / shower building. $1,200,000Extremely rare 80 acre premium oceanfront property with close to 1 km (2,641 ft) of low bank waterfront, southern exposed, protected deep water moorage potential. A legacy property ideal for a private / corporate retreat or special interest group purchase. $5,980,000This stunning log home is perfectly appointed on Francois Lake with 720 ft of lake shore and amazing views. Luxurious 4,245 ft2 log home, a charming guest cottage, impressive 2 storey shop, detached garage, orchard green house and more. Surrounded by endless outdoor opportunities. $1,390,000Tired of sharing the lake with other people? This at 5.15 acre property with trees and river frontage, located across the road from the famous Bowron Lake, is the private getaway you have been craving. Perfect location to build the cabin of your dreams and forge new memories. $80,000Carrying capacity 350 to 500 pairs, plus 100 head sheep or goats each. 1,405 deeded acres, 40,000 acre grazing lease. 600 acres hay, 800 acres pasture / treed. Brand new equine barn (with suite), barns, workshop, & outbuildings. Two storey home with suite. Updated solar energy & new septic eld. $1,850,000Completed to lock-up stage only, interior room arrangement & nishing is to your own taste. 1,000+ ft2 of main, & auxiliary guest cabins, on sloping lot above the lake, 4 km of paved road past Youbou, near Pine Point Campground. Beautiful beachfront for swimming or boating. No services connected. $299,999Immaculately kept 64.7 acres; 32 in hay. Everything you could wish for in one package. Not in ALR, sub dividable. 2 bdrm, 2 bath solid rancher with building plans, 34 x 30 ft garage / shop, 50 x 40 ft shed, 36 x 56 ft 3-stall hay barn, fowl coops & veggie gardens. HOUSE, SHOP GOODS INCLUDED. $659,000Multiple layers of value. 160 acres with picturesque views of Campbell Lake & surrounding hills. Main house + 2 guest cabins, a 2,596 ft2 main lodge with commercial kitchen & dining facilities with 2 bdrm loft. 60 x 30 ft machine shed. New 80 x 200 ft indoor riding arena. $2,595,000One of the nicest parcels I have seen come available in a decade! Land is mostly at and treed with some nice open clearings offering amazing vistas and roadways within for easy access throughout. Borders onto Crown land and is privately situated at the end of the road. $599,000Three bedroom, 2,750 sf home on 0.51 acres on Sansum Narrows. Short walk to the community dock with moorage available up to 35 ft. Solid home with great views and sunny southwest exposure. $849,000RICH OSBORNE 604-664-7633Personal Real Estate Corporationrich@landquest.comJASON ZROBACK 1-604-414-5577 JAMIE ZROBACK 1-604-483-1605FAWN GUNDERSON 250-982-2314Personal Real Estate Corporationfawn@landquest.comCHASE WESTERSUND 778-927-6634COLE WESTERSUND 604-360-0793JOHN ARMSTRONG 250-307-2100john@landquest.comLYLE BRAITHWAITE CCIM 1-877-701-7888lyle@landquest.comWENDY PATTEN 250-718-0298wendy@landquest.comLandQuest® Realty Corp CaribooSAM HODSON 604-694-7623Personal Real Estate Corporationsam@landquest.comMATT CAMERON 250-200-1199matt@landquest.comDAVE SIMONE 250-539-8733DS@landquest.comCountry Life in BC wins a record eight national awardsPaper published the top agricultural photo in the country last yearby PETER MITHAM ENDERBY – Country Life in BC received a record eight awards from the Canadian Farm Writers Federation at its annual awards ceremony at the end of September, held this year via videoconference. Selected from a national jury both inside and outside of the agricultural sector, prize-winning entries reect the best of farm journalism in 2019. And the best, according to the judges, often appeared here rst. The top honour went to photographer Sarah Zuberbühler of Chilco Ranch in Hanceville, 90 kilometres west of Williams Lake. Zuberbühler's shot of Pat Jasper as he rode through a stand of trees ravaged by the wildres that swept the Cariboo-Chilcotin in 2017 graced the cover of the October 2019 issue. It placed rst in the landscape photography category and was ranked best photo overall in Canada for 2019. The judges described it as a "well thought-out and visually pleasing shot" with a sharp focus and vibrant colours that made for a beautiful composition. Country Life in BC also dominated with photos of production, both of which appeared in the November 2019 issue. Lindsay Bartko received a silver award for her photo "Horse power" while associate editor Peter Mitham received a bronze award for "Herding hens" on the issue's cover. Ronda Payne received a bronze award in the people category for her September 2019 cover portrait of Gaurav Maan, winemaker at Maan Farms in Abbotsford. On the writing front, top honours went to columnist and raconteur Bob Collins, who received a gold award in the press column category for his Back 40 oering in the April 2019 issue, "BC farmers need more than a and bank." Silver in the press editorial category went to Mitham for his June 2019 editorial, "No peace, no order." Recognition of the two columns highlighted the importance of the need to protect farmers, not just farmland. The press editorial addressed the growing risk to farmers from harassment and trespass specically, issues addressed later that year by amendments to the provincial Trespass Act. Judie Steeves earned silver in the hotly contested press feature category for her August 2019 story, "Ranchers collaborate to preserve grasslands," about the partnership between the Clifton family of Keremeos and the Nature Trust to restore and preserve sensitive grasslands while providing grazing and water access to the ranch's cattle. "We were so excited to be called out in so many categories this year. It's a record for us," says Country Life in BC publisher Cathy Glover. "This really is a team eort – and it was awesome to see our team recognized at a national level." In addition to current contributors, past Country Life in BC contributor Tamara Allbright-Leigh won a bronze award in the press feature category for "Welcome back," a story about the younger generations returning to their families' farms that appeared in Grainswest. Country Life in BC was a sponsor of the monthly press reporting category, swept by Country Guide magazine of Winnipeg. The Canadian Farm Writers Federation is the umbrella organization for the country's six regional farm communicators associations, including the BC Farm Writers Association. It represents 350 English-speaking agricultural journalists, broadcasters and communicators from across Canada. The full slate of winners is available for download at [bit.do/CFWF-2020-awards]. 1-888-770-7333 Quality Seeds ... where quality counts!COVER CROPS NOW HERE!Postmaster, Please return Undeliverable labels to: Country Life in BC 36 Dale Road Enderby, BC V0E 1V4CANADA POSTES POST CANADA Postage paid Port payé Publications Mail Post-Publications 40012122Vol. 105 No. 10The agricultural news source in British Columbia since 1915 OCTOBER 2019 | Vol. 105 No.10ALRNew round of changes coming to land reserve7 URBAN AGCity Beet harvests profits from urban gardens15 BERRIESBumper crop pushes down blueberry prices21by MARGARET EVANS AGASSIZ—Julaine Treur has had it with threats from animal activists. She and her husband run Creekside Dairy in Agassiz where they produce certied organic milk. They own 72 acres and farm about 220 acres with the addition of rental land in order to provide their cattle with sucient forage. They share their farming experiences with followers on Facebook but, earlier this spring, they were horrically targeted by animal activists with threats of verbal and physical violence. While Treur has become used to seeing attacks on her page, threatening activity stepped up in March. The threats made on her Facebook page scared her. One activist wanted to report her to BC child protection ocers for exposing her children to animal abuse, while another accused her of being a "sadistic psychopath rapist murderer." Treur, however, controlled the assaults by blocking access to her Facebook page. She also led a police report. "I've blocked over 300 people and hidden more rude, threatening and demeaning comments than I can count," she says. The family milks 100 Brown Swiss cows and the farm has been certied organic since 2015. The milk is shipped to the Meadowfresh processing plant in Port Coquitlam and marketed under the Happy Planet label. by PETER MITHAM NANOOSE BAY—Rusted Rake Farm on Vancouver Island is weighing its options after the Agricultural Land Commission told it to focus on farming before it seeks approval for its on-farm restaurant and brewery. A decision dated September 5 told the farm the popular 100-seat restaurant it has been operating in Nanoose Bay was not in compliance with regulations governing activities in the Agricultural Land Reserve, and that its plans for a brewery needed to be put on hold until it achieved a level of grain ALC cracks downFarming comes first Growing more with less waterwatertecna.comttttttttIRRIGATION LTD1.888.675.7999 888 6 9999888669999 Diesel & PTO Pumps PVC & Aluminum PipeIrrigation ReelsDRIP IRRIGATIONCentre PivotsPat Jasper makes his way through trees burned in the wildre that raced through the Cariboo-Chilcotin in 2017. A wet summer and the open canopy created by the wildre has resulted in an abundance of grass for range cattle this year. SARAH ZUBERBÜHLER PHOTOBill will rein in activistsSee FARM on next page oSee ONLINE on next page o
Page 9
An investigation launched this fall by US trade ofcials will determine if blueberry imports, including those from Canada, are having a negative impact on US growers. FILE PHOTO / PETER MITHAMCOUNTRY LIFE IN BC NOVEMBER 2020 | 9Exports of bell peppers, strawberries also targetedContact Your Watertec Sales Rep for a Free Estimate. Langley 1.888.675.7999 Williams Lake 1.855.398.7757CENTRE PIVOTS AND LINEARSSilagrow.com1.800.663.6022 | office@silagrow.comMulch FilmLandscaping FabricsShade Nets Bale WrapsBunker CoversSilage BagsTw i n eNet WrapsHay TarpsForage & Grain SeedVisGreenhouse Ground CoverGreenhouse FilmsProtection NetsSALMON ARM 5121 - 46 Ave S.E. SURREY 112-18860 24 Ave (PU & Delivery Only)Serving all of BCby RONDA PAYNE & PETER MITHAM ABBOTSFORD – BC blueberry growers are under investigation as part of a wide-ranging review of how international imports are aecting US farmers. The investigation is the result of a report US Trade Representative Robert Lighthizer, the US Department of Agriculture and US Department of Commerce released in September "to address threats that increased imports pose to American producers of seasonal and perishable fruits and vegetables." A federal investigation of blueberries under Section 201 of the US Trade Act is the report's top recommendation. Lighthizer asked the US International Trade Commission to launch the investigation September 29. "It's very dicult to say what the impact will be on the blueberry industry," says Anju Gill, executive director of the BC Blueberry Council. The report notes that US blueberry imports increased from 50 million pounds in 2005 to nearly 400 million pounds in 2018. US blueberry imports last year totaled US$1.2 billion, led by Peru at US$485 million. Canada was the fourth largest source of US blueberry imports in 2019, with shipments worth US$116 million. But grower testimony gathered for the report highlighted Mexico as the primary concern of US growers on account of fast-rising production that competes directly with production in the southern US. However, the investigation into the adverse impact of imports looks at all countries. "Whereas a country-specic investigation could only yield a country-specic remedy, a Section 201 investigation for blueberries must necessarily analyze blueberry imports from all countries comprehensively and account for such in any recommended action to the President," the report notes. Gill says berries from Canada will be looked at as part of the global concern but CUSMA, which replaced NAFTA this year, ensures that Canadian berries will also be assessed separately. She explains the investigation has three phases: determining if US growers have been hurt by Canadian imports; a recommendation of trade remedies; and a decision by the White House whether or not to implement those remedies. A determination of injury must be made within 120 days, by January 27, 2021. Any measures wouldn't be in place until next June at the earliest, says Gill. Lighthizer has also pledged to pursue an investigation of strawberries and bell peppers, which could enable an expedited Section 201 global safeguard investigation by the end of the year. However, the USTR must rst ask the US International Trade Commission to initiate a 90-day fact-nding or monitoring period. This has not yet happened for either strawberries or bell peppers. "We don't have the letter requesting its start," says Linda Delli Santi, executive director, BC Greenhouse Growers Association. "[But] we have no reason to think that it won't happen. … We're aware of it and we are making preparations." A monitoring period gives growers time to develop their case, engage government, and prepare for a formal investigation, Delli Santi notes. Blueberries were denied this luxury. "They're going to have go like spit," she said. Legal counsel Trade ocials in Ottawa have retained legal counsel to represent industry, led by the BC Blueberry Council, during the US investigation. Gill characterizes the investigation as largely a question of data analysis, noting growth of global blueberry production has created issues in several markets. While the production of blueberries worldwide is no secret, the impact on traditional growing areas has been signicant. Speaking at the Pacic Agriculture Show in Abbotsford this past winter, US Highbush Blueberry Council president Kasey Cronquist urged BC growers to work with him to grow the market for blueberries. He said growers on both sides of the Canada-US border have one unifying goal: "Sell more blueberries at a fair prot." USHBC is prohibited from engaging in any eorts for the purpose of inuencing government action or policy and cannot participate in the investigation. However, both the USHBC and the North American Blueberry Council will continue to ght for the success of the industry on both sides of the border. Guiding the USHBC's eorts is Maple Ridge grower and exporter Ray Biln, who represents exporter interests on the council's board. US launches investigation into blueberries
Page 10
Animal welfare concerns driving shift to group housingHog producers could been given a ve-year extension to convert their hog barns to group housing by the National Farm Animal Care Council but the BC SPCA is calling for an immediate end to conned housing. FILE PHOTO10 | NOVEMBER 2020 COUNTRY LIFE IN BCFAST MOWING, FAST DRYDOWNINVEST IN QUALITY®www.kuhn.comMatsqui Ag-RepairAbbotsfordHuber Farm EquipmentPrince GeorgeNorthline Equipment, Ltd.Dawson CreekCountry TractorArmstrongKamloopsVisit your local British Columbia KUHN Dealer today!FC TC CENTER-PIVOT MOWER CONDITIONERS• Standard drawbar or 2-point Gyrodine® swivel hitch for tight turns• Lubed-for-life Optidisc® cutterbar and Fast-Fit® blades• Finger, rubber roller or steel roller conditioning - adjustable to match any crop• Allows wide spreading to over 90% of cut width for accelerated drydown10'2" - 14'4" working widthsby RICHARD ROLKE ABBOTSFORD – BC's pork producers insist they are committed to high standards of care for livestock even in the face of a cash crunch. The National Farm Animal Care Council (NFACC) has proposed amendments to the codes of practice for the care and handling of pigs. "It's changing the way pigs are housed," says Jack DeWit, president of the BC Pork Producers Association (BCPPA). If adopted, the amendments would provide a ve-year extension for pork producers to transition gestating mother pigs from stalls to group housing. The extension until 2029 is partially based on the impact of the COVID-19 pandemic on the sector, but DeWit suggests there's another critical factor inuencing the proposed delay. "Farmers have had a tough few years nancially, and they haven't had the ability to convert barns [to group housing]," he says. "The infrastructure is tired. Barns are old and producers are not willing to spend dollars on conversion." One of BC's largest producers shifted to group housing but DeWit anticipates some of the 13 or 14 large commercial farmers in the province could leave the business rather than change housing arrangements. "If there are no extra returns from the marketplace, producers will make decisions accordingly," says DeWit, who raised pigs for 40 years. NFACC brings together stakeholders to develop codes of practice for the care and handling of farm animals while also creating a process for the development of animal care assessment programs and providing a forum for open dialogue on farm animal welfare. In response to the proposed amendments to the codes of practice, the BC SPCA is calling for an end to connement housing and an "expeditious transition" to group housing. "One third of sows in Canada are now housed in groups, demonstrating an important step forward for their welfare. However, two-thirds of farms have yet to make these changes," says the SPCA in a September 25 media release. Humane Canada represented BC SPCA on the code development committee. SPCA urges farmers to convert to group housing immediately and to commit themselves to learning the new animal management skills required for group housing, "recognizing that a generation of animal care skills has been lost while farms have been using stalls." SPCA also calls on the Canadian Pork Council to report on progress annually, as well as farm compliance, and to eliminate the "loophole allowing farmers to continue keeping their pigs in stalls simply by providing 'periodic exercise.'" It wants government to fund the transition to group housing and for grocery retailers to honour a commitment to source fresh pork from sows raised in groups. "BC SPCA is also calling for the creation of an independent, third-party inspection and auditing system for BC farms to ensure the codes of practice, currently self-regulated by industry, are upheld and implemented," the association says in its media release. NFACC's proposed amendments are open for public comment until November 19. "We encourage all Canadians to express their views during the public comment period on the pig code," says the SPCA. But DeWit, who sits on the Canadian Pork Council, is adamant that producers are committed to evolving operations and humane conditions for their livestock. "Farmers know their animals and farms. They know how their animals behave. There will be a learning curve (with facility conversion) but farmers are people who love their animals," he says. More information on the proposed amendments to the codes of practice for the care and handling of pigs can be found at [www.nfacc.ca/ codes-of-practice/pigs].YOURHelping YouHelping YouHelpinlpingYoulHHelping YoWEEKLY FARM NEWS UPDATESSignSign upup for for FREE todaFREE today.Hog producers face changes to code of practice
Page 11
Tantalus Vineyards general manager and wine maker David Paterson, left, Sustainable Winegrowing BC program manager Katie Pease and Tantalus vineyard manager and long-time SWBC board member Felix Egerer are happy to see the launch of a new initiative to recognize wine that meets sustainable standards. PHOTO / TOM WALKERCOUNTRY LIFE IN BC NOVEMBER 2020 | 11by TOM WALKER KELOWNA – The rst wines certied under a new made-in-BC sustainability program could be on shelves as early as next spring. "We are excited to be nally launching our ocial certication process," says Katie Pease, program manager for Sustainable Winegrowing BC (SWBC). Originally scheduled to launch this past April, COVID-19 delayed the program's launch until November 1. With the program up and running, BC vineyards and wineries are now able to apply for a third-party audit, receive certication and describe their wine as "made from grapes grown in a certied sustainable vineyard" or "made in a certied sustainable winery." Program development began more than 10 years ago, driven mostly by industry volunteers under the auspices of the BC Wine Grape Council. Since then, the council's sustainability committee has drawn members from across the sector. "We have representatives from the big players like Arterra and Andrew Peller, as well as medium-size wineries like Quails' Gate and Hillside Estate, and a smattering of boutiques like Tantalus and Le Vieux Pin/La Stella," Pease says. Vineyard owners, consultants and Summerland Research and Development Centre scientists round out the membership. "This group who developed SWBC really wanted to create both a protable, environmentally friendly and socially just wine-growing region, that could see prosperity today," says Pease. "Ten years ago, here in BC, as far as I can tell, it was a pretty small and select group of people who understood that line of thinking (planet, people, prot), but today, of course, I think much more so." Sustainability goals Over the years, the committee has written sustainability goals and developed a self-assessment tool for both vineyards and wineries. Vineyard sustainability goals include management of the watershed, soil, irrigation, integrated pest management (IPM) and social equity. Winery goals include water and energy eciency, waste management and climate action as well as social equity. To date, 68 vineyards and 37 of the province's 280 grape wineries have completed the self-assessments. Pease says it was always the committee's aim to provide a formal audited certication. Organizations claim they are sustainable, but they need to be able to back it up. "It is not just being able to say, 'I conserve water because I use drip irrigation,'" she says. "It is taking the next step and saying, 'What does that mean in comparison to an industry best practice of how much water you should be using?'" Pease and the committee worked to develop outcomes with metrics that would back any claims made. "I feel we are leading-edge in launching something newish in the certication industry," she says. "Other certication programs still don't collect data; they work more from a laundry list of to-dos." Operations that have completed the self-assessments will be able to apply for an audit, Pease explains. "What certication means dierent from just doing self-assessments, really, is that the self-assessment has been veried by a third party," she says. SWBC will run courses Growers, wineries welcome sustainability launchthroughout the winter to help growers and wineries prepare for their audits, which will begin in the 2021 growing season. Auditors come from the local agriculture industry, with experience in organic certication or environmental farm planning. "We will train them to our standards and they will go out and do the verication," says Pease. "They will have a pretty high level of knowledge of the content of the standards and they should be a resource as well." The auditor will visit the vineyard or winery and walk through each of the criteria within the standard, she explains. "Some of the criteria will require documentation such as chemical, water or energy use, while some just require that the auditor see the process of how they do something, like store toxic chemicals," says Pease. The auditor makes the recommendation about how they do against the SWBC Third-party audit essential for program's credibilityInsurance products and services are provided through Assante Estate and Insurance Services Inc. Please visit www.assante.com/legal.jsp or contact Assante at 1-800-268-3200 for information with respect to important legal and regulatory disclosures relating to this notice.Financial planning for farm families Farm transition coaching Customized portfolio strategy Retirement income planningDriediger Wealth PlanningMark Driediger, CFP, FEA, Senior Wealth AdvisorBrent Driediger, BAA, CPA, CMA, CFP, Wealth Advisorwww.DriedigerWealthPlanning.com | 604.859.4890 Assante Financial Management Ltd.standards and SWBC will grant certication to those that measure up. SWBC is designing a certication logo for members to use, and the BC Wine Grape Council will be developing a communications program, adds Pease. "We work on a very slim budget and we are hoping to receive some grant funding which would allow us to give much more energy to the communications piece," she says. "But it will be our members who really tell the story." LIKE USFOLLOWUS@countrylifeinbcLIKFOL@countrylifei
Page 12
12 | NOVEMBER 2020 COUNTRY LIFE IN BCPOWER ANDVERSATILITYIN A COMPACT PACKAGEJCB 525-60Every JCB telehandler is designed to offer superb productivity, and the 525-60 Agri Plus telescopic handler is no different. Excellent visibility and maneuverability, versatile performance, potent power and innovation-driven efficiency are all part of the packageMAXIMUM PRODUCTIVITY604-826-3281 Call Today for Your Demo!Matsquiag RepairSales, Service & Partsest. 1989@matsquiagrepairCall today to demo any of our JCB models today!www.matsquiagrepair.com34856 Harris Rd, Abbotsford BC V3G 1R7604-826-3281MATSQUI
Page 13
Felix Egerer seeds a cover crop mix between grapevine rows at Tantalus Vineyard that will add organic matter to the soil next year. It's one of many steps a winery can take toward sustainable certication. PHOTO / TOM WALKERCOUNTRY LIFE IN BC NOVEMBER 2020 | 13Sustainability program delivers value to industryConsumers, retailers are asking for sustainable productsby TOM WALKER OLIVER – Preparing for an audit from Sustainable Winegrowing BC in order to obtain certication requires a lot of work. The vineyard or winery must rst complete the online self-assessment materials from SWBC. It must then gather the materials documenting its practices and plan for the auditor's visit. Severine Pinte, winemaker and viticulturist at Le Vieux Pin and La Stella wineries in the south Okanagan, took part in the SWBC pilot certication audit last year. She admits that it was daunting at rst. "I am strong on record-keeping and I have traceability, but a lot of it is either on my computer or in my head," she says. "My goal is to have it all in one binder." But Pinte cautions not to get bogged down in the process. "We all keep records of varying detail and as a producer continues along the process it will get easier," she says. "It is helping you to structure things." David Paterson, general manager and winemaker at Tantalus Vineyards, says the improvement in processes is key. "The overall idea of sustainability is actually smart business," he says, adding that the broad scope of the BC program contributes to business planning. "A true sustainability program includes where does your glass come from, what do you do with your wastewater, how do you treat people," he explains. "All of that is so much more than saying, 'We are organic in the vineyard, there you go.'" There are lots of ways a vineyard or winery can cut corners to increase protability, but Paterson says owners need to take a holistic view. Two areas where Paterson thinks Tantalus shines is in its vineyard – which holds organic certication – and its employee practices. "The things that Felix [Egerer] is doing in the vineyard with zero-till and cover crops is outstanding," he says. "I am really proud of the overall team." Tantalus has a number of long-term employees. Others who have moved on are still friends of the winery. "We have not lost anyone under the guise of 'I don't want to be here anymore,'" he says. Paterson notes that many former sta have moved up in the industry. "My old assistant winemaker is now a winemaker and people who have worked in hospitality have moved on to higher positions," he says. "That is a really important and part of the long-term sustainability of the whole industry in BC." But will it pay? The experience of wine industry sustainability veterans indicates a qualied yes. Market driven Lisa Francioni is program director for the California Sustainable Winegrowing Alliance and has worked with the program in California for 15 years. Francioni told the BC Wine Industry Insight Conference in March the market wants sustainably produced products. "Consumers, retailers and wineries are increasingly demanding sustainable products," she says. Trade research by market analysis rm Wine Intelligence found that sustainably produced wine has the highest future purchase consideration in the US market, with 74% open to buying sustainably produced wine. "They indicated they would pay up to $3 more," she says. Paterson says a price increase would be a welcome bonus, but it's not the main goal at Tantalus. "If that becomes a positive fallout from implementing a really good program that means something, then fantastic," he says. "But we are doing it because it is the right thing to do, not necessarily because we can charge more money." Don't forget to RENEW your subscription toCountryLife in BCn't forget to RENEWur subscription toguntrye BCQuality Pre-Owned Tractors & EquipmentVAN DER WAL EQUIPMENT (1989) LTD. 23390 RIVER ROAD, MAPLE RIDGE, BC V2W 1B6 604/463-3681 | vanderwaleq.com BOBCAT 5600 TOOL CARRIER . . . . 32,000 FARMKING RB10FK WHEEL RAKE . 7,500 FELLA 800 . . . . . . . . . . . . . . . . . . . . . . 13,500 FORD 6610 CAB . . . . . . . . . . . . . . . . . 13,500 JCB 409 . . . . . . . . . . . . . . . . . . . . . 47,000 JD 770 4WD . . . . . . . . . . . . . . . . . . .8,000 JD 3720 . . . . . . . . . . . . . . . . . . COMING JD 5525 . . . . . . . . . . . . . . . . . . COMING KUHN 4002 POWER HARROW . .12,500 KUHN FC313 MOWER TG . . . . . 20,000 KUHN 4 BOT ROLLOVER PLOW . COMING K'LAND AB85 4 BOT PLOWS 11,000 ea KUBOTA BX2200 . . . . . . . . . . . . . . 7,500 KVERNELAND 4032 MOWER . . 16,000 MF 1754 . . . . . . . . . . . . . . . . . . COMING MF 1529 . . . . . . . . . . . . . . . . . . COMING MF 1523 . . . . . . . . . . . . . . . . . . COMING MF 6616 4WD LDR . . . . . . . . . . . .95,000 NEW HOLLAND TM150 . . . . . . . 47,000 NEW HOLLAND TS 115 . . . . . . . 25,000 SUNFLOWER 7232 23' HARROW 17,500 PERFECT SEEDBED PREPARATION IN EVERY CONDITION, EVERY FIELD, EVERY TIMELOOK TO LEMKENLook to LEMKEN's Zirkon 12 for one-pass seedbed preparation in any condition. The well-thought-out details o er critical advantages, including a modular design with a larger range of available transmissions and tines. This ensures that each machine can be optimally adapted to the speci c needs of each individual farm. Hydraulic depth adjustment for ease of operation DUAL-Shift transmission for easy change of the direction of rotation Screwed or quick-change tines for short set-up times Versatile range of rollers for any working conditions@strategictill | lemken.ca0%'INANCING$ POEJUJPOTBQQMZ $POUBDUVTGPSEFUBJMT
Page 14
14 | NOVEMBER 2020 COUNTRY LIFE IN BCDustin Stadnyk CPA, CAChris Henderson CPA, CANathalie Merrill CPA, CMATOLL FREE 1-888-818-FARM | www.farmtax.caExpert farm taxation advice: • Purchase and sale of farms • Transfer of farms to children • Government subsidy programs • Preparation of farm tax returns • Use of $1,000,000 Capital Gains Exemptions Approved consultants for Government funding through BC Farm Business Advisory Services ProgramARMSTRONG 250-546-8665 | LUMBY 250-547-2118 | ENDERBY 250-838-7337View over 100 listings of farm properties at www.bcfarmandranch.comBC FARM & RANCH REALTY CORP.Buying or Selling a Farm or Acreage?GORD HOUWELING Cell: 604/793-8660GREG WALTON Cell: 604/864-1610Toll free 1-888-852-AGRI Call BC's First and Only Real Estate Office committed 100% to Agriculture!PROFESSIONAL SERVICESv BC Farm Business Advisory Services Consultant v Farm Debt Mediation Consultant v Meat Labeling Consultant Phone: 604-858-1715 Cell: 604-302-4033 Fax: 604-858-9815 email: marlene.reams@gmail.comCONFIDENTIALITY GUARANTEEDJack Reams P.Ag. Agri-Consultingwww.tjequipmentllc.com 360-815-1597 LYNDEN, WA ALL PRICES IN US FUNDS2014 CASE IH FARMALL 75C W/LDR, 1392 HOURS, 76 HP, POWER SHUTTLE W/ LEFT HAND REVERSER $39,5002002 JD 6120 4WD, 80 HP, 7317 HOURS, 2 REMOTES, 3 POINT, SYNCHRO PLUS TRANS $27,5001992 VOLVO WB W/ 21' KIRBY MANURE BOX, SIDES FOR SILAGE, 9 SPEED, CUMMINS L10 $23,000ARTEX CH600 DRY MANURE SPREADER, CHAIN FLOOR, TANDEM AXLE, 21.5L-16.1SL TIRES $14,500sector account for $4.6 billion while indirect and induced impacts add a further $3.9 billion to the sector's contributions to the BC economy. The sector's net contribution to the province's gross domestic product (GDP) is $3.9 billion. "[The] impact study creates a signicant opportunity for the sector to re-brand ourselves and create a new vision for agriculture in BC, one that oers new ideas and a shift in perspective, positioning agriculture as part of the solution during a time of economic recovery," BCAC president Stan Vander Waal said in releasing the report. The sector is fundamental to food and beverage processing, which is the largest employer among Canada's manufacturing sectors. BC farms supply 38% of all inputs purchased by the province's food processors, contributing to a further $11.1 billion worth in value-added outputs. The government also benets from the success of agriculture. According to MNP, the province's farms pay close to $400 million in taxes annually, with an additional $550 million paid by suppliers and workers. —Peter Mitham Farm worker protection funded BC farmers will be able to tap into $4.9 million worth of federal funding to better protect workers from COVID-19. The funds are BC's share of $35 million allocated to the Emergency On-Farm Support Fund that Ottawa announced in July, part of a $58.6 million investment to safeguard the health and safety of Canadian and temporary foreign farm workers during the COVID-19 pandemic. Ottawa began announcing provincial allocations in October, with the BC announcement taking place following the October 24 election. The Investment Agriculture Foundation of British Columbia will administer the funds, which cover up to half the cost of worker safety initiatives, including "direct infrastructure improvements to living quarters and work stations, temporary or emergency housing (on or o-farm), as well as personal protective equipment (PPE), sanitary stations, work stations and any other health and safety measures." A farm owned at least 51% by women and persons under the age of 30, as well as Indigenous, visible minorities and persons with disabilities is eligible for a 60% reimbursement of costs. The funding will apply to investments made as early as March 15 of this year, and run through February 28, 2021. The maximum funding available per farm is $100,000. Approved funding is intended to ow within 30 days of applications being submitted. IAFBC will accept applications through November 17, with priority given to farms where workers face the greatest risk. It expects 640 farms to apply. —Peter Mitham Autumn calf prices down The early calf gets the price could be the story for this year's fall cattle run. While prices were around $2.15 a pound for a 550 lb. steer through mid-October, pricing began to slip in the latter half of the month. "I don't have very good news right now," Anne Wasko, marketing analyst with Gateway Livestock Marketing Inc. in Taber, AB, told Country Life in BC in late October. "Prices have slipped $15 a hundredweight on a 550 lb steer calf. That translates to about $85 coming o the price of those calves in the last few days." Two big factors are inuencing calf prices right now, Wasko says: what feedlots are paying for feed and the futures market. Rising exports to China pushed barley prices in Lethbridge up 25% in October, adding a dollar to the cost of a bushel. The price of corn has gone up as well, meaning feedlots face higher costs feeding calves this winter. The cost gets passed to the calf producer in the form of lower prices. According to Brian Perillat, manager and senior analyst at Canfax in Calgary, every 50-cent increase in per-bushel costs peels 10 cents a pound o the price of calves. The live cattle futures market in Chicago has also taken a downturn, with the December live cattle contract dropping $8.00 in the week ended October 21. Nevertheless, some really good fundamentals underpin the market. Processing plants are going full out, domestic demand for beef is strong after demand shifted from restaurants to retail. Trade data shows Canada had its best month ever for beef exports in August. "What I have learned over the years is to look beyond the bad news of a particular week," Wasko says. "We might nd that in six weeks things have changed." —Tom Walker BC agriculture had an economic impact on the province of nearly $8.5 billion in 2019, according to a new study MNP prepared for the BC Agriculture Council and Investment Agriculture Foundation of BC. The gure represents the total output of the crop and livestock sectors, as well as indirect impacts from spending on supplies and induced impacts from salaries and benets to the 55,000 workers who owe their jobs to agriculture. According to the report, direct outputs from the Ag sector claims an $8.5 billion economic impactAg Briefs EDITED BY PETER MITHAMMNP report highlights farming's importance to the province's economic well-being
Page 15
Grant programs encourage Indigenous ag projectsWide range of projects supported, including foraging, processing and food hubsSince its launch in 2018, the BC Indigenous Agriculture Development Program has provided support for 25 projects to help First Nations governments and community members develop projects in the food and agriculture sector. PHOTO / ROSALIN MILES COUNTRY LIFE IN BC NOVEMBER 2020 | 15Proudly offering quality farm equipment and wholesale farm product delivery across BC.Call, email or visit us onlineinfo@reimersfarmservice.com855.737.0110reimersfarmservice.comCheck out our Einbock Tillage Equipment For Organic FarmingTine Weeders t3PX$SPQ$VMUJWBUPSTr3PUBSZ)PFT $BNFSB(VJEBODF4ZTUFNAND On In StockAEROSTAR Tine WeedersDELTA Drain Tile Cleaner *NQSPWFT%SBJOBHFr$POEJUJPOT4PJMr&DPOPNJDBM 3FMJBCMFr-PX.BJOUFOBODFr4BGFBOE1SPWFOSPECIAL PRICING On In Stock by JACKIE PEARASE VICTORIA – Provincial funding is supporting Indigenous food security and innovation. Twenty-ve projects supporting Indigenous agriculture and food enterprises and food production activities have been completed with funding from the BC Indigenous Agriculture Development Program since its launch in 2018 by the BC Ministry of Agriculture. The program's goal is "to support Indigenous governments, communities, organizations and entrepreneurs to achieve their self-identied priorities, goals and vision of success in the food and agriculture sector." A wide variety of projects funded by the BCIADP have economic development goals as well as goals related to supporting food security and Indigenous food systems. This year, the program began oering two streams of support: one for Indigenous entrepreneurs and the other for Indigenous governments, communities and organizations. Eight projects have received approval through the entrepreneur funding stream while 17 projects are moving forward through the second funding stream. Forest Foods Ltd. in Vancouver received almost $15,000 in 2019 to develop designs for facilities that will process and package wild foods. Backed with three years of research, Forest Foods is working on a mobile cleaning and packaging unit for wild mushrooms and plant-based forest foods. It's also working on a stationary processing facility to support the commercialization of a variety of products. Forest Foods CEO Shelby Leslie says the concept is to support the diversication of Indigenous foods and food businesses within the non-timber forest products industry. It's hoping to do so by improving food safety practices and protocols among foraged foods. "While the amount of wild foods produced from BC are on the increase, the values of those foods are on the decrease and we hypothesized that that is because of poor eld handling techniques that are quite pervasive within the industry," he explains. Since harvesting activities fall under the jurisdiction of Forests, Lands, Natural Resource Operations and Rural Development, which focuses on growing and harvesting trees, it falls outside the province's agriculture ministry, which oversees food safety at the eld level. Leslie says wild food is currently harvested by contractors, graded in the eld and shipped to the Lower Mainland for processing. There is little or no quality control in the eld and all value-added aspects occur outside the communities where the food is harvested. "We want to turn that on its head and support various organizations and companies to do that in the eld. The more you can do that in the eld, the more jobs there are in the eld and the more quality control you're able to exert," Leslie says. "The more we can create those opportunities for people there rather than just nding a bunch of cheap labour in the Lower Mainland and putting them to work in a factory, I think the more people's minds will be opened to the real treasure we have here in our forests." Leslie intends to share his designs with Indigenous communities to determine where such facilities could aid in the expansion of their business operations. Unfortunately, provincial funding priorities shifted when the COVID-19 pandemic hit this spring and Leslie's application for funds to support a community engagement process on potential locations for the facilities has not moved forward. "We've yet to recongure and re-approach the Ministry of Agriculture but we are working with a couple of dierent First Nations on adapting the facility, designs and concepts that we put forward and aligning those with some concepts and initiatives that are underway within their nations," he notes. Leslie recently provided technical and logistical support to Lytton First Nation in the purchase equipment for its planned community food hub. See FOOD on next page o
Page 16
FOOD hub will allow Indigenous farmers to create value nfrom page 1516 | NOVEMBER 2020 COUNTRY LIFE IN BCCLAAS 860 SP FORAGE HARVESTER 12.5' PICKUP & 6 ROW CORNHEAD $93,700 CLAAS 970 SP FORAGE HARVESTER 10' PICKUP & 10 ROW CORNHEAD CALL FOR MORE DETAILS/PRICING CLAAS 4000 4-ROTOR RAKE CALL FOR DETAILS FENDT 930 MFD CAB TRACTOR FRONT HITCH & PTO CALL FOR DETAILS X 2 FENDT 930 MFD CAB TRACTOR CALL FOR DETAILS JD 8295R MFD CAB TRACTOR WITH DUALS $279,000 MERLO TELEHANDLER MF 40.7CS $134,900 NH BB340 LARGE SQUARE BALER CALL FOR DETAILS NH 900 PT FORAGE HARVESTER WITH GRASS PICK UP $5,400 Pre-owned Tractors & Equipmentwww.caliberequipment.ca STORE HOURS MONDAY-FRIDAY, 8-5 SATURDAYS CLOSED 'TIL SPRING604-864-2273 34511 VYE ROAD ABBOTSFORD We cut everything, except corners. Lytton First Nation advisor and community member Rosalin Miles has been working on the food hub for almost four years. The band received $1.2 million for the project from a variety of sources including BCIADP, Rural Dividends Fund and Northern Development Initiative Trust. They are developing a business plan, purchasing equipment, creating a traditional food policy and getting CanadaGAP certication for band members who farm. They hired a full-time coordinator and are now advertising for two part-time sta to help the food hub begin operations. Lytton First Nation consists of 56 reserves where agriculture was once an important aspect of their communities, but residential school and its aftermath left its elders scarred while many young people left for bigger centres. "People weren't working the land anymore. A lot of places became smaller, the areas they maintained and the gardens got smaller," says Miles. "Historically, we were the rst community that wholesaled apples. There's about 18 orchards in Lytton." People are now returning to their community, the orchards are being tended and many community members grow their own food. Miles hopes to have four or ve farmers CanadaGAP-certied by next year to aid with an apple harvest she expects to be between 35,000 and 50,000 pounds. "Right now, we've identied what foods we have, what is being harvested and then next year we'll be going into treating food for market," she adds. A traditional foods policy will ensure sustainable harvests while an in-ground root cellar will reduce dependency on electric-powered fridges and freezers. Other crops being considered for future years include saskatoon berries, mushrooms, wild asparagus, celery and potatoes. "We have lots of land and people are very keen to get this going. I think we have a very good foundation," Miles adds. "Once we get going and as long as we're responsible and continue to engage the community, I think we're o to a good start." Blueberry River First Nations is moving into the second phase of a project to create a native seed production and propagation business with BCIADP funds. The endeavour will support employment, economic development and restoration of traditional lands degraded by forestry, oil and gas exploration and other industrial activities. "I am very interested in what's called reciprocal restoration where ecological restoration of the land base can restore a cultural use of the landscape as well," says Mae Whyte, restoration project ocer with Blueberry River First Nations. "The idea of using native seeds is being touted in restoration ecology as being the next big thing." Consultant Mike Keefer of Keefer Ecological Services Ltd. in Cranbrook is aiding with the project. He says using native plants and seeds is unlike traditional restoration methods. "By doing this kind of work, we're eectively trying to reverse the trend of habitat fragmentation, the loss of native species and it's dierent," he notes. "Historically, the best practice was to introduce plant seeds like alfalfa, timothy grass, orchard grass. Those grasses are great grasses, and alfalfa is a great legume if you're trying to feed cattle on your farm, but arguably those plants don't belong in nature." Keefer expects the native plants to respond well enough that a viable native seed business can be up and running within two years if community members agree to move on to the next phase. The BC Ministry of Agriculture has seen high interest in BCIADP funding since its launch and client feedback is positive. The ministry also says that some projects have experienced delays due to the pandemic, particularly those related to community engagement. Program sta have been working with applicants and consultants on nding workable solutions to these situations such as extended deadlines and adapted community engagement activities. The BC Indigenous Agriculture Development Fund is helping First Nations communities nd new opportunities in agriculture. PHOTO / ROSALIN MILES
Page 17
HIGH TIME TO COME HOME. Alisha Grant helps bring cattle off summer range above Logan Lake during the season's rst dusting snow in mid-October. PHOTO / TRUDY SCHWEB COUNTRY LIFE IN BC NOVEMBER 2020 | 17Range issues dominate NOLA meeting Crown tenure users urged to keep an eye on forestry operational plansemail: audreycifca@gmail.comemail: okanaganfeeders@gmail.com308 St. Laurent Avenue Quesnel, B.C. V2J 5A3Producers can apply for an advance on calves, yearlings, lambs, bison, forage and grain up to $1,000,000.00 with the rst $100,000.00 being interest free. Plus, interest relief through the Advance Payments Program is available to association members on their feeder cattle purchases.Adding Hereford Heterosis is a pro昀table cross!       BCHA President: John Lewis 250-218-2537 BCHA Secretary: Janice Tapp 250-699-6466 wwwww.bchercherefeford.ord.ca ca Producer Check-o Supports Beef Industry Projects.www.cattlefund.net 1.877.688.2333www.cattlefund.net 1.877.688.2333by TOM WALKER VERNON – The North Okanagan Livestock Association had a full evening of reports and speakers at its virtual annual general meeting on September 23. NOLA president Lani French welcomed nine guest speakers and noted that she's seen an increasing number of young cattle producers stepping up and becoming voices in the organization during her last six years of association membership. However, Zoom meetings do not suit all producers. There is no social interaction and rural ranches can be plagued by poor Internet connections. Indeed, there were only 10 NOLA members on the meeting compared to past AGMs that have attracted from 40 to more than 60 attendees. Werner Stump gave an update on his work with the BC Cattlemen's Association (BCCA) environmental stewardship committee. Stump reminded members that if they have an issue with Crown land in their area to be sure and contact the committee to add their views to others who have similar concerns. "We are the committee that is responsible for Crown land issues and we always want to be sending a consistent message from our members to government," he says. Stump said the committee remains concerned with the enactment of the new Forest Range Practices Act (FRPA) 2019, which does not yet have regulations written giving it force and eect. "We continue to keep the heat on to government to recognize the values of range and the management of Crown lands for forage development in the regulations," notes Stump. One of the things the committee worked on that seemed to gain some traction was the Agricultural Land Reserve on Crown land, says Stump. The ALR includes about 4.9 million acres of Crown land, he says, and historically it hasn't required any special management. "This is weird because on private ALR land there are restrictions, as you know," Stump points out. "We have engaged with the Agriculture Land Commission directly several times and met with numerous ministers. I am pleased to say we are getting some progress on our issues." The government's FRPA review team is meeting with the ALC and trying to develop some standard protocol for Crown ALR land. "We hope to see that appear in the new regulations," says Stump. He says that one of the positive outcomes from the FRPA rewrite is that forest companies will be required to develop two-year operational plans that are to be discussed and reviewed with range tenure holders and other interest groups. "That is not fully enacted across the province as there are no regulations to enforce it yet," Stump explains. "But you may see some of the forest companies starting to employ that practice, knowing that it is coming down the pipeline." Ranchers are encouraged to watch out for these plans. "As they are posted you should view them to understand how they may impact your range and the movement of cattle and take the opportunity to comment," says Stump. The BC Ministry of Forests, Lands, Natural Resource Operations and Rural Development is running three pilot programs that look to change management of Crown land range tenures to a more regional model and involve local input. "The government is taking more of a consideration of range values," Stump says. "They are looking to model forage supply on range similar to how they model timber supply for forest companies. If that can be done successfully in the pilots, there is a good chance it could be adopted across the province." The environmental stewardship committee has also met with the chair of the Forest Practices Board, the watchdog of what happens on Crown land, Stump explains. "They primarily look at forestry stu, but we wanted to raise the prole of range in their investigations, including the obligations of forest tenure holders for building fences and maintaining cattle guards," Stump says. "We also See RANGE on next page o
Page 18
RANGE use nfrom page 1718 | NOVEMBER 2020 COUNTRY LIFE IN BCtold the Forest Practices Board that we are fully supportive of their view that FLNRORD district mangers should have more authority." He says the BC Cattlemen's Association's view is that district mangers should be able to consider what is happening on the land and be able to make a determination that all stakeholders are not being fairly treated and override a cutting permit application. "That is something that the district managers are not currently able to do, surprisingly enough," says Stump. Trespass legislation BCCA's livestock protection and research committees have merged and NOLA representative Nick Bapty reviewed four issues they have been working on. "We have been working with the government to beef up the Trespass Act in BC similar to what they have done in Alberta," he notes. "And we have had input into the CFIA's work to update feed regulations." Bapty says the committee has also been studying the possibility of setting up a voluntary bonding program in the case that a buyer could not come up with money to complete a cattle sale through a stockyard, similar to an assurance program. "We also asked the [BC] Ministry of Transport to consider easing the restrictions for agricultural vehicles on public roads, but that was shot down," he notes. BCCA assistant general manager Elaine Stovin gave an update on Cattlemen's views on the livestock watering intentions paper. While the association has several concerns with the document, she notes that it's positive that the province is not looking to prohibit cattle's direct access to water. "It is a win that they are not requiring all streams to be fenced, something that is not reasonable nor achievable," she says. NOLA members also received an update on BC Beef Producers Inc., the company that will process and market the new "Genuine BC Beef" brand from the KML plant in Falkland. Bree Patterson, beef production specialist with BC Cattlemen's, gave an update and promotion for the Veried Beef Plus program VBP+. She noted that VBP+ will be a requirement for all cattle in the Genuine BC Beef program, as will proAction for dairy animals. North Okanagan Livestock Association members were briefed on the BC Cattlemen's Association's response to the province's livestock watering intentions paper, released earlier this summer. "This is an issue that the water committee has been working on very hard for over 10 years," BCCA assistant general manager Elaine Stovin said, giving much credit to committee chair Linda Allison. "We are pleased that the intentions paper allows us direct access to water for our animals. We also recognize that nally having written regulations will give us security for our existing use." But there is much in the intentions paper that BCCA does not support. First o, it is not in favour of licensing of livestock watering across BC. "We think that mandatory licensing should only be required on a risk basis, similar to the approach currently taken with waste regulations," says Stovin. "Not all areas of the province have the same issues with water." Outside of a high-risk area, they would like to see a voluntary licensing system, says Stovin. A universal licensing requirement puts an additional burden on producers as well as an additional burden on the government, which does not have a good track record with water licences. "The government is already far behind in issuing groundwater licences," she notes. "Voluntary licensing would limit the burden on both producers and provincial sta." Regardless of whether a livestock watering licence is issued, Stovin says ranchers have been focused on getting traditional livestock watering uses recognized and having a rst in time, rst in right (FITFIR) date assigned to that use. Ranchers also need conrmation that all dugouts for livestock purposes will be exempt from licensing, Stovin says, something not currently in the regulations. "Our dugouts are lled by spring snow melt and surface run o," she notes. "They are not lled by vested provincial water and therefore should not be regulated." There also needs to be an assurance that livestock watering during times of drought be protected, particularly in areas with sh protection orders. "Animals consume just a fraction of the water that irrigation uses and their welfare needs to be protected in times of drought," Stovin says. Cattlemen further propose that the water licensing be included in range tenure applications as the two are so closely linked. "Water availability needs to be considered together with forage in the calculations for [Animal Unit Months]," Stovin says. "And if they are both included in the tenure application the one document serves two purposes." —Tom Walker BC Cattlemen critique water intentions
Page 19
BC Beef plant in Falkland ready to process this monthProcessing could begin November 15 COUNTRY LIFE IN BC NOVEMBER 2020 | 19Have you herd? VBP+ TrainingWorkshops are Free!Locate A Dealer Online1-866-820-7603 | BAUMALIGHT.COMDale Howe | 403-462-1975 | dale@baumalight.comMFG A VARIETY OF ATTACHMENTSBRUSH MULCHERS | BOOM MOWERSSTUMP GRINDERS | TREE SAWS & SHEARSTREE SPADES | ROTARY BRUSH CUTTERS TRENCHERS | DRAINAGE PLOWS | PTO GENERATORS EXCAVATOR ADAPTERS | FELLER BUNCHERSTREE PULLERS | SCREW SPLITTERS | AUGER DRIVESby TOM WALKER FALKLAND – NOLA AGM attendees heard an update on BC Beef Producers Inc., the company that will process and market "Genuine BC Beef" at the KML packing plant in Falkland. Mary MacGregor, legal advisor to the industry steering committee formed by the BC Cattlemen's Association and BC Association of Cattle Feeders, introduced Mark Ishoy, the company's chief operating ocer. MacGregor explained the share structure for the new company that will entitle a producer to purchase one voting share for a nominal fee and as many hook shares at $175 each as they choose. A hook share entitles and requires the owner to deliver one animal a year per hook share. "If the producer does not ship cattle according to the number of hook shares, the shares may be subject to forfeiture," explains MacGregor. She stressed the need for a consistent year-round supply of animals that are of top quality. "If you ship an ugly cow to the plant, you will get an ugly price," she cautioned. Producers who want to participate must be a BC resident, they have to be raising BC-born and raised cattle, and they have to participate in the VBP+ program. "VBP+ is important for the branding," says MacGregor. "This is being marketed as a sustainably produced product." She said the shares are not expected to rise in value and cannot be traded, but they are expected to return a prot to producers who ship animals to the plant. The number of shareholders would initially be limited to 50, but the company has applied for an exemption that would allow it to have a broader ownership group beyond industry members. MacGregor acknowledged both the opportunity to develop and market a BC- branded beef product and the uncertainty of starting up a new plant. She says leasing the KML plant provides an alternative to building a new plant. The initiative will also receive funding under the Stronger BC for Everyone: BC's Economic Recovery Plan, though the amount wasn't disclosed. The funding isn't scheduled to begin owing until the new year. "That should ease some of the pain of making sure we have enough producers to start," MacGregor says. 'Producers will want to join once they see it rolling." The company will initially purchase and process cull cows into hamburger, but that may eventually develop into working with fed animals, MacGregor says. There should easily be enough BC animals to supply the plant, MacGregor notes. "We raise about 200,000 cows a year in BC," she says. "Even if the plant only took 10%, that would be 20,000 animals and the plant only has a capacity of 13,000 animals a year." Mark Ishoy jokes that you can tell he has been in the meat business more than 25 years by the grey colour in his hair. He worked at Lakeside Packers (now JBS Canada) in Brooks, Alberta in the 1980s as it grew from 500 animals a day to 1,000 a day. He ran his own meat plant and was a partner with a group in a cow plant in Ontario for 14 years. He has consulted to the Atlantic Beef Plant in PEI and in the last 12 years was the president of Eastern Meat Solutions in Ontario. "I have seen a lot of areas of the meat business and personally started up three plants," says Ishoy. "I am a planner, but meat plants are never opened without challenges along the way." KML, a federally inspected plant, is an advantage for the new BC venture. "It gives us an instant ability to sell to most places in the country," he says. "That includes beyond provincial borders and into export markets." Ishoy says the KML plant is in pretty good shape. It has room to process 50 cattle a day and the ability to ship that product the following day. "We are looking to introduce rail boning and some other unique practices that will be more ecient," he says. He's also looking ahead to value added products. "We are building a team and if we make this initial phase a success, it will give us an opportunity to grow," he says. Processing is expected to begin by November 15. Ishoy responded to a question from Werner Stump of Crystal Lake Ranch in Malakwa on the availability of labour. "We recognize labour could be an issue, and we are looking into the foreign worker program," says Ishoy. "But we do have ve skilled workers in the plant right now and we are starting out slow, so there is the opportunity to train new workers from packer through to butcher." Producers who are interested in BC Beef Producers Inc. and the Genuine BC Beef program should contact Jennifer Leeuw, administrative assistant at the BC Cattlemen's Association, about enrolling in the program. The plant's steering committee has prepared an extensive "Frequently Asked Questions" document that is available from Holly Jackson, communications manager with the association. Snow on the hills above Chilco Ranch is a sure sign winter is on its way. PHOTO / SARAH ZUBERBÜHLER Winter warning
Page 20
WIND SWEPT. As if COVID-19 hadn't done enough damage, reducing corn trial eld days to invitation-only, a wind storm that left many Lower Mainlanders without power in October did a number on Pacic Forage Bag's trial in Abbotsford. PHOTO / RONDA PAYNE20 | NOVEMBER 2020 COUNTRY LIFE IN BCUSED EQUIPMENT FELLA TH680D HYDRO 6 BASKET TEDDER . . . . . . . . . . . . . . . . . 6,000 N/H FP230 27P GRASS HEAD . . . . . . . . . . . . . . . . . . . . . . . . 17,500 CLAAS VOLTO 1050 8 BASKET TEDDER . . . . . . . . . . . . . . . . . 12,500 KV 9469S VARIO, 2014, RAKE, 1 OR 2 ROWS . . . . . . . . . . . . . . 18,500 USED TRACTORS KUBOTA T2380 2017, 48" DECK . . . . . . . . . . . . . . . . . . . . . . . 4,500 KUBOTA BX2360 2010, 1,900HRS, TRAC/MWR . . . . . . . . . . . . . 9,750 JD 4300 TRAC/LDR/BH, HYDROSTATIC, 4-IN-1 . . . . . . . . . . . . . 22,500 DEUTZ TTV 6130.4 2014, 1,760 HRS, LDR, FRONT 3PT/PTO . . . . 97,000 NEW INVENTORY: *NEW MODEL- JBS MISP1436 IN THE YARD* KUBOTA RAKES • TEDDERS • MOWERS • POWER HARROWS . . . . CALL JBS VMEC1636 VERT. SPREADER, SAWDUST & SAND THROWERS, KUBOTA K-HAUL TRAILERS . . . . . . . . . . . . . . . . . . . NOW IN STOCK CONSTRUCTION KUB SSV65, 2018, CAB, A/C, H-PATTERN,2 SPEED, 150 HRS . . . . 47,000 KUB SVL75-2 2016, ROPS, 1,700HRS . . . . . . . . . . . . . . . . . . 53,500 ISLAND TRACTOR & SUPPLY LTD. DUNCAN 1-888-795-1755 NORTH ISLAND TRACTOR COURTENAY 1-866-501-0801 Quality PreOwned EquipmentServing the Okanagan and Fraser Valley We've been proudly family owned and operated since opening in 1976. And with two blending plants, we're one of BC's largest distributors of granular, liquid and foliar fertilizers. Our buying power and proximity to the Fraser Valley makes us the logical choice for truckload shipments. OKANAGAN FERTILIZER LTD 1-800-361-4600 or 250-838-6414by RONDA PAYNE ABBOTSFORD – In a year where corn eld days were cancelled and socialization put on the back burner, trial information remains available to help farmers select forage corn varieties. Two companies, Integrated Crop Management Services and Pacic Forage Bag Supply, conducted trials in a number of regions. Alexis Arthur of Pacic Forage set up trials in Abbotsford, Enderby, Delta and Chemainus. Grant McMillan, regional manager with ICMS, set up the company's second year of corn trials in Abbotsford and Okanagan Falls. A number of seed company varieties were tested. "We have a new line called Horizon Seeds and that line actually was very successful for being brand new to us and not having been this far in the west," says Arthur. "It was a very successful silage option." She says Horizon 675 and Horizon 1912 did very well this season. That's not surprising given they are mid-heat unit varieties. "Based on the season, mid-heat unit products did well overall," she says. "You weren't scared of them not drying down." Extra moisture created taller plants with lots of leaves in Arthur's trial elds, though smaller cobs were often the case. "But in the mid heat unit range there was even a little more success in cob development and nish," she says. McMillan's program is a pay-per-entry arrangement where anyone from a farmer to a seed company can pay for a trial line. He had a total of 13 entries from Fraser Seeds, TerraLink, Pioneer (from Corteva), Ceres Global Seeds (formerly Legend Seeds) and DFL Pickseed in Abbotsford. Seven of these varieties were trialed in Okanagan Falls. "Farmers want to see the data generated in their back 40," he says. "They want to see the local data." The biggest issue he saw during the season was weed pressure and a slightly delayed growing season. Arthur experienced rootworm in the Fraser Valley trial, but it didn't impact the stalks as much as it has in past seasons. "Early planting really mattered this year. Fields overall were quite erratic when it came to dry down. You could have the front of your eld looking ready to go and the back end completely wet," she says. "It made harvest a challenge." The Enderby trial dried out a bit, she says, but the other three locations are providing good feedback. The two Horizon varieties did well in all four locations, as did Thunder Seed's 41267, 6875 and 4578. "But a new one called 6977 was just exceptional," she says. "A little earlier, exceptional on ll and nish and grain development." Pride Seeds' 1017 and 1047 both did well, but as higher heat unit products they had challenges in elds because warm weather was lacking. A mid-heat option from Pride that's looking positive so far is 1027. "There were a number of new hybrids to look at, we have good data from a tough season based on these hybrids," she says. "And some of them worked. They did well in dierent places and that's a success." McMillan's Abbotsford harvest data wasn't available at press time, but in the Okanagan Falls trials, Pioneer's 8407Q had the highest cumulative volume of the company's three varieties. Ceres Global Seeds' had higher volumes from HZ 2536 and HZ 797 than the other two varieties. Both Arthur and McMillan will have videos and data available to outline the results of the trials. "We're excited with the new products that succeeded in this trial," Arthur says. "We're going to create a Pacic Forage YouTube channel and we'll set that up and obviously link that to the website. The trial results, as always, will be listed on the website. They're always there along with the ones from the past." McMillan plans to have results posted through social media channels as well, including Twitter and Linkedin. "For companies that are already established, it allows them to test the lines that are coming into the area," he says of the trials. "It also lets them consider if they want to bring a line into the area or not." Corn trial results help make better planting decisionsMid heat unit varieties are forage crop darlings Two varieties of sweet corn from Stokes Seeds were trialed in Abbotsford by Grant McMillan, regional manager with ICMS. Growers looking for new varieties for farmers' markets and fresh sales may be on the lookout for the next great-performing variety and McMillan says eld trials can deliver local results for better planning. One of the two varieties, Sweet Sunrise, had a signicant volume of aphids. Rather than dismissing the variety, McMillan advises considering its benets rst. If it's a t, establish a plan for managing the bugs. "When growers are looking at planting this line, they should look at an aphid control program," he says. Sprinter XR had more cobs per hectare than Sweet Surprise, but Sweet Surprise had the higher marketable tons per hectare. Sprinter XR required fewer days to reach harvest. McMillan will include sweet corn in the trial results posted on social media channels. —Ronda PayneSweet results
Page 21
Andrew Penner has taken over his parents' layer operation, investing in a new aviary setup that's the largest of its kind in the world. PHOTO / RONDA PAYNECOUNTRY LIFE IN BC NOVEMBER 2020 | 21"Serving British Columbia proudly since 1946"Machinery LimitedROLLINS RToll Free 1-800-242-9737 www.rollinsmachinery.comChilliack 1.800.242.9737 | 44725 Yale Rd W Langley 1.800.665.9060 | 21869 - 56th Ave Chemainus 1.250-246.1203 | 3306 Smiley RdAre you READY for WINTER feeding?Chilliwack 1.800.242.9737 . 47724 Yale Rd W Langley 1.800.665.9060 . 21869 56th Ave Chemainus 1.250.246.1203 . 3306 Smiley Rd Kelowna 250.765.8266 . 201-150 Campion StToll Free 1-800-242-9737 www.rollinsmachinery.com info@rollinsmachinery.caby RONDA PAYNE ABBOTSFORD – Many young farmers face necessary upgrades to facilities when they take on the family business. Sometimes, maintaining the status quo isn't always an option. Andrew and Stephanie Penner went big when they took over their layer operation from Andrew's parents two years ago. The barns were already at capacity and they knew the timing was right to build for the future, not just for now. Nest Egg Poultry is now the largest aviary facility of its kind in the world according to Tyler de Boer with AgPro West Supply. The multi-million dollar operation is outtted with a Big Dutchman Natura Step XL Aviary system, which de Boer describes as the big brother of other aviary systems. "The main [dierence] is its width," he says. "It allows for more birds while complying [with] any regulations." As a third-generation egg farmer, 34-year-old Andrew Penner watched his family farm grow to slightly more than 20,000 birds, all of them in conventional cage housing. "We knew we had to move out of cage systems. It was the time to decide," he says. "I decided I wanted to be in specialty, so went with the aviary, free run." Building new also allowed him to build for expansion. The new facility, developed over the course of a year, eectively doubles the farm's capacity to 40,000 birds. It's laid out as two barn units under a single roof. Each barn has a capacity of 20,000 birds. Penner plans to sit at 11,000 per barn (22,000 total) for a while by adding quota credits to his current quota level that allows for slightly more than 20,000 birds. He may consider expanding to as many as 35,000 in the future. While currently built for free-run production, with a few minor modications, the new barns will accommodate free range or organic. Free range would require installation of a fence and windows would need to be installed in pre-framed spaces to qualify for organic certication. (A change to feed is also required.) The barns are designed for maximum bird comfort. Computer controls and sensors monitor and allow the Penners to control temperature, carbon dioxide and ammonia in addition to the custom ventilation system. "Andrew is being progressive in wanting the best quality of life for the birds," says de Boer. In conventional barns, manure piles up but the aviary system's conveyors ensure manure is removed. "Barns used to live for a cycle and now we're moving the manure regularly," says de Boer. "It's better for the birds." Specialty production Penner isn't the only one seeing the benets of specialty egg production. BC Egg reports that more than 44% of BC eggs are a specialty product, with 14.5% produced in enriched environments, 8.6% free run, 9.2% free range and 11.9% organic. Scott Janzen, who ships to Island Gold, also has layers in the Fraser Valley. "We have farmed with an aviary system – both free range and free run. The Penners came to see ours and to decide which way to go. I call it a jungle gym for chickens," he says of the aviary system. "You have to farm it a bit dierently. You have to see them, smell what they're smelling, hear what they're saying." He feels that more Grade A eggs come out of a system like the Penners, helping meet rising demand for cage-free production. The Penners' ship New barn promises better egg productionMultimillion- dollar facility puts emphasis on comfort, automationtheir eggs to Island Gold, which distributes them across Vancouver Island and the Lower Mainland. The Penners' rst batch of birds, Novogen pullets, came to the barns at 15 to 18 weeks old and have been specically reared to an aviary system environment by Abbotsford-based Pacic Pride Chicks. Attached to the barn is the automated Damtech egg packer which de Boer says has the smallest footprint of anything on the market. It moves eggs from the barns' conveyors into ats. Flats stack up at the end of the packing line where they're transferred to a cooler to await pickup. Having strong family relationships is "huge" to making such a large undertaking work, says Penner. He says the family talks a lot about the operation. While it's his now, he also values the wisdom and experience his parents bring.
Page 22
22 | NOVEMBER 2020 COUNTRY LIFE IN BCPrairieCoast equipment offers inspections performed by factory trained technicians for:• Lawn & Garden Equipment• Gator Utility Vehicles• Compact Utility Tractors• Harvesting Equipment• Hay & Forage• Seeders• Large Tractors• SprayersEnsure your John Deere equipment is ready to perform – before you get to work.Avoid unwanted downtime with the PrairieCoast Inspection (PCi) program.MORE UPTIME. LESS DOWNTIME. BETTER RETURN.Offers only valid with Early Bird booking. Book by Jan. 31, 2021 to qualify. See your local PrairieCoast equipment for details. Please note, pricing does not include taxes, parts, shop supplies and enviro fees. See in-store for full details. Because of high service volumes experienced during peak seasons, black-out periods for this pricing may apply. Some restrictions apply. See dealer for details.BOOK EARLY & SAVE UP TO 40% OFF YOUR INSPECTION!THE NEW 8R'S ARE HERE.. The Next Leap ForwardAt John Deere, we've cultivated more than 100 years of tractor expertise in the pursuit of progress for producers of all kinds. And it's all led to this — the newly redesigned 8 Series Tractors now available in three con昀gurations – wheels, two-tracks and the game-changing four-track 8RX Series. All with the most spacious, comfortable cab we've ever offered.With more power, versatility and durability than any generation of 8 Series tractor before it and the built-in precision ag technology to deliver the most integrated experience an operator can have, these are the high-horsepower row-crop tractors to lead us into the next 100 years. The next leap forward in brains, brawn and beauty in a 230 to 410 hp tractor.PREPARE FOR WINTERTIRE CHAINSFRONT BLADESNOW BLOWERSPREADERWEATHER ENCLOSURETOLL FREE: 1-877-553-3373 WWW.PRAIRIECOASTEQUIPMENT.COMPRINCE GEORGE 250-561-4260 | KAMLOOPS 250-573-4412 | KELOWNA 250-765-9765 | CHILLIWACK 604-792-1516 | NANAIMO 778-441-3210PROTECT YOURINVESTMENTWITH A PRAIRIECOAST INSPECTION20202020
Page 23
ALR co-founder, defender embraces retirementHarold Steves remains as passionate as ever about protecting farmlandAn iconic champion of BC agriculture, Harold Steves shows off a massive head of cauliower grown at the family farm in Richmond. The Steves family has deep roots in Richmond, producing its rst seed catalogue in 1888. Steves still grows market vegetables with origins dating back into the 1890s. PHOTO / SUBMITTEDCOUNTRY LIFE IN BC NOVEMBER 2020 | 23 fcc.caWe're FCC, the only lender 100% invested in Canadian food. That means we're invested in you, with financing and knowledge to help you achieve your dreams.You're behind Canadian food and we're behind youDREAM. GROW. THRIVE.by ANITA DESAI RICHMOND – Long-term Richmond city councilor and agricultural activist Harold Steves will begin to pass on the torch in politics this fall in order to focus more on his long-standing projects. Though he had been considering retirement for some time, Steves – now 83 – says he was waiting for just the right person to ll his seat. "A decade ago, I told a young biologist and science teacher, Michael Wolfe, that I couldn't retire until he was elected to Richmond council. He was elected in October 2018 and I said I was going to retire then but no one believed me. So recently, I announced it again." Given that the next civic election is still two years away, Steves isn't planning to slow down just yet. He says he's busier than he's ever been, wrapping up projects he launched years ago as well as some new initiatives. These include nalizing plans for a farm school on the Garden City lands, where Kwantlen Polytechnic University has its research farm. "KPU planted their rst crops on the Garden City lands in 2018 and Richmond council will be making nal adjustments to the plan this fall. That's one of the major projects I will be working on," he says. Conservation projects on the Fraser River are also commanding his attention. "I'm working on plans to open up a slough to the river for salmon fry and eventually spawning salmon. That was approved and almost completed over 20 years ago," he says. "I'm also ghting the impacts of a Massey bridge that would open up Delta farmland to industrial and residential development like the Oak Street bridge did to Richmond when it was built in 1957." Bridge to political life The bridge to Richmond was also Steves' bridge to a lifetime in politics. Two years after it was built, Richmond rezoned 12,000 acres for residential development. The move meant his family's dairy couldn't expand. "My father informed us we were being forced out of business," he recalls. "[The city] would not give us a building permit for a new dairy. A big meeting was held with about 175 farmers objecting to the change but no one knew what to do." Steves and a friend began talking to other young farmers in the Lower Mainland. A blacksmith in Whalley suggested a farm land bank zone similar to one he knew about in Saskatchewan. "We couldn't get support for the idea so my friend suggested I should join the 'farmers party,' the CCF," says Steves, who joined the party's provincial wing. The party became the NDP, and the idea for the land bank became the Agricultural Land Reserve following the NDP's election victory in 1972. "I was elected and assisted in drafting the legislation," says Steves. Reecting back on his proudest achievements as an agricultural crusader, he says creation of the ALR is near the top of the list. "It was more than just saving farmland. It included a land bank where young people were able to acquire farmland to go farming and a Farm Income Assurance program that guaranteed farmers a decent income during bad times," he says. "We were able to provide 10,000 acres to young farmers in the rst four years and we saved many BC blueberry farmers facing bankruptcy, but subsequent governments discontinued both the land bank and income program." However, his work as a councilor in Richmond, where he's served since 1977 (making him the province's longest-serving elected ocial), is also a source of pride. He's particularly keen on plans for the Garden City lands. "The issue I will be proudest of will be when we complete the plans for Garden City lands this fall combining both food security and farmland preservation as we envisioned in 1973," he says. Founding family The Steves family is one of Richmond's rst founding families, its name being incorporated in that of Steveston. The family holds a fascinating collection of seeds that traces its roots to the late 1880s. "Our family established the rst seed company in Western Canada in 1888 with a seed house by the Steves wharf on the Fraser River," he explains. "Produce was shipped by paddlewheel steamboat to New Westminster market. An 1888 seed catalogue was sent out and seeds were sold by mail." The vegetables in the Steves catalogue were varieties adapted to a northern climate. They would become the standard garden varieties grown in BC for the next 80 years. However, many other companies would sell vegetable seed so they switched to producing ower seeds and bulbs. "We grow ve varieties of tomatoes from the 1890 catalogue: Alpha, Acme, Early Large Red, Trophy and Livingston's Beauty, plus Steves Golden Pacic – a new variety we developed ourselves," says Steves. Alpha is the earliest of all tomatoes and Early Large Red was once grown throughout the Thompson River region before imported tomatoes from California put local farmers out of business. Steves also grows Walcheren (overwintering) cauliower, and two varieties of kale originally from Scotland. There's also Bangholm Purple Top Swede, a turnip originally from Norway, and Early Red Valentine Beans that used to be in every garden. All told, he grows close to 60 heirloom vegetable varieties. Since 1976, the family has also ranched near Cache Creek, an operation now overseen by Steves' son. See PRESERVING on next page o
Page 24
PRESERVING farmland more important than ever nfrom page 2324 | NOVEMBER 2020 COUNTRY LIFE IN BCHIGH EFFICIENCY. HIGH ACREAGE. HIGH YIELDS. LOOK TO LEMKENRUBIN 10 – its superior clearance and 25" discs allow the Rubin 10 to work and control a greater amount of organic matter. Its symmetrical arrangement of discs is unique in the industry and ensures work in a straight line without any lateral oset. Working in a straight line saves fuel and optimizes GPS guidance.@strategictill | lemken.ca(604) 864-2273caliberequipment.ca(250) 938-0076agrigem.comVAN DER WAL EQUIPMENT (1989) LTD(604) 463-3681vanderwaleq.com0% Financing. Certain Conditions ApplyAn ever-changing climate coupled with the COVID-19 pandemic means that growing, buying and supporting local is now as crucial as ever, says Steves. But if COVID-19 has prompted immediate reactions from governments, the climate has been a slow burn. Steves notes that meteorologist Sverre Pettersen, then the world's top climatologist, warned in 1957 of "remarkable changes" in global weather. "In the course I taught [at UBC] in the spring of 1960, we didn't know how world-wide climate change would aect us," he says. "We learned about food rationing and growing Victory Gardens in World War II but we fed ourselves. As we became more dependent on imports, it became more important to preserve our farmland. From producing almost all of our food during WWII we were only producing 86% by 1973 and less than 40% today." This has happened at the same time as recurring drought in the US southwest and California threatens North America's food supply. "In 2015, 500,000 acres was too dry to plant and 93% of state reservoirs were dry," he says. "Drought was replaced with short-term rains in some areas, it has led to wildres in much of California, and the drought has moved up into Oregon." This year, California saw its worst wildre season ever, with more than 4 million acres burned. Many of the res were in prime growing regions. "We get 84% of our cauliower and broccoli, 76% of our strawberries, 69% of our root crops, carrots, and turnips and 68% of our lettuce from California," says Steves. "In the 1940s, we grew all of our basic foods here – even had excess for canning." During the 2006 World Urban Forum in Vancouver, the Food & Agriculture Organization warned that even if enough food is produced, putting it in the hands of city-dwellers can be a problem. The same year, the BC Ministry of Agriculture produced a report that identied the need for an additional 227,300 acres of irrigated farmland if the province hoped to be able to feed itself by 2050. Making that goal possible is one of the reasons Steves continues to work so hard to defend access to farmland and protect the Fraser River, the lifeblood of irrigated agriculture in the Lower Mainland. Perhaps one of the biggest takeaways of Steves' long-standing ght to preserve farmland is how it can directly impact British Columbians today. In a world where rhetorical events have now become our reality, it is fundamental that consumers begin to acknowledge where their food is being sourced, and to support local growers whenever possible. Ever the champion for preserving BC's farmland, Harold Steves shows few signs of slowing down even after announcing his retirement from local politics. PHOTO / SUBMITTED
Page 25
The BC Eco Seed Co-op saw a massive increase in demand this year as the COVID-19 pandemic focused attention on food (and owers). The interest in sourcing locally produced seed is prompting more farmers to take a serious look at seed production. PHOTO / HUMMINGBIRD FARMSeed suppliers seeing sustained demand as 2021 orders beginSector expanding as farmers and gardeners plan aheadCOUNTRY LIFE IN BC NOVEMBER 2020 | 25"Serving and Supporting the Community Together"PROVINCIALLY INSPECTED ABATTOIR B.C. #34ALL SIZES MARKET GOATS & LAMBS604.465.4752 (Ext 105)FAX 604.465.4744 ashiq@meadowvalleymeats.comby RONDA PAYNE LANGLEY – Onset of the COVID-19 pandemic saw seed orders by home gardeners surge, so much so that some seed companies delayed shipments until orders from commercial growers were lled. Between April 1 to August 31, the BC Eco Seed Co-op saw an 847% increase in sales over the same period in 2019. About 350 bulk seed items were purchased and many farmers who ordered bulk seed also ordered packets. The co-op undertook a $15,000 crowdfunding campaign this fall to support conversion of a trailer that will provide additional space for its work, which supports seed production for both gardeners and farmers. To join, co-op members must be able to supply seed in commercial quantities, not just packets for home gardeners. "BC farmers are the largest consumers of organic seeds in Canada," says Keeley Nixon, the co-op's coordinator. "They spend almost $10 million a year to obtain the precious seeds. But the supply of local organic seeds is not keeping up." Lana Braun, co-owner of Hummingbird Farm in Nelson, grows cut owers and nding organic seed is a challenge. She plans to join the seed co-op in order to make things a little easier. "It's a pretty niche market," she says of organic cut owers. "Because of this, it's epically hard to nd certied organic cut ower seeds." She started saving her own seed out of necessity and after ve years of doing so, met David Catzel of Glorious Organics in Langley, a co-op member and seed program coordinator with FarmFolk/CityFolk in Vancouver. "He was super encouraging and I felt like we could provide an interesting dimension in the ower perspective," says Braun. "I knew there was a market for this." Co-op advantage By joining forces with the co-op's 18 other members, she'll supply seed to the co-op which then takes on the marketing, sales, packaging, shipping and more. The co-op will enable Braun to supply seed without having to build the marketing, packaging and distribution infrastructure herself. "They have done so much as a group to create the context to enable a new grower to come in," she says. "Basically, I just give them the seed and they do everything else. If I had to do this on my own, there's no way." She values her ability to support eld-to-vase owers and feels the "slow, local ower movement" began shortly after the similar food movement, about ve to 10 years ago. Her estimate is that there are about 50 specialty cut ower growers around the province trying to source organic seeds. Selling seed also creates another revenue stream. "Any farmer, by their nature, is looking for more avenues to market their products. It was a product that I was already creating just for myself on a small scale," she says. "Because it's a co-op it's really a limited risk to test it and try it." Catzel says that any seed company he has contacted has seen sales at least 300% above normal during 2020. The orders have continued, pointing to sustained growth. "Seed work has denitely gotten very busy," he says. "But farmers didn't plant more than 300% of seeds. We just have to make sure we grow more seeds." Growing opportunity Alex Augustyniak, general manager with West Coast Seeds in Delta, says a lot of farmers are looking to get into seed production. He says the volume of sales hasn't slowed down, even with the onset of fall. "Usually, we get a little bit of a break, but this year, no," he says. "People are buying tomatoes and peppers now. They want to make sure they have the varieties they want." Farms are also ordering seed early. "Back in June they were starting to kick in," he says. "Farmers noticed that [increase in sales] and thought, 'I better put my order in earlier.' They're concerned, or just getting prepared." West Coast Seeds regularly attends events to meet farmers and learn about new varieties. It's also part of the All-America Selections program that tests new varieties of seed and has a quarter-acre test garden. "We're always talking to people and we're looking at dierent varieties," he says. "The majority of the players we're dealing with, they've been doing it for four generations." Catzel says BC residents and businesses purchase $25 million in vegetable seeds every year, just a fraction of which is produced in-province. This means there's plenty of room to grow local seed production. "There's interest in farmers in doing this work, but it's just not part of their business model," he says. "I think that's starting to change now, … [but] it's a very long-term picture. A sustainable seed system is going to take decades of training and learning and collaboration." 20 Acre Luxury Estate in Merritt 3425 D'Easum RoadtCESNCBUITRGUt$VMJOBSZ,JUDIFOX*TMBOEt)ZESPOJDIFBUDBSHBSBHFMerritt, BC $1,735,000Call/Txt Freddy 604.997.5398E201 Alaska Highwayt&BTZ"MBTLB)XZ"DDFTTt'SPOUBHFPO.JOBLFS3JWFSt8BUFSUJNCFSGFSUJMFTPJMFort St. John, BC $315,000 Call/Txt Linda 604.997.5399Homesteaders! 151 Riverfront AcresLot 7280 West Fraser Rd.t"DSFTGUXBUFSGSPOUt.JMENJDSPDMJNBUFt-PBNTPJMCVJMEJOHTJUFTQuesnel, BC $223,500Call/Txt Freddy 604.997.539834 Acres West BankFraser Riverfront2285 Blackwater RoadtCESNCBUITRGUt3BODIFSGVMMCBTFNFOUt)BZ'JFME#BSO4IPQQuesnel, BC $565,000Call/Txt Freddy 604.997.5398Horse Lovers Dream26 Acres with Hay 2678 Eagle Creek Road tMBLFWJFXBDSFTtY$BCJO-PGU%FDLt(SFBUSFDMPUöTISFMBYForest Grove, BC $179,000Call/Txt Sabine 778.363.2750Private 10 Acre Lot with Cabin & LakeviewCall 604.491.1060www.theBestDealsinBC.comSelling BC's Lifestyle Propertiesinfo@thebestdealsinbc.comPristine Waterfront Land!t(PW(SB[JOHBQQSPYIBt(PWIBZMFBTFBQQSPYIBt8BUFS-JDFOTFJOQMBDFForest Grove, BC $550,000Call/Txt Sabine 778.363.2750140 Wilderness Acres Dorrit Lake Ranch
Page 26
26 | NOVEMBER 2020 COUNTRY LIFE IN BCCALL FOR AN ESTIMATE LARRY 604.209.5523 TROY 604.209.5524 TRI-WAY FARMS LASER LEVELLING LTD.IMPROVED DRAINAGE UNIFORM GERMINATION UNIFORM IRRIGATION FAST, ACCURATE SURVEYING INCREASE CROP YIELDS We service all of Southern BCAs a result of Farm Show cancellations we are oering 10% -15% discounts.Call 877.966.3546 or visit www.agritraction.comApproaching our 25th Anniversary of Traction Milling. Our machines are custom built and patented.We are the only providers of Traction Milling in the world.HAS GROOVING LET YOU AND YOUR COWS DOWN?HAS GROOVING LET YOU AND YOUR COWS DOWN?Cool Forages now online on farmwest.com For centuries, domestic crops have been bred and nurtured for yield and resistance to threats such as pests, diseases, heat and drought. But climate change is upending ideas about current breeding methods. A team of researchers from Africa, Asia, Europe and South America working with scientists with the International Center for Agricultural Research in the Dry Areas (ICARDA), part of the CGIAR Consortium of International Agricultural Research Centers network, explored innovative ideas to boost crop resistance by studying their wild relatives. The focus was on durum wheat. They looked at 60 unique varieties which were exposed to challenges including fungal diseases, drought and high temperatures. A third of the wheat lines were actually hybrids of wild relatives bred with strong commercial varieties. "Crops' wild relatives have been selected by nature over millennia to withstand the very climatic stresses that we are trying to address," says Filippo Bassi, a scientist in Morocco with ICARDA. "The wild relatives really help to tolerate stresses such as drought, heat and low fertilization rates. These are wild grass species often found in extremely harsh environments, so it is this plasticity to tolerate extreme stresses that we try to harness. Some of the traits we have noticed are larger grain size and better root systems, also typical of their wild makeup." He said that making the investment from traditional crop breeding to the inclusion of wild relatives can be risky and it is critical to ensure there is a real advantage to doing so. "Making the initial cross-pollination is already challenging and, through the selection process, the breeder needs to look at thousands of ugly plants in the hope to nd one or a few that look good," says Bassi. "Wild relatives [did not evolve] to provide food for humans but to survive the environment. As such, we need to get the 'good resilience' from the wild, but especially make sure that the nal plant maintains the high productivity and adaptation to human agriculture of modern varieties." He says that there is value in genetic variation. The more biodiversity that is built in, the greater chance there is of developing better plants. But some crosses give preferential results. "For instance, emmer has been very good to improve the grain size and root depth, while goat grass has more root biomass and promotes pollen more resistant against heat," he says. "The other wild types also have traits that seem easier to get, while with others we have a hard time transferring." For instance, some wild relatives have small grains or Breeding crops for the future means looking backwardsWild relatives of familiar crops can contribute resilience poor our production or are too sticky or not sticky enough for food processing. It is therefore important that, when using wild relatives, these limitations are kept in mind so that only ideal varieties are selected for food production. About a third of wild relative varieties were resistant to the fungal disease septoria compared to just a tenth of the others. But conventional wheat varieties were more resistant to other diseases, like leaf rust, that have been the focus of past breeding programs. Where wild relative wheat varieties excelled was under drought and heat stress. The wild relative lines had larger grains, a critical adaptation. When nitrogen was in short supply, the wild-derived lines produced a higher yield. "In the case of temperature, the crop wild relative presented a clear advantage with a yield increase of 42% under heat stress," says Bassi. "Yield losses to heat can be drastic, and the use of crop wild relatives to breed new varieties appears to be a very strategic approach to address climatic challenge." The research has received much support from farmers while breeders are a little more cautious. "To date we are seeing very strong appreciation by farmers, while breeders remain still a bit skeptical," he says. "Even though we now have mounting evidence that it does work, and the outcome is sometimes epic, it is hard to truly change this vision. However, we are seeing a slow shift, with more breeders requesting this type of germplasm. I hope that, within ve to 10 years, using wild relatives in the breeding programs will become normal rather than exceptional." Going forward, Bassi says they have just scratched the surface. There are thousands of wild relative species stored in the gene banks that need to be investigated and integrated into modern varieties in order to address the impacts of climate change. "This is somewhat an applied approach, but we have not fully understood its basics yet," he says. "I hope we will be able to study in more detail what happens at the molecular level when two dierent species are combined. That will ultimately help us in being more targeted and successful." Research by MARGARET EVANSStraight aheadChilliwack Plowing Society president Francis Sache, who has won several BC plowing championships, ponders the future of plowing matches during the COVID-19 pandemic at the unofcial Chilliwack Plowing Match, October 3. The story and more photos are on page 41. PHOTO / DAVID SCHMIDT
Page 27
THAT'S A KEEPER. Brian Faulkner, vice president of business development for BC Fresh, was picking his favourites at the potato trial eld day in Delta in late August. BC potato growers are reporting an exceptional harvest this year in spite of some wet weather at the end of September. PHOTO / RONDA PYANECOUNTRY LIFE IN BC NOVEMBER 2020 | 27www.tubeline.ca 1.888.856.6613@TubelineMFGFind us onBALEWRAPPERSSPREADERSSILAGE BLADES BALE PROCESSORSWrap up yoursavings with low rate financing.Visit us online for program details.by RONDA PAYNE DELTA – Lower Mainland growers are looking at a record-breaking potato crop this year thanks to an early start and good weather through the growing season. "This crop is ranking up with our record-breaking crop from two years ago," says Murray Driediger, president and CEO with BC Fresh Vegetables Inc., whose growers produce 80% of the province's potato crop. "Pretty well everybody from Sumas right through to Delta has reported better-than-average yields and all the quality that we have seen that is coming out of storage, we're pleased with it." He's condent volumes will exceed those of 2018, which was a benchmark crop. This could put the harvest at close to 110,000 tons, well above the 105,000 tons Statistics Canada reports was harvested in 2018. Preliminary gures were expected by the end of October. "For the most part, every potato type, red, white, yellow, russet and Kennebec have higher than normal yields," says Driediger Cory Gerrard of Swenson Farms in Delta grows about 20 dierent varieties on 400 acres in Delta, Abbotsford and Kamloops. Yields were above average across the board. "We had a pretty good growing season. A pretty early start," he says. "We got a decent fall. It was too dry and then it got too wet. I'm pretty sure that most people got everything out though, that's the main thing." Jack Bates, co-owner of Tecarte Farms, considers himself on par with other growers. "Crops in BC were pretty good," he says. "There's some big crops. We had our days, but I think in the end, everyone got their crop out." Unfortunately, marketing those high yields could be a challenge for some growers this year. Tecarte only produces Kennebec, a variety grown specically for fresh-cut fries. Demand dropped when COVID-19 shut down foodservice channels in March, leaving growers saddled with hundreds of tons of the variety. Retail partners had to step up to move the backlog. With restaurant business yet to return to normal, Kennebec demand is likely to remain down well into 2021. Some growers rejigged their plans at the start of the season in anticipation of a long-term shift in demand. Gerrard changed his planting around, for example, growing fewer Kennebecs. "We denitely grew less of those," he says. "We still do a fair amount of food service … [but] who knows what's going to happen there." Planting came early this year, but that kept growers ahead of the cool wet weather that arrived in June. An issue common to all farmers, including potato growers this season, was labour. Gerrard says his challenges coincided with governmental relief programs. "When the CERB benet came out, all of a sudden our labour issues magnied," he says. "We were lucky our foreign help was already here. Without them we would have been in big trouble. We were a little slower in production in March." The large crop and lack of labour meant many growers started harvest early. This could present storage disease issues but Driediger isn't too worried. "It was still warm in early September and that always poses some risk for storage crop," he says. "We're closely monitoring several storages just to make sure they're going to hold up." BC Fresh is pleased with pricing so far but Driediger expects prices to level out. "Once all the storage numbers get reported, North American-wide prices will probably settle down by winter," he says. "Some of the volume is sold over the winter and then adjustments will be made accordingly." Potatoes head for record-breaking harvestGrowers grappling with shifting market demanddrainage is our specialtyVALLEY FARM DRAINAGE31205 DEWDNEY TRUNK RD, MISSION • Fax 604-462-7215 604-462-7213 • www.valleyfarmdrainage.comProudly supporting Canadian industry using Canadian productLASER EQUIPPED & GPS CONTROLLED TRENCHED AND TRENCHLESS APPLICATIONS SUPPLIERS OF CANADIAN MADE BIG O DRAINAGE
Page 28
IF IT'S WORTH IT TO YOU, IT'S WORTH IT TO US.Contact our agribusiness specialists by email at agribusiness@firstwestcu.caWHEN SUCCESS IS MEASURED IN ACRES AND NOT HOURSKeeping it Simple®Divisions of First West Credit UnionBank. Borrow. Insure. Invest.28 | NOVEMBER 2020 COUNTRY LIFE IN BC
Page 29
Ian Richardson has been growing garlic at Rocky Ridge Farm in Mara since 2000. Wet weather in June, before harvest, made it challenging to cure this year's crop. PHOTO / SUBMITTEDCOUNTRY LIFE IN BC NOVEMBER 2020 | 29COMMITTED TO AGRICULTURE in the FRASER VALLEY, SOUTH OKANAGAN & VANCOUVER ISLAND rollinsmachinery.comCHILLIWACK • 1.800.242.9737 . 44725 Yale Road West • 604.792.1301 LANGLEY • 1.800.665.9060 |. 21869 - 56th Avenue • 604.533.0048 CHEMANIUS • 1.250.246.1203 . 3306 Smiley Road KELOWNA • 250.765.8266 . #201 - 150 Campion Street TRACTORS CASE 35B 4WD, ROPS [CNS755] ........................................... 13,000 JD 5100 MH, HIGH CLEARANCE, 3 REMOTES [CNS757] .......... 70,000 NH BOOMER 33 ROPS, LOADER, 4WD, TURF TIRES [U32032] . 20,950 NH 8560 4WD, 6,250 HRS [U32312] .................................... 59,900 TS135A 4WD, 6060 HRS, CAB, SUSP, PWR SHIFT TRANS [U32120] 42,900 QUALITY USED EQUIPMENT AERWAY 11' TRAILER, AERATOR, NICE CONDITION [U40045] .... 9,000 FRONTIER 12' DISC, TANDEM 21" FRONT NOTCH, 21" REAR SMOOTH [U32343] ................................................ 7,900 GEHL 3250 SQ BALER, S/N20743, CRANK BALE TENSION,78" PU, 1/4 TURN BALE CHUTE, GOOD CONDITION, SHED-STORED [U32407] ............... 7,900 KOMATSU LOADER BACKHOE, 7100 HRS, 4 POST, ROPS, 4WD [U40043] .................................................................... 19,500 KUHN PRO 150 MANURE SPREADER, VERTICAL BEATERS, GOOD CONDITION [U32236] ................................................ 36,600 MCHALE FUSION VARIO 2017, 14,000 BALES [U32135] .......... 99,000 NH 258 RAKE 260, HITCH [U32143] ........................................ 4,950 NH 644 SILAGE SPECIAL BALE SLICE [U32169] ....................... 11,900 NH FP240 GRASS-CORN-CROP PRO, TANDEM AXLE [U32193] . 32,500 NH 1044 BALE WAGON [U32420] ............................................ 7,000 NH 7550 DISC MOWER 13' - PIN HITCH [U32358] ................... 16,900 TAARUP 4036 DISC MOWER, REBUILT CUTTERBAR [U32093] ... 14,500 by MYRNA STARK LEADER KELOWNA – BC garlic growers are harvesting about four times as much garlic as they did a decade ago, but a cool spring and wet weather just before harvest challenged some growers this year. "It was a very stressful year for many of my growers," says Jim Capellini of Rasa Creek Farm in Lumby. He's grown garlic since 2009. He markets seed garlic purchased from about a dozen other growers who sell directly to him. Capellini planted about 4,000 cloves last fall for harvest this summer. "I lost about 30% of my crop because it was too wet. Bulbs began to develop mold while still in the ground prior to harvest," he explains. Two of the organic growers who supply him with seed fared even worse than he did, losing their crops to botrytis. "Both farms were certied organic, and so my access to certied bulb was seriously restricted," he says. Botrytis spores can travel with seed stock to new elds, introducing the fungus to an otherwise clean crop when conditions are right. Organic growers have few options for controlling the fungus, so neither Capellini nor his growers felt comfortable reserving a portion of this year's crop for seed sales. Ian Richardson, who's been growing garlic since 1988 and has operated Rocky Ridge Farm in Mara since 2000, planted about 20,000 cloves on half an acre this year. While he didn't see signicant losses, the weather made it tough to cure the crop. "Our growing season was okay, just okay," he says. "We lost some garlic as it was too wet, especially right before harvest time, which is when you want garlic to be drying out in the ground. In a normal year, you quit watering about two weeks before you harvest. This year it rained almost right up to harvest." Abdul Majid of BC Garlic Growers Inc. in Abbotsford also faced challenges curing his crop. He farms 48 varieties, for a total of approximately 150,000 plants. The quality was excellent, but didn't come without eort. "We had a fantastic crop," he says. "The least amount of crop loss, and crop quality was great and sizes were amazing. … But rain once a week wasn't good for drying and curing these large heads." Doug Saba of Curly Willow Organic Farms in Grindrod lost about a quarter of his crop, or more than 900 bulbs, to botrytis. His Russian Red was more aected than his Yugoslavian garlic. Fortunately, he was able to salvage enough good cloves to replant this fall, hoping that the healthy cloves will give next year's crop a measure of resistance to the fungus. To try and ward o fungus issues with his next crop, Saba will use less mulch around his plants. He may also look for an organic product to treat them in the spring. Knowing that this years crop had botrytis, he chose not to sell it as seed garlic. Kelowna grower fared well Even with a cooler spring, some growers in Kelowna saw good crops. Now in their third year of garlic production, Michael and Jane Johnston of Avoca Farms and Vineyards had their best crop ever. They used garlic as a way to boost cash ow while developing their aronia berry operation. They seeded 165,000 cloves in the ground on about 2.5 acres, and another 30,000 in pots. Jane says 75% of the cloves produced heads of garlic varying in size. They were happy with the outcome, attributing their success to their sandy soil and greater experience. A notable challenge this year was voles. While garlic is supposed to deter the rodents, the vole population seemed higher this year. The tiny varmints not only made runs through the eld but moved bulbs, increasing the risk of disease spreading around the planting. She says their potted garlic turned out even better due to the controlled growing environment. Michael's familiarity with potted growing in Ireland, where the method is more common, prompted them to give it a try in Canada. "It took a year of trial and error to get the fertilizer, watering and management of it in place," she says, "but, overall, we were very successful for what many have told us was a challenging year." Monde Janzen of Janzen Garlic Acres Inc. in Kelowna was pleased with the results of her own 5,000 plants following a poor crop in 2019. Janzen relocated from her operation from Abbotsford to Kelowna two years ago. Although she had success with the crop in Abbotsford, she's spent the last two years adjusting to local growing conditions in the Okanagan. "We got good quantities but I learned that we'll stick with hard-neck garlic and work next year to increase the garlic's size," she explains. Janzen sees opportunities for local garlic and plans to plant 30,000 to 35,000 cloves this fall, using a garlic splitter to separate them from the heads. The splitter reduces labour costs. The ambition and innovation of growers like Janzen and the Johnstons give Capellini condence in the future of the sector. He's been working to grow it since planting his rst 107 cloves of Russian Red, German Red and Yugoslavian garlic in 2009. He expanded to 40,000 bulbs annually and planned to grow even larger, but scaled back to focus on growing the industry through workshops and seed sales. Capellini believes there's a hole in the marketplace that could be lled with locally produced garlic. According to international trade data, Canada imported 45.6 million pounds of garlic worth $60.5 million last year. China accounted for more than 80% of imports, followed by the US and Spain. "We're still importing 85% of what we need for fresh garlic in Canada," says Capellini. "The demand is there, if people can produce it." Weather posed challenges for garlic growersCool temperatures, pre-harvest rain complicated high-quality cropLIKE USFOLLOWUS@countrylifeinbcLIKFOL@countrylifei
Page 30
30 | NOVEMBER 2020 COUNTRY LIFE IN BCby MYRNA STARK LEADER KELOWNA – Having a market is key for any crop, but how BC garlic growers access markets is nearly as varied as the province's growers. Statistics Canada reports that garlic acreage in BC has been declining since 2016 when production peaked at 385 acres. Last year, there were 210 acres cultivated, producing a marketable crop of 237 tons, worth $3.3 million. That's about $6.96 a pound. "We had a good year at the farmers market," says Monde Janzen of Janzen Garlic Acres Inc., who sells her garlic by size rather than weight. A large bulb is $3. She also discovered that packaging several Russian Red bulbs in a net sleeve or basket for a set price helped boost sales. Additionally, to help sales and grow awareness of her business, Janzen also paid to have some work done for her on search engine optimization. It helped ensure that if people search "garlic Kelowna" online, Janzen Garlic Acres is near the top of the list. "Because we are new to the market, and hoping to grow more garlic next year, it's helped us to have another way for people to discover us," she says. "There was more demand than we could ll, especially for people looking for seed garlic. We also got customers and tourists wanting boxes of garlic for culinary purposes and our old retailers, Hamilton Farms from Abbotsford, who wanted us to supply them with garlic." Still in Kelowna, Avoca Farms and Vineyards sold their top garlic for between $12-$16 a pound at the end of July and the beginning of August, mostly in large quantities, to customers in Vancouver, where owners Michael and Jane Johnston previously lived. "We sold the majority of our whole garlic to restaurants and businesses in Vancouver – the Terminal City Club, the Vancouver Club, a group of downtown restaurants, as well as some produce distributors," says Jane, adding they could have sold more if they had it. While the restaurants were quieter, they still needed garlic. Johnston also saw sales through BC Tree Fruits Market to local restaurants and by word of mouth. She says networking as a member of the Canadian Health Food Association and Kelowna Chamber of Commerce also helped make connections to new sales opportunities and other farmers. Festivals cancelled For sellers who counted on garlic festival sales, life changed in 2020. Ian Richardson of Rocky Ridge Farm in Mara typically sells his garlic for $12-$14 per pound, depending on size. This year, he grew four varieties to try and meet consumer needs, some early garlic like Purple Turban, as well as Yugoslavian and Russian Red to satisfy customers who like more intense avours. However, the ve places Richardson usually markets – the Revelstoke Farm and Craft Market, the Grindrod Garlic Festival, the Cariboo Garlic Festival, Hills Garlic Festival located in New Denver and the Revelstoke Garlic Festival – were all cancelled or shifted to online sales. The Grindrod festival, for example, accessed grant money to help create an online event. Vendors like Richardson, who is also a board member, were listed. "That was good for some of us who already had all our products listed online so it was easy for us to transfer that content into the festival site, but it was more dicult for others starting from scratch," he says. Repeat customers of 20 years or more helped Richardson's sales. He says many people are continually buying greater quantities. Sales ranged from a pound to 20-30 pounds as people purchase their year's supply. He's hopeful customers of BC garlic understand the challenges of this wet season and that perhaps getting a clove of local garlic that wasn't fully cured doesn't turn them o buying BC. Like Richardson, Abdul Majid from BC Garlic Growers Inc. in Abbotsford has also experienced increasing sales. He grows many varieties because he sees room to teach consumers, chefs and local food makers more about garlic's uses – from the leaves, to scapes, to bulbs. "We are certied organic and our fundamental mandate is to make BC a reliable supplier to consumers in the Lower Mainland. We're also trying to bring awareness around food security," says Majid. He says it's more work to grow so many types, but more varieties lead to more knowledge. Like apples, garlic varieties have unique avour proles. This means consumers need more education and experience with garlic to determine what they like. He's also interested in promoting the health benets of garlic. He says while labour costs rose, he's kept prices stable for four years, selling by size rather than per pound into the fresh and garlic seed markets. As a seed supplier and garlic educator, Jim Capellini of Rasa Creek Farms says many in the public still don't realize that much of the garlic sold in Canada is grown and imported from China. This does little to support a BC or Canadian industry and economy. While he's still enthusiastic about the possibilities for the crop, he's also realistic. In his online courses, he coaches newcomers to start slow and to ensure they have a market. Garlic growers employ mixed marketing strategiesPandemic forced many growers to shift to online salesTRACTOR TIMEVICTORIA 4377C Metchosin Rd. 250.474.330130 minutes from Victoria and 15 minutes from Highway#1 in Metchosin.PREMIUM TRUCKPRINCE GEORGE 1015 Great Street 250.563.0696WILLIAMS LAKE 4600 Collier Place 250.398.7411HANDLERS EQUIPMENTABBOTSFORD 339 Sumas Way 604.850.3601HOUSTON 4001 Williams Crescent 250.845.3333
Page 31
COUNTRY LIFE IN BC NOVEMBER 2020 | 31Association aims to foster collaborationThe new Western Canadian Garlic Association has a dozen founding membersby MYRNA STARK LEADER KELOWNA – The newly established Western Canadian Garlic Association continues to take shape, despite the challenges posed by the COVID-19 pandemic. "We need to have more conversations with other growers to be on the same page and discuss changes, challenges and opportunities with garlic," says Jane Johnston, who with her husband Michael launched the association 18 months ago. Michael is president of the association, which now has a dozen members. Jane wonders if today's growers are thinking enough about garlic's longevity as a viable crop, particularly in the Okanagan, given the changing climate and changing soil conditions. She believes that a strong association could facilitate collaboration among growers, yielding a number of benets. An association might be able to help members take advantage of government programs or set up online sales. There could be opportunities to gure out ways to extend the local season by adding late-season garlic to supply retailers. The association might also be able to help growers access crop insurance. "We need to ensure we can grow and distribute safe garlic for sale, that we have the various certications required as well as a harvest traceability to ensure we know and meet the requirements by [the Canadian Food Inspection Agency]," says Jane. She also sees the association as a way for growers to send valuable information and data to the government and decision-makers in the food, agriculture and food processing industries, not to mention sharing innovative ideas that could help the entire industry. One example is a garlic undercutter Michael designed for harvesting the crop. "With the limited amount of farm help available, it made collecting the garlic very easy. We were able to harvest the majority of the garlic without hitting or damaging it. Truly a lifesaver, no pulling garlic and having it break o when pulled," Jane explains. The Western Canadian Garlic Growers Association can be reached at 778.821.0450 or westerncanadiangarlic@gmail.com. Jane and Michael Johnston of Avoca Farms and VIneyards spearheaded the launch of the Western Canadian Garlic Growers Association last year. FILE PHOTO / MYRNA STARK LEADERROTATOR®TECHNOLOGY1000 SERIESIRRIGATION AUTOMATIONHELPS AID NUTRIENT MANAGEMENT Wirelessly automate your valves to turn your sprinklers on and off as needed and reduce potential for runoff.Contact us to learn more: Tel: +1 509.525.7660nelsonirrigation.comBIG GUN® SPRINKLER + TWIG® WIRELESS CONTROLSHigh-uniformity Rotator® sprinklers help manage water & nutrients uniformly in the soil.Nelson valves are designed for tough agricultural applications. 3030 SERIES PIVOTSPRINKLERS1/2" & 3/4"IMPACT REPLACEMENTS
Page 32
32 | NOVEMBER 2020 COUNTRY LIFE IN BC© 2020 CNH Industrial America LLC. All rights reserved. New Holland is a trademark registered in the United States and many other countries, owned by or licensed to CNH Industrial N.V., its subsidiaries or affiliates.Redesigned. Restyled. Ready for what's next.New Holland T6 Series tractors are heavy-duty, all-purpose tractors that give you more of what you need—and then some. T6 performance and comfort features really add up. More power with faster response from efficient Tier 4B engines. More visibility from the Horizon™ cab. More comfort and a quieter ride with the Comfort Ride™ cab suspension. And more speed selections for the job at hand, thanks to a choice of three transmissions. Be ready for what's next in farming with the redesigned T6 tractor. Stop by today or visit newholland.com to learn more. #EU-UOFNQJVR&NSB'SFMUVUFFSU4 ' OIP+U4USP #$7 3+XBDUOFNQJVRFNSBGSFMUVCXXARMSTRONG HORNBY EQUIPMENT ACP 250-546-3033 CHILLIWACK ROLLINS MACHINERY LTD 604-792-1301 CHEMAINUS ROLLINS MACHINERY LTD 250-246-1203 FORT ST JOHN BUTLER FARM EQUIPMENT LTD 250-785-1800 KELOWNA ROLLINS MACHINERY LTD 250-765-8266 LANGLEY ROLLINS MACHINERY LTD 604-533-0048 WILLIAMS LAKE GRASSLAND EQUIPMENT LTD 250-392-4024 VANDERHOOF GRASSLAND EQUIPMENT LTD 250-567-4446ARMSTRONG 250/546-3033 3520 Mill Street | hornbyequipment@shaw.ca SERVING OUR CUSTOMERS WITH SALES, SERVICE & PARTS FOR 50 YEARS!
Page 33
Jo Schneider and Kaylan Madeira of Twisted Hills Craft Cider have six acres of cider trees in their orchard in Cawston. Cider-making is increasing in popularity and sourcing the right apples to make the best cider can be challenging. PHOTO / SUBMITTEDCOUNTRY LIFE IN BC NOVEMBER 2020 | 33by RONDA PAYNE CAWSTON – Cidermaker Kaylan Madeira with Twisted Hills Craft Cider in Cawston is pleased with the harvest from her six acres of cider apple trees, one of more than 30 orchards producing fruit for the province's growing cider industry. Twisted Hills grows 10 varieties of cider apples alongside six acres of dessert apples, peaches, pears and cherries. The trees are biennial bearers which makes them high maintenance for conventional producers, but the province's cidermakers are keen to source more of their tart fruit. "As demand for cider fruit increases, the potential for growers planting cider fruit with no plans to make cider themselves [exists]," she says. Blake Wylder, owner of Wylder Trees on Salt Spring Island, is one of the rare individuals to see the potential in supplying cider makers. He and his father-in-law had a plan to open their own cidery, but realized they couldn't nd either the apples or the trees they needed. Instead, Wylder decided to focus on the trees and now supplies others with 70 varieties from among 5,000 trees on his two acres. "I really enjoy growing the trees so I decided to keep the cider-making as a hobby," he says. "I launched the website in January of 2019 and was only operating for a few years before that, just sort of by word of mouth." While not all of Wylder's apples are traditional cider varieties, he says all have great cider qualities. A few that continue to be popular include Redeld, the crabapple Dolgo and the apple-crabapple crosses Kerr (whose lineage includes Dolgo) and Hewe's. In BC, there is a wider range that are suitable for the climate, so Dabinett and Yarlington Mill have been in demand as well as some of the renowned French and English varieties. "I get a lot of demand for crabapples," he says. "This spring I also saw a big uptake in retail in people wanting heirloom eating apples. I think it was just people getting back into their gardens." Cider association Jason Child, general manager of his family's Merridale Cidery and Distillery, is also the president of the BC Farm Crafted Cider Association. He says the association currently has 29 members with others coming on board as their licensing comes through. "Everyone is planting their own orchards for the most part," he says. The majority of growers and cideries are in the Interior, with a lesser number on Vancouver Island and the Sunshine Coast. Merridale grows about 25 dierent cider varieties on approximately 50 acres of orchards with 30 acres in Cobble Hill and 20 acres in Keremeos. "We don't use any dessert apples, really," he says. He describes Merridale's harvest as "great" this year, both in Cobble Hill and Keremeos. His top-Demand boosts interest in older cider applesTart fruit yields sweet reward for those with a knack for the cropYOURHelping YouHelping YouHelpinlpingYoulHHelping YoWEEKLY FARM NEWS UPDATESSignSign upup for for FREE todaFREE today.www.rollinsmachinery.com info@rollinsmachinery.caChilliwack 1.800.242.9737 47724 Yale Rd W Langley 1.800.665.9060 21869 56th Ave Chemainus 1.250.246.1203 3306 Smiley Rd Kelowna 250.765.8266 201-150 Campion Stperforming varieties are Tremlett's Bitter, Yarlington Mill and Dabinett. "It's been a pretty nice long, hot summer. It's been a good year for growing," he says. Child says all cider-makers and growers have dierent ideas on what they like. "It depends on what their orchard came with, and then you work with what you have." See OLD on next page o
Page 34
OLD cider varieties are seeing a renaissance nfrom page 3334 | NOVEMBER 2020 COUNTRY LIFE IN BCAs a farmer, you need to do fast, good work. Avenue Machinery wants to give you the advantage of speed without compromise. Kubota FastBale is a non-stop baler wrapper combo that lets you make big dense bales 33% faster.ABBOTSFORD1-888-283-3276VERNON1-800-551-6411KELOWNA1-800-680-0233EFFICIENCEFFICIENCYYGIVE YOURSELF THE AVE NUEHe says more cider apples are becoming available and cider-makers are seeking out old varieties to plant, too. "In the beginning, they could only buy what was available, which were mostly eating apples, but now there's more cider apples available to them," he says. "A lot of these guys are doing the dwarf trees; they produce a lot more for smaller acreages." Cider trees are also the priority at Burton City Cider in the West Kootenay community of Burton, where co-owners Barbara and Alan Ross have six acres planted with about 95% cider trees. "We have eight dierent varieties because we didn't know what would grow well in the valley," Barbara says. "When we expand, we can expand specically with the ones that do the best for us." Her trees were planted in 2015 and are just now reaching full production. "We have nowhere near enough," she says. "We get a lot of apples from the Okanagan to supplement. We can't get [cider apples] from anyone." Ross's apple set was poor on some varieties due to a cold, wet spring. Overall her yield is down from last year when she had a really good crop of Dabinett, though hardly any of the variety this year. She believes it's due to the biennial nature of the trees and not a weather issue or the lack of heat in the region. "I guess that is the reality to some degree," she says. "I'm fairly new as an orchardist." There is no codling moth at Burton City Cider, but Ross is on the lookout. She's also watching for re blight, a signicant issue for some cider varieties. Apple scab is present, which also demands vigilance. Missy Dobernigg, owner and cider-maker with Vernon's BX Press Cidery and Orchard, says her Michelin variety apples underperformed this year. The operation uses up all of the 10-plus varieties of cider apples grown on-site and a few of its dessert apples. (Most of her dessert apples ship to BC Tree Fruits.) "We have a nice crop and the stu we grafted in 2015 is bearing now," she says. "They look really good. It was actually a really good year. " Production is now to the point where there are enough apples to create the 50,000 litres of cider BX Press crafts with the mix of cider apples and dessert apples. Disease pressure is a minimal issue, she says, as the visual aspect of the apple is far less important when making cider. The need for cider apples is growing as the industry evolves. "In the last year and a half, it's denitely been quite a bit busier," says Wylder. "Cider in general has had quite an increase in interest in the last 10 years." He feels that when some plant cider apple trees, they are aware they can fetch a higher price for the fruit, but adds that most people "make the leap to, 'if I'm going to grow apples, I may as well make cider,' though some are looking to start an orchard." Wylder hasn't had any real pest or disease pressures, but adds that the trees are young, about two years old at the point of sale. "I'm going to start doing perry pears," he says. "Because those are really hard to come by."The BC Farm Crafted Cider Association has 29 members and expects to grow as new cider makers are licenced. That's providing new opportunities for growers. FILE PHOTO / MYRNA STARK LEADER
Page 35
Evans Farms marks a century of ranchingWomen played a key role in the ranch's endurance Marion and Bill Evans are still active on the ranch now managed by their son Glyn and his wife Stephanie. Glyn and Stephanie Evans with their daughters Lindsay, Kaitlyn, Sierra with Mya, and Julia. PHOTO / SUBMITTEDCOUNTRY LIFE IN BC NOVEMBER 2020 | 35Farm and Rural Residential Properties in the Peace Country are our specialtyAnne H. ClaytonMBA, AACI P App, RIAppraiserJudi LeemingBHE, AIC CandidateAppraiser250.782.1088info@aspengrovepropertyservices.caby MARGARET EVANS DOE RIVER – In Doe River just north of Dawson Creek, the Evans family is celebrating 100 years of ranching in BC this fall, one of ve farms recognized with the province's Century Farm Award this year. Evans Farms is owned by Glyn and Stephanie Evans, who run the 2,100-acre ranch as a cow/calf operation with about 350 head. Glyn's personal history intertwines two families with diverse origins, one from England and the other from the US. Seeking new opportunities, Glyn's great-grandfather Benjamin Holloway visited Canada and found land near Lloydminster, Alberta. Following the horrors of the First World War, in which a family member saw action, and the Spanish u pandemic, which claimed one of their members on his return from the battleeld, the family headed to Canada to make a fresh start. Benjamin and his wife Ellen, plus their three children, William, Cyril and Dorothy made the trip. "[They] left three adult children behind," says Glyn. "They came in 1919 and spent their rst winter in Quebec. They came to the Peace as that was where unsettled land was still available as the settlement of Western Canada pushed west." The family started farming in Doe River in 1920. Benjamin, William and Cyril each led on a quarter section of the farm property where the family raised cows and grain crops. At the same time, John and Lenore Albright arrived in Doe River from Whitman, Washington. In July 1920, they acquired a quarter section of land and started farming. With them were their daughters Gladys and Mabel, and their son Russell. Russell started farming in the early 1930s. He hired a housekeeper, Minnie Cornish, a divorced mother of four, and they subsequently married. They had three children together, including a daughter, Marion. Meanwhile, Dorothy Holloway married William Evans in 1934 and they had two children, Bill and Mona. But, sadly, William senior passed away in 1947 so Dorothy continued farming on her own with help from Bill, a tribute, Glyn says, to the strength and resilience of the women in his family. "There were no good roads, no communication," he says. "I'm not sure if they had their rst vehicle then, or soon after. But she did have hired help. Dad talked about dierent men who worked for her at dierent times. They had a few cows and she milked cows into her mid-80s. They had a lot of pigs. Dad said that, during the 1940s, 1950s and 1960s, everyone had pigs and that's what actually paid for the farms. Pigs were easy to raise and you could make money with them. They are highly prolic." Deep roots in farming Bill Evans married Marion Albright. They farmed next to Dorothy and had four children, William, Wade, Desmond and Glyn. Marion also had a farming background, one that extended back to Indiana, where the family had farmland. When the farm was sold, her father took his share and headed west, trying his luck in three dierent locales. The family nally ended up in Canada. "My great-grandmother Albright (née Wolf) came from a very wealthy family," he says. "I took my mom to Indiana to see where she was from last year because she had heard about it but had never been there. We got in touch with the people who still owned the house. It's like a 10,000-square-foot home, built of brick. Right now, it's imposing. Back then, it was like a castle. Unfortunately, my great-great-grandfather tried farming but lost a fortune. Great-grandma Albright was born into that and was educated at Valparaiso University, Indiana. She graduated in music and enjoyed playing piano. So, on both sides of the family, the ladies came here from very dierent lifestyles yet stuck it out." Glyn's wife Stephanie was born in Vancouver, raised in Chetwynd then moved to Dawson Creek where the couple met. Now 46 and 47, respectively, Glyn and Stephanie run an agronomy consulting business alongside the ranch operation. They have four daughters and three grandchildren, the sixth generation of the Evans family. Glyn truly salutes the women in his family. "All of them have been very civic-minded," he says. "They have been involved in dierent groups like Women's Institute and the local rodeo. These two families I descended from have been closely intertwined since settling here in 1920. As all pioneers did, they relied on each other as neighbours. Minnie, my maternal grandmother, acted as midwife for the birth of my father. My mom and dad grew up just a half-mile from each other." Glyn and Stephanie farm with Glyn's parents who are still very active with their own land and cows. "Dad's 81, still rides horses and works cows including at the recent Sunset Pasture bush push, when cattle are rounded up from the range. Mom helps us move equipment and always has a meal on the table for the hungry at a moment's notice." For Glyn, receiving the centennial farm designation honours his parents and all the relatives who came before. They seeded the dream of a farm that has bound the family together for 100 years, and the foundation for a future that sees Glyn and Stephanie's daughters extending the family's agricultural activities, each in their own way.
Page 36
The blessed old potato sizer makes the cut for outstanding mechanical achievement. PHOTO / ANNA HELMER36 | NOVEMBER 2020 COUNTRY LIFE IN BCv4200W Model ShownDESIGNEDFOR HARSH CONDITIONS• 34" high mouldboard• Spring trip on cutting edge• Bucket edge mount or Qtach available• Replaceable, reversible steel cutting edge• Replaceable, reversible rubber cutting edge (OPTIONAL)• Skid shoes optional• 36" deep fixed endplates• Available in 10' 12' 14' widths• 2 Year Commercial WarrantyMax Operating Weight 25,000 LB.• Spring trip on cutting edge• 34" high mouldboard• Lateral float• Two angle cylinders• Hydraulic 35º angle either direction• Replaceable, reversible steel cutting edge• Replaceable, reversible rubber cutting edge (OPTIONAL)• Skid shoes• Cross-over relief valve protection• Heavy duty construction• Available in 9' 10' 12' 14' widths• 2 Year Commercial WarrantyMax Operating Weight 25,000 LB.1.866.567.4162 www.hlasnow.comThe submission deadline for this article falls right after the Thanksgiving weekend, which has informed the article content. It presents a quandary because although I am not opposed to oering thanks as stipulated this weekend, I also need to point out – especially to those who may equate Thanksgiving with an end-of-the-season celebration – that it's not over just yet. Quite a bit of opportunity still exists for carnage to occur and it is an unacceptable temptation of fate to assume otherwise. In this article, I have therefore attempted to adopt a structure that takes that into account. It is obvious to me, if not yet to you, that the best way to do that is to conduct an awards nomination announcement ceremony. I could have chosen an electoral structure (candidates, polling, voting etc.) but then it would have been too obvious that I was attempting to reference and even satirize aspects of the political action underway at this time. I prefer a more murky and deniable linkage. This year's themes include thankfulness, retrospection and the frankly superstitious acknowledgment that the last quarter of the year has yet to take its toll (I mean…unfold). And so, without further ado, here's a selection of categories and notable nominations: Leading right o with Potato of the Year: Sieglinde clinches. This is really a race for runner-up. The Gemstar Russet and the Red Chieftain look and taste promising. High-Impact Weed or Pest of the Year: Leading the tiresome list of nominations is barnyardgrass – commonly known as Nasty Grass – that successfully produces tens of thousands of hardy seeds that last in the soil for years. It's moving into every eld and causing us to consider purchasing an expensive cultivator from Europe. Mistake of the Year (Public Selection): Planting the peas BEFORE putting up the support fence, ame weeding the carrots a day late. Disappointment of the Year (Minor Irritations): The tractor seat that seems to be disintegrating before our eyes – one of the armrests fell o the other day. One day, it was a bit saggy, o the next. This category created to reect this incident, and just in time for the next nomination: the federal government announcing a pending ban on "single-use plastics." It just proves the point that gimmicky window dressing can mask a real problem. I sell a lot of potatoes in plastic. Please don't chuck the bag in the ocean when you are done, I urge my customers. We never do, they assure me. We all then wonder how it gets there. Disappointment of the Year (Major Impact): The rst markets of COVID in March lead the way, wreaking havoc on our farm budget, business plan and morale, yet signalling new opportunities. No other nominations in this category. Lifetime Award for Outstanding Mechanical Achievement: Nominees must be heavily depended-upon in critical service, irreplaceable and at least 50. The small tractor, ageless, which should do little more than pull irrigation pipe around, gets a nod. It pulls the potato planter every spring. When the hopper is run low enough before a headland turn is required, there are no diculties. On the plus side, I don't remember the last time it required fuel. Dad must do it, although there is a very real possibility that he assumes I do it. The old potato-sizer also qualies for a nomination. It works by shaking spuds over various-sized grates, depositing them into separate chutes for small, medium and large. Sometimes it shakes itself literally to pieces but luckily lends itself to repair – often requiring that super-sticky red Tuck Tape and zip ties, themselves perennial nominees in the Useful Tools and Materials (Non-Traditional) category. Everyone wants to know Employee of the Year. All are nominated. All win. Champers all around. Thankful, that's for sure. Anna Helmer farms with her bubble in the Pemberton Valley, and by now has had some questions answered. Farm Story by ANNA HELMERNominees announced for seasonal awardsPolls are open and some familiar nominees are in the runningDon't forget to RENEW your subscription toCountryLife in BCn't forget to RENEWur subscription toguntrye BC5080T TELESCOPIC WHEEL LOADER VAN DER WAL EQUIPMENT (1989) LTD. 23390 RIVER ROAD, MAPLE RIDGE, BC V2W 1B6 604/463-3681 | vanderwaleq.com 2070LPT TELESCOPIC FOR ALL THOSE WHO WANT TO GO UP
Page 37
Rosina Rodighiero used the bursary she received from the J.R. (Tim) Armstrong Memorial Fund to help with expenses in her last year at Kwantlen Polytechnic University. Now, she and her partner are putting her post-secondary education to good use, creating a new mixed farm in Cawston. PHOTO / SUBMITTEDCOUNTRY LIFE IN BC NOVEMBER 2020 | 37Bursary winner plants roots in CawstonPost-secondary education awards contribute to agriculture by RONDA PAYNE CAWSTON – Numerous post-secondary education programs support agricultural pursuits. Animal husbandry, soil sciences, entomology, journalism and others contribute to a thriving and intelligent agricultural system. An informal permaculture design course helped Rosina Rodighiero realize she wanted to be directly involved in agriculture. She followed it up with the Sustainable Agriculture and Food Systems degree program at Kwantlen Polytechnic University but she needed nancial assistance to see it through. Rodighiero applied for the J.R. (Tim) Armstrong Memorial Fund bursary, managed by the BC Farm Writers Association, last year to assist with the costs of her nal year. The award of $1,000 supported her through to graduation. She's now working at an organic orchard in Cawston as she and her partner, Dylan Butler-Urbanovitch, develop their own farm. "We're leasing land. There's [fruit and nut] trees that we've planted," she says. "In our market garden, it will be similar to what everyone has – tomatoes, peppers, probably some corn. We'll try some greens and see how they will do." The soil and plant science courses Rodighiero took will be particularly helpful as she and Butler-Urbanovitch adapt what they learned in a cooler, wetter climate to the arid, desert-like environment of Cawston. She feels that an understanding of the soil's needs, microbes and other factors will assist them in ensuring healthy soil and a regenerative farming practice. "Not everything will work the same way," she says of the transition. "Our focus is denitely on trying to do more perennial crops. … In our minds, that's a more regenerative approach." BCFWA helps students like Rodighiero contribute to agriculture by supporting their educational goals. The capital for the fund was created through contributions from BCFWA and like-minded individuals to honour Armstrong's outstanding contributions to BC journalism and the agriculture industry as the long-time publisher and editor of Country Life in BC, the province's oldest agriculture publication. For the past 40 years, students have received bursaries based on strong academic performance, nancial need and a commitment to their chosen eld. Applications are now open for the 2020 J.R. (Tim) Armstrong Memorial Fund bursary. British Columbia students enrolled in their second year or higher of a journalism or agriculture program at a Canadian post-secondary school are invited to apply. The recipient will be selected in January 2021 with funds awarded shortly thereafter. The deadline for applications is December 31, 2020. The bursary cover letter can be found at [www.bcfwa.ca/resources--links.html] or by contacting bursary chair Ronda Payne, at [ronda.eyben@shaw.ca]. J.R. (Tim) Armstrong Memorial Bursary for Students in Agriculture or Journalism ProgramsApplication Deadline:December 31, 2020The Tim Armstrong Memorial Bursary is open to British Columbian students who are enrolled in their second year or higher of a full-time agriculture or journalism program at a university, institute or regional college in Canada.See: http://www.bcfwa.ca/resources--links.htmlContact: Ronda Payne Scholarship Chairronda.eyben@shaw.caFOR BAGGED or BULK ORDERSDarren Jansen Owner604.794.3701organicfeeds@gmail.comwww.canadianorganicfeeds.comCertified by Pro-Cert Organic Systems Ltd.
Page 38
38 | NOVEMBER 2020 COUNTRY LIFE IN BCEngineered for the long haul and designed with endurance in mind. Every one of the 21 H&S Manure Spreader models is quality built. We have the machine to 昀t your opera琀on.RENN Mill Center Inc. has a corporate policy of continuous improvement and development; therefore models and specifications are subject to change without any advance notice. Standard Duty Heavy Duty Ground Drive Hydraulic Push Top Shot Side DischargeManure SpreadersRENN Mill Center Inc., RR#4 Lacombe, AB T4L 2N4The full line of H&S agricultural equipment is available from RENN Mill Center, the exclusive distributor in Western Canada.Call to find your local dealer.TEL: 403-784-3518 | www.rennmill.comby JACKIE PEARASE KAMLOOPS – COVID-19 restrictions failed to dampen the enthusiasm for a revised version of the 82nd annual Provincial Winter Fair that included the only live inter-club 4-H show and auction in BC this season. "It was a small show but there was representation in almost all divisions," says 4-H and open beef division representative Carole Gillis. A series of stock shows and a live auction took place at the fair, held September 25-28 at Circle Creek Ranch and Equestrian Centre in Kamloops. Organizers limited attendance in the barn area, everyone but the auctioneer wore a mask for the entire event, and 4-H exhibitors brought their animals in for the show, then hauled them out the same day. "We developed an enhanced health and safety plan requiring mask wearing, screening of attendees, and physical distancing. Lower-than-usual entries were an admitted advantage this year, allowing the event to maintain limits of 50 people on site," explains PWF chair David Arduini. Gillis says a few people resisted wearing a mask because the barn is not enclosed but relented once they learned it was part of the health and safety plan the show developed in conjunction with the health authority. She says 4-H members embraced the format so they could enjoy showing and auctioning their animals. "I think the kids had a great time. They were so appreciative of an opportunity to have an inter-club show that the fact that they hauled in that morning and hauled out that afternoon didn't seem to disappoint them. They were so excited to be able to show and compete and win prizes," Gillis notes. "So it felt pretty gratifying to be able to oer it to these kids." Between 50 and 60 4-H members took part in the show and 75 entries were in the auction. The sheep show had lower numbers this year, mainly due to timing. While beef members purchase their animals in November, lambs are bought in the spring. That coincided this year with the height of uncertainty around how the pandemic would impact agricultural fairs. "We denitely did see some signicantly lower numbers in the sheep show because of that. We went from having three classes of ewe lambs last year to one this year," Gillis says. There were not a lot of open cattle entries other than carcasses but all of the 4-H cattle divisions were represented, she adds. It was the rst time in memory that the PWF hosted a 4-H poultry division, with laying hens, fancy chickens and heritage turkey projects competing. "It was small but mighty," Gillis says of the poultry show. "People were really excited about it. We hope that will be an avenue for urban families to be involved in 4-H." The show was also livestreamed, which allowed families to watch their kids while respecting the attendance limits. "We will do that every year whether there's COVID or not. It was very well received and not as expensive as we feared. It wasn't cheap or free but it wasn't prohibitively expensive," she says. Organizers are hoping to go back to a regular format next year but are prepared to use what they learned this year if the situation remains the same. "I think we've established a template that works for us and our community and we'll look for ways to improve on parts of it," Gillis says. "We're looking for feedback from our community but generally we think it was an overwhelming success. We're pretty chued." Auction, show results The 4-H auction was strong, with the average steer price $3.43 a pound, while the average 4-H lamb price was $625, and youth open lamb $727.27 each. The 4-H carcass steers averaged $5.81 a pound and 4-H carcass lambs $568.75. Open projects also enjoyed excellent prices, only marginally lower than the 4-H prices. "We're really proud of the sale. Buyers really stepped up to make sure every single one of our exhibitors did well. It was an easy sell in some cases, because the quality of exhibits was outstanding this year and seemed to really drive prices," says Arduini. Carcass committee organizer Doug Haughton agrees. "We had three prime grading steers out of 12 in our PWF carcass competition. Normally 2% of cattle in federal facilities grade prime, so this is outstanding and we know we will have very happy buyers." The grand champion steer of show, weighing 1,480 pounds and exhibited by Natalie Bucher of Yale County 4-H Club, sold for $3.50 a pound to Rick and Ada Mogge at Grandview Acres. Reserve grand champion, also 1,480 pounds, was contributed by Portia Comrie from Lower North Thompson 4-H club and brought $5 a pound from Indian Gardens Ranch and 7HL Ranch. Grand champion lamb of the show was Jacey Hallstrom's 138-pound 4-H champion, from the Lower North Thompson 4-H club, earning $1,000 from J&K Farm. Hazel Krause of Cache Creek brought the open champion and reserve grand champion lamb at 133 Provincial Winter Fair hosts live 4-H eventsMasks, attendance limits the hallmark of BC's only live 4-H showSee next page o
Page 39
Opportunities for 4-H members to show their livestock projects this year were few and far between because of the COVID-19 pandemic. With precautions in place to limit audiences and allow for social distancing, Circle Creek Ranch in Kamloops hosted the 82nd annual Provincial Winter Fair in late September to a smaller but no less enthusiastic group of 4-H BC members. Top, right, Hazel Krause of Cache Creek, with help from big sister Bailey Krause, showed the champion open and reserve grand champion market lamb. Bottom, left to right, are Morgan Tondevold (Yale County club) with her Bourbon Red turkey hen, 4-H showmanship grand champion Portia Comrie (Lower North Thompson); and Natalie Bucher, Ainsley Dempsey, and Chance Brandon (Yale County) exhibiting in the 4-H female beef class. PHOTOS / ALYSHA MILWARD, ALYSHA EILEEN PHOTOGRAPHY4-H members do well at Provincial Winter Fair sale nfrom page 38COUNTRY LIFE IN BC NOVEMBER 2020 | 391.604.363.8483FARMREALESTATE.COMID#1100751 • HORSEFLY, BC)$,5 HANK VAN HIERDENAB & BC* FARM REALTOR®*LICENSED WITH FAIR REALTY403.308.1737LIFESTYLE, RECREATION, & AWARD WINNING RANCHINGpounds, purchased for $1,000 by Chitter Chatter Fabrics. The grand champion beef carcass, contributed by Jim Haughton and graded prime, sold to Intact Distribution and Gerry Nagle for $5 a pound. The reserve grand champion, also a prime and exhibited by -J- Cattle Co., brought $5 a pound from long-time buyer Kipp Mallery Pharmacy. Josh Mathison of Knutsford brought the grand champion lamb carcass, which was purchased by Elmsland Insurance for $500. The reserve grand champion, exhibited by Kal, Monica and Talley Schalles, sold to MLA Jackie Tegart for $525. The champion turkey trio, exhibited by Morgan Tondevold of Yale County, sold to Frolek Cattle Co. and Ada Mogge for $7 a pound. Tavish Comrie's reserve champion (tom only) from Lower North Thompson sold to Doug and Jim Haughton for $11 a pound. Champion 4-H sale photo came from Janessa Rushka of Yale County and was purchased by David Rushka for $250. The reserve champion from Jesilyn Hooysma of Pritchard 4-H sold to Riverbend Orchard for $200.
Page 40
40 | NOVEMBER 2020 COUNTRY LIFE IN BCWhen we left off last time, Doug McLeod was giving Newt Pullman the raspberries about his living arrangement with Susan Henderson when Deborah interupted with an offer of coffee and muffins. Newt respectfully declined, leaving Doug to his own devices. Meanwhile, self-isolating alone in Victoria, Kenneth was desperately trying to reach Janice Newberry. Rural Redemption, Part 128, continues ... Kenneth Henderson slammed his cell phone on his kitchen counter and regretted it immediately. There was a sickening crunch and cracks spread across the screen in several directions. The word idiot came instantly to mind, but he chased it off with a volley of profanity directed at Erica Swift. The disrespectful cow had tormented him mercilessly from the instant they'd met. And now she'd driven him to smash his own cell phone. He praised his self control and congratulated himself for not kicking holes in the drywall. Erica Swift ended the call halfway through the cursing and swearing. The word idiot came instantly to mind. Kenneth consoled himself with a tumbler of Glenfiddich, then another. He sent a text to Janice Newberry, then another, and shortly after that another, and before long yet another. In the space of two and a half hours, he texted her 27 times and filled his glass twice more. He was halfway through punching in the 28th when his phone rang. It was her. "Janice, for the love of God, why wouldn't you answer?" "Kenneth! For the love of God, how long are you going to keep this childishness up?" "I need to talk to you," said Kenneth. "We need to talk." "Did you not get my message? I left it with someone at your house. The office is closed until further notice. You are still being paid and Erica Swift will contact you if and when there is anything for you to do." "I don't care about work or the office. I want to talk about us." "Us? Really? You want to talk about us? There is no US to talk about. The office is the ONLY place there is an us and I've just told you everything there is to know about us and the office." Kenneth's head was swimming. "What do you mean there's no us? Of course there is. We made plans." "You made promises, Kenneth, not plans. You can't make plans with broken promises." "We were going to be together," said Kenneth. "Surely, you remember that?" "The part I remember was when you said you were planning to leave your wife." "But I am going to leave. I've already left. I'm here alone, at the apartment." "I can imagine Deborah is relieved," said Janice. "Don't worry about Deborah. We need to talk about us." "Oh, my God. She threw you out, didn't she?" "No, she didn't throw me out. This was my idea. I did this for you." "I doubt that very much, Kenneth. Whatever this is, you're doing it for yourself." "I'm doing it for us. I love you. I know we can still make this work." Janice paused and collected her thoughts. "WE aren't going to make anything work," she said. "I'm living with someone I love, and it's not you." "Are you serious? Who are you living with?" "Yes, we are serious, and who I'm with is none of your business." "Is it someone who knows me?" "Oh, give me a break, Kenneth. You are not the common denominator between me and everyone else on the planet." "Have you told them about me?" "Yes, five minutes ago as a matter of fact. He was curious about what kind of a numbskull would text every five minutes for more than two hours. I should probably let you answer that yourself. Hang on a sec." A male voice came over the phone. "Kenneth, is it? This is Dave. I trust you got the message here loud and clear and Janice won't be hearing from you again. Are you good with that?" "Fine," said Kenneth tersely. "Okay, then. You have yourself a fine afternoon there, Kenny." Kenneth started to say thank you but realized the call was over. Kenny? It had an intimidating tone to it. Dave, he decided, sounded depressingly gauche. vvv Doug McLeod and Newt Pullman said their goodbyes. Newt headed up the old skid road that would take him through the woods to the little bluffs at the north end of Tiny's where he would hit the short-cut trail he'd walked so often with Rocky. It was the long way home from Tiny's old shop, but it would give him a chance to check on the cows in the far pasture on his way. Doug McLeod grabbed his coffee mug and walked around to the porch steps at the front of the house. Deborah was standing behind the screen door. "Hello, Doug." "Hi, Deborah. Nice to see you home safe and sound." "Nice to see you, too," she said. "How was your holiday?" "It was dreadful, really." "Sorry to hear that. Weather poor?" "No, the weather was fine, and it wasn't all dreadful. I met a very nice couple. The wife and I had some fun together. We went swimming with pigs, if you can believe it." "Swimming with pigs? On purpose?" "Oh, yes. We actually paid for the privilege. It's a thing there." "How'd you talk Kenneth into taking a dip with the pigs?" A frown creased Deborah's forehead. "No chance of that, I'm afraid. Just Birdie and I went. Kenneth said it was stupid and the only thing dumber was me for paying someone to let me do it." "What did Kenneth do to amuse himself?" "What did Kenneth do?" Deborah asked wistfully. "He played golf, drank too much Scotch, and belittled me. That pretty much sums up the whole trip. Except for the days he didn't play golf; then it was just the drinking and belittling everyone and everything in sight." "And he hasn't come back with you?" Deborah shook her head. "No, he's holed up in his city apartment for two weeks. I offered to go along just to watch him squirm and talk me out of it." A moment of silence passed as they looked squarely into each other's eyes. Deborah spoke. "I'm glad he didn't come home. It's given me time to think some things through. I'm going to tell you something no one else knows. You have to promise me you'll keep it to yourself no matter what. Do you promise?" Doug nodded. "I'm going to divorce Kenneth. I don't want it to be any more complicated than necessary so I'm going to need the time and space to do it my way. I'm telling you this because I'm hoping with all my heart you'll still be here when it's all over." Their eyes were still locked. "I'll be here," said Doug. "Unless I hear otherwise. Patience is one of my virtues." ... to be continuedJanice Newberry bids farewell to love-sick HendersonMAIL TO 36 Dale Road Enderby, BC V0E 1V4 subscriptions@countrylifeinbc.com CREDIT CARD # _____________________________________________________________ EXP _____________________________________________ CVV ______________________oNEW oRENEWAL | oONE YEAR ($18.90) oTWO YEARS ($33.60) oTHREE YEARS ($37.80) Send a gift subscription to: Address City Postal Code Phone Email Send a gift card from: NEWS & INFORMATION YOU (and your friends) NEED! Thousands of BC farmers and ranchers turn to Country Life in BC every month to nd out what (and who!) is making news in BC agriculture and how it may affect their farms and agri-businesses! Check someone off your list this Christmas by sending them a gift subscription to Country Life in BC. They'll be glad you did – all year long! Or has Canada Post changed your mailing address? We won't know unless you tell us! Don't miss a single issue of Country Life in BC. Call or email us so we can update your subscription. subscriptions@countrylifeinbc.com Have you moo-ved? Woodshed Chronicles by BOB COLLINS
Page 41
Adam Degenstein, above, of Armstrong and his team of Clydesdale participated in the unofcial Chilliwack Plowing Match, October 3. Pierre Sache, bottom left, of Rosedale got off to a good start. Dugan Montjoy, bottom right, came all the way from Lillooet to participate. It was the 23rd time Montjoy plowed in Chilliwack but the rst time he plowed in sod instead of stubble. PHOTOS / DAVID SCHMIDT COUNTRY LIFE IN BC NOVEMBER 2020 | 41Where there's a will, there's gotta be a wayPlowing diehards meet for unofficial match in Chilliwackby DAVID SCHMIDT CHILLIWACK – You can't keep a good (plow)man (or woman) down. After missing their x this spring because of the COVID-19 pandemic, BC's diehard horse and tractor plowmen got together at Lorenzetti Acres in Laidlaw, October 3, for an unocial Chilliwack Plowing Match. Chilliwack Plowing Society president Francis Sache noted the match was not a BC championship as that match, scheduled for this past spring, had been cancelled. "This is just for fun," he said. BC's spring championship match was not the only one which was cancelled as that scenario was repeated not only in the rest of Canada but throughout the world. "The Canadian championships which were to be held in Manitoba this year did not occur," Sache said. "We are hoping to hold the 2020 championship in Manitoba in spring 2021 and the 2021 championship in Ontario in fall 2021." At this point, BC plans a competition next spring to determine their representatives for the 2021 national championship but have not decided how they will determine their representatives for the 2020 championship, if it is indeed held next spring. Francis' uncle, Jim Sache, who is vice-president of the World Ploughing Organization, says the world championships were also cancelled this year. Like Canada, the WPO hopes to hold two championships in 2021. "We were supposed to be in Russia in September but that was cancelled," he said. "We are now hoping to go to St. Petersburg in June 2021, and to Ireland in the fall of 2021." Whether that will happen is anyone's guess. Jim noted the Irish national championship, which regularly attracts around 300,000 people, was cancelled this fall. Although the Saches are focused on tractor plowing, the four horsemen who brought their horses out were perhaps even more pleased to be able to practice their craft. "It looked like we weren't going to have anything this year after the spring matches (in both Chilliwack and the Okanagan) were cancelled," said Adam Degenstein of Armstrong. "I'm sure glad Francis and the Saches put something together for us." Dugan Montjoy of Lillooet was most excited to participate this year. It was the 23rd year he has brought a team of horses to Chilliwack but the rst time he was able to plow in sod rather than corn stubble. Because BC has restricted events to a maximum of 50 people, the match was not advertised and the small audience consisted primarily of the families of the seven tractor plowmen and women and the four horse plowmen. One interested and unrelated spectator who attended was David Reid, godfather of horse plowing in BC. Reid plowed in the Chilliwack match from 1939 to 1944, then again from 1987 to 2003. The nonagenarian was in his element, spending his time chatting with and even advising the four competitors. VT: Vertical Twin-AugerA MIXER FOR EVERY OPERATIONINVEST IN QUALITY®www.kuhn.comMatsqui Ag-RepairAbbotsfordCountry TractorArmstrongCountry TractorKamloopsVisit your localBritish ColumbiaKUHN Dealer today!Kuhn North America is committed to creating innovative mixers that will provide a qualityration and years of low-maintenance service. From 147 – 1960 cu. ft. mixing capacities. VS: Vertical Single-AugerRA: Reel MixerVXL: Triple-Auger MixerBotec: 4-Auger Mixer
Page 42
42 | NOVEMBER 2020 COUNTRY LIFE IN BCGot squash? This recipe will make it fancy. PHOTO / JUDIE STEEVESThis is a whole meal stued into an acorn or other small winter squash, topped with a crunchy, cheesy garnish. 2 acorn squash 1/2 lb. (250 g) ground pork pat of butter 1 onion 1 c. (250 ml) cabbage leaves 1 apple 1 knob ginger 2 tsp. (10 ml) fresh thyme 1 tbsp. (15 ml) fresh sage 1/2 tsp. (2 ml) cayenne pepper salt and pepper to taste Topping: 1 tsp. (5 ml) butter 2 tbsp. (10 ml) dried crumbs 1 tbsp. (15 ml) grated fresh parmesan • Pre-heat oven to 400° F. • Cut the squash in half and scoop out the seeds and membranes, leaving the meat and shell intact. • Set face down in a roasting pan with just a half-inch of water and bake for about 20 minutes while you prepare the lling. • Cook ground pork (you may substitute sausage meat) in a deep frypan or wok until all pink is gone, draining o any excess fat. Remove the meat. • Add butter or oil to pan and fry a large chopped onion, shredded, chopped cabbage leaves (cut out the • core and coarse ribs rst), cored chopped apple and a spoonful of minced ginger, cooking until the onion and cabbage are just limp. • Meanwhile, prepare the topping by melting the butter in a small bowl and adding the dried crumbs, mixing well. • Season with fresh herbs, salt and pepper and return pork to pan, mixing well. • Remove squash from oven and turn over, cut side up. Season each shell and ll each with the pork and cabbage mixture. • Sprinkle with the topping and grate cheese over the top of each shell. • Return to the oven for a further half hour. • Serves 4. PIG IN A POD WITH APPLESAutumn eatsThis is delicious and would go well with pork, chicken, sh or beef. I used kuri squash, but this recipe would suit butternut, acorn and lots of other winter squashes. The Kuri's skin is edible once it's baked, but not all of the other winter squashes are. 1/2 Kuri squash drizzle of olive oil 1 tbsp. (15 ml) minced fresh ginger 1 tsp. (5 ml) minced fresh garlic 1/2 tsp. (2 ml) cumin powder 1/4 tsp. (1 ml) chili powder 1/4 tsp. (1 ml) cinnamon 1/8 tsp. (.5 ml) nutmeg salt and pepper, to taste almonds or walnuts, to garnish 4 leaves of chard butter 1 tsp. (5 ml) minced garlic 1 tsp. (5 ml) lemon juice salt and pepper, to taste • Pre-heat oven to 400° F. • Cut squash in half and remove seeds and membrane. Slice half the squash in eight wedges and set the rest aside for another day, unless you're feeding more than two. • Drizzle olive oil over the cut pieces. • Mince fresh ginger and garlic and combine the dried spices in a tiny bowl. Sprinkle it all over the cut squash pieces in an oven-proof pan. • Roast for about 25 minutes, or until the squash is tender, turning once. • Meanwhile, rinse chard and separate leaves from stalks. Chop stalks and set aside. Slice the leaves across in strips and then cut them in half or quarters. • Melt butter in a pan over medium heat and add the chopped stalks, stirring for a few minutes. • Add the chopped leaves, along with the minced garlic and lightly sauté, turning frequently, until nicely cooked. Add the lemon juice, and salt and pepper, to taste. • By this time, the squash should be cooked, so combine the two and serve, topped with fresh, crunchy almonds or other nuts. • Serves 2. Double the ingredients for 4.SPICED SQUASH WITH CHARDAs we wave goodbye to October, we also say farewell to some of the summer vegetables and fruits we've been enjoying into fall, such as the late tomatoes and cucumbers, beans and berries. However, there are lots of fruits and veggies that keep well into late fall and winter. Now we can turn to the comfort of winter squash instead of summer, and apples and pears instead of apricots and peaches. Instead of bright salads with fresh greens, we turn to salads based on chickpeas and cabbage, or vegetables which freeze or dry, or simply keep longer and better in the cold room or refrigerator than others. I confess, however, I have occasionally been still eating tomatoes plucked green from the garden before the rst frost, after Christmas is over. Just leave them on stems and store them in a dark, dry place to ripen slowly. They will taste better than those from sunnier climes shipped part-way around the world, I promise you. Nonetheless, we're entering the colder part of our year and putting the garden to bed for a season before sorting out seeds for the coming spring. That means it's time to bring out the crockpot or the stewpot and ll the kitchen with lovely comforting food smells. Pop a roast in the oven and surround it with hardy winter veggies from BC farms, such as carrots, onions, parsnips, Brussels sprouts and potatoes. Use the bones to make soup or base your soup on the meat of winter squashes, with root vegetables included. Or, chop up some of those local onions and garlic, celery and oregano to combine in a pot with some of the tomatoes you canned or froze when the sun was high and heated the ground. Add a lump of local ground meats or sausage to make a delicious sauce to dollop over pasta for dinner. This is the time of year for long, slow cooking, using those keepers that store well from the summer garden. For dessert, think apple strudel or crisp, or pear johnny cake. Or, dig out those berries or fruits you froze in the heat of summer and drizzle them over ice cream or stew them with a sweet dumpling or crisp cookie on the side. There's nothing wrong with the fresh fruits and vegetables of fall and winter. They're just dierent ones from the fresh ones of summer. You'll enjoy them just as much. Jude's Kitchen JUDIE STEEVESMAIL TO 36 Dale Road Enderby, BC V0E 1V4 subscriptions@countrylifeinbc.com Don't miss a single issue of Country Life in BC!CREDIT CARD # __________________________________ EXP ________ _oNEW oRENEWAL o ONE YEAR ($18.90) o TWO YEARS ($33.60) o THREE YEARS ($37.80) Name Address City Postal Code Phone Email
Page 43
COUNTRY LIFE IN BC NOVEMBER 2020 | 43TRACTORS/EQUIPMENTLIVESTOCKPROFESSIONAL SERVICESREAL ESTATEWANTEDTRACTORS/EQUIPMENTFOR SALECOURTENAY HEREFORDS. Cattle for Sale: yearling bulls and bred heifers. John 250/334-3252 or Johnny 250-218-2537.CONEYGEERS BLOODLINES A few yearling rams left - call before they are gone. 250-722-1882. NanaimoHAYHAYSEEDBILL AWMACK1-888-770-7333PYESTERDAY'S TRADITION - TODAY'S TECHNOLOGYMANAGERS Phil Brown 250-293-6857 Catherine Brown 250-293-6858 ccr.princeton@gmail.com www.coppercreekranch.com PRINCETON, BC Raising registered polled & horned Herefords & F1s. BREEDING BULLS FOR SALE. Call DON GILOWSKI 250-260-0828 Royal LePage Downtown Realty Ltd INTERESTED IN BUYING OR SELLING OKANAGAN FARM, RANCH OR ACREAGE? YOUR GO-TO PLACE FOR • Small square bales of horse HAY & STRAW • Distillery WHEAT & RYE EGBERT SCHUTTER 403-393-2418 e.h.schutter@gmail.comDISCOVER PRINCE GEORGE 10070 MCBRIDE TIMBER RD. An outstanding agricultural 445 acre property enjoys a pastoral private setting & lovely views of moun-tains to the east. This attractive home was extensively renovated in 1998 plus some recent updates. NEARLY 500 ACRES of excellent farmland. Stunning views. Only 800 m from Tachick Lake. $1,190,900 WHAT A DELIGHT! Expansive ranch home with exquisite views. Ideal horse property w/private spring fed lake. The home beams with an abundance of natural daylight. Just over 3,000 sqft over 3 levels. 128 acres. $699,900 NEARLY 500 ACRES of prime farm land on Fraser River, almost all in cultivation. 5 bed/3 bath home, outbuildings. Turn-key cattle ranch and/or prosperous haying enterprise. MLS®R2163561 $1,400,000 CASH FLOW! 5 homes on one peaceful 4.4 acre lot. All houses have been renovated. Completely turnkey. RANCHERS & DAIRY FARMERS: 320 acres, 2 residences, 6 mas-sive outbuildings, 15 km from downtown PG. MLS C8030418 $2,599,000 150+ ACRES Turn-key horse breeding ranch, 2,900 sq ft log home, fenced/cross-fenced. MLS R2441103, $1,720,000 STATELY CHARM on 11 acres. 5 bed/3.5 bath.Barn and plenty of room for horses. MLS®R2379161 $699,900 2 ACRE BUILDING LOT, PG, MLS R2446743, $79,900 55 ACRES Development potential close to airport. MLS R2435958, $599,900 112.02 ACRES IN CITY LIMITS. Potential for development. MLS R2435725. $1,300,000 271 LEVEL ACRES Not in the ALR. Residential/commercial rezoning potential. Fertile soil, MLS C8027179. Carrie Nicholson PREC* 250-614-6766 FOR SALEBERRIESDeBOER'S USED TRACTORS & EQUIPMENT GRINDROD, BCLOOKING TO BUY USED JD TRACTORS 60-100 HP IHC 474 W/LDR 7,950 JD 7200 4WD, CAB, LDR SOLD JD7600 MFWD 45,000 JD 6300 MFWD, CAB, LDR 47,000 JD 230 24' DBL FOLD DISK 16,500 ED DEBOER 250/838-7362 cell 250/833-6699 CURT DEBOER 250/838-9612 cell 250/804-61472015 INTERNATIONAL TERRASTAR 4WD w/sleeper, 17ft. custom-built deck with hydraulic lift gate, like new in and out with only 16,000 km. $63,500; Antique CASE-O-MATIC 830 farm tractor, runs like new, looks great, 60 HP $3,800; ROCK PICKER former potato harvester but works great removing rocks. Rugged machine w/large catch box. Ugly but works beautifully. $2,500. SUMMERS rock picker, just like new, hardly used, $7,000. MX7 JOHN DEERE finishing mower used only one season, $3,800; FRONTIER RT1207 large tiller just like new, $4,500. 12' MF DISC HARROW $2,500 Carl, 604-825-9108IRRIGATIONIrrigation Design New and Used Equipmentpiperpivotsr pumps r power units traveling gun / hose reels250.319.3044beyedynamic@gmail.comEQUIPMENT DISPERSAL • LOEWEN AGITATORS 22 ft, 100 HP prop, nice condition $2,250; 16 ft 100 HP prop, nice condition, $2,000 • 2017 KUBOTA M6 -141 4WD LH rev, cab, air, stereo, 24sp Powershift, 126 PTO HP, 540/1000 PTO, 2 sets remotes, radials 12 weights front-cast centers, rear. Loader available. Loaded, as new, 597 hours. Warranty till May 2023. $76,500 • NEW HOLLAND 824 2 row corn head $1,250 20 ft • HAY WAGON, aircraft tires, heavy duty, $1,500 TONY 604-850-4718Top DORPER LAMB rams; ready to go beginning of August. 74 Mile House Ranch, 250-706-7077For Tissue Culture Derived Plants of New Varieties of Haskaps, Raspberries, Blueberries, Blackberries, Saskatoon Berries and Sour Cherries, Please Contact:DISEASE FREE PLANTING STOCK OF NEW BERRY CROPS 4290 Wallace Hill Road, Kelowna, BC, V1W 4B6info@agriforestbiotech.com250.764.2224www.agriforestbiotech.com HAYLAGE EXCELLENT QUALITY HAYLAGE 950-1100 LB BALES Delivery available on Vancouver Island and along the Trans Canada Hwy corridor in BC. Reasonable prices. 250-727-1966NEW POLYETHYLENE TANKS of all shapes & sizes for septic and water storage. Ideal for irrigation, hydroponics, washdown, lazy wells, rain water, truck box, fertizilizer mixing & spraying. Call 1-800-661-4473 for closest distributor. Manufactured in Delta by Premier Plastics Inc. premierplastics.com. REAL ESTATEFeeders & Panels that maintain their value!ROUND BALE FEEDERS BIG SQUARE BALE FEEDERS FENCE PANELS CATTLE & HORSE FEEDERSHeavy duty oil field pipe bale feeders. Feed savers, single round bale feeders outside measurement is 8'x8.5.' Double round bale feeder measurement is 15'x8'. Silage bunk feeders. For product pictures, check out Double Delichte Stables on Facebook Dan 250/308-9218 ColdstreamFARM / INDUSTRIAL EQUIPMENT • NEW HOLLAND 8 row Hyd fold corn head for a Self Propelled Harvester $12,500. • CATERPILLAR 215 excavator; Mechanical thumb, Caged all-around Protection, $22,000 • BIG HYSTER FORKLIFT High Lift Lumber Style, 8 ft tines extensions on propane. $5,500 • 3PH HYSTER FORK LIFT Heavy Duty attachment. $,2200. Other fork-lifts and attachments. • FORD NH by-directional Attach-ments; Fork-Lift $3500, loader silage forks/grapple $1,000 • ROAD SANDER Dump or deck mount, self contained power unit, medium size. $2,200 • BIG ROAD SANDER S/A Semi Trailer with liquid additive applicator, S/C. Power, X. VGR Airport, mint condition. $12,500 • FORD 4610 Tractor, 60HP, Narrow and low profile 2WD, Nice Cond, $10,500 • FORD 1816 UNI-LOADER; small gas powered with grip tires, good condition, $4,500 • GALLION CRANE All Terran 4X4, IH diesel, extension boom with cable winch. $4,750 • AIR COMPRESSORS Various electric shop and portable diesel trailer style. $750 to $5,500 • BAND SAW for metal, used little, $750. • SHOP WELDERS $250 and up. • BELT CONVEYOR gravel/soil HD in-dustrial 50'x3' electric on wheels. $7,500 • SCREENER Double Deck separator, belt driven, has been used for wood chip. $2,500 • LOADER ASSEMBLIES: FORD/NH 8360, CASE 56L, IH Ind, Allied 784, Tiger, etc. Call for details. • EXCAVATOR RIST A TWIST 50" cleaning bucket, NEW! $2,600. Many other buckets, call for details. • NEW SKID-STEER Bale Spear $550, Pallet Forks $950, Also used pieces. • OLDER FARM TRUCKS & PARTS Call Jim for hard to nd items Abbotsford at 604-852-6148ZcXjj`Ô\[j7Zflekipc`]\`eYZ%ZfdfiZXcc1-'+%*)/%*/(+C@E<8;J1),nfi[jfic\jj#d`e`dld(*gclj>JK#\XZ_X[[`k`feXcnfi[`j%),;@JGC8P8;J1),gclj>JKg\iZfclde`eZ_M[WYY[fjcW`ehYh[Z_jYWhZi$DECEMBER issue deadline November 20• HAY: alfalfa, alfalfa grass mix and grass, 4x4x8 foot bales $185 to $220 per ton; • TROUGHS for silage or grain: 6 @ 30 feet ($750 each), 2 @ 24 feet ($600 each), steel pipe frame, portable; • WHEEL LINES – Wade Rain ¼ mile $2900;10" aluminum Mainline, $5/ft, RL, 40 ft lengths, hydrants. Contact info@ranchland.caHAY FOR SALE Large quantities of 3x4 hay & 4x4 WRAPPED SILAGE BALES. Located in Salmon Arm. WE DELIVER. 250-804-6081Toll Free 1-888-357-0011 www.ultra-kelp.comREGISTRATION NO. 990134 FEEDS ACT Keeping Animals Healthy The Natural Way FLACK'S BAKERVIEW KELP PRODUCTS INC Pritchard, BC (est. 1985)Helping you complete your lease & water agreements, as well as renewal of well licenses for the provincial gov't. Very reasonable rates. Michelle Downey Professional Services IncMDrmdowney1@gmail.com 250-830-8262 www.MichelleDowney.ca WANTED TO BUY JOHN DEERE FRONT END LOADER MODELS 143, 145, 146, 178 604-794-7139LAND FOR SALE BY TENDER Land has averaged an ~8% increase per year in sale price over past 50 years. Land is a tangible asset investment sought after by pension funds, insurance funds and smart money as today's pre-ferred alternative to investment in gold, oil or equities. • Details of land and bid process are on https://kryskalandtender.ca/ • Deadline for submission of tenders is noon MST, Tuesday December 8, 2020 • Parcels may sell as individual 160 acre quarter sections or in blocks. Total 635.99 titled acres. • Located East of Edmonton, Alberta FOR MORE INFORMATION CALL: BRIAN KRYSKA 780-604-0800INVESTMENT OPPORTUNITYDon't forget to RENEW your subscription toCountryLife in BCn't forget to RENEWur subscription toguntrye BC
Page 44
44 | NOVEMBER 2020 COUNTRY LIFE IN BCTHE MASTER OF TASKS.kubota.ca | Take on task after task with the ALL-NEW Kubota LX Series. From landscaping to commercial snow removal and everything in between—the LX is effective, easy-to-use, and comfortable. Whether you're mowing elds or material handling, the LX is the perfect tool for your business or residential projects.0% FOR 72 MONTHS FINANCING OAC*avenuemachinery.ca*Minimum down payment of 10% required. Representative example LX2610SUHSD with price of $20,772 financed at 0% APR equals $254 per month for 72 Months. $2,169 down payment required. Borrowing cost is $0 for a total obligation of $20,515. Dealer may sell for less. Dealer order/trade may be necessary. Prices, payments and models featured throughout may vary by dealer. Offer ends November 30, 2020. Offers valid only at participating dealers in Canada and are subject to change, cancellation or extension at any time without notice or obligation. Conditions apply. See your participating Kubota dealer or visit www.kubota.ca for details. ΩConditions and restrictions apply. Visit https://kubota.ca/en/parts-services/warranty.ca for full warranty details.avenuemachinery.ca1521 Sumas Way, Box 369Abbotsford, BC V2T 6Z6(604) 864-9568PROUD PARTNER OFPRINCE GEORGE HUBER EQUIPMENT 250/560-5431 SMITHERS HUBER EQUIPMENT 250/847-3610 VERNON AVENUE MACHINERY CORP 250/545-3355 ABBOTSFORD AVENUE MACHINERY CORP 604/864-2665 COURTENAY NORTH ISLAND TRACTOR 250/334-0801 CRESTON KEMLEE EQUIPMENT LTD 250/428-2254 DAWSON CREEK DOUGLAS LAKE EQUIPMENT 250/782-5281 DUNCAN ISLAND TRACTOR & SUPPLY LTD 250/746-1755 KAMLOOPS DOUGLAS LAKE EQUIPMENT 250/851-2044 KELOWNA AVENUE MACHINERY CORP 250/769-8700 OLIVER GERARD'S EQUIPMENT LTD 250/498-2524