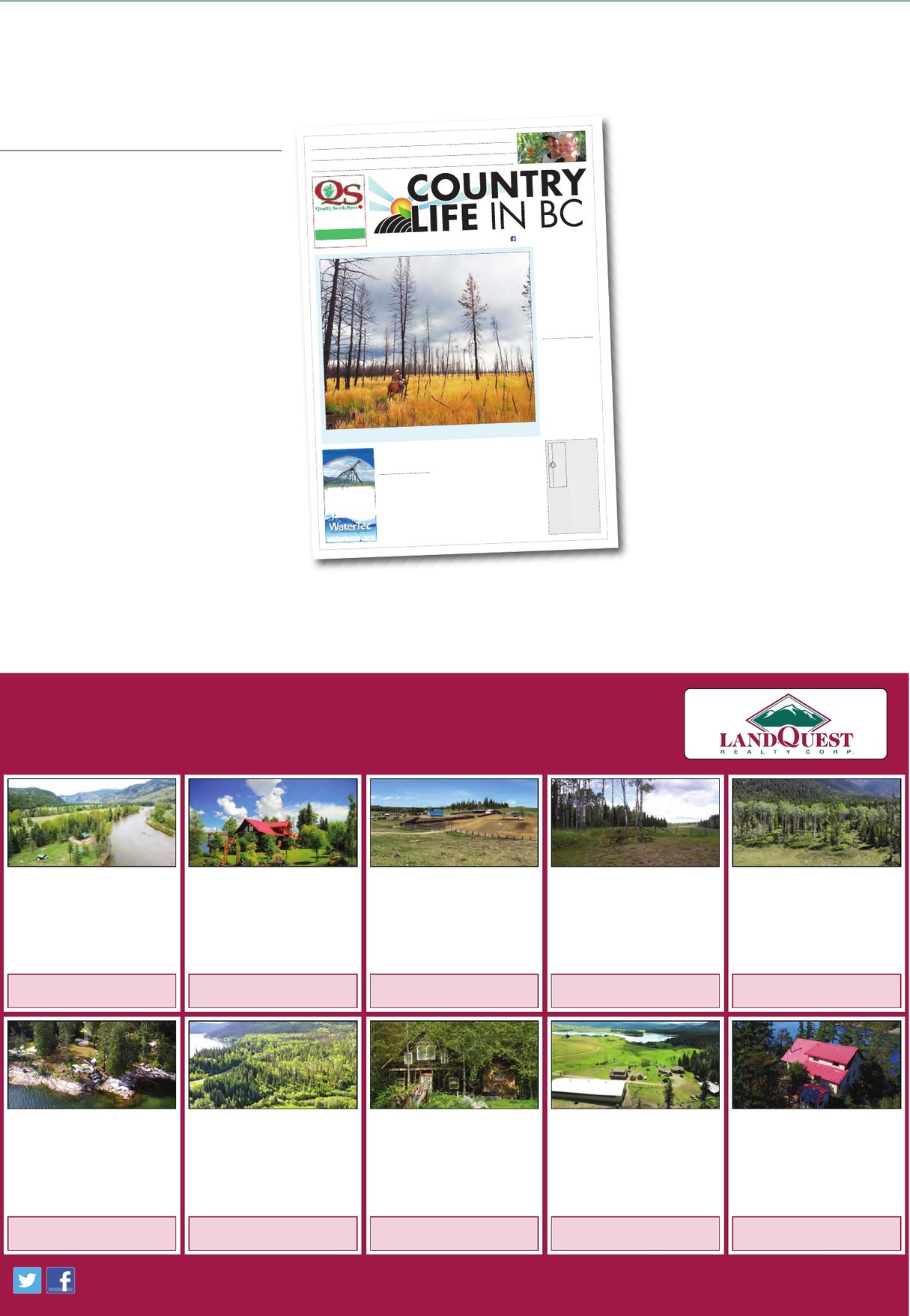 8
| NOVEMBER 2020

COUNTRY LIFE IN BC
Marketing British Columbia to the World
®
www.landquest.com
Toll Free 1-866-558-LAND
(
5263
)
"The Source" for Oceanfront, Lakefront, Islands, Ranches, Resorts & Land in BC
®
KETTLE RIVER WILDLIFE SANCTUARY
NEAR ROCK CREEK, BC
80 ACRE TROPHY OCEANFRONT
SUNSHINE COAST
STUNNING LOG HOME LAKESHORE
ESTATE - FRANCOIS LAKE
5.15 PRIVATE ACRES IN THE BEAUTIFUL
REGION OF BOWRON LAKE, BC
DEEP CREEK RANCH
VANDERHOOF, BC
ESCAPE TO YOUR CABIN IN THE WOODS
WITH COWICHAN LAKEFRONT ACCESS
ALL SEASONS RANCH LIFE
BRIDGE LAKE - SOUTH CARIBOO
HIGH-END EQUESTRIAN ESTATE
KAMLOOPS, BC
HIGH QUALITY ACREAGE AT THE FOOT OF
THE ROCKY MOUNTAINS - EDGEWATER, BC
WATERFRONT HOME WITH MOORAGE
SALT SPRING ISLAND
Very private parcel 3 minutes off the Highway.
185 acres in one title with 2 parcels divided
by piece of Crown land and 2.5 km of river
frontage. Wildlife corridor with elk, deer,
turkeys and trout fishing. Quality timber
frame style cabin. RV parking with washroom /
shower building.
$1,200,000
Extremely rare 80 acre premium oceanfront
property with close to 1 km (2,641 ft) of
low bank waterfront, southern exposed,
protected deep water moorage potential.
A legacy property ideal for a private /
corporate retreat or special interest group
This stunning log home is perfectly appointed
on Francois Lake with 720 ft of lake shore and
amazing views. Luxurious 4,245 ft
2
log home,
a charming guest cottage, impressive 2 storey
shop, detached garage, orchard green house
and more. Surrounded by endless outdoor
opportunities.
$1,390,000
Tired of sharing the lake with other people?
This

at 5.15 acre property with trees and river
frontage, located across the road from the
famous Bowron Lake, is the private getaway
you have been craving. Perfect location to
build the cabin of your dreams and forge new
Carrying capacity 350 to 500 pairs, plus 100
head sheep or goats each. 1,405 deeded acres,
40,000 acre grazing lease. 600 acres hay, 800
acres pasture / treed. Brand new equine barn
(with suite), barns, workshop, & outbuildings.
Two storey home with suite. Updated solar
energy & new septic
eld.

$1,850,000
Completed to lock-up stage only, interior room
arrangement &


nishing is to your own taste.
1,000+ ft
2
of main, & auxiliary guest cabins, on
sloping lot above the lake, 4 km of paved road
past Youbou, near Pine Point Campground.
Beautiful beachfront for swimming or boating.
No services connected.
$299,999
Immaculately kept 64.7 acres; 32 in hay.
Everything you could wish for in one package.
Not in ALR, sub dividable. 2 bdrm, 2 bath solid
rancher with building plans, 34 x 30 ft garage /
shop, 50 x 40 ft shed, 36 x 56 ft 3-stall hay
barn, fowl coops & veggie gardens.
HOUSE,
SHOP GOODS INCLUDED. $659,000
Multiple layers of value. 160 acres with
picturesque views of Campbell Lake &
surrounding hills. Main house + 2 guest
cabins, a 2,596 ft
2
main lodge with commercial
kitchen & dining facilities with 2 bdrm loft.
60 x 30 ft machine shed. New 80 x 200 ft
indoor riding arena.
$2,595,000
One of the nicest parcels I have seen come
available in a decade! Land is mostly

at and
treed with some nice open clearings offering
amazing vistas and roadways within for easy
access throughout. Borders onto Crown land
and is privately situated at the end of the
Three bedroom, 2,750 sf home on 0.51 acres
on Sansum Narrows. Short walk to the
community dock with moorage available up to
35 ft. Solid home with great views and sunny
southwest exposure.
$849,000
RICH OSBORNE 604-664-7633
Personal Real Estate Corporation
rich
@
landquest.com
JASON ZROBACK 1-604-414-5577
JAMIE ZROBACK 1-604-483-1605
FAWN GUNDERSON 250-982-2314
Personal Real Estate Corporation
fawn
@
landquest.com
CHASE WESTERSUND 778-927-6634
COLE WESTERSUND 604-360-0793
JOHN ARMSTRONG 250-307-2100
john
@
landquest.com
LYLE BRAITHWAITE CCIM
1-877-701-7888
lyle
@
landquest.com
WENDY PATTEN 250-718-0298
wendy
@
landquest.com
LandQuest
®
Realty Corp Cariboo
SAM HODSON 604-694-7623
Personal Real Estate Corporation
sam
@
landquest.com
MATT CAMERON 250-200-1199
matt
@
landquest.com
DAVE SIMONE 250-539-8733
DS
@
landquest.com
Country Life in BC wins a record eight national awards
Paper published the top agricultural photo in the country last year
ENDERBY –
Country Life in BC
received a record
eight awards from the Canadian Farm Writers
Federation at its annual awards ceremony at the
end of September, held this year via
Selected from a national jury both inside and
outside of the agricultural sector, prize-winning
entries reect the best of farm journalism in 2019.
And the best, according to the judges, often
The top honour went
to photog
Zuberbühler of Chilco Ranch in Hanceville, 90
kilometres west of Williams Lake. Zuberbühler's
shot of Pat Jasper as he rode through a stand of
trees ravaged by the wildres that swept the
Cariboo-Chilcotin in 2017 graced the cover of the
October 2019 issue. It placed rst in the landscape
photography category
and was ranked best photo
overall in Canada for 2019. The judges described it
as a "well thought-out and visually pleasing shot"
with a sharp focus and vibrant colours that made
for a beautiful composition.
Country Life in BC
also dominated with photos of
production, both of which appeared in the
November 2019 issue. Lindsay Bartko received a
silver award for her photo "Horse power" while
associate editor Peter Mitham received a bronze
award for "Herding hens" on the issue's cover.
Ronda Payne received a bronze award in the
people category for her September 2019 cover
portrait of Gaurav Maan, winemaker at Maan Farms in Abbotsford.
On the writing front, top honours went to columnist and raconteur Bob
Collins, who received a gold award in the press column category for his Back
40 oering in the April 2019 issue, "BC farmers need more than a and bank."
Silver in the press editorial category went to Mitham for his June 2019
editorial, "No peace, no order."
Recognition of the two columns highlighted the
importance of the need to protect farmers, not just
farmland. The press editorial addressed the
growing risk to farmers from harassment and
trespass specically, issues addressed later that
year by amendments to the provincial Trespass
Judie Steeves earned silver in the hotly
contested press feature category for her August
2019 story, "Ranchers collaborate to preserve
grasslands," about the partnership between the
Clifton family of Keremeos and the Nature Trust to
restore and preserve sensitive grasslands while
providing grazing and water access to the ranch's
"We were so excited to be called out in so
many categories this year. It's a record for us," says
Country Life in BC
publisher Cathy Glover. "This
really is a team eort – and it was awesome to
see our team recognized at a national level."
In addition to current contributors, past
Country Life in BC
contributor Tamara Allbright-
Leigh won a bronze award in the press feature
category for "Welcome back," a story about the
younger generations returning to their families'
farms that appeared in
Grainswest

.
Country Life in BC
was a sponsor of the
monthly press reporting category, swept by
Country Guide
magazine of Winnipeg.
The Canadian Farm Writers Federation is the
umbrella organization for the country's six r
egional farm communicators
associations, including the BC Farm Writers Association. It represents 350
English-speaking agricultural journalists,
broadcasters and communicators
The full slate of winners is available for download at [bit.do/CFWF-2020-
Quality Seeds ... where quality counts!
COVER CROPS
NOW HERE!
Postmaster, Please return
Undeliverable labels to:
Country Life in BC
36 Dale Road
Enderby, BC V0E 1V4
CANADA POSTES
Postage paid Port payé
Publications Mail Post-Publications
40012122
Vol. 105 No. 10
The agricultural news source in British Columbia since 1915
OCTOBER 2019 | Vol. 105 No.10
ALR
New round of changes coming to land reserve
7
URBAN AG
City Beet harvests profits from urban gardens
15
BERRIES
Bumper crop pushes down blueberry prices
21
AGASSIZ—Julaine Treur has
had it with threats from
animal activists. She and her
husband run Creekside Dairy
in Agassiz where they produce
certied organic milk.
They own 72 acres and
farm about 220 acres with the
addition of rental land in
order to provide their cattle
with sucient forage. They
share their farming
experiences with followers on
Facebook but, earlier this
spring, they were horrically
targeted by animal activists
with threats of verbal and
physical violence. While Treur
has become used to seeing
attacks on her page,
threatening activity stepped
up in March.
The threats made on her
Facebook page scared her.
One activist wanted to report
her to BC child protection
ocers for exposing her
children to animal abuse,
while another accused her of
being a "sadistic psychopath
rapist murderer." Treur,
however, controlled the
assaults by blocking access to
her Facebook page. She also
led a police report.
"I've blocked over 300
people and hidden more rude,
threatening and demeaning
comments than I can count,"
she says.
The family milks 100 Brown
Swiss cows and the farm has
been certied organic since
2015. The milk is shipped to
the Meadowfresh processing
plant in Port Coquitlam and
marketed under the Happy
Planet label.
NANOOSE BAY—Rusted
Rake Farm on Vancouver
Island is weighing its options
after the Agricultural Land
Commission told it to focus
on farming before it seeks
approval for its on-farm
restaurant and brewery.
A decision dated
September 5 told the farm
the popular 100-seat
restaurant it has been
operating in Nanoose Bay was
not in compliance with
regulations governing
activities in the Agricultural
Land Reserve, and that its
plans for a brewery needed to
be put on hold until it
achieved a level of grain
ALC
cracks
down
Farming comes
first
Growing more with less water
watertecna.com
IRRIGATION LTD
1.888.675.7999
Diesel & PTO Pumps
PVC & Aluminum Pipe
Irrigation Reels
DRIP IRRIGATION
Centre Pivots
Pat Jasper makes his way through trees burned in the wildre that raced through the Cariboo-Chilcotin in 2017. A wet summer and
the
open canopy created by the wildre has resulted in an abundance of grass for range cattle this year.
SARAH ZUBERBÜHLER PHOTO
Bill will rein in activists
See FARM on next page
o
See ONLINE on next page
o