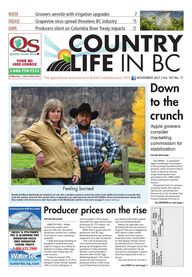 Return to flip book view
CLBC November 2021
Page 1
Postmaster, Please return Undeliverable labels to: Country Life in BC 36 Dale Road Enderby, BC V0E 1V4CANADA POSTES POST CANADA Postage paid Port payé Publications Mail Post-Publications 40012122Vol. 107 No.11The agricultural news source in British Columbia since 1915 NOVEMBER 2021 | Vol. 107 No. 11WATERGrowers wrestle with irrigation upgrades 7 DISEASEGrapevine virus spread threatens BC industry15 DAMSProducers silent on Columbia River Treaty impacts21PETER MITHAM ABBOTSFORD – While consumers watch their grocery bills rise, the prices producers receive for a variety of products is also marching upwards. Cattle and hogs heading to slaughter notched ve-year highs in August, according to Statistics Canada, while eggs, chicken and turkey also set new records. Turkey increased 18% versus a year earlier to $2.79 a kilogram while chicken gained 16% to $2.65 a kilogram. A more modest 11% increase was seen for eggs, which paid producers $2.15 a dozen, up from $1.95 a year earlier. While this is good news for producers, the BC Egg Marketing Board says producer expenses have also increased. "The cost of producing most food items has been going up throughout the pandemic," notes Amanda Brittain, communications director with the BC Egg Marketing Board. "The main reason for the increase in producer prices is the rising cost of feed that our farmers are seeing with both organic and conventional feeds." Barley, for example, was fetching $307.83 per tonne in August. This was a staggering 43% above a year earlier. Barley and other grains have been hot commodities on the global market, driven by demand from China and elsewhere. Drought across the Prairies and western US has worsened a shortage in grains that has helped fuel a rise in prices. The one sector to not see a 1-888-770-7333 Quality Seeds ... where quality counts!YOUR BC SEED SOURCESee DAIRY on next page oGrowing more with less waterwatertecna.comttttttttIRRIGATION LTD1.888.675.7999 888 6 9999888669999 Diesel & PTO Pumps PVC & Aluminum PipeIrrigation ReelsDRIP IRRIGATIONCentre PivotsProducer prices on the riseRhonda and Wayne MacDonald are thankful to be safe after a backburn meant to control the Lytton Creek wildre forced them to evacuate their ranch this summer. Several of their animals died, a tragedy they say could have been averted if BC Wildre Service had worked more closely with those familiar with the local area. Kate Ayers spoke to the MacDonalds and their story starts on page 8. MURRAY MITCHELLApple growers consider marketing commission for stabilizationPETER MITHAM KELOWNA – A proposed apple marketing commission is facing tough questions from growers, some of whom fear it marks a return to the old single-desk system that prevailed in the 1980s while doing nothing to improve returns. Responses from 21 growers surveyed earlier this year by Vancouver consulting rm Ference & Co. for the New Tree Fruit Varieties Development Council indicate 81% are in Feeling burnedSee GROWERS on next pageoDown to the crunch
Page 2
GROWERS question apple commission proposal nfrom page 1DAIRY lower nfrom page 1favour of a marketing commission to ensure market stability versus government regulation or the status quo. The commission would replace the new varieties council, which is winding down after 20 years and stopped collecting levies on June 30. Packers and one major retailer also expressed support for the idea, but they underscored that ensuring fruit quality is essential to the success of any marketing commission. Delivering an adequate supply of high-quality fruit would be a key objective of the proposed commission, said Ference & Co. principal Don Ference, speaking at an online meeting held October 20 to discuss the proposal. "What this would do is try to ensure there's enough supply, enough high quality apples for both domestic and export markets," he says. "[And] as the quality goes up, there's the opportunity to increase the price." Growers selling through BC Tree Fruits Cooperative received 25.6 cents a pound last year, below the cost of production of approximately 30 cents a pound. It's also well below the 44.3 cents a pound received in Quebec, where a body similar to the proposed commission exists. By ensuring a better supply of high-quality apples, the commission hopes the industry will secure more lucrative markets, in turn raising grower returns. High-quality fruit sold to Asia, for example, delivers up to 70 cents a pound. "The real message we're trying to say here is that you rst of all have to get your quality standards up in order to participate in this orderly marketing," Ference told growers. "Otherwise, your product would not be allowed into export markets." But the proposal has yet to receive full support from the sector. Growers who endorsed the proposal earlier this year are a fraction of the up to 500 potentially regulated by the new commission. The public meeting attracted just over 50, many of whom wondered how a commission would dier from what independent packers have been doing for the sector. "Just seems like another layer of bureaucracy," says Amarjit Lalli, a Kelowna grower who has served with the BC Tree Fruits board, a sentiment echoed by David Machial, an Oliver orchardist who said overseas buyers often perform their own quality checks. "I'm a little bit nervous of us doing quality control inspections because we're already paying for the same thing," he says. "And I do wonder, if we're already failing to meet the quality for export markets, how is conducting our own quality control inspections going to help?" "There's no point in duplicating activities," says Ference. "The inspection and regulation of quality would have to be based on what's necessary. The commission would have to establish itself 2 | NOVEMBER 2021 COUNTRY LIFE IN BCgeneral rise in prices was dairy. While demand remains up versus July 2019, sales in recent months have slowed. "Retail sales for most products are lower compared to the same period last year but are higher than the pre-pandemic period," the BC Milk Marketing Board reports. This has meant price increases have been modest, with raw milk fetching 84 cents a litre in August. This amounts to a mere 6% increase versus a year ago and down from the 12-month high of 86 cents seen in February. (February is often a high point for pricing in BC.) Producers can expect new pricing come next February, following the results of the Canadian Dairy Commission's consultation with Dairy Farmers of Canada. "The formula is based on 50% of cost of production and the other 50% is based on Consumer Price Index on all goods," the marketing board says. what it needs to do to ensure that there is high quality." There is no timeline for setting up the commission, which has yet to be approved by growers and would need to be constituted by government. Similar to the BC Vegetable Marketing Commission, the lieutenant governor would appoint the chair and oversee six elected commissioners supported by approximately ve sta. The proposal envisions an annual budget of $1.75 million funded by a levy on growers (estimated to be less than a cent a pound), packer licence fees and marketing grants from government. Startup costs would total $1.1 million, with the commission taking six months to become fully operational. The idea of a marketing order to stabilize the industry isn't new. When an anti-dumping order against Red Delicious apples from Washington expired in 2000, a proposal for an international marketing order was bandied about. It failed to take hold. While low returns were an issue, many expected marginal growers to exit the sector. But those marginal growers hung on, hoping for a turnaround. Consolidation of the four cooperative packing houses in 2008 and the rise of independent packers brought structural change but failed to resolve the issues of poor quality and poor pricing. A lack of standards for incoming fruit meant that BC Tree Fruits had become the packing house of last resort, according to a governance study the co-op received last year. Three straight years of dismal conditions have prompted dozens of growers to exit the industry, leading the province to commission an industry task force this spring. Its recommendations for stabilizing the industry were due at the end of October. The nine-member committee working on the proposal for the new marketing commission sees its work complementing that of the task force. "The feeling of the steering committee was that, in concert with the work being done in the tree fruit stabilization initiative, this is one potential option that should be considered," says Steve Thomson, a steering committee member alongside new varieties council chair Bruce Currie, treasurer Bob Thompson, director Ron Vollo, and administrator Jim Campbell. Other members include Andy Dolberg, Tarsem Goraya, BC Fruit Growers Association general manager Glen Lucas and provincial tree fruits specialist Adrian Arts. But there remains much work to do. "There's lots of questions, lots of legitimate questions, about how this might work, and clearly some further information that needs to be obtained and presented in terms of continuing to move this project forward," says Thomson in response to growers' questions. "Clearly … lots of discussion still needs to take place." But if growers do approve the establishment of a commission, plenty of challenges remain. "We would have to draw up a detailed proposal in terms of a business plan, and also to determine the ministry's view of this in terms of how it could help the industry," says Campbell. Participants were asked at the end of the meeting, "Do you support, in principle, the Ference & Co. marketing commission proposal and assign the commission steering committee to further develop the proposal with the BC Ministry of Agriculture, Food and Fisheries?" The results were not immediately made public, but will likely factor into discussions at the new varieties council's annual general meeting to be held online on November 3. www.tractorparts4sale.caABBOTSFORD, BC Bus. 604/807-2391 email: tractorparts4sale@shaw.caWe accept Interact, Visa and Mastercard FORD 7000 2WD OPEN ST 83HP 540 PTO GD COND . . SALE PENDING! VICON PS602 FERTILIZER SPREADER, 3 PT, 1,000 KG CAPACITY . . 2,200 MASHIO CM4500 14' PWR HARROW W/ROLLER GD COND. . . . 14,000 VIBRA 8.5 FT 3POINT CULTIVATOR WITH HD SPRING LOAD 22" SHANK. GOOD CONDITION . . . . . . . . . . . . . . . . . . . . . . . . . . . . . . . SOLD! YANMAR FX42D 2WD OPEN STATION, 42HP PSHIFT TRANS, 4 SPEED PTO. 2961 HRS. . . . . . . . . . . . . . . . . . . . . . . . . . . . . . . . . . 6,500 CLAAS 350T AND 370T PULL TYPE ROTARY RAKES . . . . 4,500 & SOLD! SIP 165G THREE POINT DRUM MOWERS, GD COND. . . . . . . . 2,800 ea NH 256 ROLLARBAR 10 FT SIDE DELIVERY RAKE, GROUND DRIVEN, PULL TYPE, GOOD CONDITION . . . . . . . . . . . . . . . . . . . . . . . . . . . . 3,200 JOHN DEERE HD BALE CONVEYOR 40FT ON ADJ FRAME WITH AXLE, PTO DRIVEN . . . . . . . . . . . . . . . . . . . . . . . . . . . . . . . . . . . . . . . . . . . 1,200 LOEWEN 9612 VERTICAL MIXER . GOOD CONDITION . . . . . . . 14,000NEW REPLACEMENT PARTS for MOST TRACTORS & FARM IMPLEMENTSGD Repair LtdTractor/Equipment Repair Mobile Service Available
Page 3
Groundwater users could lose rights next yearUnlicensed water could be reallocated to new users COUNTRY LIFE IN BC NOVEMBER 2021 | 3March 1, even though they turned me down on that previous application," he says. "When I apply on March 1, the province cannot shut me down or turn my application away unless they shut down all the non-domestic users in that aquifer that have not applied, and so far it looks like there's hundreds of them." While this situation may be extreme, it's not uncommon. According to Petersen, the province estimates that there are about 8,000 agricultural wells in the province. Of these, 2,700 have applied for groundwater licences. This works out to 34%, or more than triple the rate for all other sectors combined, which have led just 1,300 licence applications. All told the province expects to licence 20,000 wells. "Agriculture's the shining star when it comes to the applications for existing groundwater. We really pushed hard, especially BC Cattlemen's at the beginning," says Petersen. "Agriculture's done a very good job of trying to get out and get those applications in." this summer -- the Bessette, West Kettle, Koksilah and Salmon. "They're very drought-stricken. The chance of getting a new water use licence is going to be very, very low. So I'm really, really pushing hard to get producers to apply before deadline on that existing use." Yet the deadline doesn't mean the taps will be turned o if users haven't applied for a licence. "It's not going to be a mass send all the [compliance ocers] out tomorrow to go nd people. We're told that's not going to be happening," says Petersen, noting that the BC Ministry of Forests, Lands, Natural Resource Operations and Rural Development has not hired more sta for enforcement. This undermines the credibility of the new licensing regime, says Ted van der Gulik, president of the Partnership for Water Sustainability in BC. During the recent provincial budget consultation, he urged government to allocate an extra $30 million per year for water management at FLNORD. This would include $11 million to hire sta to process licence applications, and $4.5 million for enforcement. "The No. 1 thing is the province doesn't have enough enforcement sta, and the province has not followed [up] on enforcement if you don't have a licence," he says. "If you're not enforcing … guys that are agrantly going against the act, and you're not doing anything about it, why should I bother applying for a licence?" While enforcement puts people out of business and is politically unpalatable, van der Gulik says sooner or later the province will have no choice. One watershed he's familiar with has seen new licence applications turned down based on the volume of current use, including one by a farmer who drilled a well expecting to be approved. The watershed currently has 270 registered wells, including more than 35 for irrigation. But just two have applied for licences. "If I was that farmer, and I've got all this money invested in a well that I can't use, I'm applying again on PETER MITHAM VERNON – This summer's dry weather resulted in a record number of restrictions on water use across southern BC, underscoring just how tapped out some basins are. Salmon River remained at drought level 5 last month – the most severe under the province's new six-tier drought rating system – even after the autumn rains arrived. The Upper Nicola was rated 4, only slightly better, with irreversible harm to aquatic life still possible. With the province standing rm on a deadline of March 1, 2022 for existing non-domestic well owners to license their wells, a renewed push is taking place to make sure those wells are licensed. If they don't, users in watersheds such as Bessette Creek in the North Okanagan, could nd themselves out of luck. "If you're in an area like that, it's going to be dicult to get a licence, because most of those streams are already fully recorded," says Andrew Petersen, a water management specialist with the BC Ministry of Agriculture, Food and Fisheries who addressed the Abbotsford-based Centre for Organizational Governance in Agriculture on October 7. "You'd basically have to prove your groundwater well is not connected to the river to get your application through the door." The scenarios facing well owners in other areas of the province after March 1, 2022 are no less daunting. Users who have not applied for a licence will have eectively relinquished their historical rights, and the province will treat them as new users. This means their existing water rights will be reallocated to new applicants on a rst come, rst serve basis – the guiding principle of the rst in time, rst in right system BC has enjoyed since water rights were rst regulated under the Gold Fields Act of 1858. "You will lose your historic rights, you will lose your fee waiver, and depending on where you are, you may have a very dicult time getting that licence," says Petersen, calling out the four watersheds where sh protection orders were issued CleanFarms' site supervisor Ron Standish sifts through boxes of old pesticides and herbicides delivered to a recycling station set up at Growers' Supply in Kelowna last month. By mid-afternoon, over 40 drop-offs had been made during the day-long session, including a 1942 container of DDT. MYRNA STARK LEADER The right thingIf so, are you aware that you only have 4 more months to apply for a licence to secure your historical groundwater rights?If you do not apply by the March 1, 2022 deadline for non-domestic use, you will:• Lose your historical rights to groundwater• Lose the legal right to use your wells and dugouts• Be treated as a 'new' user, potentially subject to expensive assessments as part of your application, and• In water-short areas, risk being denied a groundwater licence entirely.Were you using groundwater for your operation prior to the February 2016 passage of the Water Sustainability Act?For assistance, view the video at https://www.youtube.com/watch?v=zoYMs5OZMHc or contact a FrontCounter BC Office at 1-877-855-3222 Produced as a public service by
Page 4
Advertising is accepted on the condition that in the event of a typographical error, that portion of the advertising space occupied by the erroneous item, together with reasonable allowance for signature will not be charged, but the balance of the advertisement will be paid for at the applicable rate. In the event of a typographical error which advertises goods or services at a wrong price, such goods or services need not be sold at the advertised price. Advertising is an offer to sell, and may be withdrawn at any time. All advertising is accepted subject to publisher's approval. All of Country Life in British Columbia's content is covered by Canadian copyright law. Opinions expressed in signed articles are those of the writer and not necessarily those of Country Life in British Columbia. Letters are welcome, though they may be edited in the interest of brevity before publication. All errors brought to our attention will be corrected.36 Dale Road, Enderby BC V0E 1V4 . Publication Mail Agreement: 0399159 . GST Reg. No. 86878 7375 . Subscriptions: $2/issue . $18.90/year . $33.60/2 years . $37.80/3 years incl GSTThe agricultural news source in British Columbia since 1915 Vol.107 No. 11 . NOVEMBER 2021Published monthly by Country Life 2000 Ltd. www.countrylifeinbc.comPublisher Cathy Glover 604-328-3814 . publisher@countrylifeinbc.com Editor Emeritus David Schmidt Associate Editor Peter Mitham news@countrylifeinbc.com Advertising Sales & Marketing Cathy Glover sales@countrylifeinbc.com Production Designer Tina Rezansoff Lest we forget, PW. We never will! Freedom worth havingIn November 1968 I worked on a maintenance project in a large Vancouver sawmill. To avoid the worst of the morning trac on the Patullo bridge, I left home early and regularly spent the half-hour before work on my own drinking coee in the gloomy lunchroom. I arrived one morning to the sound of weeping in the back of the room. It was a man I will call Gerry. I only knew Gerry from work. He was a good carpenter and a good guy, and I'd never seen him at work a half-hour early. I asked what was wrong. Gerry apologised and said he couldn't help it, but he just got that way sometimes, particularly at that time of year. He invited me to sit down, confessed he didn't like to talk about it. Then, as if he felt some explanation was required, he told me why. In October and early November of 1944, Gerry fought in the battle to liberate the Scheldt estuary in Holland. The specics Gerry spoke of don't bear repeating here. In generalities, he became we: We were always wet and tired, there were bodies everywhere, and we were scared all the time. A lot of us died. The ght for the Scheldt estuary was particularly brutal. Casualty rates in some actions neared 50%. Gerry was still reliving it in vivid detail 24 years after the fact. He apologised for sharing his story and asked me not to tell anyone else about it. It is a good bet he expected to be alone in that lunchroom and hadn't imagined sharing any part of his story with anyone else, least of all a 19-year-old workmate he hardly knew. I said something about how awful it must have been and promised not to mention it to anyone. A few weeks, later I was dispatched to a project in another city and I never worked with Gerry again. But I never forgot that brief lunchroom encounter. I came to realize that Gerry's reliving of his combat experiences, and his hesitancy to let anyone know about them, were classic symptoms of Post-Traumatic Stress Disorder (PTSD). Over the years, I could see the same stoic silence in other veterans I met and wondered how many of them were caught in a secret recurring nightmare like Gerry was. We now understand PTSD to be commonplace, even inevitable to some degree in people who have experienced substantial or prolonged trauma. Add to it moral Injury, with similar symptoms but more often related to feelings of guilt. Both conditions can lead to anxiety and depression disorders, which in turn can lead to self-harm. Canadian Forces numbers released in June showed 191 member suicides in the last 10 years compared to 158 killed in operations in the 13-year Afghanistan campaign. For some, the war is never over. For others, it ends in suicide. I will take time to reect on the sacrice of all veterans on Remembrance Day. Those who died in war and those who brought it home with them. I will remember Gerry. In a perfect world, I like to think his lunchroom conversation all those years ago somehow lowered his guard and opened a door to more conversations with people who could oer him more than I did. Sadly, I can still see him weeping alone under the weight of a burden he could never escape. The trauma that gives rise to PTSD comes in many guises. Everyone suers from some kind of stress somewhere along the line. If you are stressed or anxious or depressed, or can see someone who is, don't be afraid to strike up a conversation. Nothing ever gets xed until someone admits there's a problem. For a helping hand, check [fcc-fac.ca/en/community/wellness]. Bob Collins raises beef cattle and grows produce on his farm in the Alberni Valley. The Back Forty BOB COLLINSThe battle continues long after the war is overWe acknowledge the financial support of the Government of Canada.4 | NOVEMBER 2021 COUNTRY LIFE IN BCSome old soldiers will tell you that November 11 doesn't get the respect it deserves, especially from younger service members who haven't seen battle. It's another holiday, an opportunity for drinks in the mess hall, a chance to over-indulge. But the veterans have memories. Meanwhile, the rest of us wear poppies and pause for a minute to keep silence. We do it because we remember the sacrices others made for the freedom we enjoy. But freedom is never really free. This became all the more apparent last month as the province announced a $25 fee on freedom of information requests. BC is now one of two provinces (the other is Alberta) that charge the public to access government records. FOI requests are not common practice at Country Life in BC, which has traditionally enjoyed collegial relations with government and industry alike. With the curtailment of extension services, we are part of knowledge transfer within and across the sector as well as being the newspaper of record for BC agriculture. We don't take the role for granted. But the province's move to limit access to public records is troubling. It is one of several instances during the BC NDP's second term that has seen the ow of information limited. Several farm organizations report that non-disclosure agreements are now part of any discussions they enter with the province. The discussions don't necessarily involve nancial information or other sensitive material; it's simply a way for the province to manage what is released to producers and the general public. The approach extends to extension work. A soil testing webinar the province organized last month for producers in the North Okanagan and Columbia-Shuswap areas was openly advertised on Facebook. But in following up for more information, the regional agrologist responded that the event was "a trial and a pilot" for a targeted audience, and wanted "the information to stay within the group." Whoever that proved to be. The shift marks a return to the days of the previous government, which limited direct contact between media and government sta. Whatever candour ministers show in person, inviting producers to contact them directly, the opposite holds true for media. The proverbial fourth estate is second class when it comes to government communications. Many younger reporters have no recollection of the relatively unfettered access to ministry sta that existed 15 or 20 years ago. Worse, producer groups are also managing external communications more closely. The loss of candour is detrimental, not only for current reporting but also for helping new entrants understand the sector. A growing number of producer groups limit public access to their meetings, often in the name of creating a safe space for members to voice their concerns. While appreciating the value of closed meetings for internal matters, the closure of general meetings is a departure from the culture of neighbourliness and mutual assistance that has long characterized the agriculture sector and rural communities generally. It's also at odds with the call for farmers to be ag-vocates for the sector, inside and outside their organizations. The acronym CHAT is often used to remind farmers to Check reactions to questions and comments, Hear what is being asked or said, Acknowledge shared values and Tell the story that builds on those values. Restricting the ow of information is the exact opposite of CHAT, and a curtailment of the freedom we're thankful to enjoy.
Page 5
Stories bridge the gap between producers, consumersBuilding relationships requires authentic, verifiable messagingCOUNTRY LIFE IN BC NOVEMBER 2021 | 5animal diet and environmental impact. All now fall under the label of 'sustainability.' Buyers of beef and other proteins now have a single word that summarizes the whole story. What is the story? If the first exposure and initial influence to a food is an image on Instagram (even in farm direct sales) and the rest of the story is based on digital or social media coverage, then what do farmers, fishermen and food processors need to say to keep the product growing and the consumer hooked? Research has shown blueberries, raspberries, beef and fatty fish enhance brain activity. But ocean protein and beef have other challenges in terms of consumer perception in regards to overfishing, production practices and the perceived impact of cattle on the environment. The story of any food goes far beyond the farm gate to include such things as processing and packaging. Cher Mereweather of Provision Coalition reminded audiences at the recent SIAL Canada Connect event that the story must be both authentic and verifiable, adding that you must measure it "so people can stand with you." Wherever there is an intersection of values, there is a "stand with you" point. Going back to our example of beef, it holds onto its place by aligning with values outside of the nutritional contribution. As a producer, it is important to say why you do what you do and why you care. If there is value being added to the food through processing, then that message has to transfer to your branding and packaging. And there must be a digital presence. Trust is built on similar values, one data point at a time. This transparency applies to the farm as well. If berries are made into syrup, then the story behind the berries should carry through to the label. The transparency in this new way of thinking in food production, processing and branding builds strong linkages. For BC, this represents abundant opportunity as the province is home to over 200 food commodities and 100 foods from the sea. We also house over a third of Canada's food processors. Like farms, many are family-owned. Together, agriculture and agri-food processing are a major economic driver in this province. No farm or brand can afford not to care about the personal values of consumers, even if their product is as popular as the brain foods are. These values are often shared between buyer and seller but the story is often missing, either at the farm or on the label. Figuring out what those shared values are is important for the success of all the beautiful foods from the land, barns, greenhouses, urban boxes and seas of BC. Authentic, verifiable, values-based story telling connects us all. Brenda Schoepp lives on Vancouver Island where she brings agriculture and food leadership to life through stories and conversation. She can be contacted through her website at [www.brendaschoepp.com]. As a farmer, you know the goodness in every meal made from the food you raise in eld, frame, forest or sea. As a food processor, you link that product to the next level and together as farmer and food processor, you bring the best of BC to the table. The question is: what do consumers feel are the best in foods and how does the story of the food from the farm carry through to the plate? A recently released NielsenIQ study revealed the top ve brain foods as named by Canadian consumers. These brain foods were also recognized for their power in reducing anxiety, depression and helping with sleep – properties for the body and the mind. This new way of looking at food is an opportunity for the agricultural and agri-food community. The concept of food for the body and the mind is exploding and the message to food processors is simply that no brand can aord to ignore this trend. Rather than simply name the source, food processing must also think about portraying the story behind who is at the origin and the why behind their processing of the product. The ve foods – tuna, blueberries, shrimp, raspberries and fresh beef – are all products harvested in BC. If these foods are perceived to keep the mind sharp, reduce anxiety and depression and help one get a good night's sleep, then it is imperative to tell the story why this food is important to you as the farmer, sher or food processor. Take beef for example. Consumers have not given up on eating beef, they're just taking into account dierent factors for protein beyond nutrition and taste. Decision factors such as their brain health and well-being in harmony with animal welfare, Viewpoint by BRENDA SCHOEPPKuhnNorthAmerica.comVisit your local British Columbia KUHN dealer today!INVEST IN QUALITY®www.kuhn.comMatsqui Ag-RepairAbbotsfordNorthline EquipmentPouce CoupeHuber Farm EquipmentPrince GeorgeSmithersGMD 51 TL SERIES Trailed Disc Mowers9'2'' - 13' working widthsLubed-for-life Optidisc® cutterbar provides greater knife overlap for cleaner cut in tough 昀eld conditionsMaintenence-free, Pro-Active Lift® system allows for quick adaptationto abrupt terrain changesConstant Float® suspension closely follows ground countours and reduces amount of missed cropGyrodine® swivel hitch allowsturns in excess of 90° foroutstanding maneuverabilityREDUCE DOWNTIME. MAXIMIZE PRODUCTIVITY.Downtown Realty 4007 - 32nd Street, Vernon, BC V1T 5P2 1-800-434-9122 www.royallegpage.caPAT DUGGAN Personal Real Estate Corporation Royal LePage Downtown Realty Ltd. Farm | Ranch | Residential Bus: 250/545-5371 (24 hr) Cell: 250/308-0938 patduggan@royallepage.ca991 SALMON RIVER RD, SALMON ARMwww.OkLandBuyers.ca "Farmers helping farmers with their real estate needs"23,500 sq ft CHERRY PROCESSING PLANT on 7.1 acres. 8 lane GP grader w/capacity for 4 more lanes ca-pable of processing up to 3 tons/hr, chill tank, size & defect sorter, air-jet grader. Ample refrigerated stor-age, grade level & raised loading docks. Labour housing for 35-40 seasonal workers. Potential to modify into other ag-related ventures. MLS® 10240852. $4,500,000 YOURHelping YouHelping YouWEEKLY FARM NEWS UPDATESSignSign upup for for FREE todaFREE today. As a producer, it is important to say why you do what you do and why you care.
Page 6
6 | NOVEMBER 2021 COUNTRY LIFE IN BC0.9% FOR 72 MONTHS*ON NEW HOLLAND COMPACT TRACTORS.MORE CHOICES. MORE SAVINGS.%GPFHBUOBWEBFLBUUOFWFTFMBTB[OBOP#FVMB7TSBFZTJIUHOJSV 4)5/0.SPG(/*$/"/*' P FSPNUF(TFJSF43&54".,308EOBSFNPP#HOJEVMDOJTSPUDBSUUDBQNPDEOBMMP)XF/UDFMFTO DB[OBOP#FVMB7HOJSVEFWBTEOBEOBMMP)XF/IUJXFOPETFSPI 0EOFTSFGG% SFCNFDFQPUTPTCNPDTSFGGPIOUJTJWSPZBEPUZ#EU-UOFNQJVR&NSB'SFMUVUFFSU4 ' OIP+U4USP #$7 3+XBDUOFNQJVRFNSBGSFMUVCXX#EU-UOFNQJVR&NSB'SFMUVUFFSU4 ' OIP+U4USP #$7 3+XBDUOFNQJVRFNSBGSFMUVCXX EOBTMJBUFESPGSFMBFEEOBMMP)XF/HOJUBQJDJUSBQSVPZFF4EU-BEBOB$MBUJQB$MBJSUTVEO*)/$ZCMBWPSQQBEOBOPJUBDmJMBVRUJEFSDPUUDFKCVTOPJUBQJDJUSBQSFNPUTV$ZMOPFTVMBJDSFNNP$SP' F EU-BEBOB$MBUJQB$MBJSUTVEO*)/$NSFUSPFUBSTJIUSPGZGJMBVRZBNTUOBDJMQQBSPTSFNPUTVDMMBUP/SFCNFDF%IHVPSIUEPPHSFGG0EFSJVRFSFCZBNUOFNZBQOXP%TUOFNFSJVRFSZUJMJCJHJM T BIUJXSFCPUD0GPFUBEUDBSUOPDMJBUFSBOPEFTB#TIUOPNTJNSFUUDBSUOPDMBUP5TIUOPNSPGFCMMJXFUBSUTFSFUOJFI5FMQNBY&BEBOB$ZMQQBTOPJUJEOPDEOBTNSFUESBEOBU T GPTUOFNZBQZMIUOPNMBVRFFCMMJXFSFI5TIUOPNSPGNVOOBSFQUB$GPFDOBMBCFIUTFDOBOmEOB$GPUOFNZBQOXPETFEJWPSQSFNPUTVD$GPSFUTBNLSP8XFOBOPFDJSQMJBUFSEFUTFHHV $ TJSFGG0FDJSQMJBUFSEFUTFHHVTOJEFEVMDOJUPOTUOFNIDBUUBSPTOPJUQPMBOPJUJEEBZSFWJMFEQVUFTUIHJFSGTFYB5$GPTFHSBIDFDOBOmTFEVMDOJIDJIX$FCMMJXFMCBZBQUOVPNBMBUPUFI5 O ZOBNEOBTFUBU4EFUJO6FIUOJEFSFUTJHFSTLSBNFEBSUFSBEOBMMP)XF/EOBMBUJQB$MBJSUTVEO*)/$EFWSFTFSTUIHJSMM"$--BDJSFN"MBJSUTVEO*)/$ªFDJUPOUVPIUJXOPJUBMMFDOBDSPFHOBIDPUUDFKCVTSFGG0FMCBSFGTOBSUOP PTFUBJMmGBSPTFJSBJEJTCVTTUJ7/MBJSUTVEO*)/$PUEFTOFDJMSPZCEFOXPTFJSUOVPDSFIUARMSTRONG 250/546-3033 3520 Mill Street | hornbyequipment@shaw.ca SERVING OUR CUSTOMERS WITH SALES, SERVICE & PARTS FOR 50 YEARS!ARMSTRONG HORNBY EQUIPMENT ACP 250-546-3033 CHILLIWACK ROLLINS MACHINERY LTD 604-792-1301 CHEMAINUS ROLLINS MACHINERY LTD 250-246-1203 FORT ST JOHN BUTLER FARM EQUIPMENT LTD 250-785-1800 KELOWNA ROLLINS MACHINERY LTD 250-765-8266 LANGLEY ROLLINS MACHINERY LTD 604-533-0048 WILLIAMS LAKE GRASSLAND EQUIPMENT LTD 250-392-4024 VANDERHOOF GRASSLAND EQUIPMENT LTD 250-567-4446
Page 7
COUNTRY LIFE IN BC NOVEMBER 2021 | 7Farms in Kelowna are seeing hightech water meters replacing old ones in an effort to improve water management and resource allocation. But it's also forcing some growers to pay much more for their water. FILEROOHI SAHAJPAL KELOWNA – Agricultural water users in the former South East Kelowna Irrigation District are being introduced to a new way to manage their water usage, but not everyone is welcoming the change. "It's horrible," says Darren Sawin, owner of Priest Creek Family Estate Winery. "It might be good for residential people in the city but it's not good for us at all as farmers." SEKID was dissolved in 2018. More than half of the existing 481 agricultural water meters have been replaced with ultrasonic meters as part of the city's overhaul of water delivery. It's part of a larger ve-year project the city has implemented to upgrade the existing aging meters with advanced metering infrastructure (AMI) technology, which uses wireless cellular technology to communicate with data readers, similar to how cellphones work. For Sawin, this means his winery is now using city water at a cost of approximately $2 a cubic metre. Prior to last year, it received water sourced from Hydraulic Creek and stored in the McCulloch Lake reservoir. The water was ne for irrigation, but it was up to individual users to sanitize it for domestic or commercial use. Priest Creek, for example, made signicant investments to clean the water it received from the irrigation district. "[We] spent thousands of dollars on a water purication system so that we could use the irrigation water as sanitary water," he says. "Now, they've taken that away and my winery is hooked up to the city water and not irrigation." Sawin says his winery has a water allotment of 10 million gallons. It uses just 30% of that for irrigation, however. "My water from my winery is hooked up through my domestic [supply], my house and my wine shop. They put me on residential billing, which I use too much water for. So, I'm at the top tier and my water bill is thousands of dollars a month." Meanwhile, the bill for his irrigation water has doubled from $1,200 to $2,400 a year. "They don't understand how tough it is for agricultural people to operate their business so they just look at Growers wrestle with irrigation upgrades Some Kelowna farmers could face cutbacks on allocationswww.hlaattachments.com 1-866-567-4162 • Grapple clamps on to any Class II fork frame with walk through guard Grapple shown mounted on HD55 pallet fork.• Minimum 12 GPM required• Secondary metering drum regulates flow onto the belt• 12" wide high abrasion rubber belt with 1 ½" paddles• Discharge from either side Straw/Lime model shown.• Includes 2-½"x 8" cylinders• Main bucket material ¼" end plates and clam floor bottom• Available widths 66", 72", 78", 84"• Loader and skidsteer models available SINGLE ARM LOG GRAPPLE4-in-1 BUCKETSIDE DISCHARGE BUCKETthe numbers and say we need more money and just up the prices," he says. The City of Kelowna says the switch to ultrasonic meter technology is meant to help farmers manage and program their water usage with a view to greater eciency. It also gives the city an idea of how much water is being used and can help detect leaks. Both objectives will help improve water conservation. "We're getting continued requests for additional water allotments for additional agricultural use and these water meters allow us the ability to be able to track and understand if we can allow more water use and issue more allotment licences to the agricultural users up there," says Kelowna water quality and customer care supervisor Ed Hoppe. Hoppe says the response from agricultural water users has been slow since the switch began last year, but the city plans to run an education program next year for farmers to help them understand the change and improve the eciency of their irrigation systems. Given the dry conditions this year and the possibility of a dry winter and summer in 2022, Hoppe says the change is an important one considering climate change. "We may have to start scrolling back some of the water allotments they are allowed to have, in which case, monitoring and using water can become much more of a critical aspect of their business, so it really bodes well in their interest if they take a keen interest in what these water meters have to oer," Hoppe says. Following a consultation process in 2019, the xed fee allotment rate for farm-status properties increased from $96.30 an acre to $120 as of January 1, 2021. This will be billable at the end of 2021 and the Kelowna rate remains one of the lowest in the valley. In addition to the xed agricultural rate, additional amounts would be charged if usage exceeds the allotment by up to 20%; 20% to 50%; and more than 50%. Sawin says he's contacted the city about making a commercial rate for people like him that need a better rate for their business. "To operate my winery, I need a better rate," he says.
Page 8
8 | NOVEMBER 2021 COUNTRY LIFE IN BCABBOTSFORD1-888-283-3276VERNON1-800-551-6411Avenue Machinery sells genuine AGCO Parts so that you know everything in your equipment will work to perfection.PERFECTIONPERFECTIONGIVE YOURSELF T H E AVENUEKATE AYERS MERRITT – Rhonda and Wayne MacDonald of Bar FX Ranch planned to stay and ght the approaching Lytton Creek re until they lost power. But as they loaded up their last liner with cattle, a re tornado breached the top of a hill and raced towards them against the smoky dusk skies. It was in that moment the MacDonalds, along with their cattle, retreated to safer grounds and left their ranch between Merritt and Spences Bridge on Hwy 8, hoping to return to some semblance of home. "It is a risk that we take when we range in the mountains. We realize that," says Rhonda. "It was a risk this year, but the end result didn't have to happen. It was a lack of resources … and lack of common sense. And it's not the people working on the ground, it's the people sitting in oces making the calls." While reghters were brought in from across North America and overseas, high winds fanned ames that outran nearly 5,000 reghters and made this year the third most destructive in history after 2017 and 2018. A total of 1,610 wildres burned more than 868,200 hectares this season. Now that the res have been brought under control and the smoke has cleared, government ocials, re crews and producers are trying to learn from this year's experiences. "There are dierent ways to measure re management success. Some people use area burned, but I don't think that's the most appropriate one," says Mike Flannigan, BC research chair in predictive services, emergency management and re science at Thompson Rivers University. "It's more about impact. The numbers aren't in yet, but I believe in many metrics, 2021 was the most impactful of those years. There was loss of life directly related to re, which didn't happen in other years. It was a devastating and catastrophic fire season in many regards." Wildfire 2021:A residence which once housed Rhonda MacDonald's mother was spared as re went around it on both sides. The home and perimeter was heavily watered shortly before the re swept through the area. MURRAY MITCHELL Ranchers want to be part of wildfire solutions
Page 9
COUNTRY LIFE IN BC NOVEMBER 2021 | 9Charred trees blacken the slopes above Bar FX Ranch near Merritt after wildre crested the hill and forced the MacDonalds to evacuate. MURRAY MITCHELL'They keep locals in the dark. That is really problematic.'This rings true for the MacDonalds, who had 110 head of cattle on 100,000 acres of range earlier this year. But when the wildres struck, 11 cow-calf pairs perished. They are still missing 10 cows and ve calves that have yet to be recovered. One day, they had 21 riders out on range to gather cattle as re conditions escalated. "The whole ranching community came together to give us a hand. But then it got to the point where it was too dangerous to go," says MacDonald. "I wish BC Wildre Service could have walked the bush with us. You could smell them before you saw them. Those images are engraved in our brains." The extreme heat and re conditions that fueled intense res, exhausting personnel and resources, demand a change in how wildres are managed, says Flannigan. "Fire management is adaptive, but I think we do have to change the way we do business," he says. A rst step would be allowing prescribed and natural burns on the landscape. "The reason for this is because a recently burned area is unlikely to reburn for 15 or 20 years. If it does reburn, it's lower intensity and easier to put out," he says. "Natural res are Mother Nature at work." Indigenous rekeepers have conducted low-intensity cultural burns since time immemorial to rebalance ecosystems and facilitate regeneration. This approach prevents re fuel such as branches and dry vegetation from building up in forests. However, under the BC Bush Fire Act of 1874, the emphasis was put on preventing re rather than working with it. But without regular management of forest oor debris, high-severity res become more likely. They can also take on a life of their own. Development also makes it dicult for reghting agencies to let res run their course. "For BC Wildre Service to allow natural res when and where possible is challenging because there are very few areas in the province that do not have a ranch, cabin, cottage, community, infrastructure or some societal value that allow re on the landscape," says Flannigan. An in-the-moment re control tactic is backburning or burn-out operations. "The principle is that where a wildre is spreading, start a new re backing into the wind so that it's much lower intensity and you can manage it. The new re consumes frontal fuel. It's very eective," says Flannigan. But appropriate forecasts and familiarity with the local landscape are critical. Unfortunately, the MacDonalds were on the receiving end of a backburn gone awry. "We had an Australian backburn specialist that was here making the decisions about burning up our countryside. When they lit the rst backburn here on August 9, we were shocked," says MacDonald. "I got a hold of our range agrologist that morning because we heard via the grapevine that they were going to light a backburn. She got a hold of BC Wildre Service who said, 'Oh no, we're still a few days out.' This was at 7:30 or 8 that morning and by 10:25, BC Wildre Service had issued a press statement that they were starting a backburn that afternoon." No consultation Ranchers weren't the only ones left in the dark. So were other government employees. "My husband was born and raised here, and he knows the areas where they lit the backburns and where they were working like the back of his hand. He spent his childhood and part of his adult life up there," says MacDonald. "We range our cattle and go up there quite often. And there was no consultation with any of the stakeholders up there about lighting backburns. At the time they lit the rst backburn, that re was all but out." It was also the middle of the afternoon, when the temperature was 37°C and winds were picking up. "It always gets windy here in the afternoon. I understand why they want to backburn, however, when we've had eight weeks or more of drought, it's not the time. You try to put the res out," says MacDonald. "How about we log it and make use of that wood in conjunction with controlled burns in March and April or October and November when it can be easily controlled? You don't do it in August when it's hot and dry with no measurable rain since May." The re from the backburn hit their ranch on August 15. "We assumed it would come from the west, but it came from the west farther south than us and then the wind changed, and it wrapped around and came from the east. It was bizarre. It was ranked as a 6+ re. All the reghters I talked to had never seen that kind of re," says MacDonald. Rank 6 is the highest mark See FIRE on next page oQuality Pre-Owned Tractors & EquipmentAGOC ALLIS 6690 W/LDR . . . COMING ANDEX 773 RAKE . . . . . . . . . . . . 12,500 CASE 3800 DISC 13' . . . . . . . . . . . 9,500 JAYLOR MIXER WAGON . . . . . . . . 13,500 JCB 409 . . . . . . . . . . . . . . . . . . . . . 47,000 JD 348 BALER . . . . . . . . . . . . . . . 16,000 KUHN FC313 MOWER TG . . . . . 20,000 KUHN 4 BOT ROLLOVER PLOW . . . . 19,900 KUBOTA BX2200 . . . . . . . . . . . . . . 7,500 KVERNELAND 4032 MOWER . . 16,000 MASCHIO DC4000 POWER HARROW . . . . . . . . . . . .12,500 NH 570 BALER . . . . . . . . . . . . . . . 16,000 TYCROP HIGH DUMP 16' . . . . . . . 9,500 WACKER NEUSON 750T . . . . . . . 62,500 WOODS DITCH BANK MOWER 15,000
Page 10
10 | NOVEMBER 2021 COUNTRY LIFE IN BCAgricultural Grade Products - Made in the U.S.A. Contact your local Nelson Irrigation dealer today!NEW HANGINGSPRINKLER SOLVESPROBLEMS FORORGANIC GROWERS15-50 PSI8.5-75 GPH9-16' RAD.PREMIUM PERFORMANCE ON HOSE REEL TRAVELERSIntroducing the S7 Spinner - a new Nelson innovation designed to combatrising energy and labor costs. The S7's modular design allows quick and easynozzle exchange - and the Quick Clean (QC) technology reduces irrigatorhours — simply turn, flush and reconnect. Special insect protection helpsprevent plugging or stalling. Find out more at WWW.NELSONIRRIGATION.COM®on the BC Wildre Service scale and describes re behaviour that's extreme and aggressive. MacDonald says the re lived up to its rank, destroying six houses, four shops, four barns as well as hay sheds and several outbuildings. "Our neighbour's Tesla is a melted pile of aluminum," she adds. The province was unable to conrm the claim, saying it's still too early to have a complete picture. The MacDonalds started preparing for res the day after re erased the village of Lytton on June 30. They disposed of combustibles and debris in their yard and cleared a 12-foot diameter around the bottom of every hydro pole. But they still lost the poles because the re was so intense. But through their daily preparation, cleaning and watering, the couple's home was saved as well as Rhonda's mother's place down the road. Some residents in the re zones believe that enhanced communication and local collaboration would help reduce losses to wildre. A statement to Country Life in BC from the BC Ministry of Agriculture, Food and Fisheries says the "use of liaisons from the BC Cattlemen's Association who were embedded directly into the BC Wildre Incident Command Structure" strengthened this year's wildre response eorts. It also noted "increased coordination and support for agriculture producers to undertake re response operations in consultation with the BC Wildre Service." But that's not what the MacDonalds found when they were invited to help put out a nearby re. During the third week of July, RCMP notied the MacDonalds that a re was consuming a farm 10 kilometres down the road and that reghters could use some support. They loaded and sent down two water trucks, and two more came from local businesses in Merritt. "All four of those trucks sat up at the Shackan Band Hall and were sent home full after two hours because they weren't signed up with Forestry," says MacDonald. "At that point, none of us wanted to get paid. We just wanted to help and put this damn re out and we weren't allowed. That really has to change. … What is wrong if someone wants to help like that and have them sign a waiver on site? I understand there is a liability factor, but I think that anyone who shows up with equipment knows what they are doing and that there's risk." Checks and balances Flannigan agrees that local resources are valuable, but adequate training is required before heading onto the frontlines. "I think using local knowledge and resources can be quite benecial but there has to be standard training and checks and balances," he says. "There has to be coordination. People could be at the wrong place at the wrong time. We don't want any injuries or loss of life that could be avoidable." Todd Stone, the BC Liberal MLA for Kamloops‒South Thompson, is calling for a public inquiry into the government's management of wildres this season. The province, which investigated the response to the record-breaking 2017 wildre and ood season, has not promised a similar report on this year's eorts. But learning from experience is critical, especially as wildres are expected to continue to pose a threat to BC as seasonal temperatures and the risk of drought increase. While prescribed burns help manage fuels and programs such as FireSmart educate communities and encourage collaborative solutions, there's no single answer as BC prepares to live with more extreme weather and wildfires. "There's no silver bullet," says Flannigan. "(But) there is always stuff to burn in BC." "You could smell them before you saw them." The images of dead cattle are "engraved on our brains," says Rhonda MacDonald, after wildre ripped through their range near Merritt this summer. RHONDA MACDONALDFIRE nfrom pg 9
Page 11
COUNTRY LIFE IN BC NOVEMBER 2021 | 11Abbotsford updates farmland policiesChanges address truck parking, storage, soil management TRACTOR TIMEVICTORIA 4377C Metchosin Rd. 250.474.3301 30 minutes from Victoria and 15 minutes from Hwy#1 in Metchosin.tractortime.comPREMIUM TRUCKPRINCE GEORGE1015 Great Street250.563.0696WILLIAMS LAKE 4600 Collier Place 250.398.7411premiumtruck.ca handlersequipment.comHANDLERS EQUIPMENTABBOTSFORD 339 Sumas Way 604.850.3601HOUSTON 2990 Highway Crescent 250.845.3333Mahindra 5100MOREBUILT-INWEIGHTPETER MITHAM ABBOTSFORD – Abbotsford is one of several municipalities moving ahead with updates to their farmland policies now that the province has completed its review of the Agricultural Land Reserve. Abbotsford pressed pause on its AgRefresh plan in April 2018 after two years of work. The city resurrected the initiative on October 4 with a report that outlines plans to address non-compliant uses in the ALR. The plan calls for targeted action on hot-button issues including truck parking, unauthorized storage and soil deposit and removal. The three issues account for 76% of complaints the city received regarding compliance with farmland regulations between 2016 and 2020. The city will target these activities with "an awareness campaign, a 'self-reporting' grace period, and escalated enforcement for undeclared non-compliance," including automatic nes, says the report. But since the city cannot monitor all ALR properties all the time, it "will continue to respond to all reports of non-compliance based on priority." To pre-empt instances of non-compliance, the city plans to tighten zoning policies and permitting processes. Commercial vehicle dispatch will no longer be a permitted residential use, for example. In addition, the city is proposing a new farm business licence for on-farm retail operations larger than 10 square metres within permanent structures. Special event permits are also proposed for events of 50 people or more, recognizing that larger events – such as tulip festivals – can negatively impact farmland. The document also outlines revisions to policies related to agricultural properties in its Ocial Community Plan, and updates to zoning bylaw regulations for farming areas. The latter includes an overhaul of the city's six existing agricultural zonings and the removal of a minimum lot size for keeping swine, facilitating small-scale meat production. The combination of greater regulation and creating opportunities for small producers is a shift from three years ago, when city planners proposed removing 494 acres from the ALR for industrial use as part of the AgRefresh initiative. By designating land for industrial use, the city hoped to relieve the pressure on farmland. The city welcomes feedback on the new proposals through November 5. Stormy skiesStormy skies over Knutsford are a welcome change from a summer of drought and wildre. AVERY MURRAY
Page 12
12 | NOVEMBER 2021 COUNTRY LIFE IN BCDustin Stadnyk CPA, CAChris Henderson CPA, CANathalie Merrill CPA, CMATOLL FREE 1-888-818-FARM | www.farmtax.caExpert farm taxation advice: • Purchase and sale of farms • Transfer of farms to children • Government subsidy programs • Preparation of farm tax returns • Use of $1,000,000 Capital Gains Exemptions Approved consultants for Government funding through BC Farm Business Advisory Services ProgramARMSTRONG 250-546-8665 | LUMBY 250-547-2118 | ENDERBY 250-838-7337View over 100 listings of farm properties at www.bcfarmandranch.comBC FARM & RANCH REALTY CORP.Buying or Selling a Farm or Acreage?GORD HOUWELING Cell: 604/793-8660GREG WALTON Cell: 604/864-1610Toll free 1-888-852-AGRI Call BC's First and Only Real Estate Office committed 100% to Agriculture!PROFESSIONAL SERVICESwww.tjequipmentllc.com 360-815-1597 FERNDALE, WA ALL PRICES IN US FUNDSNEW 2019 CADMAN 4000SWB IRRIGATION REEL, 4"X1250' HOSE, 443-600 GPM, HONDA MOTOR $38,0001996 INTERNATIONAL 9200 W/ 20' PARMA SILAGE BOX, 10 SPEED, DETROIT 60 SERIES, NEW BRAKES CALL2013 JD 6115M 4WD, 115 HP, POWERQUAD, 5513 HOURS, 540/1000 PTO $40,0001976 JD 4430 2WD, 139 HP, POWERSHIFT, 8339 HOURS, 2 REMOTES, 540/1000 PTO $21,500Douglas Lake "right to roam" challenge dismissedPrivate property that encloses Crown property will remain closed to the public, following the Supreme Court of Canada's refusal this fall to hear an appeal of a ruling that protects Douglas Lake Ranch from trespassers. Nicola Valley Fish and Game Club members hoped the country's highest court would hear an appeal of a BC Court of Appeal ruling earlier this year that overturned a 2018 judgment that said they were permitted to cross Douglas Lake's property to access Crown waters. Instead, it decided to let stand the BC court's decision, which firmly rejected the popular notion of a "right to roam" in order to access Crown lands. "BC Cattlemen are pleased with the decision," says BC Cattlemen's Association general manager Kevin Boon. "Crossing someone's private land should be a privilege not a right." Ranch lands are managed with a view to enhancing environmental values as well as the well-being and productivity of cattle. The recent court rulings ensure ranchers can continue managing their lands without interference. "Farmers and ranchers in BC go to a lot of work and expense to protect and steward not only their private lands, but also Crown lands which are under their care," says Boon. "[They] deserve to have the ability to ensure that those who have access and/or use these lands respect them and the values of their caretakers." Denial of the latest appeal marks the end of a court saga that began in April 2013 when the Nicola Valley Fish and Game Club petitioned for access to the waters of Minnie and Stoney lakes. The petition sought to resolve the question of access, which intensified following the closure in 1990 of road access to the two lakes. –Peter Mitham Creston food hub opens A long-awaited food hub ocially opened its doors in Creston on October 15, the fruition of eight years of discussion, study and advocacy on the part of locals. Spearheaded by Fields Forward Society of Creston, the Kootenay Farms Regional Food Hub and Innovation Centre provides local growers and processors with processing equipment and facilities, an aggregation and distribution service and sales support. Businesses will rent the equipment or hire Fields Forward's sta on a fee-for-service basis. The province gave $500,000 to Fields Forward and the Regional District of Central Kootenay this spring to nalize development of the food hub, which locals have been advocating for since 2013. The province is also providing $300,000 over three years to support operations.. In addition, the Columbia Basin Trust contributed $150,000 to purchase commercial-grade equipment for the facility. The funding follows on previous support for feasibility studies. "The Columbia Basin Trust has provided Fields Forward with tremendous support over the last three years. We couldn't have succeeded with this food hub initiative without their ongoing interest and support in food security and farming," says Elizabeth Quinn, executive director of Fields Forward. The hub is one of six now operating in the province, with an additional six set to come online in the coming months as part of the province's $5.6 million food hub network. All hubs are being considered as locations for mobile seed cleaners being developed under the aegis of Vancouver-based FarmFolk CityFolk, which is leading a BC Seed Hub initiative funded by the BC Ministry of Agriculture, Food and Fisheries. The project is looking at the potential of adding in-hub infrastructure or mobile cleaning units at food hubs in dierent regions of the province. "We have been able to build four mobile seed cleaners," says FarmFolk CityFolk. "In the not-so-distant future, these trailers will be housed at partner locations across the province." According to the province, those locations have yet to be determined. "FarmFolk CityFolk are continuing to consult with dierent food hub operators to determine which facilities are most interested and appropriately located and sized to include seed processing equipment," a statement from the agriculture ministry said. "At this time, the Kootenay Farms food hub is not involved but potentially could be in the future." –Peter Mitham Food processors receive funding Agrifood processing is one of the largest manufacturing sectors in BC, and the biggest beneciary of $10 million in recent provincial grants to help manufacturers expand, adapt and enhance their operations. Delivered through the Accelerating Manufacturing Grants program, part of the province's COVID-19 recovery strategy, 43 grants were awarded to help businesses scale up, develop and commercialize new technologies or products, improve market access and identify operational improvements. The program covers 75% of project costs to a maximum of $250,000 for individual businesses or up to Ag Briefs EDITED BY PETER MITHAM$500,000 for projects by a group of businesses. A dozen agrifood ventures received funding, with the single largest sum of $492,846 awarded to the Abbotsford-based partnership of Field House Brewing Co. and Konig Brewing Solutions. Other well-established companies received $250,000 for their projects, including Okanagan Mobile Juicing Inc., Big Mountain Foods of Vancouver and Burnaby snack food producer Quejos Ancient Foods Inc. ReFeed Canada Farm Ltd. of Langley received $246,875 to expand its high-tech worm farms in partnership with Salmon Arm's Idea 64 Manufacturing. "We're very pleased that the Province of British Columbia has recognized our innovations and awarded us an Accelerating Manufacturing Scale-Up Grant to help speed our expansion," says ReFeed Canada's Stuart Lilley. The grants are awarded by the BC Ministry of Jobs, Economic Recovery and Innovation, which is also a partner with the BC Ministry of Agriculture, Food and Fisheries in developing the BC Regenerative Agriculture and Agritech Network. The network aims to "create jobs for workers, opportunities for farmers and greater food security by bringing together natural systems of production with agri-technologies that enhance production." — Peter Mitham Vanderspek appointed The province has appointed former BC Chicken Marketing Board executive director Bill Vanderspek to the board, ensuring his contributions to the sector will continue until at least 2023. The two-year appointment follows a 47-year career in the sector that saw him rise from the processing oor to head the provincial marketing board. The appointment took eect October 12, just six weeks after Vanderspek's retirement at the end of August. Vanderspek is joined by Carol Paulson, a director of the Langley Sustainable Agriculture Foundation and a former member of the Agricultural Land Commission. The pair replace former vice-chair Alistair Johnston and Gay Hahn. A successor to Vanderspek as executive director has not been chosen. BC Chicken did not provide an update on the selection process. — Peter Mitham Don't forget to RENEW your subscription
Page 13
COUNTRY LIFE IN BC NOVEMBER 2021 | 13Summerland grape specialists retireCouple's research has laid a foundation for industry growthCarl Bogdanoff and Pat Bowen have honed their research skills in their own Naramata vineyard. TOM WALKERTOM WALKER SUMMERLAND – A match made in California has had a major impact on viticulture research in the Okanagan valley. Raised in Kimberley, Pat Bowen met California native Carl Bogdano when both were students in the University of California-Davis viticulture program in the early 1980s. They became partners in life as well as in science, and this fall, the pair retired after contributing some 30 years of research expertise to BC agriculture. "We rst came to the Agassiz research station where I worked in vegetable crops and berries," explains Bowen. "Carl worked part-time in the greenhouse and looked after our two kids." During the late 1990s, the BC wine grape industry was completing its transition to vinifera grape varieties and was really pushing for viticulture research support, Bowen notes. "My supervisor learned about our educational backgrounds and essentially transferred us to Summerland," says Bowen. "We were thrilled to work in viticulture, which was our preferred area." BC's wine industry was small back then. "When we rst came to the Okanagan in 2000, there were about 30 wineries," says Bogdano. "We visited every one of them." Bowen says it was a once-in-a-lifetime opportunity to support the developing BC wine industry, which had recently introduced a levy in support of research coordinated by the BC Wine Grape Council. "There were a lot of super-smart and progressive growers and winemakers who really wanted to make the most of the research program," she recalls. "They had just started a check-o program and that showed the government that the industry was willing to invest in research if the government would bring in scientists." Bowen and Bogdano jumped right in. "Right away, they established contacts with the industry and have always responded to industry needs and direction," says Hans Buchler, research coordinator for the BC Wine Grape Council and a long-time Oliver grower. "Carl and I love growers. We like the idea that we can collaborate with them and do applied research using their ideas and have an information exchange with them," says Bowen. "This was a dream come true." The couple's early work set the basis for the high degree of quality that the BC wine industry is known for. A major focus has been varietal suitability, determining which grape variety will perform best in a certain location. "Grapes are particularly sensitive to growing conditions and it makes or breaks their quality," says Bowen. "We completed a GIS mapping project of all of the vineyards in the valley. The primary focus was on soil type, but Bowen and Bogdano overlaid it with climate data and landforms to give a good indication of a site's suitability for growing grapes. The soil maps are freely available to each grower for their particular vineyard. "What is cool about the Okanagan is the small size, but also the great variations in individual sites," says Bogdano. "The cooperation of the industry players in the early 2000s really helped us get the mapping project done." GIS mapping also laid the groundwork for the BC wine appellation system which has been evolving rapidly in line with recommendations of a See GRAPE on next page oWEEKLYFARM NEWSUPDATEScountrylifeinbc.comcountrylifeinbc.comnrycococounnttrrrylifeinbcryylifeinbcif iylifeinbcLow cost assistance to complete SAWP applications (LMIAs) Labour workshops, farm safety orientationValuable information in the BCFGA NewsletterFree subscriptions: Country Life in BC, The Grower, and Orchard and VineNo additional charge for Pesticide Applicator Certicate RenewalA $250 incentive for completing an Environmental Farm Plan Some conditions apply, contact us for full detail. info@bcfga.com or call 250-762-5226 ext. 1 Full membership (tree fruit producers) and associate membership (grape growers) accepted.BC FRUIT GROWERS' ASSOCIATION1.800.619.9022www.bcfga.ca
Page 14
14 | NOVEMBER 2021 COUNTRY LIFE IN BCGRAPE research helped advance BC's wine industry nfrom page 13How are you feeling?fcc.ca/WellnessPhysicalMentalEmotionalStrategiesGreen Healthy | OptimalYellow Reacting | StressGood sleepGood appetite, want to eat healthy Want to take care of physical healthRarely or never sickMentally clearFocusedGood concentrationCreative problem-solvingSees solutionsMotivatedExcitedGood social networkSelf care: physical, mental and emotional Serotonin boostTake a work break or vacationMild insomnia TiredAttracted to junk food often Unmotivated to exerciseTrouble relaxing without a drinkEasily distractedExcessive worry ProcrastinationAvoidanceSees obstaclesIrritabilityLoss of sense of humourDiscouragedImpulsiveSeeing people is a choreReaching out to friends and family Doing something to relaxSeeing your family doctor* If you're having suicidal thoughts, seek help immediately and call 911.Orange Injured | BurnoutRed Illness | Depression | Mental illnessModerate insomniaExhaustedBinge eatingDrinking too much alcohol or using drugs to relaxVarious aches and painsChronically preoccupiedInability to concentrateImpaired decision-making Memory lossConstant focus on problems Always negativeAngerAnxietyLow moodOverwhelmedAvoiding social situationsPeer support, assistance programs, mental health first aidConstantly sleeping or periods of no sleep at allConstant aching in bodyImmunocompromised: always sickTrouble getting off the couch or getting out of bedOnly moments of relief come from excessive drinking or drugs, or over-the-counter medicationImpaired judgmentParalyzed decision-making*Suicidal thoughts or actionsApathyHopelessness or helplessnessOut of control: explosive-implosive, holding it all inFeeling like a burdenIsolating yourself from friends, family, and your communityProfessional or clinical support: doctor, psychologist©2018 Dr. Georges Sabongui. All rights reserved.Wellness dashboardBalance is extremely important when dealing with stress. When you look at your internal dashboard, do you see all green lights? Are there any red lights tipping you toward overload and stress? Let's all take care of ourselves so we can continue to do what we enjoy most.If you need helpIf you're in immediate crisis, CALL 911. Trained rst responders are available.Do More AgGet information and support that champion mental well-being for Canadian producers.domore.ag/resourcesBritish Columbia: 1-800-784-2433Alberta: 1-877-303-2642Saskatchewan: 1-800-667-4442Manitoba: 1-866-367-3276 Ontario: 1-866-531-2600Quebec: 1-866-277-3553New Brunswick: 1-800-667-5005Nova Scotia: 1-888-429-8167Prince Edward Island: 1-800-218-2885Newfoundland and Labrador: 1-888-737-4668Yukon: 1-844-533-3030Northwest Territories: 1-800-661-0844Nunavut: 1-800-265-3333Mental health help lines 2015 industry task group. Bowen says they did a lot of work on the physiology of grapes, particularly managing water to get a simultaneous improvement in fruit quality and a conservation of water. "I feel really proud we made great headway with that," she says. "Pretty much everyone has converted to drip or microsprinklers and have really taken the message that how you water your vines is not read in a book, it is so vineyard and soil dependent." Bogdano's most important work is with winter hardiness of grape vines. He established the bud hardiness testing program that publishes cold hardiness levels for select varieties across the valley. More recently, he has developed a model to predict hardiness based on varietal, date and weather data. "We now have the data to predict what the eect of a weather event will be on a particular variety," he explains. "Growers are always curious about what they can do to prepare for a cold snap." The couple's university connections have always provided BC grapegrowers with an international perspective. "UC Davis was the viticulture program in North America in the early 1980s," explains Bowen. "The friends we made there and at Cornell, where I did my post-doc work, have gone on to be leaders in the international wine world and we have always stayed in touch with them." Hans Schultz, president of Germany's Geisenheim Research Institute, was a grad student at Davis when they were there. While at Cornell, they met Italian researcher Stefano Poni, who has spoken to BC growers on several occasions. Bowen and Bogdano say they have always believed in the importance of scientists to walk the talk. Three acres of their property in Naramata is planted to Merlot and Cabernet Franc; they sell the grapes to neighbouring Hillside Winery. "Having my own vineyard is a key for me to able to do my job," says Bogdano. "You can appreciate what growers are always thinking about, how to be more ecient." The couple sees grape viruses as a major challenge for growers over the next few years, as well as the supply of fruit to the province's 284 licensed grape wineries. The province has just over 11,000 acres of grapes, less than the 18,000 in Ontario and a fraction of the 900,000 acres in California. "Given our small size and climate, will there be enough grapes to support the expanding wine industry?" asks Bowen. That will be a question their successor – who has yet to be named – will have to help growers tackle. Fortunately, Bowen and Bogdano have laid a good foundation for that work. "We still and always have had an amazing relationship with the industry and felt like we were doing work that would be valuable to them but also world-class in terms of the science," says Bowen. "Do you get the idea that we think we have been really lucky to have our jobs?" CALL FOR AN ESTIMATE LARRY 604.209.5523 TROY 604.209.5524 TRI-WAY FARMS LASER LEVELLING LTD.IMPROVED DRAINAGE UNIFORM GERMINATION UNIFORM IRRIGATION FAST, ACCURATE SURVEYING INCREASE CROP YIELDS We service all of Southern BC
Page 15
COUNTRY LIFE IN BC NOVEMBER 2021 | 15Grapevine virus spread threatens BC industryProvincial replant program could ultimately be required"Serving and Supporting the Community Together"PROVINCIALLY INSPECTED ABATTOIR B.C. #34ALL SIZES MARKET GOATS & LAMBS604.465.4752 (Ext 105)FAX 604.465.4744 ashiq@meadowvalleymeats.comFounded in 1978, United Agri Products (UAP) is a Product Management company of agricultural and non-crop inputs in Canada, working with world class global manufactures to bring innovative solutions to the Canadian grower. We are a division of Nutrien, who is a leading global producer and distributor of fertilizers and other agricultural products and services. Our business is growing and we currently have an opening within our BC Canadian Sales Team for the following position:Territory Sales Representative responsible for: British ColumbiaThis key front-line role will report to the Regional Sales Manager and is responsible and accountable for attaining sales targets within a defined territory- by exercising initiative in market development and sales of company products with a level of service that sustains customers for life.The successful candidate will work from their home office located within the defined Territory. UAP offers a competitive compensation package, which will include provision of a company vehicle.We welcome diversity in our workplace and encourage applications from all qualified individuals, includingpersons with disabilities and members of visible minorities.Those interested in this challenging opportunity send your resume to: RecruitNutrienAgSolutions@nutrien.comPlease include this subject: Territory Sales Representative, BCTo view the complete job description visit our web site www.nutrienagsolutions.com job #2021-15527 While we appreciate all applications we receive, we advise that only candidates under consideration will be contacted.TOM WALKER SUMMERLAND – With more than 11,000 acres of vineyards, BC is seeing a greater incidence of grapevine leaf viruses that raise the risk of signicant economic impacts to the BC wine industry. "I think leaf viruses are an increasing challenge for BC grapegrowers," says Pat Bowen, who recently retired from her role as viticulture specialist at the Summerland Research and Development Centre. Two key viruses that impact leaf development top the concerns for BC growers. Grapevine Leafroll-associated Virus 3 (GLRaV3) is the most signicant virus in the province while Grapevine Red Blotch virus (GRVB) ranks second. "The incidence of viruses is becoming a matter of urgency," says Hans Buchler, an Oliver grapegrower and chair of the Canadian Grapevine Certication Network. Buchler cites a study conducted between 2014 and 2017 that found 23.5% of the more than 15,000 vines tested in BC were infected with GLRaV3 and 1.6% of 10,000 samples had red blotch. GLRaV3 appears to aect white grapes to a far smaller extent than red varieties. "We have a fairly good handle on how serious the problem is and how fast it is spreading in vineyards where vectors are present," says Buchler. "We estimate that GLRaV3 is expanding at about 10% a year across the south Okanagan." Both GLRaV3 and red blotch reduce the photosynthetic ability of leaves. When the leaves can't do their job, grape quality declines because fruit on aected vines is slower to ripen, accumulating less sugar, colour and sensory qualities. "Our research shows that wine from aected vines that we make at our test winery in Summerland is of lower quality," says Bowen. It's tough some years to ripen certain varieties in the Okanagan, a cool climate region where grapes benet from extended hang time. "If you have a leafroll virus-aected vineyard, the fruit won't be very good quality. You can tolerate some of the virus because if you can get the fruit ripe you can't even barely tell the dierence in the wine other than lower yield," explains Bowen. "But we don't want it because we want all of the potential for ripe, quality and high-yield fruit." The two leaf viruses have come into the Okanagan Valley on infected nursery stock. If a grower takes cuttings from established vines that are infected and propagates their own vines for new plantings, those new vines will be infected as well. GLRaV3 can also be spread by leafhoppers and infect other areas of a vineyard as well as spread between vineyards. "There is only a small amount of red blotch in the valley and we know the locations," says Bowen. "It does not look like it is spreading but it has a huge eect on quality and really impacts the wine, so it is very devastating to have." There is no cure for either pathogen, so using virus-free plant stock is the most important way to guard against the viruses. "While there is always a possibility that insect vectors may bring it in from a neighbouring vineyard, clean plant material is your rst line of defence," Bowen says. The second step is to remove infected stock (called roguing) from the vineyard and replace it with virus-free stock. "We recommend that you rogue three vines at a time," says Bowen. "You pull the infected vine as well as the two vines on either side to avoid the risk that these adjacent plants have contracted the virus but are not yet become symptomatic." Controlling vectors in conjunction with roguing is an option, but Summerland scientist Tom Lowery is still studying the interaction between conventional sprays and benecial insects that prey on leafhoppers. Eventually, an area-wide vine removal and replant program may be the only option. Bowen questions whether enough healthy and clean nursery material would be available in the variety, and clone, and on the rootstock, growers prefer. Carl Bogdano, who recently retired from his role as a plant physiologist and viticulture specialist at Summerland, has a positive outlook. "The grape industry has had these issues for hundreds of years and they kind of roll with the punches," he explains. "It's a negative factor but it is all sort of taken into the whole philosophy and they keep going." Caught in the act Palomine Orchards in Lake Country employs locals like Emily and Lou to pick its apples each fall. Lou has been helping for 16 years. Palomine packs and sells cherries, apples, peaches and plums. MYRNA STARK LEADER
Page 16
16 | NOVEMBER 2021 COUNTRY LIFE IN BCAfter consideringdierent sales options, we chose the CLHbid online process, which ensured our most important consideration; that anyone interested have an equal, fair and transparent opportunity to purchase our land. The exposure through large on sight signage, broadlydistributed advertising and a very eective website,brought together a varied arrayof interested buyers thatprovided the most eective form of open price discoverypossible. We were pleased with the overall outcome and happy as well to hear from the new landowners who felt they paid a fair price. Sandy and I sincerely appreciated theprofessionalism portrayed by all the CLHbid sta members which made the sale of our farm after 46years, a mucheasier experience for us.Hon. Ted Menzies P.C. | Farmer - Claresholm, ABCLCLHbid is an excellent company to work with! Downsizing our farming operatatioionn wawass aadidicult decicisisionon. ThThee enentitirere CLHbid team was professional, helpful,knowledgeable and prompt in all our interactions. They made selling our farmland a smooth, stress-free venture. We would highly recommend them!!Ernie & Jacquie Warawa | Farmers - Vegreville, ABAsAsAsAsAsAssfifififififirsrsrsrsrsrsttttttttitittititmemememmememuuuuuseseseeseersrsrssrsrsrsoooooooff f ffffthththththhthisisisisisisisissssssalalalalaalaeeeeeeemememememememethththththththodododododododwwwwwweeeeeewewewewewewererererererrebbbbbbototototototothhhhhhhhehehehehehesisisisisisstatatatatatatantntntntntntaaaaandndndndndndnuuuuuuunsnsnsnsnsnsnsururururururre,e,e,eee,e,bbbbbbututututututuaaaaaaaassssssauauauauauauactctctctctcttioioioiooioonenenenenenneerererererers ss ssss ououououououoursrsrsrsrsrselelelelelelelvevevevevevessssssweweweweweweaaaaalslslslslslssooooooorerererererealalalalalalizizizizizizededededededdtttttthahahahahahahattttttththththhththte eee e emomomomomomomoststststststsaaaaaaacccccccccccccururururururatatatatatataeeeeeeeananananananddddddfafafafafaafairiririririirrrrepepepepepepeprererererereresesesesesesesentntntntntntntttatatatatatataaaatioioioioioioionnnnnnnnofofofofofofmmmmmmararararararkekekekekekettttttvavavavavavaalululuululue e e eisisisisivvviaiiaiaiapppppububububububublilililililicccc cc cauauauauauaauauuctctctctctctcioioioioioioion.n.n.n.n.n.nnTTTTTTTheheheheheheeeeeeentntntntntntntniriiriirreeeeeeeteteteteteteamamamamamamamatatatatatatatCCCCCCCLHLHLHLHLLHLHLHbibibibibibid.d.d.d.d.d.cocococoocococommmmmmmmararararararareeeeeebobobobobobobooothththhththththcccccccououououououourtrtrtrtrtrttteoeoeoeoeoeoeousususususussaaaaaaandndnddndndndpppppprororororoooofefeffessssssioiiioioinananananananaall llll ananananananddddddCLCLCLCCLCLCLHbHbHbHbHbbHbididididdididdddddidididnnnnototototllllleaeaeaveveveveveaaaaaaanynynynynyynymmmmmmmmmarararararararrarkekekkekekekeketititititititititingngngngngngngngngooooooooppppppppppppppppporororororrrorortututututututututunininininininntytytytytytyyy ununnnununununususususususususededededeededediiinnnnnpupupupuursrsrsrsrsuiuiuuiuittttttofofofofofofofobbbbbbbbuyuyuyuyuyuyuyuyerererererererers.s.s.s.s.s.sTTTTTTThehehehehehhehhhpppppplalalalalaatftftfttftftfororormmmwawawawasssssiisisisisisisiimpmpmpmpmpmpmpmpmmleleleleeleleleele,,,,,eaeaeasysysysyytttttto o ooounununununununundedededededededeersrsrsrsrsrsssstatatatataatatandndndndndndndndaaaaandndddndndndndndnduuuuuuuuusesesseseseseseeeer-r-r-r-rrrrrfrfrfffrieieieiiendndndndndnlylyyyyfffffffforororororororobbbbbbbbototototototooothhhhhhhhhenenenenenenndsdsdsddsdsdsdsooooooof ffff f thththththththhthteeeeeeetrtrtrtrtrtrttanananananananannnsasasasasasasaaactctctctctctctioioioioioiiooin.n.n.nnnnnOOOOOOveveerararlllllwwwwweeeeearararararaeee e eeeevevevevevevvevevryryryryryryryryrypppppppppleleleleleleleeasasassasasasasaaasedededededededededdeddwwwwwwwwititttthhhhhththththheeeeououououuotctctctctomomommomeeeefofofofffofooooooururururururrsssssssssalalalalaalalalale!e!e!e!ee!eeeMike Kosick/Tyler Kosick | Ranchers, Auctioneers & Aggregate Contractors - Kelowna BC & Salmon Arm BCMost executors talked about the hardships and problems they had encountered when selling their family farmland; the shortfall from an assumed land value, chaotic purchase equality and opportunity for all potential buyers, ineective marketing and promotion of the land sale, and rumor-stssrategiesethattrerereeredududucecceceeddddddththteenununumbmbmbereerooofffffffpopopopopootetetntntntiaiaialllbububuyeyeeerrsrsrsrsrsrrsssttstsraraaaatetetetetegigigigigiggggesesesseeseeestttthahaaattttrererrereredudududududddceccecececececececeddddddththththththeeee e e eununununununununuunununnubmbmbmbmmbmbmberererreroooooooofff fffpopoppopopopopopotetetenntntiaiaiaallllbububbbbyyeyeeyeersrsrsrsrrrss. ThThThThThThThhTThTheeeeeeeeeeCLCLCLCLCCLCCLCCLHbHbHbHbHbHbHbbHHbHbididdidididididdidiididdissssssssssysysysysyysysyysysysystetetteteteteeteteetetetemmmmmmmmmm rerererereeeeeemomomomoomommomoveveeeveeevevevevesssssssssss ssththththththththhththththoosoosososososooooeeeeeiriiksks anddcomplilicaatitionnsssthat aririsee when sellllinng the farmm. AsAs an exxececututtttororoooo, IIexexplplororrrreded today's selling options for our sale. The CLHbid system is years ahead of anything else available today. Their experienceaandd expertise madde the process simple, wiwthh ananiincncreredidiblbbleeououtctcomomeefofffor usu.Scott Misick | Executor - Vermilion, ABA neighbor's ranch that had been in their family for generations was listed for sale by real estate as onelisting of over 40 quarter sections. None of us neighborswanted or could aord it all and the real estate listingfinally expired with no oers. The owners then put theland up for sale with CLHbid.com. This suited us neighbors perfectly and in the end seven of us bought the land we each wanted. I was able to bid on and buy my land from myhouse. CLHbid gave us all notice of the sale and allowed all neighbors an equal chance.James Baier | Rancher – Compeer, ABI think CLHbid.comommmiissththeeewawaway y ofofofttheheffuture.NNowowoppeopleneeeeedededetttooorerrerealaaizzzzeeeththtisissisiiis anananaanotoooheeerropooptititiononon to ooosesseseelllttttheheheeheheiriririrllananannandddddotoototheheheher rr r rththththtananananannlllisisisistitititititingngngngngngiiiit tt t ttororororororaaaaaannnnnnnauaauauauuctctctcctcttioioioioion.n.n.n.nn.IIIIIf f f ffIIIIIwawawawawawaws ss s sstotototototossssssseleleleleleellllllalalalaalaandndndndndndnd,,,,,IIIwowowowowwoululululddddgogogogoggtthihisswaway yananddddIIIIthththhththtinininnininkkkkkk k momomomomomomoststststsststpppppppeoeoeoeoeoeoeoplplplplppllpleeeeeewowowowowowowwoululululululddddddddcococococococonsnsnsnsnsnsnsididididididdererererererer itititititittiiiiiiif ffffffthththththththeyeyeyeyeyeyeykkkkkkknononononononow w w wwwwabababababababououououououooutttttttttititititititit... IttItItItIttiiiiiisssssssaaaaaafafafafafafaaiririririririrsssssssysysysysysysystetetetettetemmmmmmmanananananannddddddddnononononononobbbbbbacacacacacacckrkrkrkrkrkrkroooooooooom m mmdededededededealalalalalalalininininininingsgsgsgsgsgsgs...IIIIIIthththththththininininininink k k kk k kkmymymymymymymylllllllananananananndddddddvavavavavavavavvlululululululueseseseseseseshhhhhhhavavavavavavave ee e ee e ininininininincrcrcrcrcrccreaeaeaeaeaeaeasesesesesesesedddddddwiwiwiwiwiwiwiwthththththththhttttttttthehehehehehehe CLCLCLCLCLCLCLHbHbHbHbHbHbHbididididididid.c.c.c.c.c.comomomomomomomccccccononononoononcececececececeptptptptptptpt....Tim Garner | Professional Agrologist/Farmer, ABSelling Farm Land,It's All We DoThe customer's always write… info@clhbidcomTOLL FREE 
Page 17
COUNTRY LIFE IN BC NOVEMBER 2021 | 17PNE director of fair operations Christie Kerr, left, with Nancy Mallinson, who has just received the National Sheep Industry Award from the Canadian Co-operative Wool Growers. SUBMITTEDemail: audreycifca@gmail.comemail: okanaganfeeders@gmail.com395 Kinchant Street, Quesnel, B.C. V2J 2R5Producers can apply for an advance on calves, yearlings, lambs, bison, forage and grain up to $1,000,000.00 with the rst $100,000.00 being interest free. Plus, interest relief through the Advance Payments Program is available to association members on their feeder cattle purchases.Have you herd? VBP+ TrainingWorkshops or Webinarsare Free!Looking to learn moreabout how to raisehealthy beef cattle?Open to producers of allsizes!free to all beef producersin bc! BCHA Secretary Janice Tapp 250-699-6466 BCHA President John Lewis 250-218-2537 BARBARA JOHNSTONE GRIMMER ABBOTSFORD – Winning a national award for doing something you love does not happen every day. Nancy Mallinson of Abbotsford knows what it feels like after the Canadian Co-operative Wool Growers recognized her with the National Sheep Industry Award for 2021. "This is so special; I feel so honoured," says Mallinson. "I do what I do because I love doing it." The BC Sheep Federation nominated Mallinson for the award, which recognizes excellence for achievements, contributions and service to the sheep and wool industry in Canada. Mallinson and her family started producing sheep in 1976 with involvement in the Otter 4-H Lamb Club. Soon after she founded the Langley Lamb and Woolcraft 4-H Club. Her family raised purebred Suolk as Twin Peaks Suolks. Mallinson supported 4-H for many years, as a leader and mentor. She advised young people on all aspects of their projects and is a skilled sheep judge. Mallinson has served on the boards of the Lower Mainland Sheep Producers Association and the BC Purebred Sheep Producers Association. She initiated the Canadian Sheep Breeders Association program to support 4-H sheep projects, which provides funds towards the purchase of purebred ewe lambs. Long after her own children had graduated from the 4-H program, she continued mentoring leaders and supporting the 4-H program at the PNE for 25 years. She received the Farm Country Award from the PNE in 2010 after decades of showing sheep, bringing her 4-H club to the fair, coordinating the sheep shows and eventually running the 4-H oce and organizing all the display animals for the PNE. "Nancy has seen more go on in this department than any of us will ever imagine, and she has taken it all with such grace and vigour as well as just enough 'Git'er done' attitude to actually get it all done," says Christie Kerr, director of fair operations and special programs for the PNE. As the owner of Valley Livestock Supplies, started by Mallinson and her late husband Ken, she has gained the trust of many sheep producers throughout the province and is the 'go to' person for sheep production questions. She is known to take the extra time to help producers with any issue, whether health-related, breeding or management. Her husband received the same national CCWG award in 1996. Due to ongoing concerns regarding COVID-19, the CCWG will hold its annual general meeting online this year. Mallinson will receive her award at a special presentation during next year's AGM, which is set to take place in-person in Prince George. Abbotsford sheep grower honouredMallinson recognized for 45 years of serviceDon't forget to RENEW your subscription
Page 18
18 | NOVEMBER 2021 COUNTRY LIFE IN BCSANDRA TRETICK BARNHARTVALE – Recordkeeping is easier for sheep farmer Kari Powell, thanks in part to a handheld radio frequency identication (RFID) tag reader she purchased with the assistance of a government rebate. Powell and her partner Greg Sokoliuk operate Whistling Wind Ranch on 80 acres in Barnhartvale, 45 minutes east of Kamloops, where they run 100 breeding ewes, primarily Dorpers. Powell and Sokoliuk quickly scan the RFID ear tag whenever they weigh, deworm or otherwise handle one of their sheep. All pertinent information about each animal is tracked in one place on their computer. "It makes doing anything with animals way easier and less stressful for both the people and the animals," says Powell. "You're handling the animals less, which creates less stress on them, and they're calmer to handle because you're not manhandling them." It speeds up the process, too. "You're not out there longer than you need to be trying to write down numbers, especially on a windy day," she adds. "Up here we have wind nine days out of 10. The next thing you know, your piece of paper is blowing across the pen and now you're chasing after your paper." The process helps the couple determine if deworming treatments are working as desired without having to rely on memory or nd pieces of paper where the information was written down. "You deworm them to help with parasites, so they should see a gain in their weight and their condition from one time to the next," says Powell. "I can look back and say they had a body condition of two and a weight of 100 pounds and now they're a three and 120. Obviously, what I did worked." She keeps nding dierent ways to use the tag reader like sorting her animals into groups destined for the abattoir. "I can run them through, scan their tag and put them into the ship pen. Yup, that one's got to go. Nope, that one doesn't go," she says. "The trick with market animals is to keep the animals calm, keep the stress level low. The least bit of stress aects the quality of the meat." Given the smaller size of Whistling Wind, Powell says she probably wouldn't have purchased the reader without a rebate in place. But now that she's experienced it, she's considering upgrading to a more complete unit that includes a digital scale head and tag reader that would scan the tag and enter the weight automatically. Whistling Wind Ranch is one of 78 farms that have received a rebate of up to $3,500 through the livestock tag reader program funded under the Canadian Agricultural Partnership. The BC Ministry of Agriculture, Food and Fisheries reports that recipients tend to be concentrated in the Interior and Peace regions. While uptake has included most livestock sectors, more than half of the $152,673 disbursed to date in BC has gone to beef producers. Applications for rebates on eligible readers and costs relating to installation, software and training are still being accepted, with additional funding expected in the new year. Tag readers help with livestock recordkeepingTechnology helps reduce handling, stress for animalsKari Powell (shown) and her partner Greg Sokoliuk operate Whistling Wind Ranch, a sheep farm in Barnhartvale, 45 minutes east of Kamloops. SUBMITTEDYOUR BC LIVESTOCK TEAMKAMLOOPS | Darrell Comazzetto 250-319-3992WILLIAMS LAKE | Wade McNolty 250-398-0429VANDERHOOF | Mike Pritchard 250-524-0681OK FALLS | Shawn Carter 250-490-5809PROVINCE WIDE | Al Smith 250-570-2143NextLot & Purebred Rep | Elysia Penner250-570-1415BC LIVESTOCK PRODUCERS Proudly Supporting BC Ranching Since 1943www.bclivestock.bc.caHead Oce: 250-573-3939 Fax: 250-573-3170 kam@bclivestock.bc.ca VISIT https://bclivestock.nextlot.com/public | FOR HELP Registering or Bidding call Elysia 250-570-1415BC Livestock Has Multiple Bred Cow Sales This Fall With Over 600 Quality Bred Cows Already Booked In!Contact your BC Livestock Team to book Bred Cows, or for more information regarding cows booked in.Our online bidding platform, NextLot has proven to be a great addition to our marketing line up. Buyers from all over Canada have successfully bid & bought online. With the addition of our Online Cow Sales. Ranchers can view and buy cows without even leaving the ranch.Traditional Ring Sales | Direct Sales | In House Video Sales | Team Sales | Online SalesUPCOMING SALESNov 3 Williams LakeNov 12 VanderhoofNov 22 Okanagan FallsNov 24 Williams LakeNov 26 KamloopsDec 7 KamloopsJan 25 Kamloops
Page 19
COUNTRY LIFE IN BC NOVEMBER 2021 | 19RegenBC kicks off agritech networkTechnology needs to work for growers, say proponentsAnti-fur farm activists crashed the RegenBC conference during agriculture minister Lana Popham's opening remarks, underscoring the key issue of keeping data secure. KATHLEEN GIBSON"Serving British Columbia proudly since 1946"Machinery LimitedROLLINS RToll Free 1-800-242-9737 www.rollinsmachinery.com info@rollinsmachinery.ca1.800.282.7856 Now is the time to DORMANT seed those worn out hay elds and pastures. Discover nitrogen xing cover crops like FROSTY Clover or KWS PROPOWER Hybrid Rye.Ask how these cultivars and others can help you increase you spring forage and reduce your spring workload.Find out more at terraseco.comPETER MITHAM VICTORIA – An average of 200 people participated each night in the RegenBC conference the province hosted September 27-29 as it formally kicked o its new Regenerative Agriculture and Agritech Network. "The conference is just a beginning of what we want to accomplish here. It's not an ending," provincial agriculture minister Lana Popham said on the nal night of the conference. "Together we can combine regenerative agriculture and agritech to help farmers, food security and the environment here in BC." A key outcome of the conference will be an advisory committee drawn from speakers and panelists at the conference. These include executives from Vancouver-based Terramera Inc., GenomeBC and Microsoft; researchers at UBC, Simon Fraser University, Kwantlen Polytechnic University and Thompson Rivers University; as well as industry organizations including the BC Forage Council and Organic BC. The combination of regenerative agriculture – which speakers dened as working with nature, not against it – with agritech is an idea whose time has come, says Popham, herself a former organic grower. "Agritech is simply tech for agriculture," she says. But how new technologies t into the picture is another question. Popham discovered during her opening remarks that much depends on who's wielding them. Despite the conference being password-protected, activists disrupted the proceedings with digital grati calling for an end to fur farming. Conference organizers disabled the chat function for the remainder of the event, a move that prevented live question periods and conversations among participants. Yet more communication, not less, is exactly what industry needs to help it advance. Given the shortage in extension services, Tristan Banwell of Spray Creek Ranch in Lillooet says farmers need to get talking to one another. This will help them nd out what's working and how dierent practices can be adapted and applied on their own farms. Heather Meberg of E.S. Cropconsult, which helps growers practice integrated pest management on more than 10,000 acres in the Lower Mainland, agreed. "If [farmers] can see and touch it and see that it makes sense, they're going to adopt it," she says. With success of operations like Spray Creek, Wild Flight Farm in Mara and Covert Farms in Oliver, local growers have several models. But corporate ambitions loomed large at the conference. Terramera has lobbied the province extensively regarding regenerative agriculture, having met 15 times since August 2020 with Popham, other members of cabinet and senior bureaucrats. The discussions included not only the province's ambitions but Terramera's own plans for a Global Centre for Regenerative Agriculture. It also sought government support for its technology to improve soil carbon sequestration, one of the leading ideas presented at the conference. During the second night of the conference, which showcased organic and biodynamic farms, Terramera CEO Karn Manhas described the Agricultural Land Reserve as a signicant asset. "It could be an opportunity to build the world's largest regenerative agricultural initiative," he says. "What if we could take that land and really show the world how you do this well?" But if BC oers fertile ground for the integration of regenerative agriculture and agritech, it also needs to respect producer interests. Terramera chief scientic ocer Annett Rozek identied data ownership among the issues government and investors need to address if they hope to move forward. She described how farm management data could be aggregated to establish benchmarks for practices such as irrigation. This is similar to the nancial reports farmers enrolled in AgriStability and AgriInvest now receive. "The benet from aggregating data is exponential," she says. But she was also rm that farmers need to drive the adoption of new technologies, rather than government or the developers. "We need to bring the grower into the conversation. The grower is the scientist, and we are serving that scientist," she says. "Listen to the farmer rst. … Let them decide how to approach this." Chilliwack 1.800.242.9737 . 47724 Yale Rd W Langley 1.800.665.9060 . 21869 56th Ave Chemainus 1.250.246.1203 . 3306 Smiley Rd Kelowna 250.765.8266 . 201-150 Campion StToll Free 1-800-242-9737 www.rollinsmachinery.comChilliack 1.800.242.9737 | 44725 Yale Rd W Langley 1.800.665.9060 | 21869 - 56th Ave Chemainus 1.250-246.1203 | 3306 Smiley RdChilliwack 1.800.242.9737 . 47724 Yale Rd W Langley 1.800.665.9060 . 21869 56th Ave Chemainus 1.250.246.1203 . 3306 Smiley Rd Kelowna 250.765.8266 . 201-150 Campion StAre you READY for WINTER feeding?
Page 20
20 | NOVEMBER 2021 COUNTRY LIFE IN BCNO COSTLY DPFMatsquiag RepairSales, Service & Partsest. 1989@matsquiagrepairCall today to demo any of our JCB Agriculture machines today!www.matsquiagrepair.com34856 Harris Rd, Abbotsford BC V3G 1R7604-826-3281STRENGTH&POWERWITHOUT COMPROMISETHE POWER TO PERFORMThe JCB TM420 is designed without compromise to deliver the strength and bpower you need from an articulated telescopic handler. With a lift height of 17 feet 8 inches and forward reach if 10 feet, there's nothing the TM420 can't handle. (604) 826-3281BOOK ADEMO
Page 21
COUNTRY LIFE IN BC NOVEMBER 2021 | 21TOM WALKER VICTORIA – The recently completed public consultation on the Columbia River Treaty's impacts on BC agriculture has come up short. "We are extremely disappointed that we only received four submissions to our request for feedback," says Kathy Eichenberger, who is leading the Columbia River Treaty review on behalf of the province. Eichenberger acknowledges that it has been an extremely dicult summer for agricultural producers. "Drought, heat, smoke and res have all impacted farmers this year," she says. "But we would have hoped that, in particular, the commodity groups that we reached out to who have sta would have been able to respond." How to proceed next is the question. "We did receive feedback that our initial document was short on actionable items and we will consider more of an intentions paper based on what we have learned thus far," says Eichenberger. The review team is still interested in submissions from groups that were unable to meet the September 15 deadline for feedback. "It is our hope that when producers shift into fall, they will nd more time to give us feedback," says Eichenberger. "If you have some ideas, send them along." Part of Eichenberger's task is to understand the needs of farmers and develop some specic strategies for supporting their interests that negotiators can weave into the on-going renegotiation of the 60-year-old treaty. Given the diversity among BC farms within the area covered by the treaty, it's no easy task. The strategies must include everyone from small-scale farms to large ranches and orchards with multiple employees. The current treaty lacks a key element that aects the ability of BC farmers to grow their business or compete with Washington state growers in the portion of the basin that lies south of the 49th parallel. The perceived advantage that Washington growers have when they access Columbia River water to irrigate is not in fact true, says Eichenberger. Yet the treaty was responsible for the loss of 2,000 acres of fertile farmland, ooded when dams were built along the length of the river to manage oods and generate power. Communities, farms and families were uprooted with little discussion and even less compensation. There was no program to mitigate those losses over time. "What we are looking for are ideas to support and grow BC agriculture given these historical impacts," explains Eichenberger. Ranching impacts shared The Kootenay Livestock Association was among the four respondents to the discussion paper. Its detailed submission, as well as a 2018 report on agricultural impacts from development of the Libby Dam in 1972, gives a full picture of the impacts and specic recommendations on how to address them from the point of view of ranchers. "There were very direct impacts to the ranching community, particularly with the ooding from the Libby dam," says Fort Steele rancher Lonnie Jones. "We lost bottom farmland but we also lost grazing licences and leases." He notes that the area's grazing allotment was reduced by almost 40,000 animal unit months. While owners of expropriated land were compensated, they were also promised support to purchase replacement lands but the province never made good on that pledge. "The land that was ooded was a key to ranching in our area," maintains Jones. "I believe that fertile land was a foundation to support some 10,000 cattle. We've lost much of that business now and there is not much critical mass remaining to sustain agriculture." This includes a loss of farm services. Jones says a neighbour had to pay $1,500 in travel time recently to have a mechanic come from southern Alberta to service a tractor. "There has never been any specic program to mitigate the agriculture losses in the Columbia basin," says Jones. "There is a sh and wildlife compensation program but not one for farmers." The Fish and Wildlife Compensation Program is a partnership between BC Hydro, the province, Fisheries and Oceans Canada, First Nations and public stakeholders to conserve and enhance sh and wildlife impacted by construction of BC Hydro dams. Jones is not hopeful for the future. "I am worried that we are at the start of a demise here," he says. "I see less than 40% of the ranches we had 30 years ago and the province is not taking the interests of farmers very seriously." While environmental considerations are enjoying a higher prole in today's discussions than they did in the 1960s, Jones says agriculture remains overlooked. "We are relegated to the back benches in any discussions around the Columbia River Treaty and how any monies are distributed," he says. "Farming businesses are a key to a sustainable Kootenay economy. We need a bigger representation from the province." Renegotiation of the treaty must complete in time for 2024, when the current treaty expires. Producers silent on Columbia River Treaty impactsRanchers say agriculture remains overlooked as the 2024 deadline loomsStreamlining payroll for temporary foreign workersIn a world where many people do their banking quickly and conveniently online, Canada's temporary farmworkers have been left behind. When Rene Blanco looked at the problem, he saw an opportunity to build a business by helping them to save time and money. The result was LABORA, a social impact FinTech that provides digital payroll remittances.LABORA's mission is to enhance the Canadian agriculture sector by helping farm owners securely and ef昀ciently pay their farmworkers and bene昀t from the streamlined money transfer process from Canada back home. Further simplifying the administrative process, the LABORA platform assists farmworkers by 昀lling their tax returns and provides online services to keep their information secured (pay stubs, TD1, T4, Certi昀cations, NOA and ROE) and up-to- date.For more information, contact Labora founder and CEO Rene Blanco, MBA236.868.5465 Email: rene@labora.ca www.labora.ca2019 Idea Prize, SFU-Coast Capital Savings Venture Prize Competition | 2019 Vancouver winner, Startup World Championships | 2020 Future of Good Canada's Top 100 Projects | Ready to Rocket 2020 & 2021 Emerging Rocket Agri-Food List | 2021 Top Venture Prize, SFU-Coast Capital Savings Venture Prize Competition.
Page 22
22 | NOVEMBER 2021 COUNTRY LIFE IN BCProudly certifying Producers and Processorswithin BC and Alberta.FVOPA provides year round certification services compliant with the Canadian Organic Standards (CAN/CGSB) and in accordance with the BC Certified Organic ISO 17065 recognized program. Products may be sold Canada-wide and in international markets. FVOPA ensures an efficient, professional certification process for all farm, processing and handling operations. Inspectors are lOlA trained and qualified making FVOPA a leading Certification Agency.Message 604-607-1655Email: admin@fvopa.cawww.fvopa.caPhone 604-789-7586P.O. Box 18591Delta, BC V4K 4V7Phone: 778-434-3070 202-4841 Delta Street admin@fvopa.ca Delta, BC V4K 2T9 www.fvopa.ca Proudly certifying Producers and Processors across CanadaFraser Valley Organic Producers Association (FVOPA) offers year-round certication services for producers, processors, packaging and labelling contractors, retailers, distributors and various organic service providers. We pride ourselves on exceptional customer service and are always happy to welcome new members. FVOPA certies to the Canadian Organic Standards and to the Canada Organic Regime (COR). Certied products may bear the Canada Organic logo and be marketed Canada-wide and internationally. RONDA PAYNE LANGLEY – Early ripening cranberries are a big win for Brian DeWit of The Bog at Riverside Cranberries in Langley. The farm's 35 acres planted with the tart red fruit has become a favourite fall destination for families, especially during the pandemic. With yields looking comparable to 2020, it's a sea of red at the Bog. Crimson Queen is one of the varieties planted on the farm which means harvesting comes earlier than for growers with varieties like Stevens. It lets DeWit take advantage of Thanksgiving berry sales, tours at the farm and people who want to take The Plunge, the opportunity for visitors to step into a ooded bog lled with oating berries. The farm tour is self-guided, complete with QR code signage that allows visitors to listen to information on their phone as they explore. "We just decided to try it," he says, adding, "It's worth doing. For us the advantage is we're the only ones in BC where you can pay to go down into the eld. It's created some unique opportunities." The Plunge has been oered for four years as an add-on to tours. Prior to COVID, tours at the bog were oered only as part of the one-day Fort Langley Cranberry Festival. When event restrictions saw the festival cancelled last year, DeWit and his wife Mandy expanded tours at the farm to four days. This summer, they built a small on-site market over the summer to capitalize on the interest in purchasing products. "When we started the tours last year, people just wanted to buy products," she explains. Some products like freeze-dried cranberries are only available at the farm store, which was open during tours. They also oered pre-booked tours over 10 days this year, between September 17 and October 9. It's part of a holistic approach to keep improving the farm. Visitors touring the farm could also watch DeWit harvest berries with a harrow and tractor. While rotary beaters are traditionally used to remove berries from their vines, DeWit says they are aggressive and cause unnecessary damage. "It improves fruit quality by 100%," he maintains. "The only damage I'm doing is with the tractor. It won't knock o all the uprights. It's one of those improvements that I think will pay itself back in spades." When he holds up a berry harvested by beaters, at spots are apparent. To the naked eye, harrow-harvested berries don't have the same damage. This is good for berries sold fresh at the farm's market. "People won't come to something like this unless there's something to buy," says DeWit. "This is only a stepping stone." A smaller event This year's Fort Langley Cranberry Festival, October 9, was a much smaller event than usual, says organizer Meghan Neufeld. "[This year] we chose to do a smaller-scale event rather than a full-scale road closure which was done prior to the pandemic." The event saw market vendors drop from 110 in 2019 to 63 this year, while food trucks went from 16 to 10. Ocean Spray supplied 5,000 pounds of cranberries. The entire event was held on a private vacant lot across from the community hall. RCMP told Neufeld the attendance was about 15,000. Berries sold out before the end of the event. "This was probably one of the nicest crops I've seen in my nine years," she says. Cranberry Cranberry crop holds steady as growVic Forster and Theresa O'Connor took The Plunge at Riverside Cranberries in Langley, the only cranberry farm in BC where people can pay to experience walking in a ooded bog ready for harvest. RONDA PAYNEBC AGRI-FOOD INDUSTRY GALATICKETS ON SALE DECEMBER 2021WEDNESDAY, JANUARY 26, 2022Clarion Hotel & Conference Centre36035 N Parallel Rd, AbbotsfordVisit bcac.ca
Page 23
COUNTRY LIFE IN BC NOVEMBER 2021 | 23Lexi, mom Mandy, Kenzie and dad Brian DeWit take a moment to showcase the new market they built onsite this summer at The Bog to provide added value to guests when they come to tour their cranberry elds. RONDA PAYNEFOR BAGGED or BULK ORDERSDarren Jansen Owner604.794.3701organicfeeds@gmail.comwww.canadianorganicfeeds.comCertified by Pro-Cert Organic Systems Ltd.604.291.1553 info@agricultureshow.netOver 30 0 Exhibitors Showcasing Innovative Agriculture TechnologyJanuary 27-29, 2022Good harvest For BC growers, yield numbers are expected to be about the same as last year's 1,003,998 barrels, says BC Cranberry Marketing Commission chair Kalpna Solanki. "The colour is gorgeous, but the berries may be a bit smaller because of the weather," she says. The late June heatwave hit Langley growers harder than those in Richmond or Delta, she says, but didn't seem to do much more than reduce the size of the fruit. "In general, it's going to be a pretty good year," she says. DeWit feels there was heat damage in some of his elds which contributed to rot, much more so than usual. There was also some frost damage in his father Jack DeWit's elds across the road. "It's so random. My dad lost two of his four elds, on a diagonal. The numbers are okay," he adds. "We'll end up with within a truckload of last year. It was a good growing year." DeWit did encounter blackheaded reworm, a moth larvae that must be sprayed at the right time or it can wipe out a eld. "When they become active, they go to the fruit. They bore a hole in it and lay their eggs in it," he says. "The whole top of the eld turns brown. There are three dierent generations of it so it can be a problem at harvest." His overall yield would have been higher but a young eld isn't yet in full production and an older eld was heavily sanded. He still managed to reach up to 450 barrels an acre on one of his elds, which far surpasses BC's average yield of 170 barrels per acre. Only a small percentage of DeWit's crop goes to Ocean Spray. That's good news this year because his crop was two weeks ahead of schedule and Ocean Spray's processing plant in Richmond wasn't yet running. Moreover, one eld developed brilliant jewel-toned colour that was too deep for Ocean Spray's standards. Solanki attributes a slight decline in BC's cranberry acreage over the past year to a lack of replants in elds facing yield decline. But growers are seeing a greater need for their products. She says demand for fresh berries has increased. "There's an expectation that there is going to be an increase in demand for fresh cranberries in BC," she says. "Ocean Spray is losing some other suppliers from other parts of the country. I'm seeing more fresh in the stores than ever before." fields foreverers innovate
Page 24
24 | NOVEMBER 2021 COUNTRY LIFE IN BCAlbert Gorter, Chelsea Enns, their son Rory, Nancy Gourlay and Raymond Gourlay are working together to continue the legacy of Morningstar Farms and Little Qualicum Cheeseworks in Parksville. KATIE FRIESS Pre-order your Baumalight generator now fordelivery in 8 weeks and get an 8% discount.PTO GENERATORSsales@baumalight.com | BAUMALIGHT.COMDale Howe 403-462-1975MFG A VARIETY OF ATTACHMENTS INCLUDING: BRUSH MULCHERS | ROTARY BRUSH CUTTERSSTUMP GRINDERS | PTO GENERATORS | AUGER DRIVES | TRENCHERS | DRAINAGE PLOWS | TREE SAWS & SHEARSTREE SPADES | BOOM MOWERS | TREE PULLERS | FELLER BUNCHERS | EXCAVATOR ADAPTERS | SCREW SPLITTERSLocate A Dealer OnlineKATE AYERS PARKSVILLE – Little Qualicum Cheeseworks changed hands this fall as it began its 20th year in business. Manitoba dairy farmers Albert Gorter and Chelsea Enns finalized the purchase at the end of August, having spent the summer apprenticing with the Gourlay family. Clarke and Nancy Gourlay established Little Qualicum Cheeseworks in 2001 and later purchased Morningstar Farm, an 88-acre property just outside Parksville in French Creek. In 2017, they introduced Canada's first milk-on-tap dispenser. Following Clarke's death in 2019, the couple's eldest son Raymond took on a greater role in the family business. This year, after decades of hard work, Nancy decided to retire and the family started planning the transition of the farm to new owners. Gorter and Enns were the perfect fit. Dairy background Gorter grew up on a 600-acre dairy farm near Otterburne, Manitoba. After completing his degree in animal science at Lakeland College in Alberta and working off farm, he returned to his family's operation, Optimist Holsteins Ltd., where he and Enns eventually assumed management. Enns's parents had a pig farm and small beef herd when she was growing up. "Over the years, my parents got out of the pig and beef business and (it) became more of a hobby farm," says Enns. "I have some farming background, but dairy was a whole new world to me when I met Albert." The couple met at a "good old Manitoba social," Enns laughs, which is a "fundraiser for people put on for their wedding." They had a mutual friend at this get-together and "the rest is history," Enns says. Together, they milked about 130 cows in Manitoba and dabbled in milk processing, making their own brand of yogurt in 2014. The yogurt was "very well received," says Enns, and several restaurants in Winnipeg served it. "At that time, we realized it's such a great way to build on a great product," Enns says. "It's not very common that you can purchase dairy products in a store that are made with milk from one farm. Usually, they are made with a pool of milk from multiple farms. To be able to get a product and know exactly where your food is coming from is still fairly unique in the dairy industry." Though business was booming, the couple decided to take a step back from on-farm processing. "But that was always something we wanted to get back into. We just weren't sure how or when," says Enns. Chance meeting Just before COVID-19 shut down gatherings across the country, a door opened. Gorter was chosen to attend a Dairy Farmers of Canada leadership training event in February 2020. Two farmers from each province attended, and one of the BC participants was Raymond Gourlay. The two connected. Over dinner one night, Gourlay told Gorter about his operation on the Island and Gorter expressed interest in the processing side of things. Coincidentally and fortuitously, Gorter and Enns had planned a vacation to Vancouver Island for early March and arranged to visit the farm. "We left here thinking that this was such a sweet place, and it was basically the dream that we had," says Enns. "Almost exactly a year later, we found out it was for sale so we jumped on it and made it happen." The couple, along with their two-year-old son Rory, moved to Parksville in July 2021. Ever since, they have been working and learning alongside the Gourlays, easing their transition into this new venture. The couple have experienced some steep learning curves but are thankful for the support they've had every step of the way. "Definitely the whole cheese processing part of it is new to us. We're getting to know all the different aspects of that business; right from the recipes being used to the packaging and getting it out the door. Who are the main customers? All these aspects are very different for us that we've never dealt with before," Enns says. Making adjustments They've also had to adjust to the farm's smaller scale and working alongside 11 staff members. They worked with one full-time and three part-time employees in Manitoba, so they are learning how to manage a larger workforce at Cheeseworks. Gorter and Enns are "getting to know everybody and what everyone is responsible for and what they like about working here," Enns says. Despite the change in ownership, the couple plan to keep many aspects of the businesses the same. "We are working on a new logo and updating some of the designs around Cheeseworks, but the names and cheese types will remain the same," says Enns. "We are hoping to add to it rather than change things." The couple currently milk 55 cows and are looking to expand the herd. With the dairy farm and processing facility being a cornerstone in the community, Gorter and Enns enjoy "being a part of a really cool business that allows us to have fun and play with new ideas," Enns says. The couple are excited to continue learning and working on the farm and are expecting their second child in December. "We're growing in every way," says Enns. Manitoba farmers make dreams a reality Albert Gorter and Chelsea Enns eye new opportunities
Page 25
COUNTRY LIFE IN BC NOVEMBER 2021 | 25From breed selection to manure management, it worksJACKIE PEARASE ENDERBY – Robin and Belinda Arpagaus took a convoluted path to each other and farming, so it's not strange that what some consider unconventional at Seeland Dairy is business as usual for them. "What we do is not really old or new; it's just a little dierent," says Belinda. While both are from Switzerland, she came to Canada in 1987 with her family at age 11 to run a dairy farm with her father's brother and wife. Robin was 21 in 1999 when he came to work in the tourism industry and learn English. The two met in Mara where they both worked at the same farm – her running a trail ride business; him as a farm hand. Robin was a Swiss-trained watchmaker with a dream to farm while Belinda was happy to be away from her family's dairy farm, a tradition that goes back four generations. They became friends, then travelled back to Switzerland together, something they did for many years as they pursued careers outside farming. In 2004, they decided to settle in Switzerland and raise a family but those plans changed in 2012 when her father could no longer run his farm alone. Her two sisters were already back into dairy via marriage and her brother had no interest in farming. So Robin and Belinda brought their three children to the farm – located 20 minutes from Enderby, including 10 minutes down a bumpy gravel road – where her aunt and uncle originally settled when they came to Canada. They took over the entire operation of 40 milking cows in 2016 and have since expanded to 75 milkers in a herd of about 160. The herd continues to include mainly Montbéliarde cows, breed her father used that looks vastly dierent from a Jersey or Holstein. "A real Holstein fan calls our cows beef cows," says Belinda about the stockier, shorter Montbéliarde. The cows don't produce as much milk as a Holstein but they require less feed to produce milk that has a higher butterfat content. "If you want 60 or 70 kilos with these cows, that's a no-go but with 50 kilos, we're happy," notes Robin. "In the end, if you look at the butterfat, they produce almost as much as a Holstein in a day with less feed, so for us it couldn't be better." When the couple fed the Montbéliardes like Holsteins, they simply got fat. "Instead of producing milk, they just put on weight," says Belinda. They learned to feed fewer calories and have reduced their need for grain, something that came in handy this year when grain became hard to nd as a result of the forest res and drought. Their barn, built in 1988, made it harder to meet industry regulations so the couple removed the old roof, took out the concrete stalls and had a taller, free-span fabric roof installed over the entire structure. The result is an open and airy barn with room for the animals and machinery to manoeuvre easily. Getting machinery into the See COMPOSTED on next page oRobin and Belinda Arpagaus switched from concrete to a compost pack system in the dairy barn. JACKIE PEARASEEnderby dairy is anything but conventionalVAN DER WAL EQUIPMENT (1989) LTD. 23390 RIVER ROAD, MAPLE RIDGE, BC V2W 1B6 604/463-3681 | vanderwaleq.com Compact design, low centre of gravity, tight turning radius and powerful performance. Hoftracs effortlessly fulfil any work task and work quickly, flexibly and safely — already ready to go to work.Call us for a test drive!The multifunctional Hoftrac
Page 26
26 | NOVEMBER 2021 COUNTRY LIFE IN BCCOMPOSTED bedding keeps cows comfy nfrom page 25barn became necessary when the couple opted to go with a compost pack system for the cows in 2018. A one-way gate at one end of the barn lets the cows into the loose compost pile area to rest and a guided system on the other side points them into the robotic milker or back into the feeding area where the ground is hard-packed compost. A side benet of the system is the disappearance of the bacterial hoof disease Mortellaro that aicted the herd in the concrete barn. "Their feet and legs are so much better. We hardly ever ship a cow because she's lame," says Belinda. Robin says the thinking is that the bacteria in the compost pile kills the Mortellaro bacteria because it is stronger. Previously, they were shipping three or four lame cows for every 10 they kept in the barn. The open barn also allows them to bring a tractor and cultivator into the compost pile area twice daily to ensure the manure is well turned by the time it is put on the elds. The composting process heats the pile up to 40-50˚C, which comes in handy during the winter months when the open concept leaves the barn exceptionally cold. "The cows do ne; it's more us and the equipment that's the problem," Belinda laughs. The robotic milker, which they added in 2019, gets insulated and wrapped for the winter to prevent problems created by extreme cold temperatures. While many dairies experience greater milk production in the winter, the Arpagaus farm has to supplement its feed with minerals to coax the cows o their warm bedding to get water and feed. "In the winter, they're not thirsty and it's nice and comfy here; they don't walk and milk quite as much," notes Belinda. Although the close living quarters leads to a dirtier animal, there has been no increase in mastitis or other infections. The compost pile grows until it's used, giving the cows a good view of the Shuswap River over the barn's concrete sides. The manure is spread on the elds after each cut using a Swiss-made dragline system with a dribble bar that puts the manure under the plant and not on the leaves, which prevents burning during the heat. Frequent applications allow them to use less manure on the elds while keeping the compost pile in check. Robin says he is continually learning more about farming but he is condent the choices made at Seeland Dairy have resulted in a healthier herd. "They act like cows. They ght way more; they show heat way better. They're not afraid of hurting themselves. If they fall on concrete, it's hard; here, it's softer," he says. "In the morning when we come in, basically all the cows are laying down. In the wintertime, you don't see any heads; they are all laying down." The compost pack system does require more shavings than the typical dairy but those higher costs are oset by fewer vet visits and lower feed costs. It will take time to determine all the benets of the system but the couple expects to have cows that could produce up to two more lactations in their lifetimes. With no intention of expanding the farm, this could present its own diculties if they are unable to nd places to ship excess cows but the end goal for the couple remains to raise cows that live longer, healthier lives. "Happy cow, happy farmer," sums up Belinda. The cows at Seeland Dairy relax on the compost pile. JACKIE PEARASECLAAS 860 SP FORAGE HARVESTER 12.5' PICKUP & 6-ROW CORNHEAD $93,700 CLAAS XERION 4500 VC TRACTOR CALL FOR PRICING & DETAILS CLAAS JAG 870 SP FORAGE HARVESTER 10' PICKUP & 6-ROW CORNHEAD CALL FOR MORE DETAILS/PRICING CLAAS 970 SP FORAGE HARVESTER 10' PICKUP & 10-ROW CORNHEAD CALL FOR MORE DETAILS/PRICING CLAAS 4000 4-ROTOR RAKE CALL FOR DETAILS FELLA TS 880 CENTER DELIVERY RO-TARY RAKE CONSIGNMENT UNIT $16,000 X 2 FENDT 930 MFD CAB TRACTOR CALL FOR DETAILS KRONE SWADRO TC 760 CENTER DELIVERY ROTARY RAKE $19,900 NH BB340 LARGE SQUARE BALER CALL FOR DETAILS SUPREME INTERNATIONAL 700T MIXER WAGON TWIN SCREW CALL FOR DETAILS VEENHUIS MANURE TANKER TRIPLE AXLE WITH BRAKES $140,000 Pre-owned Tractors & EquipmentCLAAS Early order on now!www.caliberequipment.ca STORE HOURS MONDAY-FRIDAY, 8-5 SATURDAYS CLOSED 'TIL SPRING604-864-2273 34511 VYE ROAD ABBOTSFORD More Crops. Less Ash.
Page 27
COUNTRY LIFE IN BC NOVEMBER 2021 | 27Holstein Canada engages with BC dairies for inputJACKIE PEARASE ABBOTSFORD – Holstein Canada is exploring how it can better serve BC diary farmers. The organization checked in with almost 100 dairy producers and a dozen industry partners at three information meetings held in late September at farms in Abbotsford, Chilliwack and Grindrod. The producers and articial insemination (AI) professionals attended the meetings to hear results from a Holstein Canada survey done early this year on classication service provision in BC and options being considered for improvement. There were 88 responses to 308 surveys emailed to dairy producers, including eight unclassied farms, which is a response rate of about 30%. "We're really happy with that; we think it is a good representation of the province," says classication and eld services manager Brad Eggink. The survey followed consultations with western provinces this summer about the classication services provided by Holstein Canada and discussions on how it can improve to gain more buy-in to the service. CEO Vincent Landry says BC has unique issues that play a role in how its classication services are viewed and utilized by dairy producers. These issues include pressure on farm prot from increasing land prices, complicated succession plans, and the need for farmers to be more conscious of public perception when located in close proximity to urban centres. "Our services lack exibility for farms with such diverse needs," Landry notes. "There's value for all farms but we need to oer more options." According to the survey, the main reason farmers are classifying their animals is for herd management and improvement, with mating being the second most important reason. In addition, 85% believe, from greatly to somewhat, that improved functional conformation improves herd protability. Holstein Canada oers classication every eight months for regular rounds, with an optional mid-round service every four months. The survey queried farmers about their interest in dierent timing options for classication. The largest proportion of respondents (42%) are interested in the four-month option, 25% said six months and 21% said two months. Only 7% are interested in the status quo and 5% are interested in a yearly service. A recent mid-round visit to 108 BC dairy farms revealed similar responses from farmers on the preferred frequency of visits. "This conrms that producers value classication and want to use it more precisely for their female strategy of mating and on-farm management," notes Landry. Responses were split on a question about provision of on-farm management team services, with those somewhat interested and not too interested both garnering 36%. Eggink says a pilot project on such a service is currently underway at two farms in Quebec and another in Ontario. It involves a classier visiting the farm every month to classify all pre-bred cows followed by a post-visit meeting. "They spend a half hour at the end of that visit in consultation with their AI rep, the nutritionist, the herd manager and the herd owner and they go over the information as a team," he explains. The pilot wraps up early next year and Eggink expects to have a pricing strategy for such a service to present to producers soon after. Some BC producers question the organization's ability to provide additional or more frequent classication services due to a shortage of classiers but Landry looks at it dierently. "It's not all about having more classiers; it could be about doing things better so we gain eciencies ... We need to get back to the basics," Landry adds. "I think classication has something for every herd." Holstein Canada is also engaging AI representatives in the process on an individual basis to develop more eective and responsive services. Eggink says footwork being done now will lead to services that meet the goals of producers. "We need more engagement and two-way communication. It's about keeping the dialogue open so we can adapt our services," he adds. "It's about accommodating your needs." Improvement to classification services exploredUp close and personalFeeling a calf suck on your ngers is just one of the hands-on experiences offered visitors to Bakerview EcoDairy in Abbotsford over the Thanksgiving weekend. MYRNA STARK LEADER
Page 28
28 | NOVEMBER 2021 COUNTRY LIFE IN BCWE DIG DIRTRangeland Equipment Ltd Cranbrook B.C. 250-426-0600 Timberstar Tractor Vernon B.C. 250-545-5441 Harbour City Equipment Duncan B.C. 778-422-3376Matsqui Ag Repair Abbotsford B.C. 604-826-3281 Northern Acreage Supply Prince George B.C. 250-596-2273Unlimited HourPowertrain Warranty0%FinancingCASHBack Offers*Cannot be combined with any other offer. Rebates and/or financing based on the purchase of eligible equipment defined in promotional program. Additional fees including, but not limited to, taxes, freight, setup and delivery charges may apply. Customers must take delivery prior to the end of the program period. Some customers will not qualify. Some restrictions apply. Unlimited Hour Warranty available only on non-commercial use. Offer available on new equipment only. Pricing and rebates in Canadian dollars. Prior purchases are not eligible. Offer valid only at participating Dealers. Offer subject to change without notice. See your dealer for details. © 2021 DAEDONG CANADA, INC. KIOTI CANADA.
Page 29
COUNTRY LIFE IN BC NOVEMBER 2021 | 29Partnering with farmers to reduce food lossGetting surplus food where it's needed is big businessNo. 2 potatoes were the No. 1 option at retail as BC Fresh looked to move surplus spuds when the pandemic hit. SUBMITTEDSANDRA TRETICK VANCOUVER – With food loss and waste topping 35.5 million tonnes in Canada, you'd expect small companies wanting to source surplus and imperfect produce would have their pick of the crop. But it's not that simple, according to two small companies trying to recover food that might otherwise go to waste. Peko Produce is a new start-up aimed at providing access to aordable, healthy produce and reducing food waste. In May, co-founder Sang Le went to all of the farmers markets in Vancouver, talked to farmers and learned that up to 20% of their produce was deemed too ugly to harvest and left to rot in the eld, composted or fed to animals. As a result, she developed a delivery service for surplus and imperfect produce, or what she terms "peculiar produce." Since summer ended, Le has found it necessary to move away from sourcing directly from local farmers and now focuses primarily on local wholesalers to combat seasonality and oer more varieties. "We initially started out working directly with farmers," says Le, who is studying business at UBC. "The supply is really unstable. We had a lot of trouble, especially with the summer heat wave. Sometimes they wouldn't have anything, or not enough variety. Our customers were unhappy." Luv the Grub has been around for four years. In that time, they have transformed more than 140,000 pounds of ugly produce into gourmet chutneys and spreads. "I started working with one farmer; he had an apple orchard," says founder Alia Sunderji. "I come from an East African Indian background so I thought we'd turn them into chutneys. Canning extends the life of fruit that would have been lost or wasted." Today, she sources apples, pears and blueberries from several Lower Mainland farms and tries to produce as much as she can in-season. But she also buys from produce markets or purchases frozen product if she has to in the o-season. "We don't necessarily get it just from BC farmers, but as long as we're capturing produce seconds we're happy," says Sunderji. "We'd love to pay every farm exactly what they want, but sometimes even their seconds are expensive." Economic loss to farmers Research co-authored by Tammara Soma of Simon Fraser University, indicates that reducing food loss is key to improving farmers' economic well-being and the sustainable management of water, energy, labour and other resources. The study, published this spring, included interviews with 40 farmers and stakeholders in the agriculture sector. Reasons given for on-farm food loss included overproduction to mitigate risk, a lack of processing and cold storage infrastructure, produce rejected because of stringent aesthetic values, labour shortages and environmental factors such as crop damage due to weather. "In our research, we found that there are a lot of infrastructural reasons and also reasons beyond farmers' control," says Soma, who is an assistant professor in the SFU School of Resource and Environmental Management and a co-founder of the SFU Food Systems Lab. "They can only do so much. At the end of the day, there needs to be more structural support to help them not lose a lot of their food." Bumper crops create their own set of challenges. Take the glut of zucchinis that "Right now, agriculture is a race to the bottom when it comes to income for farmers and labourers. We need to nd a way to invest more in BC agriculture, and that means thinking about food in a different way, valuing food in a different way." TAMMARA SOMA, SIMON FRASER UNIVERSITYSee LITTLE on next page oWEEKLYFARM NEWSUPDATEScountrylifeinbc.comcountrylifeinbc.comnrycococounnttrrrylifeinbcryylifeinbcif iylifeinbcCOMMITTED TO AGRICULTURE in BRITISH COLUMBIA rollinsmachinery.comCHILLIWACK • 1.800.242.9737 . 44725 Yale Road West • 604.792.1301 LANGLEY • 1.800.665.9060 |. 21869 - 56th Avenue • 604.533.0048 CHEMANIUS • 1.250.246.1203 . 3306 Smiley Road KELOWNA • 250.765.8266 . #201 - 150 Campion Street TRACTORS JD 5090GN 900 HRS, CAB, 4WD, BERRY TRACTOR [U32597] 64,900 NH 8560 4WD, 6,250 HRS [U32312] .................................... 45,900 NH WORKMASTER 60 & LDR [N 32272] .................................. 45,775 NH TS6.140 [N 31303] ......................................................... 93,500 NH TS6.120 [N 31340] ......................................................... 86,500 NH T6.145 LDR READY, CREEPER, AUTO SHIFT, NEW [N31878] 117,150 NH T6.145 AUTOSHIFT, CREEPER, 40 KM, NEW [N31920] ...... 110,150 QUALITY USED EQUIPMENT CUB CADET LAWN TRACTORS NEW 2021 UNITS, RIDE-ON, O'TURNS . CALL FELLA 4 BASKET TEDDER (CHEMAINUS) [U40094) .................... 4,950 KUBOTA DM2028 3 PT DISC MOWER, HYD FOLD (CHEMAINUS) [U40093] ..........................................................9,500 MCHALE FUSION VARIO 2017, 14,000 BALES, [U32135] ......... 85,900 MCHALE 3100 FRONT DISC MOWER [U32621]........................ 18,750 MCHALE R3100 REAR DISC MOWER [U32620] ....................... 18,750 NH 2170 SKIDSTEER HAND/FOOT CONTROLS, 3593 HRS, CAB [U32705] ...................................................................... 23,500 NH C232 TRACK SKIDSTEER, DEMO SPECIAL, 500 HRS, ROPS, GOOD CONDITION [N31179] ................................................. 61,000 NH FP240 CORN/GRASS HEAD, CROP PROCESSOR [CNS786] .. 47,500 NH FX40 2006 PROCESSOR, GRASS & CORN HEAD [U32641] 135,000 NH W50C TC WHEEL LOADER 200 HOURS [U32646]............... 75,900 SUPREME 900T FEED MIXER (COMING NOVEMBER) ................ 64,900
Page 30
30 | NOVEMBER 2021 COUNTRY LIFE IN BCLITTLE goes to waste at BC Fresh nfrom page 29Marketing British Columbia to the World®www.landquest.comToll Free 1-866-558-LAND (5263)"The Source" for Oceanfront, Lakefront, Islands, Ranches, Resorts & Land in BC®SIDNEY ISLAND OCEANFRONT - LOT 44SOUTHERN GULF ISLANDSLOON LAKE RANCHLOON LAKE, BCLOG CABIN PUBSPENCES BRIDGE, BCLOG HOME AND ACREAGE IN THE SOUTHERN GULF ISLANDSHATCH A BIRD FARMPOWELL RIVER, BCOFF-GRID LAKEFRONT PARADISEREVELSTOKE, BCCOUNTRY HOME WITH 4 RENTAL CABINS FOR INCOME - PRINCETON, BCPICTURE PERFECT CABIN & RECREATION PROPERTY - GERMANSEN LANDING, BCVAGABOND RV PARK AND RESORTNIMPO LAKE - CARIBOO CHILCOTINCAPSTONE MOUNTAIN197 ACRES - BARE LAND2.46 acres with 305 feet of accessible rocky shoreline. Spacious tiered lot with wide trail to within steps of water's edge. Partially 昀nished cabin has all the comforts while you build your dream getaway. Prepared building site and septic tank installed for the new construction. REDUCED $695,0002,277 acres, 12 titles, 1,500± ft lakefront, 4 pivot irrigation system. Ample water supply with 11 water licences. 3,994 AUM Range Permit allows grazing for 800 head on Crown land including 496 AUMs for winter grazing. Ranches with a high carrying capacity for cattle do not come up for sale often. $4,995,000This property offers opportunities: carry on with the pub business (45+ years), convert to a family restaurant, start a winery, cidery or craft brewery & grow your own fruit / hops on 6.4 acres, convert to an equestrian estate with a 4,000 ft2 log home, create a new licensed event venue 3 hrs from YVR, or … $688,000Three bedroom custom log home on five acres with sunny southern exposure on Galiano Island's south end. Excellent walkability, close to Bellhouse Provincial Park, beach accesses, ferries, and south end amenities. $1,285,000Well established organic farm on 24.4 acres within the ALR with city services. Includes 5 bedroom main home, 2 bedroom home for farm hand, 2.5 acres of market garden, a market store, 6 greenhouses, pasture for livestock, 2 barns and numerous other outbuildings. $1,599,000Spectacular and rare lakefront estate on 156 acres with 2 km of lakeshore on beautiful Lake Revelstoke. Only a few private parcels exist on this expansive lake. Glaciated mountain vistas. Log home, cabin, equipment shed. Truly stunning! $5,125,000Newly renovated 2,568 ft2 home on 2 acres with 4 additional rental cabins. Each cabin has its own deck and bathroom. Perfect for an Airbnb. Near Osprey, Link and Chain Lake. Access to backcountry for hunting, ATVing and sledding. Pro-forma for revenue available. $695,0003,000± ft2 log home carefully designed, & skilfully crafted with comfort in mind. 5 bdrms, open concept kitchen, living / dining space, the sun-soaked residence is a perfect location to gather with family and friends. The property comes completely furnished & with a tractor for clearing snow. REDUCED $549,000Beautiful lakefront RV park and resort on Nimpo Lake. 4.1 acres, 2 cabins, 22 full service RV sites, tent sight, owner's residence & more! This is an excellent opportunity to own your own business & work from home while enjoying excellent fishing, endless outdoor recreation & great views! $489,000South slopes of Capstone Mountain, 197 gorgeous acres with fabulous views of Capstone Mountain, and Moss, Skins and Ootsa Lakes all full of 昀shing opportunities. Privacy and tranquillity within lush 昀elds and trees. Well suited for a home, hobby farm or retreat. $279,000DAVE COCHLAN 604-319-1500dave@landquest.comRICH OSBORNE 604-328-0848Personal Real Estate Corporationrich@landquest.comROB GREENE 604-830-2020rob@landquest.comDAVE SIMONE 250-539-8733DS@landquest.comJAMIE ZROBACK 1-604-483-1605 JASON ZROBACK 1-604-414-5577MATT CAMERON 250-200-1199matt@landquest.comSAM HODSON 604-809-2616Personal Real Estate Corporationsam@landquest.comCHASE WESTERSUND 778-927-6634Personal Real Estate CorporationCOLE WESTERSUND 604-360-0793FAWN GUNDERSON 250-982-2314Personal Real Estate Corporationfawn@landquest.comJOHN ARMSTRONG 250-307-2100john@landquest.comLandQuest® Realty Corp CaribooVisit our Websitepeaks each summer, for example. This year, there were so many that the Saanich Peninsula Lions Food Bank and other charities refused donations from farmers. When Soma was asked to help a Metro Vancouver farmer with a bonanza of zucchinis, she launched a farm-to-campus initiative o the side of her desk. "We purchased the zucchinis and distributed them to students," she says. "Right now, agriculture is a race to the bottom when it comes to income for farmers and labourers. We need to nd a way to invest more in BC agriculture, and that means thinking about food in a dierent way, valuing food in a dierent way." No easy task Quality and freshness are the gold standards of the produce world. Imperfect produce is a harder sell and smaller farms may not have the time, the resources or the connections to actively seek alternative markets for this sizeable percentage of their product. It's not an easy task, even for large players like BC Fresh, a partnership of 31 family farms headquartered in Delta. BC Fresh members grow lots of potatoes and other vegetables for restaurants, farmers markets, grocery stores, institutions, food processors and food banks. Brian Faulker, vice-president of business development and marketing, says the business isn't about managing the perfect stu but what to do with the less-than-perfect items. "If a large retailer wants a potato that's a specic size, and that only makes up 30% of the crop, we'll have to run 100 tonnes to get 30 tonnes for them," says Faulkner. "What do we do with the other 70? We're trying to nd homes for all those small potatoes and oversize potatoes all the time. Pretty, perfect-sized stu is not where the work lies. The work lies in nding homes for everything else." The COVID-19 pandemic created a new challenge for BC Fresh. Its members grow Kennebec potatoes for fresh- cut fries. When restaurants closed in March 2020, they had several months of Kennebecs remaining in storage. "We reached out to some of our largest partners and we were able to pack the Kennebec potatoes into our No. 2 Farmers Keepers packaging," says Faulkner. "We only sell Kennebec as a processing No. 2 grade. Customers like Costco had never listed a No. 2 product before. They jumped on it and were able to help us move over 2,000 tonnes of product through all the retailers, with Costco and Loblaws being the largest movers of the product." Faulkner says there is very little waste and nothing goes to landll. True culls are used on the farms in a number of ways. They're put into anaerobic digesters, used for compost, sent to neighbouring farms for use as feed for pigs or dairy cows, or tilled back into the elds to improve the soil. Lower grade products go to processors for peeling, to dehydrators in the Lower Mainland or in the US and to pet food manufacturers. "We've got eight farms that are over a century old," says Faulkner. "This isn't a new thing. They've been dealing with it eectively for over a century. When we have conversations about food waste, it's about whether it's sellable or not, whether it's something that could end up for human consumption or whether it should be used for another use, but it all gets used." Upcycling is the latest buzzword for an age-old idea: making the most of what you've got. It's about turning food that would otherwise be wasted into edible products. Here are a few of the social entrepreneurs and organizations making a dierence: • East Vancouver's Susgrainable that dehydrates the spent mash from craft breweries into barley our. • Goodly Foods, another Vancouver company, makes a range of soups from imperfect and surplus vegetables that would otherwise go to waste. Starting in October, its soups will be served at SFU's Burnaby campus. • The Toronto-based Flashfood app is used by Loblaws and other retailers to list tight-dated food at deeply discounted prices. Shoppers can order and pay online, and pick-up in-store. • The Food Stash Foundation started a weekly rescued food market in October in Vancouver's Olympic Village, featuring a pay-what-you-like model. It primarily rescues food from wholesalers and grocers but counts Glorious Organics of Aldergrove and Stable Harvest Farms of Langley among its farm partners. • Vancouver-based FoodMesh is a food recovery service provider that matches supply and demand to reduce food wasted along the supply chain, notably at the wholesale and retail level. What is no longer suitable for human consumption is available for free through its retail food recovery program to 150 small farms in BC for use as animal feed. Art Schipfel of AAA Farms near Tabor Lake outside Prince George collects food through the program every Friday to feed to his pigs and meat birds. "The amount of produce and edible products helps me to save money and grow some astounding healthy animals," says Schipfel. "It is great to see the amount of waste go to a positive outcome and the amount of lives it touches on every level." —Sandra Tretick Upcycled food
Page 31
COUNTRY LIFE IN BC NOVEMBER 2021 | 31Slow and steady wins the day for irrigationPulses of water deliver higher yields, better growthNot all irrigation is equal. Research in Washington State is nding that irrigating some crops in pulses of 30 minutes over several hours as opposed to a single dose may be more benecial for crops and soils. FILEProducer Check-o Supports Beef Industry Projects.www.cattlefund.net 1.877.688.2333www.cattlefund.net 1.877.688.2333De Dell SeedsThe Leaders in Non-GMO CornOur breeding is done the traditional way, in the field, in an effort to bring you the best possible results on your farm. That is why we are The Leaders in Non-GMO Seed Corn.DON'T MISS OUT... our early order discounts are available now!MOSTOUT OF YOURSSO YOU GET THEWE PUT THE WORKIN OUR FIELDSVYEFIELD AG SERVICES • Caleb Brandsma 604-226-0340 • caleb@vyefield.comPETER MITHAM ABBOTSFORD – Building healthy soils takes time, and ongoing research in Washington shows that building soil moisture can also benet from extended drinks of water rather than a single application. Based on experience in strawberries, USDA research horticulturist Dave Bryla wondered if pulsed drip irrigation could benet other berries. Many growers will irrigate elds for a set period each day, with water allowed to soak into the soil afterwards. However, this isn't always the best option. During warm weather, some of that water may evaporate; during cooler periods, it can pool. Bryla wanted to explore drip irrigation, which promised a more targeted and ecient approach to irrigation. In 2018, a trial was set up in Lynden, Washington where growers irrigated raspberries once a day for up to four hours. A drip system that delivered the same amount of water but in eight pulses of 30 minutes each over the course of the day was also set up. The trial plots consisted of four rows 250 feet in length, with emitters placed every 20 cm. Sensors were placed directly under the emitters as well as 12.5 cm and 25 cm from the plants. By having four rows, Bryla was able to limit local variation between plants and soil conditions. "We were able to measure yield over an entire row rather than just a single plant or a small block of plants," he says. Drip irrigation proved eective, Bryla told growers at the Lower Mainland Horticultural Improvement Association short course at the end of January. "By using pulse, we were able to maintain a much higher soil water status than we did with standard irrigation," he says. "Particularly at the locations at zero and ve inches from the drip emitter, the soil water content was quite a bit higher than it was with a standard irrigation." The water also penetrated deeper into the soil with pulsed drip irrigation than with conventional methods. Higher yields But did it make any dierence to yield? Bryla told growers there was little dierence the rst year, but in 2019 measureable results were seen in raspberries, particularly those harvested later in the season. "In the second year, as we got later into the harvest season, we started to see higher yields with pulsing," he says. "When plants were irrigated by pulse, the berries were larger, which again is reected in the increase in yield." On average, per-acre yields increased from 16,000 pounds under standard irrigation to 17,100 pounds with pulsed drip irrigation. "When we used pulsing, we got 1,100 pounds fruit more per acre than with the grower's standard practice irrigation. Berry weight also increased," he says. When pricing is taken into account, the drip system delivered an extra $995 per acre to growers. The trial delivered similar results in 2020. In addition to greater yields, pulsing also improved vegetative growth. Canopy coverage was 60% versus 56% with standard irrigation, while oricanes were 1 mm thicker. Primocanes didn't increase in number, but they did have a greater diameter, which Bryla says will also contribute to increased yield. "Clearly, in this case, there was a benet and it would quickly pay o the cost of readjusting your irrigation system to be able to use pulsing in the eld," he says. Bryla is now investigating the use of pulsed-drip irrigation in blueberries. While the results have been less conclusive, the strategy is showing promise. An initial trial involved Draper blueberries near Mount Vernon, Washington that were typically irrigated once every two days. Similar to the raspberry trial, Bryla drip-irrigated the eld in pulses of 30 minutes every two hours with the same amount of water. Spacing was varied, with emitters in some rows at 12 inches while other rows had 18-inch spacing. Since the rows were 750 feet long, Bryla opted for a more manageable trial of 20-foot sections of four rows in each plot. Unfortunately, a variety of issues at the site made the results interesting but inconclusive. The rows with 18 inches between emitters saw yields increase to 14,100 pounds, or 900 pounds more than those with standard irrigation. Rows with the closer spacing of 12 inches between emitters had yields of 15,300 pounds, or 1,900 pounds more than conventionally irrigated elds. "We saw an increase with pulsing, but because with the way we harvested, it wasn't signicant," he explains. "We need to do more work in blueberries." This year, Bryla undertook a trial of pulsed drip irrigation in organic blueberries in Eastern Washington. Given the soils and irrigation practices there, he anticipates an even greater benet from pulsed drip systems.
Page 32
32 | NOVEMBER 2021 COUNTRY LIFE IN BCSoils are complex, living entities housing a rich diversity of microorganisms, bacteria, fungi and insects that are both the result of crop production above ground and care of the soil below ground. Yet what actually leads to healthy soils is still a challenge according to Lori Phillips, a research scientist with Agriculture and Agri-Food Canada in Harrow, Ontario. In a recent study, Phillips and her colleagues studied dierent farming practices over an 18-year period and discovered what kinds of plant growth support healthy soils. "We looked at diversity above ground compared to diversity below ground," says Phillips. "Dierent types of plants will have dierent root structures. When those roots decompose, they will leave dierent types of channels in the soil which will encourage dierent kinds of microorganisms, fungi and small insects to colonize them." Some 40% of the carbon that a plant synthesizes ends up being leaked through its roots as a food source. A grass will also release dierent compounds compared to a legume. "The more biodiverse the plant system is, the more biodiverse the below-ground system will be," she says. "Dierent habitats, dierent compounds, dierent nutrients, dierent root types are a result. If you grow a monoculture, a single crop, you typically end up reducing your below-ground diversity because you are limiting the root channels and the residue being deposited. You tend to get a more focused micro-community. However, pasture has perennial plants and you have a green cover and root system in place all the time." The eld study was based in Ontario. The research compared pasture systems with corn and soybean crops. They looked at the continuous growth of the plants to prole their eects on soil health. While organic matter feeds the soil, it changes slowly. However, microbe communities change quickly and can provide a snapshot of the cause and eect of plant inuence on the soil. "If you have a greater biodiverse system below ground you get greater disease suppression," she says. "If a pathogen manages to get a foothold in healthy soil, it is less likely to cause problems for the plant because it is outcompeted by all the other organisms that are there. A more diverse system below ground also cycles nutrients better and will release nutrients to the plants in a more balanced fashion." She says that the mycorrhizal (root) fungi provide the plant with nutrients and water. Fungi in the soil break down organic matter and decompose the residents in the roots. Other fungi produce antimicrobial compounds so they can help suppress pathogens. "But it all has to balance. There are niches for organisms to live in and nite amounts of resources for them. We can increase those niches by increasing plant diversity, so you get those root channels and dierent food sources being deposited. The organisms are going to be competing for places to live and things to eat." The team relied on a CNPS test, which bears the acronym for carbon, nitrogen, phosphorous and sulfur. They measured the enzymes involved in the nutrient cycle to get a measure of biological activity and a level of soil health. They found that perennial grasses had the healthiest soils with strong, diverse microbial communities. Fields growing both grasses and birdsfoot trefoil (a legume that contributes nitrogen to the soil) were particularly healthy. In second place were corn elds and in third were soybean elds. Taking the study to the next level, Phillips says they are currently working on a project under Agriculture Canada's Living Laboratories initiative, a $10 million program launched in 2019 that brings together farmers, scientists and other collaborators to address agri-environmental issues. Phillips' project will sample farmers' elds and apply some of the tests to commercial systems. The goal is to assess their ecacy in real world agricultural conditions. "Some of the farmer collaborators have set up trials on their elds where they will have systems in place [such as] rotational grazing, crop rotation, intercropping, cover cropping and so on. All these management practices will improve soil health and we will be assessing how it changes over the seasons." She says that farmers want to generate good soil health on their own land, and they are looking for a simple way to conrm that what they are doing is working. "If we can prove on commercial farms that these methods are as ecient as in controlled conditions, then this gives us a good tool to help them know what the best practices are," says Phillips. "Improved soil biological health will lead to more protable and sustainable farms." The research was published in Agrosystems, Geosciences & Environment Journal. ChampionsSupportersStudy takes soil health to the next levelResearchers aim to understand what really makes soil healthyResearch by MARGARET EVANS
Page 33
COUNTRY LIFE IN BC NOVEMBER 2021 | 33Nelson farm builds soil and local communityCouple reinvests in their market gardenScott Humphries and Emma Sowiak are the team behind Bent Plow Farm, one of the larger market gardens in the Nelson area. BRIAN LAWRENCENew this year! Join the IAF Team for a Webinar to learn more about the program and ask questions.Program Funding provided by:For more information: iafbc.ca/market-developmentPLANNING TO TAP INTO NEW MARKETS?Increase sales outside of BC Applications open November 16, 2021The BC Agrifood and Seafood Market Development Program helps BC agri-food producers, agri-food and seafood processors, co-operatives, and associations to identify, access, target and develop market opportunities to increase their sales outside of BC.BRIAN LAWRENCE NELSON – One of the Nelson area's larger market gardens, Bent Plow Farm, is a model that other farmers and agriculture enthusiasts are excited to see. About 30 people braved heavy rains September 27 to attend a eld day organized by Kootenay & Boundary Farm Advisors and Young Agrarians. But if visitors huddled under umbrellas against the downpour, Bent Plow owner Scott Humphries says the elds just soak it up. "This will be dry tomorrow," he explains. "The drainage is too high. ... We could put irrigation on, and in 24 hours it would be dry and wouldn't get waterlogged." It's a challenge common to growing in a landscape carved by glaciers and characterized by acidic alluvial silt and morainal till. "The glacier came and dropped stu, and with its kilometre-thick weight, ground and compacted it," says Humphries. Due to the farm's undulating topography, it's even a challenge to add nutrients, such as green compost and sh emulsions. Drip irrigation allows too much fertilizer to settle in dips and furrows. This means much of the watering is done by hand. "We did a lot with watering cans," he says. Humphries and his wife Emma Sowiak farmed for two years in the Ottawa Valley before moving to Nelson in 2016. They spent the following year preparing their certied organic 1.5-acre market garden. "It was just a brown eld," Sowiak says in the shelter of their packing shed. "We're slowly building it up – our irrigation, our production shed. Even the soil is building up." Humphries and Sowiak both began farming early in life, but their formative years were quite dierent. Sowiak was raised in an intentional community north of Nelson where residents cultivated an orchard and raised chickens, while Humphries' father ran a seventh-generation 100-acre beef farm in Ontario where he grew up around tractors and hay production. In 2010, Humphries met a couple running a market garden, an eye-opening experience. "It was cool to see a dierent side to agriculture," he says. "You're more in touch when your hands are in the ground, as opposed to driving a tractor." Sowiak attended university in Ottawa, and later joined an urban farm incubator program in which a dozen farmers shared the workload in exchange for their own plots. Of those, 11 are still farming in various ways — one, for example, grows microgreens, while another has a rooftop garden at Ryerson University. "It's been interesting seeing how we all followed dierent paths," she says. After she met Humphries, the couple started the Ontario incarnation of Bent Plow, a name that's as self-explanatory as it sounds. "It's because we had a bent plow his dad found," says Sowiak. "Working here, too, we've bent enough tools." "There's something poetic about the imperfection of farming," adds Humphries, who tells the guests that he's pulled up to 1,000 pounds of rocks out of a single bed. An impressive feature of the farm is a drive-through packing shed, which has a walk-in fridge and dry room, and has power ready for a 15-foot cooler if needed. As much as possible, equipment and supplies are moved around with wheeled carts. "I highly recommend concrete oors," says Emma. See CSA on next page oBC Weather Station Hub *DAILY Updates*
Page 34
34 | NOVEMBER 2021 COUNTRY LIFE IN BCIntroducing a new and improved way to apply for your BC Farmer ID Card with our newly updated online application (including renewals!).Try it for a chance to win!Apply for (or renew) your BC Farmer ID Card online this month and be entered to WIN $100! Winners are drawn monthly from online applicants to win a $100 Visa gift card. Ends December 2021.What are you waiting for? Give it a try!BC FARMER ID CARDNow apply or renew online!Visit bcac.ca/farmeridcardIn 2018, they began selling at the Nelson farmers market and launched a community-supported agriculture (CSA) program in 2019 for 20 subscribers, a number that grew to 95 this year. Each box contains seven items, with early season boxes containing lettuce and radishes, and later season boxes including pumpkins and beets. "We're putting in the seven best vegetables at that moment," says Sowiak. "It gives customers an appreciation of eating through the season." They also enjoy receiving unfamiliar types of produce –"anything with a dierent size, shape or colour," says Sowiak – which included pointy cabbage, black futsu squash and shishito peppers. They also pack 40 six-item boxes, which the West Kootenay EcoSociety purchases to distribute to lower-income families through its Farms to Friends program, helping to dispel a common misconception. "There's an idea that local produce is not accessible to lower-income folks," says Sowiak. To pack the CSA boxes, they set up four or ve tables of vegetables, which two employees pack while one replenishes the stock. When deliveries are made, recipients don't have to worry that their box will be left out in the hot summer sunshine – Humphries delivers them starting at 2 a.m. "Everyone gets their box by 7," says Sowiak. "Our customers really like it." The CSA is an excellent way to form stronger ties to the community, and also gives the farmers an opportunity to try growing a wider range of produce in a limited quantity. "We like the CSA because it's a nice direct connection to the customers," says Sowiak. "You can really grow a little bit of everything," says Humphries. "And we kind of like to grow everything. It's nice that there's something dierent in the box." That also allows for better crop rotation, and makes Humphries and Sowiak better growers. But she candidly admits they don't like everything they grow. "Our sta gets sick of cantaloupe," says Sowiak, who also notes that she doesn't like to see anything go to waste. "I didn't even like them, and I ate an entire one for lunch," Humphries says, to laughter from the visitors. "And then I kind of wanted another one." A signicant advantage of the CSA is that it provides the couple with income up front, rather than relying solely on market shoppers to buy produce. "It's kind of like a jump-start to the season nancially," says Sowiak. That allowed them to make two signicant purchases this year: an industrial salad spinner, which can handle up to 15 pounds of greens at a time, and roller tables for a greenhouse, which can be raised, lowered and moved side-to-side to maximize available space. They also swear by their Polaris Ranger UTV (utility task vehicle), which is used to carry harvested produce to the packing shed and apply compost to the garden beds. "We don't carry anything," says Humphries. "This is the best and most used tool on the farm." Despite the rainy start to the evening, the couple enjoyed the opportunity to show o their farm to the visiting group – in smaller communities, lending support and advice to others in similar businesses is a key to success. "That comes from working collaboratively, not cutting each other down," says Humphries. That philosophy applies on the farm, as well, with Humphries and Sowiak each having dened roles – he handles much of the outdoor work, which she joins in while also handling the administrative side. "I love the challenge of maintaining the infrastructure, and when things go wrong on the farm and xing it," says Humphries. "And it's nice seeing crops grow well that maybe didn't do well the year before." Sowiak says it's the best of both worlds, "getting to be a small business owner, but also getting to work with my hands. Not many jobs have both of those." And the opportunity to work with her husband is special, too. "We complement each other nicely in this small business," she says. CSA nfrom page 33Visitors to Bent Plow Farm during a recent eld day enjoyed a tour of the 1.5-acre garden and packing shed. BRIAN LAWRENCE
Page 35
COUNTRY LIFE IN BC NOVEMBER 2021 | 35Cash flow analysis is key to resiliencePast income and expenses underpin financial forecastsStu Smith and Sarah Harper are taking advantage of online business sessions hosted by the Basin Business Advisors to help plan for the future of their food processing enterprise, Stoke the Fire Hotsauce. SUBMITTEDInsurance products and services are provided through Assante Estate and Insurance Services Inc. Please visit www.assante.com/legal.jsp or contact Assante at 1-800-268-3200 for information with respect to important legal and regulatory disclosures relating to this notice.Financial planning for farm families Farm transition coaching Customized portfolio strategy Retirement income planningDriediger Wealth PlanningMark Driediger, CFP, FEA, Senior Wealth AdvisorBrent Driediger, BAA, CPA, CMA, CFP, Wealth Advisorwww.DriedigerWealthPlanning.com | 604.859.4890 Assante Financial Management Ltd.Farm and Rural Residential Properties in the Peace Country are our specialtyAnne H. ClaytonMBA, AACI P App, RIAppraiserJudi LeemingBHE, AIC CandidateAppraiser250.782.1088info@aspengrovepropertyservices.caRONDA PAYNE REVELSTOKE – Sarah Harper and Stu Smith absolutely weren't accounting types when they began farming. The couple started Revelstoke-based Track Street Growers about 10 years ago, then in 2020 they transformed their interest in garlic and peppers into Stoke the Fire Hotsauce. "This whole thing began out of a lifestyle. Stu being a grower and a tradesperson, he's actually an athlete," she says. "And I'm an artist. I come from acting, dancing, singing. This project is denitely born out of love." They had their commercial kitchen approved in December 2020 and now supply natural food stores, butcher shops and a few restaurants across the Columbia Basin and into the central interior of BC. "We're much busier than we expected," says Harper. Recognizing they needed help with the more administrative elements of the business, Harper began looking into programs like the online cash ow session Basin Business Advisors oers. BBA program manager Alison Bjorkman helps businesses better understand their money and what changes in income and expenditures can mean to their businesses. During the session, she walked participants through a monthly cash ow worksheet based on income and expenses. The worksheet allows business owners like Harper to understand past income and expenses and plan for the future under various scenarios. "[With the spreadsheet] you can translate everything that you do in your business so that you can see how it will impact your business. It's denitely helping you come to the decision with information and more condence," says Bjorkman. When Bjorkman noted the spreadsheet could be used for predictive analysis, the reminder hit Harper in the right place. Stoke the Fire's business is growing exponentially. She's worked with cash ow tools before, but now that she has actual data to work with, she is able to use the tool for forward-thinking decision-making. "It was the cash ow tool that allowed me to see this vision [for Stoke the Fire] was possible," says Harper. "So now, it's to dial in the next level of specicity. What does the scale-up look like? And then what does it look like at the next level? I can see what that looks like and what will happen going forward." As Bjorkman explains, there's more to expanding a business than increasing production. Sometimes, expansion doesn't increase prots. "Sometimes your expenses go up," she says. "This is another way to determine, if I borrow money, how am I going to pay it back and is it going to help my business?" Harper is condent guring things out on her own but says workshops like this save her precious time. "It reminded me that that tool was there and that being able to see it in real time, even if it's not specic numbers, is going to direct my decision-making," she says. "I can break it down right now … but unless I know what the overall business is doing, I can't decide if I'm going to do a run of 500 bottles of jalapeno honey. It might make sense on the minute level, but the bigger picture needs to be working in harmony with that minutiae as well." When working with a cash ow sheet, Bjorkman says it's important to include business income and business expenses from all sources related to the business. Income and expense should be recorded when it is conducted, not averaged over the year (it's okay if income and expenses uctuate; in fact, it's why it's important to understand the ow of cash). Past data can be pulled from existing nancial records to forecast future scenarios. Bjorkman encourages owners to run multiple scenarios when looking ahead. "Change the numbers as many times as you want," she says. "Compare them. What if sales went up? What would that look like? If you hire a new sta person, what does that do to the bottom line? How much do you need to sell to cover that? You'll be better able to make those decisions and you'll know the consequences. The best decisions that you make in business are the ones that you make with your eyes open." Bjorkman cautions against looking at the bank balance as a measure of business strength. While this may show cash reserves, past success isn't a guide to the future. Building up enough cash to cover up to two months' worth of expenses is a good way to prepare for unforeseen challenges.
Page 36
36 | NOVEMBER 2021 COUNTRY LIFE IN BCTHAT'S WHY WE UNDERSTAND WHAT YOU DO IS A WAY OF LIFE. OUR ROOTS ARE IN AGRICULTUREKeeping it Simple®We have a team of agribusiness experts here to support you every step of the way, helping to choose the right solutions for your unique needs. Whether you are looking to buy a new piece of land or in much need of new equipment to keep your operation running smoothly, we can help.WHAT MAKES US UNIQUE?― OUR ROOTS ARE IN FISHING, FARMING AND AGRICULTUREOur credit union was founded by the farming community. Over the last several decades, our cooperative has grown to $14 billion in assets, and counting. ― WE ACT LOCALNot only is our team of experts geographically dispersed to serve you where you are; decisions are made locally across the table, not across the country. ― WE HELP OUR MEMBERS AND COMMUNITIES THRIVEAs a nancial cooperative, a portion of our prots go back to our members and communities. Like you, we live and work here, so investing in our communities is at the cornerstone of who we are. We can't wait to learn more about your business. Contact your local Agriculture Advisor today: Amrik Gill Agriculture Advisor Serving the Lower Mainland604-309-6513 amgill@envisionnancial.caToby Frisk Director, Agribusiness Serving the Okanagan, Enderby and Similkameen regions778-212-3415 tfrisk@rstwestcu.caCash Reumkens Agriculture Advisor Serving Lower Mainland and Vancouver Island250-701-3426 creumkens@islandsavings.caDivisions of First West Credit Union
Page 37
Vista D'Oro co-owner Patrick Murphy walks BC agriculture minister Lana Popham through the farm's vineyard during an open house in August. RONDA PAYNECOUNTRY LIFE IN BC NOVEMBER 2021 | 37New app zeroes in on reducing lost produceLitefarm targets efficiencies from farm to production lineProudly offering quality farm equipment and wholesale farm product delivery across BC.Call, email or visit us onlineinfo@reimersfarmserv ice.com855.737.0110reimersfarmservice.comCheck out our Einbock Tillage Equipment For Organic FarmingTine Weeders t3PX$SPQ$VMUJWBUPSTr3PUBSZ)PFT $BNFSB(VJEBODF4ZTUFNAND On In StockAEROSTAR Tine WeedersDELTA Drain Tile Cleaner *NQSPWFT%SBJOBHFr$POEJUJPOT4PJMr&DPOPNJDBM 3FMJBCMFr-PX.BJOUFOBODFr4BGFBOE1SPWFOSPECIAL PRICING On In Stock RONDA PAYNE LANGLEY – Orchardists and vineyard managers play a game of odds. They weigh out the averages of previous years' yields, consider the weather and other environmental factors and estimate the time and labour requirements for their crop. But a locally developed open-source app known as Litefarm may make the process easier. A team from UBC Farm's Centre for Sustainable Food Systems created the app to help improve sustainable farming as well as farm management and operations. SFU Resource and Environmental Management assistant professor Tammara Soma saw the app and realized its potential for tracking food that was harvested but didn't make it to market. Her graduate student Alexander Hook ran with her idea and developed a study to track produce losses at six Fraser Valley farms this summer, including Hazelmere Organic Farm in Surrey and Pinsch of Soil in Langley. "We asked UBC if we could use this app," Hook says. "Before that, it wasn't that easy to understand (on-farm food loss), either with estimating or visually." With data including soil composition, labour requirements and harvest volumes, the app becomes not only a way to manage farming operations but track production volumes lost between harvest and sale. Sustainability data Langley's Vista D'Oro Farms and Winery also participated in the study, reecting its long-standing interest in reducing on-farm waste. A jam-making division, The Preservatory, operates at Plenty and Grace Food Hub and Innovation Centre in Surrey. "We were really excited about the sustainability aspect," says Margot Baloro, operations director for both Vista D'Oro and the food hub. Because Vista D'Oro produces a variety of products from wine to jam, she says knowing when fruit will be available helps ensure a smooth-running production schedule with minimal waste. Baloro says that while farmers often think about their end goals each season, they're seldom tracking the information that helps them understand what's in store. But for those who are, Litefarm allows them to bring it all together in one place. It also makes the information available to other users, keeping them in the loop if there's an unexpected reduction in yield or variations in output on the processing side. "You look at your square metres of growing space and you can calculate the yield of the crop," says Baloro. "Once that crop is harvested, for us in particular, it becomes another project [moving into production]. We can track any losses along the way. Our goal in tracking through the app is to have the least amount of waste possible." Hook says Litefarm is one Food hub offers room to grow A year after opening its doors, Plenty and Grace Food Hub and Innovation Centre in Surrey is oering small-scale producers room to grow. The facility marked its rst year of operation on August 20 with a visit from BC agriculture minister Lana Popham, who toured the premises with food hub founder and chief innovation ocer Lee Murphy. "We can do anything from 100 jars to 100,000 jars. We want to help with scaling up," says Murphy, co-owner of Vista D'Oro Farms and Winery in Langley, which has relocated its fruit preserves venture, The Preservatory, to the facility. The food hub has worked with seven clients to date, including The Preservatory, as well as Driediger Farms and Organic Ocean. "Those collaborations are what I love the most," says Murphy, who worked with Chef Julian Bond, business and strategic development director for the food hub, to develop vinegars for Organic Ocean. The hub is open ve days a week now, but can move up to a 24/7 schedule to accommodate all sizes of producers at various points in their product development. "We give business support for two years," says Popham. "We're able to measure [success] in many dierent ways. We look at how many businesses have grown and can y on their own. We also measure volume of BC products going through." She sees it as setting up a community that supports entrepreneurs while also supporting farmers. "Many of us have heard of CSA programs, so I think food hubs are truly community-supported agriculture," she says. —Ronda PayneSee DATA on next page o
Page 38
38 | NOVEMBER 2021 COUNTRY LIFE IN BCDATA nfrom pg 37bcfarmandranch.com | 1-888-852-AGRI (2474)of many apps farmers will be able to use to be more ecient with their resources and crops. While it takes time to load data on the app, he says Vista D'Oro has really been able to demonstrate its potential. Rather than just quantifying food loss, it's making use of the app to improve its operation from eld to kitchen. "Patrick Murphy spoke about all the dierent uses of just one crop and Vista D'Oro is the one farm that is really diving into the app," he says. "They are wanting to utilize as much as they could with this app." The app has the potential to generate predictions around yields, labour expectations and other management information as users input more and more data. Hook sees farmers having small tablet computers in the eld that make use of the app with a user-driven interface to enter information and see what results the app generates. The development team at UBC is continuing to update the tool with the help of studies like Hook's. "Studies like these look at how we can work together and how technology ts the operation instead of the farm tting the tech," says Hook. The possibilities excite Baloro. "There's additional aspects of the app and software that I could use specically as a food hub," Baloro says. "The Fraser Valley is such an awesome place to grow food and do it in an ecient way without a lot of waste is the goal for everybody." It could be said, so I'll say it here, that it's quite likely farmers come in two types: those who save their scrap metal, and those who do not. Obviously, there are myriad further sub-types. Farmers are a complicated, thoughtful, diverse and stereotype-busting bunch and I would be the last to publicly suggest otherwise. On my farm, however, it seems we are divided by our approach to metal. Metal is the inevitable issue of farming with all this necessary metal equipment. Left behind following modications, strip downs and breakdowns, it seems metal begets metal. Scrap metal. Call it what you will, I don't want to part with any of it, a position reinforced almost regularly when a new purpose is found for previously useless pieces of metal. I don't know what the future looks like. I must keep it all. It gets stashed. I hoard with relish and use with triumph. My personal inventory, the metal I have been involved in scrapping, is pleasingly diverse and extensive. Ranging from the smallest bits to large – in all their enormous, cumbersome and weighty glory – I even remember where most if it originated. There are shelves stued with nuts and bolts and random cuts. There are two or three diminishing digger chains, the links gradually being re-purposed as trellising stakes in the greenhouse and gardens. Several historical hydraulic cylinders are almost certainly stacked in a corner I haven't been back to for a few years. A rather extensive selection of broken S-tines, bent cultivator tools and cracked cast iron items requiring repiling reside there as well. Discs with broken bearing centres are starting to line the barn walls, and old potato planter and harvester gears are in a bin so heavy it might never move again. This year, I was very pleased to use the good end of a length of a long-ago driven-upon water pipe, which I had poked into the bushes at the time both to hide the evidence and to save for later use. I dragged it out, cut o the crushed part, and attached the remaining six feet to the line. The muddy bank on the swimming hole was thusly cleared, thereby allowing clear water to gush forth. Good thing I kept that broken pipe, right? All you metal-throwing-out-farmer-people who cavorted in a swimmable pond during a heat wave should be thankful. I anticipate going through the usual middle-aged creative welding phase which I hope will consume the whacks of handle-less shovels, spades, forks and rebar tidbits I have saved for this eventuality. At least, I hope it does because I need to get ahead of the growing inventory. It is a troubling fact that the other type of farmer, the one who does not save scrap metal, exists on my farm. They are active, enterprising and tend to sneak my metal o for recycling. Anyways, I digress. What I really wanted to talk about is social media and how to constructively manage its shockingly addictive nature. Kidding. I have no idea how to do that. I would also like to mention fall farming and how thankful I am that it has arrived. A day rarely passed in this rain-less summer, as successive heat waves followed the heat dome, where I didn't wistfully reect on the inevitable yet impossibly distant arrival of autumn. Not to sound too dreary about it, but I held fast to the vision of a cold, wet fall. Sure enough, the elds are getting too muddy to work, raindrops are rolling down my neck and I am contending with cold ngers in inadequate work gloves. It's really all I dreamed of. Anna Helmer's farms in Pemberton with her family of several types. To hoard or not to hoard: that is the questionYou just never know when a length of old pipe will come in handyFarm Story by ANNA HELMER
Page 39
This is what the future looks like. Lana Harach is one of two recipients this year of a bursary administered by the BC Farm Writers Association. SUBMITTEDCOUNTRY LIFE IN BC NOVEMBER 2021 | 39Bursary benefits rising farm professionalsRecipients appreciate the boost J.R. (Tim) Armstrong Memorial Bursary for Students in Agriculture or Journalism ProgramsApplication Deadline:December 31, 2021The Tim Armstrong Memorial Bursary is open to British Columbian students who are enrolled in their second year or higher of a full-time agriculture or journalism program at a university, institute or regional college in Canada.Visit: www.bcfwa.ca/bursary--links.htmlContact: Ronda Payne, Scholarship Chairronda.eyben@shaw.cawww.tubeline.ca 1.888.856.6613@TubelineMFGFind us onSPREADERSACCUMUL8 & BALE GRABSBALEWRAPPERS SILAGE RAKERONDA PAYNE MAPLE RIDGE – Post-secondary students in agriculture and journalism programs may not seem to have a lot in common, but they have a shared ally from the past whose career may benet their future. J.R. (Tim) Armstrong was a long-time publisher and editor of Country Life in BC and left an indelible mark on both the agriculture and journalism sectors. One of his legacies is a bursary that bears his name and is administered by the BC Farm Writers' Association. Started with contributions from BCFWA and like-minded individuals, the $1,000 bursary has been awarded to at least one student each year since 1980. In early 2021, Courtney Wallace and Lana Harach each received $1,000 to help with their education expenses. Wallace is already onto her next education adventure, now taking Alberta-based Lakeland College's new Bachelor of Agriculture Technology degree program. "Currently, we're learning about leadership skills and dierent types of technology and how we can apply them," she says. "Our second year is a practicum year where we can go out and work with technology leaders." She's leaning towards the research side of livestock in terms of establishing stronger genetics for faster production. The bursary allowed her to attend school without taking a second job. She's also able to be in the industry more and establish contacts to help advance her prospects. Harach is nishing her last year of the Bachelor of Agricultural Science degree program at the University of the Fraser Valley. She enjoys the pest side of agriculture and has been working with Agriculture and Agri-Food Canada research scientist Paul Abram in Agassiz. "I actually did a research project with him that looked at parasitoids to help control SWD," she says. "I'm hoping to gain some experience in the eld as a pest management specialist specically focusing on insects where possible and potentially in research." She is also planning to earn her professional agrologist designation which she will work on simultaneously after she has some eld experience post-graduation. These two students join many others who have received the bursary in their pursuit of improving agriculture for the future. Information regarding the 2021 Tim Armstrong bursary application is available at [www.bcfwa.ca/bursary--links.html]. The deadline to apply is December 31. The bursary is open to Canadian students with strong BC ties, enrolled in their second year or higher of a journalism or agriculture program in a Canadian post-secondary school. Recipients are selected by a committee on the basis of strong academic performance, nancial need and a commitment to their chosen eld.
Page 40
40 | NOVEMBER 2021 COUNTRY LIFE IN BCSo much for a little peace and quietWhen we left o last month, Jimmy Vincent had come upon Kenneth Henderson and Delta Faye Poindexter gazing into the engine of her broken down truck. Within minutes, Jimmy summoned Junkyard Frank and his towtruck, but Frank wasn't about to put anything on the hook without payment upfront. Rural Redemption, part 140, continues. Kenneth Henderson scowled at Junkyard Frank. "Do you mean to tell me you expect to be paid before you tow her truck?" "Not necessarily all of it but I gure some sign of nancial wherewithal might be in order." "How much of a sign are you looking for?" "A hundred bucks." Kenneth snorted derisively then turned toward Delta Faye. Jimmy Vincent walked toward Frank and punched the call button on his cell phone. "Save yourself the trouble," said Frank. "I already called her. She'll be here any minute." "When did you have a chance to call her?" said Jimmy. "Soon as you called me." "That hardly seems fair now, does it? You wouldn't even know about all this if it wasn't for me." "Ya snooze, ya loose," said Frank, "but if you're going to get your shirt in a knot, how's about we split it down the middle? We're going to have to sell her on it rst anyhow." "Speak of the devil," said Jimmy as Harriet Murray pulled in behind Jimmy's pickup. Harriet climbed out, camera and notebook in hand. "What's the low-down here then?" she asked. "Just so you know, we're splitting the $20 bucks," said Jimmy. "You know how this works, Jimmy; I pay whoever calls me rst." "I'm the one that seen the hugs and snuggles before Frank even got wind of it. I would've thought you'd want to hear all about it, so if you've got your heart set on giving the whole $20 to Frank, maybe you could give me another $20 for the eyewitness account?" "That'd work ne for me," said Frank. "Alright then," said Harriet. "Ten each it is." Kenneth told Delta Faye that Frank wanted a $100 deposit before he would tow her anywhere. Delta wondered if Frank would take a credit or debit card. Kenneth said he gured Frank probably had his heart set on cash. "I don't suppose there's an ATM anywhere close by?" asked Delta. Kenneth laughed sarcastically. "Take a look around. You're not in Kansas anymore, Toto." Delta Faye giggled and gave Kenneth a playful punch on the arm. "Thanks for pointing that out for me, Dorothy." Kenneth smiled at her; he couldn't remember the last time he'd amused someone with a bit of wit. Harriet Murray was watching them closely. This looks promising, she thought. Kenneth turned to see Harriet marching toward him. She said hello but he sidestepped her and walked past. He pulled a $100-dollar bill out of his wallet and handed it to Frank. "How on gawd's green earth does that woman always manage to show up where she's least needed or welcome?" wondered Kenneth. "You're not the rst one who's pondered that," said Frank. "I've spent considerable time wondering about it myself. All I can gure is Harriet's just got a nose for the news, the same way some folks can nd water with a willow crotch, I guess." Kenneth turned to see Delta Faye speaking to Harriet, who was scribbling furiously in her notebook. "You've got your hundred bucks so let's get this show on the road," said Kenneth. Fifteen minutes later, Frank had Delta's truck hung on the wrecker and Kenneth was backed up to the horse trailer. Delta, Kenneth, Jimmy and Frank congregated at the back of the pickup. Harriet hollered for them to "Look at this!" and when they all turned her way, she snapped a picture. Kenneth told Delta to climb into the truck because the sooner they got the hell out of this hillbilly gong show, the better. They were gone in less than a minute. Harriet shed two $10 bills out of her purse and gave one to each of the men with the proviso they each tell her everything. "Apparently, he's back because they're throwing a big surprise graduation party for Ashley the day after tomorrow," said Frank. "How do you know that?" asked Harriet. "If anyone's throwing a surprise party, I would have got wind of it by now." "I'm just telling you what the man told me, Harriet. You're the reporter; you gure it out." Harriet asked Jimmy what he knew about it all. Jimmy said it was probably a surprise party all right because it was the rst he'd heard of it. He said Delta Faye claimed she just met Kenneth there on the side of the road but that seemed a little shy because they were all cuddled up hugging each other in broad daylight when he got there. Frank said there was a rumour going around that the Hendersons were getting a divorce. Jimmy said he'd heard it, too. So did Harriet. Frank said, in fact, he came close to mentioning it and Henderson didn't deny it. Given all three of them heard the same rumour, all the facts pointed to the obvious truths: Kenneth and Deborah Henderson were getting a divorce, Ashley Henderson was graduating from high school and someone was throwing a surprise party about it. Kenneth wasn't wasting any time cozying up to a replacement for Deborah, and as sure as God made little green apples, Delta Faye's tranny was shot. Harriet's mind whirled madly. vvv Susan and Newt were sitting on their front porch with mugs of tea. "You know, I didn't know what real peace and quiet was until I came here. Is it always like this?" "Don't count your chickens before they hatch," said Newt. "You'd be surprised at how things can turn hectic in a heartbeat." "I can't imagine it," said Susan. "What's all this then?" said Newt as Kenneth rumbled up the driveway dragging 30 feet of live-aboard horse trailer. Kenneth introduced them to Delta Faye and explained her dilemma. Newt said he supposed it would be okay to park the trailer by the barn and there were a couple of spare stalls where she could put the horses for a few days and there was a spare bedroom she could use in the house. Delta thanked him and said she didn't want to be that much trouble and she would be just ne sleeping in her trailer. Newt said he'd run an extension cord out for her. Half an hour later, Kenneth and Delta left for town to arrange repairs for her truck. "What did I tell you?" said Newt. Before Susan could answer, Old Jimmy Vincent chugged into the yard. "Hey Jimmy, what bring's you our way?" said Newt. "I was just passing by and gured I'd stop in and save you a phone call." "Thoughtful of you. What call are you saving me?" "About the surprise party for Ashley. So you can give me the where and when and see if there's something we could bring." "How did you hear about Ashley's party, Jimmy?" "I ran into some folks maybe an hour ago. They were all talking about it." Before Newt could start to explain just how small they were planning to keep the party, Harriet Murray pulled up behind Jimmy. "Looks like you might be starting the party without me," said Harriet. "What can I do for you, Harriet?" said Newt. "You can ll me in about the surprise party so I can plan the story for the paper." "We are trying to keep the party very small and very secret." "Hey!" said Harriet "Isn't that Ms. Poindexter's trailer? What's it doing here?" "What do you know about Delta Faye?" asked Newt "Just what I heard from Jimmy and Frank: her tranny's toast and she's pretty friendly." Before Newt could put the brakes on Harriet, Frank came chugging up the drive. What next? thought Newt. "You know why I'm here, doncha?" "I'm afraid to ask," said Newt. "To save you from making a fool of yourself in front of the whole neighbourhood. I was just at the store. Have you got any idea how many people out there don't have a clue about this party you're planning?" ... to be continued Woodshed Chronicles by BOB COLLINSCREDIT CARD # _________________________________________________________________ EXP _____________ CVV _____________ Thousands of BC farmers and ranchers turn to Country Life in BC every month to nd out what (and who!) is making news in BC agriculture and how it may affect their farms and agri-businesses! o NEW o RENEWAL | o ONE YEAR ($18.90 | o TWO YEARS ($33.60) | o THREE YEARS ($37.80) CHEQUE, MONEY ORDER, E-TRANSFER OR CREDIT CARD Your Name _______________________________________________________________________________ Address _________________________________________________________________________________ City ________________________________________ Postal Code __________________________________ Phone _________________________ Email ___________________________________________________ www.countrylifeinbc.com/subscribeMAIL TO: 36 DALE RD, ENDERBY, BC V0E 1V4 | subscriptions@countrylifeinbc.com Please send a _______ year gift subscription to ________________________________________________ Farm Name _____________________________________________________________________________ Address ________________________________________________________________________________ City ________________________________________ Postal Code ________ _________________________ Phone _________________________ Email __________________________________________________
Page 41
COUNTRY LIFE IN BC NOVEMBER 2021 | 41Saanichton Farm receives Century Farm awardA fourth generation is helping continue the family legacyBryce Rashleigh's 101-year-old aunt, Betty, was a very special guest when Saanichton Farm received its Century Farm award from the province, October 23. VERN CRAWFORDServing the Okanagan and Fraser Valley We've been proudly family owned and operated since opening in 1976. And with two blending plants, we're one of BC's largest distributors of granular, liquid and foliar fertilizers. Our buying power and proximity to the Fraser Valley makes us the logical choice for truckload shipments. OKANAGAN FERTILIZER LTD 1-800-361-4600 or 250-838-6414USED EQUIPMENT BE-IGN150 59" TILLER, BED SHAPER ATTACHMENT . . . . . . . . . . . 2,950 N/H FP230 27P GRASS HEAD . . . . . . . . . . . . . . . . . . . . . . . . 17,500 CLAAS VOLTO 1050 8 BASKET TEDDER . . . . . . . . . . . . . . . . . 12,500 USED TRACTORS KUBOTA T2380 2017, 48" DECK . . . . . . . . . . . . . . . . . . . . . . . 4,500 KUBOTA BX2360 2010, 1,900HRS, TRAC/MWR . . . . . . . . . . . . . 9,750 KUB F3680, 2006, 72" DECK, GRASS CATCHER, DUAL HYD VALVE 16,900 KUB B2650HSDC 2013, CAB, 175HRS, R4 TIRES . . . . . . . . . . . 24,500 NEW INVENTORY: *NEW* GREENWORKS COMMERCIAL CORDLESS BLOWERS, CHAINSAWS, STRING TRIMMERS, HEDGE TRIMMERS, LAWNMOWERS. 82/48 VOLT NEW MODEL- JBS MISP1436 IN THE YARD KUBOTA RAKES, TEDDERS, MOWERS, POWER HARROWS . . . . . . . . CALL JBS VMEC1636 VERT. SPREADER, SAWDUST & SAND THROWERS CONSTRUCTION TORO TX1000 350 HRS, BUCKET, FORKS . . . . . . . . . . . . . . . . . .28,500 [TORO ATTCHMENTS ALSO AVAILABLE] ISLAND TRACTOR & SUPPLY LTD. DUNCAN 1-888-795-1755NORTH ISLAND TRACTOR COURTENAY 1-866-501-0801www.islandtractors.com TRACTOR & FARM EQUIPMENT HEADQUARTERSYour Vancouver IslandKATE AYERS SAANICHTON – Saanichton Farm received the province's Century Farm Award in a special ceremony on October 23. The farm traces its roots to 1912 when John Stanley Rashleigh immigrated to Canada from England. In 1913, he purchased 16 acres in the Coombs-Hilliers area. But when the First World War broke out the following year, he returned to England to serve with the Red Cross. Following the war, in April 1919, John married Elizabeth Edwards and the newly wedded Rashleighs set sail for Canada on September 3. "Grandpa showed Grandma their 16 acres that was mainly bush in Coombs-Hilliers," says Bryce Rashleigh, the couple's grandson, who operates the current farm with his wife Jill and family. While his grandmother wasn't super-enthusiastic about its potential, Bryce says the couple set to work. It paid o; in 1928 they were able to buy a 160-acre farm in nearby Qualicum Beach. "It was a bigger farm and they had dairy cattle. There was a bigger milk market in Qualicum Beach with their milk delivery route," says Bryce. Eight years later, the couple bought the original Saanichton Farm, which sat on 95 acres. It was home to three generations of the family from 1936 to 2006, including John, his son Peter and then Bryce. Peter passed when Bryce was a teenager, so Bryce took over and started managing the farm when he was 15. Bryce was one of three children, but he says he "was always the one who had the farming interest." He attended Olds College in Alberta for two years to study Farm and Ranch Technology, a program that covered such topics as mechanics, animals, economics and soils. He then returned and pursued dairy farming for 10 years before entering mixed farming. But transitioning the farm to a new generation at market values was tough. "At that time, I couldn't aord to buy the family out," says Bryce. The property instead sold to the Thomson family, which now owns six farms in the area. But the proceeds allowed Bryce and his wife Jill to buy the current Saanichton Farm in 2006. The farm is located on Stellys Cross Road, about a mile from the original farm. They now manage about 1,000 acres on 90 properties. The family grow hard red spring wheat, malting barley and haylage. They also raise turkeys, broilers and layers. Bryce and Jill's three children, the fourth generation, lead full-time careers o the farm, but they still help out whenever they can. "My son Peter … went to Olds College to be an agricultural mechanic," says Bryce. Peter's training has been an asset to the farm's growth over the years. "When I was 13, I did custom combining in the area and I've since acquired that combine back to restore it. I thought it was something cool for him and I to do, to get into grains and get a combine because he was trained on servicing them," Bryce says. "Once you get a machine, it creates interest and work." The couple's daughters Rebecca and Allison help with bookkeeping and other work around the farm. "In agriculture, the next generation may not always work [on the farm] full time, but their contributions are still critical during each season," Bryce says. Support from Phillip's Brewery, Portono Bakery and local consumers also helped Saanichton Farms expand. Demand for Island-produced malting barley, wheat and other products gave the Rashleighs a local market to service. This year marks Bryce's 45th harvest, and while the farm has a rich history, the last year has seen new developments. In addition to opening a mill producing stoneground our and a farmgate store, the Rashleighs led a community eort to ship hay from Vancouver Island to drought-struck farms in the Interior. So far, his team has delivered 25 loads of feed and they are set to increase the total to 40 loads by the end of the year. The group also managed to round up $61,000 in donations to cover freight costs. Bryce says relationships, partnerships and collaboration between consumers, farmers and farm workers have been critical to the farm's success. "My dad's words to me were: 'It's great to have all the fanciest equipment in the world but never forget, this farm has always been about people and relationships," he says. "Our farm is most proud of the long-term friendships that have been made while producing milk, eggs, chicken, turkey, sweet corn, grains and forage crops." Being recognized as a Century Farm underscores the importance of those relationships. "This award is special because it recognizes the long-term eort of multiple generations to provide food for human and cattle consumption," he says. The Rashleigh family celebrated its history with an on-farm event attended by community members and government representatives. Bryce's 101-year-old Aunt Betty attended as a special guest, too. Bryce arranged for a horse and buggy to pick Betty up from the seniors residence where she lives. "[She] lived through two pandemics," he says. "The midwife who was supposed to deliver her ended up getting sick with the Spanish u, so they had to nd a replacement. … Her life is bookended by two pandemics, and she's lived through the entire span of our farming on Vancouver Island."
Page 42
42 | NOVEMBER 2021 COUNTRY LIFE IN BCThis is a refreshing combination of bright avours and textures that also looks very appetizing. 3-4 c. (1 l) chopped greens 1/2 c. (125 ml) diced cucumber 1 barely ripe pear Lemon-Poppy Seed Dressing 6 tbsp. (90 ml) olive oil 1/4 c. (60 ml) water 1/4 c. (60 ml) lemon juice 2 tbsp. (30 ml) white wine vinegar 1 tbsp. (15 ml) toasted poppy seeds • For the salad, chop a combination of crisp greens such as romaine lettuce or mesclun greens and put into a salad bowl; dice cucumber and add; core and dice a rm pear and add. Rinse fresh blueberries and crumble blue cheese and add. Break whole pecans in half and top the salad with them. • Combine all ingredients for the dressing in a jar with a tight-tting lid and shake vigorously before pouring over the salad. • Serve immediately. PEAR & BLUEBERRY SALADYummy Okanagan-grown pears make a delicious accompaniment to salad greens. JUDIE STEEVESFlavours of fallFresh salad and savoury stew make dinners easyThe last of the season's farm and garden bounty is now available. Some is being preserved through winter, while other produce must be eaten and enjoyed now. Apples keep very well through the winter months under ideal conditions, but some pear varieties like the Bartlett must be eaten and enjoyed as soon as they ripen. Pears are tricky because they must be picked green and eaten before they get too yellow or they end up being just brown mush inside if you leave them a day or two too long. We had a pear tree in the back yard many years ago and we were completely innocent about growing fruit. That rst year we left the pears to ripen on the tree. What a mess of rotten, wasted fruit. We never did that again. Although I still have a couple of very old apricot trees, on the whole, I leave the growing of tree fruits to the orchardists. I enjoy the rewards of their nurturing and harvest at the farmer's market or gate. That also helps prevent the spread of pests Jude's Kitchen JUDIE STEEVESand disease from home-grown tree fruits to commercial orchards where the knowledgeable growers take care to control infestations. Pears and blueberries are some of my favourite fruits, so it was a no-brainer to combine them in the same salad, along with one of the blue cheeses which are now produced in a number of BC dairies by some of our talented cheesemakers. What a wonderful combination. It's also time to harvest the last of the squashes and melons, some of which keep well into winter with an application on the outer rind of a weak bleach solution to deter growth of organisms. I love butternut, acorn, hubbard, spaghetti and the many other winter squashes. They're so versatile. I use them in everything from grilled appies to soups and desserts such as pumpkin pie, not to mention the more-common cooking and serving methods, like roasted or stued with ground meats and vegetables and herbs. I've dried my herbs for the winter or preserved some in oils and vinegars; I have bags of lovely tomatoes in the freezer, along with basil pesto, berries and other fruits; and there are jams, jellies and jars of preserves in the pantry. The garden has been put to bed, waiting to be blanketed in the rst snow of winter and this past summer's heat and drought, wildre and ood are now just a memory. It's a memory we will build on in coming years, preparing ourselves better for such extreme weather events, but nonetheless, it's just history now. Time to toss those root vegetables in the roaster or the crockpot with a suitable protein and create a warming winter meal. This stew recipe has a bit of spiciness to it. It has no our, but uses cornmeal instead to thicken it. It's delicious with a topping of dumplings, or spooned over cornbread. 2 lb. (1 kg) lean beef 2 cloves of garlic, minced 1 large onion, sliced 2 1/2 c. (625 ml) chicken broth 1 tbsp. (15 ml) dried oregano 1 tbsp. (15 ml) cumin powder 1 tsp. (5 ml) salt • Trim meat and either cube it or cut into thick strips. • Heat oil in a Dutch oven and brown the meat and onions, adding the minced garlic, then the broth and spices. • Add sliced carrots, parsnips and celery. • Transfer to a crockpot or slow cooker, turn to low and let cook for about eight hours. Turn up to high and add the cornmeal, letting it bubble for 15 minutes or so to thicken. • Or, bring to bubbling on the stovetop, then reduce the heat to low and simmer for a couple of hours, either on the stove or in a medium-hot oven. • When the meat is tender, stir in cornmeal and bring back to bubbling, simmering for a half hour longer, until the sauce is nice and thick. Serves 6 to 8. STEW WITH A BIT OF A KICK1/2 c. (125 ml) fresh blueberries 1/4 c. (60 ml) crumbled blue cheese 2 tbsp. (30 ml) pecan halves 4 to 6 carrots, diced 2 parsnips, diced 1 or 2 stalks of celery, sliced 1 tbsp. (15 ml) minced jalapeno peppers 2 tbsp. (30 ml) cornmeal 1/2 tsp. (2 ml) black mustard seeds 1/2 tsp. (2 ml) sugar 1/2 tsp. (2 ml) dried mustard salt and pepper, to taste
Page 43
couNEXT MARKETPLACE DEADLINE NOVEMBER 20TRACTORS/EQUIPMENTCOUNTRY LIFE IN BC NOVEMBER 2021 | 43TRACTORS/EQUIPMENTREAL ESTATEREAL ESTATEWANTEDFOR SALEHAYSEEDBERRIESFor Tissue Culture Derived Plants of New Varieties of Haskaps, Raspberries, Blueberries, Blackberries, Saskatoon Berries and Sour Cherries, Please Contact:DISEASE FREE PLANTING STOCK OF NEW BERRY CROPS 4290 Wallace Hill Road, Kelowna, BC, V1W 4B6info@agriforestbiotech.com250.764.2224www.agriforestbiotech.com NEW POLYETHYLENE TANKS of all shapes & sizes for septic and water storage. Ideal for irrigation, hydropon-ics, washdown, lazy wells, rain water, truck box, fertizilizer mixing & spray-ing. Call 1-800-661-4473 for closest distributor. Manufactured in Delta by Premier Plastics Inc. premierplastics.com. Feeders & Panels that maintain their value!ROUND BALE FEEDERS BIG SQUARE BALE FEEDERS FENCE PANELS CATTLE & HORSE FEEDERSHeavy duty oil field pipe bale feeders. Feed savers, single round bale feeders outside measurement is 8'x8.5.' Double round bale feeder measurement is 15'x8'. Silage bunk feeders. For product pictures, check out Double Delichte Stables on Facebook Dan 250/308-9218 ColdstreamGREAT SELECTIONQUALITY PRICETerra Seed Corp1.800.282.7856terraseco.comWANTED: FARM LAND TO RENT in N. Okanagan for conversion into organic alfalfa seed production. Alden 204-979-7457 a_braul@hotmail.com DON GILOWSKI 250-260-0828 Royal LePage Downtown Realty Ltd BUYING OR SELLING OKANAGAN FARM, RANCH OR ACREAGE? COURTENAY HEREFORDS. Cattle for Sale: yearling bulls and bred heifers. John 250/334-3252 or Johnny 250-218-2537.PYESTERDAY'S TRADITION - TODAY'S TECHNOLOGYMANAGERS Phil Brown 250-293-6857 Catherine Brown 250-293-6858 ccr.princeton@gmail.com www.coppercreekranch.com PRINCETON, BC Raising registered polled & horned Herefords & F1s. BREEDING BULLS FOR SALE.RAVEN HILL MEADOWS: Coneygeers bloodlines - call for seedstock. 250-722-1882. NanaimoLIVESTOCKIt's the top linethat makes the Bottom LineBC SHORTHORN ASSOCIATION Scott Fraser, President Bob Merkley, BC Director 250-709-4443 604-607-7733ZcXjj`Ô\[j7Zflekipc`]\`eYZ%ZfdfiZXcc1-'+%*)/%*/(+C@E<8;J1),nfi[jfic\jj#d`e`dld(*gclj>JK#\XZ_X[[`k`feXcnfi[`j%),;@JGC8P8;J1),gclj>JKg\iZfclde`eZ_M[WYY[fjcW`ehYh[Z_jYWhZi$DECEMBER DEADLINE NOV 20FARM EQUIPMENT • FORD 4610 TRACTOR, 60HP, Nar-row, Low Profile 2wd, Nice Cond, $11,500. • CATERPILLAR 215 EXCAVATOR, Mechanical Thumb, Caged all around, $22,000. • NEW HOLLAND 8 row hyd fold corn head for a self propelled harvester, Claas style, can be fitted to JD, $12,500. • IH, GEHL, NH, JD,1 to 3 row corn heads, $750 to $3500 each. • FELLA TEDDER 6-Star, folds back, low acres, $5500. • KUBOTA FLAIL MOWER, 50" 3ph, $1950. • KHUN GC300G Disc Mower Condi-tioner, 10' cut, low acres, $12,500. • NH 258 and 260 Rakes with tow bar, V-Combo set, $5900. • VICON WHEEL RAKES, 4 to 8 wheel, 3ph, drawbar and V Combinations, $350 to $2200. • HAY WAGON and Utility Trailer Chassis, $200 to $2000. • WELDERS and Air Compressors, all types and sizes. • HYSTER 3PH FORK-LIFT, Heavy Duty, $2300, Other Fork-Lifts and at-tachments. • JIFFY/CRAWFORD HYDUMPS, 14', $2500 to $6000. • Fixer-Uppers and Antique Tractors, Massy, Fordson, Kubota. • LOADER ASSEMBLIES, FORD/NH, CASE/IH, ALLIED, TIGER. • HAY, 400-16' by 18' Bales on trailers, can deliver, OFFERS! CALL JIM FOR ANY HARD TO FIND ITEMS ABBOTSFORD 604-852-6148DeBOER'S USED TRACTORS & EQUIPMENT GRINDROD, BCUSED JD TRACTORS 60-100 HP JD 7810 75,000 JD 5105 2WD, 2006, 1,400 HRS 15,000 [ADD LOADER TO 5105 3,500 JD620 21' disc dbl fold 20,000 KVERNELAND 7512 round bale wrapper w/3 spool valve 4,500 ED DEBOER 250/838-7362 cell 250/833-6699 CURT DEBOER 250/838-9612 cell 250/804-6147• ROCK PICKER converted potato harvester. Asking $2,500 • MF 12' disc harrow, $3,500 Contact Carl 604-825-9108 or email ourgoodearth@live.comTop DORPER RAM LAMBS for sale; BORDER COLLIE pup for sale. Call or text 250-706-7077.1-888-770-7333SCOTTISH HIGHLAND BULLS for sale, long yearlings. Phone 250-546-3646PREMIUM HAIR SHEEP BREEDING STOCK FOR SALE. ST CROIX And ROYAL WHITE: parasite resistance, small bone/less fat, all season breed-ing, premium meat, maternal excellence REGISTERED WHITE DORPER EWE LAMBS: vigour, rapid gain, high meat yield. All excellent health, clean genetics, ideal conformation. 250-682-8538 Carrie Nicholson PREC* 250-614-6766 DISCOVER PRINCE GEORGE PRINCE GEORGE & AREA SUBDIVISION LOTS: R2599066; R2599013; R2598853; R2598860; R2599054; R2610535; R2610527; R2610554; R2610531; R2610543 EQUESTRIAN/CATTLE RANCH. Out-standing 445 acre property w/~250 acres in hay/pasture, updated home, MLS R2604494 $1,650,000 CRANBROOK HILL 77 acres w/dev potential minutes from UNBC. MLS R2599818 $1,500,000 HART HWY 54.95 acres. MLS R2598804. $750,000. STUNNING LAKEFRONT Year-round home with over 1000' of shoreline on Francois Lk. MLS R2605976 $399,900 LITTLE GEM Fantastic 3 bed/2 bath family home on 5.23 flat acres. MLS R2609051 $499,900 CLOSE TO DOWNTOWN 8.3 acres. MLS R2610880 $295,000 160 ACRE parcel near Fraser Lake. MLS R2610887 $294,900 310 ACRES on Leg Lake (Fort Fraser). MLS R2610870 $374,900 LARGE 5 bed/2 bath home on 1.6 acres. MLS R2601948 $389,900 74 ACRES w/ 20,000 sq ft bldg., 40 acres cultivated. MLS C8037690 $1,700,000 FANTASTIC find in Beaverley. 5 bed/3 bath home w/suite on 7.52 acres. MLS R2590538 $549,900 ESCAPE the city. Two lots in Willor River, 22,500 sq ft. MLS R2591708, $49,900 MIWORTH. 4.07 acre building lot. MLSR2593015 $175,000 STUNNING LAKE VIEWS. Executive home, MLS R2593375 $769,900 PRIVATE acreage south of Quesnel. 5.9 acres, 6 bed/3 bath home, MLS R2594685. $355,000 145 ACRES Develop into a farm or private retreat. 5 bed/2bath home. MLS R2565420, $649,900 COUNTRY ESTATE 5 acres, 2,800 sq ft home; horselovers delight. MLS R2556910 $889,900 69+ ACRES ON RIVER Approx 50 acres in hay. River, road access. MLS R2569334 $785,000 RANCH PARADISE 700 acres, 5 titles, 160 acres in hay. MSL C8038028 $1,244,421 VANDERHOOF 5.15 building lot. R2575990 $79,900 55 ACRES Dev potential close to airport. MLS R2435958, $599,900 112.02 ACRES IN CITY LIMITS. Potential for development. MLS R2435725. $1,300,000 REID LAKE Sprawling 2,100 sq ft rancher on 16 acres. MLS R2616368 $289,999 VANDERHOOF 2 homes on 160 acres (95 in hay) MLS R2615764 $899,900 PRINCE GEORGE & AREA RURAL LOTS see MLS: R2531431; R2531443; R2603761; R2603767; R2603772; R2603775 CUSTOM RANCHER on 10 acres, 4 bed/4bath. Pole barn w/hay storage. MLS R2624248 $599,900 FANTASTIC LOCATION 4 bed/2bath home w/24x24 shop. MLS R2621328 $410,000 TREED LOT on edge of the Fraser. MLS R2622560 $250,000 160 ACRES waiting for ideas. MLS R2622568 $ 229,900ALLIS CHALMERS 18' finishing disc, c/w hydraulic wings, good condition, $7,000, call 250-567-2607KVERNLAND PLOW PARTS complete bottoms, including coulter - conven-tional model, $1000 ea; disc blades also available; Call 250-567-2607.Excellent ROUND BALES, clover/grass mix. 800 lb bales. 604-220-4903
Page 44
44 NOVEMBER 2021 COUNTRY LIFE IN BC A TRUE WINTER WARRIOR The Kubota MX Series is a powerful comfortable year round tractor the feature packed cab PROUD PARTNER OF protects you from all the elements while its new high back suspension seat offers greater comfort Heavy snow The heavy duty MX has the weight and durability to push through it along with its compact design and tight turning radius for maximum manoeuvrability Year round More like years to come ABBOTSFORD AVENUE MACHINERY CORP 604 864 2665 OLIVER GERARD S EQUIPMENT LTD 250 498 2524 COURTENAY NORTH ISLAND TRACTOR 250 334 0801 PRINCE GEORGE HUBER EQUIPMENT 250 560 5431 CRESTON KEMLEE EQUIPMENT LTD 250 428 2254 SMITHERS HUBER EQUIPMENT 250 847 3610 DAWSON CREEK avenuemachinery ca DOUGLAS LAKE EQUIPMENT 250 782 5281 VERNON DUNCAN 1521 Sumas ISLAND TRACTOR SUPPLY LTD 250 746 1755 KAMLOOPS KELOWNA Way Box 369 Abbotsford BC V2T 6Z6 DOUGLAS LAKE EQUIPMENT 250 851 2044 604 864 9568 AVENUE MACHINERY CORP 250 769 8700 AVE010 kubota ca AVENUE MACHINERY CORP 250 545 3355