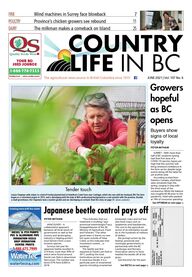 Return to flip book view
June2021
Page 1
Postmaster, Please return Undeliverable labels to: Country Life in BC 36 Dale Road Enderby, BC V0E 1V4CANADA POSTES POST CANADA Postage paid Port payé Publications Mail Post-Publications 40012122Vol. 107 No. 6The agricultural news source in British Columbia since 1915 JUNE 2021 | Vol. 107 No. 6FIRBWind machines in Surrey face blowback 7 POULTRYProvince's chicken growers see rebound11 DAIRYThe milkman makes a comeback on Island25PETER MITHAM VANCOUVER – A collaborative approach between all three levels of government as well as the nursery and landscaping industry is helping protect local farmers from a new invasive species. Surveys last year for Japanese beetle resulted in 214 nds, more than 99% of which were found around David Lam Park in downtown Vancouver. The number was down 97% from 8,000 in 2018. "This indicates that our treatment is working," says provincial entomologist Tracy Hueppelsheuser of the BC Ministry of Agriculture, Food and Fisheries. "The other good news is there's no new hot spots outside of False Creek, so this indicates that movement control ... is working." The beetle was rst reported at David Lam Park in 2017, putting the local horticulture sector on guard. A voracious feeder, it is a particular pest of ornamental species including ornamental knotweed, roses and turf but also food crops such as raspberries and blackberries. The cost to the agriculture sector of an infestation would be in the hundreds of millions of dollars. But prompt action by the federal, provincial and municipal governments in partnership with the BC Landscape and Nursery Association seems to have headed the beetle o at the grass. Soil drenches for the past Louisa Chapman adds stakes to a bed of freshly planted basil at Hawthorn Creek Farm near Castlegar, which she runs with her husband, Bill. The farm began as a retirement project in 2015, and is developing with the help of Bill's professional background as a soil scientist with the province. Besides a small greenhouse, the Chapmans have a market garden and are developing an orchard. Read the story on page 37. BRIAN LAWRENCE1-888-770-7333 Quality Seeds ... where quality counts!YOUR BC SEED SOURCESee BEETLE on next page oGrowers hopeful as BC opensBuyers show signs of local loyaltyPETER MITHAM SURREY – With more than half of BC residents having had their rst dose of a COVID-19 vaccine, hopes are high that this summer will bring renewed condence in the farm sector despite large events being o the table for yet another year. According to data from Statistics Canada, retail food sales remained high this spring, surging in step with the third wave of the coronavirus. While the balance was roughly 60-40 prior to the pandemic, retail sales peaked at 74% of consumer spending Tender touchSee OPTIMISM on next page oGrowing more with less waterwatertecna.comttttttttIRRIGATION LTD1.888.675.7999 888 6 9999888669999 Diesel & PTO Pumps PVC & Aluminum PipeIrrigation ReelsDRIP IRRIGATIONCentre PivotsJapanese beetle control pays off
Page 2
OPTIMISM prevails in farming sector as pandemic starts to wane nfrom page 1BEETLE control working nfrom page 1on food during the pandemic while foodservice expenditures dropped to 26%. The pattern returned in January and February as growers in southern BC began to prune plants and prepare for planting. While potato growers kept plantings even with a year ago at 6,500 acres, the mix shifted in favour of yellow, white and red table varieties as growers moved away from Kennebecs, a favourite chipping variety for local restaurants. According to BC Vegetable Marketing Commission market analyst Aanchal Sandhu local demand and strong pricing helped boost sales of root crops and greenhouse vegetables to $416 million last year, a 12.5% increase from 2019. "People wanted to buy local so there was a strong market demand for BC product," she says. "Also, kudos to strategic marketing with promotion geared to the value-added categories." The demand last year paid o for vegetable growers with some of the strongest pricing of the decade. Potatoes pricing reached a 10-year high of $833 a ton, even with lower demand from the foodservice channel. Greenhouse crops also saw strong pricing, with their total value rising 10% to $336 million. This is supporting greater acreage this year after a decline of 36 acres last year. While production of specialty crops such as lettuces will decrease, greenhouse growers intend to boost both tomato and pepper production this year. Tomato growers have requested an allocation of 40 acres and while pepper growers have requested 51 acres. While the majority will come into production next year, the optimism is clear. The additions will see total greenhouse production expand to 3 million square metres (730 acres) and increase production by 7%. Sandhu notes that sweet bell peppers currently account for 53% of BC greenhouse production, with red peppers leading the way with 27.3% of greenhouse production. While beefsteak production fell 49% in 2020, prices rose to their highest level in ve years. Tomatoes on the vine also saw lower production and signicantly higher pricing in 2020. Supply managed sectors Supply managed groups are also seeing demand recover after a tumultuous year. Chicken growers, for whom retail sales account for 58% of volume, have received a 3% increase in production for the period beginning August 1 as consumers keep chowing down on chicken. Similarly, the BC Milk Marketing Board has announced a series of incentive days beginning in August in anticipation of greater demand following the roll-out of vaccines and the resumption of a more normal life this fall. One incentive day has been announced for August, and three days for 2 | JUNE 2021 COUNTRY LIFE IN BCeach of the following three months. "In addition to the cyclical need for milk in the fall, we should consider the potential for the [hospitality and institutional] sector to start its recovery (if vaccinations continue at this rate) and an increase in demand to serve these markets," the board says. Indoor dining restrictions lifted as this issue went to press, setting the stage for purchases that will benet local farmers. Travel restrictions will life in mid-June. But harvesting this year's crop also stands to be an ongoing challenge. According to the BC Fruit Growers Association, about 5% of workers from Mexico are not making their scheduled ight, due to problems with mandatory COVID-19 tests and other documentation. This is resulting in delayed arrivals, if not absences. Restrictions on international ights continue to be a hurdle for employers. While the province has worked to assure farmers that domestic workers will have leave to enter the province, whether or not they arrive as needed is another question. Work continues with reforestation rms to ensure tree planters who want to work in the Okanagan can do so, similar to last year. With activity picking up, WorkSafeBC launched a special compliance eort targeting wineries, cideries and other venues in late May to ensure COVID-19 safety plans were being followed. While restrictions have lifted, caution will likely be the watchword for months to come. This is also true at farmers markets, which will continue to discourage socializing this year. "It's now more important than ever to focus on safety," says Vancouver Farmers Market executive director Laura Smit. "We know farmers markets are essential for more than just food, and look forward to being places that foster community and connection when we're through this pandemic," she says.captures, pesticide applications will continue to focus on the False Creek area. Trapping is already underway that will help determine pesticide applications for next year. Traps are placed both at ground level and, following signicant success last year, in canopies. Originally intended to reduce vandalism, the canopy traps were 2.5 times as eective as the standard traps and accounted for 77% of all beetle captures last year. Hueppelsheuser said the success may have been the result of environmental conditions, and potentially a larger pheromone plume three years on public and private lands in a control area around downtown Vancouver plus restrictions on the movement of plant materials have limited the insect to "a fairly concentrated epicentre" around False Creek. Pesticide applications to control the insect will begin this month. In addition to the soil drench Acelepryn, there were targeted foliar applications of BeetleGone, a microbial insecticide. The active ingredient is Bacillus thuringiensis (Bt). While the soil drench takes care of beetle larvae, the foliar pesticide addresses feeding adults. Based on last year's beetle being more eective at attracting beetles from a larger area. The canopy traps will see wider use in 2021. Hueppelsheuser said authorities will also be paying close attention to Port Coquitlam, where one female beetle was found last year. While nds outside Vancouver have been rare, the Port Coquitlam site is a major transportation corridor and any population here could easily hitch a ride out and spread across the region. In the meantime, control and surveillance activities will focus on False Creek in the hope of achieving eradication. "Two years of no beetles will indicate eradication, and of course [the Canadian Food Inspection Agency] will continue to survey and keep an eye on things even when the operation is completed," Hueppelsheuser said. WHOOPSIE! In our coverage of AgSafe BC's agm in last month's edition, we missed noting Paula Baxter has joined the new board of directors. We apologize for the oversight. Patrick is an experienced portfolio manager that brings a focused nancial and estate planning team to clients to ensure the best and most eective investment decisions are made now and in the future. The RBC Wealth Management investment and planning program provides income security and tax minimization in the context of a holistic nancial plan and road map for each client."It is the hard work, love and character of the farmer that makes the farm."www.tractorparts4sale.caABBOTSFORD, BC Bus. 604/807-2391 email: tractorparts4sale@shaw.caWe accept Interact, Visa and Mastercard VICON PS602 FERTILIZER SPREADER, 3 PT, 1,000 KG CAPACITY . $2,200 MASHIO CM4500 14' PWR HARROW W/ROLLER GD COND. . . . 14,000 VIBRA 8.5 FT 3POINT CULTIVATOR WITH HD SPRING LOAD 22" SHANK. GOOD CONDITION . . . . . . . . . . . . . . . . . . . . . . . . . . . . . . . 1,200 YANMAR FX42D 2WD OPEN STATION, 42HP PSHIFT TRANS, 4 SPEED PTO. 2961 HRS. . . . . . . . . . . . . . . . . . . . . . . . . . . . . . . . . . 6,500 CLAAS 350T AND 370T PULL TYPE ROTARY RAKES . . . . . 4,500 & 6,500 SIP 165G THREE POINT DRUM MOWERS, GD COND. . . . . . . . 2,800 ea KUHN 1219 SINGLE AXLE MANURE SPREADER WITH GATE . . . . 6,500 JOHN DEERE 7000 4 ROW, DRY FERT, MECH MARKERS, NEW FINGERS . . . . . . . . . . . . . . . . . . . . . . . . . . . . . . . . . . . . . . . . . SOLD! JOHN DEERE HD BALE CONVEYOR 40FT ON ADJ FRAME WITH AXLE, PTO DRIVEN . . . . . . . . . . . . . . . . . . . . . . . . . . . . . . . . . . . . . . . . . . . 1,200 MF 265 2WD, CAB, 60 PTO HP, INDUSTRIAL LOADER . . . . . . . . 10,500 LOEWEN 9612 VERTICAL MIXER . GOOD CONDITION . . . . . . . 14,000NEW REPLACEMENT PARTS for MOST TRACTORS & FARM IMPLEMENTSGD Repair LtdTractor/Equipment Repair Mobile Service Available
Page 3
Nursery sales rise as consumers stick close to homePlant sales get a green thumbs-up from shoppersCOUNTRY LIFE IN BC JUNE 2021 | 3MYRNA STARK LEADER & PETER MITHAM KELOWNA – A week before the May long weekend there wasn't a hanging basket to be found at The Greenery Garden Centre in Kelowna. While the family-run nursery ranks among the largest producers of ornamentals in the Okanagan, with more than 2.5 acres of greenhouse space, its entire stock of more than 24,000 hanging baskets was sold out. The nursery knew demand would be strong. It opened in February this year, earlier than ever before, and production had ramped up to meet increased demand for tropicals and garden plants during the pandemic. But head grower Bob Hackman says the lack of stock still caught customers by surprise, especially those who wait to purchase plants until the risk of frost passes. The outcry was so strong that on May 18, the nursery posted an explanation of its growing process and why stock was depleted. Simply put: demand was overwhelming. Ordering begins the previous June for each spring's oerings. Unrooted cuttings are ordered and arrive from suppliers in Costa Rica, El Salvador, Israel and Africa. "We have discussions from now through fall and winter as to what the buying patterns and trends will be for next year and try to grow accordingly," says Hackman. "It's about predicting what customers want and also how much." Hackman says 2019 was a good year for the business. But last year's restrictions and consumer fears left them with spare stock even after their annual 2-for-1 end of season sale. This year, consumers surged back. With familiar protocols in place and sta on hand to ring through purchases, sales blossomed. The shifts are in line with forecasts Chilliwack grower Brian Minter delivered to the BC Landscape and Nursery Association last fall, and reiterated at the Lower Mainland Horticultural Improvement Association short course at the end of January. With more people staying home last year, more money was spent at local nurseries and garden centres. Some estimates suggest a 25% to 33% increase in sales. People may not have been able to y to the tropics, but they could bring the tropics to them via exotic owers. Demand increased for annuals and perennials in particular, as well as owering shrubs. With limits on imports, any garden centre that had a supply of high-quality, colourful plants saw demand. "We've got a reduced market in terms of availability, we've got no imports coming in, we've got people staying at home trying to make their homes more beautiful," says Minter. He expects demand to continue at least until late summer and fall, by which time most people will have been vaccinated and will likely feel more comfortable circulating again. This may shift some spending away from ornamentals. But it may not, especially for those under 40, both the millennials and the Gen Zs now in their 20s. "It looks like those two younger generations are very keen to increase the money they're spending – disposable income – on plants and owers inside their homes," he says. This makes it important for garden centres to plan ahead in order to meet future demand, so far as that's possible. Demand last fall outstripped the expectations of many vendors, catching many growers short. The experience of the Greenery and others this spring shows that demand remains tough to gauge. "There's no problem with the sales in terms of what's going to happen," warns Minter. "There's an enormous problem in terms of being able to nd product and supply." Hackman says this spring's strong sales are cause for optimism, but the Greenery will begin planning for next spring's stock with a mite of caution. "We are hoping the trend to more people purchasing plants like tropicals for inside to keep things green, or owers and herbs and vegetables for indoor and outdoor growing will continue," he says. "But we also wonder about the long-term. What will people do when they can travel again? Will they still want plants and a garden like now and gure out a way to manage both? We don't know." CLEANED OUT. Bob Hackman, head grower at The Greenery Garden Centre in Kelowna, says strong early sales left shelves much more bare than usual for the May long weekend. In an effort to meet customer demand, they've moved some plants to the sales oor earlier than they'd like, warning customers the plants will need longer to root before being planted. MYRNA STARK LEADERProudly offering quality farm equipment and wholesale farm product delivery across BC.Call, email or visit us onlineinfo@reimersfarmservice.com855.737.0110reimersfarmservice.comCheck out our Einbock Tillage Equipment For Organic FarmingTine Weeders t3PX$SPQ$VMUJWBUPSTr3PUBSZ)PFT $BNFSB(VJEBODF4ZTUFNAND On In StockAEROSTAR Tine WeedersDELTA Drain Tile Cleaner *NQSPWFT%SBJOBHFr$POEJUJPOT4PJMr&DPOPNJDBM 3FMJBCMFr-PX.BJOUFOBODFr4BGFBOE1SPWFOSPECIAL PRICING On In Stock YOURHelping YouHelping YouSignSign up today forfor freeupy eeWEEKLY FARM NEWS UPDATES
Page 4
Advertising is accepted on the condition that in the event of a typographical error, that portion of the advertising space occupied by the erroneous item, together with reasonable allowance for signature will not be charged, but the balance of the advertisement will be paid for at the applicable rate. In the event of a typographical error which advertises goods or services at a wrong price, such goods or services need not be sold at the advertised price. Advertising is an offer to sell, and may be withdrawn at any time. All advertising is accepted subject to publisher's approval. All of Country Life in British Columbia's content is covered by Canadian copyright law. Opinions expressed in signed articles are those of the writer and not necessarily those of Country Life in British Columbia. Letters are welcome, though they may be edited in the interest of brevity before publication. All errors brought to our attention will be corrected.36 Dale Road, Enderby BC V0E 1V4 . Publication Mail Agreement: 0399159 . GST Reg. No. 86878 7375 . Subscriptions: $2/issue . $18.90/year . $33.60/2 years . $37.80/3 years incl GSTThe agricultural news source in British Columbia since 1915 Vol.107 No. 6 . JUNE 2021Published monthly by Country Life 2000 Ltd. www.countrylifeinbc.comPublisher Cathy Glover 604-328-3814 . publisher@countrylifeinbc.com Editor Emeritus David Schmidt Associate Editor Peter Mitham news@countrylifeinbc.com Advertising Sales & Marketing Cathy Glover sales@countrylifeinbc.com Production Designer Tina Rezansoff Need a shot in the arm, PW? Prospering togetherThe woolly mammoth is believed to have evolved 400,000 years ago. The last remnants of the species died 4,000 years ago on Wrangell Island, north of Siberia in the Chukchi Sea. During the last ice age, no more than 26,000 years ago, woolly mammoths ranged over a vast grassland ecosystem now named after them. The Mammoth Steppe stretched across Eurasia, as far south as Spain and China, and across the Bering Sea land bridge to Alaska, Canada and the Arctic islands. The steppes were the largest biome on the planet in the late Pleistocene era and were home to vast herds of ice age herbivores including musk ox, Steppe bison, reindeer, elk, caribou, woolly rhinoceros, camel, antelope, horse and woolly mammoth. In southern France, ice age art in the Rougnac cave depicts woolly mammoths 158 times, along with bison, horse, rhinoceros, ibex, bear and man. The Wally's Beach archaeological site on the St. Mary's River in southern Alberta contains 11,000-year-old skeletal remains and the trackways of woolly mammoth, Western camel, Mexican horse, ancient bison and caribou. Analysis of the Wally's Beach data indicates the animals were being hunted by man, their herds were in decline, and the steppes were still a fully functioning grass ecosystem. The age of the Wally's Beach site coincides with the ending of the last ice age. The Bering Sea land bridge disappeared, along with most of the Mammoth Steppe ecosystem and almost all the megafauna that lived on it. Science has generally accepted this to be the result of a warming climate that accompanied the receding ice sheets and turned the dry grassy steppe into wet, moss-covered tundra. Russian geophysicist Sergei Zimov disagrees. He believes the warming climate coaxed human hunters northward and the steppe grassland turned into tundra only after the grazing animals were removed. Zimov set up shop 40 years ago in a remote corner of Siberia, near the small town of Chersky, well above the Arctic circle, to study the permafrost that underlies a quarter of the landmass of the northern hemisphere. Locked in the permafrost is an estimated 1.6 trillion tonnes of carbon – more than twice the carbon currently in the atmosphere and three times as much as is held in the world's forests. The permafrost is melting, and it is the spectre of a feedback loop of carbon release causing runaway climate warming that drives Zimov's research. He is recognized as a world leader in the study of permafrost and what is happening to it. He found permafrost was not melting uniformly, and it contained a lot of bones of Paleolithic animals, particularly woolly mammoths. That a diverse population of large grazing animals had lived across the Arctic throughout the last ice age then suddenly disappeared, along with the ecosystem that sustained them, raised the questions that led to Zimov's hypothesis about human hunters. He devised an experiment to test his theory. Beside the Kolyma River, Zimov and his son Nikita assembled a mixture of grazing animals – Yakutian horses, bison, musk oxen, elk, reindeer, sheep, yak and Kalmyk cattle – to resurrect the Mammoth Steppe in a 50-square-mile reserve called Pleistocene Park. It looks as if they are on to something. After 20 years of grazing, the grasslands are coming back. Most important to the Zimovs, more carbon is being sequestered in the upper soil layer and the average soil temperature is 2.2˚ lower on the grazed land. Zimov proposes to re-establish the Mammoth Steppe grassland environment as a means of stopping permafrost melting. It seems an ambitious undertaking. The Arctic area of Russia alone is nearly 13 million square miles, and Zimov envisions the project to include parts of Alaska and the Yukon as well. It does seem more plausible compared to some other undertakings, like the plan to spend 26 times as much as the US decit to put giant mirrors in orbit to block out part of the sun. Somehow, grazing animals reviving an ecosystem that once rivalled the biodiversity of the present-day African savannah, stores carbon and might keep the permafrost from melting seems like a better bet. If current gene editing experimentation at Harvard University is successful in recreating woolly mammoths, the Zimovs are prepared to give them a home. While some of this may seem like science ction, the whole notion of a healthy, diverse grass-based ecosystem dependant on grazing animals won't come as any surprise to most ranchers or stock farmers. Bob Collins raises beef cattle and grows produce on his farm in the Alberni Valley. The Back Forty BOB COLLINSA mammoth solution to climate change We acknowledge the financial support of the Government of Canada.4 | JUNE 2021 COUNTRY LIFE IN BCThere's an unusual degree of optimism running through many parts of the country right now. It's even starting to make headlines, as a post-pandemic future begins to unfold as more and more doses of vaccines give people the condence to start circulating again. Vaccines may not make them invincible, but they're providing a much-needed shot in the arm. The optimism is also being felt by growers. Circuit-breaker initiatives this spring helped curtail the latest wave of the pandemic but also refocused people on what they could do at home. Retail food sales increased as restaurant service was restricted, benetting growers supplying these outlets while the hope of a broad reopening – now underway – gave supply managed producers the condence to plan for greater production this fall. The pandemic put a damper on the economy; the return of good health will put the economy back in track, too. "Cultivating Prosperity," a joint initiative of the BC Agriculture Council and Investment Agriculture Foundation, aims to ensure agriculture is a key part of the recovery. Articulating agriculture's role is something policy-makers will be hammering out this summer, but farmers are living it out daily. It involves getting the job done even when you have absolutely no cooperation from the weather, the machinery or the government. It also means having condence that a ckle consumer will want what you've produced. Strategic partnerships are key, and they're central to the Cultivating Prosperity initiative. The optimism farmers have this year is the outcome of last year's emphasis on the way COVID-19 highlighted the importance of the communities that were taken away from us. Food, and the farmers who grew it, were one way to stay connected. Now, as the pandemic draws to a close and other connections re-establish themselves, the risk is that people will forget that farmers continue to put food on our tables. While the pandemic has been an unforgettable experience, many people long to get back to a time when they didn't need to give the grocery run a second thought. But now, more than ever, we need to remember that we're still in this together.
Page 5
Teamwork essential to grow in the new normalStay flexible, stay connected to thrive post-pandemicCOUNTRY LIFE IN BC JUNE 2021 | 5report from Kwantlen Polytechnic University, BC Food Access Concerns and Perceptions during COVID-19, notes that already-vulnerable populations, particularly Indigenous and racialized communities – which include many essential farm and food business workers – simultaneously experienced increased job and food insecurity as well as high exposure to COVID-19. Signicant changes in consumer behaviour included people moving around less. New eating-at-home patterns saw increases in both comfort foods such as sweet and salty snacks as well as foods chosen to boost immune systems. Consumers showed greater concern about where food comes from and a stronger desire to buy local as well as grow and cook food at home. A January 2021 Ipsos Canada study reported 47% of respondents eating more home-cooked meals than before, 69% eating out at restaurants less often, and 50% (58% in BC) shopping more online. It's hard to know what consumers will do, and when, as the pandemic exit begins. White at Sysco suggests a "snap back" for the restaurant trade as well as strong continuation of online ordering and home delivery restaurant meals and meal kits. Garden suppliers indicate that a high percentage of consumers are once again planning to grow food at home this year. Labour woes BC Agriculture Council executive director Reg Ens singles out access to foreign workers as an even larger challenge this year than last due to ongoing travel restrictions and increased paperwork. BCAC identies labour and water as the top ongoing challenges for farmers. Ens notices that farm and food businesses with exible approaches and strong teamwork have been the most resilient in the pandemic. Sysco, for instance, quickly developed a "Foodies Unite" campaign that helped its restaurant customers set up takeout and delivery, pop-up restaurant modules and an online delivery service. The company also donated millions of meals to Canadians in need. Meeru Dhalwala of Vij's Restaurant in Vancouver said in a February 5 UBC Alumni webinar on the Future of Food that Vij's ability to adjust quickly to pandemic restrictions depended on pre-existing relationships with suppliers and customers. Customers are now asking about the provenance of the food rather than the technique. Dhalwala asked UBC for a course to help chefs and restauranteurs talk with customers about agriculture and food. The pandemic has alerted not just food providers but everyone to the importance of food security. Expanding reliance on local food is a good idea in principle, but easier said than done. During the past year, BC's farm and food businesses have stretched and re-invented just to keep going. To capture gains and make bigger shifts, we need more conversation and commitments all along the supply chain, especially between farmers and consumers. Kathleen Gibson is a policy analyst and founding member of the Capital Region Food and Agriculture Initiatives Roundtable (CR-FAIR), the BC Food Systems Network and Food Secure Canada. She lives and grows food on the traditional territory of the Lekwungen-speaking peoples and the Songhees, Esquimalt and WSÁNEĆ Nations. ORGANIC COMPOST FOR AGRICULTURAL APPLICATIONSNatural, nutrient-rich organic humusSustainable soil organics builderContains no manure,wood, or biosolids Less harmful & costly than chemical fertilizers veratecgroup.comAvailable for commercial and high volume supply. Contact us today for a quote.604.607.3002Don't forget to RENEW yourSubscription.One year on, the pandemic has exposed food system fault lines and has shown how much we can change in a hurry when we have to. These lessons will be helpful going forward. Response to the pandemic was sudden and sharp; the hoped-for exit is halting. A global Ipsos poll conducted across 30 countries in early 2021 asked respondents how long they thought it would be before a return to "something like your normal pre-COVID life." Canadians, aligned with the global average, mostly said "within the next year" (35%) and "in more than 12 months" (40%). Eight percent said "never." Among Canadian agri-food analysts, there is consensus that, so far, the food sector has "bent but not broken." However, on the supply side, despite government supports, food service has been severely damaged. Statistics Canada reported that 57% of food service and drinking outlets surveyed in the rst quarter of this year anticipate continued decreases in prot through June, and 51% are uncertain of their business survival. Food service is part of the "food away from home" distribution channel served by large companies like Sysco, which has three distribution centres in BC. Sysco Canada president Randy White told the Canadian Federation of Agriculture's 2021 annual meeting that 40% of Canadians patronized the food service channel prior to the pandemic and then, in one week, stopped. Sysco had to redirect $4 billion worth of product to retailers. According to the Canadian Agri-Food Policy Institute in its January 2021 report Conclusions from Agri-Food Community Consultations on the COVID-19 Pandemic, "many of the problems in the food system that came to light in 2020 were not caused by COVID-19, but heightened by it." On the production side, this includes the vulnerabilities of large concentrated operations, diculties accessing labour, and constraints of trade regimes and long supply chains. On the demand side, food insecurity is the greatest problem. A mid-2020 survey Viewpoint by KATHLEEN GIBSONDowntown Realty 4007 - 32nd Street, Vernon, BC V1T 5P2 1-800-434-9122 www.royallegpage.caPAT DUGGAN Personal Real Estate Corporation Royal LePage Downtown Realty Ltd. Farm | Ranch | Residential Bus: 250/545-5371 (24 hr) Cell: 250/308-0938 patduggan@royallepage.cawww.OkLandBuyers.ca Build your dream home! 44 acres of irrigated property ready for your new home, orchard, cattle or crops. Mostly usable land with shop. All perimeter and cross fenced ready for your ideas. Great valley views from all sides. MLS®10204233 $1,395,000Downtown Realty 4007 - 32nd Street, Vernon, BC V1T 5P2 1-800-434-9122 www.royallepage.caPAT DUGGAN Personal Real Estate Corporation Royal LePage Downtown Realty Ltd. Farm | Ranch | Residential Bus: 250/545-5371 (24 hr) Cell: 250/308-0938 patduggan@royallepage.ca5373 SILVER STAR RD, VERNONwww.OkLandBuyers.ca "Farmers helping farmers with their real estate needs"Unique country estate w/2 full-sized homes on 9 acres. Set up for horses w/arena, round pen and 10 paddocks w/shelters. Executive 4 bed/r bath main home; completely renovated second home w/6 beds, 2 baths. 27x40' Coverall. MLS®10230636 $2,749,000
Page 6
6 | JUNE 2021 COUNTRY LIFE IN BCARMSTRONG HORNBY EQUIPMENT ACP 250-546-3033 CHILLIWACK ROLLINS MACHINERY LTD 604-792-1301 CHEMAINUS ROLLINS MACHINERY LTD 250-246-1203 FORT ST JOHN BUTLER FARM EQUIPMENT LTD 250-785-1800 KELOWNA ROLLINS MACHINERY LTD 250-765-8266 LANGLEY ROLLINS MACHINERY LTD 604-533-0048 WILLIAMS LAKE GRASSLAND EQUIPMENT LTD 250-392-4024 VANDERHOOF GRASSLAND EQUIPMENT LTD 250-567-4446© 2020 CNH Industrial America LLC. All rights reserved. New Holland is a trademark registered in the United States and many other countries, owned by or licensed to CNH Industrial N.V., its subsidiaries or affiliates.With up to 100 PTO hp on tap, there's virtually no job a PowerStar™ premium utility tractor can't handle. Mow. Grade. Bale. Stack. Load. Move material. Do it all with greater ease provided by 64- to 117-hp engines, a spacious VisionView™ cab and your choice of 2WD or 4WD. For supreme convenience, New Holland's Command Arc console puts frequently used controls in one place, increasing your productivity. Work with greater power and utility in a new PowerStar tractor. Stop by today or visit newholland.com to learn more. Power and utility– an unbeatable combination.ARMSTRONG 250/546-3033 3520 Mill Street | hornbyequipment@shaw.ca SERVING OUR CUSTOMERS WITH SALES, SERVICE & PARTS FOR 50 YEARS!
Page 7
COUNTRY LIFE IN BC JUNE 2021 | 7Blueberry and fruit farmers depend on wind machines like this to protect their crops, but some neighbours don't like the noise. FILE PHOTOGET REEL THIS SPRING!GET REEL THIS SPRING!Langley: 1.888.675.7999 Williams Lake: 1.855.398.775790/300 (3/3.5" x 985ft) No computer*$25,900.00100/420 (3.3/4" x 1380ft) No Computer*$31,400.00110/450 (3.7/4.33" x 1476ft) Computer*$41,600.00Reels are complete with Sprinkler & Inlet Hose!Reels are complete with Sprinkler & Inlet Hose!Free PTO Pump or $2500 Discount on Select Irrigation Reels!Free PTO Pump or $2500 Discount on Select Irrigation Reels!SANDRA TRETICK SURREY – The BC Farm Industry Review Board received a formal noise complaint on April 20 against a blueberry farm in south Surrey. According to reports in the Peace Arch News, the couple who initiated the complaint had moved to Morgan Creek from Vancouver in March and were kept awake several nights in a row that same month by what sounded like a helicopter going all night long. It turns out the noise was coming from two Orchard-Rite wind fans that were being used to protect blueberries from radiant frost damage during a late spring cold snap. When the air cools at night, frost accumulates on plant surfaces causing damage to the delicate buds. If severe enough, it can kill the plants outright. The owners of the family-run farm were approached for an interview but declined to comment to Country Life in BC about the specics of the noise complaint because all parties have been advised not to speak to media while the matter is under review. This part of south Surrey is home to a large number of blueberry farms and it isn't the rst time residents have raised issues with local farming practices. The Morgan Creek Homeowners Association lodged a formal complaint against another blueberry farm in the area in 2000 over the use of propane cannons to protect crops from birds. At the time, FIRB felt that education was a critical component in resolving urban/rural land use issues and identied the importance of education for new homeowners as to what it means to live in an active farming area. The complaint was dismissed. The area is historically rural and the farm at the centre of the current complaint has been in operation since the early 1980s, long before development of Morgan Creek started in 1994. Other residential subdivisions soon followed. When temperatures drop below -3°C during budding, the plants are damaged. At best, the yield is reduced. At worst, the farmer can lose an entire eld. The wind fans causing the uproar were installed in 2005 for protection against such spring frosts. Not uncommon Noise complaints against blueberry farms are not uncommon. Propane cannons received a lot of news coverage over the years and numerous complaints to FIRB, resulting in a 2009 report reviewing the use and regulations of propane cannons in the Lower Mainland. The dierence with wind fans is that they typically Wind machines in Surrey face blowbackComplaint lodged against blueberry farm about noiseDon't forget to RENEW yourSubscription.Although Willmar® pull-type spreaders can't control the volatility of fertilizer prices, they can certainly help improve your margins by delivering product more accurately and eciently than any other spreader. What more could you ask for?For Small to Large Farm Operationsoperate at night, when sounds are already more apparent in the relative quiet, whereas propane cannons operate between dawn and dusk. Added to that, sound carries further on cold nights when they are more likely to be turned on. Berries are not the only sector to be targeted by noise complaints related to crop protection. A 2018 FIRB decision regarding a noise complaint against Coral Beach Farms Ltd. from Lavington found that helicopters, frost fans, sprayers and blowers are standard industry practices in the Okanagan valley for drying cherries when rains threaten to split ripe fruit. The board noted, "from time to time, signicant noise See NOISE on next page o
Page 8
8 | JUNE 2021 COUNTRY LIFE IN BCNOISE complaints nfrom page 7TOLL FREE: 1-877-553-3373 WWW.PRAIRIECOASTEQUIPMENT.COMPRINCE GEORGE 250-561-4260 | KAMLOOPS 250-573-4412 | KELOWNA 250-765-9765 | CHILLIWACK 604-792-1516 | NANAIMO 778-441-3210It's MOW Time!NEW MOWER CONDITIONERS & BALERSMORE UPTIMEMORE CHOICESwith Quick Change Kniveswith 4 Conditioning Options for QUICKER DRYDOWN!ROUNDBALER560M5-YEAR CUTTERBAR WARRANTYMORE CONFIDENCEON ALL JOHN DEERE MOWER CONDITIONERS0% FOR 60 MONTHS*NOW IS THE TIME TO BECOME AN OWNER OR UPGRADE YOUR JOHN DEERE BALER OR MOWER CONDITIONER!NEW ZERO SERIES MOWER CONDITIONERS8 MODELS TO CHOOSE FROM!S250 (8') to the NEW C500 (16'4")UP TO 25% WIDER WINDROWS• Dry Hay or Silage• Optional Precutters• Optional MegaWide Pickups• Net Wrap w/ 10,000 bale adjust0% APR purchase financing for 60 months on new John Deere Balers and Mower Conditioners. O.A.C. Down payment may be required. Offer valid until June 30, 2021. See dealer for full details.disruption remains and that this is unavoidable" and advised the farm to implement a series of recommendations to reduce the impact of farm-related noise on neighbours. Once a notice of complaint has been led, the resolution process kicks in. "BCFIRB sta work closely with the parties to try and resolve complaints through a dispute resolution process," says FIRB executive director Kirsten Pedersen, adding that the complaint proceeds to a formal hearing if dispute resolution doesn't work out. "Prior to that, parties may work with ministry specialists or others to help resolve the complaint." FIRB does not have statistics on how many complaints are dealt with informally and doesn't track the number of ocial complaints led by people who recently moved close to a farm. BC Ministry of Agriculture, Food and Fisheries berry industry specialist Carolyn Teasdale did contact the berry farm following the initial complaint and suggested the equipment be calibrated to start at -2°C as the type of blueberries grown on site can withstand -3° to -4°C at the pink-tip stage. Previously, the farm had been turning on the machines at 0°C. The BC Blueberry Council also works closely with municipal bylaw enforcement ocers and growers to ensure compliance with normal farm practices. "In the majority of cases, we nd growers are neighbour-conscious and do take the necessary precautions to carry out on-farm activities," says BCBC executive director Anju Gill. When it comes to the broader issues that arise when development and farmland have to coexist side by side, she takes a more circumspect approach. "Perhaps the topic of suburban expectations and farming necessities require an intersectional lens to fully understand the complexity of the issue," she says. In the aftermath of the story in the local paper, community support for the blueberry farm was so overwhelmingly positive that it spurred a follow-up article focusing on the clash between urban expectations and rural needs. Most of the more than 300 comments on the newspaper's Facebook page and website community backed the farm's use of the wind machines to protect their crops. Dispute resolutionPassed in 1996, the BC Farm Practices Protection (Right to Farm Act) Act provides a balanced approach to resolving concerns about BC farm operations for people living near farms while also providing farmers with protection from unwarranted nuisance complaints. A person with a concern or complaint about farm practices has a choice of engaging in an informal or formal process to address their issue. The informal process includes speaking with their local government, the BC Ministry of Agriculture, Food and Fisheries, peer advisors or informally through the BC Farm Industry Review Board. FIRB also hears complaints, through a formal process, from persons distressed by noise, odour, dust or other disturbances from farms and certain aquaculture operations. Under the Right to Farm Act, FIRB can also report on and make recommendations about farm practices. These processes let farmers farm, keep people out of court, deal fairly with people's concerns and complaints and deal with poor farm practices when they might occur. Between 30% and 50% of complaint-related inquires to FIRB lead to a Notice of Complaint being led under the Right to Farm Act. There have been two new complaints this year to date (FIRB's year begins April 1), 12 last year and 23 the previous year. While normal farming practices are protected under the legislation, FIRB encourages farmers and their neighbours to work together to resolve disputes. The key issue is whether a disturbance from a farm is the result of normal farm practice. The inquiry is both fact and site-specic. The same practice may qualify as a normal farm practice in one situation but not in another where the circumstances are dierent. While a review of the Right to Farm Act was initiated under the BC Liberals in 2015, it was quietly cancelled by the BC NDP in 2018. The province says it has no plans to review the legislation at this time. —Sandra Tretick
Page 9
COUNTRY LIFE IN BC JUNE 2021 | 9BC Veg unveils strategic priorities as it looks aheadTwo recent lawsuits underscore ongoing challengesServing the Okanagan and Fraser Valley We've been proudly family owned and operated since opening in 1976. And with two blending plants, we're one of BC's largest distributors of granular, liquid and foliar fertilizers. Our buying power and proximity to the Fraser Valley makes us the logical choice for truckload shipments. OKANAGAN FERTILIZER LTD 1-800-361-4600 or 250-838-6414www.hlaattachments.com 1-866-567-4162 • Independent grapples for clamping of awkward loads• Tine and grapple tips are AR400 material• Compact models available• 1-1/4" shaft diameter• 2-1/2" spacing between tines• Points are 5/8" thick, 400 Brinell high strength steel• Compact models available• Grapple clamps on to any Class II fork frame with walk through guard Grapple shown mounted on HD55 pallet fork.BRUSH GRAPPLESINGLE ARM LOG GRAPPLESTONE FORKPETER MITHAM SURREY – The BC Vegetable Marketing Commission unveiled a new strategic plan at its annual general meeting last month even as a new salvo was red in a running dispute that prompted the plan's development. "After a thorough process and reviewing lots of data, the commission identied four strategic priorities for the next two to three years," chair Debbie Etsell said in her report to the meeting. "One is rebuilding trust in the system, the second is regulatory improvements, three is cultural shift and the fourth is continuity and consistency of board and management. We'll be constantly addressing these priorities and looking forward to engaging with producers and stakeholders over the coming year." Work began in 2019 and completed this year with the assistance of Rebecca Finley-Schidlowsky of Calgary management consulting rm Finley & Associates. "This has been a really thorough process with lots of data, and we really appreciate the assistance that we got from Finley & Associates," says Etsell. The plan lays forth a mission statement that says, "The BC Vegetable Marketing Commission wants an environment where growers thrive." This underpins the vision for an industry that's consumer-focused: "When you want the best produce, you want BC grown." A regulatory structure, stability and a location that allows BC to be rst to market with storage crops at home and also take advantage of export markets are advantages to achieving this vision. But there are several challenges on the way, with the most serious being the accountability of the system, legal challenges, over-production and food safety. Resistance to change is a common weakness in terms of overcoming the challenges. Concern around legal action is not unfounded. A strategic planning was initiated in tandem with a supervisory review of the commission's governance and structure, the accountability of designated marketing agencies and the methodology for determining storage crop delivery allocations. The BC Farm Industry Review Board initiated the review following several appeals of commission decisions, most notably in relation to an order and decision the commission issued against Prokam Enterprises Ltd. and Thomas Fresh Inc. in 2017. While several concerns those appeals raised have been addressed, commission members were advised of two civil claims led recently in BC Supreme Court that keep up the ght. The claims, led by Prokam and MPL British Columbia Distributors Inc., claim commission members Cory Gerrard, Peter Guichon, Blair Lodder John Newell and Mike Reed as well as general manager Andre Solymosi used their positions to prevent the plaintis from obtaining agency licences and thereby stop them from entering the BC market. While BC FIRB was not named, chair Peter Donkers told the commission meeting that it was paying close attention. "BC FIRB is also seeking legal advice in how best proceed in the face of these allegations, and will be providing updates as soon as appropriate," he says. However, not all commissioners named in the suits are continuing with the commission for another year. Commission vice-chair Peter Guichon, a long-time member has stepped down, as has Mike Reed. "Peter Guichon has devoted more time than any other to the BC Vegetable Marketing Commission. His knowledge, his commitment, will surely be missed," says Etsell. "We want to thank him for his many years of dedication, along with Mike Reed, who's brought wisdom beyond his years to the commission." The new roster includes Cory Gerrard, Blair Lodder, John Newell, Hugh Reynolds, Brent Royal, Armand Vander Meulen as well as newcomer Kevin Husband. One position, for greenhouse vegetables, remains vacant. Quick turnaroundThe threat of rain didn't stop workers from tending elds of greens at the 700 acres Vegpro International Inc. farms in Coldstream. Baby leaf lettuce and other greens are grown and packaged for distribution to major supermarkets throughout Western Canada under the Fresh Attitude banner. Vegpro acquired the property from Coldstream Ranch in 2017 as a way to expand operations in Western Canada. Founded in Quebec in 1998, Vegpro claims to be the largest fresh vegetable producer in Canada. MYRNA STARK LEADER
Page 10
10 | JUNE 2021 COUNTRY LIFE IN BCDustin Stadnyk CPA, CAChris Henderson CPA, CANathalie Merrill CPA, CMATOLL FREE 1-888-818-FARM | www.farmtax.caExpert farm taxation advice: • Purchase and sale of farms • Transfer of farms to children • Government subsidy programs • Preparation of farm tax returns • Use of $1,000,000 Capital Gains Exemptions Approved consultants for Government funding through BC Farm Business Advisory Services ProgramARMSTRONG 250-546-8665 | LUMBY 250-547-2118 | ENDERBY 250-838-7337View over 100 listings of farm properties at www.bcfarmandranch.comBC FARM & RANCH REALTY CORP.Buying or Selling a Farm or Acreage?GORD HOUWELING Cell: 604/793-8660GREG WALTON Cell: 604/864-1610Toll free 1-888-852-AGRI Call BC's First and Only Real Estate Office committed 100% to Agriculture!PROFESSIONAL SERVICESwww.tjequipmentllc.com 360-815-1597 FERNDALE, WA ALL PRICES IN US FUNDS2019 MCHALE FUSION 3 PLUS 1047 BALES, FIXED CHAMBER BALER & VERTICAL WRAPPING RING, FULLY AUTOMATIC $100,000LIQUID MANURE PUMPING SYSTEM, CORNELL PUMP, CRANE, HYD. FEEDER PUMP, 400 HP, UP TO 2400 GPM, 8" SUCTION & DISCHARGE $43,0001983 JD 2255 W. JD 146 LOADER 2WD, 55 HP, THIRD REMOT FUNCTION, TSS WITH LEFT HAND REVERSER $16,900MEYER 8122 "THE BOSS" SILAGE BOX, 22', REAR UNLOAD, LIVE FLOOR $14,000Editor: Re: Water licence angst, page 1, May 2021 The article on groundwater licensing in the May issue of CLBC was timely. However, I am writing to clarify the use of the term "well registration" in the title of the article. "Well registration" is commonly used when talking about groundwater licensing but that term is actually misleading. "Registering a well" means submitting a well record to the province's water well database (GWELLS). It is not the same as obtaining a licence to use groundwater. In registering a well, typically the well record is submitted to government by the driller to record the drilling of the well and the geology the driller encountered during drilling. Drillers must submit a record to government for every water supply well they drill; this has been a requirement for drillers since 2016. People might be misled that because their well record is registered in the government's GWELLS database, they feel they have a licence for the use of groundwater and are good to go. Whether a landowner's well is registered in the government's GWELLS database or not is one thing, but applying to government for a licence to use the groundwater is a separate thing. Groundwater use for all uses except domestic requires a licence, whether the well is registered with the province or not. My suggestion: When talking about groundwater licensing, use the word "licensing" and avoid the word "registration." Mike WeiWell "registration" misleadingLetters South Asia flight ban strands BC farm workersThe federal ban on passenger ights from India and Pakistan to stop the spread of the COVID-19 B.1.617 variant until June 21 could have a big impact on Fraser Valley farmers. "A number of our workers are in India and they don't anticipate coming back anytime soon," says Satwinder Bains, owner of Westberry Farms, a blueberry farm in Abbotsford and director of the South Asian Studies Institute at the University of the Fraser Valley. Bains says many of the seasonal workers are elderly Punjabi immigrants who go to India in the winter months – their version of snowbirding. "The immigrant population that usually works on the farms in Abbotsford, the Fraser Valley and in the Okanagan has really changed over the last 20 years. We don't have as many young people employed anymore in the farms. They're working in the canneries, nurseries and in landscaping. So, what we're left with is a lot of elderly who are 60-plus. It's seasonal work for them," she says. Bains says that although temporary farmworkers can ll some of the gap, there is a lot of other work that is available to start preparing for harvest in early June. She has heard anecdotally that some farms didn't get to picking all of their crops because they couldn't get people into the eld. Some went to machine harvesting, but machine-picked fruit typically has a lower value. Westberry faced greatly reduced access to labour last year and Bains anticipates a repeat this year. "We have a massive problem that we're going to face again this year with migrant labour, and they're not migrants in the sense of coming and going like temporary farmworkers but they are immigrants to this country," she says. "With COVID-19 last year, we had a 40% drop in access to labour and we're going to have the same problem this year with them being stranded." —Roohi Sahajpal Oliver vintner dies Chris Jentsch, a veteran fruit grower and winery owner in Oliver, died April 2. Jentsch was known most recently for his ownership of C.C. Jentsch Cellars, one of the rst wineries to use the Golden Mile Bench designation to promote its wines following its approval by the province in 2015. Born in 1963, Jentsch was an uncompromising fruit grower whose family came to the Okanagan in 1929. Jentsch credited his father with giving him the grounding he needed to become a grower in his own right, rst in apples, then cherries and nally grapes. Jentsch was committed to quality, becoming among the rst growers to export cherries to Asia in the 1990s. When plantings of cherries seemed to peak, Jentsch shifted to grapes. He initially grew for Andrew Peller Ltd, but when it cut back on purchases in 2012, he had his grapes crushed at Okanagan Crush Pad in Summerland and launched his own winery in a former packing shed. The winery opened in 2013, and the Syrah it produced that year won kudos from wine critic Steven Spurrier – acclaim that helped establish its reputation. C.C. Jentsch Cellars expanded with the acquisition of a vineyard last year in Summerland. Winery operations continue under the oversight of Jentsch's wife Betty. He is also survived by his children Megan, Danielle and Emily and their children; and brother Dieter. —Peter Mitham Province delivers AITC funding A couple of days late but not a dollar short, the province has stepped up with $3.5 million in funding for BC School Fruit and Vegetable Nutrition Program, an initiative of the BC Agriculture in the Classroom Foundation. AITC had asked the province for a response by May 10 so it could make arrangements with farmers and prepare to roll out the program when a new school year begins this fall. When the province failed to respond to repeated requests from AITC, Opposition politicians grilled BC agriculture minister Lana Popham in the legislature and agged the issue for media. "Why would the minister abandon a program that not only supports students, but farmers as well?" asked Delta South MLA and agriculture critic Ian Paton in a press release. "More than 1,000 BC farmers stand to lose income from growing and providing products for this important initiative. It is a win-win for everyone involved, yet the minister hasn't been in a hurry to act to save it." Popham acknowledged the importance of the program but noted that funding to date has been from the BC Ministry of Health. She indicated that the next round of funding would be through Feed BC, which she was charged with expanding to primary and secondary schools in the mandate letter Premier John Horgan issued to her last fall. Horgan's oce issued a statement the following day, conrming that this year's program would proceed with the involvement of the ministries of education and health as well as agriculture. "I'm excited to continue our good work and create more local school programs like this by leveraging FeedBC to connect local farmers and food producers to students looking for a healthy head start!" Popham told her followers on social media on May 13. —Peter Mitham Ag Briefs EDITED BY PETER MITHAM
Page 11
COUNTRY LIFE IN BC JUNE 2021 | 11RENN Mill Center Inc. has a corporate policy of continuous improvement and development; therefore models and specifications are subject to change without any advance notice.H&S Bale WrappersLW1100 LINEWRAP™ BALE WRAPPER features a new EFI engine for fuel savings, and an updated hydraulic system for faster wrapping! 4' to 6' round bales 5' to 6.5' square bales Remote Start/Stop/Steer Self-propelled optionH&S Rakes Available in 12, 14, and 16 wheel models The most flexible rakes on the market Overhead frame design for high capacityRENN Mill Center Inc., RR#4 Lacombe, AB T4L 2N4The full line of H&S agricultural equipment is available from RENN Mill Center, the exclusive distributor in Western Canada.Call to find your local dealer.TEL: 403-784-3518 | www.rennmill.comPETER MITHAM ABBOTSFORD – BC chicken growers are benetting as Western Canada leads the country in growth prospects following the COVID-19 pandemic. The BC Chicken Marketing Board requested a 4% increase above the base allocation for the A171 production period that begins August 1 from Chicken Farmers of Canada, which coordinates supply management nationally for the chicken sector. BC's request was on par with requests by Saskatchewan and Manitoba, and slightly ahead of Alberta. It would amount to a 7.5% increase over production a year ago. But Chicken Farmers of Canada stuck to the middle of the road when it made allocations in early May, granting producers a 3% increase, in line with requests from Central Canada and twice that requested by Atlantic Canada, which remained closed to non essential travel last month. "It's quite the dichotomy between the East and the West," reported BCCMB executive director Bill Vanderspek at the board's spring producer meeting April 28. "The Western provinces are still being aggressive at around 4% … and the Atlantic is at 1.5%, so the recovery there is still going slower." Temperate weather has drawn people to outdoor dining venues in BC and chicken has also benetted from takeout options during the pandemic. Restaurants buy nearly 37% of BC's chicken production. Quick-service restaurants, which include fast-food outlets, account for the largest share of sales after retail, at 24%. Hospitality and institutional venues buy less than 6% of production. The result is that demand for BC birds has been stronger than many expected. "The market has not actually come to fruition the way that the processors were inferring to us. In fact, things seem to be working out fairly well," reported Ray Nickel on behalf of Derek Janzen, BC's representative to Chicken Farmers of Canada. "In the West, storage stocks are fairly low and retail numbers are fairly strong for us. We're still seeing about a 4% year to date [growth] on retail." This contrasts with a 2% decline nationally in chicken production last year. "We still have strong demand for fresh chicken," said Nickel. While the foodservice sector will continue to struggle for the foreseeable future, with sales down about about 20% from the historical norm, Nickel anticipates a "Roaring 20s" style boom thanks to pent-up demand on the part of consumers, who have stashed cash while restaurants were closed. "I think that is good news for us in the chicken sector," he said. The rollout of vaccinations, while not perfect, has also helped production rebound. Despite the closure of Sunrise Poultry's plant in Surrey for 10 days last month, the risk of widespread plant shutdowns is lower. "All the plants have been vaccinated to the degree that people have been willing to participate in that, so we feel a little more condent in our processing sector here," he said. Growers are also scoring points in the battle against avian inuenza. A biosecurity program the BC Farm Industry Review Board mandated for producers in 2005 following the devastating avian inuenza outbreak of 2004 could soon be dropped. "We're very, very close to the point where can make some moves towards eliminating the mandatory BC biosecurity program because all of the requirements and mandatory parts of the program are covered now under the [Chicken Farmers of Canada] programs," said Vanderspek. But before this happens, the board needs to seek approval from FIRB and the BC Poultry Association. Streamlining the programs would free up producers' time and industry resources for other initiatives. "If we accomplish this, we can go on the regular CFC audit rotation, which is records one year and on-farm the second year, so we would not have to be on every farm every year anymore," said Vanderspek. "It would lighten the load of our eld service sta." Vanderspek's own load is about to lighten with his retirement August 31 after 47 years in the industry. Vanderspek joined the board in 2003 after working his way up from the plant oor at William Scott & Co. in Port Coquitlam (now Lilydale). "His knowledge and skills have been recognized throughout the industry in BC, and in the Canadian poultry industry, and I know it will be an impossible task to replace Bill's expertise," said BCCMB chair Harvey Sasaki. "It's been a great experience, and I regret none of it," noted Vanderspek. Province's chicken growers see reboundBC sector vaccinated and ready to grow as the economy reopensYOURHelping YouHelping YouSignSign up today forfor freeupy eeWEEKLY FARM NEWS UPDATES
Page 12
12 | JUNE 2021 COUNTRY LIFE IN BC info@clhbid.com  1 866 263 7480British Columbia | Alberta | Saskatchewan | Manitoba207 acre opportunity north of Fort St. John, BC! Enjoy this property with its fantastic cabin, not far from the river. Unload your herd - over 100 acres of improved pasture, fences that are livestock ready, and a new dugout. Starting Bid: $190,000. Wild Range 207June 24, 2021 Fort St. John, BC310 contiguous acres being sold in 3 parcels just 3.5 miles east of the BC border and 13 miles east of Dawson Creek. With over 150 arable acres, a great shelterbelt, plenty of water, merchantable timber, and an idyllic setting for your dream home. See Website for Starting Bids. Prime Time at the BorderJuly 29, 2021 Bay Tree, ABWhether you are a farmer or investor, take note of these 13 quarters, NE of Vermilion, AB. Whether it was producing world class Hereford genetics, aggregate for the twinning of Hwy 16 or bumper cereal and oilseed crops – this is the land that delivers. See Website for Starting Bids. Cross Heritage FarmJuly 6, 2021 Vermilion, ABTurn-Key ExperienceWhen it comes to selling farm or ranch land, our full-service team works with you from your very first call to handing you a cheque at closing. We walk the entire walk with you.Maximum ValueAnyone can create a sale but you need lasting lifelong results. We monetize your land in a manner to ensure maximum value for a lifetime of work.World-Class MarketingFinally: a specialized platform for selling agricultural land! All sales are seen worldwide, and are seen by all potential buyers - neighbors, friends, farmers, and investors.Strategic Packaging & 'En Bloc'Instead of the "take all or nothing" approach, our innovative 'En Bloc' feature for selected sales allows certain bidders to also bid on individual parcels and/or the entire farm.Why CLHbid.com?Selling Farm Land, It's All We Do
Page 13
COUNTRY LIFE IN BC JUNE 2021 | 13Pricing formula on horizon for poultry sectorStakeholder relationships, high costs require collaborationKuhnNorthAmerica.comVisit your local British Columbia KUHN dealer today!INVEST IN QUALITY®www.kuhn.comMatsqui Ag-RepairAbbotsfordNorthline EquipmentPouce CoupeHuber Farm EquipmentPrince GeorgeSmithersAdjust windrow widths independently to match crop pickup widthsFast, easy switching betweentransport and eld positionsSuperior terrain following withoutthe need for hydraulic oatRear wheels raise last forcleaner windrow endsSIMPLICITY. VERSATILITY. QUALITY.SR 10 0 GII SERIES SPEEDRAKE Wheel Rakes18'10" - 23'4" working widths • 8-,10- and 12-wheel modelsSR 100 GII SERIES SPEEDRAKE® Wheel Rakes18'10" - 23'4" working widths • 8-,10- and 12-wheel modelsPETER MITHAM ABBOTSFORD – Hatching egg producers met virtually for their annual general meetings on May 18, a date set because BC Broiler Hatching Egg Producer Association chair Bryan Brandsma hoped in-person meetings might nally be possible. Brandsma nevertheless convened producers with his characteristic wit, noting that he took the helm of the organization in 2013 and faced down avian inuenza in his rst term as chair. Now, stepping down after eight years, he's closed out his time with a global pandemic. COVID-19 hit BC hatching egg producers hard as the disease roiled demand for broilers, forcing them to shift production in anticipation of where broiler demand might lie months in the future. This forced the sector to be responsive as demand shifted from foodservice to retail, and restrictions kept restaurants on their toes. "Dicult choices to rapidly curtail the production of hatching eggs were made in order to meet a drastic reduction in demand for chicks in the spring of 2020," said Chilliwack producer Brian Bilkes president of the Canadian Hatching Egg Producers in remarks during the BC Broiler Hatching Egg Marketing Commission meeting that followed the producers' AGM. "Demand continued to be less predictable than in previous years, with numerous late-stage reconsiderations of chicken allocations that brought signicant uncertainty to our hatching egg sector." The shifts resulted in seven ocks being rendered when demand dropped, the BC Broiler Hatching Egg Commission reported. Producers received more than $670,500 in compensation as a result. The challenges underscored the interdependence of the hatching egg and broiler producers, and the importance of the two cultivating a common vision for the industry. "We're still not out of the woods yet," said commission chair Jim Collins. "This has shown us how the interdependence of stakeholders in the BC chicken industry from us all the way to the processors is critical. As always, the whole is greater than the sum of its parts." Hatching egg and broiler producers have been working together on a common vision for the industry since 2018 at the direction of the BC Farm Industry Review Board. The key element of the review is pricing. While supply management has served the poultry industry well during the pandemic, the broiler industry is unlike the dairy and egg sectors in that it lacks a national cost of production formula. The lack of a systemic approach to ensure local pricing accounts for local costs has often pit stakeholders against one another both locally and nationally. "BC is a high-cost province," said Collins. "Without supply management we would not have the chicken industry we have today. But even so, in the commission's view, pricing – which is the third pillar of supply management – remains an issue." Collins said all stakeholders – hatching egg producers, broiler growers and processors – need to work together to nd a way forward. The past year has seen notable progress towards a new pricing formula. Both the broiler and hatching egg sectors look forward to a roundtable discussion on pricing June 2 that promises to herald the end to three years of discussion. "This upcoming year will almost likely see changes on the pricing scheme," Brandsma told producers. "We are continuing to be involved, and providing input where needed." A few days earlier, on May 10, broiler producers had held their own round-table discussion on pricing proposals. Underscoring the contentious nature of pricing, broiler producers in BC have been locked in a national battle with processors over a substantial increase in pricing granted for the A-169 period. This prevented them from nalizing their pricing proposal, which was originally scheduled to be in place by the end of 2020. "This feels like we've been running the marathon," BC Chicken Marketing Board chair Harvey Sasaki told growers. "It has been a long process in nding a formula that balances the interest of growers for a reasonable return, and for processors to remain competitive in the Canadian market." The new pricing regime could be in place by August 1. Colourful geraniums adorned The Greenery Garden Centre in Kelowna last month, but the 40-year-old family business had sold out by mid-month. The easy-to-care-for staple was in strong demand this spring as people shopped early to spruce up their properties before the ofcial start of summer. MYRNA STARK LEADERSnooze and lose
Page 14
14 | JUNE 2021 COUNTRY LIFE IN BCCALL FOR AN ESTIMATE LARRY 604.209.5523 TROY 604.209.5524 TRI-WAY FARMS LASER LEVELLING LTD.IMPROVED DRAINAGE UNIFORM GERMINATION UNIFORM IRRIGATION FAST, ACCURATE SURVEYING INCREASE CROP YIELDS We service all of Southern BCLittle & Large, Local & Long, Europe & N. AmericaPort to Dealer, Farm to Farm & Anything in BetweenVersatile Ramp to Ground CapabilitiesBARBARA JOHNSTONE GRIMMER ABBOTSFORD – Rising feed costs over the last year have impacted livestock producers signicantly, the result of global market pressures and reduced grain stocks. "Prices increased over the last year, a rapid increase within the last three months," says Everett Dixon, nutritionist for Top Shelf Feeds in Duncan. He describes the conuence of factors as a perfect storm for livestock and poultry producers, for whom feed accounts for up to 75% of total production costs. "The driver was a combination of reduced stock over last year, reduced yield and good quality," he explains. China plays a central role. It lost more than half its domestic swine herd due to Asian swine fever over the past two years. Crop failures and low crop reserves led to record-breaking imports of corn. As corn prices shot up, China began buying up wheat and other grains and oilseeds. The prices of these crops shot up as well. "China was buying up the corn and soy after crop failures, and [after] Asian Swine Fever they built up their herds and with that came a huge demand for grains and proteins," says Dixon. Comparing feed prices over the last year, Dixon says the local price of barley increased 27%, layer feed increased 15% and complete dairy ration increased by 20%. BC has the highest feed costs compared to the Prairies and Ontario – about 20% higher than in Ontario. But even in Ontario, corn-based broiler feed was up 33% last month versus a year earlier. Wheat, barley and pea prices also increased, as well as protein feeds. Reduced supply increased prices, but demand stayed strong. Statistics Canada reported that stocks of wheat, canola, barley, soy, peas, oats and lentils were all down at the end of March compared to a year earlier. During the COVID-19 pandemic, increased global demand had reduced Canada's grain and oilseed stocks, with increased volatility. Initially, there were shortages of trace minerals and vitamins as COVID-19 hit Asia where many microingredients are manufactured. Shipping was impacted. Many BC producers panicked, creating temporary shortages as demand outstripped the ability of many feed plants to keep up. The cost of production for supply-managed dairy and poultry producers has increased, and for those smaller producers who direct market eggs and meat, pricing product is a challenge as growers try to anticipate the impact on their bottom line and increase their prices to keep in step. Sometimes customers push back against the price increases, leaving producers feeling squeezed at both ends. While reduced plantings in the US and weather conditions helped boost feed prices here in Canada, Al Mussell, research lead with Ontario-based research organization Agri-Food Economic Systems, says policies in China designed to reduce reliance on imports have done the opposite, driving up demand for feed ingredients like wheat, barley and peas. Moreover, some countries are imposing export restrictions because many of the grains in demand are essential food grains. With grain costs rising and supplies tightening, Mussell says Canada needs to consider the needs of domestic markets as well as export opportunities. "We have a role as a reliable exporter," he says. "But have we planned for our own food security?" Grain costs put pressure on livestock producersDemand in China squeezing growers in CanadaKATE AYERS VICTORIA – Recent audits of feed retailers have highlighted the confusion surrounding whether or not provincial sales tax applies to sales of horse hay. Agricultural feeds such as grains and forages are exempt from PST as long as farmers use this feed to nourish animals that cultivate land or produce food and wool, according to the BC Ministry of Finance. Horse hay is subject to PST unless the horses are specically listed as farm equipment and used for a farm purpose, a long-standing policy the BC Ministry of Finance reiterated in the most recent update to its PST bulletin for farmers, issued in April 2019. Horses purchased for pleasure use by riding stables and academies for trail rides, guides and outtters are not used for a farm purpose and therefore their fodder is taxable. The nance ministry considers a farm purpose to be the cultivation of land for growing crops and the rearing of animals to provide food, wool and other products, explains the ministry's rulings and interpretations team. "Hay purchased to feed horses that are not kept for an agricultural purpose is subject to PST and hay purchased to feed horses that are used for an agricultural purpose is exempt from PST," it says. The ministry says retailers are responsible for asking about the purpose of the feed at the time of sale. "If a hay retailer provides a PST exemption, they will want to ensure the customer qualies for the exemption," the ministry says. "If the customer claims an exemption on hay purchased for agricultural purpose and it is later found that they did not qualify for the exemption, the customer is liable for any tax, interest and penalties associated with the purchase or lease. However, if the collector (a hay retailer) had reason to believe their customer was not entitled to the exemption and provided the exemption, the collector may also be subject to an assessment." To avoid potential tax repercussions, the ministry advises retailers to keep detailed records and documentation of whether they applied an exemption or not and the reasons for this decision. "A retailer may wish to indicate on the customer le or the invoice/receipt that the hay was purchased for an agricultural purpose as advised by the customer to support the reason he or she did not charge PST on the purchase," the interpretations team says. If, during an audit, the nance ministry determines that a hay retailer has not charged or collected tax when required and did not ensure customers qualied for a PST exemption, they may be liable for the unpaid taxes. In addition, the ministry may charge interest on the amount owing, impose additional penalties and, if applicable, disallow any commission claimed, the interpretation team says. For example, the ministry audited a feed store in Delta last year. The business was ordered to pay more than $110,000 for uncollected PST on feed and hay. The supplier argues that it was targeted unfairly. Most feed stores in the area do not charge PST, it claims, placing it at a competitive disadvantage against other stores that were not audited. The supplier, like others contacted for this story, did not wish to be named. Many don't want to invite unwanted attention from provincial auditors. (The nance ministry declined to discuss specics of the case, or disclose how many feed suppliers it has audited in recent years.) Most feed suppliers have not charged PST on hay sales to date and do not ask their customers about the intended use of the hay at the time of purchase. Overall, hay retailers should maintain clear communication with their customers and do their due diligence when conrming purchasers' eligibility for a PST exemption. The ministry advises against assuming purchaser qualication. The province encourages agricultural operations to consult its PST bulletin for farmers at [https://bit.ly/3wQV5X1]. PST applicable to horse hay salesRetailers must do due diligence
Page 15
COUNTRY LIFE IN BC JUNE 2021 | 15RONDA PAYNE LUBLIN, POLAND – While the BC raspberry industry has struggled in recent years, representatives to the 12th biennial World Raspberry Conference hosted by the International Raspberry Organization in Lublin, Poland, May 10-11, heard that local growers are not alone in their struggles. British Columbia accounted for 72% of Canada's total raspberry production and 54% of the raspberry acreage in Canada in 2020, BC Raspberry Industry Development Council manager Lisa Craig told conference delegates via Zoom. But growers can't keep up with demand. In fact, production fell to 5,149 tonnes last year from 9,040 tonnes in 2016. "We actually consume way more than we can produce in Canada," she said. The combination of declining production and rising consumer demand has created an opportunity other IRO members like Mexico and Serbia are happy to ll. Canada imported 55,867 tonnes, more than 10 times BC's production, in 2019, up from 49,685 tonnes in 2015. Craig hopes new, locally adapted varieties will replace older varieties like Meeker that aren't meeting today's needs. "I believe that variety is one of the biggest factors that is aecting us," she said. Chile also faces issues with older varieties. The country's main variety, Heritage, is facing quality and yield challenges. Similar to BC, growers also face Spotted Wing Drosophila, which showed up in 2018. IRO president Antonio Dominguez noted the country is working to incorporate new varieties as well as new Heritage genetic material, though most farmers are ready to replace the variety. "The Chilean crop is smaller than previous seasons," he noted. "There is a genetic issue in the elds, in the soil. As an industry, we are working to come back again." Chile has between 6,000 and 7,000 hectares in production and the majority of farms, like in Canada, are under 100 acres. Overall production in Chile was 24,853 tonnes in 2020, more than three times Canada's total production of 7,653 tonnes. Mexico continues to be the world's largest raspberry producer with about 11,000 hectares, up from 9,000 hectares in 2019. Raspberries are the country's third most exported agricultural product after beer and avocados, with exports totaling 140,000 tonnes worth $900 million annually. "The most important destination for our berries is North America, which receives 97% of exports," Aneberries, the country's largest raspberry association, told the conference. Serbia has more than 17,000 hectares under production, about 10 times that of Canada, but the acreage is less productive. Serbia produces about 95,000 tons of berries annually, primarily Willamette, most of them picked by hand. This has created a labour crunch for producers, who have yet to embrace mechanical harvesting. "I think everywhere in Europe we have less people in the village," says Predrag Orescanin with the Serbian Association of Raspberry Producers. "Living in the village is not too popular with young people." Poland has been moving towards growing under tunnels to improve fruit quality and garner higher prices. Derek Paszko of the University of Life Sciences in Lublin says crop yields under cover are 18 to 20 tonnes per hectare and prices average 4.10 Euros a kilogram, compared to 10 to 12 tonnes when not covered and 1.10 Euros a kilogram for summer varieties. "There is too little quality fruit from the industry," he says. "It is necessary to improve the quality of the fruit." Poland has about 28,000 hectares under cultivation and mechanical harvesting hasn't been widely adopted. Reduced prices were mentioned by the majority of countries at the event. While COVID-19 pushed the price of both fresh and frozen berries up internationally this year, several regions agreed that declining prices and increasing challenges make the industry unsustainable.BC raspberry growers face global issuesBC represented Canada at the 12th World Raspberry Conference in PolandLac De Roches Lakefront Resort, Restaurant, CabinsBC's Lifestyle Properties>Call 604.491.1060 info@thebestdealsinbc.com www.theBe stDealsinBC.comThe ONLY Full ServiceDestination in the area!ELYSIA RESORT | 9.87 Acres | Quesnel Lake, BC 700 ft Beach, 10 RV Sites, 18 Motel Rooms & Cabins $1,690,000Custom Log Home on10 Treed Acres with BarntCFECBUI$VTUPN-PH)PNF tLJUDIFOT#FESPPNTVJUFt'FODFEIPSTFCBSOHBSEFOt1SPöUBCMF&RVJOF(VFTU3BODILone Butte, BC $1,125,000Call/Txt Freddy 604.997.5398tTRGU3BODI)PVTFt#FESPPNT#BUIT t"DSFTBDSFTQBTUVSFt%PVCMFHBSBHFDBCJOTUBCMF70 Mile House, BC $990,000Call/Txt Linda 604.997.5399Graham Dunden Guest Ranch Bed & Breakfastt(SFBU#VJMEJOHPS3FD"DSFBHFt-FWFMBOEUSFFEBSFBT t)ZESPOFBSMPUMJOF;POFE33t$PNNFSDJBM-JHIU*OEVTUSJBMHorsey, BC $399,000Call/Txt Linda 604.997.5399t"DSFT8BUFSGSPOUt'VMMZ.BJOUBJOFE3PBEt(SFBU#VJMEJOH4JUFT t1PTT)PCCZ'BSN3BODI&TUBUFBig Lake, BC $399,900Call/Txt Freddy 604.997.5398t&BTZ"MBTLB)XZ"DDFTTt'FSUJMF4PJM5JNCFS7BMVFt"CVOEBOUXBUFSTVQQMZt.JOBLFS3JWFSGSPOUBHFAlaska Hwy, BC $315,000Call/Txt Freddy 604.997.5398151 Riverfront Acres Good Soil/Water/Timber t1SJWBUF#PBU"DDFTT3FUSFBUtTRGUDBCJOTMFFQTt1SPQBOFMJHIUTGSJEHFTUPWF t"DSF(PWFSONFOU-FBTFMahood Lake, BC $274,000Call/Txt Freddy 604.997.5398t#VTZ)XZ:S3PVOE"DDFTTt8BUFSGSPOU"DSFT374*UFTtTRGU-PEHF$BCJOTt4FBU-JDFOTFE3FTUBVSBOULone Butte, BC $2,295,000Call/Txt Freddy 604.997.539877.7 Acres Lakefront Simply Paradise!3.4 Acres Semi-lakefront Quesnel Lake, RR3 Zoning t:FBS3PVOE)XZ"DDFTTt$PNNFSDJBM;POJOHt4VCEJWJEBCMF3JWFSGSPOUJOUP3FTJEFOUJBM3FDSFBUJPOBM-PUTChetwynd, BC $1,700,000Call/Txt Linda 604.997.5399Falling Creek Ranch 538 Acre Development PropertySecret Waterfront Hideout at Mahood Lake
Page 16
16 | JUNE 2021 COUNTRY LIFE IN BCABBOTSFORD1-888-283-3276VERNON1-800-551-6411Take care of your equipment, and it will take care of you.Avenue Machinery has the AGCO Parts you need to keep things running.LONGEVITYLONGEVITYGIVE YOURSELF THE AVE NUEJUDIE STEEVES KELOWNA – Consumers like big, fat, colourful cherries with a rm crunch and lots of sweet esh around the pit. They do not want to buy little cherries without avour. But the devastating Little Cherry Virus causes cherries to be small and unpalatable to buyers. While the disease has been o the radar of the BC industry in recent years, it has been costly to the industry in nearby Washington, and that has sent up red ags in this province. Over the past eight years, Little Cherry Virus-2 and two other diseases which cause little cherries have cost Washington State growers an estimated $80 million in crop losses, tree removal and replanting. In BC, Little Cherry Disease was rst reported in the Kootenays in 1933. By 1946, almost every tree in the region was infected and it continued to devastate the industry until the early 1980s when all infected trees and wild hosts were removed and virus-free trees were planted. The disease showed up in the Okanagan in 1969, reports Mike Sanders, a retired tree fruit specialist for the agriculture ministry. Regular surveys were done throughout the Okanagan beginning in 1920 and virus-positive trees were removed. However, funding for the surveys was cut in 2003. "We don't have a clue what the situation is today. That's scary. We don't know if there has been any spread since then," says Sanders. With that in mind, the BC Cherry Association has formed a 13-member task force with Sanders as chair to investigate the current status of the disease in BC. The group includes representation from industry and government. The task force has just received $100,000 in provincial funding over the next two years to survey orchards in areas identied previously as hot spots for the disease and to process samples, primarily the Creston and Okanagan valleys. Surveys will include orchard mapping, observing trees before harvest, checking for the presence of mealybugs, leafhoppers and other potential vectors and collecting leaves for laboratory testing. BC Ministry of Agriculture, Food and Fisheries entomologist and task force member Susanna Acheampong says students will be hired to assist with the survey. They'll also help process samples at the provincial plant health lab in Abbotsford. A quick virus test is being developed to accelerate diagnosis. While the main vectors are grape and apple mealybugs, Little Cherry Disease can also be spread by growers using infected trees for propagation or by root grafting, so using clean plant material can help prevent its spread. With today's more-dense plantings of trees, there could be increased spread through root grafting, Sanders notes. Growers are also asked to scout for symptoms prior to harvest and mark suspect trees. The province's Tree Fruit Production Guide lists symptoms and will help growers identify mealybugs. Field people are also distributing leaets regarding the disease. The task force asks growers to cooperate with surveyors. Little Cherry Disease doesn't kill trees but seriously aects fruit size, colour, avour and sometimes fruit shape. It can show dierent symptoms on dierent varieties, explains Sanders. "My observation is that even though there are lots of small, poorly coloured fruit on infected trees, there can still be some larger fruit that is almost marketable but not enough of that fruit to be commercially viable. It doesn't seem to be the same every year on the same trees," he adds. "In the 1970s in Creston, I saw growers trying to increase fruit size by piling on the nitrogen, pruning hard, over-watering, leaf-feeding and even blossom-thinning but nothing worked enough to produce commercial crops," he recalls. The reality is that because little cherry is a viral disease the only control is tree removal. Growers who wait too long to remove an infected tree will probably end up removing many more because the disease has spread. "I don't think most people take Little Cherry Virus seriously enough because they haven't seen how bad it can be and what it can do to an industry," warns Sanders. "Those of us who have seen what it can do realize that Little Cherry Virus is not the type of disease that can be allowed to go unchecked." Little cherry disease a big threat to fruit growersTask force aims to get ahead of the virus, which has resurfaced in BCSUSANNA ACHEAMPONG
Page 17
COUNTRY LIFE IN BC JUNE 2021 | 17Core knowledge lands Kelowna grower top award Shane Witzke learned from the best to be the bestShane Witzke knows a thing or two about pruning to maximize production and that made him a logical choice for this year's Golden Apple award from the BC Fruit Growers Association. TOM WALKERTOM WALKER KELOWNA – Learning from some of the best can help you be one of the best is a philosophy that's served Kelowna orchardist Shane Witzke well. The BC Fruit Growers Association named Witzke as recipient of this year's Golden Apple award at its annual general meeting in February. "I rely on what my eld service advisors tell me," says Witzke. "They have the expertise and the experience to help me with the technical issues in my orchard and then it's up to me carry out those recommendations." Top-quality advice came early for Shane, who remembers learning how to prune from long-time BC Tree Fruits Co-op eld person Hank Markgraf, now an independent horticultural consultant. "Hank taught me how to prune in the early 90s and then my dad let me take over a two-acre block of Galas," recalls Witzke. "I was able to prune more of the orchard when I got the hang of it." Witzke's dad certainly knew when Shane was doing a good job. Brian Witzke was a Golden Apple winner himself in 1992. "Our orchard is known for consistent quality," says Shane Witzke. "I believe we are considered to be in the top 10% of growers." Indeed, Northview Orchards, on the Belgo bench in southeast Kelowna, is often a venue for industry events. Former BC premier Christy Clark visited in 2014 to announce renewal of the industry replant program, and the orchard was a stop on the International Fruit Tree Association tour in the summer of 2018. It hosted a pruning demonstration by Washington State University professor Stefano Musacchi last year just before the pandemic shut down events. "It's a really good-looking orchard," says Markgraf, who nominated Witzke for the Golden Apple award. "When I worked with them last spring you could see what a good job they had done with their pruning," Markgraf explains. "Everything was so uniform and it set them up for a fantastic bloom. They also did an excellent job with their chemical thinning. They took a chance to do it early and it worked." That work, starting in late winter, is key to setting up a successful growing season, says Markgraf. "Most of the work needs to be done through bloom time so that all that is left is hand thinning. You don't want to be playing catch up through the growing season," he explains. "But it's not just the current year. It is all the careful work the Witzkes have done over the last 20 years to get them there." Learning from others is a family trait. Brian Witzke was fortunate to join a tour the BC Ministry of Agriculture organized in 1986 that introduced growers to orchard practices in Europe. He saw apples being grown on a post-and-wire (vertical axis) system, an early version of the high-density super-spindle plantings common today. "Dad was one of the rst to put in post-and-wire in the valley," notes Shane. "And we have some of the oldest plantings of Royal Galas in BC." Those trees are now more than 20 years old. As Galas have slipped in popularity, Northview has grafted many of the trees over to Ambrosia or Honeycrisp, or pulled out for a full replant into high-density systems. "The replant program has been very important for us," says Witzke. "It only covers a fraction of the some-$30,000 an acre cost, but it's a help." Growing varieties that are popular in the market, while being diversied and timing the work load, are an important part of the Witzkes' strategy. The 30-acre property purchased by Shane's grandfather in 1946 now has blocks of Royal Gala, Pacic Gala, Spartans, Ambrosia and Honeycrisp. There is a new, two-acre block going in that Witzke will only describe as "a new variety" with a twinkle in his eye. They make their choices carefully. "I'd love to grow Pink Lady for the high returns, but we are too far north for it to ripen consistently before the fall frosts," he says, speaking from experience. The Witzkes lost a few bins of apples to the late October frost last fall when they could not nd the workers to pick them in time. And the January freeze this year damaged a four-year-old Honeycrisp block. "The young trees had a hard time with the -22°C, and it's a real shame because they gave their rst light crop last year," he says.
Page 18
18 | JUNE 2021 COUNTRY LIFE IN BCStiff competition for Crown land from the logging and oil and gas industries has made managing the forage value of the land a secondary concern, putting the livelihoods of ranchers at risk. JOAN TRASK PHOTOHave you herd? VBP+ TrainingWorkshops or Webinarsare Free!Looking to learn moreabout how to raisehealthy beef cattle?Open to producers of allsizes!free to all beef producersin bc! BCHA Secretary Janice Tapp 250-699-6466 BCHA President John Lewis 250-218-2537 RONDA PAYNE DAWSON CREEK – Mike McConnell, co-owner of Double M Ranching in Dawson Creek, says Crown pasture is essential to ranching in the province, but the mix of uses on Crown land is pushing ranchers' needs to the bottom of the pile. "On the Crown range, you've got to remember, there's also logging, there's mining, there's reforestation, there's power lines and all these things impact us," says McConnell, who runs 100 head of beef cattle. The number and type of uses that overlap vary depending on the resources in each area, according to Tyler Hooper, spokesperson with the BC Ministry of Forests, Lands, Natural Resource Operations and Rural Development. Competition among uses is most acute in the Peace, and with 24% of the province's beef cows, the region highlights the challenges ranchers across the province face. A total of 88.7 million hectares in BC is Crown land – or 94% of the province. While that should be enough room for everyone, BC Cattlemen's Association director Werner Stump says there's no mandate for "stewarding the foraging resource" and competing uses often conict, causing damage to the foragability of the land. He's hopeful that an engagement process led by Stikine MLA Nathan Cullen, Minister of State for Lands and Natural Resource Operations, will change how forage is valued relative to other land uses. "[Cullen] is to 'assess whether land use objectives that support economic activity, environmental sustainability and reconciliation with Indigenous Peoples can be more eectively achieved through restructuring' of the FLNRO ministry," says Stump. "There's lots of dierent values that come from forested Crown land. Timber is a big one." The 800 acres McConnell accesses comes with a problem exacerbated by logging. He notes that typically, there are 1,000 to 1,500 stems of the trees per hectare. "But when aspen is logged, its suckers [sprout] from the roots at maybe 70,000 to 100,000 stems per hectare," he says. "The cattle can't go into it. Every time an aspen stand is logged, we lose our grazing there. This has been going on for 20 years, we've been ghting this battle and we haven't gained a thing." Aspen is a concern predominantly in the Peace region, says Hooper. "The Peace Resource District continues to work with forest licensees in order to identify and implement methods and opportunities to mitigate impacts to range tenure holders due to aspen harvesting and regrowth." Oil and gas issues There are also issues with oil and gas companies, says McConnell. "Oil and gas, they build pipelines. The requirements on what they have to do with that pipeline are not conducive to the welfare of the ranch," he says. "It can't be resolved by a range tenure holder talking to an oil company. The rights of the range tenure holder have been lost." Hooper says that when there are issues, range land users should connect with their district range sta. But as McConnell notes, the rules don't seem to be standardized among range ocers. The amount of support a rancher gets can vary dramatically by region. "There's also huge dierences in the background and interest of the district managers," he says. "Now, there's virtually no support at all for the range resource. The oil and gas run roughshod over us. The aspen loggers continue to log." McConnell says the ministry's response has been to reduce the Animal Unit Months – the amount of forage required by a lone cow with or without an unweaned calf for a month – allowed under Crown tenure rather than to require a dierent course of action by the loggers. Stump says this does nothing to improve the vital resource Crown land oers ranchers. "The quality of that forage is deteriorating," he says. "There's no security on behalf of the rancher in terms of where that's going to be in ve years from now or for the next generation. There is no legislated requirement for the sustainable management of forage in BC." It's a shared issue, according to Stump. It isn't just a matter of forage use versus logging or oil and gas use. It's a about making the best use of the land to care for all aspects, including the soil, water and wildlife. "One of our pursuits is to push for a management structure parallel to the lumber structure that looks after agriculture," he says. "[It's] what we need to do to protect the values on that Crown land." Strategy needed for Crown forage resourcesRanchers out of luck as other uses take priority
Page 19
COUNTRY LIFE IN BC JUNE 2021 | 19BC abattoirs were working at an unprecedented pace in 2020 and could have met the backlog of producers trying to book kill space if not for a shortage of labour. BC doesn't need more abattoirs, says BC Association of Abattoirs executive director Nova Woodbury; it needs more skilled labour. FILE PHOTOemail: audreycifca@gmail.comemail: okanaganfeeders@gmail.com308 St. Laurent Avenue Quesnel, B.C. V2J 5A3Producers can apply for an advance on calves, yearlings, lambs, bison, forage and grain up to $1,000,000.00 with the rst $100,000.00 being interest free. Plus, interest relief through the Advance Payments Program is available to association members on their feeder cattle purchases.Producer Check-o Supports Beef Industry Projects.www.cattlefund.net 1.877.688.2333www.cattlefund.net 1.877.688.2333TOM WALKER FALKLAND – The impact of COVID-19 on the BC meat sector was a key theme during the annual meeting of the BC Association of Abattoirs on May 15. "Unprecedented" was how president Bonnie Windsor described the impact in her address. "Facing the increased demand proved challenging, but for the most part I think it was welcome." Windsor said the increase in demand was consumer-driven. "It has been said that people were hoarding toilet paper and I think people were hoarding meat," she notes. "COVID seems to have reminded consumers how important it is to support local and to consider the source of their food." With some consumers beginning to return to their old buying habits, Windsor sees a chance to increase meat sales. "I believe our industry and local products have been opened up to a whole new market of consumers," she says. "There is much opportunity for growth providing we position ourselves accordingly." Windsor is optimistic about the future of the industry. "We showed that we can face the changes and challenges of COVID and we produced more meat products than ever before," she says. Hard work Association executive director Nova Woodbury shared numbers on just how much harder her members worked last year. "In 2020, class A&B abattoirs processed 17% more cattle, 6% more pigs and nearly 8% more sheep and lambs than in 2019," she explains. "Added up, this is a nearly 30% increase, or an additional 14,000 animals processed." The traditionally busy time of September through December remained so, Woodbury notes, but there were some unusual jumps in processing demand. Cattle processing numbers were up 54% and 38% in May and June, respectively. Hog volumes were up nearly 15% and 18% in June and August, and the number of sheep and lambs processed rose 26% and 31% in September and December. "Everyone deserves to feel good about what they accomplished in 2020," says Woodbury. But 2020 took its toll on BC Meats members thanks to a shortage of workers. In an on-line poll during the meeting, 94% of attendees said stang was the biggest challenge facing them. "It is beyond crisis," says Richard Bell from Farmcrest poultry in Salmon Arm. "We need about 70 people to make our operation run and we are down to 41." He says he has been turning away business from new entrants in the North Okanagan because he doesn't have the sta to process their birds. Bell says though his base rate is $22 an hour, he has great diculty attracting and retaining local help. The entire meat industry is in the same predicament, he says. "I was talking to the head of meat at Save-on-Foods," Bell says. "It's in all aspects of our industry, all the way from the farm through slaughter and into retail and food service." Woodbury outlined the work the association is doing for the labour issue, a topic she says she covers frequently in her monthly meetings with government sta. "We have been meeting with government and have put forward a proposal to take the training program we developed some years ago and putting it into an on-line format so that we can reach out to as many people across See LABOUR on next page oHelping you grow your business. you ours.BC abattoir volume up 30% in 2020 But growth depends on labour supply
Page 20
20 | JUNE 2021 COUNTRY LIFE IN BCLABOUR is the biggest concern for abattoirs nfrom page 19the province as possible," she says, noting that the sticking point is on the government side. "We are hopeful that a new position in the BC Ministry of Agriculture, Food and Fisheries will be able to provide not only support, but tangible results," says Woodbury. There is also diculty accessing federal programs. "We have been trying to nd the right people to speak with on federal initiatives," she says. "There was a federal government pilot under the Temporary Foreign Worker program for our industry. I have been dealing with the federal government, but I have not received an answer." While workers may come in under the federal TFW program, those looking to fast-track permanent residency often don't stay long, says Bell. "They simply use our industry as a stepping stone to get into the country and move on to another job as quickly as they can," he explains. Paul Devick of Rangeland Meats in Heey Creek found himself in an opposite situation. "I had a very good worker who wanted to keep working for us. He was trying to bring his family into Canada, but the government process was extremely slow," recalls Devick. "He got so frustrated with the lack of progress, he left Canada and went back home." Both Windsor and Woodbury acknowledge that the industry lacks support in the community. "We are not thought of as a viable career choice," says Windsor. "We have failed to promote our industry. It's not just work on the kill oor anymore." But 85% of people in BC report that they eat meat, Woodbury says. "We need more support from the community for our industry." To that end Woodbury says the association is rebranding as BC Meats and preparing to relaunch its website, BCMeats.ca. The new site will provide up-to-date information for consumers, producers, processors and abattoirs, chefs and retailers. The association will also launch a Facebook page and Instagram account. "A key part of our social media will be to present proles of our members," says Woodbury. "Please encourage the producers, suppliers, butcher shops and customers that you work with to support us." Capacity is not the issue Woodbury's nal message to members provided insights on industry capacity. "We hear over and over again that slaughter capacity is an issue in BC. But is it?" she asks. "I think we've proved we could increase capacity in 2020 with over 14,000 more animals being processed than in 2019." Woodbury has looked at available red meat slaughter space and estimated output if plants ran ve days a week, 48 weeks of the year. "It turns out that if every current red meat abattoir did slaughter ve days a week, 48 weeks of the year, slaughter capacity would increase by 2.3 times," says Woodbury. The message to government is clear, she says. "There is enough slaughter capacity if there are enough workers," she says. "The abattoir may not be as close as the producer would like or available at the last minute, but it is feasible." Paul Devick of Rangeland Meats says government needs to do more to give foreign workers a pathway to permanent residency so they stay in the country and the industry. ANITA DEVICK
Page 21
COUNTRY LIFE IN BC JUNE 2021 | 21A pilot project in the Guy Mountain range unit will help ranchers choose the best management practices to conserve water. ANDREW PANTEL"Serving and Supporting the Community Together"PROVINCIALLY INSPECTED ABATTOIR B.C. #34ALL SIZES MARKET GOATS & LAMBS604.465.4752 (Ext 105)FAX 604.465.4744 ashiq@meadowvalleymeats.comPROVINCIAL LIVESTOCK FENCING PROGRAMApplications Close: August 31, 2021View program updates at cattlemen.bc.ca/fencing.htmOce: 1.778.412.7000 Toll Free: 1.866.398.2848email: fencebc@cattlemen.bc.ca In partnership with:KATE AYERS WILLIAMS LAKE – As more extreme weather events occur across the province throughout the year, ranchers need to prepare for a range of climate scenarios to ensure sustainable livestock production continues into the future. A recent four-part webinar series by the BC Agricultural Climate Adaptation Research Network provided ranchers and other livestock sector stakeholders with tools to evaluate surface water risk and expand forage access under the pressure of increasingly variable climatic conditions. Presenter Andrew Pantel, of Pantel Environmental Consulting Inc. in Peace River, Alberta, discussed how ranchers can assess climate change risks to water and forage availability, water resource resiliency, range management planning and the 2017 Cariboo Surface Water Risk Assessment Pilot Projects. Climate models that Pantel and his team use predict that temperatures will increase between 1° and 3°C by 2050. Annual precipitation may increase by an average of 12 mm but evaporation from surface water is projected to increase by an average of 94 mm each year, increasing the moisture decit in soil. Pantel and his team drew some key ndings from these climate models to improve range management. One nding is that ranchers should connect high forage producing areas to water and distribute cattle throughout the range unit to improve access to forage. In addition, forage inventory maps can help ranchers with forage calculations and provide visual representations of the forage base available to livestock. Also, perched ponds less than 5 ha (12.4 acres) are at the greatest risk of drying down and may contain water unsuitable for livestock consumption later in the grazing season, Pantel says. These smaller ponds may contain increased concentrations of salts or bacteria which can adversely aect cattle health. Meanwhile, ponds greater than 5 ha with a groundwater connection are a more reliable source of quality water. As a result, ranchers should consider grazing schedules and decide whether or not to limit pastures with at-risk ponds to early season grazing while groundwater-fed ponds be used for later-season grazing. When ranchers develop grazing plans, they should also consider that cattle will move about 1.5 kilometres from water in a hilly pasture and 3 km in atter areas. Producers can use local knowledge of water resources, ow accumulation models and the BC Climate & Agriculture Initiative's online climate change impact risk assessment tool to predict zones of use. In addition, farmers can use climate models, forage categories, sampling and GIS mapping to make detailed range management plans. Provincial range branch specialists are also available to help ranchers plan for sustainable grazing and water use. Online resources Another helpful planning tool is a forage availability spreadsheet which will be made available on the BC CAI website. This document provides an estimate of carrying capacity by accounting for such factors as ecological values, slope, forage type and the maturity and physiological status of livestock. Calculating forage resources helps ranchers make informed economic decisions on rangeland water developments. Ranchers must also consider how forage resources will shift over time as the climate changes. Pantel, along with a team of rangeland specialists, conducted water development pilot projects in the Guy Mountain and Haines Creek range units. The Raven Lake range unit pilot is underway. In these projects, the group matched resilient water resources to productive forage areas using many of the aforementioned tools. For the chosen water development options in these areas, the team considered management practices that suit future climate scenarios and current range practices. The main goal for water developments is to remove reliance on small closed basin systems to ensure water availability for the next generation and beyond. Overall, ranchers who examine surface water risks and assess forage availability can better manage cattle health, range capacity and ecosystem services as they adapt to a changing climate. Ranchers urged to plan ahead for a changing climate Online resources, local knowledge guide adaptation
Page 22
22 | JUNE 2021 COUNTRY LIFE IN BCNope, there's only one answer for used motor oil. Recycling.Do the right thing. Find the closest Public Recycling Centre for your motor oil and oil filters. Go to bcusedoil.com/recycling"Oil comes from the ground. It should go back in the ground, right?"
Page 23
COUNTRY LIFE IN BC JUNE 2021 | 23Head cider maker Alison Round with a 75-year-old Spartan apple tree that provided apples last fall for this year's ciders. JACKIE PEARASEJACKIE PEARASE SALMON ARM – They already have the dedication to tradition and quality ingredients. Now, the owners of the Northyards Cider Co. have the orchard to realize their vision. Kathleen Van Der Rees and Alison Round purchased the heritage Hanna and Hanna Orchard in Salmon Arm in December, allowing them to create a farm-based cidery. Based in Squamish since 2018, Northyards has been categorized as a commercial cidery because the juice processed into cider at their facility came from an orchard in Oyama. "We pay a 73% markup on our cider even though we produce cider in the exact same way that someone like ourselves now are going to do on this site," Round notes. "It's just that we're penalized by being called commercial-based. They put you in the same category as Mike's Hard Lemonade, as if we're making it from sugar and distilled spirits and water." The couple investigated the craft cider industry for four years before starting their cidery and tasting room. The business idea began after Round, never a beer drinker, reluctantly tried cider at a beer festival and was pleasantly surprised. "I tried these two ciders at this beerfest in Bellingham and honestly, they just blew my mind. I couldn't believe how good they were," says Round. Seeing other craft cideries and breweries beginning to take hold in BC, the duo decided to start one of their own. Van Der Rees continued her practice as a lawyer and took on management of the business. Round, meanwhile, completed a cider-making course at Walla Walla Community College in Walla Walla, Washington then studied under Andrew Byers from Finn River Cider in Chimacum, Washington. Once operational, Round created a line of four ciders using a mix of up to ve dessert apples. "We're a fruit-forward, all-natural product. I'm vegan and a holistic nutritionist so I'm not interested in making a product that I don't feel comfortable consuming myself and then asking others to try it and like it and drink it," explains Round. With an eye to such quality, the business plan expanded to nd a more ideal location. "We always knew we wanted to make the jump to an orchard-based cidery," Round says. "We never thought of this area but immediately when we showed up at this property we knew that it was special in so many dierent ways." The 29-acre property with 6,500 apple trees of 32 varieties had been on the market for a couple of years. Brothers Stuart and James Hanna operated an orchard, farm market and garden centre at the farm started in 1907 by their great-grandparents, Edwin and Sarah Dodd. The brothers wanted to ensure the farm's legacy continued and were intrigued by Northyards' plan. "We were shown the property by one of the owners, James Hanna. We spent … almost three hours here just talking about the apples, about the history behind the property. That was super special and we just loved him right away and I'm pretty sure it was mutual," Round recalls. The Hannas helped out in Insurance products and services are provided through Assante Estate and Insurance Services Inc. Please visit www.assante.com/legal.jsp or contact Assante at 1-800-268-3200 for information with respect to important legal and regulatory disclosures relating to this notice.Financial planning for farm families Farm transition coaching Customized portfolio strategy Retirement income planningDriediger Wealth PlanningMark Driediger, CFP, FEA, Senior Wealth AdvisorBrent Driediger, BAA, CPA, CMA, CFP, Wealth Advisorwww.DriedigerWealthPlanning.com | 604.859.4890 Assante Financial Management Ltd.Cidery ups game with orchard purchaseNorthyards Cider Co. makes move from Squamishthe winter months, guided them through spring pruning and are now giving them hands-on machinery lessons. The majority of the trees produce dessert apples but James Hanna also noted the cider trend so there are a few producing cider apple varieties in the orchard. "Currently, we are just making a fruit-based cider but with the cider varietals we have we'll be able to build on the complexity of the cider that we're making. We're going to be able to expand the range of ciders that we See CIDER on next page oSPRAY SCHEDULES3 ways to get printed spray schedules 1. On-line, print the spray schedules yourself. Access the www.bcfga.ca website 2. Order on-line, pre-printed spray schedules. BCFGA will print and mail the spray schedules to you (free of charge for BCFGA members, $3 per schedule for others https://www.bcfga.com/orderform.php?pageID=3183. Contact the BCFGA for pre-printed spray schedules. Call Brenda at 250.762.5226 (Ext. 2) and leave your name and phone number. (when leaving a message, please speak slowly and repeat the phone number.) We will return your call to confrim your information and order request.BC FRUIT GROWERS' ASSOCIATION1.800.619.9022 (Ext. 1)www.bcfga.ca
Page 24
24 | JUNE 2021 COUNTRY LIFE IN BCNorthyards Cider Co.'s new orchard in Salmon Arm was covered in apple blossoms this spring. JACKIE PEARASECIDER prospects nfrom page 23TRACTOR TIMEVICTORIA 4377C Metchosin Rd. 250.474.330130 minutes from Victoria and 15 minutes from Highway#1 in Metchosin.tractortime.comPREMIUM TRUCKPRINCE GEORGE 1015 Great Street 250.563.0696WILLIAMS LAKE 4600 Collier Place 250.398.7411premiumtruck.caHANDLERS EQUIPMENTABBOTSFORD 339 Sumas Way 604.850.3601HOUSTON 2990 Highway Crescent 250.845.3333Contact your local Mahindra Dealerhandlersequipment.comMahindra 1626 with Box Bladecan oer," notes Round. With 14 acres available for planting, Round is eager to add more cider varietals. "Cider apples are so rare in BC that when any of the cideries in the local area nd someone who's got those apples … and they're willing to sell them, they get gobbled up really quickly. And it's a secret." Northyards has applied for a building permit from Salmon Arm and is waiting on the province to complete the transfer of its liquor licence from Squamish. It hopes to be operational by early summer, serving cider made from apples harvested from the Salmon Arm orchard last fall. Salmon Arm Economic Development Society manager Lana Fitt says Northyards Cider Co. is the latest beverage-based business to join the community. A microbrewery opened in 2019, a second cidery is opening this summer and there is an established craft brew pub. "It's a really busy time for our community overall but denitely we've been really focused on building that beverage environment that other communities have seen, specically around the cideries and breweries, and that climate it brings to the community," says Fitt. "We're really excited for what it will bring from an agri-tourism perspective and tour opportunities and additional experiences for visitors to our community and then also a draw for our residents. It's nice to have diverse options for food and beverage in the community." Round says she feels the excitement of the community and she and Van Der Rees are eager to get started. The immediate plan is to convert the market building into a welcoming tasting room and cidery, and add an outdoor patio. They are also transitioning the farm to organic. With the orchard providing four times as many apples as they had previously processed, the long-term plan includes constructing a larger processing facility. They are also adding a pumpkin patch and camping, turning a section of the orchard to u-pick, and oering the ability to sit amongst the trees and enjoy some cider. "We do want to make it available to come and enjoy it the same way that we get to every day now," adds Round. "It feels right to just spend your time building something and doing something that you get to watch and create and it gives back to you in the same way that you're giving to it." Fitt says her organization is working to support this new element of the local business community. "We're going to be drawing together some groups for the whole tourism/hospitality cluster to try and support and facilitate some new package development in the community," Fitt explains. "In the next couple of months we'll be working on that." Round is eager to get the equipment from Squamish operating in Salmon Arm so they can formally introduce themselves and their product to the community. She has no doubts their product will leave a suitable impression. "We're a really drinkable cider. If you are not a cider drinker and you have (negative) perceptions of what you think cider tastes like… ours is not like that," she says. "We like to say it's very crushable. If you open one, I guarantee you'll open a second. It's pretty hard not to."
Page 25
COUNTRY LIFE IN BC JUNE 2021 | 25Cowichan Milk Co.'s customers sign up and order milk products and more online for once-a-week delivery to a cooler placed on their doorsteps. SUBMITTED • Increase milk production• Increase heat detection• Reduce hoof & leg injuries• Reduce cull ratesCall For A 10% -15% DISCOUNT TODAY1.877.966.3546www.agritraction.com | CHILLIWACKMotorized screens up to 40ft. wideOversized & Standard Retractable Doorswww.q2qscreens.ca 778.551.0855 t jkiers@q2qscreens.caServing the Lower MainlandTHE BC DAIRY HISTORICAL SOCIETY IS SEEKING NOMINATIONS of producers, processors, BC Dairy Pioneers, supporters of the BC Dairy industry, writers or other individuals who have made outstanding contributions to the BC Dairy Industry. To nominate a worthy individual, submit a short summary of your nominee's contributions to the industry. Nominations are to be submitted online at www.bcdairyhistory.ca under the Achievement Awards Tab. Nominations close October 3. The award will be presented during the 2021 BC Dairy Conference.2021 BC DAIRY INDUSTRY ACHIEVEMENT AWARD BCDairy HISTORICAL SOCIETYdelivery service. "Suppliers drop o their products at the farm, we then load the products into the vans and the delivery drivers put together orders when they arrive at the customer homes," says vanBoven. To keep up with demand, the family employs six sta members who assist with delivery and inventory. Home delivery demand "grew so fast that we got to a point where we had to waitlist people because we didn't have the manpower or van capacity to get the products out," vanBoven says. "When COVID-19 hit, we were working 15-hour days to do deliveries and we had people lining up like crazy. We had to stop taking orders for a bit until we could get more vehicles and employees." Today, the family has three vans on the road with a fourth one on its way to the farm. Sta deliver orders four days a week and a household can order one delivery each week. The family's goal is to serve the Cowichan Valley. They deliver from Ladysmith to just north of Shawnigan Lake. "We had to change our business model to help out people and suppliers," says vanBoven. Customers can submit their orders on the Cowichan Milk Co.'s website by signing up for delivery, customizing their order from a selection of local products, and then putting out their coolers on delivery day. Since starting the home delivery service, the vanBoven family has found that their customers are more aware of and interested in learning how and where their food is produced. Customers "are often surprised to see some of the products that are local to Vancouver Island," she says. KATE AYERS DUNCAN – Cowichan Milk Co., a family dairy operation, has expanded its business to provide home delivery services to Cowichan Valley residents. Since Margie and Ben vanBoven took over the family farm in 1993, they have shifted business plans a few times to support their growing family and provide value-added services to their community. Their son Matthew and his wife Darbi are co-owners of the dairy farm and Cowichan Milk Co., and their daughter Amy is an employee of Cowichan Milk Co. In September 2019, after three years of planning, the family began bottling milk from their 50-cow herd to sell in grocery stores and farmers markets. One month later, the family added home delivery. "We rst transitioned into bottling milk and we thought that home delivery would be a very small portion of our business," says Margie. "Ever since then, it has been growing and growing. Home delivery is now the larger part of our business." Their milk processing venture lent itself to expansion once the family discovered they could help people save time and trips to the grocery store. "We use glass bottles for our milk and require that the bottles be returned. When I did the research on bottling milk, a lot of farms were doing home delivery so that people didn't need to remember to bring their bottles back to a store," vanBoven says. This decision proved to be a real catch with consumers. "A lot of people like that old-fashioned comeback of milk delivery and in today's busy society, picking up milk is one less thing they have to think about," she says. Once that system got rolling, the vanBovens decided to add a couple more products to their lineup, including bread and eggs. Then, COVID-19 took hold and people became more hesitant to grocery shop in person or had to self-isolate. As a result, customers "wanted more products and suppliers contacted us to ask if we would deliver their products since they were no longer able to sell at farmers markets." Now, Cowichan Milk Co. has about 45 partners who supply locally grown, raised or processed products that are included in the family's Delivery options on increase The venture is one of several services cropping up across BC that aim to connect urban consumers with local producers and farmers. "(They) are part of the solution to help consumers nd good local food," says Greg McLaren, managing director and chief strategist of Nanaimo consulting rm Farm Food Drink Inc. "Businesses are working together to cross-promote, deliver and share each other's customers." Farmers who want to integrate home delivery into their business models must be ready to manage a whole new business, says Margie. This involves doing their research, investing in a good software platform and being prepared to answer lots of customer questions. Businesses don't need to reinvent the wheel, adds McLaren. "Try to nd out who is already operating and use existing systems. Don't try to do everything yourself. Share resources among the group and work with well-established delivery models," he says. From a family that has kept the cow in "Cowichan" since 1960, the vanBovens are happy to be changing with the times. "We hope to ll a need in the community and we try our best to do that," vanBoven says. "We are thankful for the people in the Cowichan Valley who choose to support their local farmers and suppliers to help with food security here on the Island." The milkman makes a comeback on IslandCowichan Milk's home delivery can't keep up with demand
Page 26
26 | JUNE 2021 COUNTRY LIFE IN BCNO COSTLY DPFMatsquiag RepairSales, Service & Partsest. 1989@matsquiagrepairCall today to demo any of our McHale models today!www.matsquiagrepair.com34856 Harris Rd, Abbotsford BC V3G 1R7604-826-3281BUILT TO LAST THE NEW V6750 BALERThe new V6750 variable chamber baler from McHale is a heavy-duty, high output machine capable of creating bale sizes from 2' to 5'6".15 Knife Chopper UnitDouble Drive with3 Heavy-Duty Endless Belts2.1m Pick Upwith Adaptive IntakeAS STANDARDAS STANDARDAS STANDARD
Page 27
COUNTRY LIFE IN BC JUNE 2021 | 27Karen Kellett is considered the local expert when it comes to growing raspberries and Saskatoon berries in Prince George. SUBMITTEDFOR BAGGED or BULK ORDERSDarren Jansen Owner604.794.3701organicfeeds@gmail.comwww.canadianorganicfeeds.comCertified by Pro-Cert Organic Systems Ltd.RONDA PAYNE PRINCE GEORGE – About 20 years ago, Karen Kellett asked her husband Dave to help her prepare an acre of their land for berries. Now, her experience and knowledge are sought by others who also see opportunities for berries in the short northern growing season. "I told my husband I just wanted to put some fruit in," says Kellett of Sweder Berries U-Pick, located on 1,400 acres near the Fraser River, about 40 kilometers south of Prince George. "I've been advocating since day one. There's more opportunity to grow fruit up here than what is being grown and I would like to see more of it being done." The couple has been farming for more than 50 years, but it's only the berries that tie them to the land now. They sold their cattle two years ago and stopped their wholesale eld vegetable farm ve years ago. The berries have always been Karen's special focus. She started with 225 Saskatoon berry seedlings in 2000 and began diversifying in response to a BC Ministry of Agriculture request for sites for raspberry variety trials. She planted 28 varieties, and added six varieties of blueberries in 2002. While she could have expanded the berry patch, an acre is all she can manage on her own. Having recognized early on that raspberries like Cowichan, Esquimalt and Malahat weren't successful in the north, she removed them and replanted varieties that did, including Boyne, Souris and SK Red Mammoth. While provincial trials ended long ago, she continues to see the benets. "I guess I have the most experience growing raspberries in this region and the most varieties," she says. The years of knowledge have helped other growers in the Cariboo, which now number approximately six, according to Statistics Canada. Some are adding value to the berries, such as Northern Lights Estate Winery, a venture of former BC agriculture minister Pat Bell and his family. Winemaker Christine Leroux had grown garlic on the Kellett's land before joining Northern Lights, which bills itself the province's most northern winery. "They've come here and asked about varieties," says Kellett, adding that she's heard the fruit winery is adding more acreage. "The winery has helped interest, in that people see that berries can be grown here." Generous with advice Periodically, others who are interested in berry crops come by to ask questions and learn from Kellett's experience. One of the things she explains is the fact the season is short. "You don't have much time between the snow leaving and [the plants] leang out. It can be a week sometimes," she says. "You need to get the pruning done. I used to do this work in the fall. I don't anymore, so I'm stuck doing it in the spring." That means when the weather starts to improve, she has little time to get raspberry canes and blueberry bushes pruned and shaped up. The local microclimate usually lets her get to work in mid-April. Ron Seyferth of Rainbow Berry Farm about an hour north of Prince George is still under snow in mid-April and may not get to thinning his raspberries and pruning dead wood on his Saskatoon berries until early May. Like Kellett, he's been growing berries for about 20 years. His climate is colder and the growing season even shorter. "We know that Saskatoons grow here because they are the wild variety here," he says. "We tried a few supposedly northern-hardy blueberries and they didn't make it. They didn't survive the winter. We get lots of snow and lots of cold here." His farm is 29 acres, of which four are planted to berries. The mix is 70% Saskatoons and 30% raspberries. He says the raspberry canes came from a local woman who had been growing berries since the 1940s. "Her patch was getting out of hand. We just dug them up," he explains. She'd told him the varieties were Heritage and Boyne, and Short season doesn't stall northern berries Grower interest brings sweet crop to Cariboo marketsSee BERRY on next page oCOMMITTED TO AGRICULTURE in the FRASER VALLEY, SOUTH OKANAGAN & VANCOUVER ISLAND rollinsmachinery.comCHILLIWACK • 1.800.242.9737 . 44725 Yale Road West • 604.792.1301 LANGLEY • 1.800.665.9060 |. 21869 - 56th Avenue • 604.533.0048 CHEMANIUS • 1.250.246.1203 . 3306 Smiley Road KELOWNA • 250.765.8266 . #201 - 150 Campion Street TRACTORS JD 5500 6300 HRS, ROPS, LOADER, 4WD [U32428] ............. 31,500 NH 8560 4WD, 6,250 HRS [U32312] .................................... 45,900 NH BOOMER 35 & LDR, NEW [N 31624] ................................ 29,775 NH WORKMASTER 60 & LDR [N 32272] .................................. 45,775 NH TS6.140 [N 31303] ......................................................... 93,500 NH TS6.120 [N 31340] ......................................................... 86,500 NH T6.145 LDR READY, CREEPER, AUTO SHIFT, NEW [N31878] 117,150 NH T6.145 AUTOSHIFT, CREEPER, 40 KM, NEW [N31920] ...... 110,150 QUALITY USED EQUIPMENT AERWAY 11' TRAILER, AERATOR, NICE CONDITION [U40045] .... 9,000 CUB CADET LAWN TRACTORS NEW 2021 UNITS, RIDE-ON, O'TURNS . CALL GEHL 3250 SQ BALER, S/N20743, CRANK BALE TENSION,78" PU, 1/4 TURN BALE CHUTE, GOOD CONDITION, SHED-STORED [U32407] ............... 7,900 KUHN PRO 150 MANURE SPREADER, VERTICAL BEATERS, GOOD CONDITION [U32236] ................................................ 28,500 MCHALE FUSION VARIO 2017, 14,000 BALES, [U32135] ......... 89,000 NH 258 RAKE 260, HITCH [U32143] ........................................ 4,950 NH 795 MANURE SPREADER [U32010] .................................... 7,595 NH 1044 BALE WAGON [U32420] ............................................ 7,000 NH C232 TRACK SKIDSTEER, DEMO SPECIAL, 500 HRS, GOOD CONDITION [N31179] ................................................. 61,000 NH L220 SKID STEER 4500 HRS, CAB, HVAC, NO BUCKET [U32573] 31,500 NH LW50B WHEEL LOADER, 3,100 HRS [U32524] .................. 36,900 NH TV145 BI-DIRECTIONAL TRACTOR, FRONT MOUNT TIGER BOOM MOWER, GOOD CONDITION [U16916] ................................... 47,500 TAARUP 4036 DISC MOWER, REBUILT CUTTERBAR [U32093] ... 14,500
Page 28
28 | JUNE 2021 COUNTRY LIFE IN BCBERRY season gets a later start in the north nfrom page 27Agricultural Grade Products - Made in the U.S.A. Contact your local Nelson Irrigation dealer today!TAP INTO OUR WEBINAR SERIES! NELSONIRRIGATION.COMROTATOR®TECHNOLOGYREIGNSNEW HANGINGSPRINKLER SOLVESPROBLEMS FORORGANIC GROWERS15-50 PSI8.5-75 GPH9-16' RAD.Introducing the S7 Spinner - a new Nelson innovation designed to combatrising energy and labor costs. The S7's modular design allows quick and easynozzle exchange - and the Quick Clean (QC) technology reduces irrigatorhours — simply turn, flush and reconnect. Special insect protection helpsprevent plugging or stalling. Find out more at WWW.NELSONIRRIGATION.COMSeyferth describes them as good producers. He's never conrmed the varieties through testing. "They start producing around the end of July and they produce until we get our rst frost around early September," he says. "Our winters are long and our summers are short. It's a big commitment. Even our little four-acre patch, it ties up our summer. We have to be here." Both Kellett and Seyferth sell their berries solely through their u-picks, though Kellett does reserve some to make her popular raspberry syrup, which she sells at the local farmers market. She gets phone calls about strawberries every year but has left that part of the berry business to others like Hope Farm Organics, also located in Prince George. With a couple of decades behind them, Kellett and Seyferth have little need to advertise. Berry-hungry locals start calling Seyferth around the rst of June unaware there are still weeks to wait. He keeps the site running from late July until Labour Day. The farm also grows and sells a few eld vegetables as well as greenhouse-grown tomatoes and cucumbers, but he has reduced the volume of these items as people prefer to buy at the local farmers market rather than farm stands. Long weekend in August best for northern berries Sweder Berries has a sign and a Facebook page to let people know about the u-pick operation and Kellett notes the best time to come is the long weekend in August for raspberries, just as the blueberries are beginning. Like Seyferth, she's wrapping up the customer-facing part of the season around the third week of August. There are benets to growing berries in northern BC, Kellett says. The big one is the lack of bugs such as spotted-wing drosophila. "We don't have SWD. I have never sprayed my fruit," she says. "I have some cane diseases and botrytis, a bit of winter die-back, but no insects, so I have that big advantage there." Another plus for these two northern growers is that pollination comes along with a perk: free honey. An apiarist had been bringing his hives to Rainbow Berry Farm until he retired a couple of years ago. Seyforth had been getting a case of honey in return, but beyond the sweet reward, he hasn't noticed much dierence in pollination results. In his opinion, native pollinators do just as good a job. Kellett has seen a signicant dierence from bringing in bees, especially for her Saskatoons, which develop in clusters. "It made such a big, big dierence in the size of the fruit and in the pollination," she says. She, too, gets honey at the end of the season in return for allowing the bees to forage in her elds. "That's another advantage I have over the Lower Mainland," she says. "He gives me honey at the end of the season." Ron and Barb Seyferth of Rainbow Farm, about an hour north of Prince George, start elding calls in early June from customers anxious to get their hands on fresh, local berries. The farm opens in late July. SUBMITTED
Page 29
COUNTRY LIFE IN BC JUNE 2021 | 29Cariboo-Chilcotin sheep group formedSheep producers seeing strong pricing for meatBC sheep producers can't keep up with consumer demand for local product and that's having a positive effect on prices and the industry as a new producer group has emerged in the Interior. FILE PHOTOBARBARA JOHNSTONE GRIMMER 150 MILE HOUSE – The BC Sheep Federation has a boost in members to 200 with a new sheep organization joining the ock. The Cariboo Chilcotin Sheep Producer Association had its inaugural virtual meeting March 20. Established by Gord and Megan Flatt, the group replaces the Cariboo Sheep Breeders and North Cariboo Sheep Producers Association, both of which are now inactive. The association will become a member of the BC Sheep Federation, with Megan Flatt serving as a BCSF director. The organization is distributing a survey to all members and potential members. Members are interested in networking and discussing issues that impact sheep producers in BC, such as abattoir availability, wool marketing and processing, availability of insurance and traceability requirements. There is an interest in sharing resources and expertise. Megan and Gordon Flatt own Old Ochiltree Ranch in 150 Mile House, where they have sheep, a market garden, and apiary for honey. They are certied organic, with grazing, fruit and vegetables. "The BC Sheep Federation would like to see all sheep producers across the province become members of BCSF, supported by regional organizations," says BCSF president Barbara Ydenberg, BC director to the Canadian Sheep Federation. Currently there are seven producer groups covering Vancouver Island, the Lower Mainland, Prince George area, Okanagan-Shuswap, Upper North Thompson and Cariboo-Chilcotin. Purebred sheep breeders in the province are represented by the BC Purebred Sheep Breeders Association (BCPSBA). Sheep producers that are not represented by a regional group or BCPSBA can join BCSF directly or form their own regional organization. Strong sheep prices across Canada and in BC have been a benet to producers over the past year. Lamb prices have increased an average of 65% from a year ago, based on auction prices. In BC, demand for lamb in the marketplace far exceeds production. The provincial ock seems to be expanding, with 10% more CSIP tags bought in 2021 over the same period in 2019, and 36% more than 2020. New producers have increased by 10 to 15 new producers a month, resulting in 120 to 180 new sheep farms per year. It is not known how many sheep producers have retired or gone out of sheep. Processing of lamb, although tight in some regions, did not shut down when COVID-19 hit. An interest in local meat during the pandemic has boosted sales. Little demand for wool Wool is a dierent story. Although there is a market for hand-spinning and wool products, many producers do not see a strong demand for raw wool. Shearing is an annual activity but COVID-19 has complicated the usual social aair. The wool market was impacted by the pandemic as China is a major market and the textile industry has been severely aected, compounded by the ongoing China/USA trade dispute that was just showing signs of improvement when the pandemic struck. National eorts to revive local and specialty wool processing through the leadership of the Canadian Wool Congress has created a renewed interest in wool production, raising producers' hopes for improved prices. countrylifeinbc.comThe agricultural news source in BC since 1915.Quality Pre-Owned Tractors & EquipmentFARMKING RB10FK WHEEL RAKE . . . . . . . . . . . . . . . . . 7,500 FORD 6610 CAB . . . . . . . . . . . . . . . . . 13,500 JAYLOR MIXER WAGON . . . . . . . . 13,500 JCB 409 . . . . . . . . . . . . . . . . . . . . . 47,000 KUHN FC313 MOWER TG . . . . . 20,000 KUHN 4 BOT ROLLOVER PLOW . . . . 19,900 KUBOTA BX2200 . . . . . . . . . . . . . . 7,500 KVERNELAND 4032 MOWER . . 16,000 MASCHIO DC4000 POWER HARROW . . . . . . . . . . . .12,500 MF 1523 . . . . . . . . . . . . . . . . . . . . . 9,000 NEW HOLLAND TM150 . . . . . . . 47,000 NEW HOLLAND TS 115 . . . . . . . 25,000 TYCROP HIGH DUMP 16' . . . . . . . 9,500
Page 30
30 | JUNE 2021 COUNTRY LIFE IN BCMarketing British Columbia to the World®www.landquest.comToll Free 1-866-558-LAND (5263)"The Source" for Oceanfront, Lakefront, Islands, Ranches, Resorts & Land in BC®WILLOW SPRINGS RANCHCHRISTIAN VALLEY, BCOFF GRID ACREAGELAC LA HACHE, BCROCKING HORSE PUBNANOOSE BAY, BCLUXURY LOG HOME WITH INCOME POTENTIAL - CHARLOTTE LAKEPRISTINE RIVERFRONT PROPERTY WITH TIMBER - BEAVERDELL, BCSIDNEY ISLAND OCEANFRONT - LOT 78SOUTHERN GULF ISLANDS80 ACRE OCEANFRONTGREEN BAY - NELSON ISLANDWISTARIA CATTLE RANCHOOTSA LAKEENDLESS POSSIBILITIES FOR THE LOG CABIN PUB - SPENCES BRIDGE, BCRIVERFRONT FARM WITH RICH SOIL15 MINUTES FROM PRINCE GEORGE, BC500 acres, 2 titles, 2.2 miles on the Kettle River in a warm southern BC valley. A trout fishing, wild game, & entertainment recreational paradise with a spectacular 5,575 ft2 log home, manager's home, bunk house, 7,200 ft2. Party barn, fully serviced yurt, 3 RV sites & much more. $7,490,000Backcountry land with year-round spring / creek. Mostly forested, large open meadow & lots of wildlife. Surrounded by Crown land with easy access further backcountry pursuits. Lots of nice open clearings for your off-grid cabin overlooking the creek / meadow. Fully fenced. Old dilapidated cabin of no value. $189,500Well established Country Pub on 5.31 acres located in an area of equestrian acreages. Licensed for 134 inside and 38 patio occupants + off-premise sales. Upper level contains a newly renovated suite, of昀ce space and storage. 26 stall, 7,000 ft2 horse stable. Great upside potential! $1,950,0004,000+ ft2 custom built, off-grid, luxury log home on 11 acres on Charlotte Lake. This amazing wilderness, lakefront property offers a second 3 bedroom B&B furnished cabin, numerous outbuildings and a large list of included items. Perfectly set up to operate a small luxury business. $1,750,000306 acres with 1.4 km on the Kettle River. Signi昀cant Timber Value. Little Goat Creek flows through. No zoning and partially in ALR. Backs onto Crown land. Awesome hunting and 昀shing. KVR Trail goes through property. Just over an hour to Kelowna or Osoyoos. $949,0003.15 acres with 408 ft. of sunny west facing oceanfront at the southwestern corner of Sidney Island. Well treed parklike setting with great views and sunsets is a short walk to 2 beaches. Private island with miles of sandy beaches, protected moorage, airstrip and full time Island Manager. $675,0001,400 ft of southern exposed oceanfront located in a protected bay within close proximity to Pender Harbour and Egmont. Zoning allows for three homes and one auxiliary dwelling. It is rare to find an oceanfront that backs onto a small private lake. $724,500This is fantastic opportunity for some ranchers to get started or add to existing operations. This 576 acre homestead offers a home, outbuildings, hay production, grazing and a range permit. It also borders a private 8 acre lake. $600,000The Log Cabin Pub presents many options for now and the future . . . carry on with the pub business (45 years in business), convert to a fabulous restaurant, start a winery or craft brewery and grow your own grapes or hops on 6.44 acres, convert to an equestrian estate with a huge log home. $688,000200 acres, 90 acre pasture, 2+ miles of frontage on the Fraser River. Incredible views, fertile soils, this private oasis is the perfect location for a farm operation. 3 bdrm, 3 bath home has recently undergone multiple improvements. Numerous outbuildings to support sheep, cattle & horses. $1,099,000RICH OSBORNE 604-328-0848Personal Real Estate Corporationrich@landquest.comMATT CAMERON 250-200-1199matt@landquest.comKEVIN KITTMER 250-951-8631kevin@landquest.comFAWN GUNDERSON 250-982-2314Personal Real Estate Corporationfawn@landquest.comSAM HODSON 604-809-2616Personal Real Estate Corporationsam@landquest.comDAVE COCHLAN 604-319-1500dave@landquest.comJAMIE ZROBACK 1-604-483-1605 JASON ZROBACK 1-604-414-5577JOHN ARMSTRONG 250-307-2100john@landquest.comROB GREENE 604-830-2020rob@landquest.comCHASE WESTERSUND 778-927-6634Personal Real Estate CorporationCOLE WESTERSUND 604-360-0793Since its formal creation last fall, the BC Agricultural Land Owners' Association has found no shortage of topics to address. While it traces its roots to changes Bill 52 made to regulations governing activities within the Agricultural Land Reserve, farmers face many other issues related to their ownership and use of land. In recent weeks, farm insurance premiums have been a buzzing topic in posts and conversations among the 4,000 members of our Facebook group, ALR Connect. The issue was also frequently mentioned in responses to a survey BC ALOA conducted in January this year. Skyrocketing insurance rates for small to medium-sized farms are unsustainable, causing farms to scale back and in some cases even close down. Some operations have reported rates rising 40%. The issue isn't unique to agriculture or to BC. The cost of strata property insurance has also skyrocketed, in some cases doubling or insurers raising deductibles; in some cases, both. In California, many farms are seeing a similar shift as insurers seek to protect themselves from wildre-related losses. But the situation in BC is unique because of how we protect farmland. Premiums were higher in the ALR even before the latest increases. The costs were compounded even further for those hosting farm-based events, keeping livestock or with on-farm slaughter licences. Furthermore, insurance for secondary dwellings continues to worry ALR landowners. The changes under Bill 52 removed the option of replacement insurance for a secondary dwelling. If a landowner needs to construct a new secondary residence, conduct repairs involving 70% or more of an existing secondary dwelling, or completely replace one, an application to the ALC is required. Approval is on a case-by-case basis and largely depends on the type of farming practised on the property. A non-adhering residential use approval is void if the property changes hands or is no longer occupied by immediate family or farm employees. More than a year ago, BC agriculture minister Lana Popham promised landowners more exible terms with regards to residential uses within the ALR. An intentions paper was published and a public consultation took place. We recently heard that regulations are under development that will give eect to the results of that consultation, and the grandfathering period for secondary residences has been extended until the end of the year. The new regulations have yet to be unveiled, however. We look forward to hearing more soon from the minister regarding the proposed changes and working with her to resolve an issue that has created uncertainty for many of our members. Changes to regulations governing secondary housing will help but won't fully resolve the bigger issue of farm insurance. While the province has stepped in to address the issues surrounding strata insurance, we have yet to see any recognition of the farm insurance crisis. One local farmers institute is calling for government intervention and negotiation on behalf of farms. Alternatively, the province has an opportunity to develop ALR-specic insurance programs as part of a comprehensive suite of business risk management programs. With more support on this and other critical business issues, farmers can shift their focus from nances to food production which is what this province needs now more than ever. There are more than 165,000 properties within the ALR. If the ALR is for farming, we need to consider options to make farming on those properties a viable livelihood. Rising insurance costs, combined with restrictions on how secondary dwellings can be used, force many farmers to hold full-time jobs o site to supplement on-farm revenue. Our focus is to nd solutions that will ease nancial burdens and regulatory constraints. If we can help farmers bypass these hurdles, they can focus on producing food, growing their farms, and be full partners in BC's economic recovery. Devon Hume is a small-lot farmer in Errington and a director of the BC Agricultural Land Owners Association. Farm insurance crisis threatens landownersOf the many issues facing farmers, adequate insurance is keyViewpoint DEVON HUMESkyrocketing insurance rates for small to medium-sized farms are unsustainable, causing farms to scale back and in some cases even close down. Some operations have reported rates rising 40%.
Page 31
COUNTRY LIFE IN BC JUNE 2021 | 31Mike Boudreau, founder of TechBrew Robotics in Salmon Arm, is in the nal stages of developing a vision-guided mushroom picker. SUBMITTEDSANDRA TRETICK SALMON ARM – There are a number of mushroom harvesting robots at various stages of development around the world, but TechBrew Robotics Inc. of Salmon Arm is nearing the end of its journey to commercialize a vision-guided robot that can accurately identify, pick and trim mushrooms that are ready for harvest and place them in boxes for delivery. The company began development of the robot in 2019, starting with a proof of concept. They needed to prove to the mushroom industry that they could nd the mushroom and pick it without damaging it. By January 2020, the rst prototype was demonstrated in the company's lab in Salmon Arm. By August, they had a working robot tted onto a growing rack. That robot did what they intended, but after, it dropped the mushrooms over the side of the rack once it had picked them. There was more work to be done, but it had met the two technical requirements that mushroom producers had identied early on and achieved a 95% successful pick rate. This month, TechBrew is taking four of its third-generation robots to the Fraser Valley for pre-commercial trials. This follows an earlier round of on-farm tests in March that led to additional design improvements. The robots nd the mushrooms, pick them, trim the dirty stumps o the bottom, package them, transport the packaged mushrooms out of the growing room and bring back empty boxes to be lled again. The four-robot pilot will include conveyors to move the boxes in and out of the growing rooms. The target crops will be white button mushrooms and brown crimini mushrooms. The trials are being conducted at farms owned by Highline Mushrooms, Canada's largest mushroom grower and the largest organic mushroom company in the world. Highline, based in Leamington, Ontario, operates 10 farms in locations across Canada with a sta of 2,300. Highline CEO Aaron Hamer says every fresh market mushroom around the world is still picked by hand. Capacity in North America is shrinking because old farms are coming o-line and producers are afraid to expand without a solution for agriculture's labour challenges. Mushroom harvesting is hard work and pickers are needed around the clock. "With labour availability getting more and more challenging to nd, we need automation solutions to ensure the viability of our food supply chain and guarantee food security for Canadians for generations to come," says Hamer. "Mushrooms grow 4% every hour, so not having enough mushroom harvesters available at the right time causes all producers to have to discard mushrooms that matured too far before a harvester was available to pick it." Mushroom harvester enters final testing Robotics providing homegrown solution to labour shortagesThe Agaricus bisporus is the most widely cultivated mushroom in the Western hemisphere. In its immature state, it can be either white (button mushrooms) or brown (crimini mushrooms). When mature, they are marketed as portabella mushrooms. It is one of the most commonly consumed mushrooms in the world. In 2019, total BC production of Agaricus mushrooms (fresh and processed) was 62,197 tonnes, with a value over $207 million. This was up 19.2% over 2018 and accounts for 42.7% of production in Canada. About 95% of BC mushrooms are sold fresh. Almost all agaricus mushrooms consumed in BC are also produced in BC. In 2020, BC exported a total of $239.3 million in fresh mushrooms, primarily to the US. Agaricus varieties dominated, accounting for nearly 97% of export value. While two key players dominate the industry, the 2016 Census of Agriculture reported 68 mushroom farms in BC with a growing area of 212,175 square metres. As a result of consolidation among commercial producers, the BC Mushroom Growers Society wound down last year. BC producers are now represented by the Canadian Mushroom Growers Association, based in Harriston, Ontario. BC mushrooms at a glanceHighline Mushrooms partnered with TechBrew in 2019 after it won the BC Agritech Challenge in 2019. "We have been there to help them on this journey ever since," says Hamer. "This is a very dicult project that has been attempted o-and-on in the mushroom industry for See ROBOT on next page o
Page 32
over 40 years. TechBrew's technology is impressive and they are taking a very pragmatic approach in marrying up the available technology to the real nuanced demands of the mushroom industry." Highline's partnership has been vital to the development of the harvester. The company partnered with two European mushroom entities to provide additional funding for the rst round of pilot testing, allowed on-farm tests at its farms in Langley and Abbotsford, and provides TechBrew with advice on industry requirements and feedback on progress to date. They also send mushroom beds that are just starting to sprout to Salmon Arm on a weekly basis to give the robots something to work with to build up their articial intelligence in identifying which mushrooms to separate, which to harvest and when. TechBrew recently added two AI specialists to its team to tweak this part of the system. Hamer believes the industry is heading towards automation, but the rate of adoption will depend on how fast the technology advances and how easy it will be to "plug-and-play" in the existing industry infrastructure. TechBrew president and CEO Mike Boudreau notes the absence of robots in Western Canada regardless of industry. He quickly decided that retooling costs to add robotics to existing facilities could be eliminated by having the robot adapt to the environment, rather than the other way around. For mushroom picking, TechBrew designed the robot to attach to a farm's existing shelving, eliminating the need for major changes to infrastructure. "We actually wanted no retrotting, but we found that there's enough dierence in the rack designs from farm to farm, and even within a farm," says Boudreau. "Basically we have to install a new set of rails and get power to the robot. The racks have rails on them for picking trolleys but we're replacing them with our own rails so that we can support the robot properly." It is also being designed to move between growing rooms and survive the sterilization process. "After they nish harvesting, they bake the room at 80°C with steam and wash everything down with a chlorine bleach solution," says Boudreau. "If you haven't designed for that, your equipment is not going to survive." "The June pilot is basically to give the customers enough condence to place orders," he continues. "That's the aim. Get everybody happy that they're condent to order 40, 60, 100 robots." The project couldn't have progressed this far without a lot of nancial support, primarily from grants. TechBrew received $50,000 to develop and test a prototype. It then received $450,000 in support under the Canada-BC Agri-Innovation Program. This phase involved developing the next generation robot and testing it on farm. TechBrew is now in phase three with the help of a $500,000 grant through the BC Agritech Grant program. It is working to nalize the design, get the robot ready for product sales and tackle the specic design requirements needed to enter the European market where customers want to see all the mushrooms displayed cap up. Earlier this year, TechBrew won the third annual OKGN Angel Summit and received $145,000 in nancing. "That was an investment, not a grant," says Boudreau. "The angels actually bought shares in TechBrew. We beat out 40 other companies for that privilege." It was also named to the 19th annual Ready to Rocket list in 2021, an annual ranking of the top emerging tech companies by Vancouver management consulting rm Rocket Builders. While robots are seen as the answer to the labour challenges facing the industry, they won't replace all mushroom pickers. "There will always be a place for skilled harvesters who have been a major contributor to our growth over the last 60 years and will continue to play a critical role in presenting high-quality mushrooms to the market," says Hamer. CLAAS 780L CENTER DELIVERY ROTARY RAKE $11,500 CLAAS 860 SP FORAGE HARVESTER 12.5' PICKUP & 6 ROW CORNHEAD $93,700 CLAAS JAG 870 SP FORAGE HARVESTER CALL FOR DETAILS CLAAS 970 SP FORAGE HARVESTER 10' PICKUP & 10 ROW CORNHEAD CALL FOR MORE DETAILS/PRICING CLAAS 2800 CENTER DELIVERY ROTARY RAKE $32,500 CLAAS 4000 4-ROTOR RAKE CALL FOR DETAILS X 2 FENDT 930 MFD CAB TRACTOR CALL FOR DETAILS KUHN FC303GC MID PIVOT MOWER CONDITIONER $17,500 NH BB340 LARGE SQUARE BALER CALL FOR DETAILS SUPREME INTERNATIONAL 700T MIXER WAGON TWIN SCREW CALL FOR DETAILS VEENHUIS MANURE TANKER TRIPLE AXLE WITH BRAKES $140,000 Pre-owned Tractors & EquipmentWe cut everything, except corners. www.caliberequipment.ca STORE HOURS MONDAY-FRIDAY, 8-5 SATURDAYS 8-12604-864-2273 34511 VYE ROAD ABBOTSFORD 32 | JUNE 2021 COUNTRY LIFE IN BCROBOT could solve labour shortages in mushroom sector nfrom page 31TechBrew Robotics' development of a robotic mushroom picker is nearing completion thanks to industry support and a number of nancial awards. SUBMITTED
Page 33
USED EQUIPMENT N/H FP230 27P GRASS HEAD . . . . . . . . . . . . . . . . . . . . . . . . 17,500 CLAAS VOLTO 1050 8 BASKET TEDDER . . . . . . . . . . . . . . . . . 12,500 USED TRACTORS KUBOTA T2380 2017, 48" DECK . . . . . . . . . . . . . . . . . . . . . . . 4,500 KUBOTA BX2360 2010, 1,900HRS, TRAC/MWR . . . . . . . . . . . . . 9,750 KUB F3680, 2006, 72" DECK, GRASS CATCHER, DUAL HYD VALVE 16,900 2x TORO 3280 52" FRONT MOUNT MOWERS . . . . . . . . . . . . . . . . CALL NEW INVENTORY: *NEW* GREENWORKS COMMERCIAL CORDLESS BLOWERS, CHAINSAWS, STRING TRIMMERS, HEDGE TRIMMERS, LAWNMOWERS. 82/48 VOLT NEW MODEL- JBS MISP1436 IN THE YARD KUBOTA RAKES, TEDDERS, MOWERS, POWER HARROWS . . . . . . . . CALL JBS VMEC1636 VERT. SPREADER, SAWDUST & SAND THROWERS CONSTRUCTION TORO TX1000 350 HRS, BUCKET, FORKS . . . . . . . . . . . . . . . . . .28,500 [TORO ATTCHMENTS ALSO AVAILABLE] BOBCAT E55 2012, STEEL TRACK W/ RUBBER PADS, 3 BKTS 49,500 *STOCK-UP ON BALER TWINE, NET WRAP AND SILAGE WRAP* TRACTOR & FARM EQUIPMENT HEADQUARTERSYour Vancouver IslandISLAND TRACTOR & SUPPLY LTD. DUNCAN 1-888-795-1755NORTH ISLAND TRACTOR COURTENAY 1-866-501-0801www.islandtractors.com COUNTRY LIFE IN BC JUNE 2021 | 33Robin Mercy of Mr. Mercy's Mushrooms inoculates a stump with Phoenix oyster mushrooms on Kaslo's Wardner Trail. BRIAN LAWRENCE403.347.2646rtf 1.888.500.2646rhugh@kelloughs.com Clean machineLIKE NEW1/4" x 24" Notched Blades F & R2 3/16" Alloy Steel Gang Shafts New W211 Ball Bearings F & R Dual Wheels/New 670 x15" Tires 4"x 8" HYD. Cylinder, Hose Group %FQUI4FHNFOUT5JQTt/FX1BJOU#3, 7491-49 Ave., Red Deer, ABBRIAN LAWRENCE KASLO – They may not be ready to harvest until 2022 but mushrooms may soon catch the eye of hikers along Kaslo's Wardner Trail. A project to combine forestry and food production championed by Robin Mercy, owner of Mr. Mercy's Mushrooms, saw the Village of Kaslo grant permission for Mercy to inoculate stumps and logs with Phoenix oyster mushrooms. "I thought, let's just do some research here, and see if it can grow in an unaided way," says Mercy. He usually grows mushrooms on hardwood, but this variety grows well on Douglas r, which was among species recently cut by the Kaslo and District Community Forest Society on village land as part of wildre mitigation eorts and to ght r beetle. In early May, Mercy and his employee drilled holes in the fallen wood and injected fungi, sealing the holes with beeswax. The waiting game is now on, as Mercy will eventually determine if the fungi fruits and, if it does, how well it fruits. If the low-tech methods are eective, the potential to team up the forestry and agriculture industries is vast, particularly if forestry waste, such as logs and stumps, can be utilized. "It's trying to work more with what we have here," says Mercy. Not a new concept The concept of growing food in the wild isn't new to BC, according to a recent study by Simon Fraser University historical ecologists, which examined the diversity of ancient Indigenous forest gardens developed by the Ts'msyen and Coast Salish. Still growing today at archaeological sites, the gardens include fruit and nut trees, root foods and medicinal plants, among others. Whatever the outcome in the forest, mycology is now a way of life for Mercy, who was raised in Argenta, at Kootenay Lake's north end, and whose formal education is in music composition. "'Farmer' was never a career path," says Mercy. "I feel I come from a very homesteading background. ... We always ate mostly from own garden. I experienced producing my own food, and never considered it on a commercial scale." The 33-year-old didn't forage for mushrooms when he was young, but in his 20s as a tree planter and crew boss, he began carrying guidebooks to help him identify plants and mushrooms. "I always got really excited whenever I would nd wild mushrooms," says Mercy. "They're so mysterious. The same patch of ground looks totally bare 90% of the time –when the right conditions occur, you have mushrooms popping up. You have no idea what's here unless you're intensely studying that patch of land." During a break from work, Mercy took a cultivation course in Eugene, Oregon, which led to a month-long internship in 2016 at What the Fungus, a gourmet mushroom grower in Summerland. There, he learned about the specialty mushroom business from growing to marketing. With his rst son on the way in 2017, Mercy wanted steady home-based work. He launched the business, which grew to become his full-time job two years ago. He now harvests about 30 pounds of organic mushrooms daily from fruiting chambers on his two-acre property, which also houses a 500-square-foot laboratory – tting for a self-proclaimed "lifelong nerd." "It's the nerdiest form of farming you can imagine," says Mercy. "I'm using a scalpel and working in a clean room, and putting cuttings onto Petri dishes. It's precision work in a lot of ways, and that really appeals to me." So does the region's foodie culture, which guarantees home cooks and restaurateurs will be more interested in specialty mushrooms than the typical white button, crimini and portobello mushrooms Mercy oers. The less common oyster, shitake and lion's mane mushrooms have remained unchanged through millennia of agriculture. "Humans haven't been changing these species from what they are in nature at all," he says. The low-tech method he's experimenting with in the forest will help bring production a bit closer to nature, avoiding the pasteurized sawdust and single-use plastics his regular operation uses. "They grow on stumps and logs and trees in natural habitat," he says. "We can start on a small scale, and move toward that as a production model." He hopes they'll inspire mushroom lovers at the same time. "Mushrooms really capture people's imagination," he says. "It kind of brings the idea of using mushrooms in this way to the forefront of people's imaginations." Mushrooms add value to cut blocksSlash offers growing opportunities in the Kootenays
Page 34
34 | JUNE 2021 COUNTRY LIFE IN BCbcfarmandranch.com | 1-888-852-AGRI (2474)John Glazema778.201.2474agri@bcfarmandranch.comGeorgia Clement250.378.1654georgiaclement_2@hotmail.comSusanne Walton604.309.9398sw.bcfr@gmail.comGord Houweling - PREC604.793.8660gordhouweling@gmail.comRajin Gill - PREC778.982.4008rajinrealtor@gmail.comGordie Blair250.517.0557gt.blair@live.caVeer Malhi - PREC778.241.7451virbinder77@gmail.comGordon Aikema250.306.1580gordon@bcfarmandranch.comSteve Campbell250.550.4321s.campbell.sells@gmail.comEmma Rose604.614.9825emma@bcfarmandranch.comBarry Brown-John250.342.5245b.brownjohn@gmail.comRobbi-layne Robertson250.453.9774rlr@bcfarmandranch.comGreg Walton604.864.1610greg@bcfarmandranch.comAlec Yun778.859.8011alecyun@icloud.comAmanda Leclair604.833.1594amandaleclair@live.comRuth Meehan604.309.2295ruthma.meehan@gmail.comJoin Our Growing Team.We have positions available in the South Okanagan, Prince George & Vancouver Island. Call for more info.604.852.1180info@bcfarmandranch.com Diversity and inclusion extends to tractorsA new ride-on mower takes its place among the farm equipmentAnyone celebrating new farm equipment and infrastructure this year? Congratulations on your acquisition: may it do the job. You know how sometimes when you get a new piece of equipment and it takes a little while to get it into action? Could be the weather is acting up, or the crop isn't ready, or perhaps it's just nerves getting in the way again. It was nerves combined with prejudice against ride-on lawnmowers that held us back from jumping on our new machine straight away. Lawns have little to do with farming. In our defence, the ride-on lawnmower represented a dreadfully large leap, operationally speaking, and we all knew it was going to be loudly powerful and very noticeable. It sat there like a big lump for a few days before someone nally checked the oil and red it up. Now we adore it, of course, and the place is looking quite widely and severely trim. On the other hand, the tine weeder arrived the other day and it was plucked impatiently o the delivery vehicle and instantly hooked up to the tractor. We bustled o to the garlic eld to put it through its much-ballyhooed paces. The paint was ashing, the metal was gleaming, the fresh springs were sproinging heartily and the dirt was a' owing – and there were the weeds, roots up in the hot sun! Meanwhile, the back wheel assembly was incorrectly attached, and several bolts that might have loosened during shipping were causing key parts to slowly slide out of position. Silent and fervent prayers have been issued for the garlic. There are no weeds, but at what price? A week will tell. In the meantime, we continue up the steep learning curve of this implement. It's been a good spring for observing new machinery and farm infrastructure purchases in the area. The mixed vegetable people have come out strong with several enormous and complicated-looking greenhouses. One of them is going up right beside the road, which helps immensely with tracking progress. The plastic is going on at 6 am tomorrow morning, and I would be shocked if it is not fully planted by dinner-time. The biggest tractor in the valley (cue outcry – now we'll nd out who's reading) recently arrived at one of the seed potato operations down the road. Pemberton, being one of your narrower valleys, is not known for running extra large tractors. (The end of the row is never over the horizon, if you know what I mean.) Now we have a monster in our midst: a dually. The fun thing about this farm is that they never seem to replace tractors, they just add to the eet, now numbering at least 10, plus a regularly deployed ride-on mower. It's a dreamy situation where all the equipment pieces required for spring cultivation are currently hooked up to whatever tractor is best suited to carry it. To do something dierent on a eld, you just hop onto another tractor. We have three tractors, plus the ride-on mower. The small one can barely pull a wagon with some irrigation pipe on it, although it does pull the potato planter through the elds somehow. The other two are in constant motion, attached to one thing after another. The operators become very adept at changing implements, if slightly irritated by the whole thing. Our ride-on mower has not been formally pressed into farm service yet, but it may nd work hauling pipe. More important, it is big and shiny and might be useful in distracting observers until tine-weeding disasters turn triumphant. I hereby designate it a farm vehicle. Anna Helmer farms in Pemberton and doesn't mind not travelling since everyone local seems to be staying quite interesting. Farm Story by ANNA HELMERBC farmers expect to spend less on machinery and equipment this year, according to Statistics Canada's annual survey of investment intentions. Growers spent a record $329.9 million on new equipment in 2019, but pulled back last year to $292.7 million in 2020. Spending this year is expected to total $248.2 million, led by investments by the livestock sector. Crop producers are forecast to spend $105.2 million on equipment this year. Growers are also investing in the repair of existing machinery and equipment. While estimates are not available later than 2019, Statscan reports that crop and livestock farmers spent $169.7 million on machinery and equipment repairs in 2019. The amount set a new record, and capped a three-year run of steadily rising capital investments. —Peter Mitham Equipment intentions fall
Page 35
COUNTRY LIFE IN BC JUNE 2021 | 35Hops and CBD-centric hemp come togetherBC Hop bets on CBD products moving to deregulationAfter the market for BC-grown hops failed to meet its expectations, BC Hop Co. turned to industrial hemp, hoping to capitalize on consumer interest in CBD products. SUBMITTEDFarm and Rural Residential Properties in the Peace Country are our specialtyAnne H. ClaytonMBA, AACI P App, RIAppraiserJudi LeemingBHE, AIC CandidateAppraiser250.782.1088info@aspengrovepropertyservices.caRONDA PAYNE ABBOTSFORD – BC's locally grown hop market hasn't gained the traction Dwayne Stewart, CEO and founder of BC Hop Co., hoped to see. To provide additional opportunities to partner farmers and grow the business, the company has expanded into industrial hemp for cannabidiol (CBD) extraction. CBD is dierent from THC, the psychoactive component of cannabis. "The craft breweries and brewers in Canada were not as interested in purchasing the volume in hops to make it viable," says Stewart. "We still are growing hops, but we couldn't get the business to the size that was appropriate. We see opportunity for Canadian farmers once the non-THC cannabinoids are deregulated. We see that coming in the next few years." BC Hop ran genetic variety trials in 2020 and now has exclusive Canadian distribution rights for the Painted Lady and Eighty-Eight varieties which Health Canada added to the list of approved cultivars in April. They will be the primary varieties BC Hop's growers produce. Hemp plants grown for CBD are exclusively female. The owers alone are harvested, and the terpene-rich resin processed to extract CBD. The feminized seeds were developed by Davis Farms in Oregon and are available to any hemp farmer in Canada licensed to grow industrial hemp. "[Davis Farms] have a long history of preparing genetics for the Pacic Northwest with high-potency, good frost tolerance, good disease resistance," says Stewart. Hops and hemp are dierent in their growing practices, but the steps from harvest to customer have similarities, making it a natural t. These include gentle handling of the crop, a short time from harvest to drying and the temperatures used in processing. The right people Tyler Mosher, chief business development ocer and partner in the company since 2018, brings signicant hemp knowledge to BC Hop with his MBA specializing in CBD. He came on board to make the most of the opportunities presented in this new industry. "I bought into BC Hop Co. when we had an opportunity to dry hemp in the Stewarts' hop facility," he says. "That's where the pivot makes a lot of sense. You've got a good foundation to build o of with our knowledge in hop farming and harvesting. You can grow all the hemp you want but the trick is to harvest and dry it at scale. You want the highest percentage of CBD while maintaining the highest level of terpenes. We have the knowledge and skill set to make it happen." On April 1, BC Hop Co. acquired Flow Scientic Ltd., which produces all-natural, botanically-derived terpenes. As Mosher explains, it's part of the company's focus on expanding the non-THC aspects of the business. BC Hop will also be farming for cannabigerol (CBG) this season. "We pride ourselves on innovation in agriculture and agri-tech," he says. "We are feeding a new industry demand that is in its infancy and we attempt to stay ahead of the curve. This is why we have a genetic program, why we invest in our GACP [Good Agricultural and Collection Practices] Quality Assurance and why we acquired Flow Scientic." He says the average person likely thinks of THC when they hear the word cannabis, but BC Hop is thinking about everything but THC. $12 million invested While some of equipment for hops can be repurposed, a signicant investment in new equipment was also needed. "We invested north of $12 million in equipment and elds and sta to make this happen," says Stewart. "We are now one of only a handful of companies in Canada that are certied in hemp for GACP. We took the knowledge that we gained working with hops and applied it to the hemp industry." While there is a signicant supply of CBD-rich products on the market, he says, hemp is a crop that pulls toxins from the soil. This makes crop quality, cleanliness and freedom from pesticides key points of distinction for consumers. "Our hope is that the CBD will be moved out of the cannabis stores and into the natural health products category," he says. "We want you to be able to pick up your CBD products for yourself and your pets where you'd get your vitamin products." Seven farms in BC and Ontario are working with BC Hop to grow hemp. They range in size from 10 to 100 acres, for a total of 188 acres. Six more are in the pipeline, adds Stewart. "We work with either hop farmers or tobacco farms or farmers that grow owers," he says. "This isn't a crop for somebody with 200-plus acres." As with harvesting any ower, it's a labour-intensive process, says Mosher. "Harvest to what best utilizes your eld and your farming assets. Maximize your eciencies to gain the best yield possible," he says. "[Farmers] should know what they're harvesting, how they're harvesting and drying it and who they're selling it to before they decide to grow."
Page 36
36 | JUNE 2021 COUNTRY LIFE IN BCProcessed foods are convenient, but at what cost?Consumer education can ground public perceptionsFrom the cereal aisle to canned goods to the meat counter, most food is processed before it gets to the consumer. A group of research scientists is studying how to improve classication systems to better describe what shoppers are buying and dispel misconceptions about food processing. FILE PHOTOsales@baumalight.com | BAUMALIGHT.COMDale Howe 403-462-1975 | dale@baumalight.comMFG A VARIETY OF ATTACHMENTS INCLUDING: BRUSH MULCHERS | ROTARY BRUSH CUTTERSSTUMP GRINDERS | PTO GENERATORS | AUGER DRIVES | TRENCHERS | DRAINAGE PLOWS | TREE SAWS & SHEARSTREE SPADES | BOOM MOWERS | TREE PULLERS | FELLER BUNCHERS | EXCAVATOR ADAPTERS | SCREW SPLITTERSLocate A Dealer OnlineWe eat so much processed food that most of us barely think about it. Yet how foods are processed is highly variable, often confusing and dictated by the amount of change that ingredients go through as manufacturers alter avour, colouring and shelf life. The upside of processed foods is that they are readily available, convenient, safe, contribute to food preservation, oer nutritional value, and save time and often money in meal preparation – especially foods that are minimally processed like canned tomatoes, tuna or bagged salads. But ultra-processed packaged foods like boxed macaroni and cheese, sugary cereals, processed meats, cookies and sauces are thought by many to pose potential health implications. For some, these negative attitudes pervade all processed foods and are often driven by misconceptions or misunderstandings. The food processing industry has led to the development of food classication systems which dene the many levels of the processing journey. But food classication is complex and confusing to many people. "Processing is largely misunderstood," says Sylvain Charlebois, senior director of the Agri-Food Analytics Lab at Dalhousie University in Halifax. "To a large extent, most of the food we eat has been processed, one way or another, so we need to be careful not to be judgmental on what processing means and what role it plays within our food systems." To better understand the classication of food processing, scientists at the University of Surrey, UK, and the European Food Information Council, Belgium, have examined the classication system and their report Processed Food Classication: Conceptualization and Challenges was published recently in Trends in Food Science and Technology. They screened over 400 publications for denitions of processed foods and looked at the underlying basis of classication systems. One of their key ndings is that the systems were created to examine the relationship between industrial products and health. "Governments classify everything, including food," says Charlebois, the journal editor who accepted the manuscript. "It helps implementing policy and regulations, including our food guide." The researchers dened four themes for classifying processed foods: 1) the extent of change from the food's natural state, 2) the nature of the change with added ingredients, 3) where food was processed (home, by artisans skilled in a food production craft, or industrial), and 4) the purpose of processing (essential or merely cosmetic). But how food is processed can range anywhere from the nature of home cooking and preserving to the embodiment of socio-cultural elements. The researchers saw processing as a "chaotic conception" that was focused on much more than the technical process. "Most classication systems do not include quantitative measures but, instead, imply correlation between 'processing' and nutrition," they write in the report. Charlebois says that the authors claried the reason for the confusion on how we dene processing. "Uneducated biases and the focus on industrial practices largely fuel how experts in nutrition classify food products," he says. The future of food production and processing may present more complications as crop and livestock farmers take advantage of genetically modied and gene-edited foods. Charlebois believes in the importance of educating consumers to understand both the values and the risks from food processing. "It is important to make sure Canadians are educated about risks and that we get better at communicating it," he said. "That responsibility, in my view, belongs to the Canadian Food Inspection Agency." The authors write that food processing, and the degree of processing, are interpreted in dierent ways. "The classication systems address multiple characteristics of industrial foods as well as eating culture and hence the debates are multifaceted," they state. "From the perspective of food science and technology, processing and nutritional value do not have a linear relationship and these concepts need to be dissociated. In addition to the conicts with nutritional advice, guidelines based on food processing could be misinterpreted as meaning that processing in itself is bad. Potentially this could encourage consumers to seek out unprocessed foods (e.g., raw milk) or process foods at home without sucient food safety controls and such consumer rejection could also hamper sustainable innovations. This raises the question of whether focusing on processing is the optimal approach for food communication." Charlebois says that consumer understanding can only grow by appreciating the healthiness of food products we eat and buy every day. The study simply recommends improving the scientic basis of food classication systems and to support consumer understanding. Research by MARGARET EVANS
Page 37
COUNTRY LIFE IN BC JUNE 2021 | 37Louisa and Bill Chapman alongside the spring-fed watercress patch at their Hawthorn Creek Farm, located near Castlegar. BRIAN LAWRENCE"Serving British Columbia proudly since 1946"Machinery LimitedROLLINS RToll Free 1-800-242-9737 www.rollinsmachinery.comChilliack 1.800.242.9737 | 44725 Yale Rd W Langley 1.800.665.9060 | 21869 - 56th Ave Chemainus 1.250-246.1203 | 3306 Smiley RdChilliwack 1.800.242.9737 . 47724 Yale Rd W Langley 1.800.665.9060 . 21869 56th Ave Chemainus 1.250.246.1203 . 3306 Smiley Rd Kelowna 250.765.8266 . 201-150 Campion StToll Free 1-800-242-9737 www.rollinsmachinery.com info@rollinsmachinery.caYou've tried the rest.Now try the BEST.BRIAN LAWRENCE CASTLEGAR – For many, reaching retirement age means it's time to, well, retire. But after growing mushrooms and raising chickens on a small scale for 30 years, Hawthorn Creek Farm owners Louisa and Bill Chapman wanted something more. So in 2015 the couple, both now 66, purchased 26 acres in Tarrys, a community north of Castlegar, and turned it into the perfect home for chickens as well as a prime location for greenhouse, gardens, a vineyard, fruit and nut trees, and a spring-fed watercress patch. "Well, what else would we do?" asks Louisa, as the couple sits in their backyard, taking a well-deserved break from cladding their greenhouse with a bubble wrap-like skin that is expected to provide better light diusion and insulation and provide stability under a snow load. "Gardening is a huge activity across the country, and around the world, and I guess we've gone overboard into it," says Bill. "There's something to do all the time. It's really challenging. We have problems to solve all the time." "We're here," adds Louisa. "We have all this space around us. We're not in an apartment on the 53rd oor in a city." She's originally from Calgary and Bill is from Castlegar. As children, each enjoyed visiting relatives who ran farms. Their love of farming stuck with them, leading Louisa to be involved with the farmers market in Williams Lake, where they lived for 25 years while Bill worked as a soil research scientist with the BC Ministry of Forests, Lands, Natural Resource Operations and Rural Development. His consulting areas included assessing soil disturbance caused by timber harvesting, slope stability and road design, root disease-related silviculture prescriptions, and the development of rehabilitation plans. The Chapmans jumped at the opportunity to buy the Tarrys property with its two creeks, moving in 2017. Their new adventure allowed them to not only indulge their love of agriculture, but also for Bill to apply his knowledge of soil biology to agriculture rather than forestry. Bill's doctorate in forest soils was suggested by his maternal grandmother as a way to complement his undergraduate degree in plant genetics. "I sort of fell into it," he says. "They say, he who ends up in soil science sifts through everything, and when he's at the bottom, ends up in soil science." But that science became a passion as he deepened his understanding of the symbiotic relationship between soil fungus and plant life, a concept so basic and yet so overlooked by many. "It's a really fundamental symbiotic relationship that almost all terrestrial life depends on," he says. "Trees won't grow in nature without fungal symbiont. ... Nobody was even talking about it, and here we are 40 years later, and still many people are hardly aware of it. People always talk about lichen – 'It's a magnicent symbiotic relationship' – but everything has a symbiotic relationship. It intrigued me that something so important and so fundamental was not studied." Understanding that relationship is a key to agriculture, which, Bill says, revolves almost entirely around plant breeding and crop improvement, and soil management. "To control disease, for crop quality, to ght o pests – everyone in farming has to practice crop improvement," he says. "The other is managing your soil. So many things are dependent upon the soil. How much water your plant gets during the growing season aects the soil. And so do the physical properties, nutrients, moisture inltration." Soil management solutions are often site-specic, but Kootenay farmland makes developing a general approach a signicant challenge. "One of the joys and curses of living in this area is the soil changes every 100 feet – or Soil science key for Kootenay farm projectSoil health depends on a web of symbiotic relationships See SOIL on next page o
Page 38
38 | JUNE 2021 COUNTRY LIFE IN BCSOIL management is site-specific nfrom page 37Roll-over protective structures (ROPS) and seat belts save livesAlways ensure the ROPS is up, and wear your seatbelt. For health and safety resources and videos, visit worksafebc.com/agriculture.less," says Bill. "With 10 arable acres, we've got at least ve dierent soil types here. But you start talking to your neighbours or other growers, and they're dealing with quite dierent conditions." He recently presented a workshop hosted by the Kootenay Boundary Farm Advisors to educate growers about soil mapping. It was a solid step toward building a community of people interested in soil, and possibly creating a database of how soil responds to treatment, which should start with determining the texture and drainage classes soil belongs in. "If you know what you have for soil, that gets you o on the right foot for trying to manage it," he says. If not, attempts to improve the soil may cause more problems. In the case of their property, Bill and Louisa discovered salt had previously been added to some of their garden beds. There may be reasons to add sodium to soil, he says, but not sodium chloride. "They waste a lot of energy and time doing things that unlikely make much dierence in the long run," he says. "People do get o on tangents that might apply to a very specic set of conditions they don't have." In the case of their farm, the Chapmans enrich and enhance the quality of the soil with the use of their own ramial chipped wood, a type of wood chip made from small to medium-sized branches. The chips also provide weed control, the light-coloured chips framing the meandering watercress patch. "We're trying to recover the soil and restore its productivity, so there will be a legacy for the future," says Louisa. At the same time, the Chapmans are developing an orchard with fruit and nut trees, including Asian pears, with plans for mulberries, American chestnuts and even pomegranates. "They're from former Soviet bloc countries that were colder," says Bill. They're not sitting back to wait for those to grow, though, keeping busy with pesticide-free crops of squash, buckwheat and garlic, and in the greenhouse, basil, tomatoes, peppers, eggplants, melons and scarlet runner beans. The couple is a regular xture at the Castlegar Craft and Farmers Market, where their hard work pays o as customers purchase their produce. "It's very satisfying to see them enjoy it," says Bill. They also grow mushrooms – a direct result of Bill's soil fungus study – and the couple hopes to eventually produce enough to sell but enjoy them themselves right now. The couple has appreciated the opportunity not only to develop their farm, but also to become members of a network of local growers and farmers. "We're part of a community here," says Louisa. "It's so good to meet other like-minded people." The Chapmans hope their example encourages other aspiring farmers to take a leap of faith and join the agriculture community – no matter their age. "The idea of creating something to pass on is really appealing," says Bill. "It's never too late to start something new. We're really happy we did. It's like a whole new life. It's not like retiring but starting afresh." Bill and Louisa Chapman start seedlings in tiny soil cubes of about two centimetres, later inserting them in much larger cubes, a practice that allows the seedlings to grow without becoming root- bound. BRIAN LAWRENCE
Page 39
Late blight can destroy a potato or tomato crop quickly. Research scientists are studying new ways to control or avoid blight altogether through management and variety selection. RISHI BURLAKOTICOUNTRY LIFE IN BC JUNE 2021 | 39www.tubeline.ca 1.888.856.6613@TubelineMFGFind us onSPREADERSACCUMUL8 & BALE GRABSBALEWRAPPERS ACCELERATORRONDA PAYNE AGASSIZ – Late blight caused the devastating Irish potato famine and more than 150 years later, this pathogen continues to be an issue for BC growers. Rishi Burlakoti, a plant pathologist at the Agassiz Research and Development Centre, started studying various strains of the pathogen that causes late blight in 2018 to better understand the pathogen and nd better ways to control it. Phytophthora infestans is the pathogen behind late blight in BC. Strains US-8, US-11 and US-23 are the dominant types seen here. The pathogen is a dynamic survivor, with one strain sometimes out-competing another. "In 1990, we had US-1 which was displaced by US-8," he explains. "In India, they had a huge outbreak in potatoes due to a new strain. From time to time, there are outbreaks." Each strain behaves dierently. US-23 does more damage in a wider range of temperatures and appears to be more aggressive on tomato plants than on potato plants. All strains give these crops lesions that look oil-stained or water-marked. There will be white fuzz on the underside of the leaf as well and it can have a grainy or rusty appearance. Traditional control involves seed treatment and preventative foliar fungicide applications. Some products may help with control after the pathogen shows up, but protection is the most reliable approach. Unfortunately, BC's cool wet weather is ideal for late blight. Growth of mycelium peaks at 20°C, though Burlakoti's team is testing all strains for their performance between 5° and 35°C. In the growing season, a combination of 20°C temperatures and precipitation is the recipe for a late blight storm. "It can infect the crop and quickly spread throughout the eld," says Burlakoti, who encourages growers to work with the weather, using it to their advantage. If they are in a longer dry spell, for example, they may be able to increase the timing between fungicide applications. But a forecast of cooler, moist conditions requires applications at shorter intervals to boost protection. Because late blight can occur in non-commercial growing areas like community and backyard gardens, there is sometimes a supply of the pathogen set to hop the wind and infect commercial elds. The pathogen is known to travel many kilometres on storms in addition to entering elds via infected plants and seed. Devastating Bruce Miller of Across the Creek Organics in Pemberton grows both seed potatoes and table potatoes. He had a severe outbreak about 30 years ago before the farm became organic certied around 2000. He made use of a lot of chemical spraying at that time to kill the spores. "It was devastating because it hit us before the tubers were formed," he says. "It was uncharacteristically early." Late blight does not overwinter in the soil, but it does persist when infected tubers are left in the ground. This makes it important to eliminate volunteers. Nightshade species can also be reservoirs of the pathogen. Due to the shift in strains over the years and regional variations, good management practices are key to preventing resistance from developing. Burning or complete bagging of any infected tissue will help prevent spreading. Burlakoti welcomes bagged tissue for testing purposes. In 2019, Burlakoti identied four instances of late blight in community and home gardens in Abbotsford, Agassiz, Chilliwack and Pitt Meadows. Last year, a number of community and home gardens as well as many commercial farms saw signicant instances. He expects an increased incidence this year. "These community gardens are good reservoirs for Phytophthora infestans," he says. Planting resistant varieties of potatoes will help with control as will avoiding over-irrigating and over-fertilizing and ensuring cull piles are disposed of rather than composted. Miller last saw late blight on his farm about eight years ago. Being organic, he top-killed his plants with an infrared ame burner before spores had a chance to drop to the soil and infect the crop. "When we rst saw it, we burned the tops," he says. "We were fortunate. It was a bit later in the season and we had a crop. The burning is the real treatment. Even through there were spores on top, we didn't have any late blight in storage." As strains evolve and shift, there is potential for two strains to mate and create something more aggressive that could potentially live in the soil. Fortunately, Burlakoti hasn't yet seen this occur in BC elds. Research sheds light on late blight strainsBC's wet climate makes potatoes vulnerable to aggressive pathogen Province Wide DeliveryIdrofoglia Reel Model G1 63/200 (2.5x656ft.) $11,895.00Langley 1.888.675.7999Williams Lake 1.855.398.7757No More Moving Your Sprinklers!Save TIME & MONEY with an Automated Irrigation Reel Ideal for any Crop, Vegetable/Corn or Forage.
Page 40
40 | JUNE 2021 COUNTRY LIFE IN BCSubscribeCREDIT CARD # _________________________________________________________________ EXP _____________ CVV _____________ Thousands of BC farmers and ranchers turn to Country Life in BC every month to nd out what (and who!) is making news in BC agriculture and how it may affect their farms and agri-businesses! o NEW o RENEWAL | o ONE YEAR ($18.90) oT WO YEARS ($33.60) o THREE YEARS ($37.80) Your Name _______________________________________________________________________________ Address _________________________________________________________________________________ City ________________________________________ Postal Code __________________________________ Phone _________________________ Email __________________________________________________ www.countrylifeinbc.com/subscribeMAIL TO: 36 DALE RD, ENDERBY, BC V0E 1V4 | subscriptions@countrylifeinbc.com Please send a _______ year gift subscription to ________________________________________________ Farm Name ______________________________________________________________________________ Address _________________________________________________________________________________ City ________________________________________ Postal Code ________ _________________________ Phone _________________________ Email _________________________________________________ Deborah keeps divorce news between friendsWhen we left o last time, Kenneth Henderson agreed to the terms of the divorce after his lawyer revealed Deborah had an ace up her sleeve regarding his indelity. Meanwhile, the coee clutch at Lois' general store managed to avoid tipping o Harriet Murray from the newspaper about Newt Pullman and Susan Henderson's pending nuptials. Rural Redemption, Part 135, continues ... Lois, the storekeeper, blew out a deep breath as she watched Harriet Murray's car drive away. After so many years behind the counter, nothing surprised her much anymore but she still marvelled at how easily a rumour could be conjured from almost nothing, then sprint madly o in all directions. Her little reverie was broken when Eunice Montgomery walked in. "Morning, Eunice. How is Gladdie doing?" "Glad's okay but I think it's time we looked into getting her a little help," said Eunice. "Extended care?" "No, I think Glad will manage okay at home if we nd her a bit of house keeping and someone to sit with her a few times a week." "Have anyone in mind?" "Glad suggested someone. I'm going to look into it." The conversation was interrupted when Deborah Henderson came into the box lobby to check her mail. Eunice pulled open the connecting door. "Hello, Deborah. You're just who I need to see. Do you have a minute for a quick chat?" Deborah scooped a handful of mail from her postbox and joined Eunice and Lois in the store. "What's on your mind?" asked Deborah. "I was wondering if your Ashley has a summer job lined up?" "She's promised to give Edna a hand with the horses, but it's not an ocial job. Why do you ask?" "You've probably heard that Gladdie's been struggling a little bit." Deborah nodded. "Well, we're going to set her up with a housekeeper three times a week and someone to sit with her. When I asked Glad if she had anyone in mind, she suggested Ashley." "My Ashley?" asked Deborah. "What exactly do you mean by sit with? Ashley hasn't had any experience looking after anyone older than herself." Eunice explained that sitting with someone was a largely forgotten tradition. Sitting with was more about spending time with than looking after. "Gladdie will be 98 soon and she's got a lifetime of experience and wisdom to share. It could be like getting paid to take a masterclass in womanhood for Ashley. But I wanted to talk to you before I asked her." "You know, after we met Gladdie the rst time, Ashley said, "Wow Mom, what a cool lady" so I'm sure she'd be interested, but there are some family changes happening and I don't know if she's ready to take on something like this." Eunice nodded understandingly. "Yes, I heard." Deborah looked at Eunice and wondered how she could possibly know about the divorce proceedings. "How did you hear?" she asked. "Oh, things like this never stay secret for very long. They're talking about it everywhere." "Everywhere?" asked Deborah. " Lois nodded. "I'm afraid so. The store was full of folks talking about it not 10 minutes ago." " And what are they saying?" asked Deborah. "They seemed a little surprised and some were wondering if money had anything to do with it." Deborah looked from Lois to Eunice. She wondered how anyone could possibly know anything at all about her and Kenneth divorcing. Who knew? Her and the kids, but she made them promise not to say anything to anyone. Susan, but she wouldn't share this kind of condence. Kenneth, but who would he tell? As far as she knew he wasn't even on speaking terms with anyone local. And both the lawyers were a world away in the city. She thought briey of Doug McLeod but dismissed that possibility immediately. "Who started the conversation?" Deborah asked. "I can't imagine who could possibly know." "It was Frank," said Lois. "Frank? Junkyard Frank?" asked Deborah. "Are people willing to believe whatever malicious hearsay Frank dreams up?" "Misguided more than malicious, maybe. And Newt kind of veried the story when he came by and said it was none of anyone's business," said Lois. "Well, Newt was absolutely right." said Deborah. "It is no one else's business, and it's none of his either!" Eunice and Lois stared quizzically at Deborah. She thought for several moments, then concluded the only way to rein in the Junkyard Frank runaway gossip train was to set the record straight. "This wasn't supposed to be public knowledge, not until it was all nalized, at least, but if it's already making the rounds, you might as well hear it right from the horse's mouth. Kenneth and I are getting a divorce and anyone else with anything to say about it is guessing or lying, or out of order." There were several silent seconds until Lois spoke. "I'm sorry to hear about a divorce, Deborah, but this is the rst I've heard of it." "The same goes for me," said Eunice. "What was everyone talking about then?" asked Deborah. "Your mother-in-law moving in with Newt Pullman," said Lois. Deborah dropped her head. "Now I feel like an idiot." Eunice put her arm around Deborah's shoulder. "You're far from that, I think. Are you alright?" Deborah nodded. "I hope this doesn't mean you'll be leaving," said Eunice. "No. Where would we go? This is where all our real friends are." "I hope you count me as one of them," said Eunice. "And me," said Lois. "I do, both of you. And I'm hoping this conversation will be our little secret for now?" "Of course it will," said Lois, "And you can thank your lucky stars we didn't have it 10 minutes sooner when Harriet Murray and her nose for news was here trying to sni out a story for next week's paper." ... to be continuedWoodshed Chronicles by BOB COLLINS
Page 41
COUNTRY LIFE IN BC JUNE 2021 | 41OK apples at core of social entrepreneurship College students put cull apples to a greater goodOkanagan College business student Karsten Ensz has been project manager for Fruit Snaps, a social enterprise making use of unsaleable apples for the past two years. MYRNA STARK LEADERSilagrow.com1.800.663.6022 | office@silagrow.comMulch FilmLandscaping FabricsShade Nets Bale WrapsBunker CoversSilage BagsTw i n eNet WrapsHay TarpsForage & Grain SeedVisGreenhouse Ground CoverGreenhouse FilmsProtection NetsSALMON ARM 5121 - 46 Ave S.E. SURREY 112-18860 24 Ave (PU & Delivery Only)Serving all of BCMYRNA STARK LEADER VERNON – A group of Okanagan College students continue to win accolades for a three-year-old project making use of cull apples. In 2017, members of Enactus Okanagan College created the Fruit Snaps program. Enactus is an international organization of business students whose name stands for entrepreneurial [En], action-based [act] and community-oriented [us]. Volunteers run each chapter on a not-for-prot basis. "A good percentage of apples in orchards don't actually make it to consumers," explains Fruit Snaps project manager and third-year business student Karsten Ensz. "Some apples are too small so they're either left on the tree which isn't good for the tree or they become waste. We saw a disconnect between that and food insecurity." When they saw another Enactus club addressing food waste at a business case competition, the Okanagan College chapter created a social enterprise, turning cull fruit into dried apple snacks, believing the idea had positive social, economic and environmental impact. "Working with the North Okanagan Valley Gleaners, we came up with the idea of dehydrating the apples into apple chips," Ensz explains. It was a natural t. Formed in 2007, the North Okanagan Gleaners Valley Society has been using imperfect and excess produce to create dried soup mix at their processing facility in Lavington. The Gleaners oered the students knowledge as well as drying equipment, creating a fruitful partnership. "In 2017, our rst year, we had about 3,000 servings of Fruit Snaps that we distributed to ve dierent food programs – two daycares, two elementary schools and a food bank. This past year, we did 41,000 servings to over 15 programs," says Ensz. Because environmental benets are part of the Enactus club's desired business outcomes, Fruit Snaps are packed in sealable, reusable plastic bins that hold 50-60 pounds each. Recipients determine how snacks are distributed in classrooms, cafeterias or breakfast programs. "Since starting this project, we've diverted 42,000 pounds of apples from going to waste which is equivalent to 75,000 servings. Due to the water that's used to grow the apples, we've prevented eight million litres of water from going to waste. And we've provided fruit snacks to over 5,000 children," says Ensz. Snack distribution has focused to date on Vernon, Penticton, Kelowna, Salmon Arm, Enderby and Armstrong. But Ensz and Enactus faculty advisor Andrew Klingel agree there's room for growth. To date, the group has relied on the generosity of two Vernon orchardists. Ensz would love to expand, sourcing apples from throughout the Okanagan and perhaps even Washington State, where he's from. One way to do this is expanding the pool of volunteers picking leftover orchard fruit. Until now, it's mostly been university students and volunteers from local businesses who want to contribute to the community. But this fall, Grade 5 students from Vernon's Beairsto Elementary helped pick. The school has been a recipient of Fruit Snaps since the beginning. "We talked to the students about the project, why we do it and at the end we asked what they learned from the experience. One of the students said, 'I learned how easy it is for me to help other people.' That really got us thinking," says Klingel. "We've already talked to the principal, and teacher about next year involving the students more so we would actually go into the class and teach them about social entrepreneurship before they come pick some apples." Recognizing there are real hard costs to running a social enterprise, last year Enactus students also turned some apples into juice. It was sold through Lakeview Market in Kelowna as well as at Triumph Coee and Soul Studio tness club in Vernon. Proceeds were reinvested into the Fruit Snaps project. "With COVID, in 2020, we weren't able to bring large groups of students together to process apples, but the Gleaners expanded their support by processing the majority of the apples. They are an incredible partner," adds Klingel. In the future, Enactus students hope to generate enough juice and sales revenue to hire a student to run the project, at least part-time. They'd also like to create a way to talk to more farmers, letting them know about the project. Klingel says nding a way to compensate contributing orchardists is also on the radar. Enactus students are also giving back by showcasing their social enterprise. This year, the Fruit Snaps project earned rst-place awards in the Scotiabank Climate Action Challenge and TD Entrepreneurship Challenge at the Enactus Canada Regional Exposition for Western Canada. The prize of $4,500 was funnelled back into Enactus projects. Students competed in the 2021 Enactus Canada National Exposition, one of four teams to make the nals out of 60 schools. Whatever comes next, Klingel says it's gratifying seeing the project grow from concept to reality. "The rst year, we wondered would kids actually enjoy dried apples and would schools be happy. That was successful," says Klingel. "The second year was about how much we could produce. The Gleaners helped us signicantly expand production. This year was an entirely new challenge with COVID, but we still were able to test the whole revenue model and selling juice. So, each year it's gotten a little bigger." Working alongside faculty advisors, and seeing all their knowledge has been amazing to Ensz. "I've probably learned more from working on this project than from my actual degree," he says. "It's been a great opportunity." YOURHelping YouWEEKLY FARM NEWS UPDATEScountrylifeinbc.comYOURHelping YouHelpingpingplinYoulHHping YoeWSfeinbc.com
Page 42
42 | JUNE 2021 COUNTRY LIFE IN BCI skewered prawns and scallops on separate metal skewers after marinating the seafood in this mixture for an hour, but this would make a delicious marinade for a white sh or any seafood. Great served with skewered fresh vegetables such as summer squash, sweet onions, colourful peppers and small tomatoes. 2 cloves garlic 1 tbsp. (15 ml) minced ginger 1 tbsp. (15 ml) lemon juice 4 drops hot pepper sauce • Mince garlic and fresh ginger into a bowl large enough to hold the seafood and add the remaining ingredients, including the seafood. • If you are marinating sh llets, spread the marinade over the llets, coating all sides well. • Thread seafood on skewers and oil the barbecue before pre-heating on medium. • Cook the sh llets or skewered seafood for just a few minutes on each side, until they turn opaque. • Serves 2-3. Make this up ahead of time and store in an airtight jar in the cupboard, ready for a quick seafood dinner any time, or a quick appie. 2 tsp. (10 ml) dried rosemary 2 tsp. (10 ml) dried thyme 2 tsp. (10 ml) ground cumin • Combine in a small jar and shake well. Label and store in a dry cupboard. SPICY BARBECUED SEAFOODJUDIE'S SEAFOOD SPICE MIXThe best of both worlds: shrimp wrapped in prosciutto. JUDIE STEEVESTo the sea in summerUse small cocktail skewers for these. I used bamboo ones in the oven, but for the barbecue you would be better o to use metal ones, or soak wooden ones well. These make a yummy appie and it's nger food with no dipping, so can be eaten at a distance. 16 shrimp or prawns 1 tsp. (5 ml) Judie's Seafood Spice • Pre-heat oven to 450° F. • Shell prawns if necessary and sprinkle with Seafood Spice (see separate recipe below). • Rinse and trim asparagus and cut each in half. Cut thin slices of prosciutto in half. • To assemble, lay a half asparagus spear on a half slice of prosciutto and top with a prawn. Wrap the prosciutto around both and secure with a small skewer. • Arrange on a silicone mat (or parchment paper) on a baking sheet and bake for ve minutes or so on each side. • Alternatively, you could barbecue these over medium heat for about the same time, keeping an eye on them. • Serves 4 or so; makes 16. SHRIMP STALKS IN PIGSKIN8 asparagus stalks 8 slices prosciutto1-2 tbsp. (15-30 ml) olive oil 1 tbsp. (15 ml) Judie's Seafood Spice 1 lb. (454 g) seafood 2 tsp. (10 ml) cayenne pepper 1 tsp. (5 ml) paprika 1 tsp. (5 ml) black pepperI've never been able to get the ocean out of my blood, even though I've only lived on the coast for a few years of my life. I'm fascinated by the relentless sound and movement of the waves and the tides. I love the rollers and whitecaps and I can sit on the beach and watch its undulations for hours. It's soothing somehow. So, it seems natural that I turn to seafood of various sorts whenever I want something special to set on the table. It's even delicious combined with a robust chunk of beef, which is also often on the table for celebrations. June seems to be the month for special occasions for many people, whether it's Father's Day, marriages, anniversaries, birthdays, trips, or a celebration of the beginning of summer, June 20. That seems like a reasonable time to drag out the barbecue and dust it o, although I must admit I use mine all year round. June is also a great month of the year to harvest those fresh herbs to go with all sorts of meats and vegetables, and also to dry, freeze or preserve in oil for later in the year, when the idea of fresh herbs is nothing but a memory. I usually shear about the top third of my oregano before it blooms, and perform similar harvests on other fresh perennial garden herbs. Oregano actually tastes better dried than fresh I think, so I never miss an opportunity to harvest it. Once that rst shearing takes place, two more stems will grow for each that's been removed and a secondary shearing can take place a few weeks later. My rosemary is a small shrub in a pot which goes out on the deck in summer and into the kitchen for the winter. It's harvested constantly so doesn't have a natural shape any more. It's denser. Thyme should also be harvested before it blooms and it dries very eectively, just like oregano and rosemary. Enjoy these spring and early summer harvests of greens, peas and herbs, and anticipate early harvests of other young vegetables in the coming weeks. Jude's Kitchen JUDIE STEEVESTRACTORS/EQUIPMENTDeBOER'S USED TRACTORS & EQUIPMENT GRINDROD, BCLOOKING TO BUY USED JD TRACTORS 60-100 HP JD 6140D 2013, CAB, $OLD JD 7810 COMING SOON! JD 5105 2WD, 2006, 1,400 HRS 15,000 [ADD LOADER TO 5105 3,500] JD7600 MFWD 45,000 ED DEBOER 250/838-7362 cell 250/833-6699 CURT DEBOER 250/838-9612 cell 250/804-61472017 JCB FASTRAC 4190 Identical to a Fastrac 4220 (ie. self-leveling suspension all around, cool-ing system, specification, etc) Up rate to 235 HP, does have 540/540E and 1000/1000E PTO speeds. 1200 hrs, 4WS. Front linkage & Front PTO with Hydraulic services to the front, GPS ready, 600/70 R30 tyres-all very good. LED work lights, luxury leather heated seat, electric mirrors, in cab cooler box, tinted rear win-dows, headland turn assist, rear inner mudguard fenders, climate control, performance monitor, and Radar, full spec, as new condition. C/W Fully loaded Quicke Q7m pres-tige front loader with all the added extras; Q-companion weighing sys-tem, electric joystick controls, hy-draulic locking euro headstock, electric soft ride, multicoupler, & loaded work lights. $220,000 CAD Contact Ueli, 250-546-7959• 2015 INTERNATIONAL TERRASTAR 4WD extended cab, automatic trans, custom factory built flat deck with hydraulic lift gate, duel large under deck high quality polished stainless locking storage boxes. This truck is just like new out of the show room with only 17000 km. Perfect truck for any one who wants to improve their business efficiency with a better image. Ideal truck for farmers, land-scapers, traffic control business. Also great truck for delivery work for feed stores. This truck is a must see • POTATO HARVESTER converted to a heavy duty rock picker. Asking $3,500 Contact Carl 604-825-9108 or email ourgoodearth@live.comFLEXI-COIL FIELD SPRAYER 500 gallon poly tank and 60' boom. Tank always covered. Excellent condition. $5,000 250 567-2854 cell 250 567-8172
Page 43
COUNTRY LIFE IN BC JUNE 2021 | 43JUILY MARKETPLACE Deadline: JUNE 26REAL ESTATETRACTORS/EQUIPMENTLIVESTOCKLIVESTOCKIRRIGATIONREAL ESTATEWANTEDFOR SALEFOR SALEHAYSEED1-888-770-7333BERRIESFor Tissue Culture Derived Plants of New Varieties of Haskaps, Raspberries, Blueberries, Blackberries, Saskatoon Berries and Sour Cherries, Please Contact:DISEASE FREE PLANTING STOCK OF NEW BERRY CROPS 4290 Wallace Hill Road, Kelowna, BC, V1W 4B6info@agriforestbiotech.com250.764.2224www.agriforestbiotech.com NEW POLYETHYLENE TANKS of all shapes & sizes for septic and water storage. Ideal for irrigation, hydropon-ics, washdown, lazy wells, rain water, truck box, fertizilizer mixing & spray-ing. Call 1-800-661-4473 for closest distributor. Manufactured in Delta by Premier Plastics Inc. premierplastics.com. Feeders & Panels that maintain their value!ROUND BALE FEEDERS BIG SQUARE BALE FEEDERS FENCE PANELS CATTLE & HORSE FEEDERSHeavy duty oil field pipe bale feeders. Feed savers, single round bale feeders outside measurement is 8'x8.5.' Double round bale feeder measurement is 15'x8'. Silage bunk feeders. For product pictures, check out Double Delichte Stables on Facebook Dan 250/308-9218 ColdstreamToll Free 1-888-357-0011 www.ultra-kelp.comREGISTRATION NO. 990134 FEEDS ACT Keeping Animals Healthy The Natural Way FLACK'S BAKERVIEW KELP PRODUCTS INC Pritchard, BC (est. 1985)GREAT SELECTIONQUALITY PRICETerra Seed Corp1.800.282.7856terraseco.comPacifc Forage Bag Supply Ltd.www.pacificforagebag.comCall 604.319.0376Carrie Nicholson PREC* 250-614-6766 STUNNING MOUNTAIN RESORT on 82.2 acres. 17 furnished chalets, 50 RV sites. Year round business – perfect wedding, family renion venue MLS®C8019821 $5,500,000 FARM EQUIPMENT • NEW HOLLAND 8 row hyd fold corn head for a self propelled harvester, Claus style, can be fitted to JD, $12,500 • FIELD SPRAYERS, Truck,Trailer and 3PH models, 150 to 800 gal, 50' to 90', Hyd, Mech, or Wheel back fold. Call for details. • NORTHWEST ROTOTILLER, Straw-berry Row-Crop 2 row, $2950. • 2 NEW CULTIVATORS, 3ph, 5 and 6' S-tines, $550 each. • JD CULTIVATOR, Row-Crop for Spe-cialty crops, 4 row, $950. • IH CULTIVATOR / SIDE-DRESSER, Granular Fert, 4 row, $1850. • CULTIVATOR PARTS, New Duck Foot tips, Call for other parts. • KUBOTA FLAIL MOWER, 50" 3ph, $1950. • FLAIL PADDLE MOWER, 9' Drawbar Pull, Swath Boards, 540 PTO, $1750. • KUHN GC300G Disc Mower Condi-tioner, 10' cut, low acres, $12,500. • NH 258 and 260 Rakes with tow bar, V-Combo set, $5900. • VICON WHEEL RAKES, 4 to 8 wheel, 3ph, drawbar and V Combinations, $350 to $2200. • HAY WAGON and Utility Trailer Chas-sis, $200 to $2000. • NEW BALE SPEARS for Skid Steer and loader bucket mount, $150 to $550. • FORD 4610 TRACTOR, 60HP, Nar-row, Low Profile 2wd, Nice Cond • FORD UTILITY TRACTOR, 57 hp, Cab, 3ph, PTO, mid-mount Sickle Mower and front mount detachable Angle Broom, Ex Military, Less than 1000 hrs $15,500. • HYSTER 3PH FORK-LIFT, Heavy Duty, $2300, Other Fork-Lifts and at-tachments. • JIFFY/CRAWFORD HYDUMPS, 14', $2700 to $6300 • FEEDER HAY, 400-16' by 18' Bales on trailers, can deliver, OFFERS! Call Jim for hard to nd items, Abbotsford BC at 604-852-6148 WANTED: FARM LAND TO RENT In N. Okanagan for conversion into organic alfalfa seed production. Also interested in renting second cut hay land for $200/ac. Alden 204-979-7457 a_braul@hotmail.com DON GILOWSKI 250-260-0828 Royal LePage Downtown Realty Ltd BUYING OR SELLING OKANAGAN FARM, RANCH OR ACREAGE? COURTENAY HEREFORDS. Cattle for Sale: yearling bulls and bred heifers. John 250/334-3252 or Johnny 250-218-2537.PYESTERDAY'S TRADITION - TODAY'S TECHNOLOGYMANAGERS Phil Brown 250-293-6857 Catherine Brown 250-293-6858 ccr.princeton@gmail.com www.coppercreekranch.com PRINCETON, BC Raising registered polled & horned Herefords & F1s. BREEDING BULLS FOR SALE.RAVEN HILL MEADOWS: Coneygeers bloodlines - call for seedstock. 250-722-1882. NanaimoIt's the top linethat makes the Bottom LineBC SHORTHORN ASSOCIATION Scott Fraser, President Bob Merkley, BC Director 250-709-4443 604-607-7733PREMIUM HAIR BRED SHEEP FOR SALE Foundation St. Croix breeding stock lambs (year round breeding): maternal excellence, parasite resist-ance, height/length, small bone/less fat. Purebred Registered White Dor-per ewes (robust, fast gain, large car-cass with high meat yield). All excellent health, ideal conformation, clean genetics. While supplies last. 250-375-2528LOWLINE semen for sale. Silverhills Lowlines 250-547-6465 littlecow@telus.netTwo very good PB RED ANGUS YEARLING BULLS for Sale. Semen tested and Halter broke. FOB Kam-loops. Approx wt: 1400 lbs. Recom-mended for use on cows and bigger framed heifers. Delivery can be arranged. Bob 1-250-819-0858 Sandy Macrae Office: 2502488801 Cell: 2502284126 sandymacrae@shaw.ca GORGEOUS MOUNTAIN VIEW ACREAGE WITH 2 SEPARATE TITLES• 20.7 acres w/mountain/pastoral views • Several outbuildings incl 50x54 barn • Perfect location minutes from Qualicum Beach • Hobby farm, vineyard, market garden potential • Lovely character home, plus second residence • MLS 867201 and MLS 867197 • $2,598,000 or $1,349,000 ea ZcXjj`Ô\[j7Zflekipc`]\`eYZ%ZfdfiZXcc1-'+%*)/%*/(+C@E<8;J1),nfi[jfic\jj#d`e`dld(*gclj>JK#\XZ_X[[`k`feXcnfi[`j%),;@JGC8P8;J1),gclj>JKg\iZfclde`eZ_M[WYY[fjcW`ehYh[Z_jYWhZi$JULY DEADLINE JUNE 25EQUIPMENT DISPERSAL • LOEWEN AGITATOR 18', 100 HP prop, nice condition, $2,500. • LOEWEN SUB-SOILER 2-shank, big shoes, mint, $2,500 • 1988 FORD 7710 2WD, 4172 hours, cab, air cond., stereo, 12 speed w/high low power shift, 87 HP, two sets remotes. Very nice original trac-tor. $26,500 TONY 604-850-4718Irrigation Pipe | Traveling Gun/Hose ReelsPivots | Pumps | Power UnitsCall for a quote on Irrigation Design and our current inventory of new & used Irrigation Equipment.Several used 1,200ft pivots & used hose reels available now.TALK TO BROCK 250.319.3044Dynamic Irrigation beyedynamic@gmail.com SCOTTISH HIGHLAND Bulls for sale. 250-546-3646WANTED: EXPERIENCED FARM HAND. Duties to include farm equip-ment operation and maintenance, farm repairs, cattle feeding. Langley, 604-838-4574.ROUND BALED HAY & HAYLAGE This is good quality organic feed with no chemicals – for horses or dairy and beef cattle. Nice tight well-wrapped bales baled May 22 with no rain. $65/bale. Volume discounts. Carl 604-825-9108.WANTED ROUND BALE HANDLER Cradle roller type. 604-825-9108.DISCOVER PRINCE GEORGE 145 ACRES Develop into a farm or private retreat. 5 bed/2bath home. MLS®R2565420, $649,900 COUNTRY ESTATE 5 acres, 2,800 sq ft 3 bed/3 bath home; horselovers delight. 2-bay shop. MLS®R2556910 $889,900 BEAVERLEY Custom-built 5 bed/3 bath home on 4 acres. MLS®R2564592 $799,900 69+ ACRES ON RIVER Approx 50 acres in hay. River, road access. MLS R2569334 $785,000 RANCH PARADISE 700 acres, 5 titles, 2864 sq ft ranch-style main house. Shop, barn, greenhouse, 160 acres in hay. MSL®C8038028 $1,244,421 VANDERHOOF 5.15 building lot. R2575990 $79,900 GRAND FORKS 27.74 acres less than 5 miles to US border. MLS® 2456824 $1,200,000 COUNTRY LIVING Vanderhoof, 64.7 acres, 5 bed/2 bath home. MLS®R2579792 $367,700 COUNTRY SUNSETS & quiet mornings on the back porch. Custom built executive home. MLS R2562196 $924,800 MASSIVE BEAUTIFUL HOME on 70.48 acres with air strip and hanger. MLS R2531909 $933,300 CONCRETE & GRAVEL BUSINESS Full line of equipment. Comes with lease for gravel extraction. MLS C8020796 $599,900 10070 MCBRIDE TIMBER RD. An outstanding agricultural 445 acre property enjoys a pastoral private setting & lovely views of moun-tains to the east. This attractive home was extensively renovated in 1998 plus some recent updates. MLS R2490397 NEARLY 500 ACRES of prime farm land on Fraser River, almost all in cultivation. 5 bed/3 bath home, outbuildings. Turn-key cattle ranch and/or prosperous haying enterprise. MLS®R2444096 $1,400,000 2 ACRE BUILDING LOT, PG, MLS R2446743, $79,900 55 ACRES Development potential close to airport. MLS R2435958, $599,900 112.02 ACRES IN CITY LIMITS. Potential for development. MLS R2435725. $1,300,000 MOUNTAIN RESORT on 82.2 acres. 17 furnished chalets, 50 RV campsites. MLS®C8019821 $5,500,000 PRINCE GEORGE & AREA RURAL LOTS see MLS: R2531431; R2531443; R2460090; R2460086; R2460089; R2461054; Carrie Nicholson PREC* 250-614-6766 REGISTERED TEXEL & CANADIAN ARCOTT RAM LAMBS Available after July 1 ALBERT & DENA FINLAY 250-546-6223 nlaysfarm@gmail.com | nlayfarm.comcouADVERTISING THAT WORKS!WANTED: ROOT VEGGIE CLEANING MACHINE, Hope Farm Organics, 250-617-3466HAYLAGE EXCELLENT QUALITY HAYLAGE Delivery available on Vancouver Island and along the Trans Canada Hwy corridor in BC. 250-727-1966
Page 44
For over 40 years, Great Plains has innovated tillage, seeding and nutrient application equipment to give customers the right tools to achieve great results. You can now nd Great Plains implements, parts, and service exclusively at your local Kubota Dealer. Contact us today.GREAT TOOLS FOR GREAT RESULTSkubota.ca | 1521 Sumas Way, Box 369Abbotsford, BC V2T 6Z6(604) 864-9568avenuemachinery.caAVE010OLIVER GERARD'S EQUIPMENT LTD 250/498-2524 PRINCE GEORGE HUBER EQUIPMENT 250/560-5431 SMITHERS HUBER EQUIPMENT 250/847-3610 VERNON AVENUE MACHINERY CORP 250/545-3355 ABBOTSFORD AVENUE MACHINERY CORP 604/864-2665 COURTENAY NORTH ISLAND TRACTOR 250/334-0801 CRESTON KEMLEE EQUIPMENT LTD 250/428-2254 DAWSON CREEK DOUGLAS LAKE EQUIPMENT 250/782-5281 DUNCAN ISLAND TRACTOR & SUPPLY LTD 250/746-1755 KAMLOOPS DOUGLAS LAKE EQUIPMENT 250/851-2044 KELOWNA AVENUE MACHINERY CORP 250/769-8700 PROUD PARTNER OF44 | JUNE 2021 COUNTRY LIFE IN BC