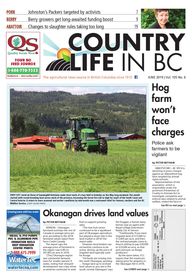 Return to flip book view
JUNE 2019
Page 1
Postmaster, Please returnUndeliverable labels to:Country Life in BC36 Dale RoadEnderby, BC V0E 1V4CANADA POSTESPOST CANADAPostage paid Port payéPublications Mail Post-Publications40012122Vol. 105 No. 6The agricultural news source in British Columbia since 1915 JUNE 2019 | Vol. 105 No. 6PORKJohnston's Packers targeted by activists7BERRYBerry growers get long-awaited funding boost9ABATTOIRChanges to slaughter rules taking too long19by PETER MITHAMVERNON – Okanaganfarmland outstrips the rest ofCanada in average price peracre, according to the 2018farmland values report fromFarm Credit Canada.The report says theaverage price of farmland inthe region rose 6.4% to$97,903 an acre in 2018. "[The] Okanagan regionsaw substantial demand,even for smaller parcels," itstates, noting that vineyarddevelopment was a key driveras wineries continued to seekfruit to support growingsales."The tree fruit sectorcontinued to be a signicantpart of Okanagan agriculturebut played a lesser role in theland market in 2018," thereport adds.However, local brokers sayorchardists continue to beactive, driving up the price ofirrigated land typically usedfor forage. "Orchards are moving intothe north Okanagan, pushing… forage land up to orchardland values as you see in thesouth, central Okanagan," saysPat Duggan, a former dairyfarmer now an agent withRoyal LePage DowntownRealty Ltd. in Vernon. "Traditionally, if you haveirrigated land at $13,000 to$15,000 per acre, and thenthe orchard people come in,they're willing to pay $20,000to $25,000 an acre, so thatputs pressure on forageproducers."By the same token, FCCreports that the maximumasking price for property inthe Okanagan fell in 2018,by PETER MITHAMABBOTSFORD – BC SPCA isdeclining to press chargesagainst an Abbotsford hogfarm targeted by animalrights activists.Representatives of theassociation, which isresponsible under theprovince's Prevention ofCruelty to Animals Act toinvestigate complaints andenforce laws related to animalwelfare, visited the farm inHogfarmwon'tfacechargesPolice askfarmers to bevigilant Growing more with less waterwatertecna.comttttttttIRRIGATION LTD1.888.675.7999 888 6 9999888669999 Diesel & PTO Pumps PVC & Aluminum PipeIrrigation ReelsDRIP IRRIGATIONCentre PivotsFIRST CUT! Jared de Dood of Sunninghill Holsteins made short work of a hay eld in Enderby on the May long weekend. The monthstarted with record-breaking heat across much of the province, increasing the forest re risk to high for much of the South Coast andCentral Interior. A return to more seasonal and wetter conditions by mid-month was a welcomed relief for farmers, ranchers and the BCWildre Service. [CATHY GLOVER PHOTO]Okanagan drives land valuesSee NO on next page oSee LOWER next page o1-888-770-7333Quality Seeds ... where quality counts!YOUR BCSEED SOURCE
Page 2
COUNTRY LIFE IN BC • JUNE 20192NO grounds for charges nfrom page 1LOWER Mainland prices soar nfrom page 1www.tractorparts4sale.caABBOTSFORD, BCBus. 604/807-2391Fax. 604/854-6708 email: sales@tractorparts4sale.caWe accept Interact, Visa and Mastercard WANTED: KVERNELAND & PARMITER BALE WRAPPERS 100-120 HP TRACTORSNH 1895 SELF PROPELLED HARVESTER W/GRASS, 3-ROW CORN HEAD,4X4 HYDROSTATIC, GOOD CONDITION ........................................... $8,500BOBCAT S510 SKIDSTEER, OPEN CAB, 2530 HRS, SINGLE SPEED DRIVE ....................................................................... 28,000JD 6430 LOADER,CAB , 4X4, IVT TRANS 5385 HR ........................... 70,000HYLINE 6600 BALE PRO GRINDER-FEEDER. GD CONDITION .......... 7,500JD 336 & MASSEY 228 SQUARE BALERS. GD COND ............7,500/5,500 NH 1047 BALE WAGON, SELF PROPELLED, OPEN STATION,120 BALE CAPACITY, 87 HP, 6CYL. GOOD CONDITION ......................15,000JAYLOR 5600 VERTICAL TWIN MIXER. GD COND..... CALL FOR PRICING ARTEX 2512 HE SAWDUST THROWER, SKID STEER ATTACH,NEW CONDITION ................................................................................6,500LOEWEN 9612 VERTICAL MIXER . GOOD CONDITION ................... 18,000CASE CHIESEL PLOW 9 FT WIDE, HD SPRING SHANK .................. 2,500LOEWEN MANURE AGITATOR 18 FT, RECENT REBUILD ................ 2,200NEW REPLACEMENT PARTSfor MOST TRACTORS & FARM IMPLEMENTSGD Repair LtdTractor/Equipment Repair Mobile Service Availableearly May and found nogrounds for charges."We utilized the code ofpractice for hog farming, andhave determined at this pointthat we will not beproceeding with any chargesagainst Excelsior Hog Farm,"says Shawn Eccles, seniormanager, crueltyinvestigations, with the BCSPCA.The visit occurred morethan a week after People forthe Ethical Treatment ofAnimals (PETA) provided avideo to CTV allegedlydocumenting instances ofinhumane conditions at thefarm. An initial visit was pre-empted, Eccles said, by aprotest at the farm on April 28 that saw more than50 activists invade the farm'sbarns and more than 100gather outside."We had madearrangements to attend thefarm with appropriateindividuals that had trainingor experience in hog farmsand a protest occurred,"explains Eccles. "We assessedwhat we saw on the date thatwe were on the farm, and atthis point there is noevidence to warrant acharge."The activists' interventionprevented the promptinvestigation of thecomplaint by the properauthorities, and the fact thatthe person who shot thevideo never stepped forwardto back up the evidence leftinvestigators with no groundsfor pursuing the matter."We can't attest to theveracity of the video," saysEccles. "As a policing agency,[we] have to rely on evidence… that I have either througheyewitness testimony – whichI don't have – or physicalevidence."However, some membersof industry are criticizing BCSPCA's handling of thematter, saying it didn't actfast enough, or clear the airwhen it nally determinedthere were no grounds forpursuing charges.The video followed abreak-and-enter at Excelsiordropping from $166,900 anacre in 2017 to $148,800 anacre last year.By contrast, top sale pricesin the Lower Mainlandincreased to a whopping$218,900 an acre in 2018, upfrom $162,700 an acre in2017.This has prompted manyfarmers to reconsider wherethey buy, and how theymanage their operations."They're moving out tocheaper real estate that hasirrigation," says Duggan. "Ifyou can nd good parcels ofirrigated farmland, they don'tseem to stay on the marketfor very long."Gord Houweling of BCFarm & Ranch Realty Corp. inAbbotsford agrees."We see folks that willmove up to Salmon Arm,Enderby," he says. "They'relooking for hay land, ranchland, heifer-raising facilities,within a maximum of fourhours of the home farm."Often, they're looking toreorganize the farm to makethe most of location and landvalues. Dairy farmers in theLower Mainland, for instance,will locate milking herds inthe region close toprocessing plants, while otherelements of the operation –forage production and heifers– will take place in theInterior."It only makes economicalsense to make the home farmproduce the milk and get theyoung stock o the farm sothey've got room for moremilk cows. And that's whatwe're seeing," says Houweling,noting that the newAgricultural EnvironmentalManagement Code ofPractice is one more incentivefor growers to split upoperations.Houweling also has listingson Vancouver Island, but hesays the market is slow. Thelow sale volumes didn't stopland values fromappreciating, says FCC, asbuyers seeking refuge fromthe high cost of properties inthe Lower Mainland camecalling. The region logged thebiggest gain in value ofanywhere in Canada, with anacre of farmland rising 21.7%to an average of $50,858 anacre.Farm sales increaseSales of farm propertiesrose 57% in 2018, accordingto data from the BC Ministryof Finance.A total of 1,547 farmproperties changed hands in2018, up from 987 in 2017.Sales were concentrated inthe Northern Rockies-Peace,Fraser Valley and MetroVancouver regional districts.The three regions accountedfor just 40% of all sales, whilethe other 60% weredistributed among theprovince's remaining 24regions. The majority of thesesaw 50 farm sales or fewer in2018, with just 10 seeing 51sales or more.Columbia-Shuswap,Cowichan Valley and CentralOkanagan regions saw salesincrease by more than 200%.CALL FOR AN ESTIMATELARRY604.209.5523TROY604.209.5524 TRI-WAYFARMSLASER LEVELLING LTD.IMPROVEDDRAINAGEUNIFORMGERMINATIONUNIFORMIRRIGATIONFAST,ACCURATESURVEYINGINCREASECROPYIELDS We service all ofSouthern BCin late March during whichsurveillance cameras wereinstalled. Those cameras wereremoved, and Abbotsfordpolice are investigating.The force'scommunications ocer,Sergeant Judy Bird, said thetwo incidents are subject toseparate investigations. Birdsaid evidence is beingcollected to see if there aregrounds for prosecutingthose responsible for eitherincident.The latest incident sawpolice identify and securecontact information for 50protestors. Just one arrestwas made, but the individual,Amy Soranno of OkanaganAnimal Save, was releasedpending a court appearance."Our investigationcontinues, and we will belooking at charges for theprotestors with respect tobreak-and-enter andmischief," Bird said of theprotest.While farm invasions arerare in Canada, Bird said theprotest is a reminder thatsuch incidents are possible.She encourages farmers toreport suspicious activity ontheir properties to police."I don't recall us havinganything like this inAbbotsford before," she said."This puts an extra reminderon us that this has thepotential to happen again inthe Fraser Valley."We generate tax ecient o-farm income to ease the income crunch when farms transition.Retirement Planning TipYOURHelping YouHelping YouFARM NEWSSign up for FREE today.countrylifeinbc.comWEEKLY FARM NEWS UPDATESFor more coverage onthis issue, see Tom Walker'sstory, Johnston's Packerstargeted by activists, onpage 7.
Page 3
JUNE 2019 • COUNTRY LIFE IN BC3 Innovative agricultural technology for more than 140 years. 2–year warranty.&KLOOLZDFN<DOH5RDG:HVW/DQJOH\WK$YHQXH&KHPDLQXV6PLOH\5RDGMore success with PÖTTINGER.NOVACAT 3507 TMinister defendsBill 15 changesOpposition maintains new lawwill erode farmers' rightsby PETER MITHAMVICTORIA – Provinciallegislation that will centralizegovernance of theAgricultural Land Reserveinched a step closer topassage as this edition ofCountry Life in BC went topress.Bill 15 passed secondreading in the legislature onMay 16, supported by votesfrom all 44 government MLAsand opposed by 40opposition MLAs.Opposition membersabsent for the vote includedTracy Redies of Surrey-WhiteRock and Abbotsford WestMLA Mike de Jong, who wasamong the louder voicesspeaking out against the bill.The last MLA to speakagainst the bill was PeaceRiver South MLA Mike Bernier,who emphasized that thechanges would make itharder for farmers to managetheir properties."It's another heavy-handedapproach, where the ministerand this government areimposing a top-down view,from Victoria on how peopleshould be running theirfarming operations and howthey should be expected tomanage the agriculturalsector," he said. "We don'twant to see agricultural landsitting there stagnantbecause people give up."Bernier said thegovernment's support offarmland needs to becomplemented by supportfor farmers. Centralizingcontrol over farmland byeliminating the existingsystem of regional panels andshutting landowners out ofthe exclusion process takesmore than it gives, he argued."If the minister and thisgovernment really want to behelping the agriculturalindustry, they need to ensurethat there are policies andsupports to allow the farmersto actually be on the land, tolook for opportunities tomake extra income," Berniersaid.Concerns dismissedAgriculture minister LanaPopham dismissed theconcerns, accusingopposition MLAs of anongoing campaign ofmisinformation. She said thereality was that the legislationwould ght speculation andproducers who saw moreprot "farming ll thanfarming agricultural products."The legislation is only"logical," she told thelegislature, adding, "You can'tjust protect the farmland; youalso have to bring in policiesthat support farming.""These are improvementsto protect the AgriculturalLand Reserve, along withwhat we're doing toencourage farming," she said,without giving MLAs anyexamples. Opposition MLAs spent sixweeks speaking against thebill, which the governmentaims to pass by the time thehouse adjourns for thesummer on May 30. While theBC Liberals acknowledgedthat they couldn't stop thebill from becoming law,thanks to their minorityposition in the house, theyhope the nal text will beamended in committee.Those debates take placeafter this issue goes to press.BC Liberal leader AndrewWilkinson has pledged torepeal BC NDP changes tolegislation governing the ALRif his party forms the nextprovincial government. Thenext general election in theprovince is scheduled forOctober 16, 2021.1-866-820-7603 | BAUMALIGHT.COM Dale Howe | (403) 462-1975 | dale@baumalight.comMFG A VARIETY OF ATTACHMENTSBRUSH MULCHERS | BOOM MOWERS STUMP GRINDERS | TREE SAWS & SHEARSTREE SPADES | ROTARY BRUSH CUTTERSAUGER DRIVES | TRENCHERS DRAINAGE PLOWS | PTO GENERATORS Where's the beef?BC Liberal agriculture critic Ian Paton looks on as BC Cattlemen's Association president Larry Garrett,who ranches in Vanderhoof, speaks at BC Beef Day at the legislature on May 14. BC agriculture ministerLana Popham helped serve fresh-cooked meat wearing her Buy BC apron. BC ranchers produced closeto 180 million pounds of beef in 2017 worth nearly $236 million. The industry would like to see greaterlocal processing capacity, rather than having to ship animals to Alberta for slaughter. [BC MINISTRY OFAGRICULTURE PHOTO]
Page 4
Farmers, not just farmland, need revitalizationCOUNTRY LIFE IN BC • JUNE 20194Advertising is accepted on the condition that in the event of a typographicalerror, that portion of the advertising space occupied by the erroneous item,together with reasonable allowance for signature will not be charged, but thebalance of the advertisement will be paid for at the applicable rate. In theevent of a typographical error which advertises goods or services at a wrongprice, such goods or services need not be sold at the advertised price.Advertising is an offer to sell, and may be withdrawn at any time. Alladvertising is accepted subject to publisher's approval.All of Country Life in British Columbia's content is covered by Canadiancopyright law.Opinions expressed in signed articles are those of the writer and notnecessarily those of Country Life in British Columbia.Letters are welcome, though they may be edited in the interest of brevitybefore publication.All errors brought to our attention will be corrected.36 Dale Road, Enderby BC V0E 1V4 . Publication Mail Agreement: 0399159 . GST Reg. No. 86878 7375 . Subscriptions: $2/issue . $18.90/year . $33.60/2 years . $37.80/3 years incl GSTThe agricultural news source in British Columbia since 1915Vol.105 No.6 . JUNE 2019Published monthly by Country Life 2000 Ltd.www.countrylifeinbc.comPublisher Cathy Glover604-328-3814 . publisher@countrylifeinbc.comEditor Emeritus David Schmidt604-793-9193 . davidschmidt@shaw.caAssociate Editor Peter Mithamnews@countrylifeinbc.comAdvertising Sales & Marketing Cathy Gloversales@countrylifeinbc.comProduction Designer Tina RezansoffProduction Ass't Naomi McGeachyD'oh! PW"Peace, order and good government" may well be the words fundamentalto Canada's national character. We say "sorry" at the drop of a hat, devoutlyanxious that we might somehow have disturbed the peace and order of ourneighbours. Our laws and regulations dene what we can and can't do,especially in matters regarding freedom of speech; unlike the US, where theonus is on the defamed party to prove injury, Canada's laws regarding libeland defamation favour plaintis, encouraging individuals to respect others.But farmers, who the province is set to exclude from the denition ofpersons for the purposes of land exclusions under Bill 15 (set to pass shortlyafter this issue goes to press), are in danger of losing their protection fromdefamation.The recent decision of Crown prosecutors to drop charges against ananimal rights activist who entered an Ontario hog farm because they didn'tthink the case would result in a conviction – even though the activist herselfadmitted to the act and had video footage of what she had done – could wellembolden activists there, as well as in BC.It's already happening, in fact. Two years ago, undercover footage oflivestock mistreatment by sta at a Chilliwack chicken catching businessgrabbed headlines. But the province's privacy commissioner told the businessit couldn't equip sta with body cameras to monitor animal handlingpractices. "Video surveillance should only be used as a last resort," thecommissioner said.It wasn't true for activists then, and it wasn't true this spring when cameraswere installed at a hog farm in Abbotsford, resulting in footage that triggeredan invasion of the farm by protestors at the end of April and a cybertattackthat compromised the business of the packinghouse it supplies. Police areinvestigating the break-and-enter that led to the footage, but the BC SPCAnotes that the footage is hardly grounds for convicting some of lming it.Even someone claiming to have shot the video isn't enough; there must beproof that the suspect actually installed the cameras.While the BC SPCA has found no evidence the farm mistreated its animals,the defamatory footage will live on because, it seems, no one can be heldaccountable for releasing it. It's one more instance where farmers have losttheir rights under the law.There was neither peace nor order when activists descended on the BCNo peace, no orderBill 15, the Agricultural Land Commission Amendment Act 2019, is poised tobecome law. When it does, BC agriculture minister Lana Popham will havefullled the rst item on the list of agriculture-specic directives in the mandateletter she received when shebecame minister in July 2017. Minister Popham appears tohave all of her ducks smartly in arow: appropriaterecommendations from theindependent advisory committeeappointed last year to recommendways to revitalize the ALR and ALC;support from within the farm community, including the BC Agriculture Council;and the ever-claimed, and always alluded-to, backing of 95% of the public. Eventhe membership of the Canadian Federation of Independent Business, notgenerally known for welcoming government regulation, voted 56% in favour ofimposing stricter regulations on the use of farmland in the ALR whenquestioned in an internal survey that simplied the issue to a choice betweenprotecting food supply or allowing residential development.There has been some pushback. BC Liberal MLAs are framing Bill 15 as an attack on the property rights offarmers and ranchers, several farmers institutes are voicing concern and there isplenty of sceptical resignation among the rank and le that make agriculturehappen. There is little chance any of this will alter the outcome. There will be a lot of tub-thumping from the moral high ground when thebill nally passes, and salvation proclaimed for BC farmland. I have no quarrelwith the premise, but as my Granddad used to say: there's two sides to everystory and two answers to every question.Let's look at the other side of this story: farmers and ranchers. Sure, 95% of the population support farmland preservation. Health care andeducation probably enjoy the same level of support, but what good is ahospital without doctors or nurses? What good is a school without teachers?Hospitals and schools are only buildings until doctors, nurses and teachers turnthem into places where health care and education actually happen.Similarly, it's ranchers and farmers who turn the ALR into agriculture. Amongthem are the resigned sceptics who understand the value of their land but balkat the possibility of having another stone piled on the ever-increasing load ofred tape and regulation they shoulder. They have watched the ALR savingfarmland for 45 years but have seen agriculture fading away. They worry aboutwhere the regulatory hammer might fall if a growing bureaucracy starts playingWhac-A-Mole to enforce compliance. They understand the necessity ofdiversied income – ideally generated on site – to making agriculture happen.Premier John Horgan's mandate letter to Minister Popham outlined severalpriorities, both general and specic to agriculture. Among them was "build astrong, sustainable, innovative economy that works for everyone" and "creategood-paying jobs in every corner of the province, and ensure people fromevery background have the opportunity to reach their full potential."BC has some of the lowest farm incomes in Canada. To be sustainable, farmsneed money for investment and to support the families who turn the ALR intoagriculture. At the very least, they should be permitted and encouraged toidentify and pursue innovative opportunities that allow them to achieve thepremier's stated objectives. Perhaps the time is right for Minister Popham to consider striking anindependent advisory committee for revitalizing agriculture in BC.Bob Collins raises beef cattle and grows produce on his farm in the AlberniValley.The Back FortyBOB COLLINShog farm at the end of April, and no one seems sorry for the inconveniencecaused the farm or the rest of the supply chain. Good governance demandsmore, especially in a province where industry codes of practice for livestockare, as of this month, part of provincial statutes that also include right-to-farmlegislation.We all want to protect livestock. Who will protect farmers?
Page 5
JUNE 2019 • COUNTRY LIFE IN BC5ALR restrictions make commuting a fact of lifeHousing options for new farmers can build connections with the landOne of the many benetswe see from protecting foodlands within our communitiesis the opportunity to build asustainable food system. Butthe noble pursuit of farmlandprotection itself must, like allthings, abide by the triplebottom line of sustainability.The need for economic andenvironmental sustainabilityis obvious, ensuring thatfarms don't deplete theirnancial or natural resources;but the third tenet is harderto grasp: social sustainability.Yet if the BC Ministry ofAgriculture and theAgricultural Land Commissionwant to see land preservedfor farming actually farmed,they will have to take socialsustainability into account.A poignant example of thischallenge is the limitations Bill52, passed last fall, placed onhousing options, prohibitingsecond homes of any kindexcept through application tothe ALC. Bill 15, introducedthis winter, will add theopportunity for regulationsthat limit where houses canbe sited. For new farmers inparticular, this has seriousimplications.For those prospectivefarmers who can't aord tobuy land independently (andwhat young person cananywhere in what was calledZone 1?), they have a fewoptions. Some combinesavings with friends orextended family, but asanyone who has started abusiness with a friend orfamily member knows, sucharrangements require a highdegree ofcompatibility andtrust, and aforfeiture ofautonomy.This becomesless attractive,however, whenonly one residence plus asuite is permitted. Assumingthe relationship is resilientenough to survive dailyproximity, they'll have toagree on who lives in thebasement – for example, theadult children who could usemore space for their ownchildren, or the retiredparents who actually frontedthe bulk of the money?Leasing not new Recognizing that even theimperfect solution of poolingsavings is out of reach formany young farmers, theprovince is working toaddress access to landthrough leasing. Farms haveoperated on leased land sincetime immemorial, and it isalready a common landtenure, but I would hazard toguess that the majority oftoday's established leases areheld by neighbouring farmerswho already have a home.This is not the situation forpeople new to the industry.While there are some luckyopportunities in BC for newfarmers to lease land withaccommodations, this is notthe status quo, andunderstandably so whenlandowners want to stay onsite, but new farmers who areleasing can no longer (legally)expect to install a mobilehome, or even a camper, as asecond residence.Theoretically, a landownermay still apply to the ALC fora second, "non-adheringresidential use," but theirgeneral position seems to bethat the risk of abuse is toohigh to actually use thisoption since there is currentlyno assurance that the farmingwon't end and the housingremain.If new farmers can't ndon-farm housing, they arepushed into the residentialrental market. Across Zone 1,this is as elusive andunaordable as any otherkind of real estate, most likelyoutside the ALR and thereforeat a distance from the farm.With residential rents in BCaveraging $1,248 a month lastyear, and gas hoveringbetween $1.30 and $1.70 alitre across the province,commuting to the farmbecomes an expensive, time-consuming fact of life formany young farmers if theycan't live on the propertiesthey care for.Surely it is not too much fora new farmer to ask to livenear their animals or on theland they work? Of course,there is the practical necessityof responding toemergencies. But there is alsoa knowledge that newfarmers only acquire whenthey can see their land in allhours and all weathers, andcan connect with theirexperienced farmingneighbours.There are also less tangible– more social – benets, toliving on one's land. Farmingis typically a dicult and all-consuming job. The least thatsomeone can expect, whenthey sacrice a reliableincome and commit sevendays a week to this work, is toexperience the advantages ofrural life – the chance to wakeup to familiar birdsongs, toget the morning chores donebefore breakfast, and to see asunset from the window andnot a neighbour's wall.When so many challengesalready lie in their paths,removing these benets fromthe equation maywell cause thenext generationof prospectivefarmers to ask –why bother?When we restrictthe ability offarmers to live onand enjoy theland, we maysucceed atpreservingfarmland, but not farming.Ava Reeve coordinates theSmall Farm Network in Langley,a recent project to connect andsupport mixed farms in allaspects of their sustainability.Find them on Facebook:www.facebook.com/groups/langleysmallfarmnetwork.Viewpointby Ava ReeveDesigned for Canadian agricultureChoose software that's built for your farm business. AgExpert Field and Accounting are 100% maple-leaf friendly. Get the Basic versions for free, or step up to the Premium Bundle for just $499 a year.fcc.ca/AgExpertSolid. Simple. Built for the farm.Downtown Realty4007 - 32nd Street, Vernon, BC V1T 5P21-800-434-9122 www.royallegpage.caPAT DUGGANPersonal Real Estate CorporationRoyal LePage Downtown Realty Ltd. Farm | Ranch | ResidentialBus: 250/545-5371 (24 hr) Cell: 250/308-0938patduggan@royallepage.ca7703 HWY 97A, MARAwww.OkLandBuyer s.ca"Farmers helping farmers with their real estate needs"Well appointed custom built 4 bed/4 full bath home on 101 acres (approx 35 cultivated).Granite counters, sunken living room, covered patio w/fantastic west view, expansive master bedroom, private office, large family room, wine room, additional bed & bath and12'x 44' carpeted media room on lower level. 30x40' shop. MLS# 10182187 $1,575,000The noble pursuit of farmlandprotection itself must abide by thetriple bottom line of sustainability. AVA REEVEMASSEY FERGUSON 6700 SERIES TRACTORUnlike any mid-range tractor we've ever built withunmatched lift capacity and the power to pull heavier implements through the toughest jobs.MOST POWERFUL HEAVYWEIGHTVAN DER WAL EQUIPMENT(1989)LTD.23390 RIVER ROAD, MAPLE RIDGE, BC V2W 1B6604/463-3681 | vanderwaleq.com
Page 6
COUNTRY LIFE IN BC • JUNE 20196*Terms and conditions apply. FortisBC may modify or cancel programs at any time. FortisBC Inc. and FortisBC Energy Inc. use the FortisBC name and logo under license from Fortis Inc. (19-022.13.4 05/2019)We've got On high-efficiency water heaters, boilers and greenhouse thermal curtains, plus custom programs* to help your business grow.That's energy at work.Start saving at fortisbc.com/businessrebates.
Page 7
JUNE 2019 • COUNTRY LIFE IN BC7FREE PTO Pump or $2500 Discount on Select Irrigation ReelsPovinc Wid Deliver90/300 3.5"x 985' $24,450100/400 4.0"x 1,312' $29,700110/400 4.5"x 1,312' $36,500Reels are complete with Inlet Hose & Sprinkler.by TOM WALKERCHILLIWACK – BonnieWindsor is assistant plantmanager at Johnston'sPackers Ltd., the largestprovincially inspectedslaughterhouse in BC. Thebusiness has been processinghogs in Chilliwack since 1937,making it one of theprovince's oldest plants, too.Windsor is bright,articulate, hardworking andhas a raucous sense ofhumour. She could beworking in any number ofbusinesses, but she happensto work for a slaughterhouse.This put her on the front linesof an eort by animal rightsactivists to shut down a localhog farm – and the rest of theBC hog industry – at the endof April."I didn't sign up for this,"Windsor told the BCAssociation of Abattoirs inChase on April 27, ve daysafter the PETA (People for theEthical Treatment of Animals)released a video to CTVpurporting to show pigsliving in squalor at ExcelsiorHog Farm in Abbotsford. "ButI sure think I earned a blackbelt in PETA over the last fourdays. You learn quick."The video shockedWindsor and the rest of thesta at Johnston's."We were as horried asanyone else," she says. "That isnot what Johnston's standsfor, but we asked, 'Is thisreal?'"Conversations with theBinnendyk family, which runsthe farm, conrmed that thevideo was taken at night andconcentrated on the hospitalpen, an area where sick orinjured animals are taken fortreatment. The family alsobelieves some of the footagewas shot elsewhere andedited into the video. "We were named as thepacker that the producerships to, so I gured we mightbe next," says Windsor says.CyberattackThe craziness began April23, the morning after the CTVbroadcast. Within a two-hourperiod, Windsor receivedmore than 2,500 emails, manywith the same subject line."I was trying to sift throughand nd any legitimate mailfrom customers," saysWindsor. "But I just couldn't."Empyrion TechnologiesInc., which provides ITservices to Johnston's, frozeits account.Then the activists foundher cell number."I quickly learned not toanswer it," she deadpans. "Ifroze. I didn't know what todo. … I'd already been awakeall the rst night."She spoke with the BC PorkProducers Association andpoultry producers she knewwho had been targeted byactivists in the past. They allsaid the same thing: "Keepyour head down, don'trespond, hide."Johnston's Packers targeted by activists Bonnie Windsor recounts howprotesters turned on packinghouseand how she chose to fight backBonnie Windsor admits she was tongue-tied when media started calling her after animal activists targeteda hog farm that supplies Johnston's Packers. Her rst inclination, after consulting others, was to notrespond but then she realized if she didn't tell her side of the story, others would. [BC PORK PHOTO]soil technology solutionsSustainable Soil Benefits • water holding capacity• maximized nutrient availability• higher yields• increased microbial activityActagro is a premier R&D-based developer, manufacturer, and marketer of environmentally sustainable soil and plant health technology solutions that enhance value for our customers globally.Actagro® Technical Sales RepresentativeLee Parsons 778.985.8062 toll free 877.843.2700 | www.actagro.comContact us with any questions about our products or visit our web site and read more.See DEATH on next page o
Page 8
COUNTRY LIFE IN BC • JUNE 20198DEATH threats nfrom page 7The presumption of innocence is a keystrength of Canada's justice system. Itrequires prosecutors to build a case that hasa fair chance of success before layingcharges against suspects.However, it also means people can dothings that may never be successfullyprosecuted. This is often the case withanimal welfare activists, which often harassand invade legitimate businesses withimpunity. Charges against an activist inOntario, for example, were recentlydropped because the court felt prosecutorshad little chance of success.Here in BC, police are working to build acase against activists who targeted ExcelsiorHog Farm in Abbotsford this spring. But thecyberattack against Johnston's Packers Ltd.in Chilliwack is likely to go unpunished.According to Johnston's assistant plantmanager Bonnie Windsor, the RCMP haveclosed the le, saying they lack the trainingto investigate the matter. Moreover, theorganization responsible for the attack isbased in England, outside its jurisdiction.—Tom WalkerThen she spoke to theBinnendyks, who changed hermind."You can't imagine whatthose farmers went through,"says Windsor. "There weredeath threats to the familyand people coming up andknocking on their door."But they told her theharassment wasn't going toforce them to take their farmsign down. She admired theirattitude."[Ray Binnendyk] said, 'Weare a second-generation farmfamily. We are proud to feedthe people of this provinceand we have nothing to hide,'"she recalls.By the second day, she hadfound the courage to craft aresponse."I started to realize that wecan't ght with PETA but wecan ght against them bymaking sure our customers[have] the right information,"she says.Thursday, three days afterthe CTV broadcast, things gotworse. Windsor received morethan 10,000 emails thatmorning, crippling portions ofJohnston's computer systemfor several hours.Empyrion helped get thesystem back in operation andWindsor started to respond toemails from upset customers."PETA was telling our storyfor us and we needed to starttelling it ourselves," she says."It took me more than an hourto write my rst letter. Icomposed what I thoughtwould sound okay even ifthey put it on the news."The toll on the companyhas been signicant. It has lostjust one customer – a grocerwho doesn't believeJohnston's has done anythingwrong but wants to avoid thecontroversy – but theemotional toll has been huge.Johnston's can presscharges for the cyberattack –a conviction carries a minimumne of $100,000 – but it wouldcost it time and legal fees."I prefer to spend my timedoing positive things," saysWindsor, who says she hasalready suered enough."Three nights withoutsleep, it aects your health. Allthe hate messages. You startto question your ability tomake decisions."Beef up securityThe message she left withabattoir association memberswas a warning of the greaterrisks livestock producers andprocessors face, and the needto beef up security. "I hope if I have convincedyou of anything, I haveconvinced you to get securitycameras for your plant," shesays. "And we all needemergency response plans.Perhaps we can draw up amaster template together."She thinks media trainingwould help, too."I've taken some but whenthey phone you up for acomment, you are pretty lost,"she says. "I had no idea whatto say. … I think we can do abetter job of telling our story.I'm certainly not going tokeep my head down. I amgoing to make this industrystronger."When is a crime not a crime?Animal rights activists showed up by the busload at Excelsior Hog Farm in Abbotsford, April 28, and refusedto leave until media was provided access to the barns. [THE CANADIAN PRESS/PHOTOGRAPHER]VICTORIA – Children cancontinue to help on theirfamily's farm."We are moving theminimum age from 12 yearsto 16 years," BC labourminister Harry Bains said April29, announcing a host ofamendments to theEmployment Standards Act. A submission by the BCAgriculture Council to theprovince during consultationsregarding the BC legislationpointed out that Alberta'scontroversial youthemployment rules "do notapply on farms and ranches."Bains conrmed this isn'tthe intent of the new BC rules,which specically target paidemployment."They can still work to helpout the household chores orwork on their family farm," hesaid. "[It's] the employer-employee relationship we'retalking about."—Peter MithamChildlabourDRY WITH THE SPEED OF LIGHTMatsqui Ag-RepairAbbotsford, BC604-826-3281Huber Farm EquipmentPrince George, BC250-560-5431Northline Equipment, Ltd.Dawson Creek, BC250-719-7470Country TractorArmstrong, BC250-546-3141Kamloops, BC250-851-3101Visit your local KUHN Dealer today!INVEST IN QUALITY®KuhnNorthAmerica.comQGF 102 / GF 1002 SERIES ROTARY TEDDERS• Exclusive DigiDrive® couplers provide low maintenance and long life• Reduce drying time with asymmetrical tines and steep pitch anglesō+\GUDXOLFIROGLQJIRUHDV\WUDQVSRUWDWLRQEHWZHHQZRUNDQGğHOG• Multiple options and adjustments allow for tedding in various crop conditions15 models from 8'6" – 56'5" tedding widths
Page 9
JUNE 2019 • COUNTRY LIFE IN BC9Join us as we host a gathering of global blueberry industry leaders forA WORLD CLASS BLUEBERRY SUMMIT June 24-26 in RichmondSunday, June 23 VIP ReceptionJune 24 Farm to Table bus tour showcasing BC's vibrant blueberry industryJune 25 Opening Ceremony, Speakers, Trade Show, GalaJune 26 Keynote Speaker futurist Jim Bottemly, breakout sessionswww.ibo-summit-2019.comJune 24-26, 2019info@bcblueberry.comSheraton Vancouver Airport Hotel7551 Westminster HwyRichmond, BC V6X 1A3, CanadaBerry growers get long-awaited funding boostCAP cash will support variety development, researchby PETER MITHAMABBOTSFORD – BC berrygrowers are celebrating theocial announcement ofrenewed funding for breedersseeking to develop newvarieties of strawberries,raspberries and blueberries.The new funding willsupport researchers workingto improve berry genetics tothe tune of $200,000 a yearover ve years, or $1 million.Administered by the LowerMainland HorticultureImprovement Association(LMHIA), the funding willsupport the development ofsuperior berry varieties suitedto BC."The program is expectedto lead to improved crops,higher fruit quality andincreased pest and diseaseresistance," the federal andprovincial governments saidin a press release on May 11.The funding is being madeavailable through theCanadian AgriculturalPartnership, the successor tothe Growing Forward 2program that ended March31, 2018. LMHIA had appliedfor about $2.5 million infederal and provincialfunding for the period 2018-2022, but ocial conrmationof continued support for theberry breeding program wasmonths coming."We have been running abarebones program the pastyear using our ownresources," LMHIA directorDavid Mutz of Berry HavenFarms Ltd. in Abbotsford toldthe association's annualgeneral meeting in January."It's very dicult to budgetwhen you don't know whenyou are going to get fundingand what the ratio of industryto government funding willbe."Mutz did not respond to arequest for comment on thefunding announcement.However, the investment is avote of condence in thefuture of an industry thatfaces signicant competitionfrom imports and high inputcosts relative to othergrowing regions.LMHIA began coordinatingberry breeding in BC in 2013,taking over from Agricultureand Agri-Food Canada.Variety developmentdoesn't oer quick answers,let alone a silver bullet for theindustry.The release in 2009 ofNisga'a, a new earlystrawberry, has not stoppedthe decline of the sector,which faces toughcompetition from Californiaand Mexico. Shops inVancouver were selling threepounds of Californiastrawberries for $5 lastmonth, while processingstrawberries from Mexicoland at 80 cents a pound.Two new raspberriesreleased the same year, Ukeeand Rudyberry, continue toawait successors. But manygrowers, especially after thiswinter's February cold snap,are looking at otheropportunities. Blueberries,which face their ownchallenges, have been themost popular alternative forgrowers."Once it's been changed toblueberries, it's unlikely to goback to raspberries," saidRaspberry IndustryDevelopment Council chairJames Bergen at the council'sannual general meeting inMarch. Abundant blueberriesBlueberries are theprovince's most abundantberry, and most lucrative fruitexport. BC was home to morethan 600 blueberry growersin 2017, versus 100 raspberrygrowers and 50 strawberrygrowers. The farmgate valueof blueberries that year was$136 million, versus $20million for raspberries andjust $6.4 million forstrawberries, most of whichare for the fresh market.However, the value ofblueberries shipped abroadwas $222 million, making itthe province's fourth-largestagrifood export. Research ishelping enhance shippingprotocols, but work towardsnew varieties is slow."We're still between a rockand a hard place," researcherEric Gerbrandt of Sky BlueHorticulture Ltd. in Chilliwacktold growers attending thePacic Agriculture Show inJanuary. "There's no clearoutliers."Related fundingThe funding for berrybreeding complements $11.5million in federal fundingannounced in March forhorticulture researchcoordinated by the CanadianHorticultural Council. Alsodelivered under the CanadianAgricultural Partnership, thefunding will be matched by$6.5 million in contributionsfrom industry.According to the ocialannouncement, the researchwill assist in the developmentof "new technologies andpractices for better pest anddisease management, post-harvest storage and handling"as well as "new crop varietiesto keep our growersprotable and competitive."Berry research in BC is getting a $1 million inux of cash over ve years from the federal and provincialgovernments. The announcement came just as berry season was about to get underway. [MAAN FARMS PHOTO]t*DSFBTF$PSO:JFMEt*NQSPWF4PJMt7FSZ8JOUFS)BSEZt(SB[Ft)BSWFTUt1MPXEPXOTerra Seed Corp www.terraseco.com
Page 10
COUNTRY LIFE IN BC • JUNE 201910by DAVID SCHMIDTABBOTSFORD – Just asproducers face more andmore restrictions on theantibiotics they can use, theymay have anew weapon toght at leastone majorpoultrydisease.At the BCPoultrySymposium inAbbotsford,May 15, Dr.Trevor Lank ofMicroSintesis inCharlottetown,PEI, introducedlocal poultryproducers toproteobiotics –a new type of molecule madeof 4-8 amino acids producedby probiotics. Unlikeprebiotics, probiotics orantibiotics, these newmolecules do not actuallyattack pathogens. Instead,they interfere with thedevices pathogens use tocommunicate with each otherand thereby reduce the rateof infections.MicroSintesis won lastyear's University of Guelphinnovation award for itsproteobiotics and hasreceived Canadian FoodInspection Agency approvalfor their use in swine andpoultry production."Proteobiotics don't need aprescription.They are safeand availablefor use inorganic andRWA (raisedwithoutantibiotics)programs," Lankstated.He saidproteobioticshave reducedsevere diarrheain pigs by 89%and reduced E.coli shedding.In small labtests, broilers fed 12 mg ofproteobiotics/kg of feed perday for days 12-28 showed a15% decrease in necroticenteritis (NE) lesions and a34% decrease in mortalities.Average pen weightincreased 5% and litter scoresimproved 20%."Since the proteobioticsdon't kill pathogens, thepathogens don't developresistance to them," Lack said.He said MicroSintesis has asystem to produceProteobiotics reduce poultry, swine infectionsproteobiotics which can bedelivered through the watersupply as long as the water istreated with chlorine ratherthan hydrogen peroxide. "We're now trying tocommercialize their use andreplicate our lab results incommercial swine herds andpoultry ocks," Lack toldproducers, saying it cost themthree to four cents per bird tofeed proteobiotics for 10 to20 days.Antibiotics bannedFinding new weapons toght disease is crucial as theindustry moves away from thepreventative use ofantibiotics."We expect 15-20% ofCanadian broiler farms couldsee increased incidence of NEand coccidiosis" as a result ofthe withdrawal of Category I,II and III antibiotics, saysZoetis Canada technicalservices veterinarian BabekSanei.While antibiotic use isbeing restricted to preventbuildup of resistance, Saneiworries that may cause moreproblems than it solves. Hepoints out Europe, whichbanned preventative use ofantibiotics in poultry in 2008,is now nding an increase inbacterial enteritis."That could result in moresalmonella going toprocessors which is a bigissue in BC," Sanei said. "I'mworried there could be morefood poisoning if we withdrawall in-feed antibiotics."Noting antibiotics can stillbe used for treatment, hesuggested producers with ahigh-risk for NE sacrice a fewbirds to determine if theyhave subclinical NE."If your veterinarian cannd subclinical NE, you canstart treatment and reducemortality."He reported on a recentresearch study which showedthat mortality in "challenged"ocks dropped from 17% tojust 3.33% if treatment wasbegun when NE was still inthe subclinical stage.Sanei notes that once allCategory I, II and III antibioticsare banned, producers willonly have Avilamycinavailable to them which couldresult in a buildup ofresistance to it."I think industry still needsmore transitional time toadjust," he says, calling forCategory III drugs to continueto be allowed in broilersduring the critical age forcoccidiosis (around 26 to 28days) of age so they can bealternated with Avilamycin.Europe is using ionophoresto compensate for the loss ofantibiotics, says Dr. Eric Parentof the University of Montreal.It is not helping as 75% ofocks are experiencing eitherNE or non-specic enteritis.Parent thinks this may bebecause producers don'tknow how to use them. Henoted a recent study showedno dierence between ocksfed ionophores from start tonish to those treated withboth ionophores andchemicals.The Sweet Pickins Farm is a 39.45-acre mixed use farm. Main crop is blueberries with a small herd of Black Angus cattle; plus, board horses. The store (open during blueberry season), selling blueberries, pies, jam, and some fruits and vegetables. Products Vegetables - Beets, Carrots, Cucumbers, Garlic, Pumpkins, Zucchini /Berries - Blackberries, Blueberries/Fruit -apples, Crab Apples, Plums, Rhubarb /Meat - Beef /Specialty Items - BakedGoods, Jams & Jellies, Soaps/ Compost & Fertilizer - Manure/ Store sells: Fresh and Frozen Blueberries, Fresh picked seasonal Vegetables, Fresh and Dried Garlic, Summer and Fall Apples, Free range Eggs, Rhubarb, Blueberry and other Fruit Pies, Homemade Jams and Chutneys. Out buildings; Store/Shop 30X20, Covered Patio 20x8, Walk-in-Cooler 7X11, Garage 25x28, Freezer Room 18x9,Caretaker 12x20, Barn 70x40, Equipment Garage/Horse Stalls 52x41, workshop/Wood shop/Horse Stalls/ Garage 70x40,farm hand accommodation45x12. This is a great multifamily purchase.39+ ACRES ON SOUTHERN VANCOUVER ISLANDYOURTRUSTEDSOURCE FORREAL ESTATENANCY VIEIRAPersonal Real Estate CorpREALTOR®250-514-4750Sweet Pickins FarmSweet Pickins Farm – 39.45 acre mixed usefarm. Blueberries, Black Angus cattle; horseboarding. Seasonal store features blueberries, pies, jam, fruits and vegetables.Outbuildings: 30x20 store/shop; 20x8 covered patio, 7x11 walk-in-cooler, 25x28garage, 18x9 freezer room, 70x40 barn,52x41 equipment garage/horse stalls, 70x40workshop/wood shop/horse stalls/garage.Accommodations: 1930 Country Farmhouse, 12x20 caretaker, 45x12 farmhand. This is a great multi-family purchase. Prescription-free molecule couldprovide options to antibioticsProteobiotics have been shown to reduce necrotic enteritis lesions in poultry and severe diarrhea in pigsand could be as easy to administer as adding it to a water source. [FILE PHOTO]TREVOR LANKYOURHelping YouHelping YouSign up for FREE today.FARM NEWSWEEKLY FARM NEWS UPDATES
Page 11
JUNE 2019 • COUNTRY LIFE IN BC11drainage is our specialtyVALLEY FARM DRAINAGE31205 DEWDNEY TRUNK RD, MISSION • Fax 604-462-7215604-462-7213 • www.valleyfarmdrainage.comProudly supporting Canadian industryusing Canadian productLASER EQUIPPED & GPS CONTROLLED TRENCHED AND TRENCHLESS APPLICATIONSSUPPLIERS OF CANADIAN MADE BIG O DRAINAGEby SEAN HITRECABBOTSFORD—The volatilenature of natural gas pricesthis past winter has taken itstoll on the greenhouse industryin BC and growers are lookingfor solutions to a problem thatwon't disappear anytime soon."There's not enoughcapacity in the pipeline, andthis year we skated throughbecause a couple of industriesthat are under constructionhave pre-bought their pipelinespace," says BC GreenhouseGrowers Association executivedirector Linda Delli Santi,adding that the unusedcapacity was luckily sold backto those who needed it. "But,when [the industries underconstruction] are fullyoperational, there won't beroom in that pipeline for gasthat's not pre-bought. So, thisis going to be the new norm."An explosion last Octoberin one of two natural gaspipelines that supplysouthwest BC caused thehistorically reliable price ofnatural gas to uctuate wildly.Greenhouse growersexperienced natural gas prices10 times the normal rate forFebruary and March this year,which destroyed this season'sprots for much of theindustry."I have a member whonormally pays $38,000 fornatural gas in February. Hepaid $750,000 [this February].That's not sustainable," saysDelli Santi. "I have another onewho paid $1.2 million inFebruary. I mean, what do youwant to pay for peppers nextyear?"People who locked in aprice for natural gas withFortis fared better than thosewho stuck to the spot market.Few understand theunorthodox prices and thefallout better than VanderMeulen Greenhouses Inc.owner Armand VanderMeulen, who is buying on thespot market this year."This current winter seasonscenario sucked up all theprot. It's as simple as that," hesays.His greenhouse's gaspayments averaged $28 pergigajoule in February and$35/GJ in March, up from thenormal rate of around $3/GJ.This included one weekend inlate February where he wasstuck paying a record high ofaround $200/GJ. For Vander Meulen, theonly way out of what lookslike a rocky future forgreenhouse-grown vegetablesin BC is more pipeline capacity. "Our population growth isincreasing and our businessesthat require natural gas areincreasing, so we're all tryingto share from the same pipeand it's not viable," he says.Greenhouses in BC rely onnatural gas because it iscleaner and less expensivethan other fuels. Alternativessuch as woodchips or dieselare costly, and neither burncleanly enough to allowgreenhouses to vent carbondioxide emissions back intotheir facilities. Without theCO2 from the natural gasboilers, plants grow moreslowly, further cutting intoprots.Natural gas prices are nowthe second-biggest risk factorafter skilled labour shortagesfor Calais Farms Ltd. inAbbotsford. Farm managerJacob Kerkho says the farmwas able to mitigate its lossesthis year by locking in a pricewith Fortis in October."Thankfully, we've beenspared from catastrophic scalloss this year [because of how]we managed our gascontracts," he says. But there's no telling what'sgoing to happen in the future.Kerkho's concern is therewon't be enough gas to fundfurther expansion. Pendingapproval from Fortis, CalaisFarms will be adding nineacres to its greenhouse andbuilding a packing facility thisyear, but it might be the lasttime it does so."If [Fortis] cannot guaranteeus a healthy supply of gas, weare not going to continueexpanding," Kerkho says. "Wecannot take that risk."It's now at the point wherecontingency plans are beingformulated for an uncertainfuture."We're managing our gasexposure by managing ourprocurement of gas and ourpricing of gas, and we arerelying on Fortis to help usensure we don't have toomany interruptions," he says. "Ifwe start to see that we arecurtailed, we are going tohave to alter our plantingdates so that we don't havetoo many more February 2019s."Looking for the lesson in allof this, Delli Santi hopes thisyear's pricing challenges willhelp BC greenhouse growersmake the right decisions withgas purchasing in comingyears."Based on historicalinformation the decisionswere not wrong, but becausethis year was so dierent fromhistory, the decisions theymade weren't right," she says."At least it opened our eyes tothe fact that this was a trainwreck waiting to happen."Greenhousegrowth stymiedby gas pricesIndustry looks for answers1.800.663.6022www.SILAGROW.comServing all of BC Call or visit us online today112-18860 24th Ave. Pick-up & Delivery AvailableSURREYServing all oServrvingalllloNEW warehouselocation>A wicked wind storm blew through Abbotsford in late April, soon after Bloom, the Abbotsford TulipFestival, started welcoming guests. Gusts bent some tulip varieties nearly 90° but most recovered,says festival founder Alexis Warmerdam, above, and the elds were able to stay open until afterMother's Day. [RONDA PAYNE PHOTO]
Page 12
COUNTRY LIFE IN BC • JUNE 201912DURABLE AND HARD WORKINGMahindra RetrieverMahindra Max 26ENJOY 0% FOR UP TO 60 MONTHS AND SAVE MORE BY PURCHASING MAHINDRA IMPLEMENTS.CONTACT YOUR LOCAL MAHINDRA DEALERPUSH MORE, HAUL MORE AND LIFT MORE WITHTHE TOUGHEST TRACTORS ON EARTH.Mahindra 9125 with Rotary Cutter
Page 13
JUNE 2019 • COUNTRY LIFE IN BC13Povinc Wid DeliverIdrofoglia Reel Model G1 63/200 (2.5x656ft.)$11,490.00Langley 1.888.675.7999Williams Lake 1.855.398.7757No More Moving Your Sprinklers!Save time & money with an Automated Irrigation Reel Ideal for any crop, vegetable/corn or forage. Prizes not exactly as shown Accessories not includedJOIN US SATURDAY JUNE 8thto see who will WIN the Gators!!!BBQ Starts at 12:30 1 pm Winning Tickets will be drawn PRAIRIECOAST KAMLOOPS 8025 Dallas Drive, Kamloops BC4-H BC GATORLOTTERY DRAWby RONDA PAYNEAGASSIZ – Cover cropshave long been hailed fortheir benets to farmers, butwhich cover crop to plant isless cut-and-dried. On April17, Agriculture and Agri-FoodCanada hosted a eld day atthe Agassiz research farm toshow several cover cropoptions with a particular focuson relay cropping.Relay cropping is when amain crop, such as corn, isplanted and once established,a cover crop is planted in thesame eld. Planting soon afterthe rst crop is establishedallows the cover crop to growand mature well before winter.This gives it a head start thatallows it to generate morenutrients.By growing together, thetwo crops make the eld moreproductive, reducing the needto source forage elsewhere."What's old is new again.We're in the renaissance ofcover cropping," says AAFCresearch biologist GaryTelford, who explains thatcover crops help elds bemore productive. "You canhave a lousy corn crop but agood cover crop."The trials in Agassiz sawwinter wheat and dierenttypes of Italian ryegrassplanted alongside corn. Theamount of seed, plantingmethod, time of planting andirrigation practices were alltested. The trials aimed to seewhich varieties worked bestwith the corn and which wasthe most disease-resistant.The cover crops wereplanted last summer when thecorn had put forth three, thensix leaves."We didn't see any diseasedierence at all," says Telford."There were no real diseasesthis year."The cover crop seemed todo better in the plots wherethere was no irrigation, butTelford surmises this was dueto the corn leaves wilting andmore sun reaching the covercrop. However, overalltonnage was better in theplots with irrigation. Yieldswere lower this spring due tothe late winter, he suspects,but the cover crop stilldelivered a respectable 3.5 tofour tonnes per hectare. "There is an environmentalbenet [to cover cropping]besides being a double cropfor the farm," says Telford."There's soil protection andmore capture of residualnutrients. There's less relianceon adding nutrients fromelsewhere."Cover crops also improvethe yield for subsequentcrops, help to control weeds,and may help control pestsand disease, improve soilquality and address moistureloss. Some cover crops canalso compete with the maincrop for water, however, andmay attract new pests anddiseases.Fall rye is the best choice ifthe intent is solely to reduceerosion.In the cover cropping trials,tetraploid Italian rye grassvarieties were the clearwinners when planted amongsix-leaf corn. Corn should beseeded late April to early Mayand the rye should be plantedbetween rows at a rate of 25to 30 kg per hectare. Seeddrilling at one to twocentimeters in depth was thebest seeding method.Germination typicallyhappens within four days.Italian ryegrass isvulnerable to glyphosatesprays. Foliar herbicideapplications should occur atleast two days before plantingor immediately after seeding. "Now that we haveRoundup Ready corn, [weed]management control is mucheasier," he adds.In a relay cropping system,corn should be harvested inmid-September, about twoweeks earlier than usual, sothe cover crop benets fromthe fall sun. This simplemanagement shift canincrease the fall growth by upto 30%.In addition to relaycropping, the eld day alsolooked at a wide range ofcover crop options includingmixes to increase nutrientvalue. Gerry De Groot of DairyCrop Solutions Inc. inChilliwack said cereal grainslooked best to him for dairynutrition."There are a lot moredierent varieties that mostcommunity farmers aren't ableto get," he says. "We're lookingfor disease resistance,nutrition, winter hardiness,yield potential. Cereals andryegrass – they seem to havesurvived better."He added that cropsplanted earlier also faredbetter. "Farmers can get whatlooks good to them withouttrying it themselves," says De Groot.Telford said mustards,clovers and vetch plantingsdidn't fare well during theFebruary cold snap, but he willcontinue to research mixes toidentify the best options. "We're trying to nd out ifwe can mix clovers in withcereals to protect them fromweather," he says. Increase farmproductivity withcover cropsResearchers are working to findthe right mixTOUCHY-FEELY. Gerry De Groot takes a close-up look at one of the cover crop trials being undertaken atAgriculture and Agri-Food Canada's Agassiz research farm. [RONDA PAYNE PHOTO]
Page 14
COUNTRY LIFE IN BC • JUNE 201914Looking for HELPon your farm?We do the work for you!Agri-jobs.caOur business is helping your business GROW, since 1974.Connecting employers with the right employee!Contact us to find out how we can fill your position:www.agri-jobs.ca | Phone: 604-823-6222 | Email: info@agri-labour pool.comAGRICULTURALLABOUR POOLDustinStadnykCPA, CAChrisHendersonCPA, CANathalieMerrillCPA, CMATOLL FREE 1-888-818-FARM | www.farmtax.caExpert farm taxation advice:• Purchase and sale of farms• Transfer of farms to children• Government subsidy programs• Preparation of farm tax returns• Use of $1,000,000 Capital Gains ExemptionsApproved consultants for Government funding through BC Farm Business Advisory Services ProgramARMSTRONG 250-546-8665 | LUMBY 250-547-2118 | ENDERBY 250-838-7337v BC Farm Business Advisory Services Consultantv Farm Debt Mediation Consultantv Organic Consultant & Inspectorv Meat Labeling ConsultantPhone: 604-858-1715 Cell: 604-302-4033Fax: 604-858-9815 email: marlene.reams@gmail.comCONFIDENTIALITY GUARANTEEDView over 100 listings of farm properties atwww.bcfarmandranch.comBC FARM & RANCHREALTY CORP.Buying or Selling a Farm or Acreage?GORD HOUWELINGCell: 604/793-8660GREG WALTONCell: 604/864-1610Toll free 1-888-852-AGRI Call BC's First and OnlyReal Estate Office committed 100% to Agriculture!PROFESSIONAL SERVICESJack Reams P.Ag. Agri-ConsultingDon't forget to renewyour subscription!We're not like other publications. We send only ONE reminder! Not sure when your subscription expires? Email or call us.subscriptions@countrylifeinbc.com 604-328-3814Water fees not evenly distributed among usersA rancher in Charlie Lake isquestioning why farmers mustpay to access groundwaterwhen short-term use ofgroundwater is exempt.Mark Meiers of MT Ranchnear Fort St. John notes thatthe province's WaterSustainability Act allows usersto apply for a short-termpermit free of charge. Suchpermits grant the holders aright "to divert or use waterfrom a stream or an aquifer fora term not exceeding 24months."Such permits allow the oiland gas sector to accessmillions of gallons of waterfree of charge, Meierscontends, something theaverage farmer for whomworking the land is a way oflife can't do. Indeed, owners ofexisting wells who registerwith the province are liable forfees on extractions back to2016, when the WaterSustainability Act took eect.Meiers draws water for hislivestock, and after registeringhis wells andseeking licences, hewas stuck with a billfor $729.85."Anyone that isprocrastinating onregistering theirwater use, bewarned," he says. "You will becharged retroactively to 2016even if you wait 10 years toregister."Meiers' concernsunderscore the ongoingissues landowners have withthe province's eorts tointroduce a rst-in-time/rst-in-right water managementregime in BC. Diculties havedogged the registration andlicensing process since 2016,prompting the government toextend the deadline forregistering existing wells at nocost three times. The latestdeadline for obtaining alicence at no cost is March 1,2022.However, fees on water usewill be owing from February29, 2016.Sta with the BC Ministryfor Forests, Lands, NaturalResource Operations andRural Development conrmedthat basis for Meiers' concern."The Oil and GasCommission has the authorityto issue use approvals undersection 10 of the Oil and GasActivities Act when the use isassociated with Oil and GasActivities Act permit," it toldCountry Life in BC. "Holders ofthese permits are exemptfrom fees and rentals underthe Water Sustainability Act."Ministry sta noted that thefees oil and gas companiespay are higher than for otheruses, including agriculture.Moreover, ministry statypically recommend that oiland gas companies obtain alicence if they plan to drawheavily from a single source,or for repeated two-yearterms."Since the Oil and GasCommission receivedauthority to grant waterlicences in 2014, theproportion of water used byoil and gas companies underlicences has consistentlyincreased while theproportion under short termapprovals hascorrespondingly decreased,"sta said. "The majority of thewater used for oil and gaspurposes in each year since2012 has been sourced fromwater licences."—Peter MithamBC Tree Fruitsprepares to relocateBC Tree Fruits Co-operativefound a new executive team,and soon it will have a newhome.The co-op expected toclose on the purchase of 85acres at 3330 Old VernonRoad in the Ellison area ofKelowna by the end of May, intandem with the sale of itsproperty in Penticton."This purchase signals ourcommitment to the industry,our growers, our sta and theAg BriefsEDITED BY PETER MITHAMvalley, and will give us theability to compete on a globalscale moving forward," said co-op CEO Todd McMyn in astatement.McMyn was appointed CEOat the beginning of April, anappointment announcedalongside that of new CFORoss Dwhytie. The two seniorpositions had been vacantsince November. During the search for newexecutives, co-op presidentJeet Dukhia told Country Lifein BC that a number ofrestructuring initiatives wereunderway in order to securemoney for an automatedplant in the north Okanagan.The reorganization, Dukhiaadded, could include thepurchase of a new propertyon Kelowna's outskirts. Adecision was expected by thissummer."We should be on theoutskirts of the city whereland is cheap," he said at thetime. "We are looking to thenext 50 years."The property on OldVernon Road should t thebill."[It] will see a consolidationof all of the cooperative'snorthern facilities," the co-opsays. "[It] will house state-of-the-art apple, cherry, pear andsoft fruit packing line(s) aswell as oce space and thecider operations and a'destination' cidery."A timeline for the projecthasn't been set. Governmentapprovals for constructionhave yet to be obtained forthe site, which may require anexclusion from theAgricultural Land Reserve. Aco-op representative was notimmediately available toconrm this, but the purchaseannouncement said the co-op"will be working closely withall levels of government" tomake the facility a reality.Cost is also a factor. Acompetitiveness study lastyear said government fundingcould be dicult to secure. Sixyears ago, renewal of co-opfacilities was estimated at $40million. Construction costincreases in the interveningyears will likely make the costof the current project muchhigher.With annual sales of closeto $130 million, the grower-owned co-op has beendiversifying its business inrecent years. While it has longsupplied inputs to orchardiststhrough its subsidiary,Growers Supply Co., it alsoproduces Broken Ladder hardcider. Most recently, in April, itlaunched a new line of fruit-based alcoholic beveragesunder the M.O. Fruitseccobrand.—Peter MithamFOLLOW US ONFACEBOOK12 ACRES (NOT IN ALR) FARM/RANCH/DEVELOPMENT POTENTIALwww.TheBestDealsInBC.com604.491.1060 3Agroup@Sutton.comThe #1 team for ranch, farm and agricultural property sales.#4322 Yellowhead Hwy S. Barriere, BC#4322 Yellowhead Hwy S. Barriere, BC$1,100,000
Page 15
JUNE 2019 • COUNTRY LIFE IN BC15Insurance products and services are provided through Assante Estate and Insurance Services Inc. Please visit www.assante.com/legal.jsp or contact Assante at 1-800-268-3200 for information with respect to important legal and regulatory disclosures relating to this notice.Financial planning for farm families Farm transition coaching Customized portfolio strategy Retirement income planningDriediger Wealth PlanningMark Driediger, CFP, FEA, Senior Wealth AdvisorBrent Driediger, BAA, CPA, CMA, CFP, Wealth Advisorwww.DriedigerWealthPlanning.com | 604.859.4890 Assante Financial Management Ltd.Side Discharge BucketHigh Dump BucketSingle Arm Log Grapple www.hlaattachments.com www.horstwagons.comRoad Flex suspension provides independent four wheel suspension eliminating the need for rocking bolsters. It reduces towing stress and provides increased stability while being towed across a variety of terrain.1-866-567-4162 by BARBARA JOHNSTONEGRIMMERVICTORIA – The CapitalRegional District is exploringthe potential of establishing afood and farmland trust.CRD recently received aregional foodlands accessfeasibility study prepared forthe district by UplandAgricultural Consulting Ltd.The study contains severalrecommendations to addressfarmland access.CRD's board voted April 10to ask district sta to askmember municipalities ifthey're in favour of operatinga foodlands trust inpartnership with a non-protorganization, as well asdetermine if any municipallands could be made availablefor inclusion.Metchosin mayor JohnRanns, the only farmer on theCRD board, has spoken outagainst the proposal, basedon personal experience andthe farm community'sfeedback."The report is unrealistic forfarming in this area, and thepresumption that this is theonly way to achieve foodsecurity is false," he says. "Thisis another example of anurban solution to a ruralproblem."Ranns supports the CRDholding land and leasing it tofarmers, but he says theproposed trust will unfairlycompete with existingfarmers. He is not in supportof a two-tiered system thatcreates a "CRD bureaucracyfor farming" enabling "certainselected people" to have theirinputs paid for by thetaxpayer."The CRD needs to exploreother options," he says.Some directors agreed withRanns, adding that a fullsurvey of available land hasyet to be done. Shouldmunicipal support not beforthcoming, CRD has left thedoor open to a subregionaltrust.The Capital Region Foodand Agriculture InitiativesRoundtable (CRFAIR) hasactively lobbied in support ofthe trust, which was the focusof a 2015 report CRFAIRproduced exploring farm andfoodlands access.CRD requested feedbackfrom municipalities by May 31.Farmland trustexplored for IslandNew owner, same facesby JACKIE PEARASEARMSTRONG – It's businessas usual despite a change inownership and name forNoble Tractor and EquipmentLtd. On March 15, Langley-based Gill Group ofCompanies purchased bothArmstrong and Kamloopslocations and rebranded thebusiness as Country Tractor. Jack and Carol Noblestarted the business 55 yearsago to serve the BC Interiorand today their children holdadministrative positions,including general managerGordon Noble, parts managerJeanne Noble Harter andoperations manager BrendaNoble. A third generation ofNobles is also part of team.The new owners haveretained all sta andmanagement and thebusiness continues to oerthe same products andservices as before. "Nothing's changed. It's thesame people doing the samebusiness," notes GordonNoble. He says the opportunity tosell came and a deal wasmade at a time when thesiblings have started todiscuss their own retirementoptions. He is condent the newowners have the farmingexperience, youth,determination and resourcesto carry the business traditionforward into the future.Country Tractor oersexperienced, trained heavyduty service technicians,parts specialists and salesrepresentatives to meet theunique equipment needs offarmers and ranchers in theBC Interior. 4-H members from across the province stopped at BC Tree Fruits in Kelowna during their six-day Agri-Career Quest tour through the Fraser Valley and Thompson Okanagan, May 6-11. The programexposes senior 4-H members to career opportunities in agriculture. [MYRNA STARK LEADER PHOTO]Fruitful experience
Page 16
COUNTRY LIFE IN BC • JUNE 201916CLAAS 860 SP FORAGE HARVESTER12.5' PICKUP & 6 ROW CORNHEAD $93,700CLAAS 970 SP FORAGE HARVESTER10' PICKUP & 10 ROW CORNHEADCALL FOR MORE DETAILS/PRICINGCLAAS 2200RC LARGE SQUARE BALER CALLCASE IH FARMALL 95C2015 TRACTOR W/LOADER & CANOPY$64,900DION PT FORAGE HARVESTER F41HC/W PICKUP & CORN HEAD $114,780KUHN GA6002 TWIN BASKET SIDE DELIVERY RAKE $12,900NH TM150 MFD TRACTOR CAB DUALS $35,700BOBCAT S850 SKIDSTEER 1070 HRS $54,900EZEE ON 4300 CENTRE FOLD DISK $25,700Pre-owned Tractors& Equipmentwww.caliberequipment.caSTORE HOURS MONDAY-FRIDAY, 8-5 OPEN SATURDAY, 8-120%for 60 MONTHSON ALLCLAASHAYTOOLSOAC604-864-227334511 VYE ROAD ABBOTSFORDWe cut everything, except corners. by JUDIE STEEVESKELOWNA – Unusual and intense spells ofheat and cold are having an impact on treefruits as well as other agricultural crops in BC.Growers are concerned that there may besome damage to this year's crop of apricotsfrom the long spell of extremely cold weatherin February, although the damage could alsohave been caused by cold spring weather whenthe early-blooming 'cots needed goodpollination.BC Fruit Growers Association presidentPinder Dhaliwal says because apricots areamong the rst tree fruits to bloom in spring,they can be subject to damage from springfrost.Both they and cherries are particularlyvulnerable to cold weather during bloom.Cold weather also tends to keep the beesfrom ying, as does windy weather. Bothoccurred during bloom this spring withpotentially signicant impacts on pollination.As a result, he expects there could be a shortcrop of apricots this year. However, he isn'tseeing damage to either peaches or nectarines,which are more reliable and hardier than evencherries when it comes to spring frost,tolerating temperatures down to -2° C.Cherry blossoms have only hours in whichthe blossoms need to be pollinated, so goodweather is important during that short windowof time, he explained.Apple blossoms, on the other hand, poppedopen during "awesome weather" to the pointthat Dhaliwal notes growers will have to stay on topof their thinning program this season in order tokeep fruit size up."Apples look nice," he reports. The next concern for growers will be extremesummer heat which can stress the trees and damagethe skin of the fruit with sunscald."As well, trees can shut down in extreme heat.When that happens, the trees pull water andcalcium out of the apples as the tree goes intosurvival mode. When the tree gets water again,that goes into the fruit but without the calcium,which is important to help the fruit store wellover winter," Dhaliwal explains.Unfortunately, it's one of those decienciesyou can't see, he adds.The past three years have all resulted in someextreme heat spells which have causedproblems with fruit quality, he notes.Rain and hail are also summer concerns thatcan cause fruit damage.Dhaliwal grows apples, cherries, peaches andnectarines on 12 acres in the Oliver area, inaddition to nine acres on the family farm.Frost damage on cherriesEarly indications are that the cherry crop maybe down because of frost damage in some areasof the valley, reports Sukhpaul Bal, president ofthe BC Cherry Association. However, he'soptimistic that it won't be too light.Cherry blossoms are vulnerable to coldtemperatures – just -1°C can cause somedamage – and he believes there was frostdamage in some areas of the valley. He isn'tseeing any permanent damage from the coldwinter weather in February, although he admitsthat farmers in colder locations may see somedamage to this year's crop."I hope it's at least an average crop, but theweather changes are having an impact on thelives of farmers," he comments.The past two years, crops suered from extremesummer heat waves, he notes.Fruit growers cautiously optimistic on bloom setApple trees blossomed in ideal conditions; soft fruits, cherries affected by winter, frostBC Cherry Association president Sukhpaul Bal is hopeful growerswill have at least an "average" crop this season. JUDIE STEEVES PHOTO
Page 17
JUNE 2019 • COUNTRY LIFE IN BC17CONTROL VALVESSAVE LABOR WITH TWIG® WIRELESS CONTROLS3030 SERIES PIVOT SPRINKLERSROTATOR® TECHNOLOGY WWW.NELSONIRRIGATION.COMCONTROLSAUTOMATEDBIG GUN®SYSTEMSFOR 1/2" & 3/4" IMPACT SPRINKLER REPLACEMENTS· LOW APPLICATION RATES PREVENT RUNOFF· NO RISER VIBRATION OR SPLASH DOWN· HIGH UNIFORMITY FOR INCREASED YIELD & GRADEAUTOOMAMATETEDBIBIGG GUGUN®SYSSTEMSby TOM WALKERKELOWNA – If you talk withPearl Beckett and GarySchnierer for only a fewmoments, you quicklyrecognize their enthusiasm.They love living on an orchardin southeast Kelowna. Theylove the Okanagan climate,and they love the challenge ofgrowing top-grade apples.All those things cametogether for them this springwhen they were awarded theannual Golden Apple award,co-sponsored by the BC FruitGrowers Association and BCTree Fruits Cooperative. "You always have to bechanging and movingforward," says Beckett.And indeed, that is whatthey have done. When Gary's family boughtthe orchard in 1986, the treeswere 30 feet apart at a densityof 50 trees per acre. Therewere McIntosh, Spartan, andGolden and Red Delicious. Thebig trees were hard to prune,the apples had to be pickedseveral times because thelight did not penetrate toripen them evenly and returnswere poor. That's a sharp contrast totoday's super-spindleplantings. The narrow treesare two feet apart with 10-footrow spacing that allows adensity of more than 2,000trees an acre. There's still a fewMacs and Spartans, but thebulk of production is splitbetween Ambrosia, Gala andHoneycrisp."We started to replantabout 25 years ago whenPearl joined me," recallsSchnierer.Galas were rst, thenAmbrosia, but the Honeycrispsare the orchard's pride."We did a test plot sevenyears ago to see if they wouldbe suitable to our site," explainsBeckett. "They did well so wewent to a full three acres."The Honeycrisps live up totheir challenging reputation."They are a very dicultapple to grow," says Schnierer."We have to hand-thin them.Thinning sprays don't work.And I have to spray them withcalcium twice a week or theywill get bitter pit."Still, the challenges makethem his favourite apple togrow."They also like to grow bigand we have to thin them inAugust or they will pushagainst each other," he says."But the consumer likes thebigger apples."Beckett speaks to thetechnical details."We do soil tests and leafand stem analysis," sheexplains. "And we are alwaysmonitoring the pH."She points out that theyhave sandy soil that doesn'thold on to nutrients, so theymust be constantlyreplenishing. Schnierer says irrigation ishis biggest challenge. With avariety of slopes and aspects,he tailors his irrigation toeight dierent zones and useswater probes to ensure heneither under nor overwaters."We are always trying tonail down what the treeneeds," says Beckett, notingthat every variety has dierentrequirements."The science is huge," addsSchnierer. "You really have totarget the prime size andcolour and harvest time thatthe market wants for thatparticular fruit." For the last several years,the couple have measuredfruit size with calipers andlogged the results through toharvest."If you are getting to theend of July and your sizedoesn't look like it is going tobe what it needs to be, youhave to go in there and thinagain," explains Schnierer. "It isbetter to have fewer apples ofa bigger size than lots ofsmaller ones."But that care has beenrewarded."We were able to get nearly$1 a pound for our Honeycrispsat the co-op," says Schnierer."Eighty percent were ExtraFancy 1 with an average sizeof 72 [8.7 cm. in circumference]." Beckett and Schnierer saythey are able to handle mostof the orchard duties for their12 acres themselves. A coupleof students assist withthinning in June and July aswell as picking in the fall."If you take the time toshow the kids what you want,work with them for a while,and check in a couple of timesduring the day, they get toknow what you are expecting,"says Beckett. She has appreciated thesupport of the co-op's eldservices sta."You have someone youcan run things by and askwhat you need to be doingdierent," she says.The new plantings havebeen crucial to their businesssuccess. Even with really goodfruit, the returns on the Macs,Spartans and Galas just aren'tthere."The Honeycrisp certainlytipped the scale for us to winthis award," says Beckett,explaining that returns fromthe apple were equal toreturns from every othervariety in the orchard puttogether."The Golden Apple award isa validation that by beinginnovative and using the toolsthat are available to you, youcan get to where you want tobe," she says.Honeycrisp key tosuccess for GoldenApple winnersReturns outweigh others combinedAttention to detail is one of several reasons Pearl Beckett and Gary Schnierer were presented with the BCFruit Growers Association/BC Tree Fruits Golden Apple award earlier this year. [TOM WALKER PHOTO]www.countrytractor.caKamloops 580 Chilcotin Road250.851.3101 Toll Free 1.888.851.3101Armstrong 4193 Noble Road250.546.3141 Toll Free 1.800.661.3141CASE 420CT 2008, 2 SPEED, CAB/A/C/ HYD COUPLER . . . . REDUCED $28,500CASE SV185 2011, 3420 HRS, 2 SPEED, EH CONTROLS, HYD COUPLER . .26,650MAHINDRA 2565 2016, 65 ENG HP, CAB, 4X4, LDR, ONLY 60 HRS . . . . . 45,900MAHINDRA MAX 26 2016, 25.6HP, 4X4, LDR, ONLY 10 HRS . . . . . . . . . . 17,550CASE IH MAGNUM 225 2013, 2006 HRS, CVT, 50KM . . . . . . . . . . . . . . . 165,500KUBOTA 8540N 2009, 3415 HRS, 76 PTO HP, CAB, 4X4, NARROW . . . . . 31,500JD 7410 1997, CAB, 4X4, POWER QUAD, 740 LDR . . . . . . . . . . . . . . . . . . . . 48,500JD 6403 2006, 5500 HRS, 85 PTO HP, CAB, 4X4, LDR . . . . . . . . . . . . . . . . . . 48,500CASE IH RB455A 4'X5', TWINE WRAP, NEW, FULL WARRANTY . . . . . . . . . 19,965CASE IH 541C HYD DENSITY, Q-TURN . . . . . . . . . . . . . . . . . . . . . . . . . . . . 27,500CASE IH RB454 2011, 4'X5' TWINE TIE . . . . . . . . . . . . . . . . . . . . . . . . . . . . . 16,500CASE IH SBX540 2006, Q-TURN, HYD DENSITY . . . . . . . . . . . . . . . . . . . . 14,900CASE IH DC 102 10'4", 2014, RUBBER ROLLS, HYD HEAD TILT . . . . . . 23,500CASE IH DC102 10'4" CUT, 2010, HYD HEAD TILT, RUBBER ROLLS . . . 18,500JD 350R FRONT MOUNT DISC MOWER, 11'5" CUT, IMPELLER . . . . . . . . 22,500NH 1465 2001, 9'2" CUT, VERY NICE SHAPE . . . . . . . . . . . . . . . . . . . . . . . . 13,800MF 220 SERIES II WINDROWER, 1999, 18' DRAPER HEADER REDUCED 19,500BRILLION 12'4" CULTIPACKER, CROW FRONT, NOTCH REAR, NEW . . . . .21,950NH BALE WAGONS 1032, 1033, 1036 . . . . . . . . . . . . . . . . . . CALL FOR PRICINGWILLSIE HYDRAWEEDER, 3-POINT MOUNTED . . . . . . . . . . . . . . . . . . . . . . 3,950MAHINDRA MPACT 750S, UTV ONLY 330 MILES . . . . . . . . . . . . . . . . . . . 15,900SUMMER SIZZLERS
Page 18
COUNTRY LIFE IN BC • JUNE 2019186M SERIESHARDWORKING, RELIABLE, COMFORTABLE.PRINCE GEORGE 250-561-4260 | KAMLOOPS 250-573-4412 | KELOWNA 250-765-9765 | CHILLIWACK 604-792-1516 | NANAIMO 778-441-3210TOLL FREE: 1-877-553-3373 | PRAIRIECOASTEQUIPMENT.COM• 7 models from 110-195 HP• John Deere PowerTech engines• Exclusive full-frame design• Integrated guidance - optional• Perfectly matched JD loaders0% APR purchase financing for 60 months on new John Deere 6 Series Tractors. Eligibility for $0 down payment offer is limited to highly qualified customers and scheduled monthly payments will be required. Representative Amount Financed: $10,000, at 0% APR, monthly payment is $166.67 for 60 months, total obligation is $10,000, cost of borrowing is $0. Monthly payments/cost of borrowing will vary depending on amount borrowed/down payment. Cost of borrowing based on Representative Amount Financed not MSRP cash price. Offer valid from April 1, 2019 until May 30, 2019. Minimum finance amount may be required; representative amount does not guarantee offer applies. The charge for amounts past due is 24% per annum. Financing on approved John Deere Financial credit only. See dealer for details.By selecting the purchase financing offer, consumers may be foregoing such discounts and incentives which may result in a higher effective interest rate. Some restrictions apply. *On 6110M - 6130M models.0 Series Round Balers• Dry hay or Silage w/ Precutter• MegaWide HC2 Feed System handles the wettest silage conditions• Premium Cam Clutch Driveline Protection• Unmatched productivity & reliability John Deere Mo-Co's• All commercial duty • 8' to 15' • Side Pull or Mid-Pivot• Great selectionRound Baler Accumulators• 4' or 5' models • Carry 2 Bales while building a 3rd• Minimize bale retrieval time• Exclusive to John Deere BalersSMALL CHASSIS: 6110M - 6130MMID CHASSIS: 6145M - 6155MLARGE CHASSIS: 6175M - 6195M0% FOR 60 MONTHS!* 0% FINANCING AVAILABLEWE'REHIRING!PCEQUIP.CA/JOBS
Page 19
JUNE 2019 • COUNTRY LIFE IN BC19BCHA Secretary Janice Tapp 250-699-6466 BCHA President John Lewis 250-218-2537 bchereford.ca by TOM WALKERCHASE – It's been a year ofwaiting for the meatprocessing industry in BC,which has yet to see anymovement on some of its keyissues.A year ago, optimismabounded when the BCAssociation of Abattoirs metfor its annual generalmeeting.The provincial governmentwas wrapping up a survey ofclass D and E abattoirlicensees and the healthauthorities that regulatethem. The legislature's SelectStanding Committee onAgriculture, Fish and Foodhad just announced a studyof meat processing in BC.Both the abattoirsassociation and the Small-Scale Meat ProducersAssociation expected theconsultations would begin toresolve the issues of licensing,inspection, processingcapacity and stang thatplague the industry.But so far it has all been fornought. When abattoiroperators held their annualgeneral meeting at the end ofApril, the frustration waspalpable."These issues have beenthe focus of our association'sstrategic plan for four years,"says the association'sexecutive director, NovaWoodbury. "We have been inmeetings every year. Wespent all last spring on theconsultations."With so much time spent,and so little accomplished,Woodbury says patience iswearing thin."There is so much to do,"she says. "There are a lot ofangry people out there rightnow."Opposition agriculturecritic Ian Paton delivered themeeting's opening remarks.Paton was a member of theselect standing committee,but he didn't have any goodnews."We did this report but wehaven't heard anything," hesaid. The standing committeeheard what Paton calls "somehorror stories.""We heard from D and Eoperators who haven't had avisit from their regional healthauthority in over a year," hesays. "That is not goodenough. If a kid gets sick fromsome uninspected meatbought at a farmers market,that will bring down thewhole industry.""I don't see anything in thenew budget for increasedinspection," he adds. "We willbe asking the government alot of questions about meatprocessing."Consultation recappedGavin Last, executivedirector of the food safetyand inspection branch at theBC Ministry of Agriculture,recapped the consultation onD and E licences and theselect standing committee's21 recommendations.But he didn't have anyspecic responses to eitherreport."We are trying to deliverimprovements that willbalance local capacity withcompetitiveness and enhancefood safety and animalwelfare, but there has beenno formal response from thegovernment as yet," he said.Last says his branch istaking action in areas wherethey don't need to wait."We have developed andare delivering food safety andanimal welfare workshops forrural producers and regionalhealth ocers, and we areincreasing food safety trainingfor food processors," he notes.Rules against illegalslaughter facilities continue tobe enforced."The emphasis has beenaround preventing unlawfulslaughter," he says. "We havebeen meeting with industryand community organizationsand the BC MuslimAssociation to promotecompliance."Muslim demand for halal(ritually clean) meat productsis a particular concern at theend of the fasting periodknown as Ramadan, whichends this year on June 4."The halal meat supply inthe Lower Mainland becomesquite an issue around thetime of Eid," says Last. "That iswhen a lot of the unlawfulslaughter happens."One new E licence iscertied halal which will helpincrease supply, Last notes.The province is alsoworking with localgovernment to address illegalslaughter."We were able to shutdown three unlawfulslaughter operators as a resultof bylaw enforcement," hereported.Agricultural oversightTristan Banwell of theSmall-Scale Meat ProducersAssociation asked Last if Dand E licences might bebrought under the agricultureministry's oversight, as are Aand B licences."There has certainly beenlots of discussion," says Last."That is denitely one of thebiggest questions." "Where does the drive toget that done need to comefrom," Banwell asked,impatient for change. "Is it theMinistry of Agriculture ordoes it need to be at apolitical level?""It involves coordinationbetween Ministry ofAgriculture, Ministry of Healthand the regional healthauthorities," Last explains."Agriculture has the legislativeauthority over slaughter inChanges to slaughter rulestaking too longAbattoir operators frustrated by government's lack of actionMIX OR MATCHWEIGHING & EID EQUIPMENT OFFERSAVE 20% When you purchase 3 eligible pieces.OFFER EXCLUDES W, W, CORDS & POWER SUPPLIES. VISIT US AT FENCEFAST.CA TO LEARN MORE!PICK3ANY COMBINATIONfencefast.ca877-383-3623See COMPLAINT on next pageGOING! GOING! SOLD! Wilf and Al Smith, Wayne Pincott and Wayne Jordan keep a watchful eye onbidders at BC Livestock's equipment consignment sale in Williams Lake, May 4. The sale attracted wellover 1,500 people and had two auction trucks running simultaneously. [LIZ TWAN PHOTO]
Page 20
COUNTRY LIFE IN BC • JUNE201920the province. We delegatedthat to the health authoritiesfor the class D and Es."Richard Yntema of ValleyWide Meats in Enderby askedwho was monitoring thecompliance of the animal unitallowances for D and Elicences."It is ultimately the regionalhealth authorities," says Last,but noted that the process isdriven by complaints ratherthan compliance audits."So no complaints, noenforcement," said Yntema,with audible frustration.Last said he wasn'tdefending the current system,simply explaining it, and saidhe hoped change would beforthcoming."We denitely heardthrough the select standingcommittee that moreresources need to be directedtowards this," he told themeeting. by TOM WALKERCHASE – BC Association ofAbattoir members weretreated to workshops onmarketing and waste at theirannual general meeting inChase at the end of April.Sysco is looking for localmeat producers, categoryspecialist Rick Dolman toldthe group."We have changed thephilosophy at Sysco. We areaiming to be the local foodservice in BC," he explains."Customers want local, theywant to know your story, theywant grass-nished, theywant free range. They want toknow if it was a happy animal,did it have a good life?"Chilliwack pork processorJohnston's Packers was therst BC meat company Syscoapproached."When I rst started withthe company we had no freshpork," he says. "It all came infrozen from Maple Leaf."Today, the company workswith Meadow Valley Meats, 63Acres of Chilliwack and Hank'sGrass Fed Beef of Abbotsford."We are trying to show ourcustomers that we are not justa big box company," saysDolman.The BC Eat Drink Localcampaign and the BCRestaurant and Food ServicesAssociation are part of thepush, says Dolman."It's not just the chefs andthe owners, it's the customers;they want to know wheretheir food has come from," hesays. "Healthcare is thebiggest growing part of ourbusiness. … Health care wants25% local now and somefacilities have the ability tolook at a higher-end product."He adds that the Asianmarket in the Lower Mainlandis also growing and is amarket for specialty cuts suchas tongue and oal.Dolman says Sysco, whichsupplies restaurants,healthcare and lodgingfacilities as well as workcamps and resorts, is lookingto grow its list of localproducts. "Our customers want yourLocal meat demand creating opportunitiesBig buyers are getting on board with regional purchasing COMPLAINT-driven nfrom pg 27brand, but they are alsolooking for the convenienceof it all coming on one truck."he says. "How can we workwith you?"Dolman told Country Life inBC that the new grind plantthat Sysco has built in theLower Mainland is not usingBC beef at this time."Sysco has a policy that allof their ground [beef] has tocome from a federallyinspected plant and it issourced from Cargill," he says.Disposal of the waste from a meatprocessing operation is both costly andlogistically demanding. On-site compostingis practiced by several processors in BC, butit is challenging to build and operate a pit.Ecodrum, a commercial in-vesselcomposter with a big appetite for abattoirwaste, is one option available to abattoiroperators.Produced by Tri-Form Poly Inc. ofManitoba, it features a roto-molded drumcontaining ns that ensures the regularturnover of contents.Tri-Form CEO Matt Epp explains that thedevice can reduce a whole chicken carcassto top-quality compost in 14 days and breakdown abattoir waste in just seven days. Theprocess breaks down most bones, too."Your waste can go in while it is stillwarm," says Epp. "You add a bucket ofshavings, the electric motor turns the drumand the ns inside ensure even decomposition."Composting brings the internaltemperature up to 140°C to 150°C, Eppexplains. Kamloops area rancher Paul Devick sayshe is very curious about the Ecodrum. "It would denitely ease the time and theprocess we are using now," says Devick, whorecently opened a Class A abattoir andcurrently uses an outdoor slab compostingsite which has to be continually monitoredand managed manually. "We just went with a slab and concreteblocks to build our bin as we don't have theprecipitation issues that a coastal site wouldhave," he says. "We plan to continuecomposting. … We have enough hay andpasture land that we can use all of it [tospread compost]. This is something we willdenitely look at."—Tom WalkerCompost in 14 daysTuesday, June 25, 2019 9:00 a.m. at the Pacic Gateway Airport Hotel 500 Cessna Dr. Richmond, B.C.NOTICE OF ANNUAL MEETINGThe 26th Annual Meeting of theCattle Industry Development CouncilMeeting Agenda: Annual Report from Chair Update from National Check-o Agency Auditors' Report & Financial Statements  t$BUUMF*OEVTUSZ%FWFMPQNFOU$PVODJM  t#FFG$BUUMF*OEVTUSZ%FWFMPQNFOU'VOE Association Reports  t#$"TTPDJBUJPOPG$BUUMF'FFEFST  t#$#SFFEFST'FFEFST"TTPDJBUJPO  t#$$BUUMFNFO,s Association  t#$%BJSZ"TTPDJBUJPO 0XOFSTIJQ*EFOUJöDBUJPO*OD3FQPSU Other BusinessPlease RSVP by email: checko@cattlefund.net CIDC www.cattlefund.net#4 -10145 Dallas Drive, Kamloops, B.C. V2C 6T4 Phone 250.573.3611
Page 21
JUNE 2019 • COUNTRY LIFE IN BC21Simple. Practical. Trusted.DEVELOPED FOR PRODUCERS, BY PRODUCERS.Helping you meet market requirements simply and cost effectively.Canada's Verified Beef Production Plus Program1-866-398-2848 ext 2 | bc@verifiedbeef.cawww.vbpplus.caVBP+ is an approved Certification Body for the CRSB Sustainable Beef Production Standard A VBP+ Certified Operation meets CRSB requirements and may use this Certification Mark.* *A chain of custody audit is required to use the CRSB logo on beef packaging. For more info: CRSBcertified.caby TOM WALKERHEFFLEY CREEK – Takingthe bull by the horns issomething the Devick familyhas been doing since 1906.That's when it rst built aranch and began runningcattle in the Heey-LouisCreek area north of Kamloops. It often takes anindependent business personto step up and ll a need inthe market. While the lack ofmeat processing capacity hasbeen a topic of concern in BCfor a number of years, theDevick brothers and ve oftheir sons have quietly goneahead and built a Class Aabattoir at their ranch."We have been doing beefsales for the last 15 to 20years," says Paul Devick, whogave a presentation onbuilding a Class A abattoir atthe annual general meeting ofthe BC Association ofAbattoirs in April. "We runabout 850 cow-calf pairs ayear and we also have afeedlot and have beenfattening our own cattle."A family meeting inFebruary 2017 calved the ideafor the slaughterhouse."The meat business hasbeen pretty good for usselling to neighbours andfriends," notes Devick. "Withour own plant, we would haveeverything in-house from gateto plate, eliminate themiddleman and improve ourbottom line along the way. Wedecided to move forward withthe abattoir."Although the family wasn'texperienced in abattoirconstruction, it contractedDave Charchuck and SandraVanderbyl to guide them andtalked a lot with veteranKamloops butcher Ron Keeley.The rst step was to workwith BC Ministry ofAgriculture sta and developstrategies related tomarketing, businessdevelopment, riskmanagement and labourmanagement."This was a very helpfulexercise to see if we shouldcarry forward," says Devick."We spent a lot of time talkingand considering the ups anddowns, and it still lookedpositive."They determined that halfthe plant would be for theirown cattle. It would need toprocess about 12 to 15animals daily for an annualcapacity of 1,500 to 1,600animals. The coolers would beable to hold about 70 wholebeef carcasses, or 140 sides."We made a oor plan," saysDevick. "We had a limit of6,000 square feet and it tookprobably 10 dierent plansbefore we got the[processing] ows right."He says they alsodeveloped HACCP (HazardAnalysis and Critical ControlPoints) and standardoperating procedures.Deciding what type ofbuilding to construct waswhere the fun began,continues Devick."We looked at a stick-frameand we looked at concrete," herecalls. "In the end we wentwith SIP [structural insulatedpanels]."Permits and licences wererequired before a shovelcould be put in the ground."This is a very importantstep to be taken care of rst,"he emphasizes.The licences included onefor water extractions, a watertreatment permit, zoning andbuilding permits, an abattoirlicence, a licence to constructa compost system for wastedisposal, a sewage disposalpermit and, of course, abusiness licence. The family acted as theirown general contractor andpicked trades they could workalongside, which savedmoney."Challenging but worth it,"says Devick. "But check outyour contractors. We had arange from very good to oneguy who was smoking a jointon his lunch break."Ranch equipment was usedto move earth and prep thesite."Make sure you get ageotech survey for your site,"cautions Devick, who said theone he got agged the needto remove truckloads of claybefore construction began.Other challenges includedstarting construction inSeptember 2017 and havingto work through the winter,something he doesn't advise.A mix of old and newequipment means that noteverything works with thesame ease.On the plus side, labour hasnot been an issue."We feel we are quite luckywith the Kamloops labourbase; we have been able tond good help," he says. "Wehave one worker who hascompleted the ThompsonRivers University meat-cuttingprogram and we have anotherone coming from theprogram next month."Devick says the ranch isnow able to manage animalsall the way from breeding tothe butcher's block, makingthem better able to satisfycustomers. This hasn'tstopped them from buyingRanch takespasture to plateat face valueDevick Ranch builds Class A abattoir to meet consumer demandPROBLEM SOLVING Frustrated by how the lack of meat processing capacity in the province was preventingexpansion of direct meat sales to their customers, the Devick family built a Class A abattoir on their ranchnear Kamloops. [ANITA DEVICK PHOTO]See LEARNING on next page oCOMMITTED TO AGRICULTURE in the FRASER VALLEY & VANCOUVER ISLANDrollinsmachinery.comTRACTORSFORD 8700 CAB, 2WD, DUALS, MULTI-POWER, 10,000 HRS [U32063] . 6,000JD 1445 4WD MOWER, 60" DECK, FRONT BLADE, REFURBISHED 11,700KUBOTA BX 2660 2950 HRS, LOCATED IN CHEMAINUS [U15729] . 8,400NH 54D 4WD, CAB, LDR, 40 HRS, LIKE NEW, SOME WARRANTY (U31396) ............................................... 49,500NH 54D CAB, LOADER, 4WD, 450 HRS [U31931] .................. 37,900NH BOOMER 33 ROPS, LOADER, 4WD, IND TIRES [U32032] .... 25,900NH T4.75 5200 HRS, CAB, LOADER, 4WD [U31956] .............. 39,900NH TM155 9,000 HOURS, 4WD, NICE TRACTOR [CNS693] ..... 45,000NH TZ25DA 2006, 780 HRS, 4WD, 54" LAWN MOWER (U31683) 9,500QUALITY USED EQUIPMENTBE RC500 G ROTARY CUTTER GOOD CONDITION [U31826] ......... 1,475LIKE NEW RITEWAY LAND ROLLER [CNS721] ............................. 11,900JD 935 DISC MOWER, 11.5' CUT [U31861] .............................. 9,000FELLA TS 456T RAKE [U31222] ...................................................7,500KVERNELAND ES80 4 BOTTOM ROLLOVER PLOW W/PACOMATIC [U32066] ...................................................... 18,250MASCHIO TILLER L105 GOOD CONDITION (U32004) .....................1,950MF 1372 DISC MOWER [U32052] ......................................... 16,900NH 195 MANURE SPREADER [U32033] .................................... 14,750NH STACK CRUISER 1049 1979; GAS; GOOD COND; (CNS720) 17,500NH 1012 BALE WAGON W/UNLOAD, 55 BALES [CNS711] ...........5,900NH FP240; GOOD CONDITION, 2005, TANDEM AXLE; HI DUMP HOSES; SPOUT EXTENSION; 29P GRASSHEAD (U31570) .................... 29,000FP 230 2001 METALERT NO HEADS - U31374 .......................... 6,900CHILLIWACK • 1.800.242.9737 | 44725 Yale Road West • 604.792.1301LANGLEY • 1.800.665.9060 | 21869 - 56th Avenue • 604.533.0048CHEMANIUS • 1.250.246.1203 | 3306 Smiley Road
Page 22
COUNTRY LIFE IN BC • JUNE201922www.tjequipmentllc.com360-815-1597LYNDEN, WAALL PRICES IN US FUNDSKRONE SWADRO 1250 ROTARY RAKE,4 BASKET, 41' WORKING WIDTH,FIELD READY $24,0002004 VERMEER R2800 RAKE2 BASKET, 19'-28' RAKING WIDTH$17,5001999 JD 5510 W/ LOADER, 4WD, 89 HP, POWER SHUTTLE W/REVERSER, 5850 HOURS$28,5002008 KUBOTA M7040W/LOADER, 4WD, 67 HP,4120 HOURS $26,000PROVINCIAL LIVESTOCK FENCING PROGRAMApplications Close: September 30, 2019View program updates at cattlemen.bc.ca/fencing.htmOce: 1.778.412.7000 Toll Free: 1.866.398.2848email: fencebc@gmail.com In partnership with:Producer Check-o Supports Beef Industry Projects.www.cattlefund.net 1.877.688.2333www.cattlefund.net 1.877.688.2333CUSTOM SLAUGHTER SERVICES PROVIDEDServing the Community TogetherWANTED: ALL SIZES MARKET GOATS & LAMBSashiq@meadowvalleymeats.com604/465-4752 (ext 105)fax 604/465-474418315 FORD ROADPITT MEADOWS, BC V3Y 1Z1PROVINCIALLY INSPECTED ABATTOIR BC#34• BEEF• VEAL• BISON • LAMB • GOAT • DEERMEADOW VALLEY MEATSLEARNING curve nfrom pg 21It used to be regarded asthe simple life. Not so muchanymore. Agriculture, be itfarming or ranching, in thisday and age seems to harvesta plethora of issues to fret andworry over. In fact, thebusiness seems to get morecomplicated and paper-bound with each passingyear.Back in the day, it was acareer choice forthose who loved theland, the outdoors,had an anity forgrowing things orraising livestock, andgenerally eschewedthe sedentarylifestyle that comeswith sitting behind a desk tomake a living.Well, the good old days arelong gone. Now more thanever, agricultural producerswho haven't kept up withmodern technology(computer skills) are severelydisadvantaged. It is an insultto our senior producers whohave survived years in atough industry to beconsidered simple becausethey lack computer know-how. One of the latestchallenges has range useplans going digital; the newWater Sustainability Actrequires producer wellregistrations, also mostly adigital process that was noteven close to simple. Recently, the BC labourminister announced that "kidsunder 16 can keep earningpocket money." Farm familiesbreathed a sigh of relief. Ifthey cannot work as youth ona farm, how will the nextgeneration learn agriculturalskills or develop anappreciation for the industry?Bull salesThe bull sales are over forthe season and from myperspective, there seemed tobe a lot of bulls on oer. Itbears repeating it was aseason where supplyoutstripped demand. AtWilliams Lake, 121 Angusbulls were catalogued, justover 100 showed up and only62 were sold; the customerswere just not there. TheAngus average was $3,873;the Hereford average was$3,613 on 38 head. The prices and no salesTechnology hasits challengesNot everyone is computer literateMarket Musingsby LIZ TWANCRITICAL EYE: Judges Ian and Leanna Mitchell ponder their options during the Williams Lake Bull Show, April17. Sealin Creek Ranch led the champion Angus; 3-D-L Farm had the top Hereford yearling while Little FortHerefords and Sunnybrae Farm took junior and senior two-year-old Hereford championships respectively. TheMitchells' named Little Fort's junior champion, lot 164, the grand champion Hereford. [LIZ TWAN PHOTO]See LACK on next page oanimals to meet demand,however."It is a challenge havinganimals available all yearround and we do buy some inthe summer months," he says.A 900-pound calf goinginto their feedlot takes aboutthree months to reach a 1,200to 1,300 lb. slaughter weight.The animals are usuallyspoken for when they enterthe yard, part of the ranch'smarketing program.After their rst kill inAugust last year, they wereright into the fall run."It's been a big learningcurve but I think it is workingwell," Devick says. "For thefuture, we are planning tomove towards more value-added when we get thesmoker and the sausagekitchen up and running. Wehave also looked at thepossibility of doing a pet foodline to try to reduce our wasteand improve our bottom line."Devick says one of the keysto the successful start wasbeing able to talk to otherplant operators in theprovince about how to makethings work."It's great to have thesupport of your businessassociates and thisassociation. They sure helpedus a lot," he said, gratefully.
Page 23
JUNE 2019 • COUNTRY LIFE IN BC23LACK of demand affects bull sales nfrom page 22BC Agriculture Council (BCAC) is assisting the Province of BC with communicating the key changes related to AEMCoP. Please look for this ad in the coming issues of Country Life in BC for updates.Setbacks are required from drinking water sources, watercourses and property boundaries and apply to everyone; however, distance depends on the agricultural activity. For example, temporary field storage and permanent storage structures, agricultural composting and confined livestock and poultry areas need to be at least 30 metres from drinking water sources.Records need to be kept for at least 5 years and submitted within 5 days if requested by government. Records must be kept for:• Using an incinerator or when using biomass as a fuel for a boiler or heater;• Maintenance of earthen manure lagoons;• Temporary field storage and outdoor composting piles;• Application of nutrient sources to land or crops;• Nutrient Management Plans;• Distribution of agricultural by-products when keeping five or more animal units;• Burial and incineration of mortalities, solid waste or semi-solid waste.AGRICULTURAL ENVIRONMENTAL MANAGEMENT CODE OF PRACTICE (AEMCoP)FOR MORE INFORMATION VISIT:www.gov.bc.ca/Agricultural-Environmental-ManagementNEW RULES ABOUT PROPERTY BOUNDARY SETBACKS AND RECORD KEEPING ARE NOW IN EFFECTNeil Turner's best string of Sunnybrae bulls was awarded Get of Sire champions and the Gung Loy JimMemorial trophy during the Williams Lake Bull Show, April 17. [LIZ TWAN PHOTO]made for some unhappysellers, but the numbers werenot without precedent. In2013, the Angus average was$3,210 on 57 head; theHereford average was $3,060on 37 head. Compare that to2016 when Angus averaged$4,835 on 71 head and 42head of Hereford bulls $5,894.The numbers indicate thatbull sale prices are subject tounpredictable market saleprices.No doubt, there will beproducers who nd they areshort of bull power as turnoutday looms. With a few phonecalls, that issue can likely beremedied as there are stillbulls available from severalbreeders.Here's a recap of a few ofthe Cariboo-based bull saleswe haven't reported on yetthis spring: Northern Alliance BullSale [Poplar Meadows Angus,Red Moon Angus, MaberlyAngus & Blast Angus] March 23 Black Angus: Lot 538, PMNatural Law 128'18 sold toLazy A Ranch, Sexsmith, AB,for $10,000; Lot 505, PM Ten X11'18, sold to Dragon ViewAngus, Quesnel, for $9,500Red Angus: Lot 582, RedMoon Final Verdict 21F, soldto Carmella Farms,Vanderhoof, for $4,900; Lot594, Red Moon Fair Play 19F,Hartland Ranch, PrinceGeorge, for $4,800.Volume buyers: DouglasLake Cattle Co. (10 bulls) &Cody Herr (9 bulls)Sale average: $4,410Vanderhoof All BreedsBull Sale April 13Hereford: Valley CreekRanch, lot 12, $6,000; Copper T Ranch, lot 10,$5,750; Richardson Ranch, lot6, $5,500Charolais: SouthsideCharolais, lot 14, $5,800; TKCattle Co., lot 15, $4,750Simmental: Crosby CattleCo., lot 28, $6,100; LA Ranch,lot 21, $4,900; 3M Simmentals,lot 24, $4,800; Lorne Webster,lot 27, $4,400Black Angus: Coyote ViewRanch (Bailey Cail), lot 71 (2-year-old) $5750; KN Farms, lot58, $4,700; Coyote ViewRanch, lot 72, $3,900Red Angus: North 40 RedAngus, lot 70, $8,250; HenkelCreek Angus, lot 49, $6,000;Matt's Red Angus, lots 70/74,$4,750 ea; Meints Cattle Co,lot 42A, $3,750Williams Lake Bull SaleApril 18Angus: Todd Marchant/PamMcGuinness, lot 98,Schochaneetqua 867 F, $7,750sold to Dan Hamblin, BigLake; Sealin Creek Ranch, lot24s, $7,500 sold to GangRanch; Barry Teagle, lot 30,BBT Heads Up 11F, $7,250sold to Gang Ranch; SealinCreek Ranch, lot 23, SealinCreek Heads Up 47F, $7,000sold to Sutton Ranch, 150Mile HouseGelbvieh: Barry & RobinMader, lot 123, BRM NewHeights 835F, $4,900 to KenBarnes/Joanne Holness,PritchardCharolais: TK Cattle Co., lot129, TKCC Exemption 16E(two-year-old), $5,700 toSemlin Valley Ranch,AbbotsfordShorthorn: Spady Farms, lot131, Nimmo Reid Fonzie 7F,$3,000Hereford: Little FortHerefords (JBLC Holding Inc.),Lot 159, LFH Zam 15Z 15E,$7,750 to Lois & Cli Hinsche,141 Mile Ranch; Little FortHerefords, lot 165, LFH Script29Z 111E, $6,300 to FredBowers, Kamloops; 106 bulls total averaged$3,817.
Page 24
COUNTRY LIFE IN BC • JUNE201924A NEW WORLD DEMANDS NEW HOLLAND.The word "powershift" isn't adequate to describe the NEW industry-leading T6 Dynamic Command™ transmission. With this 3-range, 8-step transmission, you get a full 24 gears in both forward and reverse. You'll breeze through a full day of intense work with smooth, uninterrupted power and a host of new time- saving functions.• A true power shuttle with 3 aggression levels to match your needs• Dynamic StartStop for smooth, no-clutch loader work or transport — just press the brake to come to a standstill, release to put the tractor in motion• Kick Down for the most rapid acceleration when you press the throttleLearn more about these 95 to 120 PTO HP tractors at www.newholland.com© 2018 CNH Industrial America LLC. All rights reserved. "New Holland" is a trademark registered in the United States and many other countries, owned by or licensed to CNH Industrial N.V., its subsidiaries or affiliates. "Equipped For A New World" is a trademark in the United States and many other countries, owned by or licensed to CNH Industrial N.V., its subsidiaries or affiliates.GIVES "POWERSHIFT" A NEW MEANING.DYNAMIC COMMAND™:EU-UOFNQJVR&NSB'SFMUV#UFFSU4OIP+U4USP'$# 3+7BDUOFNQJVRFNSBGSFMUVCXXXBUTLER FARM EQUIPMENT LTD . . . . . . . . . . . . . . . . . . . . . . . . . . . . . . . . . . . . . . . . . . . . . . . . . . . . . . . . . . . . . . . . . . . . . . . . . . . . FORT ST JOHN 250-785-1800DOUGLAS LAKE EQUIPMENT LIMITED . . . . . . . . . . . . . . . . KAMLOOPS 250-851-2044 | DAWSON CREEK 250-782-5281 Toll Free 1-800-553-7482FARMCO SALES LTD . . . . . . . . . . . . . . . . . . . . . . . . . . . . . . . . . . . . . . . . . . . . . . . . . . . . . . . . . . . . . . . . . . . . . . . . . . . . . . . . . . . . . . . . . . . . KELOWNA 250-765-8266GRASSLAND EQUIPMENT LTD . . . . . . . . . . . . . . . . . . . . . . . . . . . . . . . . . . . . . . . . . . . . . . . WILLIAMS LAKE 250-392-4024 | VANDERHOOF 250-567-4446HORNBY EQUIPMENT ACP . . . . . . . . . . . . . . . . . . . . . . . . . . . . . . . . . . . . . . . . . . . . . . . . . . . . . . . . ARMSTRONG 250-546-3033 TOLL FREE 1-888-393-7495ROLLINS MACHINERY LTD . . . . . CHILLIWACK 604-792-1301 | LANGLEY 604-533-0048 | CHEMAINUS 250-246-1203 TOLL FREE 1-800-242-9737KAMLOOPS 706 CARRIER RD | 250.851-2044DAWSON CREEK 11508 - 8 ST | 250.782-5281GRAND PRAIRIE 14250 - 100 ST | 780.532-5344 TOLL FREE 1-800-553-7482
Page 25
COUNTRY LIFE IN BC • JUNE 2019 25Locate A Dealer Online1-866-820-7603 | BAUMALIGHT.COM Dale Howe | (403) 462-1975 | dale@baumalight.comMFG A VARIETY OF ATTACHMENTSBRUSH MULCHERS | BOOM MOWERS STUMP GRINDERS | TREE SAWS & SHEARSTREE SPADES | ROTARY BRUSH CUTTERSAUGER DRIVES | TRENCHERS DRAINAGE PLOWS | PTO GENERATORS "Serving British Columbia proudly since 1946"MachineryLimitedROLLINSRToll Free 1-800-242-9737 www.rollinsmachinery.comChilliack 1.800.242.9737 | 44725 Yale Rd WLangley 1.800.665.9060 | 21869 - 56th AveChemainus 1.250-246.1203 | 3306 Smiley RdNow try the BEST.You'vetried therest.by TOM WALKEROLIVER – Inderjit Sandhutried selling his vegetablesretail for a while but he didn'tlike it."We had a farm stand," saysSandhu, owner with his wifeHarvinder of S&G Farms Ltd.in Oliver."But we had to hire andtrain sta to run it, and wehad the wholesale truckscoming and going and therewasn't that much prot." They planted somecherries, but they didn't workout too well either, so afterseven years, they pulled themout. Now they stick towholesaling the vegetablesthat have been the mainstayof the farm since the Sandhusemigrated from India in 1992."We worked in orchardsand then leased land inOsoyoos when we rst cameover," he says.They now own 32 acresand lease another 18 of river-bottom land just north ofOliver."The soil is very good here,"he says, adding that there is ahigh water table that supplieson-farm wells.Heat loversThe farm concentrates onheat-loving summer cropssuch as tomatoes, eggplant,zucchini, pattipan squash andmelons. But their specialty ispeppers."We grow the morecommon bell peppers,"Sandhu explains. "But alsoserrano, Anaheim, banana,green Thai, and Ring of Fire." Lower Mainlandgreenhouses produce manyof the crops, but Sandhu saysnothing matches the avoureld production delivers.S&G has 2.5 acres of hoophouses to get the plantsgrowing a month earlier thanconditions otherwise allow.The houses ensure steadytemperature conditionsduring the spring. This allowsS&G to start selling cabbages,zucchini and tomatoes inJune."The dry hot weather hereis very good for vegetables,"he says.Early cashThe cabbages provide earlycash and are an importantpart of his rotations, but theydon't give him much return."Not at 50 cents a pound,"he says. "I need to be sellingvegetables at over a dollar apound to make money."Pest pressure is minimal.Aphids are his biggestconcern, but giving his plantsa good start in thegreenhouse gives them aghting chance."When you start with ahealthy plant, it has a muchbetter chance to grow well,"Sandhu says.Promoting soil health byplanting fall rye and limitingthe use of chemicals – he'sstopped using Roundup, forexample – is also important.Oliver veggie grower prefers wholesaleThrifty's, Sysco deliver fair returnsfor effort S&G Farms puts intogrowing top-quality produceSee VARIETY on next page oInderjit Sandhu gets a jump on the season by starting seedlings in 2.5 acres of hoop houses. By June, he'sable to deliver fresh cabbage, zucchini and tomatoes to his wholesale customers. [TOM WALKER PHOTO]
Page 26
COUNTRY LIFE IN BC • JUNE 201926MR-43-120 (1.43" X 393')MR-58-140 (2" X 460')MRR-58-200 (2" X 660')STOCKING PRODUCTSHe says hewould grow fewercrops, but needsthe variety for hisrotations."I am ndingthat I can use lessland but be moreprecise in mygrowing andactually have ahigher grossreturn," Sandhusays.S&G's biggestinput cost, as it isfor every farm, islabour. His eldcrew includes 15Mexican workersunder the SeasonalAgricultural WorkerProgram and adozen locals workin thepackinghouse."We have had alot of the sameworkers for manyyears and theyknow our system,"he says. "All of ourpicking is done byhand. … We Brixtest our tomatoesto be sure they arepicked at themaximumsweetness."Thepackinghouse haswashing, packingand cold storage.The farm logo is onall boxes and they do somesmall tray packs as well.Tomatoes go to Thrifty's in asingle-layer box, so they arenot damaged along the way,Sandhu says.ConvenienceSandhu says he enjoys theconvenience of a wholesaler'struck showing up to thepackinghouse a couple oftimes a week. Thrifty's is thesingle biggest customer,taking up to 60% of what thefarm grows. Sysco is second,taking about 20%."Sysco approached usabout 10 years ago. They areinterested in local foods andthey are supplying thehospitals," says Sandhu. "Youhave to meet theirrequirements for CanadaGAPand liability insurance, butthat is the same with all thedistributors."Sysco has occasionallyvisited the farm as part of acustomer appreciation day."We show how we growand pack our vegetables andthey have chefs who cookand serve them," says Sandhu.The appreciation issomething that pleasesSandhu, and is integral to thefarm's relationship withThrifty's, which it has suppliedfor seven years.Now part of Sobeys Inc.,Thrifty's features S&G in itsadvertising as a local partner.In return, Sandhu says S&Greceives a good price thatdelivers a fair return for theeort he puts in to grow atop-quality product."We work with them to tryand grow what they wouldlike," says Sandhu. "They reallyenjoy the avour of ourheirloom tomatoes." VARIETY critical for rotation nfrom page 25S&G Farms employs 15 workers from Mexico through the Seasonal AgriculturalWorker Program. They were planting zucchini outside in mid-May. [S&G FARMS PHOTO]Quality Pre-Owned Tractors & EquipmentWe service all makes!AGCO ALLIS 4650 4WD, LDR . . . 14,000AGCO RT120 W/LOADER . . . . . . 65,000CLAAS 880 RAKE . . . . . . . . . . . . . . . . 14,500FARMKING BLADE, 9' . . . . . . . . . . . . 4,000FELLA 800 . . . . . . . . . . . . . . . . . . . . . . 13,500FORD 2120 4WD, LDR . . . . . . . . . . . . .14,000GASPARDO PLANTER 4 ROW . . 35,000HYDRAULIC DUMP WAGON . . . . 5,000JCB 409 . . . . . . . . . . . . . . . . . . . . . 47,000JD 3520 4WD, LDR . . . . . . . . . . . 18,500KUHN FC313 MOWER TG . . . . . 20,000KVERNELAND 4032 MOWER . . 16,000MACERATOR . . . . . . . . . . . . . . . . 12,500MAHINDRA 28XL 4WD, LDR . . . 17,500MF 265 . . . . . . . . . . . . . . . . . . . . . . 9,500MF 1125 . . . . . . . . . . . . . . . . . . . . . CALLMF1759 LOW HRS, 4WD, LDR . . 39,000NEW HOLLAND 570 . . . . . . . . . . . 8,500NEW HOLLAND TM150 . . . . . . . 47,000SUNFLOWER 7232 23' HARROW 17,5005080T TELESCOPIC WHEEL LOADERFor all those who want to go up5080T FOR ALL THOSE WHO WANT TO GO UP!Ideal when you need more lift height2070LPT TELESCOPIC WHEEL LOADER when you need more up!VAN DER WAL EQUIPMENT(1989)LTD.23390 RIVER ROAD, MAPLE RIDGE, BC V2W 1B6604/463-3681 | vanderwaleq.com 1280 THE MULTIFUNCTIONAL HOFTRACCompact design, low centre of gravity, tight turning radius andpowerful performance
Page 27
COUNTRY LIFE IN BC • JUNE 2019 27ABBOTSFORD1521 Sumas Way1-888-283-3276VERNON7155 Meadowlark Road1-800-551-6411GIVE YOURSELF T H E AVENUEwww.avenuemachinery.caAGE IS JUST A NUMBERTHE PARTS YOU NEED, FOR THE MACHINES YOU LOVEby MYRNA STARK LEADERKELOWNA – One of the mostcommon challenges for producersoutside the supply-managed sectors ismarketing. This winter, Canada'ssecond-largest grocer – Nova Scotia-based Sobeys Inc. – oered BCgrowers tips for entering the retailmarket.Sessions in Kelowna, NewWestminster and Victoria attracted 210producers, processors anddistributors.Sobeys operates approximately 85stores in BC under the Sobeys,Safeway, Thrifty Foods and IGAbanners. It also plans to open 10locations of its FreshCo discountbrand this year. It's keen to grow itslocal product selection, establishing a30-person national team focused onlocal business development. The teamhas ve members in BC.The information session in Kelownaattracted 30 people who wereencouraged to have a vision for thefuture of their own product, whichcould range from fresh produce toprocessed food and beverages.Beyond passion, producers need toknow how much product they want tosupply so Sobeys knows what kind ofdistribution to expect. Opportunitiesrange from a single product for a localmarket to several in stores acrossCanada.Sobeys is completing a review ofevery product its stores carry toensure products match consumerdemand. Its vice-president in chargeof eld merchandising, Jana Sobey,great-grandchild of founder J.W.Sobey, says it wants to be consumers'destination for local food."It is important to have the rightproducts in the right stores, as agrowing majorityof customers aretelling us thatmeans localproducts,"explains TravisShaw, localdevelopmentmanager for BC."Because we livein thecommunities[where] we operate, we understandthe social and economic benets thatproducing and selling local itemsbrings.""No longer are you looked at asvendors, but as partners," says SeanWatson, manager of the VernonSafeway. "If we grow your businessand our business together, we willboth be sustainable."Product quality is more importantthan quantity right now, Shaw notes."Understand your competition,your packaging, your true cost ofgoods, distribution, food safetycertication," he says. "Don't hesitateto ask to make sure you get it rightthe rst time.""It's a marathon we're running, sotaking the time to do it right the rsttime pays," said Sobeys eldmerchandising director for BC JasonBater. "Somebody else will take theshelf space if you don't do your duediligence."Not surprisingly, food safety is atop priority. Producers are required toprovide evidence of third-party foodsafety audits. This past January, theSafe Food for Canadians Act beganrequiring producers demonstratepreventative control, a recall processand traceability records.A second major consideration isproduct distribution – how to get theproduct to the stores, as well aspayment. Things to think aboutinclude temperature-controlleddelivery, copies of invoices and beinghighly organized right down to basics– like not delivering through the frontof the store.To make the process easier for localsuppliers, Sobeys has created a new,simplied item set-up form, dierentfrom the one used for nationalsuppliers. Once producers have theform, a local item sheet can beproduced to help stores understand aproduct's unique selling points.Once the product isin the store, Sobeysencourages producersto go into the store forthe rst three or fourreorders to helpincrease sta familiaritywith the product.Brokers can also behelpful with sales. In-store demos and pop-up shops can also helpraise product awareness. One grower set up a mobile berrystand last summer outside one BCstore to promote his fruit. Customersare more likely to buy a product theycan try."I've never seen a sales tactic moresuccessful then a demo," said Sobey.BC Ministry of Agriculturemarketing consultant Kevin Groutsaid as part of the Buy BC program,producers can access market advisoryservices, guides and workshops. Inaddition, local products can qualifyfor the Buy BC logo.Grocer offers tips to get a foot in the doorSobeys says quality is more important than quantity as it looks to expand local products"Somebody else will take the shelfspace if you don't do your duediligence ..."Jason Bater, Field merchandising director, Sobeys Inc.
Page 28
COUNTRY LIFE IN BC • JUNE 201928Building Canada's Best GreenhousesSpecializing in Extreme & Custom GreenhousesDesigned to comply with Certified Organic Growing StandardsBW®BW Greenhouse®Technology & Design for Serious Growing™Built by BW GLOBAL Structures Inc.29020 Fraser HighwayAbbotsford, BC V4X 1G81-877-856-1303 or 1-604-856-1303bw-global.com bwgreenhouse.comBuilt by BW GLOBAL Structures Ltd.29020 Fraser HighwayAbbotsford, BC V4X 1G81-877-856-1303 or 1-604-856-1303bw-global.com bwgreenhouse.comANY CROP ◦ ANYWHERE ◦ ANYTIMEby SEAN HITRECABBOTSFORD – People ofall ages had an opportunity topeek underneath the glassrooftops of severalgreenhouses in the FraserValley during BC GreenhouseVeggie Days in early May.The event was put on inconjunction with the BCAgriculture in the ClassroomFoundation and the BCGreenhouse GrowersAssociation. Cornerstone ChristianSchool teacher Susan Olivier'sgrade 1 class left the tour witha newfound appreciation forgrowing food. Her studentscame away with renewedexcitement for their schoolgarden project where they aregrowing peas and pumpkins."I like how they haddierent stations set up forthem," she says. "It's reallygood for science and I wouldhighly recommend otherclassrooms go to a place likethis."Calais Farms Inc. was one offour greenhouses thatparticipated. Manager JacobKerkho was an enthusiastictour guide for students. He'smade it his goal to show thevalue of greenhouses in BC."We're attempting to createawareness in that evenGreenhouse veggie days a hit with schoolSchool toursaim to teachand inspirethough we are growing underglass, the science and thefarming practices around itare the same if not betterthan eld production," hesays. "We are able to recycleand mitigate environmentalpollutants leaving ourgreenhouse, and we are ableto maximize our productionper acre."For Kerkho, it was notonly a time to educate thepublic about greenhouses inBC, but in doing so, he hopedto expose students topossible job opportunities inthe future."One of my personalreasons in promoting thisproject is I want studentsfrom kindergarten to grade12 to feel horticulture is along-term and excellentcareer," he says. "[There arejobs] in plant science,mechanical systems,electronics [and] computerprogramming. We've gotcareers in multiple disciplinesinside of a greenhouseenvironment."Students from Cornerstone Christian School learn about the natural gas-red system Calais Farms uses to heat water that is pumped throughoutthe greenhouse, then recapture the CO2 emissions used to feed growing plants. [SEAN HITREC PHOTO]
Page 29
COUNTRY LIFE IN BC • JUNE 2019 29Langley 1.888.675.7999 Williams Lake 1.855.398.7757Contact Your Watertec Sales Rep for a Free Estimate.CENTER PIVOTS & LINEARSYOURHelping YouHelping YouFARM NEWSWEEKLY FARM NEWS UPDATESSign up for FREE today.School children, right, touring Calais Farms during BC Greenhouse Veggie Days were encouraged to ll out a workbook designed tohelp them understand howgreenhouses work. Bottom left, a new generationof Calais Farm employees eagerly await the arrival ofstudents to the open house.Bottom right, one of severaldisplays set up throughout thegreenhouse explaining thecomplex process of growing food under glass. [SEAN HITREC PHOTOS]children
Page 30
COUNTRY LIFE IN BC • JUNE 201930© 2019 AGCO Corporation. Massey Ferguson is a worldwide brand of AGCO Corporation. AGCO and Massey Ferguson are trademarks of AGCO. All rights reserved. MF18TK007CRv03CHECK OUT THE MASSEY FERGUSON 6700 SERIES TRACTORABBOTSFORD Avenue Machinery Corp. | 1521 Sumas Way ................................. 604-864-2665KAMLOOPS Country Tractor | 580 Chilcotin Road ............................................. 250-851-3101MAPLE RIDGE Van Der Wal Equipment Ltd. | 23390 River Road .......................... 604-463-3681VERNON Avenue Machinery Corp. | 7155 Meadowlark Road ........................ 250-545-3355www.masseyferguson.usWe've invested heavily in the future, and the new Massey Ferguson® 6700 Series tractors are unlike any mid-range we've ever built. They're engineered from the ground up, then tested in the harshest conditions around the world, for more power, versatility and long-lasting operation. These machines are purpose-built to provide unmatched lift capacity and the power to pull heavier implements through the toughest jobs, with the next-level comfort of our deluxe cab and features. Come demo the 6700 Series today, and don't be surprised if this ends up being the last tractor you ever buy.IT'S THE MOST POWERFUL HEAVYWEIGHT IN ITS CLASS.© 2019 AGCO Corporation. Massey Ferguson is a worldwide brand of AGCO Corporation. AGCO and Massey Ferguson are trademarks of AGCO. All rights reserved. MF18TK007CRv03CHECK OUT THE MASSEY FERGUSON 6700 SERIES TRACTORABBOTSFORD Avenue Machinery Corp. | 1521 Sumas Way.................................604-864-2665KAMLOOPS Country Tractor | 580 Chilcotin Road .............................................250-851-3101MAPLE RIDGEVan Der Wal Equipment Ltd. | 23390 River Road..........................604-463-3681VERNONAvenue Machinery Corp. | 7155 Meadowlark Road........................250-545-3355www.masseyferguson. usWe've invested heavily in the future, and the new Massey Ferguson®6700 Series tractors are unlike any mid-range we've ever built. They're engineered from the ground up, then tested in the harshest conditions aroundthe world, for more power, versatility and long-lasting operation. These machines are purpose-built to provideunmatched lift capacity and the power to pull heavier implements through the toughest jobs, with the next-levelcomfort of our deluxe cab and features. Come demo the 6700 Series today, and don't be surprised if this ends up being the last tractor you ever buy.
Page 31
COUNTRY LIFE IN BC • JUNE 2019 31by JACKIE PEARASESALMON ARM – BC haskapgrowers hope new researchwill give their fruit the leg upit needs to become acommercially viable crop. About 50 members of theBC Haskap Association met inSalmon Arm on April 6 to hearabout the latest research onthe berry."New information cameout, some older myths weredispelled and there's lots ofpotential for the future for thiscrop," says BCHA pastpresident Axel Hvidberg.Hvidberg is impressed withthe haskap research byDalhousie University professorVasantha Rupasinghe and,closer to home, Sky BlueHorticulture Ltd. owner andresearcher Eric Gerbrandt ofChilliwack. "It gives provincialacademia, government repsthe knowledge that haskap isserious and it's aneconomically viable crop inthis region," says Hvidberg ofthe pair's work. Rupasinghe holds theKillam chair in functionalfoods and nutraceuticals atDalhousie and has 15 years'experience researchingavonoids in fruits. He focusedon apples until he becameintrigued by haskap. Now, allof his grad students areworking on haskap researchprojects. Rupasinghe is interested inavonoids' role in providingprotection against oxidativestress-related chronic diseases.He says some haskap varietieshave higher levels ofavonoids compared to otherberries commonly consumedin Canada. "I would say if yourbenchmark is wild blueberry,haskap is either equal orgreater. It could be greater upto two to three timesdepending on what kind ofmeasurements you are doing,"he says.Haskap is high in Vitamin Cand potassium but it'sparticularly high in avonoids,especially anthocyanins.Cyanidin-3-glucoside (C3G) isthe predominant anthocyaninin haskap, so Rupasinghe'sattention is drawn to it."According to our work,almost 80% of anthocyanin (inhaskap) is C3G. That's theuniqueness compared toother berries," he says. "Withtwo spoonfuls of dried haskappowder, we can reach closerto the recommended amountof avonoids that we shouldhabitually consume every dayto prevent chronic disease likecancer."Additional haskap researchshows some positive benetsfor lung cancer and diabetesbut more work is required toprovide additional data on itsantioxidant benets. Rupasinghe says thisresearch demonstrates thehealth benets of the cold-climate berry, which createsunique value-addedopportunities, from functionalfoods to nutraceuticals."We are on the spectrumfrom value-added foodprocessing to drug discoverywith this really unique centralmolecule called avonoids," heexplains. He cautioned growers thatC3G is an unstable moleculeso care must be taken withthe heat of pasteurization,light and temperature duringstorage, and drying methods.(Freeze-drying preserves theC3G while vacuum-ovendrying destroys 96% of theC3G.) "If your nal target is ahealth-promoting foodproduct, you have to payattention," he says. "But if it isbeer, wine, gin, I don't thinkyou ought to be worried."Rupasinghe says growersshould select cultivars thatmeet specic market needs, asuggestion Gerbrandt's in-eld research supports.Gerbrandt has spent sevenyears exploring the viability ofhaskap as a commercial crop.He's part of an eort to breedcultivars better adapted totemperate climates whiledeveloping cultivar-specicmanagement practices."An ongoing hypothesisthat I've had is that there isvariability, complexity, in thegenetics of this crop that willbe usable for making it a moremainstream crop," he explains."Widespread uptake of thiscrop will require moregrowers in temperate areas todevelop a market."Niche berryA crop that's beendomesticated relativelyrecently, haskap remains aniche berry. It will takemultiple generations ofsuccessful breeding, moreresearch and development ofboth a recognized productionsystem and markets beforegrowers realize haskap's fulleconomic potential. "You need to have multiplestrategies for how to get thisto consumers so that morepeople know about it so itbecomes a common term,"Gerbrandt says. Haskap requires cross-pollination from a compatiblecultivar so growers need tochoose varieties wisely andbloom times should work forthe climate."Get varieties that aregoing to work for what youneed them to do," saysGerbrandt. "Really criticallyevaluate the features thatthose products have to makesure they have what youneed."Gerbrandt advocates earlypruning to keep the berrieshigher on the bush andpruning out old wood toencourage new shoots whenthe plant is seven or eightyears old. With varied opinions as towhen haskap is ideally ripe,Gerbrandt recommendsharvesting two or three daysafter all the berries on thebush turn blue, saying a berrywith red juice runningthrough it is overripe. Haskap researchmay help berry go mainstreamResearch will help growers toutsignificant health benefitsEvery year, members of the Pender Island Farmers' Institute provide elementary school children withstarter plants (tomatoes, cucumbers, basil and lettuce) and some potato, bean and pea seeds so theycan start a garden of their own, even if it's just a container on their deck. [BARBARA JOHNSTONE GRIMMER]Grow up!Fast and easy to use, TUBE-LINE's Dispatch system makes final bale push off a thing of ease. Incorporating our proprietary FILM SNAP sytem the final bale can be pushed off without stopping the wrapper to cut the wrap.For a limited time, purchase any TL50, TLR 5000, TL60 or TL 6000 Inline BaleWrapper from an authorized dealer and receive the optional Bale Dispatch Arm at no charge.
Page 32
COUNTRY LIFE IN BC • JUNE 201932We grow a selection of Pollinator Plants and others for reclaiming disturbed land, ditches, and creating windbreaks and hedgerows. It starts with a conversation, contact our team today.604.530.930024555 32nd Avenue | Langley, BC V2Z 2J5www.NATSnursery.comAttract Pollinators to Your FarmAgricultural land usechanges can challengepollinators and cansometimes lead tofragmentation or loss of idealforaging habitats. Couple thatwith the eects of pesticideexposure and bees are facedwith considerable stress. Given how important beesare as pollinators for bothcrops and wild plants, therehas been huge concern aboutthe impact of pesticides onbee health, especiallypesticides known asneonicotinoids, or neonics. This class of insecticide ischemically similar to nicotineand for years they have beenwidely used in agriculture.But more recently, scienceresearchers have realized howdetrimental these productsare to our insect allies – beepollinators.Neonics have been linkedto a range of studies,especially research focusedon the reasons for the honeybee colony collapse disorderand the loss of birds due toloss of insect populations. Now, researchers atImperial College London inthe UK have found thatbumblebees exposedto the neonicotinoidpesticide calledimidacloprid y onlyone-third their normaldistance. This changein normal enduranceight behaviour –distance and duration –impacts foraging and foodgathering for the nest, couldlead to the ground-nestingcolonies going hungry, andpollination services beingaected. The study showedthat bees exposed to theequivalent doses they wouldencounter in the eld notonly y shorter distances buty for less time than thosenot exposed. Less ying time means lessrange is covered and theresearchers calculated thatthe reduced range whereaected bees forage may be ahuge – up to 80%.What they did nd, though,was that exposed beesseemed to be hyperactivewhen initially ying out toforage and maybe theyliterally wore themselves out."Neonicotinoids are similarto nicotine in the way theystimulate neurons and so a'rush' or hyperactive burst ofactivity does make sense,"says Daniel Kenna, doctoralstudent in the Department ofLife Sciences and rst authorof the study. "However, ourresults suggest there may bea cost to this initial rapidight, potentially throughincreased energy expenditureor a lack of motivation in theform of reduced ightendurance."The team used anexperimental mill to test thebumble bees' ight. The millwas a spinning device withlong arms connected tomagnets. Each bee had asmall metal disc attached toits back which, in turn, let theresearchers link it temporarilyto the magnetic arm. As eachbee ew in circles, they couldaccurately measure how farand how fast they ew in acontrolled environment.Basically, the bees weretethered to the mill. The bees,individual workers, wereexposed to imidacloprid at aconcentration they wouldencounter in the pollen andnectar of owers, on foragingworkers and inside social beecolonies. "Previous studies from ourgroup and others have shownthat bee foragers exposed toneonicotinoid pesticidesbring back less food to thecolony," said lead author Richard Gill, a senior lecturerwith the Department of LifeSciences. "Our study on ightperformance under pesticideexposure provides a potentialmechanism to explain thesendings."Given the data from theexperiments, he said thatpesticide-exposed bees maynd that they do not have theendurance to reachpreviously accessibleresources or, worse, they areincapable of returning to thenest after being exposed tocontaminated owers due tolack of energy. "Not only could this reducethe abundance, diversity andnutritional quality of foodavailable to a colony aectingits development, but it couldalso limit the pollinationservice bees provide."New measuresThe dangers of this class ofpesticide have not goneunnoticed in Canada. In 2012,imidacloprid was one of threeneonicotinoids (the other twobeing clothianidin andthiamethoxam) that HealthCanada began to re-evaluategiven the growing concernsaround bee health. In 2014,they implemented riskmitigation measures toprotect pollinators fromexposure to neonicotinoid-contaminated dust of treatedseeds at planting time. In April 2019, the agencyannounced that it will becancelling some uses of thoseinsecticides and changingother conditions of use suchas restricting the timing ofapplication. They looked athundreds of scientic studiesconducted by manufacturersas well as scientic researchpublished in journals. As aresult, they stated in theirpress release thatcancellations and newrestrictions will beimplemented over a two- tothree-year period. The study by ImperialCollege London researcherswas published in the journalEcology and Evolution. Margaret Evans is afreelance writer based inChilliwack specializing inagricultural science.Bee sensitivitylinked to neonicpesticidesNeonicotinoid exposure results inbees flying one-third the distanceResearchby MARGARET EVANSResearch from the UK is showing that bees exposed to neonics via contaminated owers could havetrouble returning to their nests due to a lack of energy. [FILE PHOTO]USED EQUIPMENTN/H FP230 27P GRASS HEAD . . . . . . . . . . . . . . . . . . . . . . . . 20,000N/H 900 w/990 GRASS HEAD . . . . . . . . . . . . . . . . . . . . . . . . 8,500BRILLION 6 FT GRASS SEEDER, 3 PT HITCH . . . . . . . . . . . . . . . 5,500FORD 542 SMALL SQUARE BALER . . . . . . . . . . . . . . . . . . . . . 1,500LEON M375 2017, MANURE SPREADER, VERT BEATERS, AS NEW . 49,500HAGEDOORN 275 MANURE SPREADER, HYDRA-PUSH . . . . . . . . 19,950WOODS MR1070 84" HD BRUSH CUTTER . . . . . . . . . . . . . . . . . 3,995USED TRACTORSM/F 5455 TRACTOR/LOADER . . . . . . . . . . . . . . . . . . . . . . . 46,500JD 1026R 2011, 540HRS, TRACTOR/LOADER/MID-MWR . . . . . . 13,500KUB L285 1980, 2WD, LOADER . . . . . . . . . . . . . . . . . . . . . . . 6,300N/H TN90F 1998, 7,600 HRS, CAB, MFWD. . . . . . . . . . . . . . . 16,500CASE MAGNUM 225 CVT NEW ALO LOADER . . . . . . . . . . . . . . . . CALLKUB F2880E 2008, 2WD, 2,900HRS, 60" MOWER . . . . . . . . . . 7,995DEUTZ TTV 6130.4 2014, 1,760 HRS, LDR, FRONT 3PT/PTO. . . . . . CallDEUTZ K110 2,200 HRS, CAB, LDR, MFWD . . . . . . . . . . . . . . . . CALLDEUTZ AGROPLUS 2,500 HRS, ROPS, LDR. . . . . . . . . . . . . . . . . CALLNEW INVENTORYKUBOTA RAKES, TEDDERS, MOWERS AND ROUND BALER. . . . . . CALLJBS VMEC1636 VERT. SPREADER, SAWDUST & SAND THROWERSCONSTRUCTIONCAT 305-ECR 2015, HYD THUMB, 2 BUCKETS, 1650 HRS . . . . . 58,145KUB R530C 2016, CAB, HYD Q/C, SIDE-SHIFT FORKS . . . . . . . 69,500ISLAND TRACTOR & SUPPLY LTD.DUNCAN 1-888-795-1755NORTH ISLAND TRACTORCOURTENAY 1-866-501-0801islandtractors.comISLANDTRACTORS.com
Page 33
by MYRNA STARK LEADERLANGLEY – After four decades of growing apples, Jim Raheand his wife Mary Ann are closing the gates at Annie's Orchardat Langley, one of the few commercial apple orchards in theFraser Valley.The couple moved from Coquitlam to their seven-acreproperty in 1979 and started planting apples. Within fouryears, they had more than 250 varieties but little idea of whatto do with the fruit. They began selling apples at the farm andquickly learned that their abundance was a challenge tomanage and sell. Within two years, they'd cut back to just 50varieties. "Still too many! But our orchard has been a labour of love,"says Rahe, now 80 and retired from Simon Fraser Universitywhere his work as a biological sciences professor focused onpest management (but never on apples).The orchard was where he went to relax until his retirementin 2004. Then, taking care of the orchard's 2,500 trees becamea full-time job. By this time, 10 pear varieties had joined the 50apple varieties.Rahe says there's a logic to what they grow."The opportunity at this location wasn't to compete withthe commodity industry or the Interior, which has lower costsof production and a better climate, but to take advantage ofthe large local population by oering what the commodityindustry cannot," he said.Annie's oers fruit fresh from the tree for at least 90 days,starting with summer varieties such as Transparent, whichripens in late July, and continuing through late summer andfall to winter varieties harvested through late October. The mixincludes a number of what he calls "ethnic favourites" fromEurope including Bramley's Seedling, Cox Orange Pippin andJUNE 2019 • COUNTRY LIFE IN BC33COME CELEBRATE AT BC'S LARGEST AGRICULTURE SHOWCASEFARM COUNTRYAUGUST 17–SEPTEMBER 2Come out and experience BC's remarkably diverse agriculture industry. Featuring the crowd favourite Discovery Farm exhibit, pig racing, BC Dairy Association's Dairy Zone, BC Cattlemen's Beef Zone, and BC Egg Marketing Board's Egg Laying Exhibit, plus a whole barn full of exciting animal displays.PACIFIC SPIRIT HORSE SHOWAUGUST 21–SEPTEMBER 2Featuring Canadian Horse, Draft Team and Dressage demonstrations as well as Junior Amateur Jumping and Indoor Eventing competitions. ENTRY DEADLINE: JULY 26, 2019PNE 4-H FESTIVALAUGUST 17–20O ering over 30 types of project competitionsas well as provincial programs for judging,speak and show and educational displays.Travel assistance o ered to clubs outsideof the Fraser Valley through theBC Youth in Agriculture Foundation. ENTRY DEADLINE: JUNE 28, 2019It's theof summerBEST PARTAug 17 till Sep 2(closed Aug 19 & 26)604-252-3581 • agriculture@pne.ca • Fraser Valley orchardist calling it a dayAnnie's Orchard a legacy of theFraser Valley orchard boomJim Rahe has spent 40 years tending his Fraser Valley orchard, once home to over more than 250 applevarieties, most of which are not commercially grown. [RONDA PAYNE PHOTO]See RARE on next page o
Page 34
COUNTRY LIFE IN BC • JUNE 201934Belle de Boskoop, as well aslocal favourites such asGravenstein, King andNorthern Spy. There are alsonewer varieties, includingFuji, Gala, Jonagold,Honeycrisp and Ambrosia."From July throughOctober, people could comehere and get a freshly pickedapple. As good as applestorage is, there's nothingbetter than one straight othe tree," he says with a smile."When you live by a citywith two million people, withmany of them from the UKand Europe, and theydiscover you've got thoseapples, you can't buyadvertising like thosecustomers provide. We had aunique product," says Rahe,who sees great qualities inmany varieties, but namesGravenstein as his favourite.Gravenstein dates to atleast the 17th century andhas exceptional avour andtexture, but no keepingquality. It's at its best whenpicked and eaten fresh, forabout three weeks a year, heexplains.Encylopedia of knowledgeRahe is a living appleencyclopedia, noting thereare over 7,000 named applevarieties in the world.However, he humbly pointsto Murray Siemens, DaveOrmrod and Loren Taves,three other orchardists in theFraser Valley, as having moreexpertise.Rahe says that nearly25,000 acres of apples werebeing grown in the Okanaganin the 1970s. Today, theacreage is just 8,000, largelydue to the rise of vineyards.While there was a short-livedboom in Fraser Valley appleproduction in the late 1980sand early 1990s, he sayscanker soon killed virtually allof these orchards. Canker, a fungal disease,remains the biggestchallenge at Annie's Orchard.With no effective chemicalcontrol, Rahe has alwayswatched for signs ofinfection. Pruning couldcontrol but never eliminatethe fungus. Some areaseventually became too badlyinfected and were pulled outand replanted in blocks of 10to 15 rows at once (about aquarter of the orchard). "We never replanted theentire orchard at any onetime, but probably the entireorchard has been replantedabout three times over 35years," he says.While that may sound bad,he notes that commercialgrowers in the Okanagantypically upgrade their treeson a 10-year cycle to ensurethe competitiveness of theirorchards, often with newervarieties that deliverpremium prices. The onlything that's different with hisorchard is the scale and thefocus on heritage varieties.Rahe stopped replantingwhen he entered his 70s.Canker exploded, and hedecided to let it have its way.The orchard is now less thenhalf the number ofproductive trees it had adecade ago, and he saysthere's not a single tree in hisorchard without the disease.What about the future forapples?While canker has been thebiggest challenge he's dealtwith in 40 years oforcharding, apple scab andcodling moth have alsorequired active management.The biggest threat to futureproduction, however, isapple maggot.Since the first detection inthe province in 2006, in theFraser Valley, apple maggothas spread throughout theLower Mainland as well as toVancouver Island and PrinceGeorge. While the BCMinistry of Agriculturerecommends severalproducts to control the pestin commercial orchards, Rahesays there are no acceptable,effective options for lowinput growers.Still, Rahe believescommercial apple productionin the Fraser Valley is viablefor anyone who lovesorcharding and dealing withpeople."We've got about 800repeat customers, and thatnumber has been limited bythe size of our orchard ratherthan demand," he says.RARE apple varieties popular with customers nfrom page 33BLOOMIN' BEAUTIFUL! Jim Rahe takes a moment to appreciate one of his 50 varieties of apple trees in fullbloom. [CHRISTINE KOCH PHOTO]DUNCAN – CowichanValley wineries and grapegrowers are rallying behind aproposal to create VancouverIsland's rst sub-appellation.A proposal to designatethe Cowichan Valley a sub-geographical indication (GI,or appellation) of the largerVancouver Island appellationwas led with the BC WineAuthority on April 16. The proposed sub-GI is350 square kilometres andincludes 14 wineriesrepresenting approximately150 to 175 acres of vineyard. The proposal follows theapproval of establishing sub-GIs for the Naramata Benchand Skaha Bench.Williamson said he hopesan industry plebiscite andestablishment of a sub-GI forthe Cowichan Valley willcomplete by the end of thisyear. This would allow localwineries to label wines madewith local grapes from thisyear's vintage with the newdesignation.—Peter MithamRally cryA MIXER FOR EVERY OPERATIONINVEST IN QUALITY®KuhnNorthAmerica.commMatsqui Ag-RepairAbbotsford, BC604-826-3281Country TractorArmstrong, BC250-546-3141 Country TractorKamloops, BC250-851-3101Visit your localKUHN KnightDealer today!VS: Vertical Single-AugerVXL: Triple-Auger MixerRA: Reel MixerBotec: 4-Auger MixerKuhn North America is committed to creating innovative mixers that will provide a quality rationand years of low-maintenance service. From 147 – 1960 cu. ft. mixing capacities.
Page 35
JUNE 2019 • COUNTRY LIFE IN BC 35Serving the Okanaganand Fraser ValleyWe've been proudly family owned and operated sinceopening in 1976. And with two blending plants, we're oneof BC's largest distributors of granular, liquid and foliar fertilizers. Our buying power and proximity to theFraser Valley makes us the logical choice for truckload shipments.OKANAGAN FERTILIZER LTD1-800-361-4600 or 250-838-6414info@reimersfarmservice.comwww.reimersfarmservice.com855.737.0110Einbock Tillage Equipment for organic farmers tTine WeederstRow Crop CultivatorstCamera Guidance SystemtRotary Hoes Homburg Field Tile Drain Cleaners rLow Maintenancer*NQSPWFT%SBJOBHFr$POEJUJPOT4PJMr&DPOPNJDBM3FMJBCMFr4BGFBOE1SPWFO Proudly oering quality farm equipment & wholesale farm product delivery across BC. by MYRNA STARK LEADERLAKE COUNTRY – DarcyHubscher has one of the mostunique jobs in BC agriculture.Hubscher grows worms. Onany given day, up to eightmillion worms – total herdweight, 20,000 pounds – areworking away on 10 acres offarmland at Nurturing NatureOrganics Inc. in Lake Country.But these worms will neverbait a hook. Rather, they'retillers of the soil, turning itinto high-quality wormcastings.Unlike in nature, theprocess takes place aboveground. Soil from a local bog,harvested in accordance withsustainable principles, isbrought into the plant andthe herd of African nightcrawlers go to work."Our worms do a great jobconverting our special soil. It'spart of the reason this plant islocated here and one of thereasons we are successful,"says Hubscher, the operation'sproduction manager.The soil is screened andfermented for a number ofdays. Then the worms areadded to shallow boxes of thedirt, which are stacked roofhigh. In a few days, they'veeaten their way through,enclosing each dirt granule ina coating before excreting it.The worms are screened outof the castings and given afresh box of food.Hubscher gently plungeshis hand into thousands ofworms, lifting them to showo the herd on a warm andhumid shop oor that smellslike a good old-fashionedroot cellar. While the processsounds simple, the worms'metabolism is aected by anumber of factors liketemperature and humidity.Caring for them is critical toensuring they accomplishtwo goals – creating qualitycastings and bearing healthyyoung. He notes that nightcrawlers live four to eightyears on average, so goodhealth also ensures longevity."There's a whole sciencebehind it but basically, my jobis to keep the little guyshappy," says Hubscher.Because the castings are anorganic product, certiedthrough OMRI (OrganicMaterials Review Institute),they're in demand as sales oforganic food (and cannabis)grows. When mixed with soilor other growth medium at arate of between 7% and 15%,the castings enhance the soil,producing better plants. Top-grade castings – pure wormmanure – receives the bestprice. The roughage –castings mixed with peat – issold as a second-tier grade.The material that accidentallyhits the operation's oor iscollected for a third, lower-quality grade. "Technically, it can't becalled fertilizer because we'dhave to meet certainregulations that are typicallyrequired for syntheticproducts, but our Africannight crawlers are producingthe most pure form oforganic matter which helpsplants to ourish," saysHubscher, who has raisedworms for over 10 yearsbeginning with worms forshing bait when he and hisfather ran a gas station in thelate 1990s. After getting out of theworm business for a fewyears, he came back aboutve years ago. Today, heworks with his son Quinn anda team of ve other full-timeemployees. While NurturingNature was started locally byanother Canadian, Americanownership a few years backenabled the business toexpand, adding room formore worms. Hubscher has developedvaluable, specializedknowledge, especially aspeople want to learn to farmworms for their backyardgardens. He could sell thoseskills, but he's hesitant tocreate market competition. "To my knowledge, we areproducing the best castingsin the world right here in theOkanagan," says Hubscher. Heproudly explains that theherd produces 14 yards ofcastings a day, or about15,500 pounds.Today, markets includesmaller packages of castingsfor local customers andretailers, but most top-gradeproduct is shipped in 2,000-pound bulk totes to manydistributors who in turn shipto numerous wholesalers andretailers. Hubscher envisions abright future for castings,particularly as demand fororganic soil amendmentsgrows at home and abroad.He sees future markets inOntario and Asia. However,one of the challenges is thatcastings are heavy, so ofconsiderable cost to ship."One idea I have for thefuture is to make Kelowna, orthis area, a central hub forshipping products like thiseast," he says. "We couldreduce some of the truckingcosts and get more productto markets further away."Worming hisway to the topof the heapLake Country worm composterproduces 15,500 lbs per dayDarcy Hubscher stands in front of the wooden boxes lled with tiny employees hard at work turning soilinto organic worm castings. [MYRNA STARK LEADER PHOTO]
Page 36
COUNTRY LIFE IN BC • JUNE 201936*Offer valid for a limited time on select new models manufactured by JCB Inc. Offer may change without prior notice, and additional terms and conditons may apply. Subject to JCB Finance approval.0% FINANCINGFOR UP TO70 MONTHS*www.matsquiagrepair.comTM220TM320Maneuverabillity of a wheel loaderVisibility of a tractor Versatility of a telehandlerContact for a demo today! 604-826-3281@matsquiagrepair@matsquiagrepairMatsquiJCB, a division of Matsqui Ag-Repair Ltd34856 Harris Rd, Abbotsford BC
Page 37
JUNE 2019 • COUNTRY LIFE IN BC 37FOR BAGGED or BULK ORDERSDarren Jansen Owner604.794.3701organicfeeds@gmail.comwww.canadianorganicfeeds.comCertified by Pro-Cert Organic Systems Ltd.by RONDA PAYNEALDERGROVE – Mushroomswill soon be part of FraserCommon Farm's organicoerings following acultivation workshop led byBo Del Valle Garcia, founderof Tangled Roots NatureConnection, a school forpermaculture and wild skillson Malcolm Island oppositePort McNeill.Attendees of the April 27workshop inoculated logsthat will yield the earthy cropfor the farm, and also tookone home for themselves.It's a far cry fromcommercial mushroombunkers and requires fewmaterial inputs, but Del ValleGarcia said it's a way forgrowers that oer producesubscription programs toinclude oyster mushroomsand other varieties. They (DelValle Garcia's preferredpronoun) say plenty ofpeople make an income frommushrooms this way.Emily Alexis of ArtisanFarm in Squamish considersherself new to growingmushrooms but hassuccessfully included them inher community-supportedagriculture (CSA) baskets."This is my third year," shesays. "I had success with thegarden giant [king stropharia]mushroom in a wood chipsmedium. So I keep puttingfresh wood chips on it everyyear and I keep watering itand it keeps producing everyyear."Now, with a mix of bothcultured mushrooms andthose foraged from theproperty, Alexis has enoughfor about 15 of the CSAbaskets she sends to 25people over a 24 to 26 weekprogram, but for somecustomers it's still notenough."They generally ask formore," she says. "Somecustomers have asked if I canjust do a mushroom CSA.They like some of thevarieties that I bring to themthat they can't get at thestore."She notes the shiitakevariety is important for veganand vegetarian diets becauseit has many of the sameamino acids as meat and ahigh Vitamin D content. Theshift to more plant-baseddiets promises to boostmushrooms' popularity withlocal consumers.Common varietiesDel Valle Garcia says thereare many ways to growmushrooms. Commonvarieties for cultivationinclude oyster, shiitake, lion'smane, nameko and kingstropharia. Since mushrooms lovewood, hardwood sawdust is acommon growing mediumbut they say straw or coeegrounds can also beinoculated. This can be donein wide-mouth one-quart jarsor polyethylene bags. Ensuring the growingmedium has nutrients to feedand grow the mushrooms isessential. They recommend amixture of 10 parts sawdust,two parts oat, rice or wheatbran, and one part gypsum. "If you want to inoculateyour garden, king strophariais awesome to use," Del ValleGarcia says. "Make sure there'snot already too much otherfungus growing."Once the mycelium hasbegun to establish in thegrowing medium, it can betransferred to logs or othergrowing sources. "Alders are really great for alot of mushrooms," notes DelValle Garcia.The ideal log is four to 12inches in diameter and two tofour feet long. Holes shouldbe approximately a half-inchwide and half-inch deep in aline along the length of thelog. Start the next line an inchaway from the rst andstagger the holes. A sterilizedspoon can be used to scoop ablueberry-sized amount ofmycelium and growingmedium, which is then gentlypacked into each hole with achopstick. The holes and endsof each log should be sealedwith bee or soy wax toprevent other fungus fromaccessing the log.There's more to gettingmushrooms to grow and fruitthan these basic steps. Alexisturned to experts like PaulStamets of Fungi Perfecti LLCin Olympia, Washington forsupplies and additionalproduction information."I purchased theinoculated substrate in bags,"she explains. "With those, Ihave success growing shiitakeand oyster mushrooms, butyou can also grow reishi andlion's mane and all kinds ofmushrooms in that way."While she tried puttinginoculated plugs from FungiPerfecti into logs, she didn'thave much success, so turnedto the wood chips solution. "I think that the shiitakeand the oyster mushroomsare the easiest," she says.Mushrooms a viable crop for small growersLocally grown, unusual varietiespopular in CSAsDavid Shortridge, left, carefully burrows a hole in a mushroom starter log as others look on. Alders makeexcellent hosts for many mushrooms. [RONDA PAYNE PHOTO]The new '67 Series of grader blade extends our dependible line of grader blades, adding 3 new models designed specifically for your 30 HP or smaller compact or sub compact tractors. Designed for pushing or pulling material, the mouldboard can be easily rotated by removing the locking pin and spinning the blade to the desired position. Two left and two right settings forward and full blade reverse ensure that you move material just the way you want it.Forward or back these 3 new grading blades from MK Martin provide the control you need to tame your domain.GRADER BLADES FOR COMPACTS.
Page 38
COUNTRY LIFE IN BC • JUNE 201938Irrigation Pipe | Traveling Gun/Hose ReelsPivots | Pumps | Power UnitsCall for a quote on Irrigation Design and our current inventory of new & used Irrigation Equipment.Several used 1,200ft pivots & used hose reels available now.TALK TO BROCK 250.319.3044Dynamic Irrigation beyedynamic@gmail.com Use farmwest.com to find your localFarmers' Institute. We make it easy!Island 4-H beef show celebrates 25 yearsLeaders pull out all the stops to revive long-standing traditionThe Winner's CircleJunior Fitting JacksonPhillips (Cowichan 4-H Beef )Intermediate Fitting LaylaDorko (Abbotsford 4-H Beef )Senior Fitting EmmaDavidson (Abbotsford 4-HBeef)Team Fitting Cowichan 4-HBeef (Jackson Phillips, HaileyMartin & Victoria Kovacs)Junior Showmanship PaisleyKovacs (Cowichan 4-H Beef )Intermidiate ShowmanshipLayla Dorko (Abbotsford 4-HBeef)Senior Showmanship JeanMacaulay (Saanich PeninsulaBeef & Swine)Champion Market SteerLayla Dorko (Abbotsford 4-HBeef) with Satchmo - Maine X,978 lbsReserve Champion MarketSteer William Martin(Cowichan 4-H Beef ) withMack - Maine X, 1152 lbsChampion Heifer JennaNielsen (Abbotsford 4-H Beef)with Diamond Mist -Simmental XReserve Champion HeiferJean Macaulay (SaanichPeninsula Beef & Swine) withRuby - Shorthorn Xby AMANDA POELMANDUNCAN – The VancouverIsland 4-H Beef Spring Showcelebrated its silveranniversary, May 4-5,welcoming 41 members fromeight clubs on the Island andLower Mainland. Through the course of theweekend, members enjoyed atting demonstration, a fullday of competition, silent andlive auctions, and a deliciouswrap-up dinner followed bythe music stylings of localband The Porter Brothers. Judge Katie Songer ofRocky Mountain House, AB,competently lined up all thecontenders, providingexcellent reasons andsuggestions to the memberon their projects andindividual skills. ttt
Page 39
JUNE 2019 • COUNTRY LIFE IN BC39September long weekend in Armstrong!DON'T MISS IT!Armstrong Interior Provincial Exhibition PresentsAT THE IPEarmstrongipe.comBuy all tickets online atAUG 28 TO SEPT 1, 2019JULY 12 ................... 4H & Junior ActivitiesJULY 19 ................... Beef, Dairy, Swine, Baking & Canning, Photography, Fancywork & Sewing, Hobbies, Wine, Liqueurs & BeerJULY 26 ...................Goat, Sheep, Light HorseAUGUST 2 ........... Floral, Fruit, Field & Seed, Honey, Vegetables, Rabbits & PoultryAUGUST 14.......Heavy HorseENTRY DEADLINES2019Facing page, top, Layla Dorkofrom Abbotsford 4-H Beef and her champion market steer isjoined by judge Katie Songer; Below, Ross Springford presentsthe top Hereford Inuence Heiferaward to Ginger Stephenson fromthe Comox Valley Calf Club[JENNIFER BUCK PHOTO]. Bottom left, Songer congratulatesJean Macaulay from SaanichPeninsula Beef & Swine on herreserve champion heifer. Bottomright, Jersey Craig fromAbbotsford Beef gets a little helpfrom a senior member. On this page, Paisley Kovacsashes a quick smile whilegetting some assistance fromWilliam and Oliver Martin during the Team Fittingcompetition. Below, George Baird, a long-time supporter of theIsland 4-H Beef Show, keeps aneye on the show pen. AMANDA POELMAN PHOTOSIS THANKFUL FOR THE GENEROUS SUPPORT OF OUR SPONSORSAccurate AirBC Angus AssociationBC Hereford AssociationBC Shorthorn AssociationBC Simmental AssociationBuckereldsCentral Landscape SupplyCountry Life In BCCowichan Valley MeatsDickie & Jean JamesDon AllinghamFarmer Bens EggsFarmhouse PoultryG & R TimberGary & Margaret PhillipsGeorge & Gladys BairdGreg McAuleyJMK Valleyview EnterprisesMeaden Family Mike VolkPacic TrussPaulCan EnterprisesPrairie Coast EquipmentRyler TruckingSF ShorthornsSpady FarmsSpringford Farm Ltd.Stanhope Wedgewood TransportSteld Blueberry FarmSunny Vale Farm Ltd.Sunnyside FarmThe Porter BrothersThompson LivestockTop Shelf FeedsTsolum VeterinaryHospitalUrban Valley TeesWestGenWhitta FarmMORNINGSIDEFARMS LTD.
Page 40
COUNTRY LIFE IN BC • JUNE 201940Financing the future of agriculture.At BMO, we know that farming is more than just a business – it's a way of life. And as a longstanding supporter of the BC farming community, we've been committed to agriculture since we began working with farmers in 1817.When we left o last time,Lois the storekeeper had put thebrakes on the rumour millpercolating over thesignicance of a kiss andembrace between Deborah andDoug McLeod at the end of theSpring Musical. Back at home,Susan was enjoying a morningcoee on the Henderson frontporch when Newt Pullman andhis dog happened by. RuralRedemption, part 111,continues ...Susan glanced over atNewt and sighed. "Nothing very exciting totell, I'm afraid. It wouldprobably put you to sleep.""I've had three cups ofcoee. Don't think there'smuch chance I'll be noddingo," said Newt. "Just shoot forthe highlights and leave outthe sad parts.""Fair enough," said Susanthinking that if she omitted allthe unhappy and boringparts, it wouldn't take muchtime to tell at all.She spoke fondly of herchildhood and youth, thenmatter-of-factly about hermarriage and Kenneth's birthand childhood to the pointwhen his father took him toboarding school in Ontario.The story became truncatedand the telling becamewistful. "Kenneth met Deborah atuniversity and they weremarried. Then, Ashley andChristopher were born twoyears apart. Kingston retiredfrom the senate and movedback from Ottawa and wrotea book about himself. He diednearly three years ago.""I'm sorry," said Newt."He was a lot older thanme," said Susan matter-of-factly. "Now, I've sold thehouse and here I am.""So, what'snext?""Well, Iwant to see alot more ofChristopherand Ashleybefore they'reall grown up, and beyondthat, I don't have a plan. Justput one foot in front of theother and see where it takesme, I guess.""That kind of sounds like aplan right there," said Newt. Susan chuckled."It's a pretty simple plan,wouldn't you say?""Simple plan's the bestkind. The more complicated itgets, the harder it is to make itwork.""You're starting to soundlike a philosopher, Mr.Pullman.""Hell, no. I learned most ofwhat I know from makingmistakes," said Newt."Not too many, I hope.""Yeah, probably way toomany, but like old ColonelMeldrum used to tell us, 'Aman who can't make amistake can't make anything.'"Newt said he supposed heand Rocky should be on theirway and leave her in peace.Susan said she'd enjoyedthe conservation and said notto be afraid to stop by foranother cup of coee thenext time he was in theneighbourhood. Newt saidthanks and he just might takeher up on that. After he was gone, Susantried to remember the lasttime she'd had a two-hourconversation with a man. Newt found her wide smileand sparkling eyes crowdinginto his thoughts allafternoon.tttBy the time Kenneth andDeborah arrived at the resort,they were both exhaustedand Deborah had a splittingheadache. She took twoAspiris and excused herself tolay down. After she fell asleep,Kenneth went to check outthe golf course and nd aglass of scotch. He woke herat 7 the next morning. "C'mon, Deborah. Time torise and shine. We're meetingsomeone for breakfast at 8.""Who are we meeting forbreakfast? We don't knowanyone here, do we?""We're going to knowsomeone named BernieWissel pretty soon.""Who is Bernie Whistle?""Not Whistle. Wissel, likeBissel only with a W.""How is it we are havingbreakfast with Mr. Wissel?"said Deborah."The pro at the golf coursematched us up. Me and himhave a nine o'clock tee time." "Really? What time will yoube done?""What? Golf? We might tryto squeeze in two rounds sowe might not be done untilafternoon sometime. I guredyou'd want to have some timeto look around and checkthings out.""Sure, sounds like fun," saidDeborah.When they arrived at therestaurant, Kenneth told thehostess he was looking forBernie Wissel."You must be Mr.Henderson. Come this way.The Wissels' are expectingyou."As they approached thetable, a balding, heavy-setman rose to greet them."Hey, Kenny, Bernie Wissel.It's great to meet you. Lookslike a hell of day for a roundor two, eh? You're going lovethis course, especially if you'rea long hitter. How's your longgame? Sit down, sit down. Youbetter get some breakfast inya if ya want to last all day.How do you like Tiger'schances at the Masters? I got500 bucks on him to crack thetop ve."Bernie nally stopped totake a breath. He was wearinga bright red golf shirt and apair of camo Bermuda shortsand looked to be at least tenyears older than Kenneth. Hewaved them into their chairs.Deborah sat next to anattractive woman withbleached blonde hair. Thewoman glanced from Bernieto Deborah and rolled hereyes. They smiled at oneanother."I'm afraid we startedwithout you, but I toldRhonda to keep an eye outfor you. Here she comes now.She'll get you xed right up.""So, are you a betting manat all, Ken?" asked Bernie asRhonda, the waitress, turnedaway.The blonde woman landeda sharp kick on Bernie's shin."Suerin' catsh, Birdie!What was that for?""Aren't you forgettingsomething, Bernie?"Bernie looked at herblankly as he rubbed his shin."Like an introduction?" saidthe woman."Oh, right! My mistake. Ken,this is my wife Birdie and shedoesn't play golf.""My pleasure, Birdie," saidKenneth. "This is my wife,Deborah, and she doesn't playgolf either.""Real nice to meet you,"said Bernie. "What kind ofclubs are you swinging, Ken?""Mizunas starting today. Ibought a new set last night.I'm picking them up thismorning.'"Nice. There's nothingwrong with Mizunas. Mybuddy back home swears bythem. Course I've always usedCalloways, but Tiger'sswitched over to TaylorMadeand I've been thinking aboutgiving them a try. Holymackerel! Look at the time!We better scoot if we're goingto pick up those Mizunas ofyours and still make our teetime," said Bernie, then addedas he walked away, "Birdie,you take Debra shoppingwith you and we'll all havedinner together tonight." Once they were gone,Birdie turned toward Deborah."Goodness, honey, you looklike a doe caught in theheadlights.""Sorry. I just didn't knowgolf was so … complicated,guess.""Oh, golf's not complicated.Bernie's just got a knack ofmaking it sound that way. Itlooks to me like we're twopeas in a pod here.""Peas in a pod?" "Golf widows. Tell me youdidn't come all the way downhere to go shopping whileyour husband and some loud-mouthed furniture salesmanplay golf all day?" said Birdie."It wasn't my idea to comehere at all," said Deborah. "AndI sure didn't come for theshopping.""Well, you're here now andso am I, and I'm betting thetwo of us can nd our ownfun. What do you say?""Here's to us," said Deborahas they clinked water glasses. To be continued ...Deborah starts her vacation a golf widowWoodshed Chroniclesby BOB COLLINSYOURHelping YouHelping YouSign up for FREE today.FARM NEWSWEEKLY FARM NEWS UPDATES
Page 41
COUNTRY LIFE IN BC • JUNE 2019 41by RONDA PAYNEABBOTSFORD – When beer-craving guests sit down inField House Brewing'sAbbotsford tasting room,patio or beer lawn, they canalso partake in food itemscreated from locally-growningredients in the on-sitecanteen kitchen. Brewery founder JoshVanderheide started FieldHouse Farms as a side projectto supply the canteen kitchenand on April 27, he hosted alm screening and paneldiscussion to tell peopleabout the farm's rst seasonwhile raising awareness of theimportance of localagriculture."We don't think we have itgured out, but we're reallypassionate about it," he says.Produced by Inmist MediaHouse of Chilliwack, lming ofthe short documentary, Fromthe Field, began in spring2018 with planting andtracked the farm througheach stage of the growingseason.While farm breweries aren'tunheard of in BC, they aren'tcommon either. Othersinclude Crannóg Ales inSorrento, Persephone Brewingin Gibsons and PembertonValley Beerworks, according toRebecca Kneen of Crannóg.More are in the works, andVanderheide is hopeful Fromthe Field will encourageothers.Field House Brewingopened its doors just overthree years ago with a kitchenthat capitalized on locallygrown and crafted foodproducts like meats, cheesesand produce. The incredibleavour of local foodprompted Vanderheide tostart farming, growing moreof the food used in thebrewery's canteen. "Well over half our foodmenu is from local suppliers,"he explains. "We wanted tosay, 'Let's also have us be partof this farming community.'"Vanderheide went on tolease three separate acreagesin Abbotsford and Chilliwackand began growing fruit andvegetables as well as veacres of barley. The barley washarvested, cleaned, dried andmalted with the hands-oninvolvement of bothVanderheide and brewmasterParker Reid."The beers that are heretonight [a pilsner and an IPA]are made from the grains thatwere grown last year," he toldthe audience. "And we're sopleased with how the beerturned out. We went into thisgoing, 'We don't know whatwe're doing but we're goingto have fun with it.'"He wants people to have agreater understanding of howfood reaches plates becauseagriculture "aects people'slives."Vanderheide believes somuch in the project that heand his wife Gina sold theirhouse and bought a ve-acrefarm on Matsqui Flats, whichhe refers to as Field HouseFarms 2.0. They've put 2.5acres into barley."The focus of the farm is tocomplement things thatalready grow here [in theFraser Valley]," he says. "We'regrowing rhubarb because ourkitchen is excited about theavour and acidity."Other crops include plums,pears, apples, licorice, fennel,haskaps, Chilean guava andjostaberry. There are beehives,old-growth trees and more.The majority of the producewill nd its way into the FieldHouse kitchen and be servedat the brewery, but some of itwill add unique avours to itsbeers. Financial support wasessential to making the farmpossible and Vanderheidecredits two partners for thefarm's success: the AbbotsfordCommunity Foundation andBuy BC."The AbbotsfordCommunity Foundation – Ican't even tell you the value ofthat. Without them, wewouldn't be farming," he says.Field House Farms received$25,000 from the foundationand Buy BC helped FieldHouse fund the lm andlaunch event. "We started this as anexperiment," notesVanderheide. "We keptfollowing it wherever it led us."In the lm, he says the planis to grow 100% of theingredients served at FieldHouse Brewing and to havethe business become a socialenterprise. He wants to see asmany things as possiblecreated from scratch."Doing good things is aviable business strategy," hesays in the 13-minute lm. "Wewant to surprise people withfood. We want to changepeople's minds about food."A panel discussion after thelm supported Vanderheide'svision for more local food andmore BC-based farmbreweries. Panelists includedVancouver chefs Juno Kim ofJuno Kim Catering and KrisBarnholden of the Diamond,as well as PersephoneBrewing head brewmasterAnders McKinnon fromGibsons and DanOostenbrink, owner ofAbbotsford's Local HarvestMarket. Kneen says that whilebrewing is still in an industrialmindset, there are plenty ofbreweries that want to bemore involved at the farminglevel whether it's being abrewery farm or growingrelationships with farmers. "There's denitely moreinterest," she says. "We'reseeing that with hops; we'reseeing that with fruit."The audience may havecome for the beer, but thequestions and conversationwere about a greater need forlocal food and drink.Josh Vanderheide cradles bottles of Field House Brewing Co.'s beers made with barley grown in the FraserValley during a screening of a new lm, From the Field, documenting his company's rst year of farming tosupply the Abbotsford-based brewery's kitchen. [RONDA PAYNE PHOTO]Brewery's foodprogram spawnsfarm projectA novice farmer shares lessonsfrom his first harvestChoChoChoChoChoChoChohhohohhooseoseoseoseoseoseoseoseoseseeooefrfrfrfrfrffrfrromomomomomomomomomoomointintintintntintintintinttnttnttntinintereereereereereereeereereeerst-st-st-st-st-st-st-st-tsstttfrefrefrefrefrefrefrereeeeeere we we we we we wee weewe weewewee e waaivaivaivivaivaiviaiviaivaivversersererserserserserseereserrseer, ,, l, llll,, loow ow ow oww wwwwooratratratratratratrataarataeeeeeeenananananananananaanaancincncincincncicncicinccincingngngngngngngnggngngngnggor or or oror rooorolowlowlowowlowowowlowowowwlowlooorararararrararateteteteteteteteelealealealealealealleaeeasessessessessessseessssee, O, O, O, O, OO, O,OOO, OOOOO,AC.AC.AC.AC.AC.AC.AC.ACAC.AC.ACACACACACCAACViVViVViViViisisitsitsitsitsittssstususususususussususussuatatatatatatataataa cercercercervusvusvusvusuusequequeququqequqipmipmipmpmipmppententententeetn.co.co.co.co.cocc.m/jm/jm/jm/jm/mohnohnohnhnohnhohnn-de-de-de-dedeereereereereree/us/us/us/us/usssu/uededededdddCERVUS JOHN DEERE CRESTON – 1617 Northwest Blvd • (250) 431-9002prprprprprououoououddd d ddtototototootobbbbbbeeeeeyoyoyoyoyooururuururururlllllocococccococooalalalalalalallaalJJJJJJJohohohohhohohohn nnnnnnnnnDeDeDeDeDeDeDeeeererererererre e ee eeededededededdedddallaallalaaaalaerererererererrriiiinnnnnnnnnththhththhhte e eeeehehehehehhheheararararararaat t ttttofofofofofffttttthehehehehKKKKKoooooooooteteteteteenanananaaysysysyssPONPONNPONONPONNNOKAOKOKOKOKAOKAOKAOKKAOKAA• •••STESTESTETTEESTTTLTTLTTLTTTTTTLTTTLLLER ER ERREREEEEEERERC• C•C•C•C• •OROOROOROORORROROOROORORNATNATNATATNATATNNIONIONONN• • OLDOOLDOLDOLDOOS •SS •S•SSSTRTRTRTRTRTRTRROCHOCOCHOCOCHOOCHHOUUUCALCALCALCALCAALCALGARGARGARAGGAAGAARY•Y •YY•Y••YY•DRDRDRDRDRDRDRDRDRDRDUMHUMHUMHUUMHUMHUMHUMHUMUUELLLELLEEELER RE• H• HHANNNNANNANNNNAAACALCALACALALALALALLCALCALCACACALCALAL TL TLTLTLTLTLTTOLLOLLOLLOLLOLLOLLOLLOLLLLLLOLLOLLLOFRFRFRFRRFRRFRFRRFRFEE:EE:EE:EEEE:EEE:EEEEE:E::E1-1-1-1-11111188888888888888888-83-83-83-83-83-83-83331-81-81-81-881-8-8-81-8188189189189189189189189189181891898989898998OR OR OR OOR OOROROR OROOOOR OOCONCONCONOCONCONCCCCONCONOCONOOTACTACTACTACTACACTACTACATACACACACTACACT YTTT YT YT YTYTTYT YT YT YYTYT YYYTYYYYYYTOUROUROUOUROUROUROUROUROUROUOUROUROOUROOOOROURONENENENEENENENENEENEENEENNENNNENEAREARERAREARAREAREARAARST ST STST STCERCERCERCERCERERCERRVUSVUSVUSVUSVUVUSVUSSSUSSULOLOLOLOLOOLOOLOLOOLOLOCATCATCATCATCATCATCATCATCATCCACACATCATCATTIONIONIONIONNIONIONIONNIONIONIONIONREDRREDREDREDREDDDEDEEDEDEDERER ERREREE• •BBROBROBOKSOKSOKSKSKSOO••BASBASBSANSANSSO •O HIHHIGH GH GHGHHRIVRIVRIVRIVER ERER • VVV••V•VULCULULCULULULUULCUUANANANANNANANANAACLACCLACLALALAACRESRERESRESRRRRRHOLHOLHHOHOHM •MM•PIPIPNCHNCHER ERERRCRERECREREREEEK EK EKKK• C• C•C•CRESRERESSRESTONONOONTONTONTONNCALCALCALCALCALL TL TL TLTLOLLOLLOLLOLLOLLLFRFRFRFRFREE:EEEE:EEEE:EE:EEE1-1-1-11-1-88888888888888-25-25-25-25-252525257-17-17-177-17--124924924924949492492492OR OROOROR OR OR CONCONCONCONCONONCONNTACTACTACTACTACTACT YT YT YT YTYTTOUROUROUROUROUROONENENENENAREAREAREAREAREST ST ST STTCERCERCERCERRCERCERCEREVUSVUSVUSVUSVUSVUVVULOLOLOLOLOLOLOLOOCATCATCATCATCATCATATCATCCATAIONIONONONONIONIONONNONONONOIIwith our high quality pre-owned equipment2014 JD 569, Stk: 89688, Count: 12350, Twine/Net Wrap, Hyd Lift, Mega-Wide Pick Up .............PINCHER CREEK, AB$42,5002018 Krone Big M 420CRI, Stk: 104657, 156 Hrs, 415 hp, 30' Triple Moco, Circle C Conditioner, Rollers, Full GPS. . . . CRESTON, BC2014 JD 835, Stk: 104214, Impeller Conditioner, Clevis Hitch, Tilt Ctrl, Narrow Turn Limiters, 3Lx13.5 Tires . . . . . . . . . . . . . . . .PINCHER CREEK, AB2011 JD 3520, Stk 105344, 366 Hrs, 37 hp, 300CX Loader, Rake, Rough Cut Mower, 6' Disc, Wood Chipper, Landscape Rake . .PONOKA, AB2015 JD L340, Stk: 100887, Bales: 20000, 3'x4' Large Square Baler w/ VS1202 3 Vertical Stack Accumulator, Roller Chute ......BROOKS, AB2014 JD 635, Stk: 86296, Urethane Conditioner, Clevis Hitch, Hydraulic Tilt, 31.5 x 13.5 Tires, Very Clean ................ OLDS, AB2002 JD 6420, Stk: 102703, 6636 Hrs, 110 hp, 24/24 PowerReverser, 640 Loader/Grapple, Standard Cab .......RED DEER, AB2006 JD 8130, Stk: 105991, 4050 Hrs, 180 hp, 620/70R42 & 600/70R42, 4 SCV, 3 Pt, AutoTrac Ready ................OLDS, AB2012 JD 348, Serial: 80932, Square Baler, Very Clean, HD Cat 5 Driveline, Hyd Pickup, Side Drop Bale Chute, Multi-lube. . . . . CRESTON, BC2015 KUBOTA B2620, Stk: 97074, 180 Hrs, 26 hp, Hydro Trans, Mid-Mount Mower Deck, 72" Box Blade. . HANNA, AB$349,900$22,900$50,5002000 JD 705, Stk: 105595, Hyd Basket Rake, Up to 23' Adjustable Width, Hyd Flow Rate is 8 GPM . . PINCHER CREEK, AB$13,900$110,750$144,900$25,000$11,000$142,700$32,500$69,4002015 JD 6145M, Stk: 106242, 3300 Hrs, PowerQuad Plus Trans, 3 SCV, Cold Start Package, ISObus/Green Star Ready ..........PONOKA, AB
Page 42
COUNTRY LIFE IN BC • JUNE 201942Celebrate dads!The spinach, ginger and teriyaki in this makes for a particularly tasty and moist burger, almost like aslice of meatloaf between the bun halves. Dad will love it.1 tbsp. (15 ml) nely chopped fresh ginger1 medium onion2 cloves garlic drizzle of oil1 lb. (454 g) lean ground beef 1 egg1/4 c. (60 ml) oat bran 1 tbsp. (15 ml) teriyaki sauce1/4 tsp. (1 ml) salt 1/2 tsp. (2 ml) pepper1 c. (500 ml) chopped fresh spinach• Pre-heat oven to 350° F.• Finely chop fresh ginger. Chop onion and mince garlic.• Saute ginger and onion in a pan with a drizzle of oil over medium heat and stir until onion istranslucent. Add garlic and cook for a minute or two longer. Remove from heat and cool.• Add ground beef to a bowl and beat in the egg, then the remaining ingredients. (You couldsubstitute dry bread crumbs for the oat bran.) If using fresh spinach, chop it and wilt it rst,either in the pan with the onions, or separately, in the microwave.• Add the cooled onion mixture, the chopped, wilted spinach and combine well with the meat.• Form into patties to t your buns and barbecue or pan-fry until just done.• Makes 4 or 5 burgers.If you like Italian dishes, you'll love this. Even if you aren't a big fan of Italian food, you'll love it. Witha green salad on the side, it's a complete meal. Garlic bread is nice with it too. You could make thisusing veal scallops instead of ground chicken patties.Patties:1 small onion 1 small garlic clove1 lb. (454 g) ground chicken 1 egg1/4 c. (60 g) oat bran or crumbs 2 tsp. (10 ml) fresh basil1 tsp. (5 ml) dried oregano 1/2 tsp. (3 ml) dried thyme1/4 tsp. (1 ml) lemon zest salt and pepper, to taste1 1/2 -2 c. (375-500 ml) thick tomato sauceTopping:1 c. (250 ml) mozzarella cheese 1/4 c. (60 ml) Grana Padano or Romano cheesefresh basil leaves, to garnish• Pre-heat oven to 350° F.• Mince onion and garlic and combine with ground chicken, beaten egg, oat bran or dry breadcrumbs, herbs, spices and lemon zest.• Form into oval patties and brown in a drizzle of oil in a medium-hot frypan. Do not overcook.• Make a tomato sauce with onion, garlic, tomatoes, celery, herbs and spices, or use a preparedone to spread in the bottom of a shallow casserole dish. You may reserve a few spoonfuls totop the patties with.• Arrange the chicken patties on top of the sauce and top each with the two cheeses. You maywish to top each with a spoonful of sauce as well.• Bake for about a half hour and garnish with fresh basil leaves when serving.• Makes 4-6 patties.SPINACH & TERIYAKI BEEF BURGERSCHICKEN PARMIGIANAViva l'Italia! This Chicken Parmigiana is sure to please Dad on his special day! JUDIE STEEVES PHOTOFather's Day is a day full of memories for many adults, as wellas being a day for making memories. It doesn't matter whetheryou celebrate the day with your own father, your grandfather,or your favourite dad – whether he's your husband, brother,your lover or a friend. Celebrate fatherhood and theimportance of a fatherly gure in the lives of children, youngand old.Food is a constanttheme in celebrations,so consider yourfavourite dad'sfavourite foods. Beefhas always been topof the list with thedads in my life, so here's a terric recipe for a new take on anold sandwich, the hamburger.As well, I usually think of hearty tomato sauce when I thinkof dad dishes, so here's an updated take on a traditional Italiandish, Veal Parmigiana, but this time I made it with delicately-seasoned ground chicken meat.June must be chock-a-block with wedding anniversaries,too, since it's a favoured month for weddings and often themilestone ones are celebrated with a big family meal or agathering of the wedding party several decades later!As June draws to a close, we'll be thinking of celebratingCanada Day, and both these recipes would suit for July 1 aswell. Since tomato sauce is red and chicken is white, you've gotthe colours of the Canadian ag in the one dish, and the otheris perfect for a celebration centred around the barbecue.Both can be mostly prepared ahead of time, ready tocomplete just before everyone sits down to eat.I really try to come up with meals for company that don'tinvolve a lot of last-minute eort so that I can enjoy the party,too.Often it's perfectly appropriate to encourage your guests tocontribute an appie, a salad or a dessert, which really lightensthe load on the host and hostess when you're inviting a crowdto join you to celebrate an occasion.So remember to do your prep ahead of time and plan ameal that allows you to enjoy your guests, whether they'refamily or friends.Happy Canada Day, anniversary or Father's Day!Jude's KitchenJUDIE STEEVESMAIL TO36 Dale RoadEnderby, BC V0E 1V4subscriptions@countrylifeinbc.comNEWS & INFORMATION YOU NEED!SUBSCRIBE!Don't miss a single issue of Country Life in BC!CREDIT CARD # _________________________________________ EXP _______________oNEW oRENEWAL | oONE YEAR ($18.90) oTWO YEARS ($33.60) oTHREE YEARS ($37.80) NameAddressCityPostal CodePhone Email
Page 43
COUNTRY LIFE IN BC • JUNE 2019 43NEW/USED EQUIPMENTSEEDNEW/USED EQUIPMENTNEW/USED EQUIPMENTFOR SALEFOR SALEDeBOER'S USEDTRACTORS & EQUIPMENTGRINDROD, BCCountry Life in BCMARKETPLACEBook your ad by email:classifieds@countrylifeinbc.comOr call604-328-3814BILLAWMACK1-888-770-7333LOOKINGFOR WORK?agri-jobs.caCOURTENAY HEREFORDS. Cattle forSale: yearling bulls and bred heifers.John 250/334-3252 or Johnny 250-218-2537.PUREBRED NORTH COUNTRYCHEVIOT breeding stock. We have lotsof ram and ewe lambs available.Watch for us at the All Canada Classicin Humboldt July 18-21. Raven HillMeadows 250.722.1882 Nanaimo LINE ADS25 words or less, minimum $12.50 plus GST Each additional word: $0.25DISPLAY CLASSIFIED $22.50 plus GST per column inchDEADLINE for the JULY edition:JUNE 21We accept major credit cards!Feeders & Panelsthat maintaintheir value!ROUND BALE FEEDERSBIG SQUARE BALE FEEDERSFENCE PANELSCATTLE & HORSE FEEDERSHeavy duty oil field pipe bale feeders. Feed savers, single round bale feedersoutside measurement is 8'x8.5.' Double round bale feedermeasurement is 15'x8'. Silage bunk feeders. For product pictures, check out Double Delichte Stables on FacebookDan 250/308-9218 ColdstreamHAY/ FORAGE and SPRAY Equipment• KUHN FC300G Disc Mower Conditioner, 10', low acres, $11,900• JD 467 Square Baler, low bale use,1/4 turn shout, $9200• JD 670 Rake, wheel drive draw-barpull, $1800• NH 258 and 260 with tow bar V-Rake combo, $5900• NH 1033 Bale Wagon, 104 baleClean Condition, $5900• VICON Wheel Rakes, 4 to 8 wheeldraw-bar and 3PH, $350 to $1350• VICON LS 1910 TM Truck MountField Sprayer,400 Gal, 50' boom,Honda powered, $3600• BLANCHARD-HARMON AFS AutoFold Field Sprayer tractor pull, 833Imp Gal tank, 70' boom, $7500• SPRAY-COUPE SRAYER, self propelled 3 wheeler with tow bar,VW powered, $4600.• IH SIDE-DRESSER, 4 Row, 3ph,wheel driven, granular hoppers,$1850• NH 307 V-Bottom Manure Spreader,tandem, flotation tires, $6200• JIFFY/CRAWFORD 14' High DumpWagons, $2750 and $6750• NH, JD, GEHL, IH, Hesston, 1 to 8row Corn Heads, also Grass Headsand Harvesters.Feel free to call for anyUNIQUE Items or Parts.ABBOTSFORD / Jim at 604-852-6148Monthly Directors MeetingsAnnual General Meeting, AprilContact Bryansmithers@hotmail.ca smithersfarmersinstitute.com Looking for an organic mineral supplement? Balanced and natural, kelp is a great supplement for horses, cattle, sheep and goats AND its organic! $60 for 25lbs. To order call: (250)-838-6684 Located in Enderby, B.C. FENCE BETTER, FASTER, SAFER power fence staplersGripple wire connectorsGallagher Animal Management SystemsEZG fence & concrete installation equipmentPost drivers, fence tools, steel post ties, ring fasteners and moreFencefast.ca778-888-4355Fencefast.ca778-888-4355LOWER MAINLANDSHEEP PRODUCERS ASSOCMeetings first Thursday of every month(excluding July/Aug) at 7:30 St GeorgeAnglican Church, Fort Langleywww.lmspa.ca6", 5" & 4" MAIN LINES, 2"&3" HANDLINES (40'lengths) $1/ft any size.Please call for details and pricing 250-765-2429 KelownaEQUIPMENT DISPERSAL1949 MCCORMICK WD6 restored,$4,500BRAEBER 12'ft cast HD chain harrowas new $1,400CLAAS VOLTO 741 3pt hyd fold 24'Tedder $7,500 NH 1431 1$4,3 ft center pivot discmower roller condition $12,000 FELLA 631 double rake, 20 foot$5,500 NH 320 BALER Hyd tension, $6,250TRIOLET 1600-2SL 2016 twin screwmixer wagon, 570 cu ft, as new,$59,000NH 824 2 row cornhead. Will fit allNH. Have FP230 adapter kit available.7' SCRAPER blade, choice $200-$500LOEWEN 23' agitator, good condition,$1,500KVERNELAND 4 bottom plow, c/wskimmers, $3,500TONY 604-850-4718LIVESTOCKSMALL-SCALE MEATPRODUCERS ASSOCIATIONBC farmers & ranchers raising meatoutside the conventional systemJOIN US!www.smallscalemeat.caJD 1219 MOCO 6,500JD 2130 W/LDR 14,500JD 2750 MFWD, CAB, LDR 29,000FLEXI-COIL PD27 POST POUNDER3 PT SOLD!JD7600 MFWD 45,000JD 7420 MFWD, W/LDR, 1,600 HRS CALL FOR PRICEJD 7400 MFWD3 PT, LDR, NEW TIRES 65,000JD 6300 MFWD, CAB, LDR 47,000JD 230 24' DBL FOLD DISK 16,500ED DEBOER250/838-7362 cell 250/833-6699CURT DEBOER250/838-9612 cell 250/804-6147NEW POLYETHYLENE TANKSof allshapes & sizes for septic and waterstorage. Ideal for irrigation,hydroponics, washdown, lazy wells,rain water, truck box, fertizilizer mixing& spraying. Call 1-800-661-4473 forclosest distributor. Manufactured inDelta by Premier Plastics Inc.premierplastics.com. SPORTSMAN INCUBATOR Model1266 w/3 settings & turning trays.Trays hatch quail to ostrich-size eggs.SPORTSMAN haterchery w/5 trays.$1500 ea. 250-267-82412012 FREIGHTLINER M2 Businessclass, 24' flatbed, Cummins diesel,immaculate. Too many features to list.Call for details $65,000 obo; 20' KOMFORT travel trailer, very cleancondition, $3,500; two 12 ft DISCHARROWS, field ready, $2,500 ea; 3 ptfolding CHAIN HARROW, $2,250 obo;large potato harvester converted toROCK PICKER, works great, $3,500;large number of large TRUCK TIRES,new and used, aluminum rims forsemis, $2,000 for all 604-541-0344Vtw|ÄÄtv etÇv{REGISTERED BLACK ANGUSYEARLING BULLSGEORGE OR MAGGIE 250-372-9721— KAMLOOPS —Toll Free 1-888-357-0011www.ultra-kelp.comREGISTRATION NO. 990134 FEEDS ACT60 MINERALS 12 VITAMINS 21 AMINO ACIDSTHANK YOU FOR 34 YEARS SERVINGWESTERN CANADIAN AGRICULUREFLACK'S BAKERVIEW KELP PRODUCTS INCPritchard, BC (est. 1985)WEB HOSTINGProfessional Local Web Hosting ServicesPROUD HOST OFwww .countrylifeinbc.comwebsitehosting.caFarm Equipment For Sale (Courtenay)4186 INTERNATIONAL tractor, 150 HP,1,000 PTO, 4 wheel drive, 4 wheelsteering, low hours $9,000; 2 - 892NEW HOLLAND forage harvesters withgrass head and corn head, workingmetal alert $2,500 for both;GILMORE- TATGE 12 foot high dump,good condition, $4,000; 2 olderSILAGE CATCH WAGONS 1 rear un-loading, 1 side and rear unloading$1,500 each; ROBO ROCK PICKER(new) (check it out on YouTube)$5,000. Allen 250-334-7848KVERNELAND sod plows, 2 & 3 bottom, 3 PT hitch; LEON rock picker,very good, $4,000; VICON one ton fertilizer spreader on wheels, $4,500;NH 320 BALER, very good, oneowner; All equipment field ready; delivery available. 250-567-2607Full blood LOWLINE breeding stock:bulls, bred cows & heifers. SilverhillsLowlines, Lumby, 250-547-6465; littlecow@telus.net2-JD 3970 choppers, $3,000 each; TYCROP hi-dump, red, 14 ft. $2,500;BAUER RainStar irrigation reel, 1,000ft, 4 in. hose. $4,000; IH SILAGETRUCK, 1991, Artex box, $18,000;TAYLOR 525T vertical mixer wagon,$15,000; Vancouver Island. Ken 250-337-2376; 250-218-9868COMMUNITYEMPLOYMENTREAL ESTATEJeff McCallum• ROLLANT 250 roto cut 4x4 softcore round baler,chopper and netwrap, $10,000• TAARUP 338 trailed mower cond., flail conditioner, $7,500• MCHALE HS 2000 bale wrapper,$20,000ALL EQUIPMENT LOCATED IN NANAIMO250-616-6427 | jeffmc@shaw.caUsed SUNSET 200 Gallon stainlesssteel milk cooler and automatic milking system. Was previously usedto run a commercial Dairy Goat Farmand commercial milk shipping. Includes all components. $3,000 obo.Please contact 604-533-0562 for details or victorj@telus.net.Don Gilowski 250-260-0828Royal LePageDowntown Realty LtdTHINKING OF BUYING OKANAGANFARM, ORCHARD, RANCH, LAND? FARM EQUIPMENTDISPERSALCase IH MX 255 4500 hrs $75,000AG-Chem Fert Spreader $22,00016 Ft Maschio Powerharrow $14,500Kverneland EM 100 5-Bottom Plow$16,000Krause Disc Ripper 14 FT $14,000604-760-9563SCREENER, good for gravel, dirt, fieldcleanup. Frame 5' w x 9' l. Hopper6'9". 2 screen decks. Gas engine. Ad-justable height. Productive output.New condition. $3,600. Abbotsford.604-855-36507 acres used BIRD CONTROL netting.Good cond. $2,000 obo. 604-794-3383HI-HOG Cattle Handling system.Squeeze, chute, crowding tub. Likenew, $12,500. 250-838-0649
Page 44
COUNTRY LIFE IN BC • JUNE 201944kubota.ca | Kubota's family of hay tools—more power, better design and outstanding efficiency just when you need it the most.ProudPartner ofYour BC Kubota Dealers ...ABBOTSFORD AVENUE MACHINERY CORP 604/864-2665 COURTENAY NORTH ISLAND TRACTOR 250/334-0801 CRESTON KEMLEE EQUIPMENT LTD 250/428-2254DAWSON CREEK DOUGLAS LAKE EQUIPMENT 250/782-5281DUNCAN ISLAND TRACTOR & SUPPLY LTD 250/746-1755 KAMLOOPS DOUGLAS LAKE EQUIPMENT 250/851-2044KELOWNA AVENUE MACHINERY CORP 250/769-8700 OLIVER GERARD'S EQUIPMENT LTD 250/498-2524PRINCE GEORGE HUBER EQUIPMENT 250/560-5431 QUESNEL DOUGLAS LAKE EQUIPMENT 250/991-0406 VERNON AVENUE MACHINERY CORP 250/545-3355