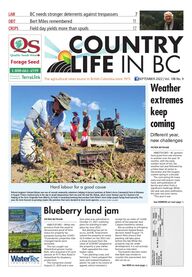 Return to flip book view
CLBC September 2022
Page 1
Postmaster, Please return Undeliverable labels to: Country Life in BC 36 Dale Road Enderby, BC V0E 1V4CANADA POSTES POST CANADA Postage paid Port payé Publications Mail Post-Publications 40012122Vol. 108 No. 9The agricultural news source in British Columbia since 1915 SEPTEMBER 2022 | Vol. 108 No. 9LAW BC needs stronger deterrents against trespassers 7 OBIT Bert Miles remembered 11 CROPS Field day yields more than spuds 17PETER MITHAM ABBOTSFORD – When the province froze the need to demonstrate proof of farm status for property tax purposes during the COVID-19 pandemic, properties that changed hands were excluded. This has caught out Abbotsford grower Gurtej Bath, who acquired a 9.5-acre pasture at 4115 Ross Road in Abbotsford for blueberry production. The transaction closed August 27, 2020 and a new farm plan was submitted in October 31, 2021 outlining plans for planting to take place by June 2022. But planting has yet to occur, and BC Assessment valued the property at nearly $2.9 million on the 2022 roll – a sharp increase from the value of $239,847 assigned to the property a year earlier. Bath appealed the new, higher value. "I am planting crops and farming it. I have prepped the land, and ordered blueberry plants," he said in his notice of appeal, which included a receipt for an order of 12,600 plants of the popular new Calypso blueberry variety. But according to a Property Assessment Appeal Board decision dated August 19, there's little chance that planting will take place before this fall. While the property may be under development, it is not actively farmed as intended. The board's decision notes that Bath was invited to counter this assessment, but did not do so. Retired engineer Graham Balzun was one of several community volunteers helping to harvest potatoes at Helen's Acres Community Farm in Kelowna in August. Pickers worked early in the day to avoid temperatures that rose into the mid-30s. Balzan, who's never farmed, says he's learned a lot helping at the farm. Originally from Alberta, he nds it rewarding knowing that produce from Helen's Acres helps people facing food insecurity. This year, the farm focused on growing staples like potatoes that were donated to local social agencies. MYRNA STARK LEADERBlueberry land jamSee NEW on next page oPETER MITHAM ABBOTSFORD – BC growers have gone from one extreme to another over the past 18 months, with the early, sudden onset of hot, dry weather last year followed by a bitter blast of winter in December and the longest, coolest spring in a decade. The cool spring hit many early and mid-season crops hard, with pollination of berries and other fruits a signicant challenge. While last year saw poor pollination, this year was even worse. "This year it was See FARMERS on next page oWeather extremes keep comingDifferent year, new challengesHard labour for a good causeForage Seed1-800-661-4559Produced by & available at
Page 2
NEW owner, new value nfrom pg 1FARMERS, crops adapting to unusual growing season nfrom page 12 | SEPTEMBER 2022 COUNTRY LIFE IN BCAs such, the decision by Kenneth Thornicroft upheld the higher value of $2.9 million. "While the Appellant has taken some concrete steps to establish a viable blueberry farm ... these steps fell short of meeting the strict regulatory requirements to have the land classied as a developing farm for the 2022 assessment year," the decision states. signicantly worse in my opinion. And as I'm harvesting my crops I'm denitely seeing it in my yields," says Jason Smith, a blueberry grower on Matsqui Prairie in Abbotsford. "A lot of the mid-season stu – the Bluecrop, Eureka, the Draper – those kinds of varieties, the crop was pretty light." While growers of some crops welcomed rain early in the season, it compounded the lingering eects of last fall's ooding in Abbotsford. The water table in Matsqui stayed high thanks to the abundant moisture, stressing Smith's plants. "Plants seem stressed out. There was way more root rot out there in generally healthy elds," he said. "Areas that you don't typically or maybe never have seen root rot, you're seeing root rot." While there are plenty of blueberries available this year, and quality seems to have measured up, the nal tally is tough to predict. Duke, for example, exceeded expectations despite a challenging outlook at pollination. Meanwhile, new plantings of Calypso – a variety growers have embraced as an alternative to Bluecrop and other mid-season varieties – are coming onstream. The variety is new to BC and yields are tough to gauge at this point. "Some varieties are down, other varieties did better than we thought, and with all this new acreage coming online of Calypso, it could even itself all out," says Smith. "But we're denitely not at the 200-plus million pounds where we should be." Shorter season Similar to mid-season blueberries, many other mid-season and fall crops have been squeezed by a shorter growing season. "The summer heat has certainly bunched together many summer vegetable plantings like sweet corn, which has made for a challenge," says Murray Driediger, president and CEO of BC Fresh in Delta. "Those growers with robust irrigation systems will be better o than others who may not have as much access to water." The dry weather is a concern for Dave Khakh of KBF Farms on No. 3 Road in Abbotsford. The farm was impacted by last fall's ooding and faced a massive clean up of its elds and buildings before planting could take place this spring. "We're still trying to clean up after that," he says. "We managed to clean most of that so we got the crops in, but the buildings and stu like that – there's just so much work, it just never ends." But the waves of high temperatures that began in July delivered a hit to its sweet corn and other vegetables. "We lost some of the cornelds because they all matured pretty fast," he says. "That's hard. We need some rain now, but it doesn't look like we're going to get much." Other growers are hoping for a long, dry fall so crops can be harvested at full maturity and perennial crops can prepare for the winter ahead. Storage crops such as potatoes are sizing up nicely despite the late start, for example, but the success of the crop hinges on good weather this fall. The current outlook calls for dry weather through mid-September, though the outlook is tough to gauge. "We are still hopeful despite the late plantings this year that we may get close to an average crop this year on many of our storage commodities," Driediger says. No shortage of hay Meanwhile, rst-cut hay was lush but the delay in mowing meant it came in overripe. Second cut, with less time to grow, was of better quality. North Okanagan grower Ed DeBoer says the abundance of over-ripe rst-cut hay pushed prices into the $225 a ton range, while rare top-quality hay was fetching upwards of $400 a ton. Second-cut hay is closer to $275 a ton. The shorter growing window meant additional cuts were limited, but few regions are short of hay this year. "We've got bumper crops, the whole year through," says Bryce Rashleigh of Saanichton Farms, just north of Victoria. "I'm not aware of anybody being short of feed in BC." This is a turnaround from last year, when Rashleigh was organizing shipments of hay from Vancouver Island to the Interior and beyond, an initiative that attracted provincial support and helped ll a critical need on BC ranches. This year, steady rain until early summer put planting three weeks behind but Rashleigh said the crops sorted themselves out, adjusted and delivered good yields when heat arrived in July. "It's been absolutely amazing that we've been able to do what we do with everything being three weeks late," he says. "We've had a tremendous late summer here with the drought. It's actually been in our favour." Rashleigh completed his hay harvest by the fourth week of August and was expecting to nish his grain harvest by Labour Day. It's a dierent situation for corn growers across the province, who have pinned hopes on a long dry fall. "They were super late getting in. Did they have enough time to do what they do?" asks Rashleigh. "This is what we don't know yet." Drought levels across the province have been kept in check this year by high moisture levels, the result of an above-average snowpack and cool spring that delayed melt. However, the province raised Vancouver Island's drought rating to Level 3 on August 27, underscoring what has become an annual concern for the region. "People in aected areas are asked to reduce their water use wherever possible," the province said in announcing the change. "In areas where voluntary water reduction has already been implemented, it has helped to slow down the intensication of drought conditions and the need for regulatory action. It warned that temporary protection orders could be implemented if water conservation measures proved insucient to maintain streamows. "Provincial sta are monitoring the situation and working to balance water use with environmental ow needs," it said. The province has also reiterated the wildre risks are likely to remain elevated through September, portending chances for the warm, dry fall many growers want to see. Patrick is an experienced portfolio manager that brings a focused 昀nancial and estate planning team to clients to ensure the best and most effective investment decisions are made now and in the future. The RBC Wealth Management investment and planning program provides income security and tax minimization in the context of a holistic 昀nancial plan and road map for each client.www.tractorparts4sale.caABBOTSFORD, BC Bus. 604/807-2391 email: tractorparts4sale@shaw.caWe accept Interact, Visa and Mastercard BRILLION CULTIPACKER 14 FT WIDE, GOOD CONDITION . . . . . . . 6,500 FORD 7000 2WD OPEN ST 83HP 540 PTO GD COND . . . . . . . . . . . 7,000 VICON PS602 FERTILIZER SPREADER, 3 PT, 1,000 KG CAPACITY . . 2,200 MASHIO CM4500 14' PWR HARROW W/ROLLER GD COND. . . . 14,000 FELLA TS1601 ROTARY RAKE, 3 PT HITCH, TWIN ROTOR, 25 FT WORKING WIDTH, GOOD CONDITION . . . . . . . . . . . . . . . . 17,500 YANMAR FX42D 2WD OPEN STATION, 42HP PSHIFT TRANS, 4 SPEED PTO. 2961 HRS. . . . . . . . . . . . . . . . . . . . . . . . . . . . . . . . . . . 6,500 NH 256 ROLLARBAR 10 FT SIDE DELIVERY RAKE, GROUND DRIVEN, PULL TYPE, GOOD CONDITION . . . . . . . . . . . . . . . . . . . . . . . . . . . . . 3,200 JOHN DEERE HD BALE CONVEYOR 40FT ON ADJ FRAME WITH AXLE, PTO DRIVEN . . . . . . . . . . . . . . . . . . . . . . . . . . . . . . . . . . . . . . . . . . . . 1,200 NEW REPLACEMENT PARTS for MOST TRACTORS & FARM IMPLEMENTSGD Repair LtdTractor/Equipment Repair Mobile Service Available"It's been absolutely amazing that we've been able to do what we do with everything being three weeks late." BRYCE RASHLEIGH, SAANICHTON FARMS
Page 3
COUNTRY LIFE IN BC SEPTEMBER 2022 | 3It's hard to imagine business as usual when a wildre is nipping at your doorstep, but cows need to be fed this winter and forage needs to be cut. The re came close but did not directly impact Clifton Ranch in Keremeos. FACEBOOKCool weather improves wildfire response Southern Interior the most active in terms of ranch impactsKATE AYERS & PETER MITHAM PENTICTON – Wildfires in the area between the Okanagan and Similkameen valleys have shaped up as the biggest direct threat to BC ranchers this summer, with many still on edge after last year's intense, wind-driven fires with lengthy perimeters. The Keremeos Creek wildfire 21 kilometres southwest of Penticton, the largest blaze in the province outside the Northwest at 17,401 acres, was among 322 fires recorded in the Kamloops fire centre this year. Kamloops is the most active area for wildfires this season, accounting for more than a quarter of the 1,242 reported fires. Total area burned as of deadline was just short of 97,500 acres – a fraction of the millions of acres burned in recent years. But for Wade Clifton of Clifton Ranch, located north of Keremeos off Highway 3A, the Keremeos Creek fire was a stark reminder of the danger ranchers face each summer. While the fire kept its distance from his property, it was thanks largely to a backburn crews lit on the Olalla Creek Forest Service Road on August 11. "We were really nervous about the ash because we thought it was going to come down on us. In the end, it never really got here," Clifton says. Concerted efforts to smooth relationships between provincial first-responders and ranchers have improved firefighting efforts, and Clifton praised the BC Wildfire service crews. "They did a very good job on our end when they got here," Clifton says of the fire crews in his area. While a cooler season and higher moisture have helped limit fire risks this year, a more collaborative approach between landowners and BC Wildfire Service crews has also helped incident management teams keep ahead of the fires. "The teamwork that we're seeing between the BC Wildfire Service, ranchers, loggers, First Nations – it's fantastic," says Norene Parke, rancher liaison manager with the BC Cattlemen's Association. "We haven't had near the devastation that we had last year, for sure." Rancher liaisons, an initiative that debuted last year, has helped. The first year of the program saw 13 people tapped to give rancher input to the incident management teams. But liaisons were quickly overwhelmed by the number and intensity of the fires and the sheer volume of cattle and livestock involved. The rancher liaison for the McKay Creek fire, Parke urged BC Cattlemen's to have a dedicated manager overseeing the program. A former superintendent for the BC Ambulance Service, she was asked to step into the role. Over the winter, she drafted a manual for rancher liaisons distributed to the 42 individuals tapped to be on standby this year in case of wildfires. "The rancher liaisons were much better prepared in their role this year," she says. "This year, there was a clear expectation as to what was going to happen." Communications have also improved, thanks in part to an app that allows ranchers and others to quickly report fires as they happen. "They're being reported quicker," Parke says. "The incident management teams have actioned them quickly and they haven't grown to any size." She says many ranchers report that crews are arriving within 15 minutes to extinguish the fires. The result is that just four rancher liaisons have been activated this year, primarily in the Kamloops fire centre. The exception is for the Connell complex, a 7,000-acre fire in the Kootenays. While this year's fires have been less devastating, not all ranchers have been as lucky as the Cliftons. The wildfires south of Penticton have claimed residences and ranch infrastructure, one of three in the region to cause property damage. We can prepare your elds for spring seeding call today to consult and plan with Herbert! Herbert Rothenbacher1672 Chase Falkland Rd. Chase, BCWe can prepare your elds for spring seeding call today to consult and plan with Herbert! 1.800.282.7856 Find out more at terraseco.comFiXaTion CloverFrosty CloverCrimson CloverDC Red CloverHybrid CloverNEW eNhance CloverFiXaTion CloverFrosty CloverCrimson CloverDC Red CloverHybrid CloverNEW eNhance CloverTerra Seed Corp GROW YOUR OWN NITROGEN
Page 4
Advertising is accepted on the condition that in the event of a typographical error, that portion of the advertising space occupied by the erroneous item, together with reasonable allowance for signature will not be charged, but the balance of the advertisement will be paid for at the applicable rate. In the event of a typographical error which advertises goods or services at a wrong price, such goods or services need not be sold at the advertised price. Advertising is an offer to sell, and may be withdrawn at any time. All advertising is accepted subject to publisher's approval. All of Country Life in British Columbia's content is covered by Canadian copyright law. Opinions expressed in signed articles are those of the writer and not necessarily those of Country Life in British Columbia. Letters are welcome, though they may be edited in the interest of brevity before publication. All errors brought to our attention will be corrected.36 Dale Road, Enderby BC V0E 1V4 . Publication Mail Agreement: 0399159 . GST Reg. No. 86878 7375 . Subscriptions: $2/issue . $18.90/year . $33.60/2 years . $37.80/3 years incl GSTThe agricultural news source in British Columbia since 1915 Vol.108 No. 9 . SEPTEMBER 2022Published monthly by Country Life 2000 Ltd. www.countrylifeinbc.comPublisher Cathy Glover 604-328-3814 . publisher@countrylifeinbc.com Editor Emeritus David Schmidt Associate Editor Peter Mitham news@countrylifeinbc.com Advertising Sales & Marketing Cathy Glover sales@countrylifeinbc.com Production Designer Tina Rezansoff Chill, PWThe really big trees on our farm were long gone when we arrived in 1980. Most of them were logged in the 1930s but there were still acres of enormous stumps to attest to their size and numbers. Fifty years after the trees were gone, some of those stumps could still stop a D-8 Caterpillar dead in its tracks. The loggers did a thorough job, but they passed up one of the cedars, for obvious reason. It was growing on a pronounced slant and though it had the general appearance of a mature tree, its top was missing and it was only 18 inches in diameter three feet above the ground. When it was felled during the last bit of land clearing in 1997, its history unfolded. A count of the annual rings indicated it was 225 years old. Not a notable age or size for Western Red Cedars that can grow for two millennia and measure nearly 20 feet in diameter, but venerable none the less for one of such modest size. We saved a round from the bottom of the trunk. It tells an interesting story beginning in 1772, before the American Revolution, and before Captain James Cook set sight on Vancouver Island. The tree rings show a seedling struggling to survive in the understory of a mature Coastal rainforest. It took 115 years to reach seven inches in diameter. Then something catastrophic wounded the tree and knocked it out of plumb. Probably the demise of a tree nearby, crashing to earth, and leaving a hole full of sunlight in the canopy. Rings on the cedar that can barely be counted with the naked eye are suddenly an eighth of an inch wide and the perfectly round conguration immediately becomes oval as the tree restructures its growth to compensate for the new lean. All is well for the next 20 years until fast-growing maple trees rob the cedar of precious sunlight and the rings shrink again. Despite the diculties, the durable little cedar lasted 225 years and though there is another generation of younger and taller cedars growing not far from where the veteran stood, 225 years may not be in the cards for them. Those younger trees, like the old ones before them, have survived dry spells, windstorms, ood waters, freezes and heavy snowfalls. But until 2021, it is unlikely any of them – living or dead – ever experienced days on end of temperatures over 40°C. The 2021 heat dome event took a visible toll on several tree species. Most notably, big leaf maple, black cottonwood, red alder and Western red cedar. The maple, cottonwood and alder are deciduous and are all relatively short-lived. It is common for mature trees to die. That so many are simultaneously in sharp decline is concerning. The maples seem especially vulnerable. Most of the mature maples here now have dead crowns and are shedding dead branches. Younger trees appear healthy but across all ages the big leaves that gave the tree its name have become noticeably smaller. On some of the mature trees they are tiny. Healthy, mature cottonwoods are notorious for shedding branches, but the dead crowns are a sure sign all is not well there, either. The Western red cedar is coniferous and is extremely long lived. The oldest cedar trees here are likely less than 100 years old but even in their relative youth many are displaying desiccated bough tip foliage. In late July, another heat wave broke temperature records across the South Coast. On July 26, Squamish saw 37.1°, nearly six degrees higher than the previous record. Both Hope and Port Alberni saw temperatures nearing 38°. The heat dome event of 2021 was responsible for more than 600 human deaths, it killed billions of intertidal marine organisms and caused obvious stress to the coastal temperate rainforest. A second consecutive summer of record setting heat is worrisome. The coastal temperate rainforest environment as we know it is unlikely to survive ongoing hot temperatures. What it becomes, and how it changes, is a burning question. The answer could leave all of us high and dry. Bob Collins raises beef cattle and grows produce on his farm in the Alberni Valley. The Back 40 BOB COLLINSThe giant trees of our past are feeling the heatWe acknowledge the financial support of the Government of Canada.4 | SEPTEMBER 2022 COUNTRY LIFE IN BCThis year country"Next year country" is one of the epithets given to the Prairies, as well as wide swathes of the US West where summer weather has long had the power to devastate ripening crops. Powerful winds, days of sunshine and no rain as well as convection systems with torrential rains and hail have been among the various revenges the land has wrought on those trying to raise grains and other crops. But at the end of summer with fall approaching, many farmers are still in the midst of "this year country" – the inescapable present. This year has had its share of challenges for BC growers, but in many ways it's also been a respite from last year. Wildres have been mercifully few and drought ratings have stayed in check, seldom passing Level 2. A year ago, stream closures were in eect in many areas and parched elds were triggering hay donations to hard hit ranches in the province's Interior. Then the autumn rains came and washed out highways, disrupting pickups and gatherings just as normal social activities were resuming. This year has so far managed to avoid the devastation of last year, even as the impacts continue to be felt. The overall average temperature of the growing season has continued to rise with more intense heat events, giving growers good reason to be cautious about what the future holds. "The past is a foreign country; they do things dierently there," Leslie Hartley famously wrote, but the same thing could be said of next year and the years to come. Governments are funding projects to help growers prepare for what next year country has in store, but don't put it past Mother Nature to cancel some of the anticipated travel (or lose our baggage, forcing us to start fresh). Whatever the landscape ahead, most growers remain busily engaged with the present. The future is unwritten for growers who are doing their best to keep crops irrigated and animals healthy. While big-picture uncertainties have many adopting a wait-and-see stance, farmers are do-and-see people. They know that what they do now is the best chance for a happy ending when all's said and done. It's also a reminder that the future of the world hinges on local action. Taking care of where we're at is good for communities, and in turn the world as a whole. With their dependence on the land, farmers know those more than most. Whatever the weather brings, farmers in BC and elsewhere are doing their best to take care of their plot of land, their livestock and their communities. What they do is local action at its best, a reminder that the present is what matters most in the journey to the future.
Page 5
Agriculture is at an environmental crossroadBC's diverse farming sector has an important role to playCOUNTRY LIFE IN BC SEPTEMBER 2022 | 5territorial ministers stated that the rst priority for SCAP was "tackling climate change and environmental protection to support greenhouse gas emission reductions and the long-term vitality of the sector." They also highlighted the immense opportunity for farmer-led solutions to tackle climate change through substantial reductions in greenhouse gas (GHG) emissions. In February, Farmers for Climate Solutions (FCS), a national farmer-led coalition advocating to make agriculture part of the solution to climate change, submitted an evidence-based set of recommendations to promote the adoption of mitigative practices regarding nitrogen management, manure storage and handling, livestock management, soil management and wetland management. These solutions were well supported by organizations such as Organic BC. Many of the climate solutions included in FCS' recommendations outline farming methods that will improve land and crop quality, as well as reduce GHG emissions by the agriculture sector. We have seen this in practice at our nursery, Similkameen Nurseries Ltd., where we grow and supply a signicant amount of the fruit tree stock planted by orchardists, cideries and garden centres in BC and the rest of Canada. We have adopted an extensive cover-cropping program. The macro and micronutrient amendments, drainage and aeration, and soil biome that we benet from contributes in a real way to the quality of the fruit trees that we produce. Due to these benets, our feathered trees, which can grow up to 12 feet tall and over a half-inch in caliper in the two years we grow them prior to delivery, do not require a fall fertilizer application. Fall fertilizer applications prevent good dormancy in winter and compromise the tree. Fall fertilizers are also a major contributor to GHG emissions. In this way, there is a real intersection between benecial farming practices and the environmental services SCAP seeks to address and fund. Greater commitment The new framework demonstrates a greater commitment to agricultural emissions reductions. There is a real commitment to reduce national agricultural GHGs by three to ve megatonnes of carbon, with $500 million in new funding (a 25% increase from the current framework), of which $250 million goes to support carbon sequestration and adaptation as well as the renewed commitment to reduce emissions from nitrogen fertilizer by 30%. This recent announcement from the Canadian agriculture ministers is a great start, but it could be a little more ambitious. This is especially important because if FCS' plan is fully executed, it would provide the federal government with a cost-eective platform toward helping Canada achieve its emissions reductions targets. There is some concern that SCAP only partly captures the potential emissions reductions that Canadian farmers are capable of, a group that is increasingly confronted by the economic and climate risks that they are being asked to ght. BC farmers have a unique role to play in climate change mitigation and adaptation, and there is an exciting opportunity here for farmers to become involved in this process. In the coming months, as the BC government engages in bilateral negotiations, it will be important that they develop policies that reect the diverse needs of BC farms. Canada and BC can work towards meeting their emission reductions targets and build strong programs that support farmers to improve their operations. Our province has a long history of agricultural innovation, and with the support and funding that is accompanied by forward-looking policies, climate mitigation eorts can become standard farming practices. Josh Brown is a director of Organic BC and owns Similkameen Nurseries Ltd. in Cawston. The intersection between farming practice and environmental health gives farmers an opportunity to play a signicant role in both mitigating and adapting to a changing climate. BC has the most diverse farming sector in Canada, producing over 200 agricultural products across myriad geographies and climates which will require exible and adaptive policy solutions reecting the diversity of our farms. Farmers will also be greatly aected by the environmental consequences of not doing enough. In late July, Canadian agriculture ministers announced an agreement in principle for the next agricultural policy framework, which governs policy and spending in agriculture across the country for a ve-year period beginning April 1, 2023. The federal government is now negotiating with the provinces and territories to determine the types of funding and programs best suited for each region. The new framework will be known as the Sustainable Canadian Agricultural Partnership (SCAP). The name foregrounds the importance of environmental issues. In negotiations leading up to the July announcement, federal, provincial and Viewpoint by JOSH BROWNForage Seed1-800-661-4559Produced by & available atTerraLink Horticulture Inc. - the home of Richardson Seed, Western Canada's premier forage seed source - is excited to announce that Quality Seeds West has joined our company! This means that QSW Forage Seed is now available from TerraLink. The same excellent forage seed mixes that were developed by Quality Seeds West are now produced under the Richardson Seed umbrella, and TerraLink couldn't be prouder to have been able to add such a renowned and well-established brand to our portfolio of products. We look forward to continuing the Quality Seeds West excellence in the forage market. Call us today at 1-800-661-4559 or 604-290-7820 for more information, or to place your order. www.tlhort.com%PXOUPXO3FBMUZtOE4U7FSOPO#$t0óDFPat | 250.308.0938QBUEVHHBO!SPZBMMFQBHFDBThea | 250.308.5807UIFBNDMBVHIMJO!SPZBMMFQBHFDB6475 COSENS BAY RD, COLDSTREAMwww.FarmRanchResidential.ca "Farmers helping farmers with their real estate needs"161 ACRES incl 110 acres in productive hay and/or orchard land w/ another 30 being cleared. Newer 3 bed/3.5 bath home plus 3 bed/1 bath modular home. Undeveloped irriga-tion rights from Tappen Creek, 3 phase power available. MLS® 10256400 $4,700,0001144 TAPPEN VALLEY RD, TAPPEN
Page 6
6 | SEPTEMBER 2022 COUNTRY LIFE IN BCDivisions of First West Credit UnionBank. Borrow. Insure. Invest.IF IT'S WORTH IT TO YOU, IT'S WORTH IT TO US.Contact our agribusiness specialists at agribusiness@rstwestcu.caIT'S NOT A JOB, IT'S A WAY OF LIFE.
Page 7
COUNTRY LIFE IN BC SEPTEMBER 2022 | 7BC needs stronger deterrents against trespassersBC Agriculture Council makes plea as activists await sentencingOnly four people of the nearly 165 activists who entered Excelsior Hog Farm in April 2019 were charged. Just two were convicted, on two counts each of break-and-enter and mischief. THE CANADIAN PRESS/Darryl DyckPETER MITHAM ABBOTSFORD – The conviction in July of two activists on charges related to the 2019 invasion of the Excelsior hog farm in Abbotsford has been followed by industry demands for stronger deterrents against similar actions in the future. Within days of a July 9 jury verdict that declared Amy Soranno and Nick Schafer guilty on charges of break and enter and mischief for their roles in the protest, BC Agriculture Council chair Stan Vander Waal sent a letter to the province asking for higher nes and broader protections from trespassers. The letter was addressed to attorney general David Eby (since resigned to enter the BC NDP leadership race), solicitor general Mike Farnworth and agriculture minister Lana Popham, who stood shoulder-to-shoulder at BCAC's annual Ag Days event in October 2019 to pledge rm action against on-farm trespassing. "We understand that a farm or a ranch, it's not just a workplace, it's a home and it's a place with children and grandparents. Trespass, mischief, prowling at night – these are all against the law and must be treated as such," Popham said at the time. "Most of us here feel a lot lighter tonight when it comes down to the condence we have in our ability to do what we do for agriculture," Vander Waal said in response. Three years later, the industry is still waiting for meaningful change, according to the July 20 letter. "One of the things we're hoping to do is provoke action," Vander Waal told Country Life in BC. "We're disappointed that three years later and nothing's been done." BCAC wants the province to raise the nes for trespass, noting that the penalties in Alberta and Ontario are signicantly higher, and expand the kinds of premises protected by provincial laws. Right now, the maximum ne possible for trespass in BC is $115. A report by law rm Blakes, Cassels & Graydon LLP prepared for the BC Dairy Association suggested raising that to $750. Alberta and Ontario both ne those who trespass on farm property up to $10,000. "This current nancial penalty is too low to serve as a sucient deterrent while criminal charges can take years to pursue," Vander Waal states in the letter. "We would like to ensure this important issue is addressed eectively as soon as possible, given how serious the biosafety implications of farm trespass are. Individuals and groups trespassing in barns and structures could cause outbreaks, putting our food security at risk." In a statement, the province told Country Life in BC it "appreciates the BC Agriculture Council's interest in modernizing legislation to better protect farmers, farm animals and local food security." It noted that since 2019, agriculture ministry sta have led a roundtable discussion group on animal activism with representation from the agriculture sector, RCMP and the solicitor general's oce to identify concerns. In addition, changes to the Trespass Act implemented in February 2020 extended statutory protections "to explicitly include buildings, permanent structures, trailers, and portable structures designed or used for shelter for livestock." Vander Waal says the BC Expertise like ours – is Rare CUSTOM SLAUGHTER SERVICES PROVIDED PROVINCIALLY INSPECTED ABATTOIR BC#34 PROUD 4-H SPONSOR for the 2022 PACIFIC NATIONAL EXHIBITIONashiq@meadowvalleymeats.com 604/465-4752 (ext 105) fax 604/465-4744 18315 FORD ROAD PITT MEADOWS, BC V3Y 1Z1• BEEF • VEAL • BISON • LAMB • GOAT • DEERMEADOW VALLEY MEATS !"#$%&%%'()COMPLETE OUR PRODUCER SURVEY & WIN!*Participants must have farm status to be eligible to winwww.bcac.ca*"+,-&./%+"&&./,+-&./0120Agriculture Council has not been included in the roundtable and has heard nothing from the province on the legislative changes it says it has made. "We've had to send a letter because we've seen no communication to say, 'This is what we've done and here's the answers to your questions,'" he says. "We look forward to a response to our letter." Meanwhile, the sentencing of Soranno and Schafer hung in the balance at deadline. During a sentencing hearing on August 26, the Crown asked Justice Frits Verhoeven to consider 90 days' jail time for the two activists and, with an eye to deterrence, requesting the collection of DNA samples and monetary penalties. A sentencing date was not announced at press time. It will be set to allow the judge time to write reasons for judgment, as the conviction may be appealed by the defendants' lawyer. Soranno's and Schafer's conviction on two charges apiece was a sharp drop from the 21 counts originally facing them and two other individuals, Roy Sasano and Geo Regier. The jury acquitted Sasano for his role in the proceedings and the Crown dropped charges against Geo Regier prior to the trial's start in June. The four were the only defendents following the invasion of Excelsior on an otherwise quiet and sunny Sunday morning in April 2019 by upwards of 165 activists who alleged that the farm's owners were not treating their animals properly. The activists entered barns as well as occupying the property, owned by the Binnendyk family. BC SPCA, which is vested with authority to investigate such matters, found no grounds for charges against the farm.
Page 8
8 | SEPTEMBER 2022 COUNTRY LIFE IN BCBC Tree Fruits Co-op is closing its packing house operations in Kelowna and Lake Country this fall. Instead, it is sinking a signicant investment into state-of-the-art technology at its Oliver plant. MYRNA STARK LEADERThe BC Fruit Growers' AssociationDID YOU KNOW?supports members through programs:BCFGA provides free magazine subscriptions to Orchard and Vine, Country Life in BC, The Grower and Good Fruit Grower (NEW!).BCFGA provides assistance to members to complete Seasonal Agricultural Worker Program applications, backed by an accredited Registered Canadian Immigration Consultant.Free printed spray schedules.EFP Incentive Program ($250). Green Spark Consulting Services - Discount on housing bylaw assistance. COR Safety Certification Incentive ($250). NEW!1234BCTF restructuring shifts operations southRetrenching prompts tree fruit packer to consolidate in OliverPETER MITHAM OLIVER – The ongoing retrenchment at BC Tree Fruits Co-op will see the packer consolidate operations in Oliver with an eye to supporting the long-term viability of growers and the industry. The co-op announced the plans August 17 in a statement outlining "strategic steps to ensure the future viability and success of the cooperative." It pointed to the signicant nancial pressure growers and the industry have faced in recent years, and put the emphasis squarely on positioning the tree fruit sector for the future. "The Okanagan tree fruit industry has been faced with many challenges over the last number of years," co-op chair Andre Scheepers said in the statement. "After many months of investigation and deliberation, the board of directors and management have decided that this is the best facility investment plan for the cooperative to continue building a sustainable future for our growers." The shape of that future was outlined by co-op president and CEO Warren Saranchan, who said said the move would give the co-op "the capacity and eciencies needed to service our customers while delivering solid income back to our growers." "We are taking the scally responsible path to modernization which allows us to re-invest funds toward our growers and diversication at the same time," he said. Fall shutdown The move will see packing operations shut down in Kelowna and Lake Country this fall. Receiving and storage facilities will continue to operate in seven locations across southern BC, in addition to Oliver, allowing the co-op to continue serving its 275 growers in the Okanagan, Similkameen and Creston valleys. The co-op's headquarters will remain in Lake Country for the time being, but Saranchan said oce space is being sought in the Kelowna area. The co-op plans to dismantle the packing plants in Lake Country and Kelowna following shut-down, with the equipment and properties sold o. This is consistent with the co-op's sale of other surplus assets, including its former headquarters in Kelowna, as well as properties in Naramata and Osoyoos. The one site that will not be sold is an 85-acre property at 3330 Old Vernon Road in Kelowna, purchased in 2019 for a state-of-the-art packing facility. Those plans, given rapidly escalating construction costs that would put the price in the tens of millions of dollars, have been shelved. Situated within the ALR, the property will potentially become a demonstration orchard as the co-op refocuses on eld services. The co-op's move follows eorts to improve the quality of fruit it receives and parallels an industry-wide stabilization initiative aimed at creating a more prosperous future for growers. While independent packinghouses in the valley have proliferated in recent years and now exceed two dozen – a shift from when co-ops ruled the roost – industry organizations such as the BC Fruit Growers Association have seen membership drop as growers left the sector. In 2012, BCFGA could count more than 760 members. A decade later, it has just 375 members. The stabilization initiative recommended, among other measures, the development of a ve to 10-year marketing strategy as well as the development of industry-wide quality standards to ensure growers capture market opportunities. Packers have responded with a collaborative approach that seeks to improve returns, a move welcomed in an August 9 letter to growers signed by BCFGA president Peter Simonsen and representatives of both the packers and the New Tree Fruit Varieties Development Council – which could be succeeded by a marketing commission after it winds down March 31, 2023. "There was a clear commitment to collaborate to increase returns to growers as quickly as possible." Provincial tree fruit specialist Adrian Arts, who represented the province on the stabilization task force, did not respond to a request for comment. The co-op's decision to consolidate its packing lines in Oliver came as a surprise to industry, however. "It was a shock and unexpected based on the widely circulated plans of the cooperative," Simonsen said. "It must have been a dicult decision for the board, but based on the tenuous state of the British Columbia apple industry I believe there was no alternative. We are on the brink." 6 lanes with automatic drops and 3 semi-automatic drops. Comes with 6-person quality inspection table and macro bin tipper by BURG.
Page 9
COUNTRY LIFE IN BC SEPTEMBER 2022 | 9Pea harvester collision triggers investigationDeath underscores safety both on and off farmTRACTOR TIME VICTORIA 4377C Metchosin Rd. 250.474.3301 30 minutes from Victoria and 15 minutes from Hwy#1 in Metchosin.HANDLERS EQUIPMENT ABBOTSFORD 339 Sumas Way 604.850.3601HOUSTON 2990 Highway Crescent 250.845.3333Mahindra 4540 with Two Hay BalesMORE BUILD-IN WEIGHTPETER MITHAM DELTA – WorkSafeBC has launched an investigation into the death of a Delta woman who collided with a pea harvester. A police report obtained by the family and shared with media, indicates that the harvester, operated by BC Frozen Foods, lacked working tail lights, wide load signage and had no ags to alert other vehicles of its presence as it travelled a darkened stretch of Hwy 17 in Delta in October 2021. The posted speed limit on the highway was 90 kph and transmission issues meant the harvester – a slow moving vehicle at the best of times – was travelling 60 kph below the speed limit. BC Frozen Foods and the driver were both ticketed for violations under the Motor Vehicle Act and Commercial Transport Act Regulations, resulting in $304 in nes. But now WorkSafeBC has opened its own investigation. "The purpose of our investigation is to identify the cause of the incident, including any contributing factors, so that similar incidents can be prevented from happening in the future," the agency said in a statement to Country Life in BC. "We are not able to provide any additional details while the investigation is underway." With the fall harvest approaching, the incident is a reminder to farmers and harvesting contractors of the importance not just of on-farm safety but the safe operation of farm vehicles on public roads. WorkSafeBC says that farm employers are typically responsible for ensuring that workers who operate mobile equipment are properly trained and competent. Training should include reading the operator's manual for a specic piece of equipment and demonstrating an understanding of what's involved. An employer is also responsible for ensuring equipment is maintained and in good working condition. Pre-shift inspections of equipment are required. "It is also important for workers to not operate equipment that has deciencies that aect the safe operation or use of the equipment and report those deciencies to their supervisor or employer," WorkSafeBC said. The farm in question was not named, and AgSafeBC said it had no background on the incident. It was unable to provide a comment by deadline. WorkSafeBC's investigation of the collision follows several others that resulted in hefty nes. These include Blue Goose Cattle Company Ltd. of Ashcroft, which was ned $26,813 for health and safety violations at the end of May with respect to a tractor. "The employer failed to ensure a ROPS (rollover protective structure)-equipped tractor had lap belts that met standards, a repeated and high-risk violation, and failed to ensure mobile equipment was inspected prior to operation," WorkSafeBC reported. "The employer also failed to develop and implement a written procedure for checking the well-being of workers assigned to work alone, a repeated violation." But the largest nes were levied against two farm labour contractors following investigations undertaken in collaboration with the Commercial Vehicle Safety Enforcement branch of the BC Ministry of Transportation. Columbia Labour Contracting was ned $31,477 while Day And Night Labour Supply was ned $28,588. Vehicles used to transport farm workers have received special attention following a horric crash in March 2007 that killed three farm workers. In 2021, WorkSafe BC inspected 93 vehicles that resulted in 211 orders and $38,598 in nes. All in a day's work Mexican workers Benigno, left, and Hugo, right, tend the waterlines at Vegpro International in Coldstream. MYRNA STARK LEADER
Page 10
10 | SEPTEMBER 2022 COUNTRY LIFE IN BCView over 100 listings of farm properties at www.bcfarmandranch.comBC FARM & RANCH REALTY CORP.Buying or Selling a Farm or Acreage?GORD HOUWELING Cell: 604/793-8660GREG WALTON Cell: 604/864-1610Toll free 1-888-852-AGRI Call BC's First and Only Real Estate Office committed 100% to Agriculture!PROFESSIONAL SERVICESBC equipment dealers join forcesThe merger took eect August 1. It gives Avenue, which was founded in Mission in 1947 and ranks as the top Kubota dealership in Canada, outlets in Kamloops, Dawson Creek and Grande Prairie, Alberta. Douglas Lake, established in 1999 in Kamloops, previously acquired Kenver Equipment in 2006, expanding it into the Peace. It added its Surrey location in 2012. The merger with Avenue extends its reach into the southern Interior through Avenue's locations in Vernon, Kelowna and Rock Creek. "We expect this merger will allow us to deliver more value and better service to our customers in the future," the announcement stated, noting that customers will have "additional choice of service locations and an expanded selection of available machines." The expanded network of locations make the company one of the largest homegrown equipment dealers in BC, despite lacking a location on Vancouver Island. (PrairieCoast Equipment, with 10 locations across BC and Alberta, has a location in Nanaimo.) Together, the two companies employ close to 180 people. Sales are not disclosed but Avenue claims to have doubled its revenues over the past decade. Financial terms of the merger were not disclosed. Billion-dollar wine boost The economic impact of BC's wine industry increased by a billion dollars in the ve years prior to the pandemic before crashing as public health restrictions slammed the brakes on public events and social gatherings. According to a study Wine Growers Canada and its member organizations including Wine Growers BC (WGBC) released earlier this month, the BC wine industry's economic impact totalled nearly $3.8 billion in 2019, up from nearly $2.8 billion in 2015. Winery revenue topped $443 million on sales of 7,142,656 cases, up from $360.9 million on sales of 4,794,000 cases in 2015. Planted area totalled 11,086 acres, up from 10,260 acres in 2015, with the average size of vineyards increasing as the number of growers fell by about 100. In 2015, there were 929 growers; in 2019, just 828. But in 2020, the industry's economic impact took a hit as tourism activity fell. Tourism accounted for about 22% of the industry's economic impact in 2015, and that fell to just under 21% in 2019. With the pandemic, the impact of tourism fell by 65% to $275.5 million, down from $783.7 million in 2019. The tourism impact is a particular concern for BC, where tourism is a more signicant part of the industry than in Canada as a whole. According to the report, tourism is just 17% of the total economic impact of the national industry. That fell to just under 9% in 2020. The impact in BC fell to less than 8%. While the industry has shown its resilience in the face of economic challenges the pandemic presented, as well as supply chain issues, labour shortages and extreme weather events, WGBC says government is needed to help it recover its momentum. "These ndings show that for the BC wine economy to re-capture the momentum and potential of its pre-pandemic growth, especially as it relates to tourism, strategic collaboration between government and industry will be required," says Miles Prodan, president and CEO of WGBC said in a statement. During the recent provincial budget consultations, WGBC asked the province for annual funding of $2 million in food and wine tourism marketing to attract 57,500 new visitors a year and generate $87.2 million in direct and indirect spending. — Peter Mitham Aurora stokes Bevo stake Langley plant propagator Bevo Farms is now controlled by Aurora Cannabis Inc., which acquired a controlling stake in Bevo Agtech Inc. on August 25. With a value of $57 million, the deal gives Aurora a 50.1% stake in Bevo. The value Two of BC's largest farm equipment dealerships have merged. Douglas Lake Equipment Inc. and Avenue Machinery Corp. announced the merger this week via social media. The combined entity will have eight locations, and has no plans to lay o sta. "Avenue Machinery and Douglas Lake Equipment will continue operations under their respective names," the announcement stated. "To ensure continuity, all company locations will continue operations, and all customer and vendor contacts will remain the same." Ag Briefs EDITED BY PETER MITHAMExpert farm taxation adviceApproved consultants for Government funding throughBC Farm Business Advisory Services ProgramEnderby 250-838-7337Armstrong 250-546-8665 |t1VSDIBTFBOETBMFPGGBSNTt5SBOTGFSPGGBSNTUPDIJMESFOt(PWFSONFOUTVCTJEZQSPHSBNTt1SFQBSBUJPOPGGBSNUBYSFUVSOTt6TFPG$BQJUBM(BJOT&YFNQUJPOT$ISJT)FOEFSTPO$1"$"-PSFO)VUUPO$1"$"5PMM 'SFF1-888-818-FARM |www.farmtax.comRossworn HendersonLLPChartered Professional Accountants - Tax Consultantsartered Professional Accountants - Tax Consultanincludes an immediate payment of $45 million as well $12 million over the next three years linked to the achievement of certain nancial milestones. Bevo, with revenues of $39 million in the 12 months ended June 30, was founded by the Benne family in 1986 and has become one of North America's leading propagators of vegetable and ornamental plants. Bevo's existing management team, including president and CEO Leo Benne, remain with the newly condolidated company. The transaction took place concurrent with Bevo's acquisition of Aurora's Edmonton cannabis facility. Bevo will pay Aurora up to $25 million "over time" as it converts the Edmonton to "non-cannabis agriculture." The deal marks Bevo's entry into Alberta and boosts Aurora's propagation capacity as it refocuses on propagation of cannabis plants. "This is expected to allow Bevo to greatly increase its production capability, extend its shipping range, and access new regional greenhouse demand in Canada and the United States," a press release announcing the deals stated. "Bevo's propagation capabilities is expected to enhance Aurora's existing genetics licensing business (Occo) to create healthy clones for sale and could potentially lead to large scale cannabis propagation across the industry." Both deals had yet to close at deadline. — Peter Mitham www.tjequipmentllc.com 360-815-1597 FERNDALE, WA ALL PRICES IN US FUNDS 2014 MCHALE HS2000 HIGH SPEED ROUND BALE WRAPPER, REMOTE $23,5001989 JD 4055 4WD, 126 HP, 7285 HOURS, 18 SPEED POWERSHIFT, 2 REMOTES, 540/1000 PTO $41,0001995 FORD VERSATILE 9030 BIDIRECTIONAL W/LOADER & GRAPPLE, 4WD, 116 HP, HYDRO, 540/1000 PTO, 10752 HOURS $32,000 2016 MCHALE V660 VARIABLE CHAMBER ROUND BALER, MAKES 2'4"-5'6" BALES, VERY GOOD CONDITION $38,000Insurance products and services are provided through Assante Estate and Insurance Services Inc. Please visit www.assante.com/legal.jsp or contact Assante at 1-800-268-3200 for information with respect to important legal and regulatory disclosures relating to this notice.Financial planning for farm families Farm transition coaching Customized portfolio strategy Retirement income planningDriediger Wealth PlanningMark Driediger, CFP, FEA, Senior Wealth AdvisorBrent Driediger, BAA, CPA, CMA, CFP, Wealth Advisorwww.DriedigerWealthPlanning.com | 604.859.4890 Assante Financial Management Ltd.
Page 11
COUNTRY LIFE IN BC SEPTEMBER 2022 | 11Bert Miles rememberedBurnaby Lake Greenhouses GM wasn't afraid to shake things upFormer ALC commissioner and IAF chair Bert Miles is being remembered for his sharp mind and business acumen as well as his dedication to family. SUBMITTEDTaking your safety program to the next level?Certificate ofSAFETYCORRecognitionYou may already be on the path to COR.Contact AgSafe to find out!New Program!BC Climate Agri-Solutions Fund (BCCAF) supports farmers in DGRSWLQJEHQHȴFLDOPDQDJHPHQWSUDFWLFHV%03VWKDWVWRUHFDUERQDQGUHGXFHJUHHQKRXVHJDVHVWKURXJKBC Climate Agri-Solutions1LWURJHQ0DQDJHPHQW Rotational GrazingCover CroppingTHE LAST APPLICATION INTAKE FOR THIS YEAR WILL TAKE PLACE IN SEPTEMBER!Sign up for the BCCAF newsletter to stay informed!www.bccaf.caFunding provided by:Program delivery by:SANDRA TRETICK VANDERHOOF – Former Burnaby Lake Greenhouses general manager Bert Miles died on July 28. He was 80. Miles, an accountant by profession, was noted as much for his ability to shake up the status quo as he was for his nancial expertise and service to the agriculture community. Born in Vancouver and raised in Langley, Miles didn't farm himself. But in 1981, after positions at Pacic Brewers Distributor, Royal City Canning and other BC food processors, he joined Burnaby Lake Greenhouses. He worked alongside owners the van der Ende family as controller and general manager until his retirement in 2009. During the 1980s, the company's sales increased seven-fold and Miles' business acumen was key in overseeing the relocation and expansion of the business to a new 2 million-square-foot production facility, the most advanced and automated at the time in North America. Herb van der Ende, who initially hired Miles, also credits him with spearheading the development of a retirement community on their former greenhouse site in Surrey, pushing through the rezoning and helping with nancing. "Bert made it possible to do a lot of things," says van der Ende, who has long retired from his roles as president and chairman of the board, but remains a director. "Without Bert that wouldn't have happened. It was a big project." Miles made a lasting impression on van der Ende, serving as a great sounding board and becoming very close to the family through the years. "Bert had a great overall view of the industry because his background wasn't specically agriculture, it was always the nancial side," he says. "He was my advisor all the years when I was in a senior position in the company and made it possible for me to do a lot of things. He was more than a business GM. I could always count on him there." Retirement from Burnaby Lake didn't stop Miles, but it did give him more time to pursue other interests, including consulting and agriculture service. Through H.A. Miles Ag Consulting, he specialized in farm business management and strategic planning. He served four years as a commissioner with the Agricultural Land Commission, chaired the Investment Agriculture Foundation of BC (IAF) and the BC Horticultural Council, and served as a director of the BC Agricultural Research & Development Corp. (ARDCorp) and the Small- Scale Food Processors Association. Fellow IAF directors Alistair Johnston and current chair Jack DeWit recall working with Miles and becoming friends. "He was a breath of fresh air," says Johnston, a former food manufacturer and now a consultant to the sector. "He didn't shirk away from oering a balanced and considered opinion. I had huge respect for what he brought to the table." "He was denitely very passionate about agriculture," adds DeWit. "He was very supportive of all of agriculture in BC whether small lot or the bigger farms. He knew the business and he wanted to make a dierence. He was stubborn in his own way. If he believed in something he pushed it." Miles spent 12 years on the IAF board, originally representing the post-farmgate sector and returning after a ve-year hiatus to represent the greenhouse, oriculture and nursery sectors. His commitment to community service extended beyond agriculture. Miles chaired Surrey Metro Savings Credit Union and the Certied Management Accountants Society of BC. He also served as a director of Credit Union Central of BC. Miles was predeceased by his rst wife Pauline in 2011, following 46 years of marriage. He is survived by his two sons, Bradford (Pat) and David (Raquel), four grandchildren and his second wife, Bette Jean Crews, whom he married in 2018. David Miles described his father as "a pretty amazing person." "[He wasn't] just a great dad and awesome grandfather dedicated to family and friends but also an important thread in the fabric of the community and organizations where he served," he says.
Page 12
12 | SEPTEMBER 2022 COUNTRY LIFE IN BC*Cannot be combined with any other offer. Offer based on the purchase of eligible equipment defined in promotional program. Additional fees may apply. Pricing, payments and models may vary by dealer. Customers must take delivery prior to the end of the program period. Some customers will not qualify. Some restrictions apply. Financing subject to credit approval. Offer available on new equipment only. Pricing and rebates in CAD dollars. Prior purchases are not eligible. Offer valid only at participating Dealers. Offer subject to change without notice. See your dealer for details. © 2020 Daedong-Canada, Inc. Kioti Canada.Timberstar Tractor Vernon B.C. 250-545-5441 Harbour City EquipmentDuncan B.C. 778-422-3376Matsqui Ag RepairAbbotsford B.C. 604-826-3281 Rangeland Equipment LtdCranbrook B.C. 250-426-0600 Northern Acreage SupplyPrince George B.C. 250-596-22730%FinancingCASHBack OffersUnlimited HourPowertrain Warranty
Page 13
COUNTRY LIFE IN BC SEPTEMBER 2022 | 13Grapegrowers focus on climate risks, solutionsRegenerative farming, wildfire preparedness top agendaMichael Bartier, left, helped present the BC Grapegrowers Association's 2022 Viticulturist of the Year award to David Kozuki of Summerland's Golden Retreat Vineyards last month in Penticton. TOM WALKERTOM WALKER PENTICTON – The BC Grapegrowers Association and the BC Winegrape Council held their annual general meetings and grower day in Penticton on August 11 under the theme "Future-Proofing Your Vineyard." The day was planned as a balance of practical and technical information says BCGA president John Bayley, viticulturist at Blasted Church Vineyards. "Hopefully, you will go away with some new ideas that will help mitigate the impacts we have been seeing in our vineyards over the last few years," he told growers. A regenerative farming panel, wildfire preparedness and a review of a study on the decline in grape yields over the last three years headlined the event. The associations also honoured the 2022 Viticulturist of the Year and presented a lifetime achievement award. A sensory workshop focusing on smoke-affected wine followed in the afternoon. In introducing the regenerative panel, Bayley noted that it was important to avoid using the term to greenwash the sector. "We need to understand what regenerative ag means for our area," he says. "In general, regenerative farming is a holistic approach focused on improving rather than just sustaining from when you first purchased the land. It focuses greatly on soil health but also on the larger ecosystem." He added that the regenerative agriculture advisory panel the province set up in June is a positive sign. "It was time for a conversation which fits the BCGA objectives," he says. Provincial agrologist Lindsay Hainstock discussed regenerative agriculture as an essential part of the ministry's mandate and outlined various government programs that could support regenerative initiatives. Marcus Ansems is a second-generation winemaker originally from Australia, who with his wife Rachael owns Daydreamer Wines in Naramata. "We moved from Ontario to the Okanagan specifically because the low humidity and breezes make it much easier to farm the way we like," says Ansems. "We are not certified organic, but we farm without systemic pesticides, herbicides or fungicides." 'Half regenerative' is how Ansems describes his farming style. He practices no-till viticulture, grazes sheep between the vine rows instead of mowing and See RANCHER on next page oThe real estate market has changed. Now more than ever, you need a Realtor® with specialized knowledge and experience in agricultural real estate to give you that competitive edge when selling your property. Our team can help.Call us today!Hobby farms to commercial farms. We are your acreage specialists!1-888-852-AGRI (2474) | info@bcfarmandranch.com www.bcfarmandranch.comGord Houweling-PREC604.793.8660gordhouweling@gmail.comRajin Gill - PREC778.982.4008rajinrealtor@gmail.comJohn Glazema778.201.2474agri@bcfarmandranch.comGeorgia Clement250.378.1654georgiaclement_2@hotmail.comGreg Walton604.864.1610greg@bcfarmandranch.comGordie Blair250.517.0557gt.blair@live.caVeer Malhi - PREC778.241.7451virbinder77@gmail.comGordon Aikema250.306.1580gordon@bcfarmandranch.comSteve Campbell250.550.4321s.campbell.sells@gmail.comEmma Rose604.614.9825emma@bcfarmandranch.comBarry Brown-John250.342.5245b.brownjohn@gmail.comRobbi-layne Robertson250.453.9774rlr@bcfarmandranch.comSusanne Walton604.309.9398sw.bcfr@gmail.comAlec Yun778.859.8011alecyun@icloud.comAmanda Leclair604.833.1594amandaleclair@live.comRuth Meehan604.309.2295ruthma.meehan@gmail.comTravis Walton604.226.9317travisjwalton@outlook.comAmy Brattebo-PREC604.613.1684realestate@amybrattebo.ca
Page 14
RANCHER provides first-hand account of wildfire experience nfrom page 1314 | SEPTEMBER 2022 COUNTRY LIFE IN BCplants primrose hedges to encourage quail, which help control cutworms. He is also developing a cover crop system. Tantalus Vineyards viticulturist Felix Edgerer also follows organic principals and is known for his work with cover crops and alternative pruning methods. He credits Gene Covert at Covert Farms with helping him get started. "I got hooked and spent the entire winter of '18-'19 researching," he says. Tantalus is a founding member of Sustainable Wine BC and completed its certification in 2021. Edgerer enjoys sharing his practices and coaching others, telling growers, "Drop by for a chat anytime." Emergency planning Speakers at grapegrowers' events don't usually wear cowboy boots and a big white hat, but when Okanagan Falls rancher Brian Thomas spoke, the room went silent. Thomas, a third-generation rancher and president of the BC Cattlemen's Association, recalled his experiences with fire in the valley and emphasized the importance of having an emergency plan. "We weren't very happy the 2021 Thomas Creek fire was named after us," Thomas quips. The fire ignited on July 11 and burned over 10,000 hectares to the east of Okanagan Falls before it was declared held in late August. Thomas worked for BC Wildfire Service in his early 20s and like most ranchers he has heavy equipment, a water supply and pumps. "It was a Sunday afternoon and 45°C, when we first spotted the fire. It didn't look too bad, so I hopped on my Cat and went over and started building a fireguard. After about five minutes I thought, 'Holy shit, I'm not going to stop this,' and I got out of there." The fire eventually came within metres of his home, but his family, neighbours and the local fire department were able to save the main ranch house and outbuildings because they had a plan. "Emergency planning and in particular wildfire planning have been a major program through BC Cattlemen for the last several years," said Thomas. "We had completed a ranch emergency plan following the guide developed by the climate adaptation program and part of that plan was to use our gravity-fed irrigation which gives us 2,000 gallons per minute to run a sprinkler system to protect our buildings and corrals." Viticulturist of the Year The Viticulturist of the Year award has been an annual tradition for the last three years, but ceremonies have been held outdoors. "Our plan has always been to present at our grower day in front of a room of industry peers, so despite recognizing Heidi Lorch this spring, we are giving our 2022 award today to David Kozuki of Golden Retreat Vineyards in Summerland." Bayley says it was the detail in the vineyard and his perfectionism that helped Kozuki stand out. "The judges were impressed with his eye for detail in the fundamentals of grape growing: vine balance, uniformity throughout the vineyard, vertical shoots and good bunch spacing were all exceptional. The hours he spends in the vineyard tending to the vines are obvious," Bayley says. "'It is the best vineyard I've ever seen' was the comment from one of the judges." The resulting wines reflect his excellence in viticulture, Bayley adds. "The Spearhead Winery Golden Retreat Pinot Noir has won multiple awards, including most recently Platinum at the 2021 Lieutenant Governor's Awards for Excellence in BC Wine." Pat Bowen, who recently retired from her position as the wine grape eco-physiologist at Summerland Research and Development Centre was presented with a lifetime achievement award. "Pat really revolutionized grape research in the valley," says viticulturist Hans Buchler, chair of the BCWGC research committee. "She has played a huge role in the development of the industry over the last 20 years." The afternoon sensory workshop on smoke taint saw Australian scientist Kerry Wilkinson lead participants through a directed tasting and evaluation of both smoke-affected and non-tainted wines. "It is important for all of your staff to have experience in identifying smoke-tainted wines that exhibit these smoke, ash and creosote-type flavours," Wilkinson says. That shouldn't be too hard, one participant quipped. "These are absolutely the worst wines I have ever tasted," he said. PRE-OWNED EQUIPMENT CASE IH FARMALL 95A MFD ROPS TRACTOR WITH LOADER CALL FOR DETAILS CLAAS 860 SP FORAGE HARVESTER 12.5' PICKUP & 6-ROW CORNHEAD $93,700 CLAAS JAG 870 SP FORAGE HARVESTER 10' PICKUP & 6-ROW CORNHEAD CALL FOR MORE DETAILS/PRICING CLAAS 970 SP FORAGE HARVESTER 10' PICKUP & 10-ROW CORNHEAD CALL FOR MORE DETAILS/PRICING X 2 FENDT 930 MFD CAB TRACTOR CALL FOR DETAILS NH T4.75 TRACTOR ROPS MFD WITH LOADER CALL FOR DETAILS www.caliberequipment.ca STORE HOURS MONDAY-FRIDAY, 8-5 SATURDAYS 8–12604-864-2273 860 RIVERSIDE ROAD ABBOTSFORD More Crops. Less Ash.
Page 15
COUNTRY LIFE IN BC SEPTEMBER 2022 | 15Price Reducedby $250,000!Large Acreage Plot for Sale1001 Six Mile Creek Rd., Vernon, BCMLS # 10255499203 Acres3 Water licensesIrrigation well600 Amp serviceLarge home & legal second housesherise.lacey@remax.netTOM WALKER PENTICTON – Vineyard yields in the Okanagan and Similkameen have fallen by a third since 2018 and climate change is the cause, according to a new study. "There has been a lot of talk about reduced yields and the causes," says Tyrion Miskell, administrator of the BC Grapegrowers Association. "This study funded by the Ministry of Agriculture on vineyard resiliency conrms that and gives us some reasons for the decline." Vancouver consulting rm Cascadia Partners prepared the study for the BC Vineyard Resiliency Task Group, convened by Wine Growers BC and including representation from the BCGA and other stakeholders. "We were asked if we could quantify what people were saying," says Cascadia managing partner Jonathan Snoek. "We found that since 2018, the industry has seen more than a 30% decline in grape yield." The total crop dropped from nearly 42,732 tons in 2018 to 32,050 tons in 2020, despite approximately 1,000 more acres being planted. Yields dropped from 4.6 tons an acre in 2018 to 3.1 tons in 2021. "This reduction in yield is very concerning for the industry and it comes despite increasing vineyard acreage across the province," says Snoek. The study aimed to understand what was driving the decline in crop size, to develop solutions and give industry the data needed to ask government for support. "The BC Wine Grape Council has a lot of good vineyard-level data that we were able to dive into, and we were able to overlap that with very specic weather data," says Snoek. "We also spent time talking to growers and we looked at whether this was a regional issue or a problem in other wine growing regions as well." One of the study's rst conclusions is that the problem is common to wine growing areas all along the West Coast. "California, Oregon and Washington all have experienced similar declines in yield over the last three years," notes Cascadia associate Liam Elbourne. "We saw this in their data, but also conrmed it by talking with key gures in their industry." But it is not a concern for all grape-growing regions. "When we compare with Ontario, they have seen the inverse, they have an over-supply of grapes," says Snoek. That was the rst clue that the problem may be climate-related. "When we looked at other issues, such as vineyard age, diseases and pests, irrigation and farming practices, a lot of those are similar across grape-growing regions," says Elbourne. "But climate factors such as extreme heat, frost and extreme cold and varied precipitation have impacted vineyards up and down the west coast." Cascadia's study determined that four types of climate variables have had an impact on the BC wine industry. Above-average temperatures have had an overall net positive aect, while more extreme heat, more extreme cold and lower precipitation were negative. "What is key here is that over the last four or ve years, all of these variables have been hitting us, which really complicates mitigation strategies," notes Elbourne. The decline in dierent years is due to dierent factors, Elbourne says. "In 2019, we saw a big leap in cold temperatures and a big drop in precipitation. In 2020 it shifted, and we saw a rebound in precipitation but more extreme cold. In 2021, there was the heat dome with a 100% jump in the number of extreme heat days in the summer," he says. While all regions experienced a decline in crop yields at some time over the last three years, the hotter, drier regions from Penticton south to Osoyoos as well as the Similkameen have seen a consistent decline, while Kelowna north to the Shuswap have rebounded somewhat. Summerland and the Kootenays have been relatively steady. Individual varietals have also been impacted dierently. "We have seen some decline more than twice as much as others," says Elbourne. Pinot Noir was down 36% with Chardonnay and Merlot both down 40%. Sauvignon Blanc dropped the most at 45%. "That compares with Pinot Gris and Riesling, which were in the mid 20s," he says. "That is consistent with what we know about dierent varieties having dierent climate risk proles." Snoek says that this should not be a one-o study. "We now have a very powerful model for the industry that can be predictive of what variety will do well or poorly, in what region, at the vineyard level," he says. "And that can be used to advise on future plantings." Study examines decline in BC grape cropClimate extremes push down vineyard yields"We found that since 2018, the industry has seen more than a 30% decline in grape yield." JONATHAN SNOEK CASCADIA PARTNERS
Page 16
16 | SEPTEMBER 2022 COUNTRY LIFE IN BCPRINCE GEORGE | KAMLOOPS | KELOWNA | CHILLIWACK | LANGLEY | NANAIMO WWW.PCE.CA | 1-877-553-3373Some restrictions may apply. See dealer for details. Offer valid June 6 - October 28, 20221025E $2591025R $2992025R $3392022 Fall Inventory Arriving Soon 0% Financing for 72 Months1023E QID 269740921025R QID 26974559 add backhoe QID 269746722025R QID 26974775add backhoe QID 26975078 PER MONTHWITH LOADERPER MONTHWITH LOADERADD THE BACKHOE FOR $99/MO.PER MONTHWITH LOADERADD THE BACKHOE FOR $99/MO. *0% for 72 months on select 2022 models only. Some restrictions may apply. See dealer for details. Taxes are not included in the payment price. Offer ends October 31, 2022.1023E QID 269740921025R QID 26974559 add backhoe QID 269746722025R QID 26974775 add backhoe QID 26975078 Province names new chief veterinarianDr. Theresa Burns takes up responsibilities this monthKATE AYERS & PETER MITHAM ABBOTSFORD – The province will have a new top vet September 6, just two years after the appointment of her predecessor. Dr. Theresa Burns succeeds Dr. Rayna Gunvaldsen as the province's top veterinary ocer, who stepped down in July after two years in the role. Burns will carry out her position at the BC Ministry of Agriculture and Food's Plant and Animal Health Centre in Abbotsford. Burns obtained her doctor of veterinary medicine designation from the Western College of Veterinary Medicine at the University of Saskatchewan. Her other two degrees include a master of science in animal reproduction from Saskatchewan and a doctorate in epidemiology from the University of Guelph. Burns has spent her career in clinical practice, caring for pets and farm animals. She has also undertaken specialized consulting in veterinary epidemiology, surveillance and One Health, an approach that takes into account the factors contributing to animal, human and environmental health. Her experience with the approach was bolstered through a postdoctoral fellowship at the University of Calgary and work as board treasurer and director with the Centre for Coastal Health in Nanaimo. While producer groups have yet to meet Burns, having a new top vet in place is reassuring given ongoing and emerging threats to animal health. Broiler producers continue to wrestle with infectious laryngotracheitis (ILT) and a new wave of avian inuenza could emerge with this fall's waterfowl migrations. "Having a permanent chief vet in place before any fall outbreaks of AI happen is denitely a good thing," says Amanda Brittain, chief information ocer with the emergency operations centre of the BC Poultry Association in addition to communications manager with the BC Egg Marketing Board. "We look forward to meeting and working with Dr. Burns." Gunvaldsen succeeded Dr. Jane Pritchard, who retired at the end of March 2020 after seven years in the role. Gunvaldsen, now the national African Swine Fever project manager with Animal Health Canada, declined comment on her departure. The BC Ministry of Agriculture and Food also declined comment, telling Country Life in BC it "does not comment on individual matters of employment." Gunvaldsen stepped into the role of top vet shortly after the start of the COVID-19 pandemic. She led the ministry's response to the outbreak of the disease in farmed mink, but took a backseat to provincial health ocer Dr. Bonnie Henry when the province decided to phase out mink farming in late 2021. Her tenure also included the ooding of the animal health lab during last November's atmospheric rivers and the outbreak of avian inuenza. The province's plant health unit, which Pritchard also oversaw as the top executive in the branch, is headed by Shauna-Lee Chai, who was appointed director in September 2020. From September to December 2021, Chai was also acting executive director for the Plant and Animal Health Branch. The role was lled this spring by Joyce Austin, previously director overseeing analysis, reporting and knowledge services with the Knowledge Management Branch of the BC Ministry of Environment & Climate Change Strategy. Despite the changes in top executives, the livestock and horticulture sectors shouldn't see any changes in day-to-day services. "It's been business as usual," says Clara Moran-Sakalauskas, public relations manager with the BC Blueberry Councila, noting that growers have been able to submit plant samples for testing as they square o against scorch and other diseases. "There has been some changeover in upper management in that unit, but that shouldn't impact growers." THERESA BURNS
Page 17
COUNTRY LIFE IN BC SEPTEMBER 2022 | 17Delta farmer Hugh Reynolds was happy to be back among growers during the return of the annual potato eld day in Delta, August 24. RONDA PAYNEField day yields more than spudsPotato growers happy to see return of annual event YOURHelping YouWEEKLY FARM NEWS UPDATESURg YougYouWSRONDA PAYNE DELTA – It felt like coming home at the 2022 BC Potato Variety Screening Trials on August 24 at Rod Swenson Farms on Westham Island in Delta. The event returned to the pre-pandemic format and more than 150 growers, suppliers and supporters were happy to attend both for the potatoes and the social environment. "This is one of my happiest days in the whole year," says Hugh Reynolds of Reynelda Farms in Delta. "Here you can talk to people, sit down, share ideas, contacts. The whole industry is here." ES Cropconsult president Heather Meberg, organizer of the variety trial, says this year's plantings had less time than usual to mature for the big event. Potatoes were planted June 1, for just 84 growing days compared to nearly 100 in a typical year. "I was pleasantly surprised to see an average yield even though growing days were about two weeks less than usual," she says. "The later varieties were still owering. We'll see an improvement in their yield when we do the main harvesting. Some that look small, you can go and look at the plants and see that they still have plenty of oomph." The wet spring meant plantings were later for a number of growers. Swenson Farms co-owner Joel Swenson says Westham Island eld plantings began on May 21 and nished June 20. The delay hasn't necessarily been bad news. "Some varieties we planted a month later [than usual], but are only a week behind," he says. "We are expecting yields to be a little down from last year. We've also got a little bit of rot because the elds were damp." Meberg expects yields for Lower Mainland growers will be on par or slightly less than last year's. BC's overall production was 208 million pounds. Reduced yields will hinge on whether later harvested varieties have the benet of a dry fall to mature and be harvested before winter weather sets in. Swenson explains that growers who harvest too early risk getting smaller potatoes. But those who wait too long may nd elds inaccessible and be forced to abandon spuds. "Our yellows will be harvested in 17 days," he says, looking forward to a mid-September harvest. Swenson's later varieties are more likely to come out in October. Many other growers are also expecting to delay harvest in the hopes of giving the crop more time to mature. The early harvest of demonstration potatoes at the event will be followed by a later harvest of the replicated plots with results from those expected in November. Most promising This year's trial featured 98 varieties in demo plots and 56 in replicated trials. This included 19 with white skin and white esh, 31 yellow skin and yellow esh, 12 with red skin and white esh, 22 russets and some other varieties. "It's just good to see all the varieties in comparison to our varieties," Swenson says. "It's good for the research and good for the community of farming. There's always improvements to be made. They're always coming up with better drought resistance." One of Meberg's favourites in the demonstration plots was a red with white esh numbered F160025-03. "It's smooth with a good prole, nice dark red," she says. Reynolds says he would only recommend one variety, the bu-skinned, white-eshed VF170066-04. "The market is pretty cautious," he says. "I thought it was a really nice one. People want potatoes that all look the same in the bag. Because we're not a big potato province, there are only a couple of sections in the fresh lines. We have to be cautious about what we grow." At the end of the day, Reynolds says events like the eld day bring growers closer together to appreciate their common purpose of growing. "You need a certain amount of courage in the spring," he says. "There's no two farms or farmers that are the same, but we all live under the same sun. In the end, they all sell as Canada No. 1." PERFECT SEEDBED PREPARATION IN EVERY CONDITION, EVERY FIELD, EVERY TIMELOOK TO LEMKENLook to LEMKEN's Zirkon 12 for one-pass seedbed preparation in any condition. The well-thought-out details o er critical advantages, including a modular design with a larger range of available transmissions and tines. This ensures that each machine can be optimally adapted to the speci c needs of each individual farm. Hydraulic depth adjustment for ease of operation DUAL-Shift transmission for easy change of the direction of rotation Screwed or quick-change tines for short set-up times Versatile range of rollers for any working conditions@strategictill | lemken.caVAN DER WAL EQUIPMENT (1989) LTD. 23390 RIVER ROAD, MAPLE RIDGE, BC V2W 1B6 604/463-3681 | vanderwaleq.com Quality Pre-Owned Tractors & EquipmentANDEX 773 RAKE . . . . . . . . . . . . 12,500 BOBCAT T110 . . . . . . . . . . . . . . . 37,500 CASE 580 LDR, BACKHOE . . . . . 29,000 CASE IH 4210 2WD . . . . . . . . . . . 20,000 X2 CLAAS 2650 MOWER . . . . . . . 9,000 CLAAS IH 375RC ROUND BALER 35,000 FELLA SM320 . . . . . . . . . . . . . . . . . CALL FELLA 790 TEDDER . . . . . . . . . . . . 7,500 HARDY BLN50 SPRAYER 3PTH . . 3,500 INTL 885 2WD, CAB . . . . . . . . . . .12,000 JAYLOR MIXER WAGON . . . . . . 13,500 JD 6 BASKET TEDDER . . . . . . . . . 9,500 JD 4 BASKET TEDDER . . . . . . . . . 6,500 JD 5403 2WD TRACTOR . . . . . . . 19,000 KUBOTA M7-151 . . . . . . . . . . . . 150,000 KVERNELAND 7730 WRAPPER . 16,000 MASSEY FERGUSON 1523 . . . . . . 8,500 MF 1628 4WD LOAD . . . . . . . . . . 22,000 NH BC6050 . . . . . . . . . . . . . . . . . . 21,500 TYCROP HIGH DUMP 16' . . . . . . . 9,500 WHITE 2-55 TRACTOR . . . . . . . . . CALL
Page 18
18 | SEPTEMBER 2022 COUNTRY LIFE IN BCMarketing British Columbia to the World®www.landquest.comToll Free 1-866-558-LAND (5263)"The Source" for Oceanfront, Lakefront, Islands, Ranches, Resorts & Land in BC®Visit our WebsiteSPRUCE WILDERNESS LODGEBONAPARTE LAKE, BCBARNSTON ISLAND ACREAGEINVEST IN LAND ON MT. BALDYIN THE SOUTH OKANAGANSHADOW CREEK RANCHLITTLE FORT, BCBUSINESS OPPORTUNITY, LOG HOME, SHOP, CARWASH & RV - NIMPO LAKE, BC600 ACRE GUEST RANCH WITH PRIVATELY ACCESSED LAKE - 100 MILE HOUSE, BCLOT 5 - 1589 VANCOUVER BLVDSAVARY ISLAND, BCQUALITY AGRICULTURAL ACREAGE IN THE NORTH SHUSWAP - CELISTA, BCPrivate 3.9 acres of lakefront. 2,000 ft2 lodge, newly reno'd 2-storey building with rental unit up and store down. 2 log chalets with wash house, 4 campsites and various docks, hunt "turnkey." NEW PRICE $1,175,000River. Leased to a dairy farm, getting 4 cuts of hay for silage. Considered to be the best agricultural land on the island. A hidden gem where you can live a quiet rural lifestyle, minutes from the city. $995,000value in LAND and SKIING in BC! It's a treed 2 sloping south-westerly view lot. Zoned for a cabin with a LEGAL SUITE, which is a bonus, as there are no nightly accommodations other than owner rentals. $119,900       Thompson River. Renovated 3 bedroom, 2 bath, hand hewn log home, 2 storey carriage converted to wellness center, fenced and gated, outdoor riding arena, gardens. Hay  $1,780,000Perfect opportunity to run your own business on a beautiful property with stunning views. Log home, large, 3-bay shop with carwash, fenced yard on 3.33 acres. Excellent highway outdoor recreation! NEW PRICE $585,000operate your very own guest ranch, or retreat. of the most beautiful properties in western hayfields, a privately accessed lake, and adjacent Crown land. $5,999,000Close to the Blue Hole and Indian Point. Vacant upland parcels with potential ocean view and a mature forest. Purchasing all three make for a private enclave for generations to come. $175,000Approx. 40 acres of predominately cultivated land (currently in barely) with a small stream and not to be understated truly stunning  $498,000SAM HODSON 604-809-2616Personal Real Estate Corporationsam@landquest.comRICH OSBORNE 604-328-0848Personal Real Estate Corporationrich@landquest.comROB GREENE 604-830-2020rob@landquest.comRICH OSBORNE 604-328-0848Personal Real Estate Corporationrich@landquest.comFAWN GUNDERSON 250-982-2314Personal Real Estate Corporationfawn@landquest.comCOLE WESTERSUND 604-360-0793 Personal Real Estate Corporationcole@landquest.comJASON ZROBACK 1-604-414-5577 JAMIE ZROBACK 1-604-483-1605MATT CAMERON 250-200-1199matt@landquest.comBEAUTIFUL 10.77 ACRES WITH 2,331 FT2 LINDAL CEDAR HOME - MERRITT, BCCOWICHAN RIVER ACREAGEDUNCAN, BCLive and play in sunny Nicola Valley. 2. Three levels 20' x 30' workshop, woodshed, self irrigation hobby farm! Bring your horses and farm animals. $998,0002 2 shop & a large, cleared building site. Located on a no-through road within walking distance to the Glenora Riverside Park & Trail System. $1,150,000JOHN ARMSTRONG 250-307-2100Personal Real Estate Corporationjohn@landquest.comKEVIN KITTMER 250-951-8631kevin@landquest.comKATE AYERS KELOWNA – Cold winter weather and this year's long, cool spring have profoundly aected the BC peach crop, with some producers reporting little or no production this year. "A couple of the early varieties had blossoms and got pollinated. So, we had peaches on three types, a very light crop, but they are all nished now," says Jennay Oliver of Paynter's Fruit Market in West Kelowna. Oliver's orchard typically has 10 varieties of peaches. This year, its white-eshed peaches, Red Globe and Harrow Diamond varieties were the only ones to pull through the winter. "Everything else was totally wiped out," she says. Oliver attributes her peach crop's decimation to last year's frosty temperatures, which were intensied by one 24-hour period of intense winds. "A lot of people were writing it up to the cold spring, but all of our buds were already dead by the time spring came around," she says. "We had a really cold spell in December when the trees weren't quite ready." BC growers harvested 6,166 tons of peaches in 2019, according to Statistics Canada. But the crop has fallen over the past two years and last year's harvest was just 5,522 tons. This year is slightly better than last year, but Oliver hopes for better growing conditions next year. "The heat dome last year was terrible. That 45° was burning fruit and stopping production. I don't know which year has been worse actually," Oliver says. "Last year I remember being like, 'I hope there is not another season like this again,' but then this year, I hope there's not another season like this one. It's not fun to lose a crop of anything." Homan Orchards in Kelowna, Peter's Orchards in Vernon and E.P. Orchards in Summerland also sustained signicant losses in peaches. Donny Espeut-Post of E.P. Orchards says that he has a thin peach crop this season, with the most resilient variety being a white-eshed peach. "Last year was a bumper crop, the most we've ever had, and this year, I'm probably under a quarter of what I had last year. There are a few rows that have absolutely nothing on them," he says. "The only one that seems like it's doing okay is the Coconut Ice." Espeut-Post thinks that his smaller crop is due to the cooler spring and strong winds. "Some of the blooms may have been froze. It was also windy so they might have blown o as well. This year the fruit set was delayed so our harvest times have been pushed [back] about a month," he says. "It took a while to get the heat. So, during the development of the fruit, we usually have a lot more heat to help it along." While delayed development helped the marketing of some fruit, such as cherries, a later harvest may impact sales of peaches, especially at the farmgate. "Because our harvest is pushed [back], most of the people will be back to school," Espeut-Post says. "There won't be as much trac in the area so … it could be that the later fruit like Coconut Ice might not have too many people to sell to so I might end up losing on those." Based on claims from insured growers, the BC Ministry of Agriculture and Food expects payouts will be on par with past years despite the signicant losses. "This year's crop is signicantly smaller than an average year and there have been 108 claims for peaches to date in 2022, about 20 more than an average year," the ministry told Country Life in BC. "It is estimated about $450,000 will be paid out to insured peach growers in 2022, which is similar to an average year." Despite a lighter crop in the Okanagan, some areas still have ample amounts of fruit for sale. Paynter partners with a conventional farm in Osoyoos and an organic farm in Summerland, both of which reported hearty crops. "It seems that everything north of Summerland has light crops but everything south of Summerland seem to have pretty good yields, at least the orchards we deal with," Oliver says. Weather extremes hard on peach growers Insurance claims remain average despite significant losses
Page 19
COUNTRY LIFE IN BC SEPTEMBER 2022 | 19Milk board picks new entrant finalistsFinalists have until end of 2023 to be up and runningJohn and Candice Riemersma are one of three nalists chosen by the BC Milk Marketing Board for its New Entrant Program. SUBMITTEDppp gskills in communication, complex analysis and decision-making. Good background knowledge of the dairy industry and supply management is important. Board members are required to relate well to and have WKHFRQÀGHQFHRISURGXFHUVSURFHVVRUVsuppliers, Board staff and other stakeholders.Milk Industry Advisory Committee (MIAC)BC Milk Marketing Board Member Appointment by the Milk Industry Advisory Committee (MIAC)The British Columbia Milk Marketing Board, under federal and provincial law, promotes, controls and regulates the production, transportation, packing, storing and marketing of milk, fluid milk and manufactured milk products in British Columbia. A Board Member is to be appointed by MIAC with a three-year term effective November 2022. (Reference: BCMMB Election and Appointment Rules and Procedures, July 9, 2021) Board duties include the analysis and interpretation of detailed statistics in relation to production, product quality, consumption patterns, and industry economic impacts, and direct involvement in regional, national and international policies. The person appointed will have strong skills in communication, complex analysis and decision-making. Good background knowledge of the dairy industry and supply management will be important. Board members are required to relate well to and have the confidence of producers, processors, suppliers, Board staff and other stakeholders. This part-time position is suitable for an individual who can commit to Board and other meetings, likely or approximating three to five days a month, and who can undertake some travel. This Board Member cannot be a licensed producer. The BC Milk Industry Advisory Committee invites applications from qualified individuals who are keen to make an active contribution to the Dairy industry. If you feel qualified and the opportunity is of interest, to apply for an interview please send your resume in confidence by September 30, 2022: miac@bcmilk.com Attention: Hank Kroeker, Chair Milk Industry Advisory Committee • Increase milk production• Increase heat detection• Reduce hoof & leg injuries• Reduce cull ratesWe are booked solid June -August. Call NOW to schedule for September & October1.877.966.3546www.agritraction.com | CHILLIWACK, BCKATE AYERS ARMSTRONG – The idea of seeing their children grow up to pursue dairy farming as a viable career was John and Candice Riemersma's core motivation in applying for the BC Milk Marketing Board's New Entrant Program. It also won the couple a spot among the three families selected as nalists in this year's program, which the board announced on July 21. John is a second-generation producer who grew up on his family's dairy farm in Agassiz with parents Pier and Fennalies and brother Simon. While he enjoyed working on the family's farm, John had another passion: sport. So, in 1995 at the age of 18, he left the farm to attend Briercrest College and Seminary in Saskatchewan. John played varsity volleyball and completed a degree in sports administration. He also met his future wife Candice and after graduating the couple moved to Alberta where John completed a Bachelor of Arts and Kinesiology degree at the University of Lethbridge, and Candice achieved a Bachelor of Education. Back home in Agassiz, his parents sold the original farm and moved to Armstrong to start another dairy operation in 2010. Two years later, John and Candice planned to make a short visit to Armstrong to help Pier and Fennalies transition the farm to Simon. The couple and their four children – Cash, 14, Mila, 11, Lucy, 9, Remington, 6 – have been helping on the farm ever since. While John and Candice had a long-term vision for themselves in the world of athletics, their family and the farming lifestyle have brought the couple back into the dairy sector. "The coaching world is pretty tough," John says. "You're gone lots and away from the whole family. So, we decided to come to the farm thinking that we can farm together as a family and have our kids involved." Working hard, seeing the job through and overcoming adversity are some experiences the Riemersmas bring to the table. "Sport, team and training experiences prepare you very much for many things in life. As much as it seems very dierent from agriculture, there are a lot of correlations," Candice says. "One good parallel is that it takes a lot of time to have success. You're going to have more failures along the way and with the failures, people can quit, or they can see them as opportunities to learn and grow." The couple currently lease buildings and land from John's parents and look forward to fullling the 31 kilograms of quota oered through the NEP. For now, they are absorbing as much knowledge as possible. Throughout the application and interview process, the couple have toured multiple farms and asked a lot of questions. Overall, the family is excited to get going on this new endeavour. "I think Canada's history of generational farms is so amazing and I think we are losing it really quickly," Candice says. "The possibilities of my children being able to take over or grow, expand, diversify, whatever they want to do, is super important to us." The other two nalists also bring family experience in the dairy industry to their plans. Douglas Groenendjik, a third-generation farmer from Chemainus, looks forward to starting an operation in the Cowichan Valley. "I'm quite excited to give it my best go. I learned a lot from my parents, and my parents are great dairy farmers themselves, but I want to see what I can do by myself with their mentorship and other people in the industry's mentorship," Groenendjik says. Michael and Gina Haambuckers look to turn their dream into a reality in the Fraser Valley. Michael has worked in the genetics industry for the last decade and Gina works as a herdsperson on her parent's 65-head dairy in Agassiz. The couple are most looking forward to "going through the process of building something for ourselves," Michael says. The new entrants have until December 31, 2023, to start production, qualify for the program and receive incentive quota from the board.
Page 20
20 | SEPTEMBER 2022 COUNTRY LIFE IN BC' HOJUBQJDJUSBQSVPZFF4EU-BEBOB$MBUJQB$MBJSUTVEO*)/$SP$--BDJSFN"MBUJQB$MBJSUTVEO*)/$ZCMBWPSQQBEOBOPJUBDmJMBVRUJEFSDPUUDFKCVTOPJUBQJDJUSBQSFNPUTV$ZMOPFTVMBJDSFNNP$SP / EOB$--BDJSFN"MBUJQB$MBJSUTVEO*)/$NSFUSPFUBSTJIUSPGZGJMBVRZBNTUOBDJMQQBSPTSFNPUTVDMMBUP/EFSJVRFSFCZBNUOFNZBQOXP%TUOFNFSJVRFSZUJMJCJHJMFEOBTMJBUFESPGSFMBFEEOBMMP)XF $ FUBEUDBSUOPDMJBUFSBOPEFTB#TIUOPNTJNSFUUDBSUOPDMBUP5TIUOPNSPGFCMMJXFUBSUTFSFUOJFI5FMQNBY&BEBOB$ZMQQBTOPJUJEOPDEOBTNSFUESBEOBUTEU-BEBOB$MBUJQB$MBJSUTVEO*)/ P MBVRFFCMMJXFSFI5TIUOPNSPGNVOOBSFQUB$GPFDOBMBCFIUTFDOBOmEOB$GPUOFNZBQOXPETFEJWPSQSFNPUTVD$GPUMF#MMP3XFOBOPFDJSQMJBUFSEFUTFHHVTBIUJXZMV+G N SFGG0FDJSQMJBUFSEFUTFHHVTOJEFEVMDOJUPOTUOFNIDBUUBSPTOPJUQPMBOPJUJEEBZSFWJMFEQVUFTUIHJFSGTFYB5$GPTFHSBIDFDOBOmTFEVMDOJIDJIX$FCMMJXFMCBZBQUOVPNBMBUPUFI5$GPTUOFNZBQZMIUOP JFDJUPOUVPIUJXOPJUBMMFDOBDSPFHOBIDPUUDFKCVTSFGG0FMCBSFGTOBSUOPOT$ BDJSFN"MBUJQB$MBJSUTVEO*)/$IUJXFTBIDSVQHOJDOBOmOFIXFMCBMJBWBZMOPFSBTSFGGPLDBCITB$FMBTGPFNJUUBEFJMQQBFSBEOBZSBWTUOVPNBLDBCITB -EU-BEBOB$MBUJQB$MBJSUTVEO*)/$SP$-0 EOBMMP)XF/EOBMBUJQB$MBJSUTVEO*)/$EFWSFTFSTUIHJSMM"$--BDJSFN"MBJSUTVEO*)/$ªFDJUPOUVPIUJXOPJUBMMFDOBDSPFHOBIDPUUDFKCVTSFCNFUQF4EOFTSFGG B TFUBJMmGBSPTFJSBJEJTCVTTUJ7/MBJSUTVEO*)/$PUEFTOFDJMSPZCEFOXPTFJSUOVPDSFIUPZOBNEOBTFUBU4EFUJO6FIUOJEFSFUTJHFSTLSBNFEBSUFSBETTER DEALS.DENSER BALES.0% Financing1Cash Back Available2Make more hay with reliable New Holland hay and forage equipment, featuring our full lineof round and square balers, mower-conditioners, windrowers, rakes and more. They'reall ready to go for the season ahead — and most are available now with outstandingsavings. Take our Roll-Belt™ round balers. Renowned for producing the industry'sdensest bales, they deliver consistently high bale quality with features that speed youthrough fields when your crop is ready. Check out all the great deals going on now. Hurry, offers end soon3. Stop in today or visit nhoffers.com.ARMSTRONG HORNBY EQUIPMENT ACP 250-546-3033 CHILLIWACK ROLLINS MACHINERY LTD 604-792-1301 CHEMAINUS ROLLINS MACHINERY LTD 250-246-1203 FORT ST JOHN BUTLER FARM EQUIPMENT LTD 250-785-1800 KELOWNA ROLLINS MACHINERY LTD 250-765-8266 LANGLEY ROLLINS MACHINERY LTD 604-533-0048 WILLIAMS LAKE GRASSLAND EQUIPMENT LTD 250-392-4024 VANDERHOOF GRASSLAND EQUIPMENT LTD 250-567-4446Decades of delivering great service in the Peace Country. 9008 - 107 Street, Fort St John 250-785-1800 butlerfarmequipment.ca
Page 21
COUNTRY LIFE IN BC SEPTEMBER 2022 | 21Ranchers urged to renew social connectionsKeynote at beef conference says it's time to get back to normalAlberta psychologist and public speaker Jody Carrington delivered a light-hearted yet sobering message to beef producers at the Canadian Beef Industry Conference to "relearn what we've lost' during COVID. SUBMITTEDHave you herd? VBP+ TrainingWorkshops or Webinarsare Free!Looking to learn moreabout how to raisehealthy beef cattle?Open to producers of allsizes!free to all beef producersin bc!OFFERING MARKETING, BUYING & TRANSPORTATION.OUR ADVANTAGESLess Shrink with Less ExpenseLicensed & BondedWe Buy and Sell with Integrityj Proud Member of LMAC iLIVESTOCK PRODUCERS IN BC SELL & TRANSPORT YOUR CATTLE THROUGHMOUNTAIN LIVESTOCK MARKETING ASSOCIATIONMembersWe have extensive knowledge of buyer and seller needs. Contact our friendly local livestock professionals today.BC Livestock Producers Co-opKamloops 250.573.3939Williams Lake 250.398.7174Vanderhoof 250.567.4333OK Falls 250.497.5416Canart Cattle Company Kamloops 250.573.5605Ellis Cattle Co. Chilliwack, BC 604.309.5355Longhorn Farms Kelowna 250.765.7431VJV, Dawson Creek 250.782.3766Miane Creek Livestock Armstrong 250.558.9408Western Livestock Marketing Solutions Inc. 250.546.8153Contact MLMA 1.250.314.9686TOM WALKER PENTICTON – When the global pandemic drove the BC Cattlemen's Association annual general meeting online in 2020, no one knew what was ahead, but general manager Kevin Boon had a key concern. "I hope this isn't the end of our handshake," he told the meeting. "That is something that is such a key to our industry." Two years of elbow-bumping, social distancing, masks and vaccine passports and everything's back to normal now, right? "Not a chance," says Alberta psychologist Jody Carrington, who delivered the keynote at the Canadian Beef Industry conference in Penticton, August 16-18. The conference itself was delayed for two years by the pandemic before nally taking place in BC for the rst time this summer. "Why is a psychologist talking at a beef conference?" Carrington asked her audience. "Because you need it!" Carrington's presentation was edgy, humorous and on-point. She is proud of her roots in Viking, Alberta (population 1,000) where she says she learned most of what she knows about life. "We are wired for connections; it is the basis of everything that we do," she says. "If you grew up in a small town you already know the answer to everything we are going to talk about today." Looking someone in the eye when you shake their hand, the arm on the shoulder, the hug, even just showing up for one another – those tangible experiences of community stopped during pandemic. "We were never meant to do any of this alone but we have become disconnected and that's a real problem," Carrington says. "Statistically speaking, right now three people in this room have a plan to end their life." There is a solution to the disconnect, Carrington says. First, we have to agree that there is a problem. "You can't address what you don't acknowledge," she says. Then we have to return to our former ways of connecting with our loved ones, family, friends and neighbours. People have been constantly wound up for the past two years, says Carrington. The pandemic delivered the three things most likely to cause people to become emotionally unhitched: uncertainty, fear and no end in sight. "People like things to be calm and kind and they haven't been," she explains. "We are emotionally exhausted and we have lost our ability to be joyful, compassionate and to support each other." Worse, there have been no occasions to practice and few opportunities to relearn what we've lost. "We haven't had weddings; we haven't had funerals. These are the occasions when we model these behaviours for our kids," Carrington says. "When there is an accident at the farm next door, you gather up your children and you show up. The casserole goes in the oven and you put the coee on. Maybe you help out, or maybe you just sit with the family. We haven't been doing that." There are no words to x this emotional deregulation, Carrington says. Only human connection does, and that means that people need to be seen. "When people are acknowledged, they rise," she says. "My favourite hockey coach tells me, 'You should see how fast I can get a kid to skate when I know the name of his dog!'" It sounds simple, but she says the farm community needs to make a conscious eort to connect with people and a positive approach is a must. "Take out your phone, click on the number of the most important person in your world and type these words. 'I don't know if I tell you enough, but you matter to me.' Now send it!" Carrington directed. There were a few pauses and a couple of snickers. "Sure, some of you will get a message back asking if you've lost your mind," she chuckles. "But just do it."
Page 22
22 | SEPTEMBER 2022 COUNTRY LIFE IN BCAgricultural Environmental Management Code of Practice For more information, visit: gov.bc.ca/Agricultural-Environmental-Management or contact AEMCoPenquiries@gov.bc.ca  Land application is prohibited in November, December and January to protect our groundwater and watercourses.  In February, March and October you need to complete a risk assessment for eachfield24 hours or less before you apply nutrients, and the risk ofcontaminated runoff entering awatercourse mustbelow.  You must keep records of your nutrient applications and the results of your risk assessment (ARM Tool assessment) for at least five years; if a government official asksforcopies, youwill need tosubmit them within five days. To find out if you're located in a high-precipitation area and to complete ariskassessment, use the B.C. Application Risk Management (ARM) Tool at: agri-nmp-msa.apps.silver.devops.gov.bc.ca. If your farm is located in a high-precipitation area, such as the south coast andyou land apply manure or othernutrientsources (e.g., compost or fertilizer containing nitrogen or phosphorus), then you are required to follow these guidelines and take some actions.MARFEBJANDECNOVOCTAPRMAYJUNEJULYAUGSEPTNutrientSpreadingRISKASSESSMENTRISKASSESSMENTRanchers see strong demand, higher pricesGood times set to roll through 2024 for cattle producersTOM WALKER PENTICTON – It's looking like this could be a good year to be in the cow-calf business. "Things are looking a lot like 2015," says Brenna Grant, executive director of Calgary-based market research rm Canfax. She spoke at the Canadian Beef Industry Conference in Penticton, August 18. "It's been a challenging couple of years," Grant says. "We started COVID with a really big demand shock. Food service disappeared, and we switched to 100% retail." Beef fared better than some proteins, Grant notes (all-you-can-eat wing nights disappeared) until the packing plant shutdowns, and then there was a focus on getting fed cattle through the system. The industry has recovered from those impacts but the drought and high feed prices last year really pressured producers' margins, Grant says. The fundamentals have improved signicantly from last year, however, and she says it looks like the industry is turning a corner. Cattle inventories are down across North America, feedlots have space and feed supplies are robust with prices down and consumer demand both at home and abroad strong. The combination is supporting prices. "Cow prices are currently the strongest since November 2015," says Grant. "Fed cattle prices are the strongest since January 2016 and 500-600 lb steer prices are the strongest since February 2016." Beef supplies have tightened considerably since last year. Drought conditions in many parts of North America led producers to reduce their herds in 2021. Canadian feedlots bought large numbers of cattle and there were a lot of animals to get through the feeding and packing supply chain. But that situation has turned around. Canada is now a net exporter of cattle, and domestic supplies are the tightest since 2015. Feedlots have expanded capacity over the last several years and there is 19% more bunk space available than in 2015. "This should drive prices as feedlots look to ll their capacity," notes Grant. Cattle on feed numbers remain typical for the third quarter of the year but she doesn't expect growth in the Canadian herd. "We are still seeing higher heifer placements which tells us those animals are not going back into the cow herd," she notes. "And while there has been rain across the Prairies, it will take signicant amounts to recover from the drought last year." Parts of Saskatchewan remain very dry and the long-term forecast is for dry conditions and above-average temperatures for the fall. "These are indications that we will have a smaller cow herd in January 2023," she says. Feed prices settle down Barley and corn prices are down from the record highs seen this spring thanks to better growing conditions, something Grant says will help get feedlots back in the black. The outlook for exports is also bright, despite the closure of China in January over an atypical case of mad cow discovered in Alberta last December. Signicant expansion into Japan, Mexico and South Korea has pushed exports to 20-year highs. "Our beef exports in 2021 were the largest since 2002 at over 500,000 tonnes," says Grant, who expects 2022 will meet or exceed that. Domestic demand is also strong. "We are seeing an historically strong demand for beef at home," Grant says. "Canadian consumers have a preference for, and will pay for, domestic beef." While she acknowledges the possibility of a recession, she says prices tend to hold up fairly well. "Customers don't stop eating beef, but they may switch down a category to ground beef rather than more expensive cuts," she says. Grant sees the potential for a rally in calf prices this fall in the $240 to $260 a hundredweight range. "Ontario calf sales are already hitting $250 a hundredweight on some weeks, for 500-600lb steers," she says. "If feed grain prices stay at the current lower levels and don't increase, we should see strong prices this fall." Duane Lenz, an analyst with Cattlefax in Colorado, looks for the positive scenario to continue. "We are bullish on the industry," he noted, following Grant's presentation with a perspective on the global outlook for beef. He says there is a tight supply of beef and global demand and consumption are increasing. "2022 could be the second-best year in history for wholesale and retail beef," Lenz says "And we expect strong prices to continue through to 2024." BRENNA GRANT
Page 23
COUNTRY LIFE IN BC SEPTEMBER 2022 | 23Guests of the Grassland Conservation Council of BC toured elds near Savona earlier this summer to see how grazing management is critical to wildre recovery. MIKE KEEFER / GCC / FACEBOOK Join us on www.dlms.ca Soft close Sat, Sept 17, 7PM , BC time13th A Annual O Online Sae Sale Don & Leslie Richardson 250 - 557 - 4348 don@richardsonranch.ca www.richardsonranch.ca HEIFER CALVES, BRED HEIFERS, MATURE COWS, EXPORTABLE EMBRYOS September 16 –17, 2022 Producer Check-o Supports Beef Industry Projects.www.cattlefund.net 1.877.688.2333www.cattlefund.net 1.877.688.2333TOM WALKER SAVONA – Members and friends of the Grassland Conservation Council of BC spent a day in the hills above Walhachin discussing and learning about grassland ecosystems earlier this summer. Grass is one of the few things that will grow on these hot and dry benchlands above the Thompson River that stretch from Kamloops west and south to Spences Bridge. Grasslands like these make up only about 1% of the land base in BC, but are a key to a sustainable ranching industry in the province and home to extensive wildlife, including 30% of the vulnerable species across the province. GCC chair Bob Haywood-Farmer hosted about 60 people on his cattle ranch. His knowledge of and enthusiasm for the grasslands that have sustained four generations of his ranching family is infectious. Field days are a key event for the GCC, under the objective of community engagement, outreach and education. "They are a central part of the ve-year strategic plan we have just completed," says GCC general manager Mike Dedels. Other strategic areas include conservation, restoration and stewardship as well as research. Attendees learned about the interaction between grasslands, re and animals. Haywood-Farmer's range was severely impacted by the Tremont Lake re that burned 650 square kilometres last summer. Much of their higher elevation range is covered in forest that was full of mountain pine beetle kill and blow downs. "It was just a big tangled mess," says Haywood-Farmer. "It was bound to burn but we didn't expect a re like this." Haywood-Farmer says he won't graze the range at all this year. "The bunch grass is coming back pretty good, but it really looks fragile," he says. "We have voluntarily decided not to graze at all this year. Perhaps we can come back and do a little winter grazing but I don't know." The re also destroyed miles of cross-fencing, limiting the ability to manage grazing. Grasslands thrive on disturbance from both animals and re. Historically, this land along the Thompson River was grazed by elk herds and bighorn sheep until the late 1800s when they died out, says Skeetchestn biologist Mike Anderson. The Indigenous peoples in the area frequently conducted controlled burns to rejuvenate the grass for deer and other animal habitat, as well as manage a half dozen important root plants. "They burned in the early spring and fall when it was cooler," notes Anderson. "The grass res moved quickly but did not generate enough heat to damage the organic matter in the soil or to transfer into the tree canopy." North American land managers took re out of the ecosystem around the early Working with grasslands for mutual benefitControlled burns and livestock can stimulate grasslands1900s to the detriment of the grasslands. "We are a culture that is essentially afraid of re and the extensive physical and economic damage that it can [cause]," says TRU professor and long time GCC member Wendy Gardner. "Remember the movie Bambi?" But many Indigenous groups and habitat experts are calling for a return of controlled burns as a way to mitigate the extensive damage the province has email: audreycifca@gmail.com308 St. Laurent Avenue Quesnel, B.C. V2J 5A3Producers can apply for an advance on calves, yearlings, lambs, bison, forage and grain up to $1,000,000.00 with the rst $250,000.00 being interest free. Plus, interest relief through the Advance Payments Program is available to association members on their feeder cattle purchases.See ROTATIONAL on next page o
Page 24
24 | SEPTEMBER 2022 COUNTRY LIFE IN BCROTATIONAL grazing key nfrom page 23Aerial seeding is a safe and cost-eective way to revegetate large areas.We carry seed and equipment for all size jobs.t3FDMBNBUJPOTFFEt/BUJWFTFFEt'PSBHFDSPQTFFE BCHA Secretary Janice Tapp 250-699-6466 BCHA President John Lewis 250-218-2537 seen, particularly over the last ve years. Haywood-Farmer's cattle have taken up the role of the elk and the rotational grazing that the ranch conducts allows the grass to be cropped just enough to stimulate new growth. "We used to start out grazing in April," says Ted Haywood-Farmer, who has been managing the cattle for his father for the last 10 years. "That is when the new growth is starting and the cattle do well on it, but it seemed to set the grass back and we couldn't make much headway even splitting our range in half and resting it the next year." Winter feeding is expensive and Ted wanted to see if they could bring the cattle out earlier and calve in the bunch grass and sage. They have developed a dormant grazing system that both feeds the cattle and supports new growth. Their range is divided in half and cross-fenced allowing them to manage cattle on one side, while leaving the second half untouched for a year. Cattle now start out in early March, grazing low elevation benchland above the river. It's the driest grass, and forage cover is sparse and very sensitive. "The grass is dormant at that time, but it has enough nutrients to get the cattle started," explains Ted. "As soon as it starts to green up, we want them out of there and moving up hill, to allow the grass to go through the spring growth spurt." The cattle are moved up hill and continue to graze the dormant grasses that have not yet sprouted at the cooler elevations. When the rains arrive in June, the higher elevation grasses grow thick between the sagebrush. The higher elevation range is grazed during the summer and as fall sets in, the cattle retrace their path. They move back down hill, feeding on the growth that sprouted after the dormant grasses were cropped, nishing up on the lowest slopes and returning home to winter. The half that was grazed will be allowed to rest for a full year, while the cycle is repeated on the second half of the range the following year. Large clumps of sagebrush with little understory is a sign of a depleted landscape, but the upper pastures are robust. "We like the sagebrush and the grass growing together. It's been in balance for a long time," Haywood-Farmer says. "There is lots of habitat for wildlife." The re last year completely razed the sagebrush in many areas and while the grass returns quickly and naturally, it can take more than 20 years for the sagebrush to re-establish. Nature's way was evident when the tour stopped at the sight of a 1993 re above the CN tracks. The grass has regrown up the slopes, and the sagebrush is beginning to move in. "We only need to reseed where there has been signicant soil disturbance," explains Ted. "Where re crews access with heavy equipment, or build a re guard, that area has diculty regrowing and invasive plants often move in, but otherwise the grass comes back on its own." Sage and grass growing together are a sign of healthy rangeland at Indian Gardens Ranch near Savona. TOM WALKERBremer FarmsEmeny Road, EnderbyPlease RSVP to the Sila Grow Oce.Event updates will be posted on our website.
Page 25
COUNTRY LIFE IN BC SEPTEMBER 2022 | 25Four BC farms reach 100-year milestonesProvince recognizes farming pioneersNine Mile Ranch in Quesnel has been home to the Sanford family for 100 years. From left to right, Reanne, Ross, Lorraine and Alan Sanford, Robin Wheeler and Riley Sanford. SUBMITTED KATE AYERS QUESNEL – The province recognized several family farm legacies in August. Nine Mile Ranch in Quesnel was among the operations recognized with a Century Farm award. The Sanford family began farming the property when Walter and Cristiana arrived from England in 1922. Their son Jim and his wife Wyn took over the operation in the 1930s. Jim and his son Jim Jr. cleared the heavily treed area to make pastures and elds for dairy cattle. Jim Jr. and his wife Annice then raised the fourth generation on the farm. They and their three children Bill, Joan and Alan grew the operation and transitioned the family farm to beef. Hereford, Simmental and Angus cattle have called the ranch home over the years. Today, Alan and his wife Lorraine, along with their four children Robin, Reanne, Riley and Ross, manage the ranch, which runs about 100 head of commercial Angus cows and 180 head of purebred Simmentals and red and black Angus cattle. While ranching is challenging work, Reanne Sanford says her family enjoys the lifestyle and is passionate about producing quality local food. "Many of us have found our way back to the farm after going to university and school. We all either own property that was the farm's or right adjacent to the farm, so we live really close," she told Country Life in BC. "I think it's a really lovely way for us to grow up but also our kids now get to grow up and [are] a part of it too. That strong family tie to the land and to each other has been really great." The Sanford family celebrates its past and looks forward to the next generation continuing the legacy. "I think it's pretty exciting that the province and ministry recognize pioneers in our province that have really been able to adapt and stay on as the same family on the same land base," Sanford says. "It is unique to see one family have ties for this long. … It's a huge achievement; 100 years is a long time." Pollock Family Farm Pollock Family Farm in View Royal on Vancouver Island also recently became a Century Farm. Brothers Malcolm and Neil Pollock bought a 24-acre property in View Royal from the Hudson Bay Co. in 1921. They cleared the land with horses and built four glass houses that remained in operation until 1970 when the structures were decommissioned. The brothers added a house, barn and milkhouse in the 1930s. Malcolm's son Earl operated the farm from 1939 to 1990. Earl sold the property with greenhouses and moved most of the farm to its current location on Atkins Road. Earl's son David and wife Ingelise took over the farm in 2003 and have been managing it since with the help of family members and volunteers. Before farming full time, David was a teacher. Hungry Rock Farm The Riley-Gillis family of Hungry Rock Farm in Celista also achieved the 100-year mark last month, though the farm has been around since before 1920. Charles Riley started the then dairy farm by clearing the land with a cow, oxen and draft horses. Charles shipped cream across Shuswap Lake to Salmon Arm. He and his wife Mary wed in the 1940s. The couple's daughter Rosemary Gillis took over the operation in 1969. She and her children Carole and Charlie Gillis raised beef cattle, sheep and Welsh ponies. Starting in the 1990s the family primarily raised sheep. The land in the Thompson Okanagan region is currently leased to local hay producers and Rosemary works with them to provide feed for local livestock. Bradner Farm Bradner Farms in the Fraser Valley was also honoured with a Century Farm Award. The farm has been operating under the skillful, innovative and knowledgeable management of the Manuel and Donaldson families since 1912. The farm was established by Caleb and Winifred Manuel who travelled from Newfoundland by train. The couple settled in Bradner, where they cleared the land, built a farmhouse and began farming daodils, poultry and dairy. Caleb and Winifred's son Buller Manuel took over farm operations in 1953. When he passed in 1976, his will left the farm to Muriel Joy and her husband Robert Flett Donaldson. The couple moved into the farm's original farmhouse and added beef cattle to the operation. Their son Robert Allan Donaldson bought the farm in 1984 and expanded it into the organic and specialty poultry markets. He and his wife Patricia grew their family with four children and the farm with more dairy cows, a poultry hatchery and BC's rst certied organic feed mill. Robert Allan died in August, but the couple's four children continue to operate the farm as a fourth-generation operation. They have added a robotic milker and water bualo and are expanding into the Ashcroft area with organic beef and dairy farms.
Page 26
26 | SEPTEMBER 2022 COUNTRY LIFE IN BCFall 2022 Online AuctionFARM & EQUIPMENT Consignment: October 17th/18th Viewing: October 19thSelling Online: October 20th @10AM beekmanauctions.comSee YouSoon! Heritage Park Chilliwack @Consign Today!
Page 27
COUNTRY LIFE IN BC SEPTEMBER 2022 | 27Wise Earth Farm in Kelowna was the perfect alternative to what sisters Ariana and Gabby Gagnon saw available to young farmers in southern Ontario. SUBMITTEDCompare YEARLY WATER LOSS "Serving British Columbia proudly since 1946"Machinery LimitedROLLINS RToll Free 1-800-242-9737 www.rollinsmachinery.com info@rollinsmachinery.caChilliwack 1.800.242.9737 . 47724 Yale Rd W Langley 1.800.665.9060 . 21869 56th Ave Chemainus 1.250.246.1203 . 3306 Smiley Rd Kelowna 250.765.8266 . 201-150 Campion StToll Free 1-800-242-9737 www.rollinsmachinery.comChilliack 1.800.242.9737 | 44725 Yale Rd W Langley 1.800.665.9060 | 21869 - 56th Ave Chemainus 1.250-246.1203 | 3306 Smiley RdChilliwack 1.800.242.9737 . 47724 Yale Rd W Langley 1.800.665.9060 . 21869 56th Ave Chemainus 1.250.246.1203 . 3306 Smiley Rd Kelowna 250.765.8266 . 201-150 Campion StAre you READY for WINTER feeding?TRACEY FREDRICKSON KELOWNA – Of all the challenges farmers face – from unpredictable weather to nding workers – one of the greatest often occurs when it's time to transition the farm. Whether a farm is passed to a family member, sold to an outside buyer or placed on the auction block, planning an exit strategy should begin well before the plan becomes a formal document. Work can begin years in advance in the form of discussions with family members about their wish to own or be involved in the farm as part of the transition, assembling information interested buyers will need to make their decision, and maintaining detailed nancial statements. The alternative is often a complex and costly process. The transition for Wise Earth Farm in Kelowna demonstrates succession planning at its best. When John Hoer and Brenda Paterson sold their successful market garden after 10 years, they achieved their own goals for the transition and provided a rare opportunity for a family of aspiring farmers in Ontario to begin their farming careers in BC. John and Brenda leased two acres of land near Mission Creek in 2011 and quickly earned a reputation as experts in Small Plot Intensive (SPIN) farming, a biointensive production system well suited to urban farming projects and any setting where there is limited space and resources. SPIN farming produces a higher-than-average amount of crop from a very small area of land, uses less water and sustains soil fertility. "At the beginning we were just ying by the seat of our pants," says John. "We were only selling a third of what we grew, so we researched in more depth what people wanted to buy and focused on improving eciency." By tracking how much time and cost was associated with each task required to produce their vegetables, Wise Earth wised up to the nuances of the business. "We learned it was more protable to grow larger amounts of certain varieties than more varieties overall," he says. "Eventually, we knew exactly how many workers we needed and when we needed them which enabled us to lower our labour costs. Keeping good records also helped us forecast and prepare for expenses well in advance." It was just as important for the farming couple to identify what they were good at as individuals and make the most of their complementary skills. "I'm always thinking of the big picture and I tend to test new ideas and techniques before completing the last one," says John. "Brenda is excellent at implementation and managing the team on a day-to-day basis." Brenda credits John for his vision and desire to continually innovate. "He has also kept awesome records and nancials all these years," she says. "Every detail of the business was put into a spreadsheet, and we used (online platform) Tend to help us integrate our crop plan with our production schedule and sales channels. We really had a handle on our cost of production, so when we put the business up for sale, we had a detailed, accurate package to present to potential buyers." Maintaining diverse sales channels and strong customer relationships was also key to the farm's success. Wise Earth was a regular weekly vendor at the Kelowna Farmers and Crafters Market, the largest farmers market in BC with hundreds of visitors each week. It also cultivated valuable relationships with local chefs, securing steady restaurant business. In their fth year, the couple had the opportunity to farm a 10-acre property Market garden makes a wise transition Good records, mentorship make way for easy succession See WISE on next page o
Page 28
28 | SEPTEMBER 2022 COUNTRY LIFE IN BCSisters Ariana and Miranda Gagnon tend to crops at Wise Earth Farm in Kelowna. SUBMITTEDWISE move nfrom page 27CALL FOR AN ESTIMATE LARRY 604.209.5523 TROY 604.209.5524 TRI-WAY FARMS LASER LEVELLING LTD.IMPROVED DRAINAGE UNIFORM GERMINATION UNIFORM IRRIGATION FAST, ACCURATE SURVEYING INCREASE CROP YIELDS We service all of Southern BCKuhnNorthAmerica.comVisit your local British Columbia KUHN dealer today!INVEST IN QUALITY®www.kuhn.comMatsqui Ag-RepairAbbotsfordNorthline EquipmentPouce CoupeHuber Farm EquipmentPrince GeorgeFAST MOWING, FAST DRYDOWNStandard drawbar or 2-point Gyrodine® swivel hitch for tight turnsAllows wide spreading to over 90%of cut width for accelerated drydownLubed-for-life Optidisc®cutterbar and Fast-Fit® bladesFinger, rubber roller or steel rollerconditioning - adjustable for any cropFC TC CENTER-PIVOT Mower Conditioners10'2" - 14'4" working widthsnearby and encountered numerous problems, from ooding to equipment breakdowns and inecient work areas. "We realized we were growing too fast and refocused on the original two acres," says John. By their tenth year, they wanted to have their own land. With the high cost of land in the Okanagan they began looking at communities in the more aordable Kootenays, eventually buying a 27-acre property with a home in Grand Forks. Meanwhile, on the other side of the country near Windsor, Ontario, Myles Ferber, his partner Ariana Gagnon and Ariana's sister Miranda had decided to move to BC. Ariana was studying psychology online through the University of Windsor and Myles, who grew up on his grandfather's hobby farm, wanted to work in a community with more small-scale farming than the large-scale commercial environment of southern Ontario. "We were also inspired by the number of other young farmers in their 20s gravitating towards the Okanagan," says Ariana. Ariana's sister Miranda was accepted at UBC Okanagan and moved to Kelowna as well. When second sister Gabby completed her studies in environmental science, biodiversity and conservation biology at the University of Toronto, she also moved to Kelowna to be closer to the family. Once in the Okanagan, Myles, Ariana and Gabby were hired at Wise Earth Farm. "When the farm went up for sale, the price was much lower than what I expected because the land was leased and didn't have to be purchased," says Myles. "We talked with Ariana's mother, Raine Gagnon, about purchasing the business." Raine's business skills developed through her career in corporate nance and real estate were invaluable in completing the farm sale. John and Brenda stayed on as mentors to the family for a year before they moved to their new home in Grand Forks. The family made only a few changes once they took over. They increased production of some crops and reduced others, and made small price increases due to increased production costs during the pandemic. They continued to focus on eciencies and maintain the relationships John and Brenda had with local restaurants, ensuring the same quality and availability of produce local chefs had come to expect. "From our landlord to our customers, the community has embraced us throughout the transition," says Myles. Today, Ariana works alongside Myles and is the farm's social media expert. Gabby oversees the nursery. Miranda is completing her Certied Holistic Nutritionist diploma and is planning an expansion of the farm's veg box program with products such as pesto, salsa and pickling veggies made on the farm. The team recently hired their rst employee outside of the family which allows for a manageable eight-hour day for all. "We basically purchased a turnkey operation," says Myles. "Many farmers starting out can't aord the land and building costs. We were so fortunate to learn John and Brenda's way of farming. We knew the soil, the customers and what the local market wanted. It was an incredible set of circumstances that allowed us to do this." In Grand Forks, John and Brenda are planting their rst garden on their property and John is planning to start a farm tool manufacturing business. "Many farmers stop what they're doing due to age or injury," Brenda says. "We thought about how and when we would transition the farm for a long time and it's so good to know what we started is in good hands." The BC Ministry of Agriculture provides a number of online resources to assist with farm succession planning including the publication "Family Farm Business Succession Plan Checklist." The latter is a step-by-step guide to the transfer of knowledge, skills, labour, management, control and ownership of a farm in British Columbia.
Page 29
COUNTRY LIFE IN BC SEPTEMBER 2022 | 29WITH OVER 29 YEARS OF EXPERIENCEWe oer our clients the best service there is in the real estate industry ensuring there are no unanswered questions or concerns.SANDRA TRETICK Agriculture planning allows a community to identify challenges and opportunities to strengthen farming and contribute to its long-term sustainability. The BC Ministry of Agriculture and Food notes that 63 agricultural area plans, covering 46% of the land in the ALR, have been completed. This is expected to increase to 72% when plans currently underway for the Cariboo and Fraser-Fort George regional districts complete later this year. That leaves 1.3 million hectares of ALR in the Peace River Regional District left (just over 28% of the provincial total) after an earlier attempt at planning stalled about eight years ago. The motivation for planning is dierent for each community. The Cariboo Regional District started work on an agricultural plan last year because of the importance of agriculture to the local economy. Food security and emergency preparedness have become higher priorities since the 2017 wildres. An agricultural water demand model will also help sta plan for climate change. The Fraser-Fort George Regional District wants to identify tangible actions that the local government can take to support farmers and farming in the region, increasing resiliency in the face of supply chain disruptions and climate change. While planning is an important step, implementing completed plans requires additional commitment and funding. This is how two communities are making headway despite limited budgets. The big picture ALBERNI VALLEY – A team of agricultural support workers under the guidance of an agricultural development committee has focused on implementing the Alberni Valley Agricultural Plan since 2014. Originally drafted by the Alberni-Clayoquot Regional District (ACRD) in 2011, the plan expanded in 2019 to include the communities of Tono, Ucluelet, Bameld and local First Nations. The development committee is one of three agriculture committees in the region. An agricultural advisory committee deals with land use policies and ALR applications, while a coastal agriculture roundtable acts as the guiding body for the West Coast. Limited budgets don't mean limited action Two communities show what's possible despite funding constraintsBrothers Dan, left, and Terry Shannon, right, are grateful for the support they and other farmers in the region are receiving as a result of an agriculture plan the regional district drafted in 2011. SUBMITTED"It's evolved into a very detailed program for the regional district," says ACRD planner manager Alex Dyer. "We have a small budget that we put towards implementation. It's not enough, so we're constantly looking to leverage funds." Dyer says the plan set a target for the community to produce 40% of the food consumed locally within 20 years. (They're currently looking at ways to develop metrics to measure that.) Heather Shobe is one of the regional agriculture support workers. She and Anna Lewis work on contract for the ACRD to support producers. Regional district programs have to support industry or communities as a whole, so that limits on-farm extension. "There are challenges for a regional district to support any business individually," says Shobe. Instead, they focus on outreach and education, and help producers navigate regulations or apply for grants, such as helping farms navigate the meat inspection regulations to get farmgate licences. It's important work, according to fourth-generation Alberni Valley dairy farmer Terry Shannon. As a member of the agriculture development See AG on next page oPlease RSVP by text or call Alexis 604.319.0376Mother Nature has made it a tough year for trial plots, but we are still gathering atVyefield Farm, Sumas - September 15 Bremer Farm, Enderby - September 28Updates will be posted on our website & instagram.
Page 30
30 | SEPTEMBER 2022 COUNTRY LIFE IN BCAG plans provide resources, support to area farmers nfrom page 29committee, Shannon has seen the impacts of its work rst-hand. He credits Shobe and Lewis for their response to a devastating army worm infestation in 2017. "They were instrumental in contacting the provincial entomologist and getting us information on what we could expect going ahead. It was really helpful at the time," says Shannon. "They set up a monitoring program … [to] monitor the army worm infestation levels. That's been a useful exercise." Even more vital from his perspective was the creation of a water council. "They formed a water council, unique in the province, with a goal of raising the protection levels for agriculture water use," adds Shannon, whose own water sources are impacted by logging in the Beaufort Mountains. He says it's been an ongoing issue in the area for about 20 years. "For me, that is a really valuable thing for them to be doing. It's pretty innovative. I think it will probably be a model for other areas," he says. Overall, Shannon is pleased with the regional district's focus on agriculture. "It's good that they're paying attention to agriculture in the Alberni Valley," he says. Dyer and Shobe are enthusiastic about another project spearheaded by the regional district. With funding from the Vancouver Foundation, they have just launched the second year of a three-year systems change project that is studying the benets of working within the region and with other regional districts to expand the inuence of regional agricultural support. Divide and conquer SMITHERS – The Vancouver Foundation project also includes the Regional District of Bulkley-Nechako, which has developed an agriculture plan encompassing the entire region for a more coordinated approach to planning for and supporting local farmers. In 2017, the regional district hired a regional agriculture coordinator to update its 2012 Food and Agriculture Plan with a grant from the Northern Development Initiative Trust. The updated plan was published in 2020. Today, agriculture is viewed as a key component of regional economic development and the board continues to fund the position and some initiatives as part of its annual budget. Larger projects, like a food hub feasibility study and plan updates, are supported by outside grants. The coordinator role, falling under the economic development department, is a job shared by small lot farmer Megan D'Arcy and Michelle Roberge. They each serve half of the region and together support farmers in navigating government policies, work on topics ranging from emergency preparedness to sector and market development and coordinate with outside groups like the Northwest Invasive Plant Council and the Climate Change Adaptation Program on matters of importance to the region. This year, they also launched a newsletter and podcast series for farmers and ranchers. Mark Parker of Diamond Willow Farm in Fraser Lake has a cow-calf operation and also does hay sales. He says the regional district's agricultural plan is a benecial resource whether someone is new to the agriculture sector or looking to improve an existing operation. "Having the data that is contained in the ag plan available helps the producer's decision-making process and saves time having it all in one place," he says. Funding exhausted for planning and implementation The Investment Agriculture Foundation of BC is channeling $224,273 towards seven agricultural planning projects in communities across BC as part of the nal round of its Local Government Partnership Program. The funding is supporting three key projects. The Regional District of Fraser-Fort George, home to 492 farms, is creating its rst regional agriculture strategy covering all seven electoral areas. The 20-year plan will identify priorities to strengthen and grow the region's food and agriculture sector and tangible actions for local governments to take to support farmers. Delta is updating its 2011 agricultural plan to reect recent economic, environmental and regulatory changes impacting the city's 185 farms. The goals include identifying actions Delta can take in response to issues facing the sector and recommending changes to bylaws and policies that will support and protect the long-term viability of local agriculture. A more targeted approach is playing out in the Township of Langley, which is conducting a review of its agriculture inventory and capacity. As part of the project, Langley sought feedback from agricultural and equine businesses on the challenges they face and suggestions for addressing them. —Sandra Tretick ABBOTSFORD1-888-283-3276VERNON1-800-551-6411AGCO Genuine parts are built to work hard everyday, so they can keep up with you.
Page 31
COUNTRY LIFE IN BC SEPTEMBER 2022 | 31Squamish keen to get farmland into productionValley a "land of opportunity" for those willing to dig in Stefan Butler and Lindsay Cornwell of Nutrient Dense Farm have taken on the huge task of clearing 25 acres of second-growth forest in the Upper Squamish Valley to pursue their aspirations for a biodynamic farm. FACEBOOKCSA-spec Pressure Treated Barn PolesPreferred supplier for British Columbia Ministries & Parks Canada.Farm | Orchard | Vineyard | Berry TrellisingBill Everitt 250.295.7911 ext #102 beveritt@xplornet.ca | Toll free 1.877.797.7678 ext #102PRINCETON WOOD PRESERVERS LTD. 1821 HWY 3 PRINCETON, B.C. V0X 1W0PV RanchHayshedPhoto: Allan Pauls www.hlaattachments.com 1-866-567-4162 • Minimum 12 GPM required• Secondary metering drum regulates flow onto the belt• 12" wide high abrasion rubber belt with 1 ½" paddles• Discharge from either side Straw/Lime model shown.• Includes 2-½"x 8" cylinders• Main bucket material ¼" end plates and clam floor bottom• Available widths 66", 72", 78", 84"• Loader and skidsteer models available 4-in-1 BUCKETSIDE DISCHARGE BUCKET• Independent grapples for clamping of awkward loads• Tine and grapple tips are AR400 material• Compact models availableBRUSH GRAPPLESANDRA TRETICK SQUAMISH – Finding a long-term lease was the rst of many challenges for aspiring biodynamic farmers Stefan Butler and his partner Lindsay Cornwell of Nutrient Dense Farm. The pair had been market gardening on 0.75 acres in the District of Squamish and selling vegetables at the local farmers market when they started looking for a bigger parcel of land on which to grow their business. "We were working with Young Agrarians trying to nd an opportunity but nothing was working," says Butler. "I found it hard, period, to nd land anywhere. We needed something long-term. As soon as you went past 10 years, it was like it was nonexistent." Butler says it felt like winning the lottery when they nally found 25 acres of second-growth forest in the Upper Squamish Valley and signed a 25-year lease with the assistance of Young Agrarians in 2019. "[It] was through my brother that we met an Austrian couple that were just looking for an investment," says Butler. The lease stipulated that the owners would pay for clearing 10 acres of the property, but the work was up to Butler and Cornwell. "I don't recommend clearing," says Butler. "It's a lot of work and it takes forever. I didn't think it was going to be as dicult as it was." In addition to the intensity of the work, a re set during the process ran out of control, destroying three homes and displaced more than 60 people. The farm, as well as Butler, Cornwell and a contractor, currently face a lawsuit from neighbour Ali Abolfathi of Squamish Valley Campground for damages resulting from the blaze. Clearing cost about $10,000 per acre, but that was only the start. Site levelling and drainage followed, adding further expenses to farm establishment costs. "You've got to gure out drainage, getting the soil to a level where you can grow vegetables," Butler says. "That we're still working on. There's a pretty big cost so it would be dicult for most people to undertake." High costs The high cost of clearing and development is part of See DISTRICT on next page o
Page 32
DISTRICT ag plan for district full of big action items nfrom page 3132 | SEPTEMBER 2022 COUNTRY LIFE IN BCSave water, save energy, save labor and do a better job of irrigating. NELSONIRRIGATION.COM Automatically change the arc of throw on traveling Big Gun® sprinklers. Find efciency and heavy-duty reliability in Nelson Control Valves. Achieve unmatched uniformity with eld-proven Rotator® technology.SR150 BIG GUN®ARC TIMERACV200800 SERIESCONTROL VALVESR2000WF ROTATOR® & MINI REGULATOR DRAIN CHECKthe reason that Squamish Valley agriculture is still in its infancy, despite a history that dates back to the arrival of the rst European settlers in the 1870s. The district has 4,066 hectares [10,047 acres] in the Agricultural Land Reserve, according to a 2017 land use inventory the district prepared. ALR properties comprise 1.3% of the land area but just 49% is within legally surveyed parcels and 93% is still in a natural or semi-natural state. Just 68 ha (168 acres) of land in the district is farmed, including 52 ha [128 acres] of cultivated crops. Pasture accounts for 87%, with small amounts of hops and vegetables and even smaller amounts of tree fruits and berries making up the balance. Nearly two-thirds of crops are grown in the Upper Squamish Valley, which lies outside the District of Squamish in Area D of the Squamish-Lillooet Regional District (SLRD). Opportunities to expand come with a price While Butler gures the high costs associated with clearing and land preparation will deter prospective farmers, many see the large stock of underutilized land as an opportunity to expand the region's agricultural sector and local food resiliency. "Farming in the Squamish Valley is in establishment," says SLRD senior planner Claire Dewar. "We're trying to really get it going and working to attract young farmers. Very little is under production right now. That's one of our large challenges." Dewar says SLRD Area D director Tony Rainbow is a big champion for agriculture and growing the sector. While Rainbow acknowledges that land is expensive and the cost of getting it ready for production is high, he also believes it is important to do so. "We have a real challenge to get more of it into production," says Rainbow. He is concerned that some of the area's "farmers" are more interested in hosting concerts and weddings than producing food. "I certainly don't think we should be allowing any land that is available for farming right now to be used for things other than farming," Rainbow adds. "I don't think we can aord that." Butler and Cornwell have been farming in the Squamish area for 14 years, moving around as needed. Ideally, Butler would prefer to farm in Squamish itself. It has the best farmland and the valley is wider whereas the Upper Squamish Valley is steeper, more treed and the growing season isn't as long. But the upper valley has the advantage of no pollution and they don't have to do much in the way of pest management because they have a really good buer. "We're surrounded by a forest," he says. "The disadvantage is there's not as much land so it's hard to expand. There are some parcels up here that are bigger, but they're not necessarily for sale." In addition to their new site, the couple also farms 60 acres at the Queen of Peace Monastery in Garibaldi Highlands. Most of it is in hay. Although they don't have a formal agreement in place for that location, Butler feels it's "pretty secure." While focused primarily on market gardening and haying, they are also trying to incorporate livestock production, hence the need for additional land. "There's not a lot of agriculture here," he says. "There's not a lot of farmers here either. As far as farming goes, we're the only main farm in this area. I don't really know any others that are making their living o of this." But with growth in mind, the regional district and District of Squamish worked together to prepare an agricultural plan for the Squamish Valley. It was nalized in 2020. Krystal tenBrink, executive director of Squamish CAN and co-founder of the Squamish Food Policy Council, says very little ALR land in the Squamish Valley is currently farmed and she feels a sense of urgency that Squamish is behind on establishing food resiliency. This is something the plan aimed to address, identifying six goals and 38 recommendations for advancing agriculture in the region. These aspire to encourage production, improve market viability, promote stewardship, prepare for climate change, align policies that impact agriculture and increase education. "There are a lot of big action items in there," says tenBrink. "I feel we've really hit our stride in the last year. You can only do as much as you can, given how much funding you're getting." TenBrink highlights progress made on the goal aimed at improving sector growth and market viability. Work in this area has focused on researching options to support farmers selling their products on a regular basis such as a Virtual Regional Farm Hub, supporting local procurement initiatives like the Good Food Procurement Program, and producing an agri-food sector strategy for the area. In June, the District of Squamish and Small Business BC released a Squamish Agri-Food Impact Study, completing one of the 38 recommended actions. Farms comprised 9% of the 135 businesses in the sector in 2021. As far as Butler is concerned, nding a permanent home for the Squamish Farmers Market should be the highest priority for the district. "We run it out of a parking lot that we've totally outgrown," he says. "We have a real challenge to get more (farmland) into production." TONY RAINBOW AREA D DIRECTOR SQUAMISH-LILLOOET REGIONAL DISTRICT
Page 33
COUNTRY LIFE IN BC SEPTEMBER 2022 | 33Beer producers tap into terroirCraft beer tastes of place with local grains, maltingField Five Farm owner Kyle Michell farms 150 acres with 15 varieties of grain for malting on the Saanich Peninsula, each providing unique avours to the craft beers local brewers make with them. FIELD FIVE FARM / FACEBOOKwww.watertecna.com1-888-675-79991-877-591-4790INDUSTRYEXPERTS INAGRICULTURALIRRIGATIONCustomWorkSystemDesignCOMMITTED TO AGRICULTURE in BRITISH COLUMBIA rollinsmachinery.comCHILLIWACK • 1.800.242.9737 . 44725 Yale Road West • 604.792.1301 LANGLEY • 1.800.665.9060 |. 21869 - 56th Avenue • 604.533.0048 CHEMANIUS • 1.250.246.1203 . 3306 Smiley Road KELOWNA • 250.765.8266 . #201 - 150 Campion Street TRACTORS JD 5090GN 900 HRS, CAB, 4WD, BERRY TRACTOR [U32597] 64,900 JD 6400 ROPS, LOADER (U32707) ........................................ 35,900 KUBOTA M7060 2019, CAB, NO LOADER, 200 HP [U32830] .... 67,000 NH T4 120 ROPS, LOADER, LOW HOURS [N31691] ................ 79,600 NH TS6.140 [N 31304] ......................................................... 96,500 NH T6.165 8000 HRS, 2014 [U32747] .................................. 49,000 NH T6010 & LOADER, 6600 HRS @ CHEMAINUS [U40151] ..... 58,900 QUALITY USED EQUIPMENT CASE 161 DISC MOWER, ROLLER CONDITIONER [U32495] ............ 16,900 CUB CADET LAWN TRACTORS NEW 2022 UNITS, RIDE-ON, O'TURNS . CALL DION F64-90 CORN HEAD, GOOD CONDITION [U32877] ................. 21,875 MCHALE FUSION VARIO 2017, 14,000 BALES, [U32135] ......... 85,900 MCHALE 3100 FRONT DISC MOWER [U32621]........................ 17,000 MCHALE R3100 REAR DISC MOWER [U32620] ....................... 17,000 NH C232 TRACK SKIDSTEER, DEMO SPECIAL, 500 HRS, ROPS, GOOD CONDITION [N31179] ................................................. 56,000 NH 575 HAY BALER HYD PICKUP/TENSION [CNS779] .............. 16,000 NH 1432 DISCBINE 2 PT SWIVEL HITCH [CNS781] ................. 13,000 NH FP240 HARVESTER, 290 GRASS HEAD, 824 CORN HEAD, CROP PROCESSOR [U32909] ................................................. 39,000 POTTINGER 155VC ROUND BALER/WRAPPER [U40143] ......... 105,000 POTTINGER 155 BALER-WRAPPER, DEMO, FULL WARRANTY [CNS783] 152,900 STACKLINER 1044 BALE WAGON [U32420] .............................. 6,500 TORO GROUNDSKEEPER MOWER, 4700 HRS [U50275] ............ 4,950 KATE AYERS SAANICHTON – Farmers who grow their own hops and grains for beer production believe terroir should be touted more than it is in the sector – perhaps even protected, as with wine, through specic geographical indications. "They have denitely proven terroir in … [dierent] varietals of barley," says Field Five Farm owner Kyle Michell on Vancouver Island's Saanich Peninsula. "They all give a dierent avour and they have done scientic studies on that and have proved there are dierent avours from dierent grains and varieties of the same types of grains. Something like [geographical indications] would be very benecial." Michell is a sixth-generation farmer who returned to his roots and in 2015 purchased a section of his family's old farm, which had been sold in the 1960s. Today, he grows about 15 grain varieties on 150 acres, including some that are unique for Canada due to the rain shadow in which the farm lies. "We can actually grow winter barley where they can't in the majority of Canada because it gets too cold," he says. "We have that sort of Mediterranean climate here; so very wet in the winter and very dry in the summer. We can grow some very low protein barley, which is very hard to do in the rest of Canada. It makes better extract so you can make more alcohol. And the avours are just amazing." Michell uses an on-site seed cleaner to process the grain and converted an old horse barn into a malt house to prepare beer-ready product for breweries around Victoria. "The idea to do this malting operation was just to try and diversify from everyone else because there is a lot of corn and vegetables and hay grown around but not really any grain," Michell says. "But grain was grown on the peninsula a lot back in the day, so we just wanted to bring it back." Because of his operation's scale and market, Michell has the exibility to test dierent grains. "With our system we can do stu that most people have never even tried before. … We have black barley growing right now, which is a very old variety, but no one has ever malted or brewed with it in history that we've found," Michell says. "We don't know what the avour prole is going to be or if some of the black colour from the grain is going to come through into the beer." Michell also grows the rst domesticated grain, einkorn. "It dates back like 10,000 years … and has low beta-glucans, so again something that no one has ever tried before," he says. "We're trying to do a lot of dierent things and see what the avours are going to do." Tapping potential Similar to Michell, Bruce and Brenda Miller of The Beer Farmers Family Brewery in Pemberton wanted to create beer that highlighted the unique terroir of their region, tapping into the potential of de-industrialized barley production and craft avours. They've been brewing beer since 2018 with grain grown on a 500-acre farm established in 1911. "[When industrialized] grain production was moved to the most productive areas, malting was moved to the most productive areas. ... People were able to emulate famous water proles, and consistency, yields and shelf life became more important in barley and malting," says their son and brewery general manager Will Miller. "This further detached brewing from its agricultural roots and aimed to use barley simply as a tool made up of its most basic parts, rather than an agricultural ingredient with natural dierences from year to year or variety to variety." The Millers decentralize their production by focusing on soil health as well as the quality of barley, water and hops, with each component being 100% locally sourced to showcase regional dierences you can taste. "Being in the mountains, we have really cold winters and really hot summers so that is going to impact what kinds of crops you can grow. The Lower Mainland has a See UNIQUE on next page o
Page 34
34 | SEPTEMBER 2022 COUNTRY LIFE IN BCBarnside Brewing's Ken Malenstyn (left) with assistant brewer Sebastian Peterson in 2020 says BC craft beer has a sense of place. PETER MITHAMUNIQUE flavours nfrom page 33MANUFACTURING A VARIETY OF ATTACHMENTS INCLUDING BRUSH MULCHERS | ROTARY BRUSH CUTTERS | PTO GENERATORS | AUGER DRIVESDRAINAGE PLOWS | TREE SPADES | TREE SAWS & SHEARS | BOOM MOWERS | TREE PULLERSFELLER BUNCHERS | EXCAVATOR ADAPTERS | SCREW SPLITTERS | TRENCHERS | STUMP GRINDERSBAUMALIGHT.COMAdair Sales & Marketing Company Inc. 306-773-0996 | info@adairreps.comlonger growing season, but they don't have the intense heat that we do," Miller says. "We need something that is going to grow quicker and might have to be a bit hardier to withstand cooler springs and we need to get it out of the eld sooner because in September it starts raining. I think there is a lot to look forward to on the development of regional terroir for beer, although wine has a few thousand years' headstart on us." Freshness Persephone Brewing CEO Brian Smith in Gibsons believes that local ingredients contribute to the unique taste of his beers and add to their freshness, which is important to good-quality beer. "Barley and hops each have their ranges of ideal growing conditions, and it can be noticeable when an ingredient comes from somewhere with less desirable conditions," Smith says. "Some breweries that do wild fermentations rely on the local ora for the unique airborne microorganisms that give their beers personality. Likewise, some of our adjuncts like honey, berries and owers give our products very local avours and aromas." In addition, the water they use in the beer is very soft and neutral, essentially providing a blank canvas to brew a range of beer styles, Smith adds. He supports the concept of geographical indications in the craft beer sector but also appreciates the elements that other regions can add to beer quality. "The ultimate avour of a beer is the result of several ingredients coming together in a very process-driven way. Most breweries, even farm-based ones, get some of their ingredients from regions other than their own," Smith says. "I think it's really cool when breweries source all of their ingredients as locally as possible, especially when the beer turns out great! But there is also something to be said for bringing in the best ingredients from all over the world to brew the best beer possible." Terroir plays huge role Ken Malenstyn of Barnside Brewing in Delta would like to see greater recognition of local terroir in craft brewing as well as incentives to produce beer with more local ingredients. "I think the biggest thing that we often forget with agricultural products is that terroir plays such a huge role and … we see a lot of variation in similar varieties from location to location," Malenstyn says. The characteristics of his farm and its local partner growers dene their brand. "The beer you drink when you're here … you're not tasting a pursuit of some European style, you're tasting our soil, climate – that's who we are," Malenstyn says. "This is the taste of Ladner." Malenstyn is currently chair of BC Hop Growers Association and his farm is a member of the BC Craft Brewers Guild. The guild represents approximately 225 craft brewers across the province. According to 2020 data, the craft beer sector generates $319 million in revenue and over 4,500 jobs. Craft beer is "the fourth generator of domestic revenue in the province," Malenstyn says. "It has some weight and hopefully if we work together, we can push for some of that change. It would make a huge dierence."
Page 35
COUNTRY LIFE IN BC SEPTEMBER 2022 | 35Andrea Gunner is a agricultural business consultant and operates Rosebank Farm in Armstrong. She says the demise of extension services for BC farmers has had an irreversible impact on the industry. SUBMITTEDFarm & Rural ResidentialProperties in the Peace Country are our specialtyAnne H. ClaytonMBA, AACI P App, RIAppraiserJudi LeemingBHE, CRA P AppAppraiser250.782.1088info@aspengrovepropertyservices.ca www.aspengrovepropertyservices.caFOR BAGGED or BULK ORDERSDarren Jansen Owner604.794.3701organicfeeds@gmail.comwww.canadianorganicfeeds.comCertified by Pro-Cert Organic Systems Ltd.Barriers to entry threaten BC's food securityLack of extension services, high land prices discourage new farmersKATE AYERS ARMSTRONG – A lack of extension, collaboration and incentives to farm are key threats to the province's food security and resiliency, farmers and industry experts say. "I would like to see a whole bunch more energy and resources put into extension to help producers and processors climb that economic ladder," says Rosebank Farm owner and agricultural business consultant Andrea Gunner of Armstrong. Through her previous work experience with the economics and marketing branches of the BC Ministry of Agriculture in the 1980s and 90s, she became more aware of what growers were dealing with in terms of cash ows. "There was a really strong warning at that point that things were going to change pretty dramatically," she says. "Small growers were going to be really hard-pressed unless they were collaborating and doing something in a marketing group, or in some way aggregating their supply." But the province's mountains and rivers create geographic barriers that don't make it easy, and highway access can be challenging. When budget allocations began shifting away from the agriculture sector in the 1990s, extension services that could have facilitated the work disappeared. "In BC, we have been notorious for underfunding agriculture," she says, noting that the province has typically spent less – as a proportion of GDP – on agriculture compared to every other province in Canada for more than 20 years. "It's very hard to catch up with that when you've lost an entire generation." However, agreements between the provincial and federal governments and universities could facilitate more research and knowledge transfer. "We never had the university system like they have in the States. We did have government extension and that was largely abandoned," UFV Food and Agriculture Institute director Lenore Newman says. "We are an outlier in the G8 for not funding that kind of research and outreach. We're one of the only countries in the G8 with no dedicated research funding council for agriculture, like we do for applied sciences." One solution could be for government to mandate that certain universities dedicate some tenure-track positions to serve extension, similar to the land grant universities in the US. "Right now, if someone like myself does it, it's o the side of my desk and I don't get credit towards tenure for that. For a new prof, that is a real problem. If a farmer comes to you with a problem, you absolutely cannot usually help them because it works against you," she says. "In the US, it would be part of your job." That being said, regional agrologists with the BC Ministry of Agriculture and Food help farmers with production challenges through the province's Grow BC program, connecting them with ministry programs and keeping them aware of community events, funding and knowledge transfer opportunities. Networking "It takes a network to help the food producers in our province," says Angela Boss, Coast team lead of the ministry's regional development unit. Land prices are another barrier to food production. While exorbitant land prices should encourage growers to produce higher value crops, they make it tough for new farmers to get into production. BC land prices increased 18% last year, following an 8% rise in 2020. The average in the fertile Fraser Valley is the highest in Canada at $134,700 per acre. "The land cost is so high in most of the province that it actually precludes farming," says Newman. "I think that is one of the reasons we are seeing the absolute hemorrhage of farms out of this sector. It's so striking. … We've lost about 10% of our farm businesses over the last ve years or so." Incentives to keep farmland in food production could help new producers enter the industry and bolster food security. Arzeena Hamir of Amara See LAND on next page oUSED EQUIPMENT MAS H125 TILLER, 2012, 50" . . . . . . . . . . . . . . . . . . . . . . . . . . . . . . 3,500 KUBOTA K76249H 76" SKIDSTEER SNOWBLOWER . . . . . . . . . . . . . . 7,500 USED TRACTORS KUBOTA T2380 2017, 48" DECK . . . . . . . . . . . . . . . . . . . . . . . . . . . 4,500 KUBOTA BX2360 2010, 1,900HRS, TRAC/MWR . . . . . . . . . . . . . . . 9,750 TORO 328D 48" MOWER, 2,900 HRS . . . . . . . . . . . . . . . . . . . . . . . . 4,500 KUB GR2110-54 2010, Diesel, 54" deck, grass catcher . . . . . . . . . . . 9,000 GRAVELY ZTHD60 2017, 60" ZERO TURN . . . . . . . . . . . . . . . . . . . . . 6,500 KUB F2880 2006, 1,411HRS, 60" REAR DISCHARGE . . . . . . . . . . . . 11,500 KUB F3990 2015, 72" SIDE DISHARGE . . . . . . . . . . . . . . . . . . . . . . 22,500 NEW INVENTORY: GREENWORKS COMMERCIAL CORDLESS BLOWERS, CHAINSAWS, STRING TRIMMERS, HEDGE TRIMMERS, LAWNMOWERS. 82/48 VOLT KUBOTA RAKES, TEDDERS, MOWERS, POWER HARROWS - CALL! CONSTRUCTION BOB S70 1998, CAB, 1,600HRS, BUCKET & FORKS . . . . . . . . . . . . 16,900 K008-2 2001, 2,700hrs, 2 BKTS . . . . . . . . . . . . . . . . . . . . . . . . . . . 14,500 KUB KX41-3, 2010, 3,900HRS, THUMB, 4 BKTS . . . . . . . . . . . . . . . 22,500 KUB KX080-4 2016, 1800HRS, RUBBER, THUMB, ANGLE BLADE, 2 BKTS . . . . . . . . . . . . . . . . . . . . . . . . . . . . . . . . . . .118,500 See you at the Cowichan Exhibition!
Page 36
36 | SEPTEMBER 2022 COUNTRY LIFE IN BCLAND nfrom pg 35Farm in Courtenay is concerned that the province does not produce enough food to feed its residents, which is especially true on Vancouver Island. She says just 4% of local food and all the inputs local producers require have to be brought to Vancouver Island by ferry. This leaves local communities vulnerable in the event of supply chain disruptions, like those seen last year. "Having enough food at the time that you need it is part of food security," Hamir says. To encourage farming in the province and in turn improve the current food security landscape, she would like to see several policy and management changes, beginning with incentives to encourage people to use land for farming. "We have a lot of unused farmland here in the Comox Valley," Hamir says. "It's either cut for hay, which I do see as supplying many of our animal producers, but it's not the best and highest use of many of the properties that are here in the valley. I would say that over 50% of our land is not being used in the best and highest way." Don't forget to RENEW yourSubscription.I am about as busy as I get right now. Or rather, I have more pressing things to do right now than at any other time of year. I won't necessarily be getting it all done because I don't work all day and all night every single day of the week for months on end. I would consider delegating but no one is exactly wandering around the farm looking for things to do. We are one week out from Slow Food Cycle Sunday, our big agri-tourism event. We came up with this one when we were caught up in the foolish concept of farmers being obliged to provide entertainment and education as well as the usual sustenance. It's a terrible concept because these endeavours are inherently conflicting. Basically, none of the work that goes into entertaining people is the same as the work required to feed them. Worse, the farm work produces the work that must be done to provide entertainment. This week ahead, in addition to event production, is going to be our biggest potato digging, washing and sorting week so far this year. The place will be awash with the detritus of that effort until Friday. Then it will be cleaned up and the Temporary Food Permit will be stapled to the wall. The event is on Sunday; we'll cook potatoes for 3,000 people, then by Monday we'll be right back into action on what will be an even bigger week of production. And this time we'll add the carrot harvest. So, in addition to the farming, someone is going to have to mow the lawn, fill some driveway potholes, hide all the tractor keys, put labels on all the equipment and garden plants, get full propane tanks, fix the propane burner, set up a remote and sanitizing dishwashing station, organize garbage and recycling bins … I am going to stop there before my head pops off. This is my point: none of the above jobs are actual farm work. But we'll do them because we are hosting an event. The education piece centres around the old chestnut: learning about where your food comes from. Speaking in very general terms and heavily influenced by the crushing feeling of over-work, I venture to suggest, without prejudice, malice and only the faintest echo of exasperation, that most people need to visit a different sort of farm altogether to get an idea of where most of their food is coming from. We don't sell to Costco, for example. Yet. I think a lot of people wish their food came from a place like here. Stoking food source envy by having them meander through our beautiful valley, smelling the potato-flower perfumed air, developing a massive appetite by biking, and eating our potatoes has always been part of my secret plan to revolutionize the food system. Please don't tell. Of course, it can be a profitable, not to mention edifying, effort. In our case, it seems people ride their bikes all the way to our farm because they want to eat some potatoes, and, happily, buy them. The participants ask questions, appreciate the opportunity, and spend money when asked. They like to wander around a little bit, chance upon my dad delivering a tour of the cover-crop equipment and get composting tips from mom. As a special treat this year, my sister is encouraging spontaneous ping-pong tournaments. The event, now in its 18th year, has become a massive sort of mutual appreciation festival between farmer and consumer, and it all feels rather worthwhile. Once a year. Anna Helmer farms in Pemberton with her family and no longer dreams up exciting events. Agri-tourism has its merits – in small dosesFarm Story by ANNA HELMER
Page 37
COUNTRY LIFE IN BC SEPTEMBER 2022 | 37Blueberries hit by mystery disease that defies testsResearch aims to develop a new diagnostic toolBC growers should be harvesting more than 200 million pounds of blueberries each year, but a host of diseases stand in the way. FILEwww.tubeline.ca 1.888.856.6613@TubelineMFGFind us onNITRO 275RS SPREADERSACCUMUL8 & RETRIEVERBALEWRAPPERS SILAGE RAKEKATE AYERS VANCOUVER – A team of researchers is looking to uncover the mysterious cause of a new disease damaging blueberry elds across the province. Over the last few years, farmers have tested plants showing symptoms of disease for blueberry scorch and other diseases. However, more and more plants are testing negative while symptoms persist, leaving producers unsure how to protect their elds. But on August 22, researchers announced plans for a two-year project funded by Genome BC and the BC Blueberry Council to identify what's behind this latest hurdle to yields and protability. "In 2020, for instance, 18% of samples from damaged plants tested negative for both the blueberry scorch virus and blueberry shock virus," says SFU associate professor of biology and project lead Jim Mattsson. "We need to know what is aecting these blueberry bushes to nd out how to reduce the spread of disease." As part of the research team, the BC Blueberry Council is working with its partners to determine the cause of the new disease, interpret the results and facilitate knowledge transfer initiatives. "The real practical deliverable is that through this work we are identifying new strains of the known viruses, shock and scorch. And then we're also identifying at least one of the new viruses that we have found in the Pacic Northwest," says BC Blueberry Council research director Eric Gerbrandt. "We have found fairly widespread presence of a new virus that may be contributing to disease, but we don't really know how it interacts with the known viruses and whether or not it actually causes damage to the crop." Once the cause is determined, the team will work with North Saanich's Phyto Diagnostics Co. Ltd. to develop a diagnostic test for the new virus using genomic information, Genome BC says. "We are looking to work with Phyto Diagnostics to update their diagnostic tools so that we can more eectively gure out what diseases are present in each plant out there in the eld," Gerbrandt says. Blueberry Farms For Sale34486 Clayburn Road, Abbotsford. $5,350,000 MLS# C8045930Don't miss out on this 35 acre Certied Organic Blueberry farm. There are 2 homes, City water, 2 road frontages (Clayburn and Bateman Rd). Four planted mature varieties include Liberty, Elliot, Duke and Bluecrop. Great full production farm.40909 Nicomen Island Trunk Road Dewdeny/ Deroche. $5,700,000MLS# C804593149 acre blueberry farm just outside of Mission. Bonus of 2 titles (approx 9 acres plus 40 acres, adjoining parcels). Duke, Draper and Elliott varieties. Farm is set up for mechanical harvest and has wires, poles and drip irrigation system installed. Call for more information.Arielle Batist778.985.7352www.ariellebatistrealestate.comtBSJFMMFCBUJTU!HNBJMDPN Sutton Group - Seafair Realty
Page 38
38 | SEPTEMBER 2022 COUNTRY LIFE IN BC@matsquiagrepairCall today to demo any of our JCB models today!www.matsquiagrepair.com34856 Harris Rd, Abbotsford BC V3G 1R7604-826-3281STRENGTH&DURABILITY 560-80 AGRIThe JCB 560-80 Agri Plus is a highly efficient EcoMax-powered telescopic handler. Geared for maximum capacity, power and productivity.Call us today for your demo!
Page 39
A NATS Nursery employee explains the challenge of learning to grow native plant species. JANEL VAN DONGENCOUNTRY LIFE IN BC SEPTEMBER 2022 | 39Food, friends and fun defined the annual week-long event Buy native plants grown locally for:t%JTUVSCFEMBOEBOEEJUDIFTt8JOECSFBLTt1PMMJOBUPSQMBOUTt)FEHFSPXTContact Michael 604.530.930024555 32nd Avenue | Langley, BC V2Z 2J5www.NATSnursery.comDisturbed Farmland to Reclaim?Where does your food come from? How did it get to the grocery store shelves? These questions certainly posed some food for thought for youth attending the aptly named Food for Thought provincial camp hosted by 4-H BC, July 17-22. Held at Trinity Western University in Langley, 36 youth ages 14 and 15 had the opportunity to get an inside look at the industry that produces the local food we nd on our plates. Throughout the week, the delegates toured more than 10 farms in the Fraser Valley and participated in fun, interactive, agricultural-based activities. The tours, both live and virtual, focused on multiple agricultural industries and various aspects of farming. (Due to avian inuenza, the chicken farm tour was held virtually.) Familiar commodities, such as dairy, chicken, beef and berries, were intermixed with other innovative operations including honeybee, nursery, tilapia, bell pepper and mushroom farms. A tour at the University of the Fraser Valley also oered delegates a taste of post-secondary agricultural programs. Each tour oered a unique experience and a chance to learn something new. The week's activities also included presentations from many provincial industry associations and boards including the Agricultural Land Commission, BC Chicken Marketing Board, BC Salmon Farmers Association, BC Association of Cattle Feeders and the BC Egg Marketing Board. Finally, delegates developed their own presentation skills and explored agricultural topics in-depth with a debate and group presentations. Both activities were fun opportunities to get hands-on with research, leadership and personal growth. At the start of the camp, delegates were encouraged to share their thoughts about Serving the Okanagan and Fraser Valley We've been proudly family owned and operated since opening in 1976. And with two blending plants, we're one of BC's largest distributors of granular, liquid and foliar fertilizers. Our buying power and proximity to the Fraser Valley makes us the logical choice for truckload shipments. OKANAGAN FERTILIZER LTD 1-800-361-4600 or 250-838-6414the denitions of six dierent terms: organic, genetically modied/non-GMO, antibiotic-free, hormone-free, local and free run/range. Then, at the end of the week, they were asked to share if – and how – their opinions had changed. Upon reection, the week brought much new learning for some delegates; for others, it solidied their opinions on the topics. Without question, everyone learned something new. The delegates' participation during the week was nothing short of inspiring. Lots of questions and comments popped up during tours and presentations, including an enthusiastic number during a presentation on laying chickens' feed. (This was perhaps spurred on by the promise of a ballcap for the delegate with the most questions.) Even during meal breaks and after the day's activities were nished, delegates continued their conversations about wide-ranging agricultural topics – from articial insemination to show ring attire. Most importantly, though, delegates made new friends from near and far, and shared much laughter. This was especially evident during a 4-H BC by JANEL VAN DONGENWhen there is no instruction manual to follow, the best way to learn is by trial and error. This is a lesson the growers at NATS Nursery in Langley have learned well. The team specializes in growing plants – not just any plants, but native plants, which don't come with a handy information tag or detailed instructions on how to grow them. Since 1988, NATS sta have been dedicated to growing and shipping native plant species, along with green roof and living wall installations for businesses throughout the province. While domesticated plants can be dicult to grow in the rst place, native plants are especially nicky. The challenge for NATS sta is to attempt to mimic nature in their multiple greenhouses spread across 30 acres. Even trickier, each species often has dierent needs from the next. However, NATS has found success in growing native plants, from seed collection and sourcing to growing on-site, then contracting and shipping them to buyers. Many native species are sent to mining and forestry restoration projects, where the plants help speed up the process of reviving disturbed ecosystems. NATS also specializes in green roof installations, developed in part by its contract in 2006 to supply over 350,000 native plants to the Vancouver Convention Centre. Their eorts created the largest non-industrial green roof in North America. NATS vision is to "grow the lungs of the world" and "inspire all to grow the right plants in the right places." Their creative approach to habitat restoration and improving our ecosystems is certainly an inspiring example for those who follow. To learn more about NATS Nursery, visit [natsnursery.com]. —Janel van Dongen Growing the right plants in the right placesSee FOOD on next page oBC's ag diversity showcased at Food for Thought
Page 40
40 | SEPTEMBER 2022 COUNTRY LIFE IN BCKenneth Henderson faces Clay Garrison's motherWhen we left o last time, Delta Faye had just recovered Kenneth's lost cell phone from the underbrush in time to answer a call from Clay Garrison's mother. "I'd like to meet you tomorrow and have a chat," she said. Rural Redemption, Part 150, continues ... Kenneth was muttering something about having better things to do than wasting his time on some wanna-be cowboy's mother. "Is something wrong?" asked Delta. "Wrong doesn't even do it justice!" said Kenneth as he launched into a vitriolic tirade about Ashley and Clayton, and now his mother, and how he had to end up being the bad guy because Deborah didn't nip the whole thing in the bud while she still had the chance, and how he was fed up because nobody ever listened to him, and they all went behind his back anyhow so why should he even care in the rst place? "That sounds like a big plate full," said Delta. "Maybe you should try it one mouthful at a time. What was the call about?" Kenneth told her it was Clay the Cowboy's mother and how she sounded like she was going to t right in with all the other dopey hicks in the god-forsaken neighbourhood. Delta reined him in. "Never mind all that. What did she want?" "She expects me to meet her and talk about Ashley. And that Tom Mix son of hers." "Have you talked to her before?" "No." "So, you haven't met her yet?" "No." "Okay. Don't take this the wrong way but you seem to be squawking awful loud for a hen that hasn't laid an egg yet. Take a bit of time and talk to her. Maybe you've got the wrong end of the stick." "Okay, don't you take this the wrong way!" said Kenneth. "But you're starting to sound just like all the rest them." "If you're nding me a hardship, just say so and I'll be on my way," said Delta. "No, I'm sorry. It's not you, I'm just really frustrated." "About?" "All this nonsense about Ashley being in love." "Love isn't nonsense, you know?" said Delta. "She's only 18. What does she know about being in love?" "She might not know anything about it, but she can still be in it." Kenneth didn't answer. Delta Faye Poindexter had talked him into a corner. He changed the subject. "Have you given any more thought to where you're going to live?" he asked. "I thought I had it all gured out but I'm back to Square One. I'm going to see if I can nd something to rent with a few acres of pasture and a barn for the horses for now." Kenneth stopped walking and faced Delta. "Just so you know, I could share the rent if you like." Delta raised her eyebrows and shook her head slowly. She remembered the time a perch jumped right onto the boat when she was shing with her grandfather. He tossed it back into the lake and told her just because a sh was dumb enough to Woodshed Chronicles by BOB COLLINSPlease send a _______ year gift subscription to _______________________________________________ Farm Name ____________________________________________________________________________ Address _______________________________________________________________________________ City _________________________________________________ Postal Code ________ _______________ Phone _________________________ Email ________________________________________________ land in your lap didn't mean it was a keeper. "Waaay too soon, Kenny. Waay, waay too soon." vvv Delta joined Susan, Newt and Kenneth for breakfast the next morning. Just before 10, Mary pulled up the driveway. Newt introduced her to Susan and Delta Faye, and Kenneth. Susan asked her in, but Mary wondered if she and Kenneth might sit out on the porch and have a chat? When the others were gone, Kenneth and Mary sat on either side of the patio table. Kenneth leaned back and crossed his arms and so did Mary. They stared at one another silently for 20 seconds. "It's your nickel, Mrs. Garrison. What's on your mind?" "Ashley, and Clayton, and you." "What about them, and me?" "As I understand it, they are in love and you don't approve. I'd kind of like to know why." "Well, as I understand it, Ashley thinks she's in love because she's only 18 and doesn't know any better; Clayton says he's in love so he can get her to go along with it, and I intend to make sure Clayton Garrison is one big mistake Ashley isn't going to make." "You do realize your daughter is going to be 19 before you know it and then it isn't really going to matter what you think. And I can assure you that unlike your own poor mother, my son is not one big mistake in any way shape or form." "Look! What does Ashley have to look forward to if she gets married this young? And what does your son have to oer? He's an unemployed welder shovelling cow dung on his uncle's farm and looking for a meal ticket with side benets. " "You are indeed a fortunate man, Mr. trip to Cultus Lake Water Park, where every delegate left with often-hilarious stories of water slide adventures. At the end of the week, it was safe to say that Food for Thought oered something for everyone. For some delegates, the camp was one of their rst experiences with agriculture. For others, it was their rst time exploring new agricultural commodities beyond what they already knew. For many, it was their rst time visiting large-scale producers, some of which ship their products across Canada. For some of the leaders and organizers, it was a chance to reconnect with 4-H friends made at the very same camp years before when they themselves were just 14 and 15 years old. And for all those who attended Food for Thought, it was an amazing experience to remember for years to come. You can follow 4-H BC on Facebook and Instagram @4HBritishColumbia and on Twitter @Ocial4HBC. FOOD for thought nfrom page 39Henderson." "Why? Because I'm the only one with enough brains to see what a farce all this really is?" "No, because Clay's father isn't here to slap all those brains absolutely senseless." "You're as bad as all the rest of them," said Kenneth. "She's too young to just fall in love and throw away her future." "Are we talking about the same people here? Your daughter is a delightful, bright, mature young woman; my son is a thoughtful, bright, and ambitious young man. They both have their heads screwed on right, they have been dating for nearly three years, and they are in love. Neither one of them has said the M word yet but it's bound to come up before long and it's a safe bet neither one of them is going to come begging for your say-so. As for Clayton's prospects, he's not going to be the dung-shovelling swindler you have in mind. His great- grandparents farmed 300 acres here more than a hundred years ago. Most of it is still in the family and if he chooses to, Clayton has the chance to be the fourth generation to farm it. I'm here to make that happen if he does and give my unconditional blessing to Ashley and him. As for you, I had you gured for an arrogant, judgmental clown and I haven't seen or heard anything to change my mind." "You don't know me." "True, but I've heard a great deal about you from sources I trust." "Really, you have a trusted source that told you I was a clown? I don't suppose you'd care to name it?" "No one told me the clown part; I saw that with my own eyes." Mary held her phone toward Kenneth. "Right here on Tik Tok. It's called #grumpyswampclown. Ashley says it's you all right." to be continued ... Thousands of BC farmers and ranchers turn to Country Life in BC every month to nd out what (and who!) is making news in BC agriculture and how it may affect their farms and agri-businesses! CREDIT CARD # _________________________________________________________________ EXP _____________ CVV __________ o NEW o RENEWAL | o ONE YEAR ($18.90) oT WO YEARS ($33.60) o THREE YEARS ($37.80) Your Name ___________________________________________________________________________________ Farm Name __________________________________________________________________________________ City ______________________________________ Postal Code ________________________________________ Phone _____________________ Email ____________________________________________________________ MAIL TO: 36 DALE RD, ENDERBY, BC V0E 1V4 or email: subscriptions@countrylifeinbc.com www.countrylifeinbc.com/subscribe
Page 41
COUNTRY LIFE IN BC SEPTEMBER 2022 | 41Win-win! Non-prot Neighbours United purchases fresh produce from local growers like Bent Plow in Nelson, then distributes it in bags to local residents in need. Each bag holds about $55 worth of produce. BENT PLOWProgram delivers fresh food to families in needFall fundraiser will ensure local food for Nelson area householdsRONDA PAYNE NELSON – When public health protocols during the rst wave of COVID forced farmers markets to change how they did business two years ago, Nelson Farmers Market organizer Neighbours United (formerly the West Kootenay EcoSociety) launched Farms to Friends, a program that buys produce from local producers and delivers it to the doors of seniors and families in need. Despite the lifting of pandemic restrictions, the program continues to nd ways to connect Kootenay residents with high-quality food – something that's especially important as food prices rise. "Our non-prot shifted from running the local farmers markets in Nelson after 25 years," says Farms to Friends program director Craig Mullin. "We, as an organization, have always worked to strengthen our local food economy." Each week, Farms to Friends purchases fresh produce from local farms like Bent Plow and producers like the Kootenay Bakery Café Cooperative. It then assembles bags of food and distributes them to about 75 homes. The bags are estimated to hold about $55 worth of food. Emma Sowiak and her husband Scott Humphries, a member of Neighbours United, own Bent Plow Farm just outside of Nelson in Blewett. The couple met Mullin through the farmers markets and agreed to be part of Farms to Friends from the outset. "We were market vendors and Craig was the market manager at the time," she says. "We're not charging full farmers market retail costs, but they're still giving us a good fair price for what we're delivering." The couple has a two-acre mixed organic vegetable farm and sells produce at farmers markets and through CSA boxes. They farmed in Ontario before coming to Nelson about ve years ago. "We do a 20-week CSA ourselves. We have the food and the sta to do the same thing for them," Sowiak says of the Farms to Friends program. "We do 25 bags for them a week. It's been really nice for us to have that balance. It's just a really nice outlet for our veg. It's been really convenient." Farms to Friends is part of Neighbours United's long-standing mission to create a "just, equitable, healthy and livable" community through education and leadership. Farms to Friends has provided more than 4,000 bags of food to almost 100 households across the Kootenays over the past two years. "It's such good work for the community," says Levi Nicoll, owner of the Kootenay Bakery Café Cooperative. "With rising food costs, it's helping low-income families get good, nutritious food items. Something that's going to nourish the body, the soul and the heart. That's what we're really about here at the Kootenay Bakery." He says contributing to the program felt like a Good Samaritan deed. "We work with as many farms and producers as possible in the area and with the help of over 25 volunteers have created a regular program that people have depended on for over two years now," says Mullin. Supplying food was particularly important when people were either unwilling or unable to leave their homes during the pandemic, but the fact that some families in the Kootenays are nancially unable to access local food has ensured the program's continuance. Service groups in Nelson and eight surrounding communities help Farms to Friends identify households most in need of support. "It supports local farms who work so hard to provide food in our region and the more we help the farmers, the more food security we have in our area for those times when supply chains are an issue," Mullin says. "It makes us less dependent on importing food from other places. It also gives access to our program participants to healthy fresh food who otherwise might have to rely on food banks or less expensive fast food." A back-to-school fundraiser in support of the work is being promoted to Neighbours United members via email as well as through social media until September 6. info@reimersfarmserv ice.comCheck out our Einbock Tillage Equipment For Organic FarmingTine Weeders Row Crop Cultivators Rotary Hoes Camera GuidanceSystems AND AEROSTAR 900 Tine WeedersDELTA Drain Tile Cleaners Improves Drainage & Conditions Soil Economical & Reliable Low Maintenance Safe and ProvenFALL PRICING ON IN STOCKYOURHelping YouHelping YouHave You Moved?subscriptions@countrylifeinbc.com604.328.3814Or has Canada Post changed your mailing address? We won't know unless YOU tell us!
Page 42
42 | SEPTEMBER 2022 COUNTRY LIFE IN BCAs the calendar ips to fall again with the Autumn Equinox September 22, we begin to let go of our sunny, summer ways and embrace the routine that classes, school and the end of vacations bring. Lunchboxes are dusted o in September and picnic hampers put away for another year. Salads tend to be replaced by roasts on the dinner menu; st food replaces forks for lunches and we begin our entertaining again, with some indoors even as we grumpily let go of outdoors. I'm still barbecuing, but then I do all year round on a covered deck o the kitchen. I'm also preparing muns and other lunchbox specials on the weekends, ready for a busy week ahead. We must remember when thinking of lunches that the junk food industry is not necessarily right, even if they do re-name chocolate bars snack bars or protein bars. When they trumpet "gluten-free" or "low-fat" that doesn't necessarily mean it's a healthy snack or food. Read the labels and compare the quantities of fat, sugar and sodium in packaged foods, and consider what you might put in homemade muns, biscuits and even cookies and snack bars. You have control. I try to put healthy stu into muns, meatloaves, casseroles and bread, as well as in cookies and bars, and I often reduce the fat, sugar The stung can be made up ahead of time and cooled so you can relax while the little chickens cook and enjoy your company. Usually they're about two pounds each, but a larger bird would just have to be cooked longer. Leftovers could go in the lunchbox. Orange Slice Rice: 2 c. (500 ml) cooked rice 1 stalk celery 1 green onion 1 tbsp. (15 ml) fresh ginger 2 tbsp. (30 ml) butter • Cook enough rice to make two cups cooked rice, or use leftover rice. White rice is ne, but brown rice has more avour and brown and wild takes this to a new level. • Chop celery, thinly slice green onion and mince ginger. Melt butter in a small frypan and brown the almonds in it, then add the celery, green onion and ginger and sauté until the vegetables a• are soft. • Add this to the cooked rice in a medium-sized bowl, along with the marmalade and soy sauce. Mix well, and add segments of orange, either fresh or from a tin. • Cool and set aside until you're ready to stu and barbecue the little hens. • Makes enough for four two-pound birds. Little Marmalade Chickens: 4 small chickens, like Cornish hens a few sprays of oil • Pre-heat barbecue to medium. • Meanwhile stu little chickens (two pounds each, or so) with Orange Slice Rice and tie up legs and wings with kitchen string, so they don't op around. • Spritz each bird with a spray oil, then dust with paprika, salt and pepper. • Grill for a few minutes until beginning to brown, then turn o the heat to the burners where the chickens sit, and turn up the heat on the other burners. Close the lid. • Turn chickens occasionally and watch they don't brown too much, adjusting the heat accordingly (that will vary with every barbecue). • Use a meat thermometer in the thigh joint, without touching the bone, and once they've reached 140 F or so, begin to baste the birds with marmalade, cooking for a further 15 or 20 minutes. • Remove from the grill once they've reached an internal temperature of 160 F and let them rest for a few minutes before serving. • If they're small enough, each guest gets a complete hen on their plate, along with vegetables on the side. • Serves 4. CORONATION GRAPE MUFFINSSimple, homemade food is the bestStuffed barbecued chickens, delicious enough to serve to company. JUDIE STEEVESJude's Kitchen JUDIE STEEVES1/4 c. (60 ml) sliced almonds 2 tbsp. (30 ml) marmalade 1 tbsp. (15 ml) teriyaki sauce 12 ounces (340 g) orange segmentssprinkle of paprika, salt and pepper 1 c. (250 ml) orange marmaladeand sodium in recipes. I opt for low-fat cheeses and dairy products and cereals with little sugar in them. And, when I make muns, lots of interesting stu goes into them. Don't forget when you do the weekly grocery shopping that what you buy is what your family eats, and how they look and feel is often a result of those decisions made in the grocery store aisles. Shop with a full tummy so you don't tend to make impetuous decisions. And, enjoy the cooler weather and the colours of fall. 1 tbsp. (15 ml) honey 1 egg 1/4 c. (60 ml) olive oil 1 c. (250 ml) Coronation grapes The distinctive blue Coronation eating grapes were developed in BC and have virtually no seeds, so they are perfect for baking and they're full of flavour. These are great for a healthy lunch or snack with a cube of cheddar cheese. 1 c. (250 ml) whole wheat flour 1/2 c. (125 ml) white flour 1/2 c. (125 ml) cornmeal 1/4 c. (60 ml) oat bran 1 1/2 tsp. (8 ml) baking soda 1 c. (250 ml) buttermilk • Pre-heat oven to 400° F. • Combine dry ingredients with a wire whisk in a large bowl. • Beat the buttermilk, honey, egg and oil in a separate bowl, then add to the dry ingredients, combining with just a few strokes. • Fold in the grapes and spoon the batter into 12 greased muffin cups. • Bake for 15-20 minutes. LITTLE BBQ CHICKENS WITH ORANGE SLICE RICE
Page 43
COUNTRY LIFE IN BC SEPTEMBER 2022 | 43BOOKYOURMarketplace Adby JUNE 19TRACTORS/EQUIPMENTREAL ESTATEREAL ESTATEFOR SALEFOR SALEFOR SALEHAYSEEDBERRIESIRRIGATIONFor Tissue Culture Derived Plants of New Varieties of Haskaps, Raspberries, Blueberries, Blackberries, Saskatoon Berries and Sour Cherries, Please Contact:DISEASE FREE PLANTING STOCK OF NEW BERRY CROPS 4290 Wallace Hill Road, Kelowna, BC, V1W 4B6info@agriforestbiotech.com250.764.2224www.agriforestbiotech.com NEW polyethylene tanks of all shapes & sizes for septic and water storage. Ideal for irrigation, hydroponics, wash-down, lazy wells, rain water, truck box, fertizilizer mixing & spraying. Call 1-800-661-4473 for closest distributor. Manufactured in Delta by Premier Plastics premierplastics.com Feeders & Panels that maintain their value!ROUND BALE FEEDERS BIG SQUARE BALE FEEDERS FENCE PANELS CATTLE & HORSE FEEDERSHEAVY DUTY OIL FIELD PIPE CRADLE FEEDERS. Single big square or 2 round bales Outside measurement is 8 feet x 12 feet Silage bunk feeders For product pictures, check out Double Delichte Stables on Facebook Dan 250/308-9218 Coldstream DON GILOWSKI 250-260-0828 Royal LePage Downtown Realty Ltd BUYING OR SELLING OKANAGAN FARM, RANCH OR ACREAGE? COURTENAY HEREFORDS. Cattle for Sale: yearling bulls and bred heifers. John 250/334-3252 or Johnny 250-218-2537.PYESTERDAY'S TRADITION - TODAY'S TECHNOLOGYMANAGERS Phil Brown 250-293-6857 Catherine Brown 250-293-6858 ccr.princeton@gmail.com www.coppercreekranch.com PRINCETON, BC Raising registered polled & horned Herefords & F1s. BREEDING BULLS FOR SALE.RAVEN HILL MEADOWS: Coneygeers bloodlines - call for seedstock. 250-722-1882. NanaimoLIVESTOCKIt's the top linethat makes the Bottom LineBC SHORTHORN ASSOCIATION Scott Fraser, President Bob Merkley, BC Director 250-709-4443 604-607-7733DeBOER'S USED TRACTORS & EQUIPMENT GRINDROD, BCWANTED: USED JD TRACTORS 60-100 HP JD 6400 W/CAB&LDR 60,000 JD 1830 W/LDR 16,000 JD 4230 CAB, 3PT 15,000 JD 6420 CAB 4WD LDR 70,000 JD 7200 4WD OPEN STATION PWR QUAD TRANSMISSION CALL JD 1630 W/LDR 16,000 OLIVER 12' disc 3,750 ED DEBOER 250/838-7362 cell 250/833-6699 CURT DEBOER 250/838-9612 cell 250/804-61471-888-770-7333CUSTOM BALING 3x4 BIG SQUARES SILAGE BALING/WRAPPING ED DEBOER 250/833-6699 CURT DEBOER 250/804-6147EDVENTURE HAY SALES ENDERBYcouADVERTISING THAT WORKS!FOR SALE in Osoyoos: 2 electronic cherry PACKING LINES, 1 apple packing line, harvest bins, and other assorted packinghouse equipment. Please contact Tony for more details 250-498-7705Available now, 4- 1/4 mile Used VALLEY, ZIMMATIC, T.L. PIVOTS, 3- Used 1,000 ft, 1,250 ft Hose reels, 10,000 ft 12 in 8,000ft 10 in HDPE, Steel pipe in all sizes used. Dealer for Pierce Pivots, T.L Pivots, lease your new or used pivot, Hose reels, RM, Idrio, diesel pumps, centrifugal, sub-mersible, freq drives, pump stations, 30 years experience. Talk to Brock! 250 319 3044ZcXjj`Ô\[j7Zflekipc`]\`eYZ%ZfdfiZXcc1-'+%*)/%*/(+C@E<8;J1),nfi[jfic\jj#d`e`dld(*gclj>JK#\XZ_X[[`k`feXcnfi[`j%),;@JGC8P8;J1),gclj>JKg\iZfclde`eZ_M[WYY[fjcW`ehYh[Z_jYWhZi$8l^ljk@jjl\;\X[c`e\1Alcp)+#)')' Carrie Nicholson PREC* 250-614-6766 Carrie Nicholson PREC* 250-614-6766 EQUIPMENT DISPERSAL • LOEWEN 422 MIXER WAGON, good condition, $13,500 • LOEWEN SUBSOILER, 2 shank, 3 pt hitch, $2,500 • LOEWEN BOX SCRAPER, 3 pt, with rubber, like new, $800 • LOEWEN AGITATOR 18', 100 HP prop, nice condition, $2,000 TONY 604-850-4718Craig Elachie ShorthornsGrant & Barbara Smith | Balmoral Farms 250.835.0133 craigelachieshorthorns@gmail.com 1802 Tappen-Notch Hill Rd Tappen BC V0E 2X3OCTOBER DEADLINE SEPT 23CARIBOO DORPERS: Top Dorper ram lambs for sale. New genetics. Bryan, 250-706-7077 or cunningham@bcinternet.netFullblood reg LOWLINE bull calf. Carries the wild gene; will be weaned Oct. 250-838-2007. DISCOVER PRINCE GEORGE PRINCE GEORGE & AREA SUBDIVISION LOTS: PARADISE ESTATES: R2688574; R2688580; R2688588; R2588581 and more lots available in this sub-division. GLADTIDING ESTATES: R2687614; R2687593; R2687125; R2687155 and more lots available in this subdivision. CHIEF LAKE ROAD: R2689813; R2689815; R2689817 and more lots available in this sub-division. BUCKHORN LAKE Beautiful 8.5 acres with 2600 sqft log home. MLS R2707052 $740,000 PARADISE FOUND updated log home on 42 acres. $749,900 MLS R2691271 COUNTRY GEM 3 bed/1 bath home of 2.2 acres. R2711734 $379,900 MILBURN LAKE 4 bed/2bath on 4.94 acres. MLS R2696542 $380,000 DOME CREEK 160 acres with tons of potential. MLS R2702148 $599,900 SALMON VALLEY 370 acres; 3 titles. 150 ac cleared, MLS R2675843 $599,000 STUNNING MTN RESORT on 82.25 acres, 17 chalets, 50 camps. MLS C8040948 $4,850,000 CATTLE RANCH 1,280 acres; 5 bed/3 bath home. Fenced, outbuild-ings; MLS R2677116 $2,250,000 CONCRETE BUSINESS Robson Val-ley, MLSC8040939, $759,000 PARADISE IN THE VALLEY 192 acre private estate, custom home, out-buildings to die for. MLS R2658619 $1,450,000 LOG HOME custom built, 30 fenced acres, 50x50 shop, MLS R2648543 $1,149,000 SAXTON LAKE ROAD: R2610535 R2610527; R2610554 and more lots available in this area. CRANBROOK HILL 77 acres w/dev potential minutes from UNBC. MLS R2640598 $1,500,000 HART HWY 54.95 acres. MLS R2640583. $750,000. CLOSE TO THE LAKE 8.3 acres. MLS R2610880 $295,000 74 ACRES w/ 20,000 sq ft bldg., 40 acres cultivated. MLS C8041167 $1,700,000 ESCAPE the city. Two lots in Willow River, 22,500 sq ft. MLS R2591708, $28,900 69+ ACRES ON RIVER Approx 50 acres in hay. River, road access. MLS R2685535 $838,000 55 ACRES Dev potential close to airport. MLS R2707390, $699,000 TREED LOT on edge of the Fraser. MLS R2622560 $250,000 2 LOTS IN ONE PKG! 3.55 acres residential Quesnel R2657274 $289,000 80 ACRES/TIMBER VALUE Zoning allows ag, housing, forestry & more. MLS R2665497 $495,000 15 MINUTES TO PG ~58 acres with timber value. Mostly flat lot with lots of potential. MLS R2665474, $395,000 HWY FRONTAGE 190 acres w/exc potential for subdivision/commercial ventures. MLS R2660646 $799,000 WRIGHT CR RD 195 acres undisturbed bare land. M LS R2655719 $699,000 CHIEF LAKE RD 5 acres ready to build. MLS R2715818 $150,000 BRAND NEW! 2022 SR1-built home by owner. 1 bed/1 bath, open floor plan, Whirlpool appliances, soaker tub. $170,000. Buyer to move. donnaruth1922@gmail.com 15 FT LOCKWOOD BOX ON TRUCK AXLE14' SINNER BOX ON WALKING BEAM TRAILER.BILL 604-220-490336+ACRES in PG, prime for busi-ness. MLS C8046015 $6,900,000 21 ACRES PG in city limits on Hwy 16, MLS R27163337 $595,000 MOBILE home on 5 acres, Salmon Valley. MLS R2716962 $199,900 TABOR 7.61 acres short drive from town. MLS R2716743 $129,900by Sept 23Baler, NEW HOLLAND 2004' Model 570, $16,000; Tedder, CLAAS 2006' Model 52T, 17'6" Hyd. Fold, $7,000; Tedder, CASE 2003' Model IH 8309, 540 PTO, 9'2" Cut, $8,000; Manure Spreader, JOHN DEERE Model 40T, $4,000; Hay BALE SLED, bunches up approx. 40 bales, $2,000; HAY RAKE, 4 wheels, $1,500. Call Shawn (604) 615-3646 DISCOVER PRINCE GEORGE
Page 44
44 | SEPTEMBER 2022 COUNTRY LIFE IN BCIdeal for both the toughest construction jobs and the most precise landscaping jobs, the SSV Series is as agile as it is powerful. Featuring a large assortment of attachments, your SSV is a versatile base for grapples, rotary cutters, graders, tree pullers and much, much more.NEED A POWER LIFT?1521 Sumas Way, Box 369avenuemachinery.caPROUD PARTNER OFkubota.ca | 1521 Sumas Way, Box 369Abbotsford, BC V2T 6Z6(604) 864-9568avenuemachinery.caAVE010OLIVER GERARD'S EQUIPMENT LTD 250/498-2524 PRINCE GEORGE HUBER EQUIPMENT 250/560-5431 SMITHERS HUBER EQUIPMENT 250/847-3610 VERNON AVENUE MACHINERY CORP 250/545-3355 ABBOTSFORD AVENUE MACHINERY CORP 604/864-2665 COURTENAY NORTH ISLAND TRACTOR 250/334-0801 CRESTON KEMLEE EQUIPMENT LTD 250/428-2254 DAWSON CREEK DOUGLAS LAKE EQUIPMENT 250/782-5281 DUNCAN ISLAND TRACTOR & SUPPLY LTD 250/746-1755 KAMLOOPS DOUGLAS LAKE EQUIPMENT 250/851-2044 KELOWNA AVENUE MACHINERY CORP 250/769-8700