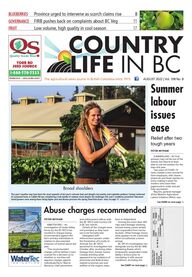 Return to flip book view
CLBC August 2022
Page 1
Postmaster, Please return Undeliverable labels to: Country Life in BC 36 Dale Road Enderby, BC V0E 1V4CANADA POSTES POST CANADA Postage paid Port payé Publications Mail Post-Publications 40012122Vol. 108 No. 8The agricultural news source in British Columbia since 1915 AUGUST 2022 | Vol. 108 No. 8BLUEBERRIES Province urged to intervene as scorch claims rise 8 GOVERNANCEFIRB pushes back on complaints about BC Veg 11 FRUIT Low volume, high quality in cool season 17PETER MITHAM ABBOTSFORD – An investigation of Cedar Valley Farms by the BC SPCA has resulted in charges being recommended against the farm and key individuals in relation to documented instances of animal abuse last year. "The recommended charges will be before Crown counsel for a decision as to whether or not they will approve charges against individuals/farm," Marcie Moriarty, chief prevention and enforcement ocer with the BC SPCA told Country Life in BC last month. Details of the charges were not provided, as they have yet to be formally laid. Delegated with enforcement powers under the Prevention of Cruelty to Animals Act, BC SPCA launched its investigation last October after receiving video footage from Animal Justice Canada showing what appeared to be violations of provincial and federal laws related to animal care and welfare at the organic dairy farm in Abbotsford. Among the more than 300 clips were footage showing animals being caned, kicked and suspended from tractor buckets. Other footage shows what appears to be a botched eort to euthanize a down animal. BC SPCA's investigation ran alongside one by the BC Milk Marketing Board, which temporarily suspended Cedar Valley's licence prior to reinstating it with several conditions, including the This year's weather may have been the exact opposite of last year's extreme heat and drought, but poultry and vegetable producer Cammy Lockwood of Lockwood Farms in Cobble Hill was shouldering a lush bundle of rainbow chard despite the challenges this year's conditions presented. Vancouver Island growers were among those facing higher pest and disease pressure this spring. Read Kate Ayers' story on page 17. SUBMITTEDAbuse charges recommendedSee DAIRY on next page o1-888-770-7333 Quality Seeds ... where quality counts!YOUR BC SEED SOURCEPETER MITHAM SUMMERLAND – BC fruit growers may not be out of the woods, but they're at least able to see the workers for the trees this year. Two years of COVID-19 have created a new normal for farm employers, with clearer protocols and fewer barriers to entry making it easier for workers who have their paperwork in order and are fully vaccinated. Reg Ens, general manager of the Western Agriculture Labour Initiative (WALI), says See FARM on next page oSummer labour issues ease Relief after two tough years Broad shoulders
Page 2
DAIRY meeting conditions nfrom page 1FARM employers shift to new normal nfrom page 12 | AUGUST 2022 COUNTRY LIFE IN BCrequirement to hire an independent farm manager chosen by and reporting directly to the marketing board. BC Milk also engaged an independent vet to perform regular, unannounced inspections to ensure the welfare of the farm's stock and changes in farm practices. All management and 5,200 to 5,700 seasonal workers had arrived from Mexico by mid-July. In 2021, just 3,440 had arrived by the end of June. "Overall things are going okay," says Ens. "Most workers are fully vaccinated and able to start working as soon as they arrive at the farm." This wasn't the case during the rst two years of COVID, when protocols were shifting and employers and governments were determining how best to protect and monitor worker well-being. Briey barred from entering the country, seasonal workers from Mexico and other countries were quickly allowed to enter Canada as essential workers. The province set up a central quarantine facility in Richmond that set an example for other provinces in terms of mitigating risks to farms and the public while ensuring access to labour. "It's been challenging the last couple of years," Ens says. "But we've generally got the [foreign] workers we needed each year." Growers will also have enough workers this year, in part because a prolonged spring meant several growers cut back on labour requirements in anticipation of a short crop. "My gut says we're going to be down a little bit just because of the number of workers people have cancelled because of light crops," Ens says. Cancelling workers was easier than trying to reschedule their arrival, he adds. "Getting international workers is a bureaucratic process and rescheduling arrival dates is a very time-consuming process that can be frustrating for all involved," he says. This has meant more opportunities for domestic workers, with Statistics Canada reporting an additional 6,400 hires in the 12 months ended May – a 30% increase versus a year ago. While a shortage of domestic labour continues, the increase points to the greater opportunities people are seeing in the industry, which logged some of the strongest employment growth of any sector over the last year. The degree of interest surprised Erin Carlson of Carcajou Fruit Co. in Summerland. "We have a good crew of Mexican labourers this year and we also have a good crew of Canadian pickers," she says. Carcajou makes a point of securing workers in advance of the season, screening them to make sure both sides know what they're getting and promising them a full season of work (and a bonus for staying) to reduce turnover. It worked this year, with every domestic worker showing up as expected to give Carcajou approximately 70 workers total. "Every single Canadian we hired showed up for the job. It's a miracle," Carlson says. Having a long season makes it easier to attract and maintain a steady crew, she says, but domestic labour was also more available this year than at the height of the pandemic because younger workers resumed travelling. "The last couple of years we haven't had as many Canadians," she says. "This year it seems like maybe there's more people in the valley, and more people coming this way because they're feeling ready for an adventure now." This hasn't ended the need for provincial support, however. While the province no longer maintains a central quarantine facility for incoming workers, it continues to oer growers up to $3,000 per worker to isolate those who test positive for COVID in a hotel or motel if there is insucient accommodation to self-isolate on-farm. The program is backed with $1.45 million worth of funding from the Public Health Agency of Canada, of which $84,000 has been disbursed to date. "It's still something that has to be managed," Ens says of COVID. Workers, like the rest of the population, are testing positive in greater numbers. An outbreak earlier this summer underscored the risks, and the provincial support didn't come close to covering the cost to the grower. The province has also contributed $457,000 for upgrades to the Secrest Hill worker campsite (formerly known as Loose Bay) operated by the Regional District of Okanagan Similkameen. But the main focus this year has been a new online platform designed to match workers with employers that's intended to replace long-time worker liaison Ron Forrest, who recently retired. Developed by the Vancouver software rm CrewDriver, BCFruitWorks.com benetted from $90,000 of provincial funding. "There has been very strong participation from both growers and 'branch hands' and the belief is it will help growers through this immediate period, and then there's some work underway towards resolving some of the larger structural challenges," says BC Tree Fruits Co-op CEO Warren Saranchan, who is part of working group overseeing the project. But a tight labour market means there's only so many workers available to growers, packers and other agricultural employers. The province's unemployment rate fell to 4.5% in June, down from 7.2% last summer. Over the same period, the unemployment rate for agriculture fell by more than half to 6.9% from 14.1%. "The unemployment rate continues to fall, which is good news for those who are looking for employment, but certainly creates challenges for employers – all employers," Saranchan says. Patrick is an experienced portfolio manager that brings a focused 昀nancial and estate planning team to clients to ensure the best and most effective investment decisions are made now and in the future. The RBC Wealth Management investment and planning program provides income security and tax minimization in the context of a holistic 昀nancial plan and road map for each client.employees must also undergo training in cattle handling and animal welfare and sign a cattle care commitment subject to outside verication and review. "This licence is conditional, and if we don't see the changes happening that we expected to see, then we'll revisit our decision," BC Milk chair Janice Comeau said at www.tractorparts4sale.caABBOTSFORD, BC Bus. 604/807-2391 email: tractorparts4sale@shaw.caWe accept Interact, Visa and Mastercard BRILLION CULTIPACKER 14 FT WIDE, GOOD CONDITION . . . . . . . 6,500 FORD 7000 2WD OPEN ST 83HP 540 PTO GD COND . . . . . . . . . . . 7,000 VICON PS602 FERTILIZER SPREADER, 3 PT, 1,000 KG CAPACITY . . 2,200 MASHIO CM4500 14' PWR HARROW W/ROLLER GD COND. . . . 14,000 FELLA TS1601 ROTARY RAKE, 3 PT HITCH, TWIN ROTOR, 25 FT WORKING WIDTH, GOOD CONDITION . . . . . . . . . . . . . . . . 17,500 YANMAR FX42D 2WD OPEN STATION, 42HP PSHIFT TRANS, 4 SPEED PTO. 2961 HRS. . . . . . . . . . . . . . . . . . . . . . . . . . . . . . . . . . . 6,500 NH 256 ROLLARBAR 10 FT SIDE DELIVERY RAKE, GROUND DRIVEN, PULL TYPE, GOOD CONDITION . . . . . . . . . . . . . . . . . . . . . . . . . . . . . 3,200 JOHN DEERE HD BALE CONVEYOR 40FT ON ADJ FRAME WITH AXLE, PTO DRIVEN . . . . . . . . . . . . . . . . . . . . . . . . . . . . . . . . . . . . . . . . . . . . 1,200 NEW REPLACEMENT PARTS for MOST TRACTORS & FARM IMPLEMENTSGD Repair LtdTractor/Equipment Repair Mobile Service Availablethe time. The marketing board said the farm, owned by the Vanderwal family, has been cooperative "The farm has responded constructively, and we've seen good progress with the farm complying with all board orders," the board said in a statement lsat month. "Our monitoring continues, and will remain in place until the BC Milk Marketing Board determines it is no longer required." BC Milk declined comment on the recommendation of charges, noting they're "the purview of the BC SPCA and Crown." However, it says any employee under investigation for animal abuse is not permitted to be employed at Cedar Valley. Helping you grow your business.Helpingrowbus
Page 3
COUNTRY LIFE IN BC AUGUST 2022 | 3Two farms in Creston totalling more than 4,300 acres have been listed for sale, and the sellers are hopeful the unique offering will nd new ownership willing to continue the highly productive operations. COLLIERSHuge tract of Creston farmland seeks buyers Keeping the land in production is central to the owners' goalsPETER MITHAM CRESTON – The broad expanse of the Creston Valley often takes newcomers by surprise. Travellers from the east can easily think they've arrived back in Alberta, with the broad valley oor giving ample room not just for the orchards often associated with BC but golden elds of grain and pulses. "There's high-value crops, but they tend to be Prairie-type of crops as opposed to the food production you'd get in the Lower Mainland or tree fruits you'd get in the Okanagan," says Mark Lester, a senior vice-president and part of the Unique Properties Group with Colliers International in Vancouver. Lester has recently become familiar with just how unique the valley is, having been retained by the Huscroft family to sell more than 4,300 acres of local farmland. "To nd 4,400 acres of agricultural land in British Columbia – I don't know that I've seen that much if it's not a ranch," Lester says. "Ranches have open range, but productive farmland with that kind of acreage? I'm not aware of another one." The properties, comprising 18 parcels on the west side of the Kootenay River, are owned by Christensen Bros. Farms Ltd. and Piper Farms Ltd. The family has listed them for sale as part of a succession planning process. "Their motivation to sell is a generational decision based on monetizing the assets and streamlining for the next generation," Lester says. There's no price attached to the listing. BC Assessment Authority records indicate that the aggregate value of the 18 parcels is $3.9 million. The owners would like to see the parcels sold as a single entity rather than sold o piecemeal. They're within the Agricultural Land Reserve and feature top-class soils, ample irrigation and are highly productive. "The preference is to sell as a whole," Lester explains. "The preference would be a share transaction and it would be to either sell the whole or sell either of [the] owning entities." Steady demand Demand for land in the Kootenays was steady last year, according to Farm Credit Canada. Most buyers came from urban markets in search of aordable land and space. This pushed up prices 9.8% to an average of $16,800 per acre, well above the assessed value for the Huscroft properties. The rst six months of this year saw 29 farm property sales in the region, according to the BC Ministry of Finance, up from 22 in the same period last year. While the provincial data doesn't indicate the average size of farm properties traded, both FCC's analysis and anecdotal comments from local brokers indicate that the majority of trades have been of smaller acreages suitable for hobby farmers and recreational use. Indeed, just 18 of the 1,017 farms in the Kootenay region reported revenues of $1 million or more in the 2021 Census of Agriculture. The majority – 68% – reported less than $25,000 in revenue. Size will undoubtedly be a factor in the sale of the properties. Lester says interest has been "pretty good" but he's not rushing the sale process. "There's a much more broad spectrum of potential buyers when you're dealing with an individual title than when you're dealing with 4,000 acres," he says. The property isn't suited to a competitive bid process, and there's no deadline for a deal. "We're trying to make sure prospects in the market are able to see it," he says. Whoever the buyer is, the goal is to ensure the land continues to produce food well into the future. "It would be shame to see that large a contiguous farming operation broken up, and that's not what the owners want to do," Lester says. "Serving British Columbia proudly since 1946"Machinery LimitedROLLINS RToll Free 1-800-242-9737 www.rollinsmachinery.com info@rollinsmachinery.caChilliwack 1.800.242.9737 . 47724 Yale Rd W Langley 1.800.665.9060 . 21869 56th Ave Chemainus 1.250.246.1203 . 3306 Smiley Rd Kelowna 250.765.8266 . 201-150 Campion StToll Free 1-800-242-9737 www.rollinsmachinery.comChilliack 1.800.242.9737 | 44725 Yale Rd W Langley 1.800.665.9060 | 21869 - 56th Ave Chemainus 1.250-246.1203 | 3306 Smiley RdChilliwack 1.800.242.9737 . 47724 Yale Rd W Langley 1.800.665.9060 . 21869 56th Ave Chemainus 1.250.246.1203 . 3306 Smiley Rd Kelowna 250.765.8266 . 201-150 Campion StSPRING FEEDING MADE EASY1001 Six Mile Creek Rd., Vernon, BC - MLS # 10255499203 Acres3 Water licensesIrrigation well600 Amp serviceLarge home & legal second housesherise.lacey@remax.netLarge Agricultural Plot for Sale
Page 4
Advertising is accepted on the condition that in the event of a typographical error, that portion of the advertising space occupied by the erroneous item, together with reasonable allowance for signature will not be charged, but the balance of the advertisement will be paid for at the applicable rate. In the event of a typographical error which advertises goods or services at a wrong price, such goods or services need not be sold at the advertised price. Advertising is an offer to sell, and may be withdrawn at any time. All advertising is accepted subject to publisher's approval. All of Country Life in British Columbia's content is covered by Canadian copyright law. Opinions expressed in signed articles are those of the writer and not necessarily those of Country Life in British Columbia. Letters are welcome, though they may be edited in the interest of brevity before publication. All errors brought to our attention will be corrected.36 Dale Road, Enderby BC V0E 1V4 . Publication Mail Agreement: 0399159 . GST Reg. No. 86878 7375 . Subscriptions: $2/issue . $18.90/year . $33.60/2 years . $37.80/3 years incl GSTThe agricultural news source in British Columbia since 1915 Vol.108 No. 8 . AUGUST 2022Published monthly by Country Life 2000 Ltd. www.countrylifeinbc.comPublisher Cathy Glover 604-328-3814 . publisher@countrylifeinbc.com Editor Emeritus David Schmidt Associate Editor Peter Mitham news@countrylifeinbc.com Advertising Sales & Marketing Cathy Glover sales@countrylifeinbc.com Production Designer Tina Rezansoff TTYL, PWYuan Longping died on May 22, 2021. Outside of scientic circles, his passing was largely unnoted beyond his native China, where he was a revered national hero. Yuan was born in Beijing in 1930. He earned an agronomy degree from Southwest Agricultural College in Sichuan in 1953 and began a teaching career in Hunan. In 1958, Mao Zedong implemented a ve-year economic plan called the Great Leap Forward. It was designed to reconstruct the nation from an agrarian economy to a Communist society. The policies proved ruinous and resulted in the Great Chinese Famine that took an estimated 20 million to 30 million lives. Sichuan and Hunan were among the hardest hit provinces. In Sichuan, 13% of the population starved to death; in Hunan, 8% died. The vision of people reduced to eating tree bark and clay stayed with Yuan and it galvanized the research to which he devoted the rest of his life. Even before the great famine, hunger was a frequent fact of life in China. More food was the only remedy and he set out to nd a way to grow it. Prior to the famine, Yuan's research was constrained by government policy dictating grafting to be the only acceptable method of plant improvement. Crossbreeding and Mendelian genetics were forbidden. He studied them clandestinely, anticipating the potential to transform rice production. When his initial research was published, he was named a counter-revolutionary, but he was spared imprisonment by a letter of praise and support for his work from Nie Rongzhen, director of the National Science and Technology Commission. Longping was allowed to continue with research assistants and government funding. His research sought to crossbreed rice in search of hybrid vigour and increased yields. But rice is self-pollinating and in order to crossbreed it, all of the tiny stamens must be manually removed to produce female-only owers which proved impossible on a practical scale. In 1961, Longping discovered a hybrid variety of wild rice and speculated there could be a mutated variety that was naturally male-sterile. In 1966, he announced he had found a few male-sterile individuals with the potential to produce hybrid rice. The rst hybrids did not deliver any of the expected advantages over commonly grown varieties. Yuan continued to search and in 1970 he and his team discovered something special growing beside a rail line in Hainan. By the late 1970s, crosses with the wild variety were yielding new varieties that were out-yielding their domestic parents by 20% to 30%, and Yuan Longping became known as "the father of hybrid rice." Once available in commercial volume, the results were immediate and endure to this day. Yields increased signicantly and China was lifted out of food insecurity. Returns to growers increased, lifting many out of poverty. Yuan Longping shared his expertise and hybrid rice varieties with the International Rice Institute in 1980, leading to more specialized varieties being grown around the world. In 1991, United Nations Food and Agriculture Organization statistics showed that 20% of the world's rice harvest was grown on the 10% of the world's rice acreage growing hybrid rice. In 2016, 7 million hectares of hybrid rice were being grown in India, Vietnam, Bangladesh, Pakistan, Philippines, Madagascar and the US. Yuan Longping was widely recognized for his vision and dedication, attributes that have been displayed by others in other times and places to change the agricultural landscape, not unlike Charles Saunders and his brother Percy, whose hybrid wheat trials at the Agassiz experimental farm 115 years ago led to Marquis wheat and changed the history of grain farming across Western Canada and the northern US. Among Yuan Longping's many honours are the UNESCO Prize for Science 1987, World Food Prize 2004, and Foreign Associate of the US National Academy of Sciences 2006. But perhaps the most meaningful honour of all came from the thousands of grateful compatriots who gathered outside the hospital where he died. Among the oral tributes were bowls full of the hybrid rice he grew for them. Bob Collins raises beef cattle and grows produce on his farm in the Alberni Valley. The Back 40 BOB COLLINSRemembering a revolutionary in food securityWe acknowledge the financial support of the Government of Canada.4 | AUGUST 2022 COUNTRY LIFE IN BCSeptember 11 will mark two and a half years since COVID-19 was declared a pandemic and the world stopped. Toilet paper got snapped up, workplaces shut down and social gatherings were prohibited. Today, mask-free gatherings are resuming, even with the nth wave of COVID anticipated this fall, and life is almost back to normal. But the pandemic has left its mark. Pandemic protocols seemed to set the pace as commercial poultry barns went into flockdown this spring in response to avian influenza, with outside access prohibited. Growers, for their part, were told not to attend public gatherings that could bring them in contact with infected materials. Meanwhile, the province's mink farmers continue to challenge the province's phase-out of their industry on public health grounds. They know how public health risks are business risks that can cause permanent rather than temporary shutdowns. The annual meeting of federal, provincial and territorial ministers of agriculture in Saskatoon last month flagged extreme weather and climate change as topline business risks with bottom line implications. But the pandemic has shown us how disease is also a key threat that can result in lasting changes to on-farm practices and even eliminate livelihoods. Zoonoses – diseases that move from animals to humans – have emerged as a key threat to public health, but no disease should be discounted. Any government concerned with food security – and the health implications thereof – should be paying attention to what happens when disease impacts agriculture. While the human health risk from African Swine fever is deemed to be nil, avian influenza isn't as benign. It was therefore disappointing that diseases rated almost no notice when the new Sustainable Canadian Agricultural Partnership was announced last month. BC mink farmers were originally told that federal AgriRecovery funds would be available to help them recover from their farms being shut down, but the pledge proved hollow. While federal agriculture minister Marie-Claude Bibeau enumerated the several business risk management programs available to producers in the event of disease outbreaks, the experience of mink farmers shows that stronger supports are needed when a government decides to shut down a sector for health reasons. Climate change is likely to increase the threats to human and animal health, both from sheer physical stresses as well as novel diseases. Provision should be made for producers who are affected. Should the poultry or dairy sectors be phased out as part of government efforts to protect public health, you can bet funding would be available. BC's mink ranchers shouldn't foot the bill for a government shutdown, either. Doctor's orders
Page 5
The case for provincial meat inspectionNational free trade shouldn't mean trading in what worksCOUNTRY LIFE IN BC AUGUST 2022 | 5safety regulations and a focus on federal-provincial standards harmonization. BC introduced the Meat Inspection Regulation in 2003, and some existing community-based abattoirs took on the challenge of becoming licensed. Half to three-quarters of them closed. Some provinces lost all their small abattoirs. In this period, and until 2014, the CFIA provided the inspection service in provincially licensed abattoirs on contract to the BC Centre for Disease Control. Starting in 2011, BC designed a provincial inspectorate, with advice from experts in the EU, US and other Canadian provinces, so the province was ready to pick up the inspection role when the CFIA stepped away. Liability is a key variable in the meat business. While individual producers are responsible for the health of their livestock and meat products, failures anywhere in the system reect on everyone. And everyone sees increasing issues for agriculture from zoonotic (animal-to-human) diseases. To address these risks, an eective inspection system should do two things. It should focus on a system-wide commitment to animal and meat health and safety. It should also show exibility towards the means – facility types, sizes and processes – based on proportionate risk. And it should facilitate eective, respectful inspector/ plant operator relationships. Today, BC's inspection system works in tandem with graduated licensing, which classies facilities based on proportionate risk: health and safety requirements increase as size (in terms of animal units and clientele) increases. Careful attention is paid to the inspector/plant operator relationship and the dicult balance between development and enforcement. The approach to enforcement is also graduated, in the sense that dispute resolution starts at the plant before issues may be raised to the supervisor level. CFIA's return to provincial inspection would be hard-pressed to improve on this, in part because of structural concerns. A small number of very large federally registered facilities outside BC process over 90% of the beef and pork in the country. The Cargill beef plant in High River, Alberta, for example, processes 4,700 head of cattle per day. BC currently has 33 provincially licensed red meat plants, the busiest of which processes 4,370 head of cattle per year. There is no middle. Provincially licensed red meat abattoirs provide important – sometimes the only available – livestock slaughter service in their communities and supply butcher shops, restaurants and other businesses. However, in terms of national product volume, these facilities contribute a tiny amount, easy to overlook. Other concerns are attitudinal. The thing that most hampered eorts to achieve regulatory compliance in the provincial system prior to 2014 was the CFIA's widely held, sometimes publicly expressed belief that provincial meat inspection standards were inferior to federal standards and thus put consumers at risk. This view, unhelpful then, is by now demonstrably untrue, given the integrity with which the provincial inspectorate operates. The FPT discussion about interprovincial meat trade identies the diversity and complexity of meat inspection systems between and within the provinces as part of the problem. But in fact, it is an answer to a weakness, highlighted by pandemic and climate disruptions, of long supply chains and large centralized operations. A nal concern shows up in general language. We talk about leveling "up." We assume that senior governments, because they are more powerful with wider reach, are superior and their standards are better. This reasoning is not necessarily valid. From 2014 until now, the red meat sector has been coping with nancial, social, climate and market upheavals in a context of increasing risks. The regulators have been evolving as well. Despite this, the concerns expressed above about the CFIA's possible return still seem current. On the national scene, BC's product output remains marginal, and ongoing attitudes about complexity as problem and national as better should give us pause. The provincial inspectorate seems t for purpose. Why trade it in? Kathleen Gibson worked on the industry side of the provincial meat le from 2005-12 and was a member of the team that designed the provincial meat inspectorate. Most producers probably haven't been following details of the federal-provincial-territorial (FPT) 2017 Canadian Free Trade Agreement. So, you may not be aware that the current workplan identies the fact that "only meat processed in federally registered abattoirs can be exported inter-provincially" as a barrier to trade and competitiveness. The schedule shows December 2023 for resolution. Agriculture and Agri-Food Canada (AAFC) asked the Canadian Agri-Food Policy Institute (CAPI) to comment. CAPI's upcoming report on regulatory and non-regulatory barriers to interprovincial red meat trade was discussed in a June 21 webinar. As possible solutions, panelists discussed the concept of "equivalence" (as distinct from "harmonization") and the return of the Canadian Food Inspection Agency (CFIA) for provincial meat inspection. But should the CFIA return to an inspection role in BC's provincially licensed abattoirs? There may be other options. Perhaps BC facilities with abattoir licences, if they do not want to seek federal registration to facilitate interprovincial trade, could sign onto a FPT sub-national standard that would permit it. Nationalizing the inspection system seems o base. First, some history. The CFIA had a role in provincial inspection in the past. The discovery of BSE in an Alberta dairy cow in 2003 and the ensuing crisis in the national red meat sector led to a nationwide overhaul of food Viewpoint by KATHLEEN GIBSON%PXOUPXO3FBMUZtOE4U7FSOPO#$t0óDFPat | 250.308.0938QBUEVHHBO!SPZBMMFQBHFDBThea | 250.308.5807UIFBNDMBVHIMJO!SPZBMMFQBHFDB6475 COSENS BAY RD, COLDSTREAMwww.FarmRanchResidential.ca "Farmers helping farmers with their real estate needs"One-of-a-kind 67-acre farm w/~40 acres in hay w/irrigation available from 2 licenced wells. Balance has timber value; majority of trees mature Cedar. Perimeter/crossed fence with NG, hydro service available. 47'x84' Hay barn. Great views, many building sites $2,498,0004333 COLEBANK RD, FALKLANDVAN DER WAL EQUIPMENT (1989) LTD. 23390 RIVER ROAD, MAPLE RIDGE, BC V2W 1B6 604/463-3681 | vanderwaleq.com The multifunctional 1380 Hoftrac Compact design, low centre of gravity, tight turning radius and powerful performance. Hoftracs effortlessly fulfil any work task and work quickly, flexibly and safely — a Hoftrac is simply al-ways ready for use. IN STOCK, READY TO GO TO WORK!For all those who want to go UP WEIDEMANN 5080TQuality Pre-Owned Tractors & EquipmentA telescopic wheel loader is particularly ideal for those who need more lift height. These machines have a telescopic arm that provides considerably greater lift height and coverage in comparison to normal wheel loaders with load arms.ANDEX 773 RAKE . . . . . . . . . . . . 12,500 BOBCAT T110 . . . . . . . . . . . . . . . 37,500 CASE IH 4210 2WD . . . . . . . . . . . 20,000 CLAAS IH 375RC ROUND BALER 35,000 FELLA SM320 . . . . . . . . . . . . . . . . . CALL FELLA 790 TEDDER . . . . . . . . . . . . 7,500 HARDY BLN50 SPRAYER 3PTH . . 3,500 HESSTON 1320 MOWER . . . . . . .10,000 INTL 885 2WD, CAB . . . . . . . . . . .12,000 JAYLOR MIXER WAGON . . . . . . 13,500 JD 6 BASKET TEDDER . . . . . . . . . 9,500 JD 4 BASKET TEDDER . . . . . . . . . 6,500 JD 5403 2WD TRACTOR . . . . . . . 19,000 KUBOTA M7-151 . . . . . . . . . . . . 150,000 KVERNELAND 7730 WRAPPER . 16,000 MASSEY FERGUSON 1523 . . . . . . 8,500 MF 1628 4WD LOAD . . . . . . . . . . 22,000 NH BC6050 . . . . . . . . . . . . . . . . . . 21,500 TYCROP HIGH DUMP 16' . . . . . . . 9,500 WACKER NEUSON WL60T . . . . . .CALL WHITE 2-55 TRACTOR . . . . . . . . . CALL
Page 6
6 | AUGUST 2022 COUNTRY LIFE IN BC
Page 7
COUNTRY LIFE IN BC AUGUST 2022 | 7Province urged to intervene as scorch claims riseReplant program urged as scorch spreads like "wildfire"BC Minister of Agriculture and Food Lana Popham inspected the results of blueberry scorch virus in Rhonda Driediger's elds in early June. RONDA PAYNERONDA PAYN E LANGLEY – Blueberry scorch virus is spreading like wildre through Fraser Valley blueberry elds, and growers want the province to step in. Langley grower Rhonda Driediger raised the issue with BC agriculture minister Lana Popham when she toured Driediger's elds on June 4. "It's wildre," Driediger says. "This will make the ood look like a picnic. It's everywhere." Of her 105 acres in blueberry production, 26 acres have been removed or are under renovation to eliminate the disease. Originally thought to primarily aect the Elliott variety, it's now beginning to show up in other varieties. "Now it's hitting ones where Elliott was one of the parents," she says, citing Liberty as a prime example. "And it's going into Bluecrop and it's going into Duke." So far, Driediger hasn't seen an impact to Calypso, another descendent of Elliott, but BC Berry Cultivar Inc. breeder and geneticist Michael Dossett says there are no varieties with immunity to the disease. "Elliotts have been hit hard," says Dossett. "Current thinking is that it may be that bloom in Elliott, being a bit later, coincides with higher aphid populations during a period where sprays cannot be applied to control aphids without harming bees." Aphids spread the virus, which was rst identied in BC in 2000. Once infected, plants develop a burnt appearance with yellowed then dead leaves and fewer blossoms. The plant eventually dies, but in the meantime aphids can spread the disease to nearby plants. "[Growers] have to remove and replace the eld, and this requires nancial encouragement," says Driediger. "It's probably going to be 6,000 or 8,000 acres that will be infected." With more than 27,000 acres of blueberries in BC producing fruit worth $157 million to growers in 2021, the losses represent as much as 30% of plantings. The province is taking the issue seriously. In a statement to Country Life in BC, it says provincial berry specialist Carolyn Teasdale "continues to be in close contact with BC growers and shares information and updates on best practices and response strategies." Driediger wants to see government funding for replants, "like they have done for decades in the Okanagan." But right now, the ministry is simply pointing growers to the AgriStability program, which provides assistance for "income loss and increased expense due to scorch." The government is working with the BC Blueberry Council See SCORCH on next page o
Page 8
8 | AUGUST 2022 COUNTRY LIFE IN BCScorch in blueberries kills the plant slowly, starting with yellowing, then dead leaves and reduced blossoms. Aphids can spread the virus from any infected plant to other healthy plants. RONDA PAYNESCORCH spreads nfrom page 7(And that's a good thing.)We know oil. All you need to know is that recycling used oil is fast, safe and crucial to the environment. Just get it to us and we'll do the rest.We know next to nothing about farming.Get started at bcusedoil.comto support growers. Research director Eric Gerbrandt says the council has added a new team member to reach out to growers. The council has provided a number of fact sheets and a video about scorch on its website. Growers continue to be reminded of the protocols recommended since the virus was rst identied in 2000: control aphids, use diagnostics to test plants and remove infected plants. Abandoned fields But on Sumas Prairie, many elds have been abandoned, meaning aphid control is non-existent. That concerns growers like Harvey Krause of South Alder Farms, who farms about 500 acres of blueberries throughout the Fraser Valley. Two of his elds, totaling 100 acres planted to Duke, Aurora and Bluecrop, are at one of the lowest points in the prairie. Just one, totaling about 40 acres, survived last fall's ooding. The plants were stump-cut about two feet above the ground and have managed to bounce back. They won't produce a crop for at least two more years, but they're on track for recovery. "They do look actually quite good," says Krause. "We're quite amazed really." But with many other growers in the area having abandoned their elds, Krause worries that his eorts will be wasted by disease. "[There are] so many elds in the area that the growers have abandoned. If there's any viruses, they're going to spread to my elds, the good eld," he says. Krause calls Sumas Prairie an aphid breeding ground. While many growers continue to manage their elds, he worries they're not being vigilant enough with their sprays, or they get caught – as Driediger has been – with aphids because spraying can't occur during bloom when honeybees are foraging. "We're taking out 60, 70 acres this fall because of scorch," Krause says. "We're not sure what we're planting [in their place]." Dossett says some genetic variation means aphids prefer some blueberry varieties more than others. Genetics also determine how severely scorch hits a variety. "Some varieties, such as Bluecrop, tend to tolerate it much more than others," he says. "I think everyone is struggling to gure out whether replanting with blueberries right away is the best course, given the possibility of reinfection and what variety they may switch to." Dossett continues to recommend that growers reserve trial space on their farms to put in new varieties as they come available so that there are producing plants to assess. He notes there is ongoing work to better understand alternate hosts for aphids and the ability of plants such as cranberries, huckleberries hedgerows and eld borders to act as reservoirs of the virus. Krause cuts down any plants he nds infected with scorch. He also tries to control aphids in an infected eld then harvest the plants' last crop before removing them. But he says the onus is on everyone to pull together for the good of the industry to stop the spread of scorch. "The blueberry industry has a lot of moving parts moving in the wrong direction right now," he says. "Once something like this gets started, how do you stop it?"
Page 9
COUNTRY LIFE IN BC AUGUST 2022 | 9Ranchers seek answers on BC Beef brand, dams Merritt area ranchers voice concerns at townhall meetingWater is a key resource for ranchers and livestock, but the province is dragging its hooves on dam funding and watershed plans. FILE BCHA Secretary Janice Tapp 250-699-6466 BCHA President John Lewis 250-218-2537 www.hlaattachments.com 1-866-567-4162 • Minimum 12 GPM required• Secondary metering drum regulates flow onto the belt• 12" wide high abrasion rubber belt with 1 ½" paddles• Discharge from either side Straw/Lime model shown.• Includes 2-½"x 8" cylinders• Main bucket material ¼" end plates and clam floor bottom• Available widths 66", 72", 78", 84"• Loader and skidsteer models available 4-in-1 BUCKETSIDE DISCHARGE BUCKET• Independent grapples for clamping of awkward loads• Tine and grapple tips are AR400 material• Compact models availableBRUSH GRAPPLETOM WALKER MERRITT – The future of meat processing in BC and dam maintenance were the top concerns ranchers voiced at a townhall meeting the BC Cattlemen's Association held in Merritt on July 19. "We work with and for members," says Okanagan Falls rancher Brian Thomas, newly elected BCCA president. "So feedback from our membership at events like this is very important." The future availability of beef processing in BC was a top issue for the meeting's 45 participants. A question from Katherine Brown, a ranch manager at Copper Creek Ranch in Princeton, gave BCCA general manager Kevin Boon an opportunity to update producers on BC Beef Producers Inc. The result of an extensive consultation process funded in part by the province, the plant in Westwold was supposed to begin processing cull cows into hamburger last summer but failed to launch. "The company and the brand still exist," says Boon. "But we did not have enough investors who were willing to commit $200 to purchase a share." A share would have allowed the owner to process one animal a year through the plant. Boon acknowledges that the drought, heat and res of 2021 made it a particularly bad year to start any agriculture business, particularly in the Westwold area. But the lack of support for the project was particularly frustrating. "This program would probably have added an extra $500 to $700 per cow to a rancher's prot," Boon notes. "We need to believe enough in our industry to invest in it ourselves." The opportunity for BC Beef to lease the plant has expired and KML's owners have restarted the plant on their own. But all is not lost. "I am currently working with the plant owners on your behalf and there may be an opportunity to develop that brand and start moving cattle through there in the next six to eight months," Boon says. Dams were also a concern. Mark Pooley of Pooley Ranch in Merritt asked if there had been any progress in having the government provide funds for dam safety reviews. Since 2010, even small earthen dams deemed of low consequence in the event of failure must be inspected every 10 years at a cost of $2,500 to $5,000 each. Some dams are coming up for their second review. Dam maintenance places a heavy burden on farmers. "We can't nance the inspection, and if the dam is on Crown land, we can't nance any repairs," says Pooley. Boon says BCCA has been pressing government for funding. "We have asked the standing committee on nance eight times in the 10 years I've presented to them if they will invest in dam safety," says Boon. "The government is willing to spend millions on climate adaptation projects but not on dam resiliency and the water they hold, which can support climate adaptation." Producers were urged to be involved in three upcoming government processes. Under amendments Bill 23 proposes to the Forest and Range Practices Act, some 60 forest landscape plans will be drawn up across the province and ranchers will need to give their input. Unfortunately, there is no provision to consider forage needs in the plans. "There is a real concern that we won't be able to represent ranchers' interests if many of those plans are being developed at once," says BCCA assistant general manager Elaine Stovin. "Ranchers will need to be involved to make their needs known." Watershed plans are a second initiative needing rancher input. Currently, there are two watershed plan pilots that are ongoing in the Lakes District and Quesnel. "As with forest landscape plans, there is no legal requirement to consider forage," says BCCA vice-president Werner Stump. "BCCA is trying to set guidelines as to how range values will be presented at the table." Stump says the pilots will set the tone for future watershed plans. "These will happen on a local level and you need to step up and represent your interests," he says. The practice of drawing up forest operation maps is being introduced, similar to the ve-year operation plans of the past. Stump says they give another opportunity for considering range values. "You may have an opportunity to view the developments by all the timber companies in your area on one map and gain a better understanding of how they will aect your operation," he says.
Page 10
10 | AUGUST 2022 COUNTRY LIFE IN BCView over 100 listings of farm properties at www.bcfarmandranch.comBC FARM & RANCH REALTY CORP.Buying or Selling a Farm or Acreage?GORD HOUWELING Cell: 604/793-8660GREG WALTON Cell: 604/864-1610Toll free 1-888-852-AGRI Call BC's First and Only Real Estate Office committed 100% to Agriculture!PROFESSIONAL SERVICESProvince funds extreme weather preparedness Until August 15, farmers and ranchers can apply to access up to $35,000 in cost-shared funding through the Extreme Weather Preparedness pilot program for projects that reduce the risk of extreme weather events to their farms and ranches. Producers seeking funding for projects related to wildre must rst complete a FireSmart Critical Infrastructure Assessment to be eligible for projects such as farm building retrots, critical farm structures upgrades and addressing vegetation and combustible materials. Flood preparedness projects include well protection, improved on-farm fuel storage, ood-resilient storage for farm products, ll pads for farm buildings or ood-resilient feed storage. Projects addressing extreme heat include improved barn cooling systems, heat protection for horticulture crops, heat protection for outdoor livestock such as shade trees or infrastructure and enhanced livestock watering to mitigate heat stress will be considered. Cost-share reimbursements range from 20% to 80% depending on the stream and the project, and include the FireSmart Assessment and planning and design of ll pads by a qualied professional. "This is a pilot," Will Shaw, a regional agrologist based in Kamloops explained to a BC Cattlemen's Association meeting in Merritt on July 19. "Shade trees and shade structures might work for your operation, but if you come up with more ideas that you think should be included, tell us." The province hopes the program will continue with additional intakes in 2023 and 2024, with the potential for adjustments based on this year's experience. — Tom Walker Okanagan wine appellations expand The province recently approved six new sub-geographical indications in the Okanagan Valley. "I think it's a logical next step in the progression of looking harder at the Okanagan Valley and seeing what it has to oer north to south, east to west. A lot of people do that anyways, certainly within the industry," says Julian Samoisette, wine director at Camelot Vineyard in the new East Kelowna Slopes sub-GI. "I think having it on the bottle is just one more step in educating the wine-drinking public at large that the valley is very, very dierent depending on the direction you go." The new regions in addition to East Kelowna Slopes include Lake Country, South Kelowna Slopes, Summerland Bench, Summerland Lakefront and Summerland Valleys. BC now has nine ocial geographical indications and 12 sub-GIs. Wines that state they're from a particular GI must contain be made at least 95% from grapes grown in the specied region. The designations are protected under BC law and their use is overseen by the British Columbia Wine Authority. While sub-GI labelling is a valuable marketing tool to promote sales online and in store, the specic qualities that highlight each region are far more important. "They want to designate where the grapes are from and I think when you talk to the winemakers, they don't talk about the marketing side of it. They talk about expressing the dierent characteristics of the dierent vineyards," says the authority's general manager Scott Hennenfent. "It's not just marketing a brand, it's the soils and having consumers understand the dierent landscapes and vineyards and how where they are aects the grapes that are produced." The boundaries of each sub-GI are rooted in subtle growing condition dierences, rooted in science. The applications are typically written by a professional soil scientist. Arrowleaf Cellars winemaker Manuel Zuppiger is thrilled that Lake Country, the northernmost sub-GI in the Okanagan, has its own designation. "It's important for us to have our own sub-GI designation to showcase the style of wines we are capable of producing, and to distinguish our local area from the vast and diverse Okanagan Valley GI," Zuppiger says. "Consumers will be able to look for 'Lake Country' on our labels and recognize the hallmarks of our region: lively wines with fresh acidity and purity of fruit." Other sub-GI proposals are in progress. The most recent application, received in June, was for the Black Sage Bench. — Kate Ayers The province is making up to $1.5 million available to farms across the province to assist with preparations for extreme heat, wildre and ooding. "Over the past year, we've seen the extreme impacts of climate-related weather events on our farming communities, and we are taking action to support farmers and ranchers with climate-change adaptation tools and projects," BC agriculture minister Lana Popham said in announcing the new initiative July 15. "By taking increased steps to focus on how we can best prepare for and mitigate future climate impacts, we will be able to better protect the livelihoods of our food producers while strengthening our food security and food economy." Ag Briefs EDITED BY PETER MITHAMCALL FOR AN ESTIMATE LARRY 604.209.5523 TROY 604.209.5524 TRI-WAY FARMS LASER LEVELLING LTD.IMPROVED DRAINAGE UNIFORM GERMINATION UNIFORM IRRIGATION FAST, ACCURATE SURVEYING INCREASE CROP YIELDS We service all of Southern BCExpert farm taxation adviceApproved consultants for Government funding throughBC Farm Business Advisory Services ProgramEnderby 250-838-7337Armstrong 250-546-8665 |t1VSDIBTFBOETBMFPGGBSNTt5SBOTGFSPGGBSNTUPDIJMESFOt(PWFSONFOUTVCTJEZQSPHSBNTt1SFQBSBUJPOPGGBSNUBYSFUVSOTt6TFPG$BQJUBM(BJOT&YFNQUJPOT$ISJT)FOEFSTPO$1"$" -PSFO)VUUPO$1"$"5PMM 'SFF1-888-818-FARM |www.farmtax.comRossworn HendersonLLPChartered Professional Accountants - Tax Consultantsartered Professional Accountants - Tax ConsultanALC rejects Teacup appeal An appeal by the District of Kent regarding the exclusion of 43 acres from the Agricultural Land Reserve for residential development has been rejected. A four-page decision issued June 10 by the Agricultural Land Commission states the district's request did not meet the criteria for triggering a reconsideration, and that, "in any event, is of the view that there should not be a reconsideration of the 2021 decision." Kent applied to the ALC In 2020 seeking the exclusion of the so-called Teacup properties, parcels designated for future residential development in the district's ocial community plan in 2001. However, the properties are within the ALR and the ALC told the district in 2005 "that any plans to develop this area for non-farm uses would be inconsistent with the ALC Act." The commission reiterated this position in 2014, and rejected the most recent exclusion bid in June 2021. But the district was not content. It led a reconsideration request February 3 alleging that the ALC decision, "was based in error and in some parts, false" – grounds set forth in the ALC Act for reconsidering a decision. The district also argued that a reconsideration would allows the ALC to see the exclusion application as oering a "'win-win' outcome" that would both enlarge the ALR while providing much-needed housing. The ALC countered that various elements the district claimed were false were in fact the ALC's decisions based on the evidence before it, not the evidence itself. Therefore, a reconsideration wasn't required. Moreover, the district provided no new evidence to support its exclusion application, also nixing any hope for a reconsideration. "No additional reconsideration requests can be considered by the Commission," the ALC added. — Peter Mitham Expertise like ours – is Rare CUSTOM SLAUGHTER SERVICES PROVIDED PROVINCIALLY INSPECTED ABATTOIR BC#34 PROUD 4-H SPONSOR for the 2022 PACIFIC NATIONAL EXHIBITIONashiq@meadowvalleymeats.com 604/465-4752 (ext 105) fax 604/465-4744 18315 FORD ROAD PITT MEADOWS, BC V3Y 1Z1• BEEF • VEAL • BISON • LAMB • GOAT • DEERMEADOW VALLEY MEATS
Page 11
COUNTRY LIFE IN BC AUGUST 2022 | 11FIRB pushes back on complaints about BC Veg"Speculation, rumour and innuendo" fuelled allegations Turnin soi sinc 1899. Cultivatin Craf Bee sinc 2019.Grown and brewed on-farm in Ladner, B.C.www.barnsidebrewing.caAsk for us at your local beer storeAsk for us at your local beer storeAsk for us at your local beer storePETER MITHAM SURREY – BC's Farm Industry Review Board has struck back at complaints that prevented the BC Vegetable Marketing Commission from engaging in normal operations and undermined regulated marketing in BC. In a decision delivered July 14, FIRB chair Peter Donkers rescinded orders issued last year that eectively deprived BC Veg of its general manager, Andre Solymosi, as part of a supervisory review responding to allegations "of bad faith and unlawful activity" in civil claims led by Prokam Enterprises Ltd. and MPL British Columbia Distributors Inc. "These allegations eectively paralyzed aspects of the Commission's operations, " Donkers wrote, adding that the allegations undermined "public condence in the regulated vegetable sector." More troubling, the review could nd no substantial evidence in support of the allegations. "Despite the extensive investigation, document production and the evidence of 16 witnesses, there simply was no cogent evidence presented to substantiate the very serious allegations of wrongdoing," Donkers wrote. "In most cases, I have found that the allegations were based on no more than speculation, rumour and innuendo." The dispute has its roots in the marketing to buyers in Alberta and Saskatchewan of thousands of pounds of BC-grown potatoes for which Prokam had no delivery allocation and therefore skirted the industry's governing regulations. Moreover, Prokam's agency IVCA sold the potatoes "signicantly below market" pricing. This triggered a meeting with IVCA in which BC Veg "emphasized that agencies and producers were required to comply with their [delivery allocations] and not sell below the Commission's minimum price orders." An order against Prokam and Thomas Fresh Ltd., the potatoes' buyer, followed, in which BC Veg asserted its right to regulate the sale of BC-grown produce even if it was destined for sale outside BC. BC Veg saw its mandate as ensuring the orderly marketing of BC produce, regardless of destination, and the compliance of marketing agencies with its orders. The result was a series of appeals that exposed the commission's over-reliance on minimum pricing to ensure the orderly marketing of regulated crops as well as governance issues, including the need for commission decisions to be free from the apprehension of bias. The latter was at the heart of the civil claims that triggered the supervisory review in spring 2021. Those suits alleged that then-commission members Corey Gerrard, Peter Guichon, Blair Lodder, John Newell and Mike Reed as well as Solymosi used their positions to prevent Prokam and MPL from obtaining agency licences, thereby preventing them from entering the BC market. Changes last year created two positions for commissioners from outside the industry to address concerns that commission decisions could be biased and ensure public condence in commission decisions. Donkers suggested that the unsubstantiated claims that triggered those changes could still throw in jeopardy agency applications that MPL and a Prokam aliate, CFP Marketing Corp., had made. "Over the course of this hearing, it began to appear that Prokam and MPL had advanced these serious allegations principally on speculation, which reduced this Supervisory Review to largely being an unsuccessful shing expedition on the part of the Complainant Participants, at extraordinary expense to the Non-Complainant Participants and BCFIRB itself," Donkers wrote. BC Veg spent $130,000 on legal fees in 2018 alone defending itself, and the bills for all parties continued to mount. While the review didn't address the question of whether or not the allegations were made in bad faith, it said the companies' conduct "potentially gives rise to larger issues regarding the suitability of Prokam, CFP and MPL to participate in the regulated vegetable industry, issues which may need to be otherwise addressed in the prior approval and appeal processes already underway with respect to the MPL and CFP agency applications." "An agency licence is a privilege, not a right," Donkers points out, noting that licences are issued on the commission's schedule rather than an applicant's. While the July 14 decision rescinds the restrictions placed on Solymosi, the saga is not yet over. Donkers has asked lawyer Nazeer Mitha, who investigated the complainants' allegations, to recommend next steps to address concerns the conduct of Prokam and MPL raised, and if costs should be awarded to BC Veg's commissioners. There's also the potential for reforms to give commissioners statutory immunity from allegations of bad faith. Those were due by July 27, after this issue went to press. The two civil suits launched by Prokam and MPL also remain outstanding. Farm & Rural ResidentialProperties in the Peace Country are our specialtyAnne H. ClaytonMBA, AACI P App, RIAppraiserJudi LeemingBHE, CRA P AppAppraiser250.782.1088info@aspengrovepropertyservices.ca www.aspengrovepropertyservices.caThe hay situation has improved across BC according to BC Cattlemen's general manager Kevin Boon. Although rst cut was delayed by two to three weeks, many are getting ready to start second cut. A cool, wet spring helped with growing conditions. However, he says the one caveat is "there is absolutely zero carry-over capacity from last year."MYRNA STARK LEADERHay there
Page 12
12 | AUGUST 2022 COUNTRY LIFE IN BCFederal ag minister Marie-Claude Bibeau and BC's Lana Popham share a moment in Saskatoon where ag ministers met July 20-22 to nalize a new ve-year funding package for agriculture programming. FACEBOOKWITH OVER 29 YEARS OF EXPERIENCEWe oer our clients the best service there is in the real estate industry ensuring there are no unanswered questions or concerns.Get sustainable to get funding, ag ministers sayGovernments to lay conditions on funding opportunitiesPETER MITHAM SASKATOON – The next ve-year policy framework that funds agricultural programming won't just come with strings attached, but a lasso. The new ve-year Sustainable Canadian Agricultural Partnership was announced July 22 at the end of the annual meeting of federal, provincial and territorial ministers in Saskatoon. The plan will be worth at least $3.5 billion as the provinces pledged an extra $500 million for the cost-shared portion. But portions of the funding will be contingent on having an environmental farm plan, and pilots will be conducted in BC and other provinces to see how farmers could be nudged to embrace practices that make them more resilient in the face of a changing climate. "To ensure our farmers and ranchers become more resilient in the face of climate change, we will conduct a one-year [business risk management program] review period and work with industry to identify the best approach," federal agriculture minister Marie-Claude Bibeau announced. "Each jurisdiction will identify potential incentives and conduct a pilot for producers who adopt environmental practices that also reduce production risks." The federal government, for its part, will require that farms with annual revenues of $1 million or more have an environmental farm plan by 2025 in order to receive government funds through the AgriInvest program. The government describes AgriInvest as "a self-managed producer-government savings account" that sees farmers receive government contributions equal to 1% of their eligible sales. BC was home to approximately 1,007 farms with total revenues in excess of $1 million in 2021, though not all those revenues are necessarily eligible for government contributions through AgriInvest (rental income, for example, is not allowed). The number of farms in BC participating in the BC Environmental Farm Program is not publicly released, making the impact of the move hard to gauge, but the direction is clear. BC farmers already have a taste of how the new regime will function. To encourage registration among the 14% of livestock producers that haven't registered for PremisesID, which became mandatory July 1, the province says registration will be a prerequisite to participate in government programs. But the Canadian Agri-food Policy Institute says putting strings on government funding by making it contingent on participation in other programs government wishes to see adopted – a practice formally known as cross-compliance – isn't the best approach. "Repurposing BRM programs to improve environmental outcomes through cross-compliance may create unintended consequences, including by decreasing participation rates," CAPI says in a July 20 report commissioned by Grain Farmers of Ontario. "Decreasing participation rates in structured BRM programs does not remove governments' interest or responsibility in BRM; rather, it shifts toward pressure for ad hoc programming." Bibeau notes that even if programs such as AgriStability, AgriRecovery, AgriInsurance and the Advance Payments Program have minimal economic impact, they're signicantly impacted by extreme weather events. November's catastrophic ooding in BC, for example, triggered the province's largest-ever AgriRecovery program in the province's history at $228 million. "We are investing signicant money in our business risk management [annually]. The average used to be $1.6 billion, but I'm pretty sure that we reached $2 billion last year with the drought on the Prairies and in Ontario, and the ood in BC," Bibeau says. "This is why we have agreed to take the coming year to proceed with a review to evaluate how we can integrate climate risk, because it is a new and a bigger risk than it used to be." Reecting the greater risks farmers face, the meeting also saw an agreement to raise the AgriStability compensation rate from 70% to 80%.
Page 13
COUNTRY LIFE IN BC AUGUST 2022 | 13Unsettled weather which set back seeding in BC's Peace continued to dog BC Grain Producers Association members during their annual meeting and eld day July 13 in Montney. FACEBOOKppp gskills in communication, complex analysis and decision-making. Good background knowledge of the dairy industry and supply management is important. Board members are required to relate well to and have WKHFRQÀGHQFHRISURGXFHUVSURFHVVRUVsuppliers, Board staff and other stakeholders.Milk Industry Advisory Committee (MIAC)BC Milk Marketing Board Member Appointment by the Milk Industry Advisory Committee (MIAC)The British Columbia Milk Marketing Board, under federal and provincial law, promotes, controls and regulates the production, transportation, packing, storing and marketing of milk, fluid milk and manufactured milk products in British Columbia. A Board Member is to be appointed by MIAC with a three-year term effective November 2022. (Reference: BCMMB Election and Appointment Rules and Procedures, July 9, 2021) Board duties include the analysis and interpretation of detailed statistics in relation to production, product quality, consumption patterns, and industry economic impacts, and direct involvement in regional, national and international policies. The person appointed will have strong skills in communication, complex analysis and decision-making. Good background knowledge of the dairy industry and supply management will be important. Board members are required to relate well to and have the confidence of producers, processors, suppliers, Board staff and other stakeholders. This part-time position is suitable for an individual who can commit to Board and other meetings, likely or approximating three to five days a month, and who can undertake some travel. This Board Member cannot be a licensed producer. The BC Milk Industry Advisory Committee invites applications from qualified individuals who are keen to make an active contribution to the Dairy industry. If you feel qualified and the opportunity is of interest, to apply for an interview please send your resume in confidence by September 30, 2022: miac@bcmilk.com Attention: Hank Kroeker, Chair Milk Industry Advisory Committee KATE AYERS DOE RIVER – A cool, wet spring has put a damper on this year's wildre season, but the north of the province isn't out of the woods yet. The province recorded 297 wildres between April 1 and July 18, or about a quarter of the number last year. The 27,560 acres burned is less than 5% of what burned during the same period in 2021. The slow start to the season was helped by a heavy snowpack and cool spring that slowed the melt. "What really played in our favour is this ongoing presence of snow over the ridgetops, which really reduced the amount of res we saw ignited from lightning," says BC Wildre Service lead forecaster Matt MacDonald. The province typically sees 110 res sparked by lightning in June; this year, there were just 30. But northern BC received little to no precipitation in July, making fuels vulnerable to lightning ignitions and holdover res. The rst week of July saw 14 res larger than a hectare burning in the region but by mid-month the number had increased to 56. The arrival of warmer temperatures contributed to the greater re activity. The precipitation outlook is dicult to predict but conditions are shaping up to be drier than average across much of BC through mid-August. Areas that did not receive appreciable precipitation in June or July will be more susceptible to large res in August, especially in the northwest where fuels are drier, MacDonald says. The conditions will demand vigilance. "Response time and quick detection will play key roles in initial attack success across the northern third of the province," he says. Ranchers and rural residents have greater freedom this year to respond to res. While ranchers could respond to res on their own properties in the past, their role ended once BCWS personnel showed up. This year, arrangements are in place to allow them to come alongside provincial teams to ght res and contribute equipment to eorts. Both points were argued for at townhalls held last summer following devastating res at Monte Lake and Westwold. Spring rains welcome Glyn Evans of Evans Farms in Doe River, southeast of Fort St. John, is thankful he has not yet had to deal with the implications of extreme heat, drought or nearby res like he had by this time last year. Evans welcomed the moisture that most of the province received during the rst half of 2022. "The grain crops were kind of hard to get in because of the amount of moisture. They went in late, but on the other hand, that moisture [beneted] hay crops and pastures that would really be in trouble if we hadn't had it," he says. His family raises cow-calf pairs and grows grain crops for feed on 2,100 acres. The crops could use an inch of rain now, Evans said in mid-July, but he had not heard of any wildre or smoke issues yet. "I'm out walking crops right now. There are some struggles; they're not perfect but there's a lot of really good crops," he says. "I think at worst, we're looking at average and there's going to be a lot of really above-average crops too, provided we get a bit more water throughout the season." Jordan Kealy of Kealy Farms near Cecil Lake has mixed feelings about this year's weather. "There's been enough moisture to keep the wildre risk a bit lower and most of everything growing," Kealy says. "[But] spring was awful. Lots of crops were late getting put in if they got in at all. Lots of losses calving because of the weather." He did not get crops planted as hoped because the ground was too wet for too long. "One neighbor said he got all his in, another had 80% still to go at June 1. That late is a huge gamble whether you get a crop or not, and too late for insurance to cover," Kealy says. According to the province, approximately 15% of the region's 300,000 acres intended for grain and oilseeds went unseeded this year due to excess moisture, primarily north of Fort St. John. The province says it has paid out $1.9 million worth of claims for unseeded acres this year to date. Weather heightens wildfire risk in the PeaceA cool, wet spring has pivoted to dry conditions in northern BC• Increase milk production• Increase heat detection• Reduce hoof & leg injuries• Reduce cull ratesWe are booked solid June -August. Call NOW to schedule for September & October1.877.966.3546www.agritraction.com | CHILLIWACK, BC
Page 14
Islands Ag Show recharges farmers' knowledge base Speaker program offered a range of topicsThe Islands Agriculture Show in Duncan in early July was host to over 60 exhibits, but attendance was less than expected after the Vancouver Island Holstein Club postponed its show at the last minute. KATHLEEN GIBSON14 | AUGUST 2022 COUNTRY LIFE IN BCInsurance products and services are provided through Assante Estate and Insurance Services Inc. Please visit www.assante.com/legal.jsp or contact Assante at 1-800-268-3200 for information with respect to important legal and regulatory disclosures relating to this notice.Financial planning for farm families Farm transition coaching Customized portfolio strategy Retirement income planningDriediger Wealth PlanningMark Driediger, CFP, FEA, Senior Wealth AdvisorBrent Driediger, BAA, CPA, CMA, CFP, Wealth Advisorwww.DriedigerWealthPlanning.com | 604.859.4890 Assante Financial Management Ltd.KATHLEEN GIBSON DUNCAN - Farmers who were able to squeeze some time out of their summer schedule to attend the Islands Agriculture Show (IAS) at the Cowichan Exhibition grounds, July 6-7, found the time well-spent. Summer is always a dicult time for farmers to attend events, especially this year with haying so late after months of cool, wet weather. While animals enliven the proceedings, the Vancouver Island Holstein Club show, originally scheduled for the same days, had to postpone at the last minute due to lack of sta. These disadvantages may have made for low attendance at times, but those who participated were happy to be meeting, networking and learning. During session breaks, there was a good buzz of conversation around the 60-plus exhibitor booths and the Tzouhalem Spinners and Weavers Guild demonstration. The well-stocked conference program – postponed from February due to ongoing COVID-19 restrictions – included discussions on topics ranging from on-farm soil, water, biodiversity, avian inuenza and livestock management to food hubs, institutional markets and agri-tourism. Attendance spiked on Thursday with the program's most popular sessions on cannabis, hazelnut production and cider apple management. Each session provided well-researched, up-to-date information focused on islands farmers' needs. The session on soil management described the evolution of soil science, how to classify the soil on your farm, and how to manage for climate resilience, with reference to current BC-based research. Presenter DeLisa Lewis, who operates Green Fire Farm in the Cowichan Valley and is a professor in the UBC Faculty of Land and Food Systems, provided practical details and information resources on soil drainage and water conservation techniques. Andrea Shaw, agroecologist with the BC Ministry of Agriculture and Food, described the ministry-wide focus on regenerative agriculture and gave an update on the Environmental Farm Plan (EFP) and related Best Management Practices (BMP) programs now operated by the Investment Agriculture Foundation of BC. Farmers no longer require BC Assessment farm status to develop an EFP, though they do need it to access the BMP programs. These programs and their eligibility criteria may expand (check the EFP link at [iafbc.ca] for updates). Angela Boss, the ministry's regional agrologist in Courtenay, was happy to announce that three new regional agrologists have started work on Vancouver Island, stepping into existing vacated positions: Megan Halstead for the South Island, Bejay Mills for the Central Island and Thom O'Dell for the North Island. Keynote speaker Chris Koch, an Alberta grain farmer born without arms and legs, inspired his audience, describing how navigating a world not designed for you makes you an expert in problem solving. "We nailed it this year," says IAS show coordinator Shari Paterson. "We were able to deliver value for farmers looking for information or looking to expand." She credits the show's board members and agriculture ministry sta with identifying relevant topics. "Friday morning, I felt like a champ," says Paterson, knowing that the event had been a big success. "We were all a bit rusty after two years away, but as it turned out, our program advice was great, and the exhibitors and participants were all happy to be there and connecting again. This has given us a huge boost as we gear up for the 2023 show in its usual February time slot." Growers who missed this year's show can access the program at [iashow.ca]. It provides enough information on topics and resource people for follow up. countrylifeinbc.comThe agricultural news source in BC since 1915.
Page 15
COUNTRY LIFE IN BC AUGUST 2022 | 15In its audit, the Forest Practices Board noted "extensive damage" to a sh-bearing stream in an 86,000-acre grazing tenure located 84 kilometres northwest of Quesnel. FOREST PRACTICES BOARDPROVINCIAL HIGHWAY LIVESTOCK FENCING PROGRAMApplications Close: August 31, 2022View program updates at cattlemen.bc.ca/fencing.htmOce: 1.778.412.7000 Toll Free: 1.866.398.2848email: fencebc@cattlemen.bc.ca In partnership with:KATE AYERS QUESNEL – Three recent audits of range practices in the Quesnel area highlight that ranchers are doing a good job, but also several areas of concern that ranchers say point to the need for improvements in the province's approach to range management. The audits involve a comprehensive review of operations, including maps, grazing schedules and waterway protection strategies. They also closely examine adherence to range use plans. Indeed, range use plans are a legal requirement that outline how ranchers will manage their cattle on public lands. "We look at whether they did what their plan required them to do," says the BC Forest Practices Board's retired chair Kevin Kriese, who oversaw the audits. "Is the grazing being managed such that it doesn't degrade the quality of the grass, i.e., overgrazing? Are the cattle being moved around at the appropriate times, if that's part of the practices?" The BC Forest Practices Board, an independent watchdog of forest and range practices in BC, released its rst round of ndings in April. The report noted that Daniel Storey, who runs cattle on around 24,000 acres of range 30 kilometres northwest of Quesnel, met the requirements of the Forest and Range Practices Act. But a second round of ndings released in late June found areas of concern at two other operations. Range tenure holders Douglas and Sherry Webster graze cattle on 13,700 acres about 32 kilometres south of Quesnel. The audit found sound range practices that complied with legislation, but the Websters lacked an approved range use plan. "The tenure was transferred, and when a tenure is transferred, the new owners are supposed to get a new range use plan," says Kriese. "The rst year during the transfer, they got the ministry to just extend the old plan, but what they didn't do is follow up and submit a new range use plan the following year." The board does not have authority to enforce changes to ranchers' practices, which is left up to the Ministry of Forest's Compliance and Enforcement Branch. "The Ministry [of Forests] receives our reports and the expectation is that they work with the rancher and make sure the tenure is brought into compliance," Kriese explains. In the case of the Websters, the ministry says the expired range agreements have been resolved and ministry protocols have been updated to prevent similar issues in the future. Riparian issues In the third audited range, the Forest Practices Board reported compliance in all signicant respects with the requirements of the Forest and Range Practices Act and the Range Planning and Practices Regulation. But it also noted "extensive damage" to a sh stream and tenure holders John and Laura Wilson have been given repair recommendations by the board. "We found pretty good practices with one signicant exception and that was the damage to riparian areas along a sh-bearing stream, where the cattle are able to go in and access the stream," Kriese says. "Eventually their hooves and access destroy the vegetation and cause impacts to the stream itself. That was the thing we were most concerned about with this particular one." The damage is in the vicinity of Newa Creek, which has impacted the soils adjacent to the stream, the stability of the stream channel banks and the vegetation along the stream bank and riparian area, the report says. The report also mentions the potential for signicant negative impacts to sh habitat. The tenure holders have a legal obligation to prevent this type of damage and are expected to restore the creek to a properly functioning condition, Kriese notes. However, Laura Wilson insists that the report contains several inaccuracies that paint a much worse picture of the family's range management practices than is actually the case. "The creek that is in question is basically not a sh-bearing stream. It comes down, out to the canyon and … before it gets to the river it goes underground. There are probably sh in it above the canyon up on top but not down below," she says. "Most of the damage that's been done has been done by erosion, which is from ash-ooding. Because of all the logging that's happened out there, we get a lot higher water faster. That's been causing a problem." The grazing tenure that includes the creek is approximately 86,000 acres Ranchers need support for range use compliance Provincial protocols, audit inaccuracies complicate mattersSee RANCHERS on next page o
Page 16
16 | AUGUST 2022 COUNTRY LIFE IN BCPRINCE GEORGE | KAMLOOPS | KELOWNA | CHILLIWACK | LANGLEY | NANAIMO WWW.PCE.CA | 1-877-553-3373Some restrictions may apply. See dealer for details. Offer valid June 6 - October 28, 20221025E $2591025R $2992025R $3392022 Fall Inventory Arriving Soon 0% Financing for 72 Months1023E QID 269740921025R QID 26974559 add backhoe QID 269746722025R QID 26974775add backhoe QID 26975078 PER MONTHWITH LOADERPER MONTHWITH LOADERADD THE BACKHOE FOR $99/MO.PER MONTHWITH LOADERADD THE BACKHOE FOR $99/MO. *0% for 72 months on select 2022 models only. Some restrictions may apply. See dealer for details. Taxes are not included in the payment price. Offer ends October 31, 2022.1023E QID 269740921025R QID 26974559 add backhoe QID 269746722025R QID 26974775 add backhoe QID 26975078 and is located 84 kilometres northwest of Quesnel. The board places high signicance on the state of riparian areas and claims that "the range agreement holder was aware of the damage to this riparian area and the fact that it was a sh-bearing stream. MOF directed the range agreement holder, through written warnings, to move the livestock on numerous occasions between 2002 and 2010," the report says. Wilson refutes this claim, noting that the 2002 audit referenced in the latest report was unknown to her prior to the latest audit. "[It] was never shared with the tenure holder and the tenure holder was unaware that it was published until 2021," she says. "Referencing a report that was not provided to the tenure holder is biased and building the 2021 audit upon pre-existing prejudices will carry through into this audit report." Impeding ranchers BC Cattlemen's Association general manager Kevin Boon says the government protocols may be impeding some ranchers from doing their best on their tenures, potentially putting them out of compliance. In regard to the audit case where the ranchers did not have an updated range use plan, Boon suspects many other producers are in the same boat. "There is [probably] a large percentage right now of BC tenure holders that are in non-compliance," he says. "Not necessarily because they want to, but because of government's delay in getting them issued." With respect to the Wilsons, BCCA takes watershed damage seriously and works with ranchers to ensure practices are in compliance, Boon says. "These are the kinds of things that we really don't like to see," he says. But government foot-dragging on the long-awaited livestock watering regulation isn't helping, Boon says. "On a lot of these creeks, waterbeds, streams and tributaries where we see cattle accessing water, part of the reason behind that is we have no livestock water regulation in place or licensing ability on Crown range. So, it would be illegal for [ranchers] to divert water," he explains. "If there were o-stream watering sites set up, it would probably take away all that pressure. But because we can't legally divert water on Crown land to do that, it's discouraging doing the right thing." During the BCCA AGM in June, the water subcommittee reported no progress on the livestock watering regulation since March 2021, when the province withdrew its proposal. The matter is now in the hands of the new BC Ministry of Land, Water and Resource Stewardship. The forests ministry, meanwhile, praised the work of the Forest Practices Board. "The board plays a critical role in helping BC develop sound forest and range practices that are in the best interest of British Columbians," it says in a statement to Country Life in BC. "We are also moving forward with the development of a mitigation strategy for streamside damage, with the goal of including these in range use plans. In regard to concerns of poaching, unlawful [timber] harvesting continues to be investigated by our Compliance and Enforcement Branch." RANCHERS push back at FPB report nfrom page 15FPB auditors found that John and Laura Wilson cleared immature trees from a 0.42-acre area without authorization. The Wilsons insist they only push up small second growth to use the area as a hay landing. "There was absolutely no timber harvesting," she says. LAURA WILSON
Page 17
COUNTRY LIFE IN BC AUGUST 2022 | 17KATE AYERS SUMMERLAND – Okanagan tree fruit producers are seeing some light – and heat – at the end of the tunnel as high summer reaches its peak. "We've been seeing what I would [call] challenging growing conditions for apples even in the Okanagan this year. It has been very cold, very dry and then very wet," says Adrian Arts, provincial tree fruit specialist and owner of Kamla Orchards in Summerland. Conditions have meant greater disease pressure, but vigilant producers are seeing high-quality fruit. "We are denitely lighter than expected on crops across the board. Everything is down this year but having said that … the cherries look phenomenal," he says. The market is responding well to the large fruit size, sugar content and avour, Arts says. "The returns right now are extremely solid for cherry producers. We did have some rain, which is always a challenge," he says. But the potential of a couple weeks of warm and dry weather could further boost the crop and improve the sugar content, Arts adds. Jealous Fruits, the largest cherry grower in Canada, expects that over 80% of its total volume this year will be harvested in August and September, with only 20% in the last two weeks of July. It's coming in 10 to 14 days later than usual, but fruit quality is excellent. Due to the later and lighter crops this year, Kempf Orchards reports that local and international demand for cherries are at a record high. Apple crops in the Okanagan, Similkameen and Creston valleys vary. Some blocks do not have any fruit and others have smaller apple crops with larger fruit, Arts says. The latter situation could present producers with better market access and returns, he adds. Trees have not had an easy go over the last year and some – especially those in the Lower Mainland and on Vancouver Island – are starting to show the impacts of environmental stressors, including fungal pathogens. Bonnie Zand of Bonnie's Bugs IPM in Courtenay has noticed an uptick in fungal issues on Vancouver Island, especially apple scab and powdery mildew. Pollination was also aected this spring. "Due to the cool, wet weather this spring, the bees really weren't ying," she says. "Regardless of any other kind of pest, if there's no fruit on the tree, it's hard to get a crop." Sea Cider Farm and Ciderhouse founder Kristen Needham Jordan in Saanichton says her apple orchard is two weeks behind, but aside from a signicant tent caterpillar infestation, pest and disease pressure has been low. "Thankfully, right now the apples that are set on the trees look good and we have started to do some summer thinning to make sure branches aren't bearing too much fruit," she says. The farm has 60 varieties of cider apples plus a handful of plum, peach and pear trees. Needham Jordan noted that the peach trees did not pollinate and aren't bearing any fruit. Arts says peaches and other stone fruits are facing issues in the Okanagan, too, largely due to a late spring frost. "Overall we're going to have a light crop, but the crop that's out there looks really good," he says. While maturing fruit might welcome the arrival of warmer weather, which was starting to make itself felt in mid-July, Zand says this could increase pest pressure. "That is going to be when we'll start getting more concerned about things like spider mites," she says. "We just got our rst detection of apple maggot down in the Victoria area. We'll probably start seeing that throughout the region we're monitoring as we move into August." On the nursery side, Josh Brown of Similkameen Nurseries in Cawston is dealing with aphids. "This year has been a particularly tough year for aphids. I've never seen so many in my life," Brown said last month. "It's probably cost us between $5,000 and $10,000 in the last three weeks to remediate the aphids." To protect his trees, he sprayed insecticidal soap every ve to seven days for a month, then pruned o aphid damage and reselected leaders. Brown estimates the extra measures will cost him an additional $10,000 to $30,000 this year. Low volume, high quality in cool seasonWeather – this year and last – is affecting the harvest outlook for BC orchardistsSmaller crops with larger fruit may be a win for BC orchardists this season. MYRNA STARK LEADERThe BC Fruit Growers' AssociationDID YOU KNOW?supports members through programs:BCFGA provides free magazine subscriptions to Orchard and Vine, Country Life in BC, The Grower and Good Fruit Grower (NEW!).BCFGA provides assistance to members to complete Seasonal Agricultural Worker Program applications, backed by an accredited Registered Canadian Immigration Consultant.Free printed spray schedules.EFP Incentive Program ($250). Green Spark Consulting Services - Discount on housing bylaw assistance. COR Safety Certification Incentive ($250). NEW!1234
Page 18
18 | AUGUST 2022 COUNTRY LIFE IN BC© 2021 CNH Industrial America LLC. All rights reserved. New Holland is a trademark registered in the United States and many other countries, owned by or licensed to CNH Industrial N.V., its subsidiaries or affiliates.From rst cut to last bale, New Holland hay and forage equipment helps you make top-quality hay and make it more productively—day in and day out. That's the advantage of our over 125 years of invention and innovation. New Holland haytools save you time and money, all while maximizing quality and feed value. You'll also work more condently, knowing your local New Holland dealer is there with unparalleled service and support when it matters most. Cut, rake, bale, repeat — no one does hay better. Stop by today for more information and the latest 昀nancing incentives.CUT. RAKE. BALE. REPEAT.™ARMSTRONG HORNBY EQUIPMENT ACP 250-546-3033 CHILLIWACK ROLLINS MACHINERY LTD 604-792-1301 CHEMAINUS ROLLINS MACHINERY LTD 250-246-1203 FORT ST JOHN BUTLER FARM EQUIPMENT LTD 250-785-1800 KELOWNA ROLLINS MACHINERY LTD 250-765-8266 LANGLEY ROLLINS MACHINERY LTD 604-533-0048 WILLIAMS LAKE GRASSLAND EQUIPMENT LTD 250-392-4024 VANDERHOOF GRASSLAND EQUIPMENT LTD 250-567-4446GRASSLAND EQUIPMENT LTD. SERVING THE CARIBOO SINCE 1977 WILLIAMS LAKE 600 11th Ave N 250.392-4024 VANDERHOOF 951 Hwy 16 West 250.567-4446
Page 19
COUNTRY LIFE IN BC AUGUST 2022 | 19Industry working through tree fruit recommendationsProvincial specialist offers update on behalf of industryProvincial tree fruit specialist Adrian Arts says there is an effort to develop a data strategy for the orchard sector that could provide growers with weekly marketing updates. MYRNA STARK LEADER / FILE PHOTOCOMMITTED TO AGRICULTURE in BRITISH COLUMBIA rollinsmachinery.comCHILLIWACK • 1.800.242.9737 . 44725 Yale Road West • 604.792.1301 LANGLEY • 1.800.665.9060 |. 21869 - 56th Avenue • 604.533.0048 CHEMANIUS • 1.250.246.1203 . 3306 Smiley Road KELOWNA • 250.765.8266 . #201 - 150 Campion Street TRACTORS JD 5090GN 900 HRS, CAB, 4WD, BERRY TRACTOR [U32597] 64,900 KUBOTA M7060 2019, CAB, NO LOADER, 200 HP [U32830] .... 67,000 NH T4 120 ROPS, LOADER, LOW HOURS [N31691] ................ 79,600 NH TS6.140 [N 31304] ......................................................... 96,500 NH T6.165 8000 HRS, 2014 [U32747] .................................. 49,000 NH T6010 & LOADER, 6600 HRS @ CHEMAINUS [U40151] ..... 58,900 QUALITY USED EQUIPMENT CASE 161 DISC MOWER, ROLLER CONDITIONER [U32495] ............ 16,900 CUB CADET LAWN TRACTORS NEW 2022 UNITS, RIDE-ON, O'TURNS . CALL DION F64-90 CORN HEAD, GOOD CONDITION [U32877] ................. 21,875 FELLA TH540D TEDDER @CHEMAINUS [U40094] ................................ 4,950 MCHALE FUSION VARIO 2017, 14,000 BALES, [U32135] ......... 85,900 MCHALE 3100 FRONT DISC MOWER [U32621]........................ 17,000 MCHALE R3100 REAR DISC MOWER [U32620] ....................... 17,000 NH C232 TRACK SKIDSTEER, DEMO SPECIAL, 500 HRS, ROPS, GOOD CONDITION [N31179] ................................................. 56,000 NH 575 HAY BALER HYD PICKUP/TENSION [CNS779] .............. 16,000 NH 1432 DISCBINE 2 PT SWIVEL HITCH [CNS781] ................. 13,000 NH FP240 HARVESTER, 290 GRASS HEAD, 824 CORN HEAD, CROP PROCESSOR [U32909] ................................................. 39,000 POTTINGER 155VC ROUND BALER/WRAPPER [U40143] ......... 105,000 POTTINGER 155 BALER-WRAPPER, DEMO, FULL WARRANTY [CNS783] 152,900 STACKLINER 1044 BALE WAGON [U32420] .............................. 6,500 SUPREME 900T FEED MIXER, SINGLE AXLE DUALS, 1000 RPM CV, 10' FLAT CONVEYOR [U40115] ...................... 75,000 TORO GROUNDSKEEPER MOWER, 4700 HRS [U50275] ............ 4,950 TOM WALKER KELOWNA – The BC Ministry of Agriculture and Food has released its rst update on progress towards implementing the recommendations from last year's tree fruit industry stabilization committee. Now known as the Tree Fruit Industry Stabilization Plan, the committee's Path Forward report is beginning to have an impact, according to the June 10 update. "Eorts to restore the industry is very much a work in progress," says Adrian Arts, the province's tree fruit and grape industry specialist. "But we are starting to see some real success on a number of the recommendations." Published last November, The Path Forward contained 19 recommendations. An industry steering committee endorsed those recommendations and subcommittees formed to work on individual recommendations. "I am really optimistic about the progress we have made so far and the continuing cooperation and commitment we are seeing from industry to keep moving forward," says Arts. Two recommendations have been completed and actions are underway on eight more. The rst recommendation completed was an assessment of the Okanagan-Kootenay Sterile Insect Release (SIR) program. A report by Vancouver consulting rm Cascadia Partners noted the program's nancial benets to apple producers, the environment and BC's economy (including an indirect impact on BC's cherry exports). It concluded that the survival of the apple industry, especially the organic sector, would be increasingly challenging without it. Cascadia Partners is preparing a business case and SIR is determining next steps regarding the need for long-term and sustainable funding. Reallocation of money A reallocation of remaining funds from the $5 million Tree Fruit Competitiveness Fund announced in 2018 to further the goals of the stabilization initiative is the second recommendation fullled this spring. The fund stopped accepting applications in late 2020, and the stabilization committee approved reallocation in early May. The province says the funding could be augmented with additional funds. "All producers who attend meetings receive an honorarium," explains Arts. "We recognize the value of grower input." The work of paid sta at the BC Fruit Growers Association, the BC Cherry Association, the BC Grape Growers Association and SIR is considered a contribution to move the industry forward, Arts adds. Progress is being made on eight additional recommendations ranging from extension and labour to data collection and leadership in the industry. An extension committee is working to expand support to growers, and Arts says a survey of grower needs in early July garnered more than 100 responses. "In-person events such as hort shows are really important to growers and the technology to record and view those sessions later is also popular," he says. A labour committee, which includes representation from across the sector, is piloting a platform, BCFruitWorks.com, to connect employees and employers. A data strategy is also being developed to address a lack of data about the sector. "We don't actually know how many apple producers we have across the province," Arts says. "We could support growers and packers by giving them access to weekly data including the number of boxes sold, the price, the amount of fruit remaining in storage – those kinds of numbers that are available to other commodities." The data committee acknowledges that data is an important component of on-going apple marketing discussions. The recommendation on marketing calls for a coordinated ve to 10-year market development strategy for BC-grown tree fruits. With a nod to the successful eorts of the BC Cherry Association to cooperate together to establish international markets, the packing sector is building cooperation among its members. See PROGRESS on next page o
Page 20
20 | AUGUST 2022 COUNTRY LIFE IN BCYOURHelping YouYOURHelping YouHelpingpingplpinYoulHHpingoeDon't forget to RENEW your subscription toCountry Lifein BC"Conversations between members of the packing sector, who represent some 95% of the industry, are open and frank and are moving along well," says Arts. "There is a general consensus to work together for better returns." The progress report notes that there is an overlap between matters on which the packer group has agreed to cooperate and the potential powers of the proposed marketing commission. 15 new varieties A focus on new apple varieties to plant in BC was a further recommendation, and Arts says Summerland Varieties Corp. is moving quickly. "They have pulled together a really comprehensive list of some 15 varieties that could be available to BC growers," he says. Criteria such as harvest PROGRESS report nfrom page 19timing, climate suitability, eatability, consumer demand, and licensing agreements are all factors. The recommendation to support innovation and technology was bolstered with a three-year $375,000 fund to support the BC Decision Aid System and expand it to the Creston Valley. "There have already been seven tailgate sessions on signing on and using DAS," Arts says. Supporting implementation of a retail code of practice is also anticipated. While there's no formal subcommittee addressing this recommendation, the sector looks forward to the recommendations of a federal-provincial-terriotiral working group due in November. A central recommendation of the stabilization plan concerns industry leadership. "It is recommended that a new industry agency be established to provide leadership, governance and planning for the industry," the report stated. Each of the six key industry organizations – BCFGA, BC Cherry, BC Grape Growers, New Tree Fruit Varieties Development Council, Summerland Varieties and SIR – vary widely in their roles. "In the engagement sessions last summer, it was resoundly said that there are leadership gaps," Arts says. The organizations are meeting to discuss leadership and governance challenges facing the industry. "We are looking at the gaps in leadership and all the areas where we can collaborate and build capacity," says Arts. He says the goal is not to replace existing organizations but to augment what is already there. "There are issues such as labour that touch across all of our industries," he notes. "We should not all be working in isolation. It was wonderful that the grape growers stepped up to lead the labour committee." This was never meant to be a one-year project, Arts adds. "Helping to restore an industry back to protability is a huge deal," he says. "Industry is eager to get at this and the amount of progress that has been made over the last eight months, I think, has truly been amazing." Life is better with cherriesTwin sisters Seerat and Heerat Khun Khun, 8, were busy selling cherries with their grandmother at the family's fruit stand in Kelowna on July 21. Good prices for cherries this year are good news for growers. The twins are saving their earnings to buy a present for their 11-year-old sister. MYRNA STARK LEADERMANUFACTURING A VARIETY OF ATTACHMENTS INCLUDING BRUSH MULCHERS | ROTARY BRUSH CUTTERS | PTO GENERATORS | AUGER DRIVESDRAINAGE PLOWS | TREE SPADES | TREE SAWS & SHEARS | BOOM MOWERS | TREE PULLERSFELLER BUNCHERS | EXCAVATOR ADAPTERS | SCREW SPLITTERS | TRENCHERS | STUMP GRINDERSBAUMALIGHT.COMAdair Sales & Marketing Company Inc. 306-773-0996 | info@adairreps.comLocate A Dealer Online
Page 21
COUNTRY LIFE IN BC AUGUST 2022 | 21Orchard sector pilots new job-matching websiteGrowers hope the platform will keep workers longerAn app used to connect workers in BC's lm industry has been tweaked to help BC fruit growers connect with new workers this season. MYRNA STARK LEADERPrime Power or Emergency back-up Mobile Rentals Dewatering PumpsTOM WALKER KELOWNA – Fruit growers who employ temporary workers each summer may nd a phone app being trialed this season will help ll the gap left by the retirement of long-time BC Fruit Growers Association liaison Ron Forrest. "Over the last 15 years, Ron and other BCFGA team members have welcomed, provided safety and orientation training, and directed travelling backpackers to jobs on Okanagan farms," says BCFGA general manager Glen Lucas. "As a result of Ron's retirement and new direction at the Tree Fruit Industry Stabilization Plan, the BCFGA is no longer conducting the summer farm labour initiative." Those will be big shoes to ll. "I'm not sure people were really aware of all the work that Ron did on behalf of growers in the valley," says Tyrion Miskell, executive director of the BC Grape Growers Association. Besides English, Forrest was uent in French and Spanish and could get by in another couple of languages. His years of experience and easy-going manner allowed him to recruit and connect with temporary workers both from within Canada and internationally. He also had a track record with growers, who knew he could provide workers, teach them safety and picking skills and step in if there was a problem. Miskell is leading a cross-industry labour committee, a recommendation of the province's tree fruit stabilization committee report last summer. "It doesn't matter what you grow, we all need farm labour," Miskell says. Representatives of the BC Grape Growers, BC Cherry Association, BCFGA, BC Tree Fruits Co-op and the province have been meeting to come up with strategies. One of the committee's goals is to change the image of temporary labour. "We want to move away from the terms 'Quebecois' or 'backpackers,' says Miskell. She believes there is a certain stigma there that, in part, has discouraged locals from taking farm jobs. "We are trying to rebrand the industry with a positive spin," Miskell says. "We are advertising for 'branch hands' using positive hashtags like #sweetlife, #branchhands and #plumjobs." Temporary employees make a valuable contribution to the fruit industry, Miskell notes. "On-farm jobs can allow for adventure, exibility and meaningful work. We hope that locals who are looking for a bit of extra money will consider on-farm jobs." But they needed a platform, something BC Cherry president Sukhpaul Bal pointed out at one of the committee's early meetings. "We needed a kind of dating app where workers and employers could connect and organize meeting for on-farm work," says Miskell. "We found CrewDriver, which is a platform designed in Vancouver that connects employers and workers in the lm industry, an industry that relies heavily on a gig economy of temporary workers." The committee is running a pilot this summer via BCFruitWorks.com, which lets employers register for direct, easy connections with potential employees. "This is a pretty low-tech system that works o your phone," explains Miskell. "We want to be able to connect growers in their orchards with workers who may be camping." Miskell says the app also allows growers to message workers, telling them not to come if it's raining, for example. "You don't need the Internet to run it, and you won't be making phone calls all day to organize help," she says. Many growers have their own relationship with returning workers, Miskell acknowledges. "But we encourage them to sign up as well," she says. "Not only will they be able to source a temporary replacement for a sick worker, but we may be able to keep their workers in the valley longer and have them go on to help at other farms." An HR kit is also in the works. "We are oering supports to employers to be more creative in advertising their jobs," Miskell says. "You have to sell what you oer. You are competing with other growers and other industries in the valley." Growers interested in participating in the pilot project can send an email to [info@bcfruitworks.com] with "INTERESTED" in the subject line to receive set-up information. Track your Evapotranspiration
Page 22
22 | AUGUST 2022 COUNTRY LIFE IN BCSave water, save energy, save labor and do a better job of irrigating. NELSONIRRIGATION.COM Automatically change the arc of throw on traveling Big Gun® sprinklers. Find efciency and heavy-duty reliability in Nelson Control Valves. Achieve unmatched uniformity with eld-proven Rotator® technology.SR150 BIG GUN®ARC TIMERACV200800 SERIESCONTROL VALVESR2000WF ROTATOR® & MINI REGULATOR DRAIN CHECKTRACEY FREDRICKSON and PETER MITHAM CRESTON – The BC Decision Aid System, one of the best resources available for providing time-sensitive information on managing pests, is expanding to the Kootenays. The province announced the establishment of ve new weather stations in the Creston area on June 28 to address the needs of cherry growers, but an additional three have been added to the number. "Five weather stations will provide coverage of the tree fruit producing regions and three stations will broaden the agricultural coverage in the region to include the grain, oilseed and forage producing areas," the BC Ministry of Agriculture and Food told Country Life in BC. A total of $70,000 is allocated to set up the new provincially funded weather stations, which will collect and integrate data to help forecast insect population trends so growers can anticipate and respond to pest management issues. "Data from the stations will be used to support BC Decision Aid System, FarmWest, and data from all eight stations will be publicly available to support any future decision support tools," the ministry says. Those other tools include a network of ve stations Fields Forward Society of Creston planned to establish prior to the province's announcement. It stemmed from a scientic climate-modelling project the society undertook to assist local producers. The network planned to address both the needs of local cherry growers as well as provide climate data to beef, forage and grain producers and local governments. "The weather station project will both support the agriculture sector and inform response eorts to natural disaster events related to climate change," Fields Forward says in a press release announcing the expansion issued the same day as the provincial announcement. "Real-time data collected will be readily available to and utilized by local government agencies, farmers, the BC Wildre Service, and other public agencies engaged in natural disaster response and mitigation eorts." Fields Forward had secured $103,900 for the project from the Columbia Basin Trust and $50,000 from the Regional District of Central Kootenay. It needed additional funding to take the project forward, however. Fields Forward executive director Elizabeth Quinn said Fields Forward had applied for provincial funding to implement weather stations to assist cherry growers and forage producers, and soon after the province announced it was expanding BC DAS to the Creston Valley. "We identied the need," she says of the network of weather stations the society planned. "We expected it to be rolled out over several years, and then lo and behold we have seven weather stations installed." The provincial announcement has required Fields Forward to refocus its plans. "It changed the whole scope," Quinn says. "We needed the ministry's funding as well, but now that they're funding [the BC DAS] part of it, for the funding that we have, we have to develop a dierent scope." BC DAS has been used in the Okanagan and Similkameen valleys to maximize the eciency of pest-management practices and fruit production since 2018 and now counts more than 360 users. The expansion to the Kootenays is part of a three-year, $375,000 funding commitment the province has made to BC DAS, consistent with the recommendations of its tree fruit stabilization task force. Melissa Tesche, general manager of the Okanagan-Kootenay Sterile Insect Release program, says BC DAS – which adapts technology developed in neighbouring Washington – makes the best science available to deal with pests on a farm property in a grower-friendly way. Growers can log onto the system and request information on a specic pest or disease. The system uses historical data and current readings on temperature, moisture and other factors to determine when a pest or disease will be a problem, suggests a course of action to resolve the problem, and the best timing for the best results. SIR uses the system to provide recommendations to growers when additional control measures are required. Fourth-generation grower Kevin Day, co-owner of Day's Century Growers in Kelowna, says BC DAS supports his farm's commitment to producing high-quality fruit and sustainable agriculture. "It enables us to deal with the problems in a way that maintains balance between good bugs and bad bugs in the orchard, benetting the ecosystem for all," he says. Similar benets are envisioned in the Kootenays. "Since Creston has so many microclimates, it will be helpful to predict what the weather will do in this valley," says Freddy von Harling, manager of Piper Farms Ltd. "It will make it easier for us to make a harvest decision for hay or grain. It also will help with application of herbicides; we will not have to guess anymore what the wind and humidity will do throughout the day." Province funds eight new weather stationsData will upport BC DAS expansion and other initiatives
Page 23
COUNTRY LIFE IN BC AUGUST 2022 | 23Strawberry growers are blaming last year's heat dome, excessive rain and a late frost for a less than stellar strawberry season this year. RONDA PAYNESilagrow.com1.800.663.6022 | office@silagrow.comMulch FilmLandscaping FabricsShade Nets Bale WrapsBunker CoversSilage BagsTw i n eNet WrapsHay TarpsForage & Grain SeedVisGreenhouse Ground CoverGreenhouse FilmsProtection NetsSALMON ARM 5121 - 46 Ave S.E. SURREY 112-18860 24 Ave (PU & Delivery Only)Serving all of BCAgSafeBC.caTake you r s afet yprogram to the next level.Certificate ofSAFETYCORRecognitionRONDA PAYNE ABBOTSFORD – Unusually cold, wet weather this year not only delayed the Lower Mainland strawberry crop by two to three weeks, it created issues with yield and quality due to poor pollination. Day-neutral berries, which fruit throughout the season, account for half the BC crop. The other half are more traditional June-bearing varieties that typically deliver fruit in June. There had been hope the crop would only be late, but James Bergen of Bergen Farms in Abbotsford says the first flowers on his day-neutral plants were a "complete write-off." This has left him hoping the second harvest in July will make up for it. "Our early-season quality was actually really good," he says. "Production was down, but [now] the field has a lot of flowers and [we're] hoping to make it up on the second flush of fruit." David Mutz of Berry Haven Farm, also in Abbotsford, estimates his initial harvest in June was just 35% of last year's crop. Others dealing with low yields, like David (Doc) Braich with JK Agro Industries in Abbotsford, also faced poor quality with fruit rot from the rain. "The quality wasn't that great," he says. "The brix were low, so the sugar content was low, too, so they weren't as sweet as last year." He is also pinning his hopes on the second harvest of day-neutral berries to help make up for the shortfall. "They're starting to flower, but the plants are a little stressed," he says. Braich is hopeful the sun that came in July will boost yields, but Bergen says stress on the plants has been significant. "Every plant out there has been under so much stress over the last 12 months with heat, then rain, then frost, that it is a culmination of everything that's lead to this harvest," he says, noting "lots of 100-year weather events" have hit the area in rapid succession. Alf Krause of Krause Berry Farms and Estate Winery in Langley is looking to the future, happy that last year is behind him. "Some of the fields just struggled last year," he says. "I mean, the weather, shortage of labour and too much rain and then the late frost." Krause says his plants began this season in poor shape after last year's multiple weather challenges, and this spring's weather didn't deliver the heat plants needed to recover. The quality of Krause's berries was good at the beginning of the spring harvest but declined in the final two weeks. He's hoping July's crop is better. BC growers harvested 1.2 million kg of strawberries last year, according to Statistics Canada but the BC Ministry of Agriculture and Food reports that day-neutral plants yielded as much as 40% less this spring. Crop insurance claims have been minimal, however. "There will still be an August crop in day-neutral strawberry fields, so it is too early to give a crop estimate for the year," ministry staff added. A shorter crop hasn't necessarily been a boon for pricing, which has been complicated by the fact that most growers are off their usual timing. Krause says California was in the market later than usual with low pricing, and local greenhouse growers have been supplying the market when their crop typically arrives later. "I'm not sure what's going on," he says. Krause says all growers are facing higher costs so adjustment to inputs by greenhouse and field growers may have meant both crops ended up entering the market at the same time. While greenhouse growers can create heat, field growers can't and it's made a mess of the season for everyone given the outlays on fuel, labour and fertilizer and now a lack of revenue from the spring crop. A lack of customers was also noticeable at Braich's farm this year. "There were hardly any calls for sales this year," he says. "Last year the phone rang off the hook." Braich speculated that roadside customers may have been disappointed by the smaller, tarter berries available this year. Alternatively, consumers facing rising gas costs and other inflationary pressures may have opted to drop a treat item like fresh local strawberries. With files from Peter Mitham Growers hope late-season berries will save the seasonWeather delays strawberry harvest
Page 24
24 | AUGUST 2022 COUNTRY LIFE IN BCForeign worker protections undergo overhaulCompliance protocols are the weak link in a good systemThe temporary foreign worker program needs more oversight and enforcement. For the rst time, a farm employer has been banned from participating in the program for non-compliance. MYRNA STARK LEADERwww.tjequipmentllc.com 360-815-1597 FERNDALE, WA ALL PRICES IN US FUNDS2008 AITCHISON 3024T NO TILL DRILL, 11', ONLY USED FOR 500 ACRES, 3 POINT MOUNT $15,0002005 NH TS115A W/ LDR, 4WD, 115 HP, 7940 HOURS, POWERSHIFT W/ HYDRAULIC REVERSER, 2 REMOTES, 540/1000 PTO $35,0002007 NH T6030 4WD, 115 HP, 9823 HOURS, PARTIAL POWERSHIFT, 540 PTO, 2 REMOTES $34,9002001 HANSEN MFG. 24' MANURE SPREADER W/ BEATERS & SILAGE ENDGATE, HYDRAULIC DRIVE, TANDEM AXLE $28,750PETER MITHAM ABBOTSFORD – If developing best practices to protect farm worker health was an unprecedented challenge when COVID-19 hit, last year's extreme weather events upped the ante. "The weather events of 2021 … accentuated a lot of the issues we already had with COVID," says Rose McDonald, an industry specialist with WorkSafeBC and speaker at the Pacic Agriculture Show in Abbotsford this spring. "What we realized was the complaints increased. And the complaints were quite complex, even for us as regulators." Among the most serious complaints were of employers not providing water during extreme heat events last summer, allowing and even encouraging physical ghting among workers, and withholding passports, work permits and other documents from workers. One complaint related to COVID protocols resulted in an employer being ned $100,000 and the rst-ever lifetime ban on hiring temporary foreign workers. The determination was struck down June 28, but the case underscores the complex issues enforcement sta are asked to investigate. The complex nature of the complaints resulted in the various industry, government and social agencies involved with foreign workers realizing that they needed to have a closer working relationship. "We had to try and prioritize how we were going to address some of these concerns," McDonald says. The result was a series of joint investigations, including of the employer that was ultimately suspended, but also the development of a joint response framework that could answer questions quickly while escalating matters that needed greater attention. In one case, the Western Agricultural Labour Initiative in Abbotsford was able to resolve a complaint without the need for a government inspection. "Those are the kind of long-term goals we're looking for," McDonald says. "It's to help the employers who are able to help themselves and want to help themselves, then maybe edge along the other ones in between." The most serious cases become the exceptions, allowing inspectors to channel enforcement resources to give them the special attention they require. And enforcement is critical, says Reg Ens, general manager with WALI. "The standards are there, it's just the enforcement regime isn't as eective as it should be," he says. "We need to have a better enforcement regime." Overhaul WALI has met with Delta MP and federal employment minister Carla Qualtrough, whose ministry is working to overhaul the temporary foreign worker program. The overhaul is part of a pledge made in 2020 to revamp the program in partnership with foreign governments and a response to a report Canada's auditor general released in December. The report found that Qualtrough's ministry "provided little assurance of protection for the health and safety of temporary foreign workers in Canada's agriculture sector during the 2020 and 2021 growing seasons." This was despite signicant investments in compliance and enforcement measures. "Throughout the 2020 and 2021 seasons, we hired more inspectors, put in place a tipline, invested in migrant workers associations and worked closely with partners at home and abroad," Qualtrough says. "The auditor general's report clearly outlines that despite our eorts, we fell short." This year has seen steps to revamp the program, including eorts to improve the quality and timeliness of inspections, increase resources available to inspection sta and the development of minimum national accommodation standards. BC is providing a model for many of the improvements, Qualtrough told County Life in BC. "We had a migrant support worker organization pilot in BC that showed very clearly the benet of having local organizations provide welcoming, wrap-around support for migrant workers as they arrive in Canada," she says. "We are now taking that model across the country." Ens says more has to be done, however, to maintain the integrity of the foreign worker system. "We think doing some random, mid-season inspections and making sure everybody is doing what they said they should be doing is the easiest way to ensure that standards are adhered to and improve the quality of life for workers," he says. While many employers are generally doing a good job, the lack of oversight makes it harder for everyone to be successful. "There is value in this whole program," says Mike Wallis, a former immigration consultant who attended McDonald's presentation this spring and was instrumental in bringing the Seasonal Agricultural Worker Program to BC in 2004 as general manager of the Raspberry Industry Development Council. "[But] it seems like every year it's getting tougher and tougher, even though we're 18 years down the line." USED EQUIPMENT MAS H125 TILLER, 2012, 50" . . . . . . . . . . . . . . . . . . . . . . . . . . . . . . 3,500 KUBOTA K76249H 76" SKIDSTEER SNOWBLOWER . . . . . . . . . . . . . . 7,500 USED TRACTORS KUBOTA T2380 2017, 48" DECK . . . . . . . . . . . . . . . . . . . . . . . . . . . 4,500 KUBOTA BX2360 2010, 1,900HRS, TRAC/MWR . . . . . . . . . . . . . . . 9,750 TORO 328D 48" MOWER, 2,900 HRS . . . . . . . . . . . . . . . . . . . . . . . . 4,500 KUB GR2110-54 2010, Diesel, 54" deck, grass catcher . . . . . . . . . . . 9,000 GRAVELY ZTHD60 2017, 60" ZERO TURN . . . . . . . . . . . . . . . . . . . . . 6,500 NEW INVENTORY: GREENWORKS COMMERCIAL CORDLESS BLOWERS, CHAINSAWS, STRING TRIMMERS, HEDGE TRIMMERS, LAWNMOWERS. 82/48 VOLT KUBOTA RAKES, TEDDERS, MOWERS, POWER HARROWS JBS VMEC1636 VERT. SPREADER, SAWDUST & SAND THROWER CONSTRUCTION K008-2 2001, 2,700hrs, 2 BKTS . . . . . . . . . . . . . . . . . . . . . . . . . . . 14,500 KX91-3 2011, 2,600HRS, CAB, 2 BKTS, THUMB . . . . . . . . . . . . . . . . 35,000
Page 25
COUNTRY LIFE IN BC AUGUST 2022 | 25Tea Creek is training ground for new farmersSupportive teaching model fosters Indigenous agricultureTea Creek Farm offers a culturally safe, land-based training program for Indigenous people. Last year it welcomed over 1,000 people to the farm for training and programming. SUBMITTEDKATE AYERS KITWANGA – Indigenous communities across the province were hit hard by food chain disruptions caused by COVID-19 and last year's myriad natural disasters. But many groups are working together to produce food locally while also bringing Indigenous farming roots to light. "There is a lack of recognition that there are many Indigenous people that are very engaged in agriculture. My great-grandparents were ranchers in the Shuswap, and we are still very much engaged in agriculture in the province," says agrologist Jennifer Grenz, an assistant professor at UBC in the faculties of Forestry and Land and Food Systems. "We are the original farmers and food growers and used a lot of sophisticated technology," she says. "Our methods of shaping our lands and waters to provide everything that people needed has a far longer history than the settler agrarian history of our province." While all producers are stewards of their land and animals, Grenz says the Indigenous approach to food production is a holistic one that could help make current systems more resilient. "As we face a changing climate and all the challenges associated with that – supply chain disruptions, costs of food – we need to be looking to those practices that sustained people for much longer to inform our practices moving forward," she says. Providing skillsets Amidst all the challenges in the farming and food production landscapes, Tea Creek Farm co-owner and operator Jacob Beaton looks to provide nutritious local food as well as the skills to grow and prepare it. Beaton is Tsimshian and has the name Dzapł Gygyaawn Sgyiik ("an eagle who gets it done right now") from the Gispaxloats tribe. Tea Creek is a land-based and Indigenous-led training initiative in Kitwanga, located on Hwy 37 between Hazelton and Terrace, focused on food sovereignty and trades training. Since buying the 140-acre property in late 2018, Beaton and his wife Jessica Ouellette have conducted extensive research on small-scale farming and built the farm from the ground up. Today, the farm team produces fruit and vegetable crops on three acres. "What drove me crazy in the grocery stores here [was] all the vegetables are imported from other places. The greens grow better here than they do in California. So, we tried it out using high intensity organic methods in 2019 and it went really well," Beaton says. "In 2020, with the pandemic, we decided to go all in on farming, but with a twist. We decided to start … training people how to [use] these high-intensity, smaller-scale organic growing methods." Tea Creek prides itself on being led primarily by Indigenous people who make site decisions from top to bottom. It provides students with transportation and meals as well as a culturally safe learning environment that contributes to students' success. The eectiveness of Tea Creek's production methods have caught the attention of other local First Nations, who have asked Tea Creek for help to launch their own farming operations. Since 2020, groceries have become increasingly dicult to obtain and gaps in the supply chain more visible. "The topic of food security and food sovereignty, the ability of producing our own food locally without relying on imports has become more on the front of peoples' minds that last few years," Beaton says. Tea Creek has made huge strides since its launch. The farm's core team of 12 trains and mentors over 1,000 people each year. Last year the farm gifted more than 20,000 pounds of food to the community. The impact the operation has on local communities made Beaton a prime candidate for the province's recently announced agriculture advisory group. The committee's 17 members were named by BC agriculture minister Lana Popham on See MORE on next page oTRACTOR TIME VICTORIA 4377C Metchosin Rd. 250.474.3301 30 minutes from Victoria and 15 minutes from Hwy#1 in Metchosin.HANDLERS EQUIPMENT ABBOTSFORD 339 Sumas Way 604.850.3601HOUSTON 2990 Highway Crescent 250.845.3333Mahindra 1626with Dirt-Box BladeMORE BUILD-IN WEIGHT
Page 26
26 | AUGUST 2022 COUNTRY LIFE IN BCMORE collaboration needed with producer groups nfrom page 25Marketing British Columbia to the World®www.landquest.comToll Free 1-866-558-LAND (5263)"The Source" for Oceanfront, Lakefront, Islands, Ranches, Resorts & Land in BC®Visit our WebsiteINVEST IN LAND ON MT. BALDYIN THE SOUTH OKANAGANBUSHMAN CATTLE RANCHPRINCE GEORGE, BCLARGE ESTATE WITH COLUMBIA VALLEY VIEWS - SPUR VALLEY, BC"THE HIDING PLACE" - A 560 ACRE RECREATIONAL RETREATTHE HAVEN - A TRANSFORMATIONAL LEARNING CENTRE - GABRIOLA ISLANDBIG SKY RETREAT SLOCAN VALLEYBUSINESS OPPORTUNITY, LOG HOME, SHOP, CARWASH & RV - NIMPO LAKE, BCSERVICED MOUNTAIN VIEW LOT WITH LAKE ACCESS - UPPER ARROW LAKE, BCLot 2 on Fawn Lane is 400 m from the base of the Mt Baldy Ski Resort which offers the best value in LAND and SKIING in BC! It's a treed 9,610 ft2 sloping south-westerly view lot. Zoned for a cabin with a LEGAL SUITE, which is a bonus, as there are no nightly accommodations other than owner rentals. $119,9001,378 acre ranch in 7 titles located 58 km southwest of Prince George. Picturesque North Chilcotin. 300 acres of hay land. Grazing permit for 200 cow / calf pairs. 1,620 ft2 2018 modular home, 1 bedroom guest cabin, shop and calving barn. First class off-grid systems. $1,485,000One of the largest estate properties along the Kootenay Columbia corridor. 286 acres fronting the Columbia River Valley and wetlands between the Purcell and Rocky Mountains. Countless building sites with expansive views. Adjoins Spur Valley Golf Course. $1,595,000This 560 acre recreational property is the ultimate outdoorsmen's getaway with thick timber stands, trail network, hunter's cabin, washhouse, cookhouse, aesthetic ponds with ornamental islands / bridges, large grassy camping area, metal archway entrance and much more. $649,0006.77 acres with 426± ft of low bank walk-on oceanfront. The 16 buildings accommodate up to 120 guests. Long established not-for-pro昀t centre for transformational learning can be enriched and expanded or transformed into a resort, private residence, or your vision. $6,000,000Located on a bench above the Slocan and Little Slocan rivers, this property with buildings on 10 acres and two titles has been designed to offer multiple opportunities to expand, farm and create your personal family retreat or run a recreation / hospitality business. $1,550,000Perfect opportunity to run your own business on a beautiful property with stunning views. Log home, large, 3-bay shop with carwash, full service RV sites, gazebo, greenhouse and fenced yard on 3.33 acres. Excellent highway access, private and surrounded in amazing outdoor recreation! $650,000Building lot in a scenic lakeside community of 60± lots (Galena Shores). Shared lake access; gravel boat launch and beach area. Approx. 111 ft wide and 275 ft deep. Driveway cut and ground has been scrapped. All underground services. Year-round access. No timeline to build. $159,900ROB GREENE 604-830-2020rob@landquest.comRICH OSBORNE 604-328-0848Personal Real Estate Corporationrich@landquest.comSAM HODSON 604-809-2616Personal Real Estate Corporationsam@landquest.comCHASE WESTERSUND 778-927-6634Personal Real Estate Corporationchase@landquest.comJASON ZROBACK 1-604-414-5577 JAMIE ZROBACK 1-604-483-1605JOHN ARMSTRONG 250-307-2100Personal Real Estate Corporationjohn@landquest.comFAWN GUNDERSON 250-982-2314Personal Real Estate Corporationfawn@landquest.comMATT CAMERON 250-200-1199matt@landquest.com288 ACRE WORKING RANCH WITH CROWN GRAZING RANGE - QUESNEL, BCLARGE COMMERCIAL SHOP ON 51 ACRES - WOSS, BCContiguous 288 acre ranch on 2 titles. 20 minutes NW of Quesnel, this operation is wonderfully ef昀cient. Operates 46 cows and 4 bulls. The bucolic country home offers 3,535 ft2 (built in 2014), multiple barns, hay sheds, hay production, fencing, grown grazing range and more. $1,500,000Spacious 5 bay, 6,775 ft2 shop with of昀ce area and washrooms, 3-phase power, large paved parking lot, aggregate resources and 7 serviced RV sites outside of the main compound area. Located on 51 acres with zoning allowing for a magnitude of different commercial uses. $825,000CHASE WESTERSUND 778-927-6634Personal Real Estate Corporationchase@landquest.comKEVIN KITTMER 250-951-8631kevin@landquest.comJune 14. She says they bring diverse backgrounds and expertise in food production that will help create a more resilient food system. "I look forward to Indigenous food sovereignty as being seen as a way to accomplish a number of goals that the government is setting out and bringing forth the Indigenous perspective," Beaton says. Indigenous people make up 5% of BC's population but only account for 1% of the province's farmers, he says. "I think that a lot of Indigenous people, given the opportunity, would like to farm but we aren't currently given those opportunities. In fact, we face insurmountable barriers such as access to land and capital," Beaton adds. "The fact that an Indigenous person is highly unlikely to be approved for a mortgage or loan, just because they are Indigenous, is a huge problem." He hopes that Indigenous peoples and First Nations will be seen as a linch pin for the province's regenerative agriculture and agritech strategies. "We have people who want to be out working on the land and all we need now is policy and some structural support to make it happen," Beaton says. "I had to build Tea Creek entirely on my own and it's been a real struggle. … I see a number of young farmers trying and having to do the same thing I had to do." Also as a result of the hard work and eorts to educate people and preserve the land, Tea Creek recently won the Real Estate Foundation of BC's Food Lands award for its eorts "to restore the ability of Indigenous nations to grow fresh, healthy food and medicine in an interdependent economy." "It's a huge validation of what we're doing here," Beaton says. "We're hopeful that the prole will result in more support for our programming." Moving forward, one thing Beaton would like to see is more cooperation between First Nations and producer groups. "We have reached out to a few dierent organizations and businesses and have been frustrated by the lack of wanting to work together," Beaton says. "We'd love to see a community grow that is more supportive and inclusive of new Indigenous food producers." Grenz believes an over-simplication of Indigenous food systems and racism is prevalent in conventional agricultural groups and the at-large public, which discourages Indigenous engagement in the industry. "If everyone could have a lens that [we had] very sophisticated intensive production, that would go a long way in helping us move towards reconciliation within our food systems," she says. "This is a fundamental piece that is missing. We were not just hunter gatherers." "Food systems bridging" could help strengthen relationships and food resiliency, Grenz adds. The BC Cattlemen's Association is working to close the gap. "We have lived next to one another for over 100 years. Our ranches and First Nations communities are very connected in terms of the landscape," says rancher John Anderson, chair of the association's Indigenous relations ad hoc committee. "We share a deep understanding and appreciation for many things like food, land, water, nature and community." Over the next year, the committee will focus on outreach and developing a "circle of neighbours" to gain a deeper understanding of Indigenous cultures and histories as well as include Indigenous voices in the association's deliberations. "We all have a lot of learning to do in our whole society. Just talking to your neighbours allows for a way to build trust and respect among us," Anderson says. Tea Creek offers opportunities for students to experience a range of trades, including agricultural equipment technician, heavy equipment operations and carpentry. SUBMITTED
Page 27
COUNTRY LIFE IN BC AUGUST 2022 | 27Innovative manure applicator could be a game-changerNew system allows later spreading – a benefit this yearNigel Vandenbrink and his son Hunter of Cedarbrink Dairy in Rosedale are pleased with the performance of a new GPS-guided manure spreader. DAVID SCHMIDTDAVID SCHMIDT ABBOTSFORD – With more than 50 units sold in this province, Cadman irrigation reels are a familiar sight in the Fraser Valley. Yet on July 7, several dozen farmers turned up at Cedarbrink Dairy in Rosedale to watch a demonstration of Cadman's newest irrigation and manure application system – the Cadman continuous manure applicator. "This is a rst in BC," says Jim Peters of Caliber Equipment, noting it is one of only two such units in existence, the other being in Ohio. It is specically designed to apply manure directly to the soil in corn and other standing row crops, something a lot of companies have been working on. Peters notes that Cadman, a Canadian company, has been developing its system for about a dozen years, saying, "in my estimation they are doing a pretty good job." Cadman started with a self-propelled GPS-guided system but demand was limited because of its high cost and the high acreage required to justify its purchase. While still fairly expensive, Cadman (and Caliber as its local dealer) hope the new system will appeal to a wider range of farmers such as Nigel Vandenbrink, his brother-in-law Greg Streutker and father Alfred, who milk about 900 cows at Cedarbrink and Riverbend Dairy in Chilliwack. While that puts them among the larger dairies in BC, they would be considered only a mid-size or perhaps even a small dairy farm in many areas of the US. The system uses two tractors and two operators, one operating the reel and the other driving the tractor dragging the applicator. The two operators are in constant communication, one unrolling or rerolling the 1,550-foot long reel as the other drives the applicator up and down the eld at 1.5-2 kph. The reel is connected to a boom on the applicator which is centered on the unit on the way out but swings out for the return trip so the hose stays in the same row in both directions. GPS in the tractor allows the operator to follow the same tracks during the manure application as during planting, thereby minimizing compaction in the eld. Peters says having two sets of eyes can be a huge advantage. "The technology is very well-advanced but it's still technology and things can go wrong," he notes. Because the system applies manure directly onto the ground while the crop is growing, it reduces nutrient loss, minimizes odours and maximizes nutrient uptake. While those are clear advantages which should result in increased crop yields, the big selling point for Vandenbrink was manure management. "We can now apply manure in the summer when the plants can uptake it rather than in the spring before the crop is in the ground," he points out. Another way to move manure spreading from spring into summer is to spread it on a farm's grass elds after each cut. That is not an option at Cedarbrink, which does not grow grass forage on its two farms. Instead, "we grow 600 acres of corn," Vandenbrink explains. The ability to apply manure later was particularly useful this year since this spring's near-constant rain and high water table prevented farmers from getting on their elds as early as they would have liked. It meant Vandenbrink didn't have to wait to plant until after spreading all the manure. Despite that, he still planted at least two weeks later than usual. "We only nished at the beginning of June," Vandenbrink notes. "We've never planted corn in June before." While the equipment does "zero damage" in the rows, he admits turning the machine does damage the headlands. "We hope and believe the yield increase in the rest of the eld will more than oset the damage," he says. YOURHelping YouWEEKLY FARM NEWS UPDATESURg YougYouWS
Page 28
28 | AUGUST 2022 COUNTRY LIFE IN BCABBOTSFORD1-888-283-3276VERNON1-800-551-6411Power when you need it, how you need it.Fendt 1000 series tractors are designed for high power transfer with very low consumption.Perfecting other skills while potatoes growPractice doesn't always make perfect when you're out of your comfort zoneObviously, I shouldn't consider producing a third article that focuses on the weather. The mere fact that I could very easily wham out 650 words on current environmental vagaries and consequences for a third consecutive month is commentary enough. Besides, I have stopped obsessing about it. Now my fervent desire is to be in some state of frenzied production by the time this article goes to print, with the bad weather a far distant memory. I really, really want to get selling. The potatoes are at least a week away from being ready to sell and it's making the frustrated and competitive capitalist lurking within me crazy. I try to stay cool, but it's hard when there are trac jams at the farm stand. We've never had a trac management issue at the stand before. They are all here for potatoes, but we don't have a crop yet. Imagine what state I will be in if some other Pemberton farmer has potatoes ready before me. Especially if it is a farmer to whom I sold the seed. The strategy in the meantime is to distract myself from thinking about any of that. Each time I branch o into weather musings or capitalistic rantings, I will hit the delete button. I intend to be ruthless. Those of you wishing to read exciting weather updates or the maudlin ponderings of a potato-less potato farmer will not be satised. I thought we might briey touch on apple tree pruning. It has come to my attention that this is an agricultural skill that I do not possess. Moreover, I wish I did. I have had it explained and demonstrated several times over the last few decades by some very expert people indeed. However, it never seems to stick and sooner or later I nd myself at the trunk of a tree staring into the branches and not having the faintest idea what to do. That doesn't stop me from proceeding. I delight in the task: the bite of sharp steel into living wood, the ocious clip-clip-clip action, the little whip-like branches falling gently about my feet. It might be tangentially satisfying a rewood obsession. I think my approach to pruning is a family trait because my mom, sister, possibly uncle and likely grandfather all appear to go about it in the same way. As a result, the fruit trees in our farmyard look very emphatically irregular and rarely produce much. Of course, the branch-crushing snow of winter may be reasonably blamed, and often is. However, I know better. While we are on the topic of agricultural skill deciencies, I'll admit that I also don't know how to rake a hay eld properly. There something about a pattern, I think, that you are to follow in order to make the baling more ecient. And I am a terrible welder. I don't practice enough, and I feel very self-conscious when I get out the gear. I sense that everyone else on the farm is quite concerned that I am about to blow the place up. I'm not very good at running the head gate on the cattle chute. I get very sore knees when I ride a horse for more than 10 minutes. I rely completely on my dad to set up the electric fence protecting the carrots from bears. I know how to prune tomato plants but not cucumber vines. I have produced a decent corn crop once in my 23 years on the farm. One thing I am good at is ignoring the absolute wealth of aquatic life that is inhabiting the swimming hole, this year featuring an extra abundance of water beetles. Some of them are big enough to leave a wake when they paddle by. Quite distracting. I hope the heron comes back soon. Anna Helmer farms in Pemberton where the water is cold and the air is hot. Farm Story by ANNA HELMERsatisfying a
Page 29
COUNTRY LIFE IN BC AUGUST 2022 | 29Cover crops gain ground as growers build soil healthField day in Oliver highlights best practices for growersFiXaTion CloverFrosty CloverCrimson CloverDC Red CloverHybrid CloverWinter PeasFall RyeHybrid Fall RyeWinter Wheat1.800.282.7856 Find out more at terraseco.comFiXaTion CloverFrosty CloverCrimson CloverDC Red CloverHybrid CloverWinter PeasFall RyeHybrid Fall RyeWinter WheatTerra Seed Corp Healthy Soil with COVER CROPSTOM WALKER OLIVER – Covert Farms owner Gene Covert was an early adopter of cover crops for his organic vineyard and vegetable elds, one of a growing number of producers adopting cover crops as a means to improve soil and plant health. "We have been certied organic since 2005," says Covert. "The soil here in the vineyard is very sandy. I have struggled both to retain any nitrogen in the soil as well as control the weeds." Covert's solution was to ll both the alleyways between his vegetable rows and the area under his vines with crops that would contribute to his soil and outcompete the weeds. Covert says he has worked with up to 25 dierent species in a variety of mixes to develop a blend that meets his needs. "I have settled on a mix that is predominately lentils, but includes ax, vetch, plantain triticale and grasses," he explains. "This has been based on a lot of trial and error to t both my growing conditions and what I want for my vines." During a eld day sponsored by FarmFolk/ CityFolk in June, Covert told a variety of grape, tree fruit and vegetable growers from as far away as Ashcroft to plan on at least three years of trials if they're considering cover crops. "One year will never tell you what you need to know," he says. Over the past two years, Summerland Research and Development Centre research scientist Mehdi Shari has been trialing cover crops at the farm as part of a ve-year study. Shari agrees with Covert's experimental approach. "I cannot make a one-size-ts-all suggestion for cover cropping in your elds," he says. "It depends so much on what you want the cover crops to do and what are your specic growing conditions." Cover crops are planted for a number of reasons, Shari explains. "Your goal may be to improve soil health, such as Gene's eorts to build organic matter and nitrogen in his sandy soil," he says. "But you may also be looking for weed control, erosion control on a steeper fruit tree slope, or simply to improve the biodiversity in your elds in an eort to reduce the impacts of climate change." The ground between crops is usually the rst to be planted. "Two thirds of your land is the alleyways between vines," Shari notes. "If the soil there is compacted you may look at plants with big tap roots to break down the hard pan and improve water penetration." The area under the vines has dierent needs. "You want a crop that competes with the weeds but is not so vigorous or water- needy as to interfere with vine growth," Shari says. On determining the purpose for the cover crop, growers have a range of variables to consider in selecting seeds. "One of the rst is cost," says Shari. "Certain seed mixes will work well, but they are very expensive." He also says the choice between annual and perennial plants is important, as well as the growing season, water requirements, trac tolerance, winter hardiness and mowing needs. Covert uses a no-till seed drill for fall, early spring and early summer plantings. Depending on the intended eect, he either mows the vegetation at very low RPMs or uses a roller crimper to crush down the plants. "The rough overstory really helps to release the nutrients slowly, while giving the vine roots shade from the summer heat," he says. Shari has 280 dierent plots divided between Covert Farms and Kalala Organic Estate Winery in West Kelowna, where he is working with owner Karnail Sidhu, who received the 2020 Viticulturist of the Year award from the BC Grape Growers Association for the excellence of his practices. "I hope to follow these trials through to actually making wine," says Shari. "There is very little data on how cover crops aect grape and wine quality." Covert is pleased with his eorts, which follow biodynamic principles and include a small herd of Speckle Park cows that graze between the vines each fall. "I have not had to add any nitrogen to my vines for the past two years," he says. "I am pleased with the quality of the grapes and I almost have too much vigour." Summerland Research and Development Centre research scientist Mehdi Shari, far left, has been overseeing a cover crop trial in Okanagan vineyards that is seeing good results. TOM WALKERNew Program!BC Climate Agri-Solutions Fund (BCCAF) supports farmers in DGRSWLQJEHQHȴFLDOPDQDJHPHQWSUDFWLFHV%03VWKDWVWRUHFDUERQDQGUHGXFHJUHHQKRXVHJDVHVWKURXJKBC Climate Agri-Solutions1LWURJHQ0DQDJHPHQW Rotational GrazingCover CroppingTHE LAST APPLICATION INTAKE FOR THIS YEAR WILL TAKE PLACE IN SEPTEMBER!Sign up for the BCCAF newsletter to stay informed!www.bccaf.caFunding provided by:Program delivery by:
Page 30
30 | AUGUST 2022 COUNTRY LIFE IN BCBuckwheat proving an ally in the wireworm fight Rotation crops including mustard can provide effective, natural wireworm controlRONDA PAYNE ABBOTSFORD – Wireworms are a costly headache for growers of potatoes, turnips, cabbage and many other crops – even strawberries. Yet buckwheat is becoming the farmer's best friend in controlling the pest when planted in rotation with other crops. Potatoes and other crops are damaged through the feeding of wireworms, which are not actually worms at all. Rather, they're the larval form of the click beetle, which has numerous species across Canada. BC has three dominant native species and two introduced species. During the growers short course at the Pacific Agriculture Show in Abbotsford this spring, Agriculture and Agri-Food Canada researchers Wim van Herk of Agassiz and Christina Norohna of Charlottetown presented some of the results from an ongoing nationwide study started in 2013 to find effective strategies for reducing wireworm damage. The voracious appetite of these pests proved a major problem in PEI in 2013, when crop losses from wireworm alone were estimated at more than $7 million. The losses pushed finding a solution to the forefront and the method of control that made the most difference was buckwheat and/or brown mustard planted in rotation with potatoes. In a trial of a two-year rotation, buckwheat delivered a 93% marketable potato crop and mustard delivered 98%. Norohna recommends two plantings of buckwheat or mustard for wireworm control. The first can be disked in late July or early August and the second should be planted three weeks later. Alternatively, the rotation crop can be mowed to about six inches. It still provides the same level of control. "If you cut too high, eight to 12 inches, you get regrowth and it's going to be a volunteer next year," she says. "Six inches is the recommendation. The roots are still alive, some regrowth, but it's not going to produce seeds." The strategy was adopted across PEI and other Atlantic provinces as well as Quebec and Ontario. "We are down to very little losses because the growers adopted this strategy across KuhnNorthAmerica.comVisit your local British Columbia KUHN dealer today!INVEST IN QUALITY®www.kuhn.comMatsqui Ag-RepairAbbotsfordNorthline EquipmentPouce CoupeHuber Farm EquipmentPrince GeorgeSR 100 GII SERIES SPEEDRAKE® Wheel Rakes18'10" - 23'4" working widths • 8-,10- and 12-wheel modelsSIMPLICITY. VERSATILITY. QUALITY.Independently adjust windrowwidths to match crop pickup widthsFast, easy switching betweenSuperior terrain following withoutRear wheels raise last forcleaner windrow endsthe province," she says. "They don't have as much damage in their crops anymore." Buckwheat actually attracts wireworms so works much like a poison bait to them. "It's not good for them, but they prefer buckwheat," she explains. "They like it, they go to it." However, buckwheat is also allelopathic, as it can interfere with growth in other plants. Different volumes of buckwheat in a seed mix were tested and at 20% buckwheat, there is no root mass impact yet wireworms are kept in check. Provinces participating in the cross-country study include BC, Ontario and PEI, which also collaborate on insecticide trials for click beetle control. Newly registered Cimegra is proving effective, especially when combined with Titan, according to Norohna. It has a distinct benefit over other formulations. "It's actually killing the wireworms," she says. "It's not just paralyzing them." Paralysis is the best some chemical controls can do. It prevents the larvae from moving and feeding but they are still in the soil. A late spray would be an expensive waste if adult click beetles have already laid new eggs. In a study of 20 different potato varieties where no Know thy pest Click beetles have a lifespan of up to ve years, most of which they spend as larvae, living in the soil and feeding on crop roots and seeds. The larvae spend up to three years in the soil before pupating. They're also tough, able to go without food for a year. The adults emerge for just 10 weeks, typically starting in May when soil temperatures hit 8° to 10° C. The adults lay hundreds of eggs in the soil and the wireworm cycle begins again. This is when growers should be monitoring elds, an essential step for those trying to stay ahead of the pest. Christina Norohna of the Charlottetown Research and Development Centre recommends digging holes throughout a eld, dropping in a carrot and covering it up. In ve to seven days, dig up the carrot with and check the surrounding soil for wireworms. If wireworms are present, growers know to implement a control strategy. —Ronda Payne chemical control was used, Norohna found wireworms particularly attracted to varieties like Norland, Shepody and Eva, but are less interested in chipping potatoes like Green, Goldrush and Atlantic. She suggested that growers adjust the varieties planted to reduce crop losses. Van Herk tested portable trench barriers to trap the beetles when they emerged from the soil. While many were captured, they were able to fly out at the end of the season, so the method needs modification to work. An alternative was incorporating an impenetrable barrier around the crops, which is effective but costly. Pheromones continue to be successful and are now available for all species in southwest BC. They are used to attract and trap the males, keeping them away from the females and therefore prevent breeding. "This is a pay-it-forward strategy," he says. "You're not reducing the number of wireworms in the field, you're preventing future ones." Helping you grow your business.Helpingrowbus
Page 31
COUNTRY LIFE IN BC AUGUST 2022 | 31www.tubeline.ca 1.888.856.6613@TubelineMFGFind us onNITRO 275RS SPREADERSACCUMUL8 & RETRIEVERBALEWRAPPERS SILAGE RAKEHave you herd? VBP+ TrainingWorkshops or Webinarsare Free!Looking to learn moreabout how to raisehealthy beef cattle?Open to producers of allsizes!free to all beef producersin bc!Producer Check-o Supports Beef Industry Projects.www.cattlefund.net 1.877.688.2333www.cattlefund.net 1.877.688.2333 TOM WALKER ROCK CREEK – Ranch sustainability depends on three key strengths, according to the Fossen family: innovation, improvement and involvement. The family's commitment to all three won them recognition this year with the presentation in June of the BC Cattlemen's Association's Ranch Sustainability Award. "For us, the award is not about one specic project," says Doug Fossen, who with his wife Erika and daughters Jade and Reine operate Bar 7 Ranch just west of Rock Creek. "It is more of a recognition of how we operate our ranch every day." Doug's parents Ed and Louise purchased the family's 500-acre home ranch in 1976. Doug grew up helping his dad, then met Erika at Olds College, married and returned to the ranch in 1999. The ranch now totals 2,300 deeded acres and holds a range permit on 70,000 acres, of which they use 20,000. With such a large spread, a plane in the barn that's a legacy from Ed's cropdusting days is useful for nding cows each fall. "I think innovation is always on the top of our minds," says Erika. Doug agrees that it's important to always be moving ahead. "We were one of the rst to install a pivot irrigation system and we went from watering seven days a week with both of us and two hired hands and not keeping up, down to three days a week," he explains. "We use the same Fossens recognized for innovative practicesPreparing a ranch for the future means doing things right todayErika and Doug Fossen have a commitment to making their ranch better for their two daughters to take over. SUBMITTEDpump, we don't need the labour and we get twice the amount of silage." They began experimenting with zero-till practices over 25 years ago. "Much of our land is on a 15% slope," explains Erika. "We have good soil, but if we don't take care of our soil then we have nothing for the future." Doug says they like to try new and dierent approaches. "I like to mix peas into my oat and barley plantings to bolster the nitrogen content of the soil," he says. "And we try to be involved with as many new programs as we can." The BC Environmental Farm Plan, the Veried Beef program and the federal Species at Risk Partnerships on Agricultural Lands (SARPAL) all add value to Bar 7's operation. "If a program ts with our See PASSIONATE on next page o
Page 32
32 | AUGUST 2022 COUNTRY LIFE IN BCgoals, we are going to take advantage of it," Doug says. Pasture improvement has always been important. "We are very passionate about grasslands," says Erika. The ranch is a combination of private, leased and Crown land which they are continually working to build forage capacity for their 350 cow-calf pairs. Winter feeding sites and water installations are moved frequently to ensure an even distribution of manure across elds, invasive plants are removed and in some cases, elds have been reseeded. They also have an active logging program, both for income and to grow more forage. "We had one area where we went from 300 AUMs down to 80 because of the encroachment of trees," says Doug. "The logging helps to return those areas to pasture land." Working within and promoting the industry are important to the Fossens. Doug is currently the Okanagan land stewardship representative with the BCCA. He's also a past chair of the association's environmental committee, a past president of the Kettle River Stockman's Association and a former director of the Invasive Species Council of BC. For the last several years, the Fossens have travelled to Vancouver to teach teachers in BC Agriculture in the Classroom's annual summer institute. They are currently leaders for 4-H and have a long involvement with the Canadian Cattle Association's Young Leaders mentorship program. The Fossens help out in informal ways as well. The ranch has hosted eld days for the Kootenay Boundary Farm Advisors program and Doug is always open to phone calls from fellow ranchers. "There are a couple of younger farmers we know that are into farming because of our mentorship," he says. The Fossens deal with the nancial stress of being a rancher in BC with a dose of optimism. "I bought price insurance at $2.24 a pound for my calves this fall, but things are looking strong and I am hopeful for a better price than that," says Doug. They keep back and feed their smaller calves through the winter and ship in the spring to take advantage of higher prices and sell extra hay whenever they can. "But not this spring," Doug notes. "With the dry conditions last summer, we were down to our last half bale and had to mix some straw into our silage to keep things going until turn out." They butcher up to 20 cows a year at Magnum Meats in Rock Creek for hamburger and sell direct to local customers. "We put some steaks aside for our Airbnb customers," says Erika, referring to the adjacent, 600-acre parcel they bought in 2017 that came with a four-bedroom custom log home. "We were wondering how to rent it locally, when a friend asked me if I had heard of Airbnb," she explains. "It makes a wonderful quiet retreat for families and it gives us another opportunity to educate people about ranching." They speak about the gap between urban society and the realities of being a rancher. "Society has an unrealistic picture of farming," says Doug. "They don't understand the seven days a week with minimal return that goes into growing food." But the positives keep them going. "We value the ability to work together as a family to do what we love and get paid for it," says Erika. "This award has always been one of our goals. We have watched other ranchers we really respect receive it and we are honoured to be recognized by our peers." Moving the ranch forward is also key to the future, Erika explains. "With our property and improvements, I think we have made it so it can keep going. If we hadn't made any changes, the gap to take it to where it needs to be would be too wide," she says. "Our younger girls like it and perhaps they will be involved one day." PASSIONATE about grasslands nfrom page 31Doug and Erika Fossen. TOM WALKER
Page 33
COUNTRY LIFE IN BC AUGUST 2022 | 33PEEK-A-BOO! Green isn't just the colour of fresh veggies at Cropthorne Farm, but the cash that comes in when people buy local. CROPTHORNE FARMDon't forget to RENEW yourSubscription.info@reimersfarmservice.comCheck out our Einbock Tillage Equipment For Organic FarmingTine Weeders Row Crop Cultivators Rotary Hoes Camera GuidanceSystems AND AEROSTAR 900 Tine WeedersDELTA Drain Tile Cleaners Improves Drainage & Conditions Soil Economical & Reliable Low Maintenance Safe and ProvenSUMMER PRICING ON IN STOCKFOR BAGGED or BULK ORDERSDarren Jansen Owner604.794.3701organicfeeds@gmail.comwww.canadianorganicfeeds.comCertified by Pro-Cert Organic Systems Ltd.KATE AYERS WESTHAM ISLAND – When consumers buy fresh produce, farmers see a greater share of the revenue compared to ultra-processed food purchases, rst-in-Canada research shows. A study commissioned by the Heart and Stroke Foundation of Canada, Consumer demand for ultra-processed versus fresh and minimally processed foods, examined the impact of consumer food purchases on Canadian farmers' revenues. Consumers who want to support local farmers should buy fresh rather than processed foods, says report author Jean-Claude Moubarac, an assistant professor at the Université de Montréal. While processed foods are sometimes deemed value-added, just a fraction of what consumers pay goes to the farmer. This is why fresh sales make sense for Lydia Ryall of Cropthorne Farm on Westham Island. The farm produces 50 dierent vegetables under four poly tunnels and on 20 outdoor acres. Produce is sold direct to consumers through farmers markets, CSA boxes and a farm stand. She also works closely with local restaurants. "We need consumers in BC to be buying local produce because at the end of the day, when there are supply chain issues, it's going to be your local farmers who can go into town and give you the products when there's no water down in California," she says. "People really need to value the local farmland and local produce." When people purchase locally, not only are they getting fresher produce but they're also supporting farm businesses. James Vercammen, a professor with a joint appointment between UBC's Sauder School of Business and the Faculty of Land and Food Systems, notes that fresh fruits and vegetables undergo "fewer processing steps and therefore farmers will get a larger share of the consumer dollar." "When you put food through … processing, storage, distribution, advertising, warehousing, retailing, each one of those steps involve costs that are passed onto the consumer. That is going to raise the price without beneting either the consumer or producer," he says. For example, farmers receive $0.21 per consumer dollar spent on potatoes, $0.13 for fresh vegetables and $0.05 for fresh fruit and nuts, the study found. But farmers garner just $0.02 per consumer dollar spent on such processed foods as cookies, crackers, sweets and snack food, and $0.01 from fruit or vegetable juice purchases. "In fact, farmers receive a three to eight times higher share of revenue when they sell fresh produce to consumers compared to Bottom lines improve when consumers eat freshFresh produce purchases increase dollar share to farmersSee ON-FARM on next page o
Page 34
34 | AUGUST 2022 COUNTRY LIFE IN BCON-FARM processing also captures value nfrom page 33 PRE-OWNED EQUIPMENT CLAAS 860 SP FORAGE HARVESTER 12.5' PICKUP & 6-ROW CORNHEAD $93,700 CLAAS JAG 870 SP FORAGE HARVESTER 10' PICKUP & 6-ROW CORNHEAD CALL FOR MORE DETAILS/PRICING CLAAS 970 SP FORAGE HARVESTER 10' PICKUP & 10-ROW CORNHEAD CALL FOR MORE DETAILS/PRICING X 2 FENDT 930 MFD CAB TRACTOR CALL FOR DETAILS JD 915 MOWER CONDITIONER SOLD! NH BB340 LARGE SQUARE BALER CALL FOR DETAILS NH T4.75 TRACTOR ROPS MFD WITH LOADER CALL FOR DETAILS VEENHUIS MANURE TANKER TRIPLE AXLE WITH BRAKES $140,000 SOLD! www.caliberequipment.ca STORE HOURS MONDAY-FRIDAY, 8-5 SATURDAYS 8–12604-864-2273 860 RIVERSIDE ROAD ABBOTSFORD More Crops. Less Ash.selling the same foods as ingredients for ultra-processed products," Moubarac says in the report. Growers experience a much dierent outcome from sales of products that are processed on farm, as long as what they're making is protable. "We started growing a lot of garlic and a byproduct of growing garlic is those garlic scapes, which are the ower," says Oliver Egan of Winderberry Greenhouse and Edibles Farm and Café in Windermere. "We were trying to sell them at farmers markets as the greatest thing ever, but most people were just blending them up to make pesto, so nally we decided to make a dip out of them." The idea to process the scapes in-house was a way to diversify, adding another revenue stream, Egan says. The family already has a commercial kitchen and chef for its on-farm café, so the product evolution made sense, as does selling direct to consumers. However, Winderberry Greenhouse and Edibles Farm and Café has also realized the benets of selling the produce it has typically sold through CSA food box programs and farmers markets to wholesalers. "Selling wholesale is good also because at some point you need to have some consistent products and customers who will take large quantities on a regular basis," Egan says. "In the last couple of years, that's made a dierence because at the farmers markets in our valley … a lot of people stopped coming. So, we had to sell through the grocery store to keep things going." To Vercammen, a more food-secure system would have farmers receiving a higher price for produce so that they are incentivized to produce more food locally. Consumers would also have access to more aordable food, especially during inationary periods. "Right now, they have a dicult time competing against California and imported food," he says of growers. "It would be a win-win to move towards less processing." However, moving toward this type of model has challenges. "Supermarkets really prefer to deal with consistent supply chains. The trucks that come in every second day from California can unload it overnight and shelves are restocked," Vercammen says. "It is a lot easier to deal with than a small-scale operation in the Fraser Valley that cannot be quite as consistent and they maybe don't have the big trucks that work well in loading docks, etc. It's a matter of supply chain logistics. These little guys get squeezed out of the supermarkets." Rising food costs aren't necessarily a boon for local producers, either. "Often buying local means a bit more expensive," says Vercammen. "It would disincentivize consumers to buy local because they simply don't have the cash to support the local producers." However, some consumers may take a hard look at their eating habits and decide to make changes. "One way to do that is to eat less processed goods and going back to cooking with the basics. That may have them think about where their produce comes from and hopefully turn more to local sources than imported," he says. One way to encourage consumers to buy local is greater promotion at grocery stores. "Fifteen years ago, they had some very strong Buy BC programs," Vercammen says. "They were quite eective in keeping consumers aware. Even 10 years ago there were very clear signs when the Okanagan apples arrived in September. Most stores would promote it and now you see much less of that." Local farmers have to compete with high volume/low cost produce from California. CROPTHORNE FARM
Page 35
COUNTRY LIFE IN BC AUGUST 2022 | 35School makes equipment, expertise available to growersDOME OF SCIENCE: Michael Bomford (left) and Rebecca Harbut check out the seedlings they grow as part of a number of seed trial projects. RONDA PAYNEDid you know? The Farmer ID Card is an easy and convenient way to show you qualify for PST exemptions. Plus, cardholders receive exclusive discounts and savings with:Print your premises ID number directly on the card! Apply at bcac.ca/farmeridcard• Chrysler • And many more! • The Co-operators• Mark'sServing the Okanagan and Fraser Valley We've been proudly family owned and operated since opening in 1976. And with two blending plants, we're one of BC's largest distributors of granular, liquid and foliar fertilizers. Our buying power and proximity to the Fraser Valley makes us the logical choice for truckload shipments. OKANAGAN FERTILIZER LTD 1-800-361-4600 or 250-838-6414RONDA PAYNE RICHMOND – Kwantlen Polytechnic University (KPU) is making seed growing an easier and more aordable option for farmers looking to diversify their operations. "Seeds are a high-value crop and can take a relatively small amount of land," says Rebecca Harbut, chair of KPU's Department of Sustainable Agriculture and Food Systems. KPU helps farmers develop and grow seed businesses by providing tools and expertise. This summer, it opened its very own seed lab at its Rchmond farm school.. "We germinate all of our seed in here," she says of the geodesic dome that serves as the lab. "This farm is also where we can grow out and do seeds." A retail-style cooler has been repurposed as a germinator by placing a small heater inside with pans of water. Once seeds sprout, sprouting tables underlaid with heat mats keep the developing plants at an ambient temperature. The team puts seedlings into soil blocks that are created with a tool that looks like an oversized wae press to help seedlings establish themselves with minimal disturbance. "It's really reduced our plastic use," she says of the soil blocks. "Some of our tools are quite small." Harbut recommends farmers set aside small portions of land to try growing seed, but she also knows a successful seed operation requires specialized tools, which can be pricey. KPU's seed lab aimed to be helpful to small seed lot farmers to get them started while giving established seed growers what they need to grow their operations. "We just want to bolster and help them to move to a more sustainable food system," Harbut says. "What is the kind of stu that growers are not able to buy, that we can help with as an education facility?" Tools like seed counters seem so simplistic, yet save immeasurable amounts of time when counting seed for packets. Some optical seed sorters go for $160,000 and seed germination units are about $30,000. Both are essential for seed producers, and all these can be shared. "There's no grower buying an optical seed sorter," she says. "And why would everyone have one?" The device is able to sort for size and colour and can do so for small packets of seed up to large sacks. It takes seed that has been separated from the majority of debris and sorts it based on specic criteria that aligns with the seeds' properties. Seed germination units provide the germination rates that make a supplier a reliable source of seed. These large refrigerator-looking units can accommodate several batches of seeds at one time, making them ideal for shared use. Once germination rates are established, the team at KPU assists with getting those rates higher if they are too low for retail sales. They can dive into the issues that may lead to poor seed germination. Combined with genomic research, it's possible to see what's happening in the soil to create the seed. Bringing scientists, geneticists and growers together is part of the seed lab's goal. An educational institution like KPU also has expertise in farming, seeds and crops, positioning it as an ideal incubator and accelerator for growers looking to get into the seed business, and those looking to grow their sales. The seed lab started running seed through various pieces of equipment in 2021. This spring, it opened its doors to farmers, giving them the chance to access specic diagnostics and assistance by completing an online form. "This season we're really looking forward to that interaction [with growers]," Harbut says. "The testing facility is a big [component]. It's just housed in an institution, and it's for farmers." Harbut feels KPU can complement, not compete with, what exists already in BC. "There are lots of cool initiatives around the province to grow seed," she says. A leading player is the Bauta Family Initiative on Canadian Seed Security, which works with KPU as well as UBC, FarmFolk/CityFolk and local growers. Growing local KPU agriculture program chair Rebecca Harbut says locally adapted seed is critical. Understanding local climates allows seed producers to oer farmers seeds specic to their growing situation. "Big seed companies will always gravitate towards growing out things that have mass appeal and can grow anywhere," she says. "By regionally growing seeds, we can really start to regionalize the growing and create crops that are specic to this climate. We can develop seeds that are optimized for this region." While locally adapted seed can give growers better-performing seed, it also promises to create a more sustainable food system by reducing shipping and the carbon emissions associated with it. KPU grows and trials seeds at its Richmond farm school as part of the Bauta Family Initiative on Canadian Seed Security as well as other programs. —Ronda Payne KPU seed lab accelerates seed producers
Page 36
36 | AUGUST 2022 COUNTRY LIFE IN BCDelta Faye comes to Kenneth's rescueWhen we left o last time, Clay had just garnered an apology from Kenneth for calling his grandfather a hayseed. He arrived back at Newt's just in time for Delta Faye to take pity. Rural Redemption, Part 149, continues. Delta Faye found the rst aid kit Newt kept hanging beside the re extinguisher by the back door. Kenneth was sitting on a kitchen chair. She pulled out another chair. "Here, Kenny, lift your foot up onto the chair and let me have a look at that leg." "Just leave it alone," barked Kenneth. "It'll be ne." Delta bristled at his tone. "It's not ne. It's lthy and it's still bleeding. If you intend to just sit here oozing blood and feeling sorry for yourself, I'll be on my way, shall I? Is that what you want?" "No, it isn't what I want." "Well, then, swing your leg up and I'll look after it." The job was done in less than ve minutes. "That was quick," said Kenneth. "Looks like you've done this before." "I was half-way to being a nurse once upon a time." "Why only half-way? What happened?" "Ricky Fording, that's what happened. Richard Phillip Fording." "What about him?" asked Kenneth. "Tell you what," said Delta. "You get yourself cleaned up and come calling for me over at the trailer. We'll take a walk and look for that phone of yours and I'll give you the short version of Ricky Fording." "Forget the phone. It's lost." "Good. There wouldn't be any point in looking for something that's not lost now, is there?" Delta left and Kenneth followed her 15 minutes later. She was sitting in the doorway of her trailer when he arrived. "How's your leg feeling?" she asked. "A lot better, thank you." "Let's take a walk, then, and see if we can't turn up your phone, shall we?" "You're wasting your time. It could be anywhere." "Anywhere is everywhere and it can't be everywhere, now can it? The point is, it's got to be somewhere. Somewhere between the last place you remember having it and the rst place you remember not having it. You didn't want me to look at your leg but now you say it's better. You don't want me to look for your phone but maybe that will turn out better just like your leg. Ricky always said I was a good looker." "He was probably right about that." "Let's start looking and see if he was?" Kenneth led the way into the woods on the road to the blus. "These trees are huge," said Delta. "They're worth a fortune." "Cut down, you mean?" "Yeah, the logs would probably be worth as much as I paid for the place." "But you wouldn't cut them down, would you?" asked Delta. "I would if I could, but this place is in Deborah's name now, so she'll have to do it." "She wouldn't, would she?" "She'd be a damned fool not to, so I suppose they're safe for now." Delta led the comment in her "things that seem a little sketchy about Kenneth" folder. They stopped when they got to the blus and sat on the edge. Kenneth reminded Delta about the story of Ricky Fording and why she wasn't a nurse. "I was two years into being a nurse and waiting tables in Beaumont when half a dozen guys come in. Not wearing suits but not kids from the college, either. They had something to eat and lots to drink, I was a little bit cheeky with them and they left me a $50 tip, which was the whole reason I was working there; the tips were always good. Anyhow, the tall handsome one came back all by himself the next night, tells me his name is Ricky Fording, and I'm the nest looking woman he's ever seen. He leaves me another $50 tip and says he'd like to take me out to somewhere he can go a little easier on the tips. I said okay, and before you know it we're as thick as ies on the potato salad at a picnic. Six months later, we're married and living in Dallas and I'm taking a year o school. One year turns into three and we're o to Calgary, Alberta. Fast forward 16 years and here I am." "You got from ies at the picnic to here awfully quickly," said Kenneth. "I told you it was the short version." "It seems like you left something out." Delta sighed and gathered her thoughts. "You're half right. I left out some one, not something. Penny Farthing to be exact." "Penny Farthing?" "Ricky's secretary and, as God is my witness, I swear her name is Penny Farthing. Well, Woodshed Chronicles by BOB COLLINSPlease send a _______ year gift subscription to _______________________________________________ Farm Name ____________________________________________________________________________ Address _______________________________________________________________________________ City _________________________________________________ Postal Code ________ _______________ Phone _________________________ Email ________________________________________________ not anymore, it's Penelope Farthing-Fording now. Turns out neither one of them meant for it to happen but it did and there's no denying that Ricky's in love now and he's not sure when it happened but he hasn't been in love with me for a long time and I must have realized that because even though he never said anything, it sure didn't seem like I was still in love with him, and Penny was nearly 15 years younger than me and he was looking forward to having the children he never wanted with me with her, and he knew I'd be reasonable about the divorce. And that's the whole story." "And were you?" "Was I what?" "Reasonable about the divorce?" "Not particularly. I found a smart woman lawyer who made sure I got every nickel I deserved. I'm not on speaking terms with either of the Fordings and I'm not interested in saying any more about it. Why don't you show me where you went from here when you lost your phone?" Kenneth led the way down the fence-line trail that should have taken him back to Newt's. Before long, the path was blocked by the cluster of windfall trees. "This is where I fell," said Kenneth. Delta pulled out her phone and was halfway through calling Kenneth's number when a phone started ringing from under the windfalls ve feet in front of her. She knelt down and shed the phone out from under one of the logs and answered it. "Hello." Hello, I'm trying to reach Kenneth Henderson." "Mr. Henderson is out of his oce at the moment. Please hold; I'll page him for you." Delta passed the phone to Kenneth. "It's for you." "Hello. This is Kenneth. Who is this?" "I'm Mary Garrison." "Mary who?" "Mary Garrison, Clayton's mother." "What do you want from me?" "I'd like to meet you tomorrow and have a chat." "A chat about what exactly?" "A chat about my Clayton and your Ashley, exactly!" "Fine, I'll call you tomorrow and let you know when and where." "No need, I'll see you at 10 tomorrow morning at Newt Pullman's house. You have yourself a wonderful afternoon." Mary ended the call. What a pompous clown, she told herself. ... to be continued Thousands of BC farmers and ranchers turn to Country Life in BC every month to nd out what (and who!) is making news in BC agriculture and how it may affect their farms and agri-businesses! CREDIT CARD # _________________________________________________________________ EXP _____________ CVV __________ o NEW o RENEWAL | o ONE YEAR ($18.90) oT WO YEARS ($33.60) o THREE YEARS ($37.80) Your Name ______________________________________________________________________________ Farm Name _____________________________________________________________________________ City ______________________________________ Postal Code __________________________________ Phone _____________________ Email ______________________________________________________ MAIL TO: 36 DALE RD, ENDERBY, BC V0E 1V4 subscriptions@ countrylifeinbc.com www.countrylifeinbc.com/subscribe
Page 37
COUNTRY LIFE IN BC AUGUST 2022 | 37After a two-year hiatus, fall fairs return to BCProvincial support kept fairs alive but challenges remainWhile this year's fairs may not be all that they were pre-COVID, fair organizers are working hard to create a memorable experience for guests. NORTH THOMPSON FARM FAIR & RODEOKATE AYERS DAWSON CREEK – After a two-year hiatus, fair boards are excited and apprehensive about the fall fair and exhibition season. While organizers are looking forward to having people back on the fair grounds, uncertainties remain around volunteers, attendance, vendors and livestock, says BC Fairs executive director Janine Shaw. "People have to understand that coming back after two years of basic lockdown, fairs probably won't be quite as big and as bold as they were back in 2019," she says. "They are all facing a various range of challenges." Some fairs need to rebuild volunteer teams; for others, vendors are in short supply. "Many of the businesses that were on the typical circuit going around to all the dierent fairs – entertainers, crafters, etc. – after two years of not having anywhere to go, they had to go and nd work elsewhere," Shaw says. Some producers are apprehensive of taking their animals o farm. Poultry producers are especially anxious due to the ongoing threat of avian inuenza, Shaw notes. While it's been tough for fair organizations to keep their doors open throughout the pandemic, the BC Fairs, Festivals and Events Recovery support program was a "godsend," Shaw says. "Out of our 48 members, nearly 30 of those organizations were successful in receiving funding," she says. "It made a huge dierence in their ability to get through another winter and have the funding and resources in place to be able to start putting out deposits … to be able to put on these events." Additional support through community gaming funds has also been a lifeline, she adds. In December, the province announced support to over 680 events with nearly $30 million in one-time grants. The recipients could spend the grant on operational costs, health and safety measures, venue rental, marketing, wages and promotion. The Armstrong IPE and Cloverdale Rodeo and Country Fair received the largest grants of $250,000 each. Despite the challenges, fair boards are working hard to host traditional agricultural events. Dawson Creek Exhibition and Stampede president Connie Patterson is excited for people to see the 100th rendition of the small town's staple event and is looking to bring back some nostalgic elements. Dawson Creek received $244,480 from the recovery fund, which contributed towards new buildings and "old-time" events. The organization spent $750,000 to replace old buildings that had been condemned. It now has a new cow barn, riding arena and combined 4-H and heritage building. Baseball and bingo will be returning to the event after an absence of several decades. "Needless to say, this one is 100 years old, so it is huge in our community," Patterson says. "We are a large agriculture area, we have a lot of cattle here, we have a lot of grain that's grown here, so it is very important for the ag people … and our little town. Everybody is involved." The social aspect means that fall fairs continue to navigate COVID safety regulations. They're also waiting for a September update on avian inuenza to see if poultry displays can be a part of this year's events, says Agassiz Fall Fair and Corn Festival president Victoria Brookes. The fair board received $16,188 to support the 118th Agassiz Fall Fair and 74th Corn Festival. While the fair manages higher building insurance and maintenance costs, increased food costs for their chicken and corn barbeque and fewer volunteers, they look forward to a weekend of reunited friends and family. North Thompson Fall Fair and Rodeo Association president Jill Hayward notes that vendors have been more dicult to come by this year and the fair is keeping close tabs on avian u, but it is preparing a "gigantic fair." "In our area, our responsibility is to be able to provide that shot in the arm for local merchants, vendors and organizations. We take that very seriously," Hayward says.
Page 38
38 | AUGUST 2022 COUNTRY LIFE IN BCAugust brings such an extravaganza of fresh produce that it's dicult to nd space to get it all on the menu. Berries and tree fruits, tomatoes and peppers, onions and garlic, young root vegetables, corn on the cob and the rst winter squash of the season are all begging to be noticed and included in dinner plans. Farmers markets are a feast for the senses, with a rainbow of colours and fresh smells. Sensory overload, perhaps? And, in the garden, it's exciting to see how plump and lush everything suddenly looks as summer winds down after bestowing sunny skies and warm temperatures on orchards and berry farms, pastures and elds. There's an urge to rush to enjoy it all, or freeze it, dry it and can it. This is the season for making jams and jellies to adorn winter breakfast tables; for drying herbs for comforting stews and roasts; for chopping and blending fresh avours into salsas, chutneys, compotes, relishes, pickles and antipastos. Those jewels in jars on the pantry shelves will not only inspire you when the snow is drifting softly down outside—but they also make great gifts for loved ones or for hostesses. BC is brimming with a tremendous variety of fresh produce – a reminder that it has the most diverse agricultural landscape in the country. Aren't we lucky to be able to source nearly all our food here at home? Even our beverage selection is signicant, from beer to wine to ciders; milk to juice; water to sparkling beverages. I'll drink to that! BRAISED MEAT WITH SQUASH & SPICESIf you have no venison in the freezer, this is also good with lamb or beef. 2-3 lb. venison, lamb or beef sea salt and fresh-ground pepper drizzle of olive oil 1 large onion 2 stalks of celery 2 garlic cloves 2 tsp. (10 ml) coriander 2 tsp. (10 ml) cumin • Preheat oven to 300° F. • Cut meat into bite-sized cubes. • Sliver the onion, slice the celery and mince the garlic. • Sprinkle salt and pepper all over the meat and brown it in a Dutch oven in a drizzle of olive oil. • Remove the meat and set aside, adding a drizzle more oil to the pot, if necessary. • Over medium heat, soften the onion, and add the garlic and spices, turning about in the pan for a few minutes until it's beautifully aromatic. • Add chicken broth and white wine, along with a dab of tomato paste and stir in well, bringing to bubbling over medium-high heat. • Return the meat to the pot, cover and bake in the oven for an hour or so, until the meat is very tender. • Meanwhile, slice the carrots and peel the squash and dice it. You may substitute other winter squash. • Add the vegetables to the Dutch oven, turning to coat with the juice. Bake for a half hour or so more, until they are tender. • Serves 4-6. GAYLE'S BLUEBERRY PEACH CAKE1/2 tsp. (2 ml) turmeric 1/4 tsp. (1 ml) allspice 1/4 tsp. (1 ml) cinnamon 1/8 tsp. (0.5 ml) cayenne pepper 1 1/2 c. (375 ml) chicken broth 1 c. (250 ml) white wine 1 tbsp. (15 ml) tomato paste 5 carrots 1/2 butternut squash This looks wonderfully dramatic and it tastes delicious as well. For a fresher look, add another sliced peach and a handful of blueberries to the top halfway through baking. 1 c. (250 ml) fresh blueberries 2 fresh peaches 1 1/2 c. (375 ml) flour 1 tsp. (5 ml) baking powder 1/2 tsp. (2 ml) baking soda 1/2 tsp. (2 ml) salt • Preheat oven to 350° F. • Peel and slice peaches and clean blueberries. • Grease a 9-inch springform pan, line it with with parchment paper and grease that as well. • Combine flour, baking powder, baking soda and salt with a whisk in a medium-sized bowl. • In a larger bowl, beat the butter with the sugar and add the eggs, one at a time, beating after each addition, and continue to beat for another few minutes until the mixture is light-coloured and fluffy. • Add the vanilla and yogurt and continue beating until creamy and light, about another minute. • Add the flour mixture gradually, with the mixer on low speed. Do not overbeat. • Pour the batter into the prepared pan and top it with sliced peaches. Scatter blueberries evenly around the peach slices and sprinkle the whole top with a spoonful of white sugar. • Bake for about an hour, or until a toothpick inserted in the centre comes out clean. • Remove from the oven and let it cool on a wire rack. Once cool, in about an hour, release it from the springform pan. • Slice and serve. 4 tbsp. (60 ml) butter 2/3 c. (150 ml) sugar 2 eggs 1/2 tsp. (2 ml) vanilla 1/2 c. (125 ml) plain Greek yogurt spoonful of white sugar, for topping August offers a rainbow of produce Bright peaches, dark berries and golden wheat come together in this moist cake. JUDIE STEEVESJude's Kitchen JUDIE STEEVES
Page 39
COUNTRY LIFE IN BC AUGUST 2022 | 39TRACTORS/EQUIPMENTREAL ESTATEREAL ESTATETRACTORS/EQUIPMENTFOR SALEFOR SALEHAYSEEDBERRIESIRRIGATIONFor Tissue Culture Derived Plants of New Varieties of Haskaps, Raspberries, Blueberries, Blackberries, Saskatoon Berries and Sour Cherries, Please Contact:DISEASE FREE PLANTING STOCK OF NEW BERRY CROPS 4290 Wallace Hill Road, Kelowna, BC, V1W 4B6info@agriforestbiotech.com250.764.2224www.agriforestbiotech.com NEW polyethylene tanks of all shapes & sizes for septic and water storage. Ideal for irrigation, hydroponics, wash-down, lazy wells, rain water, truck box, fertizilizer mixing & spraying. Call 1-800-661-4473 for closest distributor. Manufactured in Delta by Premier Plastics premierplastics.com Feeders & Panels that maintain their value!ROUND BALE FEEDERS BIG SQUARE BALE FEEDERS FENCE PANELS CATTLE & HORSE FEEDERSHEAVY DUTY OIL FIELD PIPE CRADLE FEEDERS. Single big square or 2 round bales Outside measurement is 8 feet x 12 feet Silage bunk feeders For product pictures, check out Double Delichte Stables on Facebook Dan 250/308-9218 Coldstream DON GILOWSKI 250-260-0828 Royal LePage Downtown Realty Ltd BUYING OR SELLING OKANAGAN FARM, RANCH OR ACREAGE? COURTENAY HEREFORDS. Cattle for Sale: yearling bulls and bred heifers. John 250/334-3252 or Johnny 250-218-2537.PYESTERDAY'S TRADITION - TODAY'S TECHNOLOGYMANAGERS Phil Brown 250-293-6857 Catherine Brown 250-293-6858 ccr.princeton@gmail.com www.coppercreekranch.com PRINCETON, BC Raising registered polled & horned Herefords & F1s. BREEDING BULLS FOR SALE.RAVEN HILL MEADOWS: Coneygeers bloodlines - call for seedstock. 250-722-1882. NanaimoLIVESTOCKLIVESTOCKIt's the top linethat makes the Bottom LineBC SHORTHORN ASSOCIATION Scott Fraser, President Bob Merkley, BC Director 250-709-4443 604-607-7733DeBOER'S USED TRACTORS & EQUIPMENT GRINDROD, BCWANTED: USED JD TRACTORS 60-100 HP JD 6400 W/CAB&LDR 60,000 JD 1830 W/LDR 16,000 JD 4230 CAB, 3PT 15,000 JD 6420 CAB 4WD LDR 70,000 JD 7200 4WD OPEN STATION PWR QUAD TRANSMISSION CALL JD 1630 W/LDR 16,000 OLIVER 12' disc 3,750 ED DEBOER 250/838-7362 cell 250/833-6699 CURT DEBOER 250/838-9612 cell 250/804-61471-888-770-7333CUSTOM BALING 3x4 BIG SQUARES SILAGE BALING/WRAPPING ED DEBOER 250/833-6699 CURT DEBOER 250/804-6147EDVENTURE HAY SALES ENDERBYcouADVERTISING THAT WORKS!couADVERTISING THAT WORKS!Pacifc Forage Bag Supply Ltd.www.pacificforagebag.comCall 604.319.0376FOR SALE in Osoyoos: 2 electronic cherry PACKING LINES, 1 apple packing line, harvest bins, and other assorted packinghouse equipment. Please contact Tony for more details 250-498-7705Available now, 4- 1/4 mile Used VALLEY, ZIMMATIC, T.L. PIVOTS, 3- Used 1,000 ft, 1,250 ft Hose reels, 10,000 ft 12 in 8,000ft 10 in HDPE, Steel pipe in all sizes used. Dealer for Pierce Pivots, T.L Pivots, lease your new or used pivot, Hose reels, RM, Idrio, diesel pumps, centrifugal, sub-mersible, freq drives, pump stations, 30 years experience. Talk to Brock! 250 319 3044FARM EQUIPMENT and PARTS • ROLLOVER PLOWS 3 and 4 BTM, in-furrow, and on-land, $3750 to $6750 • FORD and OLIVER Semi Mount Plows, 5 or 4 BTM, $1600 each. • HD BREAKING PLOW, 1Big BTM on wheels, $3,600 • HD V-SPADE Root Cutter on wheels, 1 ripper spade, $2800. • CO-OP 26' CULTIVATOR, drawbar pull, HYD fold, $6500. • CRUST-BUSTER, 24' drawbar pull, S-Tines and Harrows, $4,600. • 2 NEW CULTIVATORS, 5' and 6', S-Tines, 3PH, $650 each. • JOHN DEERE CULTIVATOR, Row-Crop 4 row, $1000. • CULTIVATOR DUCK FEET TIPS, New and Used, bigger sizes. • NORTHWEST ROTOTILLER, Straw-berry/Row Crop 2 row, $2500. • IH SIDE DRESSER, Granular fertil-izer, Cultivator, 4 row, $1800. • RIDGE MULCHER TD 2000, hyd drive, draw-bar pull, near new, $5500. • CROP SPRAYERS, Truck, Trailer and 3PH models, 150 to 850 Gal, Call for details. • JIFFY and CRAWFORD HYDUMPS, 14', $2900 and $5900. • FEEDER HAY, 400 -16'x18' bales, $7 each • GRAIN BINS, small to medium sizes, $700 and up. • LEWIS CATTLE OILERS, Offers. • TRUCK RIMS or TIRES, many sizes,. • PICKUP BOXES, New and Used long boxes, Dually or Single wheel. • OLDER TRUCKS and Parts. Call Jim's cell for hard to nd items 604-556-8579 ZcXjj`Ô\[j7Zflekipc`]\`eYZ%ZfdfiZXcc1-'+%*)/%*/(+C@E<8;J1),nfi[jfic\jj#d`e`dld(*gclj>JK#\XZ_X[[`k`feXcnfi[`j%),;@JGC8P8;J1),gclj>JKg\iZfclde`eZ_M[WYY[fjcW`ehYh[Z_jYWhZi$8l^ljk@jjl\;\X[c`e\1Alcp)+#)')' Baler, NEW HOLLAND 2004' Model 570, $16,000; Tedder, Claas 2006' Model 52T, 17'6" Hyd. Fold, $7,000; Tedder, CASE 2003' Model IH 8309, 540 PTO, 9'2" Cut, $8,000; Mower, VICON CM165, 4 Disc, 3 point, 5'3" Cut, $2,500; Mower Sickle Bar, NEW HOLLAND, 7' Cut, $1,500; HAY WAG-ONS 16'6" with new decks, $2,000/ea.; Manure Spreader, JOHN DEERE Model 40T, $4,000; Hay BALE SLED, bunches up approx. 40 bales, $2,000; HAY RAKE, 4 wheels, $1,500. Call Shawn: (604) 615-3646 Carrie Nicholson PREC* 250-614-6766 EQUIPMENT DISPERSAL • LOEWEN 422 MIXER WAGON, good condition, $13,500 • LOEWEN SUBSOILER, 2 shank, 3 pt hitch, $2,500 • LOEWEN BOX SCRAPER, 3 pt, with rubber, like new, $800 • LOEWEN AGITATOR 18', 100 HP prop, nice condition, $2,000 • NH 790 FORAGE HARVESTER, complete with 7' 890W grass head, 2 row 824 corn head also available, $4,500 TONY 604-850-4718Craig Elachie ShorthornsGrant & Barbara Smith | Balmoral Farms 250.835.0133 craigelachieshorthorns@gmail.com 1802 Tappen-Notch Hill Rd Tappen BC V0E 2X3SEPTEMBER DEADLINE AUGUST 27CARIBOO DORPERS: Top Dorper ram lambs for sale. New genetics. Bryan, 250-706-7077 or bryan@bcinternet.netPRIME FARM GROUND. 30 acres with rare building lot and mountain view. 480 power well; 300 gal/hour water rights; northwest of Lynden, Wa, 3 mi from Aldergrove border crossing; $890,000 US. 360-410-1455.Fullblood reg LOWLINE bull calf. Carries the wild gene; will be weaned Oct. 250-838-2007. DISCOVER PRINCE GEORGE PRINCE GEORGE & AREA SUBDIVISION LOTS: PARADISE ESTATES: R2688574; R2688580; R2688588; R2588581 and more lots available in this sub-division. GLADTIDING ESTATES: R2687614; R2687593; R2687125; R2687155 and more lots available in this subdivision. CHIEF LAKE ROAD: R2689813; R2689815; R2689817 and more lots available in this sub-division. BUCKHORN LAKE Beautiful 8.5 acres with 2600 sqft log home. MLS R2707052 $740,000 PARADISE FOUND updated log home on 42 acres. $749,900 MLS R2691271 COUNTRY GEM 3 bed/1 bath home of 2.2 acres. R2711734 $379,900 MILBURN LAKE 4 bed/2bath on 4.94 acres. MLS R2696542 $380,000 DOME CREEK 160 acres with tons of potential. MLS R2702148 $599,900 SALMON VALLEY 370 acres; 3 titles. 150 ac cleared, MLS R2675843 $599,000 VIVIAN LK RESORT 144 acres, 55 campsites, 5 bed/3 bath main home MLS R2668437 $2,700,000 STUNNING MTN RESORT on 82.25 acres, 17 chalets, 50 camps. MLS C8040948 $4,850,000 CATTLE RANCH 1,280 acres; 5 bed/3 bath home. Fenced, outbuild-ings; MLS R2677116 $2,250,000 CONCRETE BUSINESS Robson Val-ley, MLSC8040939, $759,000 PARADISE IN THE VALLEY 192 acre private estate, custom home, out-buildings to die for. MLS R2658619 $1,450,000 LOG HOME custom built, 30 fenced acres, 50x50 shop, MLS R2648543 $1,149,000 SAXTON LAKE ROAD: R2610535 R2610527; R2610554 and more lots available in this area. CRANBROOK HILL 77 acres w/dev potential minutes from UNBC. MLS R2640598 $1,500,000 HART HWY 54.95 acres. MLS R2640583. $750,000. CLOSE TO THE LAKE 8.3 acres. MLS R2610880 $295,000 74 ACRES w/ 20,000 sq ft bldg., 40 acres cultivated. MLS C8041167 $1,700,000 ESCAPE the city. Two lots in Willow River, 22,500 sq ft. MLS R2591708, $28,900 69+ ACRES ON RIVER Approx 50 acres in hay. River, road access. MLS R2685535 $838,000 55 ACRES Dev potential close to airport. MLS R2707390, $699,000 TREED LOT on edge of the Fraser. MLS R2622560 $250,000 2 LOTS IN ONE PKG! 3.55 acres residential Quesnel R2657274 $289,000 80 ACRES/TIMBER VALUE Zoning allows ag, housing, forestry & more. MLS R2665497 $495,000 15 MINUTES TO PG ~58 acres with timber value. Mostly flat lot with lots of potential. MLS R2665474, $395,000 HWY FRONTAGE 190 acres w/exc potential for subdivision/commercial ventures. MLS R2660646 $799,000 WRIGHT CR RD 195 acres undisturbed bare land. M LS R2655719 $699,000
Page 40
40 | AUGUST 2022 COUNTRY LIFE IN BCThe M6 Series tractor line offers premium features in a deluxe mid-range utility tractor package. Designed with hay, cattle and ranchers in mind, the M6 tractors are packed full of power, comfort and the versatility to take on any task. Available in four models – ranging from 97 to 133 net engine horsepower – the M6 Series has the tractor to t your application needs.TAKE CONTROL EVERY SEASON.1521 Sumas Way, Box 369avenuemachinery.caPROUD PARTNER OFkubota.ca | 1521 Sumas Way, Box 369Abbotsford, BC V2T 6Z6(604) 864-9568avenuemachinery.caAVE010OLIVER GERARD'S EQUIPMENT LTD 250/498-2524 PRINCE GEORGE HUBER EQUIPMENT 250/560-5431 SMITHERS HUBER EQUIPMENT 250/847-3610 VERNON AVENUE MACHINERY CORP 250/545-3355 ABBOTSFORD AVENUE MACHINERY CORP 604/864-2665 COURTENAY NORTH ISLAND TRACTOR 250/334-0801 CRESTON KEMLEE EQUIPMENT LTD 250/428-2254 DAWSON CREEK DOUGLAS LAKE EQUIPMENT 250/782-5281 DUNCAN ISLAND TRACTOR & SUPPLY LTD 250/746-1755 KAMLOOPS DOUGLAS LAKE EQUIPMENT 250/851-2044 KELOWNA AVENUE MACHINERY CORP 250/769-8700