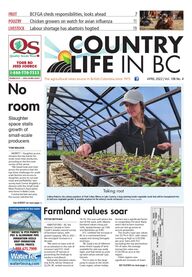 Return to flip book view
CLBC April 2022
Page 1
Postmaster, Please return Undeliverable labels to: Country Life in BC 36 Dale Road Enderby, BC V0E 1V4CANADA POSTES POST CANADA Postage paid Port payé Publications Mail Post-Publications 40012122Vol. 108 No.4The agricultural news source in British Columbia since 1915 APRIL 2022 | Vol. 108 No. 4FRUIT BCFGA sheds responsibilities, looks ahead 7 POULTRY Chicken growers on watch for avian influenza 11 LIVESTOCK Labour shortage has abattoirs hogtied 19PETER MITHAM ABBOTSFORD – BC led Western Canada in Farm Credit Canada's annual survey of farmland values, with growth topping 18% in 2021 – the strongest increase in a decade. "We seem to have a bit of an acceleration in the rate of increase," said FCC chief economist JP Gervais in presenting the ndings to media in mid-March. Nationally, farmland values rose 8.3%, led by Ontario at 22.2%. BC ranked second at 18.1%. This was well above the rest of the west, with Alberta farmland values rising just 3.6%, Saskatchewan up 7.6% and Manitoba up 9.9%. FCC credited the increase in BC to a constrained land supply and strong farmgate revenues. "BC [had] a lot of dierent areas where supply of land available for sale was really tight, and that tends to push up land values overall," says Gervais. This is seen in the large jump in values in the South Coast region, where hobby farmers are a signicant factor in competition for land. Many aren't tied to farm incomes and can bid up prices to secure properties. The South Coast saw values rise 33.7% in 2021, with values running as high as $197,000 per acre. Even with FCC excluding the top and bottom 5% of sales, the average transaction value was $134,700 an acre in the region. Other regions saw signicant increases at lower Colleen Roberts, the culinary gardener at Peak Cellars Winery in Lake Country, is busy planting tender vegetable seeds that will be transplanted into its half-acre vegetable garden. It provides produce for the winery's onsite restaurant. MYRNA STARK LEADERFarmland values soarSEE FLOODS on next page oGrowing more with less waterwatertecna.comttttttttIRRIGATION LTD1.888.675.7999 888 6 9999888669999 Diesel & PTO Pumps PVC & Aluminum PipeIrrigation ReelsDRIP IRRIGATIONCentre Pivots1-888-770-7333 Quality Seeds ... where quality counts!YOUR BC SEED SOURCETOM WALKER MERRITT – Slaughter access remains the top barrier for small, local meat producers, according to the rst-ever survey of the sector. "We heard loud and clear across the province that the top three challenges for small-scale farmers are access to slaughter, access to cut-and-wrap and protability," says survey lead Corine Singeld, a director with the Small-Scale Meat Producers Association who farms in Bella Coola. Conducted late last year, the survey solicited the See SURVEY on next page oNo roomSlaughter space stalls growth of small-scale producersTaking root
Page 2
FLOODS haven't impacted prices nfrom page 1SURVEY yields enthusiastic response from past and present producers nfrom page 12 | APRIL 2022 COUNTRY LIFE IN BCprice points. Irrigated land in the Thompson Nicola region increased 32.7% to an average sale value of $18,600 an acre. In the Cariboo, values leapt 28.2% to an average of $3,700 an acre. The extreme weather of 2021 had no discernible impact on values. "We're not saying that the ooding and the signicant challenges of last year are not going to have a impact going forward. That's really a wait-and-see," says Gervais. "[But ] so far … we can't point out anything of signicance." BC Assessment, which recently reported that 97% of properties in Lytton saw assessments lowered as a result of last summer's wildre, was unable to perspectives of both current producers and those who had left the industry within the past ve years. A total of 708 responses were received, including 619 current producers and 89 former producers. SSMPA vice-president Julia Smith of Blue Sky Ranch in Merritt said the broad cross-section of views from across the province provides a comprehensive overview of small-scale meat production in BC and the challenges producers face. "We have a lot of new entrants into the business who have hopes and dreams," she says. "We wanted to understand the reasons why others had left, how their hopes and dreams were crushed." The report provides 20 recommendations aimed at supporting producers and overcoming the sector's challenges. Three ideas in particular go beyond the province's overhaul of slaughter licences last year, changes designed to make it easier for small producers to get their animals processed and their meat into the hands of consumers. "We are proposing a slaughter truck pilot project that will serve Farmgate Plus licensees, many who are in favour of on-farm slaughter but do not wish to build a slaughter facility themselves," says Smith. She says the truck would not be the type of Class A mobile abattoir previously attempted in the province, but a service truck unit equipped to visit farms and process a small number of animals per day. The report's second recommendation addresses the labour shortage that creates the cut-and-wrap bottleneck. "We are hoping that we can increase training in the craft of butchering, primarily through the Thompson Rivers meat cutting program," says Smith. "But we also see a need for temporary foreign labour to support the seasonality of the business. If we could change meat processing from manufacturing to agriculture, this would allow us to access the Temporary Foreign Worker program." The third recommendation is to develop viable options for producers to access insurance. "Once you mention 'on-farm slaughter,' it is becoming impossible to obtain insurance," Smith says. "Or if you can, the cost is prohibitive for a small operation." The survey results were shared in an online presentation, March 15. In addition to identifying challenges and proposing solutions, the ndings give SSMPA a better idea of the sector it aims to represent. The association rst came together as a group on Facebook, but soon realized the level of interest warranted forming an association to raise the concerns common to several of the initial 75 members. A comprehensive picture of the sector positions disclose writedowns for ooded parcels. But given the steady demand for properties on Sumas Prairie, BC Farm and Ranch Realty agent Gord Houweling says even ood-ravaged properties seem to be holding their value. He listed two ve-acre parcels in January unsure of what to expect. Both had residences so damaged by ooding that they were tear-downs. "I didn't know how the bank would fund something that is basically a tear-down house on land, and both parcels sold above the asking price," he says. RBC and Scotiabank have both told him they haven't changed their lending policies as a result of the November oods. This seems set to support the market, which is centre ice for producers. "The demand is still there. We're still getting high dollar value for land," he says. "The ood hasn't slowed down Sumas Prairie. There's only one the association to be a stronger voice for small producers. "We didn't know who we were representing. This data gives us a wealth of information which we can use to advocate for our industry," says Smith. Singeld shared the highlights of the survey, noting the diversity of the sector in terms of both livestock and farms. Respondents raise cattle, hogs, chickens, sheep, turkeys, goats, rabbits, ducks and geese, and 57% of producers raise two or more kinds of animals. More than a third of producers operate mixed farms with vegetables or fruit, 96% sell directly to their customers and 29% are striving to be full-time farmers. The survey underscored that meat production doesn't pay the bills for most small producers. "What really punches me in the gut is the chart that shows protability," says Smith. "Only 11% say that they are protable. And while 26% say that they break even, I would question that. Have they really done the math and included a prot for themselves and a capital replacement?" As a result, 94% of small meat producers in BC supplement their operations with other income. Nearly two-thirds – 63% – have o-farm income. The cost of feed, and constraints on increasing production are two factors that aect the nancial stability of smaller meat producers. Many said they are not allowed to produce as much as they would like. The enthusiastic response to the survey shows producers are keen to succeed despite the hurdles they face. "If we have this much passion given the year we have just had," says Smith, "imagine what we could do if people just got out of our way." Sumas Prairie. If you're looking for good farmland, it's pretty tough to beat it." It would be a dierent story if the ooding was an annual event, but it isn't. Government recovery funds mean there's a future for the area, and this means land still has value. "I haven't seen anything devalued because of the ood," says Houweling. A challenging economic outlook could present headwinds, however. "We're going to have a tightening cycle from the Bank of Canada in terms of raising interest rates," says Gervais. "There is no doubt as well that if you look at the price of land relative to expected income or actual income in the marketplace, we're really at the top of the cycle." This being said, the outlook is generally bright. "It's also about the forecast for growth, and the outlook is pretty optimistic," he says. "From an income standpoint, the outlook is pretty positive." www.tractorparts4sale.caABBOTSFORD, BC Bus. 604/807-2391 email: tractorparts4sale@shaw.caWe accept Interact, Visa and Mastercard BRILLION CULTIPACKER 14 FT WIDE, GOOD CONDITION . . . . . . 6,500 FORD 7000 2WD OPEN ST 83HP 540 PTO GD COND . . . . . . . . . . 7,000 VICON PS602 FERTILIZER SPREADER, 3 PT, 1,000 KG CAPACITY . . 2,200 MASHIO CM4500 14' PWR HARROW W/ROLLER GD COND. . . . 14,000 FELLA TS1601 ROTARY RAKE, 3 PT HITCH, TWIN ROTOR, 25 FT WORKING WIDTH, GOOD CONDITION . . . . . . . . . . . . . . . 17,500 YANMAR FX42D 2WD OPEN STATION, 42HP PSHIFT TRANS, 4 SPEED PTO. 2961 HRS. . . . . . . . . . . . . . . . . . . . . . . . . . . . . . . . . . 6,500 SIP 165G THREE POINT DRUM MOWERS, GD COND . . . . . . . . 2,800 ea NH 256 ROLLARBAR 10 FT SIDE DELIVERY RAKE, GROUND DRIVEN, PULL TYPE, GOOD CONDITION . . . . . . . . . . . . . . . . . . . . . . . . . . . . 3,200 JOHN DEERE HD BALE CONVEYOR 40FT ON ADJ FRAME WITH AXLE, PTO DRIVEN . . . . . . . . . . . . . . . . . . . . . . . . . . . . . . . . . . . . . . . . . . . 1,200 LOEWEN 9612 VERTICAL MIXER . GOOD CONDITION . . . . . . . 14,000NEW REPLACEMENT PARTS for MOST TRACTORS & FARM IMPLEMENTSGD Repair LtdTractor/Equipment Repair Mobile Service AvailablePatrick is an experienced portfolio manager that brings a focused 昀nancial and estate planning team to clients to ensure the best and most effective investment decisions are made now and in the future. The RBC Wealth Management investment and planning program provides income security and tax minimization in the context of a holistic 昀nancial plan and road map for each client.
Page 3
OYF-BC winner expands while tree fruit sector shrinksCOUNTRY LIFE IN BC APRIL 2022 | 3PETER MITHAM CAWSTON – Transforming his family's orchard into an international business is just one of the reasons Gurpreet Lidder of Lidder's Produce Ltd. in Cawston was named this year's BC Outstanding Young Farmers winner at an event held in Abbotsford on March 9. Lidder returned to the family farm in 2003, drawn by the joy he felt growing fruit while applying his professional skills to growing the business. Graduating with a business degree from UBC Okanagan in 2006, Lidder soon found a job that paid $25 an hour at Weyerheuser in production. But he realized he was looking at his watch far more than he ever did working in his parents' orchard. He decided to return to the farm. "When I'm working in my farm, I never look at my watch; the day just seems to go by so quickly," he says. Back in the orchard, Lidder began applying what he'd learned in the business world to the family's farm. With sales at the fruit stand becoming a smaller part of the business, diversication was important. His parents had sold their fruit through the Okanagan-Similkameen Co-op but he began exploring direct sales to retailers in the Lower Mainland such as Langley Farm Market and Kin's Farm Market. "They didn't mind buying from smaller growers if the quality was right," he says. "It opened up a door for me." Meanwhile, opportunities to acquire additional property arose. Between 2002 and 2008, he acquired an additional seven properties, expanding the farm's land base by 55 acres. This was followed by the farm's largest purchase to date, a tract with 168 acres over 24 parcels. Lidder initially wanted the 10 acres that were planted, but the owner wanted to sell the entire property. When another buyer began showing interest, Lidder overcame his doubts and approached his uncle to partner with him on the purchase. The site was massive, but when BC Tree Fruits Co-op – which by this time had absorbed the smaller co-ops in the valley – began requiring exclusive contracts from its growers in 2016, an opportunity came to expand. "I questioned why they were doing it," he says. "They weren't guaranteeing any monetary value for the crop." The restrictive mandate didn't sit well and Lidder broke away to start his own packinghouse – one of more than two dozen that have set up over the past decade as the co-op's monopoly disintegrated. The current facility of 25,000 square feet features controlled atmosphere storage and packing equipment from Europe. It allowed Lidder to work with larger customers, but he didn't have them yet. "You need connections, and you need help from people," he says in retrospect. But with typical spunk, he cold-called a vice-president at Loblaw and landed a deal for a small order. The initial shipment went over well, but the second season in 2018 was disappointing. With a new packinghouse hanging in the balance, he wasn't sure if he'd made the right move. But again, connections came into play and he secured an order from Sobeys. Sobeys doesn't use brokers, which freed up cash he could reinvest back into the farm. "That's a huge advantage," he says. "I'm able to push a large amount of money back to the farm." His next target was improving margins. While grocers demanded quality from growers, they also wanted the best possible price. "If you grow premium apples in Canada, you can only sell so much," he says. This doesn't incentivize growers like Lidder, who has made a point of extensive testing – of his farm's soil, trees and fruit – to ensure orchard health and top-quality fruit. The real payo for top growers is in export sales, which can deliver as much as a 33% premium over domestic sales. Vietnam soon became a OYF-BC board member Steve Saccomano, far right, presents Gurpreet Lidder, centre, and his family with this year's BC Outstanding Young Farmers award during an event in Abbotsford, March 9. PETER MITHAM destination for his farm's Ambrosia apples, and despite the challenges of exporting during the pandemic he has found steady sales. "We're getting great results," he says, noting the farm's 2022 crop was fully contracted by the end of March. "The only way you can compete with those guys is quality." The farm's success is notable in an industry that has seen acreage decline by more than half since his parents began farming in 1992. Lidder approaches his business and life with a focus on service. When other suppliers disappoint his customers, he tries to step up to ll the gap. Similarly, he is active in his community, including as a basketball coach. Lidder was one of two nalists in this year's provincial competition. The other was Ross and Erin Springford of Springford Farm in Nanoose Bay. Judging was conducted by Rick Thiessen, Matt Creechan and Walt Goerzen. OYF-BC board member Steve Saccomano, senior manager of business development, agriculture and agribusiness with regional competition sponsor RBC, said the judges had a tough decision to make, describing the candidates as "two very dierent, but equally impressive nominees." "I hope I can continue to inspire another generation," says Lidder, who received the award in the company of his wife Sharanpreet and children Javraj and Eshaan. Lidder will represent BC at the national OYF competition scheduled for Saskatoon, November 23-27. CSA-spec Pressure Treated Barn PolesPreferred supplier for British Columbia Ministries & Parks Canada.Farm | Orchard | Vineyard | Berry TrellisingBill Everitt 250.295.7911 ext #102 beveritt@xplornet.ca | Toll free 1.877.797.7678 ext #102PRINCETON WOOD PRESERVERS LTD. 1821 HWY 3 PRINCETON, B.C. V0X 1W0PV RanchHayshedPhoto: Allan Pauls YOURHelping YouOURng Young YouDon't forget to RENEW your subscription toCountry Lifein BCOrchardist grows international, domestic sales
Page 4
Advertising is accepted on the condition that in the event of a typographical error, that portion of the advertising space occupied by the erroneous item, together with reasonable allowance for signature will not be charged, but the balance of the advertisement will be paid for at the applicable rate. In the event of a typographical error which advertises goods or services at a wrong price, such goods or services need not be sold at the advertised price. Advertising is an offer to sell, and may be withdrawn at any time. All advertising is accepted subject to publisher's approval. All of Country Life in British Columbia's content is covered by Canadian copyright law. Opinions expressed in signed articles are those of the writer and not necessarily those of Country Life in British Columbia. Letters are welcome, though they may be edited in the interest of brevity before publication. All errors brought to our attention will be corrected.36 Dale Road, Enderby BC V0E 1V4 . Publication Mail Agreement: 0399159 . GST Reg. No. 86878 7375 . Subscriptions: $2/issue . $18.90/year . $33.60/2 years . $37.80/3 years incl GSTThe agricultural news source in British Columbia since 1915 Vol.108 No. 4 . APRIL 2022Published monthly by Country Life 2000 Ltd. www.countrylifeinbc.comPublisher Cathy Glover 604-328-3814 . publisher@countrylifeinbc.com Editor Emeritus David Schmidt Associate Editor Peter Mitham news@countrylifeinbc.com Advertising Sales & Marketing Cathy Glover sales@countrylifeinbc.com Production Designer Tina Rezansoff Hoppy Easter, Peter Wabbit!Freedom. We hear the word often. Chanted repeatedly, it has became the anthem for various Canadian protests claiming to protect it. But what is it exactly? Natural freedom exists in the absence of any interference or imposed obligation or regulation – a state in which 17th-century philosopher Thomas Hobbes declared human life would be solitary, poor, nasty, brutish and short. Everyone would be entitled to everything and would be free to act without consequence, leading to a constant war of all against all. Contemplating freedom in the 18th century, Jean-Jacques Rousseau was more optimistic, believing in the innate goodness of humanity and foreseeing a natural state of equality and happiness. Rousseau realized early on the natural state he envisioned would not endure community living where class distinctions would develop. Private property rights would follow, and the innate goodness would be replaced by greed and rivalry. Both Hobbes and Rousseau concluded that people would have to surrender certain inherent rights to a higher authority. – Hobbes to a sovereign, Rousseau to each other. Rousseau's thoughts set the stage for the French Revolution and believed that people must undertake a social contract wherein they agree to surrender some of their rights in order to secure certain others. There are two kinds of freedom: freedom to, and freedom from. For example, Article 3 of the UN Universal Declaration of Human Rights names the freedom to life, liberty and security of person. Article 4 enshrines freedom from slavery or servitude. The declaration also enshrines the right to own property. While it does not mention real estate specically, most farmers and ranchers are likely to make the connection to their land and in that regard they will appreciate the laws that currently grant them freedom from trespass on it. The rub, of course, is that the law that grants any piece of land protection from trespass removes the freedom of access from everyone else. Thomas Hobbes died nearly 350 years ago; Rousseau, 250. It is unimaginable that in their wildest ights of fancy they could have foreseen a global population nearing eight billion souls or the complex social, commercial and economic structures that have evolved with it. Freedoms and rights allow or deny human behaviour and that becomes ever more complicated. Does my neighbour have the right to y a drone over my property? Do I have the right to privacy that will deny him that right? By the strict standards of natural freedom, everyone should be able to do whatever they choose. By legal standards, everyone should be free to do anything not prohibited by law. In a perfect world, the innate goodness Rousseau anticipated in humanity would resolve the matter through mutual respect and conversation. If the issue remained unresolved, it would become a matter of law, existing or newly enacted, to decide which freedom is upheld and which is denied. If not for the law, we revert to the expectations of Hobbes and impose our will in some other fashion. No matter how it turns out, someone is bound to be denied their considered freedom. Which brings us back to Hobbes' and Rousseau's realization that we can't all live together in a functioning society without the rule of law. This begs the question, who makes the law? Hobbes suggested authority be surrendered to a single entity. Rousseau said the authority should lie with the people. History shows that when it comes to respecting rights and freedoms, Rousseau was probably on the right track. Despite certain failings and imperfections, true democracy is as close as we will come to the citizen rule Rousseau proposed. We'll give the last word to renowned British human rights barrister Georey Robertson. "Freedom is a state of liberty, guaranteed by the law to the extent it bestows personal freedoms (of thought, speech, assembly etc.) on the individual and protects physical freedom from assault by others or by agents of the state. Freedom of the individual exists within society when the only restraints serve to prevent harm to other individuals." Bob Collins raises beef cattle and grows produce on his farm in the Alberni Valley. The Back 40 BOB COLLINSFreedom has its boundaries in a civilized worldWe acknowledge the financial support of the Government of Canada.4 | APRIL 2022 COUNTRY LIFE IN BCA dening moment in Canada's sense of nationhood occurred 105 years ago this Easter on the battleelds of France, as four divisions of the Canadian Expeditionary Force took Vimy Ridge. The attack was launched April 9, Easter Monday. A year earlier, Easter Monday saw Irish nationalists rise up against British rule, the violence on both sides shocking poet William Butler Yeats, a committed nationalist. "All changed, changed utterly: A terrible beauty is born," he wrote in his much-anthologized poem "Easter, 1916." The people of Ukraine seem poised at a similar moment, and the world with them. Since February 24, Europe has seen war return to a country widely known as the continent's breadbasket. The impact is touching us all, yet another reminder of the interconnectedness of our global supply chains and the far-reaching benets of peace. All has changed, changed utterly in the past few weeks. But the enduring message of Easter – and many other springtime festivals – is that not all is as it seems. There are second chances; all things are being made new if we accept the invitation to move forward. BC farmers are demonstrating that in the aftermath of last fall's oods and landslides, and in spite of whatever the coming season brings in terms of wildre. The longer days mean warmer weather, and absence of moisture may once again be an issue rather than too much of it. Yet farmers are facing the future; what else can they do? Government has pledged its support, but in some cases the support has been slow to come. The cash crunch farmers face is also aecting government, which must decide which programs will best serve long-term policy objectives. And those objectives are categorically dierent from short-term needs. What the past two years has taught us, however, is that local supply chains matter. People want to buy local, and this means having the local infrastructure needed to grow, process and deliver food. While often dressed up in aective language that softens the business realities, provincial announcements regarding greater support for local purchasing, food hubs and more responsive slaughter rules reect genuine concern with our province's food security. But as producers note, the transformation has some unfamiliar, even terrible aspects. Slaughter capacity is still maxed out, limiting local meat supply; supply constraints and structural changes mean fertilizer and feed prices aren't coming down in the foreseeable future, squeezing margins; and the rising cost of basic groceries will force a segment of the population to choose what's necessary over even small luxuries. May the choices we make dene BC as a province that puts its farmers and ranchers rst. The choices we make
Page 5
Underinsured in a potential disaster zoneRetooled supports are needed for BC's farmers and ranchers this seasonCOUNTRY LIFE IN BC APRIL 2022 | 5struggling to interpret unfamiliar weather patterns and behaviours. Event-by-event response may not be practical or aordable much longer. We need to shift structures, programs and roles from a reactive, risk-response approach to a proactive, risk-resilience approach. Studies suggest that eective natural disaster risk governance requires three things: a society-wide understanding of disaster risks, vulnerabilities and resilience capacities; a scope that includes all hazards and all levels of government; and shared commitment to preparation, with continuous learning and improvement over time. The Netherlands, for example, is shifting from a risk-resistance emphasis on dikes to a risk-resilience "Room for the River" approach where oodplains are restored, sometimes by re-purposing agricultural land, to protect other key areas. Preparedness materials BC's Climate Preparedness and Adaptation Strategy for 2021-22 is pointing in this general direction, and some BC communities are already putting risk-resilience measures in place. Existing agricultural programs that support farmers and ranchers with disaster readiness include: • The BC Climate Change Adaptation Program, which provides a recently updated Farm Flood Readiness Toolkit and fact sheets with ood information and key contacts for dierent regions. • BC's AgSafe program, which provides material for keeping workers safe in res and oods and advisors in each region. • BC's Environmental Farm Plan program, which provides a reference guide with a chapter on climate change adaptation and mitigation and related Benecial Management Practices (BMPs) and advisors to help structure your plan. This good material is not enough, however. Right now we have a protection gap. Many farmers and ranchers are having diculty aording new or renewed property insurance, or are being denied coverage in part or altogether as the 2022 season begins. It's disappointing but unsurprising that the insurance industry seems to be backing o to rethink its metrics. In the meantime, other parties need to step up. Provincial and local governments in BC could do more to assist farmers and ranchers with disaster risk management preparation and response. The province could develop BMPs for re and ood mitigation and management and link them to insurance eligibility and/or premium reductions the way the AgSafe Certicate of Recognition does. The province could sit down with insurance providers and discuss how public disaster warning systems could be improved and linked with farm and ranch properties and reduced insurance rates. Among the "lessons learned" from 2021, farmers and ranchers note the importance of equipment such as movable irrigation pumps, portable fencing, handheld radios, portable radio relay transmitters, and power generators. In partnership with suppliers, the province could bulk-buy such items and provide discounts or rebates for farmers to purchase them. Mitigation potential Local governments could recognize the disaster mitigation potential of farmland – for instance the use of on-farm wetlands to reduce oodwater runo. Such measures could be recognized with tax breaks and/or tied to property insurance incentives. These ideas for disaster readiness could be implemented along with measures already under discussion for improved disaster response, including permits for farmers and ranchers to work with emergency services in disaster zones and SAR training for volunteers. Many jurisdictions are tackling the agriculture risk resilience challenge and the insurance protection gap. In China, all levels of government as well as farmers contribute to insurance; in Japan, farmers receive government payments for "non-commodity outputs" like runo controls installed in paddy elds; in California, the state is currently considering measures such as prohibiting insurance cancellation in high wildre risk areas. Although the province recently made regulatory changes to support strata corporations' access to property insurance, it has not provided such support to agriculture. However BC does it, more needs to be done for farmers' disaster readiness and to bridge the insurance protection gap for the 2022 season. Kathleen Gibson lives and grows food in Lekwungen territory/Victoria BC. She is a policy analyst and founding member of several non-prot food system organizations. Farmers and ranchers have just been through the 2021 heat dome-wildre-ood triple-header emergency with its record-breaking damage to animals, crops and properties. Another season on the climate front lines lies ahead. "Exceptions are the new rule," says the UN Food and Agriculture Organization, noting that the intensity and frequency of disruptive weather events are increasing. This season, failing adequate insurance, farmers and ranchers will need additional supports for disaster readiness. Unlike routine upsets, an emergency causes you to drop what you are doing and possibly evacuate because it threatens your life, your business and your property. Such events have sequential phases. Standard practice is for farmers and ranchers to take care of their own preparation, including insurance; to manage with additional physical help from responder agencies and volunteers during the event; and to seek help from business risk and emergency relief programs delivered by governments afterwards. Unfortunately, as disasters become routine, the math that underpins them no longer computes. Indigenous and local knowledge keepers, weather forecasters, infrastructure engineers, government program personnel, public and private insurers and nancial institutions, as well as farmers and ranchers, are questioning their usual assumptions and Viewpoint by KATHLEEN GIBSONGerry KokkelinkChampions $5,000+Harker's Organics | Henry Chung Family Memorial | Vandeven Financial Solutions Ltd./The Co-operatorsBlue Ribbon Donors $2,500+Sydney Massey | Gerry Kasten | Sarah & David Ryall | Dairy-Crop Solutions| Andreas Dolberg | Dr. Norma Senn |South Malahat 4-H Senior CouncilRed Ribbon Donors $1,000+Leslie McConnell | Golden View Farms Ltd. | Margaret Sampson/Semiahmoo Suffolks | Bill Weismiller | Pat Tonn | Clayton Botkin | Katherine Webster | Kurt Bausenhaus | Silver Valley Farms Ltd.White Ribbon Donors $500+Lance Hill | Canada HelpsGreen Ribbon Donors $50+Pollaris Raymond | William Fleener | Thelma SchwandtSpecial GiftsLydia Ryall | Andrew Campbell | Cheryl Davie | Bev Whitta | Karla StroetGrand Champions $10,000+THANK YOUTO OUR DONORS IN ANNUAL GIVING 2021Donor categories reflect accumulated donations.%PXOUPXO3FBMUZtOE4U7FSOPO#$t0óDFPat | 250.308.0938QBUEVHHBO!SPZBMMFQBHFDBThea | 250.308.5807UIFBNDMBVHIMJO!SPZBMMFQBHFDB6475 COSENS BAY RD, COLDSTREAMwww.FarmRanchResidential.ca "Farmers helping farmers with their real estate needs"Beautiful 8-acre commercial vineyard on Arrow Lake. 800 ft pristine shoreline. Build your dream home or cottage. 7 acres planted 2014 in red/white varietals. Just 2 hours from Ver-non, 1 hour from Nakusp. MLS®10239980 $1,190,000Lower Inonoaklin Rd, Edgewood
Page 6
6 | APRIL 2022 COUNTRY LIFE IN BCFILM ON FILM PLUS@matsquiagrepairCall today to demo any of our McHale models today!www.matsquiagrepair.com34856 Harris Rd, Abbotsford BC V3G 1R7604-826-3281Film on Film Technology.The Advantages: -Chamber film acts as a wrapping layer,-Chamber film results in a better shaped bale,-Chamber film creates higher quality silage. Contact us to find out more today!
Page 7
www.tubeline.ca 1.888.856.6613@TubelineMFGFind us onNITRO 275RS SPREADERSACCUMUL8 & RETRIEVERBALEWRAPPERS SILAGE RAKECOUNTRY LIFE IN BC APRIL 2022 | 7BCFGA sheds responsibilities, looks aheadNew faces poised to lead a new generation of growersA lack of labour continues to be one of the biggest challenges facing BC's fruit sector. MYRNA STARK LEADERServing the Okanagan and Fraser Valley We've been proudly family owned and operated since opening in 1976. And with two blending plants, we're one of BC's largest distributors of granular, liquid and foliar fertilizers. Our buying power and proximity to the Fraser Valley makes us the logical choice for truckload shipments. OKANAGAN FERTILIZER LTD 1-800-361-4600 or 250-838-6414TOM WALKER KELOWNA – The BC Fruit Growers Association's 133rd annual convention heralded a number of changes for the organization. New faces, a new business model and a new plan for industry initiatives are important developments for the association. BCFGA is moving to a new business model that reects a number of changes in the tree fruit sector. In the past, members of the BC Tree Fruits Cooperative were automatically members of the BCFGA. With the rapid expansion of packing houses across the industry – there are now more than 25 – this preferred status has been dropped. Membership is now optional for all growers and remains steady at just under 350 members. Dhaliwal and BCFGA general manager Glen Lucas outlined the changes that members can expect within the organization in the coming years. For many years, the BCFGA has managed the administration of the provincially funded tree fruit replant program. The program provided growers with some nancial support to replant older, less economically successful orchards, with more popular varieties in higher density growing systems. "The government did not renew the most recent replant program and the BCFGA withdrew their involvement in the program six months before it ended," explains Lucas. BCFGA had also been administering the Tree Fruit Industry Competitiveness Fund, which the province put on hold when it undertook the tree fruit stabilization initiative. The province intends to transfer administration to the Investment Agriculture Foundation of BC. The association's labour relations work is also shifting to a new organization. BCFGA's long-time labour manager Ron Forrest is retiring this year and rather than replace him the association is asking AgSafeBC to take on Forrest's farm worker training responsibilities, including youth worker training. "In the past, we have administered these programs that were of benet to all fruit growers," says Dhaliwal. "These changes will allow us to continue to focus more on specic member benets." Those will include an Environmental Farm Plan incentive, support for worker housing applications and a move to sponsor more research and projects. Other priorities include labour initiatives, apple market access, irrigation and the environment, as determined by members. The tree fruit stabilization initiative conducted last summer resulted in the release of a document last fall that contained 19 recommendations for the industry. BCFGA vice-president Jeet Dukhia was one of two BCFGA board members that participated in the industry working group that developed the report. "It wasn't that smooth," he says. "We had to educate several members of the committee. They didn't know much about the BCFGA." There is now a steering committee tasked with implementing the report's recommendations but government has yet to allocate funding. "There is no sign of resources to meet the goals. We hope for good faith to make things happen," says Avi Gill, the other BCFGA representative that served on the working group. A one-time funding to support the industry remains a top priority. "Our apple industry has been really beaten up over the last three years," says Dukhia. "These have been the worst years in all my 40 years of farming and this is the most important issue for the growers I talk to." Support with acquiring and housing labour, as well as improvements to crop insurance are also key. "Crop insurance is not working for the average grower," says Duhkia. "It needs to be based on quality, not quantity." With the wide variety of climate niches across the valley, he says a weather event can wipe out one block while a second will see little impact. "Insurance needs to be dierent for each orchard site on your farm," he says. BCFGA president Pinder Dhaliwal did not stand for re-election and members voted Naramata grower and past board member Peter Simonsen to lead the organization. Dhaliwal noted that younger board members such as Annelise Simonsen, Avi Gill and Mani Gill hold promise for a new approach for the organization.
Page 8
8 | APRIL 2022 COUNTRY LIFE IN BCProvince hikes minimum wage, piece ratesOverhaul of harvester pay has yet to occurFruit and berry pickers will have to wait until 2023 for their piece rate increases. MYRNA STARK LEADERPETER MITHAM VICTORIA – With ination at its highest rate since the 1980s, a higher cost of living will result in BC's minimum wage inching higher this summer. The province announced March 14 that the minimum wage will rise to $15.65 an hour on June 1, a 2.8% increase from $15.20 last year. The increase is the rst as part of a new system that links the minimum wage to ination. Hand harvesters will see their wages rise by a similar percentage on January 1, 2023. The seven-month delay reects the province's desire to avoid a mid-season wage increase, which could be disruptive for farms in the middle of harvest. Piece rates are paid for the harvesting of 15 commodities in BC, including daodils, mushrooms, berries and tree fruits. A mid-season increase in the piece rate could mean some workers avoid seeking work till after the increase kicks in. "Many prices for this year's crops are set and farmers are unable to pass along increased costs. This will allow them time to better plan for the 2023 crop," adds Reg Ens, general manager of the Western Agriculture Labour Initiative. The province commissioned a report in 2018 to lay the groundwork for an overhaul of BC's 40-year-old piece rate system but the system remains largely unchanged since it debuted in 1981. The report, written by agricultural economist Karen Taylor, aimed to give the province the data needed to make sure workers weren't being short-changed. Taylor's report, published in 2019, found 90% of growers supported the existing system. Moreover, while blueberry harvesters were the least likely to receive minimum wage when paid piece rates, these growers would also be hurt most by any increase in their piece rate to match minimum wage. The recommended improvements included updating piece rates to reect current farm practices rather than those of 40 years ago. Better record-keeping as well as improved auditing and inspection protocols were also recommended. Steps to address the labour shortage, including expanding access to foreign labour and new harvesting technologies, were also suggested. But the province has yet to act. "We have been taking an in-depth look at how to ensure compensation is fair for farm workers, sustainable for farm operators and economically viable for the industry," the BC Ministry of Labour told Country Life of BC in a statement, noting that it is in discussions with the agriculture ministry. "By updating the piece rates on these crops, we will ensure that farm workers are paid a fair wage for the valuable work they do. We will have more to share as the ministry continues its work." Ens says piece rates continue to oer both farms and workers exibility in work arrangements. Most growers paying piece rates end up paying workers signicantly more than minimum wage, while those workers who want to work more slowly have the option to earn less. These two considerations have several benets, both in terms of pay and worker health and welfare. "Piece rate pay allows workers more exibility in when and how they work and enables them to pick at a pace that they are comfortable with. It directly rewards workers who pick faster," says Ens. "This system enables employers to hire people that want to work at a slower pace, or want to take more breaks. It also is easier to manage harvesters who could be spread-out through a eld."
Page 9
COUNTRY LIFE IN BC APRIL 2022 | 9Climate Action Initiative disbanded by provinceIAF rebrands climate work, develops new websiteProudly certifying Producers and Processorswithin BC and Alberta.FVOPA provides year round certification services compliant with the Canadian Organic Standards (CAN/CGSB) and in accordance with the BC Certified Organic ISO 17065 recognized program. Products may be sold Canada-wide and in international markets. FVOPA ensures an efficient, professional certification process for all farm, processing and handling operations. Inspectors are lOlA trained and qualified making FVOPA a leading Certification Agency.Message 604-607-1655Email: admin@fvopa.cawww.fvopa.caPhone 604-789-7586P.O. Box 18591Delta, BC V4K 4V7Phone: 778-434-3070 202-4841 Delta Street admin@fvopa.ca Delta, BC V4K 2T9 www.fvopa.ca Proudly certifying Producers and Processors across CanadaFraser Valley Organic Producers Association (FVOPA) offers year-round certication services for producers, processors, packaging and labelling contractors, retailers, distributors and various organic service providers. We pride ourselves on exceptional customer service and are always happy to welcome new members. FVOPA certies to the Canadian Organic Standards and to the Canada Organic Regime (COR). Certied products may bear the Canada Organic logo and be marketed Canada-wide and internationally. KATE AYERS VICTORIA – Investment Agriculture Foundation of BC will deliver programs formerly administered by the Climate & Agriculture Initiative of BC, which is winding up its operations after 14 years of service to BC's farm sector. Created by the BC Agriculture Council in 2008, CAI has delivered adaptation projects funded through the Canadian Agricultural Partnership on behalf of BCAC subsidiary ARDCorp and IAF for the past four years. With BCAC stepping away from program delivery last summer, the province made the decision to transfer CAI's responsibilities to IAF. "Everyone was aware that was going to happen when it had been announced in late summer," says Rachel Penner, who has handled communications for CAI since 2018. Contracts were transferred from ARDCorp to IAF in January. "IAF has familiarity and experience working with both BC's diverse agriculture sector and the delivery of federal and provincial government programs and was able to ensure the program would be delivered to the end of the current CAP agreement," says the BC Ministry of Agriculture and Food. CAI director Emily MacNair's work ended March 31. Three sta members will remain to ensure the successful completion of ongoing regional adaptation projects and the transition of Farm Adaptation Innovator Program projects to IAF. The organization will wind up at the end of March 2023. Abrupt change The abrupt change, however, has raised concerns about knowledge transfer and research extension to agricultural stakeholders. CAI's website, revamped a year ago after a lengthy consultation process with stakeholders, was deleted immediately after the transition announcement on March 3. "We were given less than 24 hours' notice before the CAI website was taken down and deleted. There are countless groups and partners that used the website as a resource and linked to the dierent tools," says Penner, whose contract is set to expire this year. "I received a number of comments from people who wondered what had happened and expressed how valuable the site had been." The site was home to nearly 250 documents, including fact sheets, reports, videos and workbooks. IAF says it will ensure all resources will be available on a new site, which will operate under the Climate Change Adaptation Program name. Many producer groups and agricultural organizations list links to CAI's former website in newsletters and on their websites. Those links are now broken. While the province says "the resources and strategies previously on the CAI website will be migrating to IAF's website," the information may not be as readily available. "I'm worried about the impacts on the user experience. How many people will arrive on the new website through a broken link, get confused, and then just leave?" says Penner. Confusion Serena Black, a consulting agrologist based in Prince George, was surprised by the sudden changes and experienced some technical diculties when trying to access CAI's resources. "Not a lot of information was provided around the reasoning behind the change Dusty brownThe snow is gone but spring greenery hasn't yet replaced the dusty browns of late winter on the slopes above Lake Okanagan at Carrs Landing. MYRNA STARK LEADERWEEKLY FARM NEWSUPDATEScountrylifeinbc.comSign up for FREELYESr FREEUSED EQUIPMENT MAS H125 TILLER, 2012, 50" . . . . . . . . . . . . . . . . . . . . . . . . . . . . . . . 3,500 NEW HOLLAND FP230 27P GRASS HEAD . . . . . . . . . . . . . . . . . . . 17,500 KUBOTA K76249H 76" SKIDSTEER SNOWBLOWER . . . . . . . . . . . . . . 7,500 USED TRACTORS KUBOTA T2380 2017, 48" DECK . . . . . . . . . . . . . . . . . . . . . . . . . . . . 4,500 KUB Z122EBR-48 2017, 48" DECK, 160HRS . . . . . . . . . . . . . . . . . . 4,800 KUBOTA BX2360 2010, 1,900HRS, TRAC/MWR . . . . . . . . . . . . . . . . 9,750 KUB F3680, 2006, 72" DECK, GRASS CATCHER, DUAL HYD VALVE 16,900 (2) TORO 328D 48" MOWERS, 2,900 HRS . . . . . . . . . . . . . . . . . . . . . 4,500 NEW INVENTORY: GREENWORKS COMMERCIAL CORDLESS BLOWERS, CHAINSAWS, STRING TRIMMERS, HEDGE TRIMMERS, LAWNMOWERS. 82/48 VOLT KUBOTA RAKES, TEDDERS, MOWERS, POWER HARROWS JBS VMEC1636 VERT. SPREADER, SAWDUST & SAND THROWER CONSTRUCTION KUB KX080-3 2011, 6,200HRS, RUBBER, THUMB, 2 BKTS . . . . . . . . 69,800 KUB KX080-4S 2017, 3,600HRS, STEEL, ANGLE, 2 BKTS, THUMB . . 109,900 in program delivery for the last 15 months that it was scheduled to continue," Black says. "I utilize the CAI website, their resource library, on a regular basis, largely in See TEAM on next page oOver 15,000 sq.ft of NEW high-end 16ft ceiling farm and storage buildings. New high-end fencing & deer fencing. 40 acres in quality hay with wheel line irrigation in place. Great community water. A 2000sq.ft rancher with many updates. It is the last property on a no-through road with spectacular views of the valley and mountains. Total privacy in a quiet natural setting. Great building sites for view and privacy.
Page 10
10 | APRIL 2022 COUNTRY LIFE IN BCThank you for the excellent article regarding the mink ban in BC (Province sued over mink ban, March 2022). I am one of the mink farmers that has been affected by the permanent ban of mink breeding in BC. I wanted to share with you some information and clarify some misinformation that the Ministry of Agriculture is stating. In your article it said, "The province has not announced a compensation package for the mink farmers it's shutting down. 'Those decisions are yet to be made,' Lana Popham told Country life in BC. The matter is currently before the courts, so I'm not able to comment on that right now.'" Yet I have a letter addressed to our provincial association dated December 10, 2021 from deputy minister Tom Ethier stating there will be NO compensation for the mink farmers. I find Minister Popham's response to the public regarding the fact that the decision has not been made misleading at the least. This government from the beginning has misled the public regarding the BC mink farmers by saying they will "phase out" our industry and "transition" us to other forms of agriculture but in reality are leaving us with massive debt and no source of income. By banning the mink breeding this year, we will not produce a crop and are out of business. They said we may or may not be able to access federal support programs like AgriStability and AgriRecovery. However, even if we qualify, they are a one-time payout and would not even come close to the losses we will incur. But, in reality, both those programs are not intended for a situation such as ours where we are shut down permanently. The BC mink farmers have written numerous letters to Lana Popham and have yet to receive a response. Terry Engebretson Abbotsford Minister is misleadingLetters TEAM praised nfrom page 9MANUFACTURING A VARIETY OF ATTACHMENTS INCLUDING BRUSH MULCHERS | ROTARY BRUSH CUTTERS | PTO GENERATORS | AUGER DRIVESDRAINAGE PLOWS | TREE SPADES | TREE SAWS & SHEARS | BOOM MOWERS | TREE PULLERSFELLER BUNCHERS | EXCAVATOR ADAPTERS | SCREW SPLITTERS | TRENCHERS | STUMP GRINDERSBAUMALIGHT.COMAdair Sales & Marketing Company Inc. 306-773-0996 | info@adairreps.comresponse to producer inquiries and trying to connect them with resources. It is a frustrating experience that, overnight, I can no longer nd those resources." Black is in the midst of a communication campaign for a project that includes weekly emails to over a hundred recipients with links to CAI's resources. Those updates now contain broken links. "I expect they'll eventually be accessible again, but again, I haven't really heard of why an already published resource would disappear, before being fully transferred and accessible," she says. Despite the concerns, Duncan Barnett, a rancher and chair of the Climate Change Adaptation Review Committee, hopes for seamless program delivery to farmers and ranchers and ongoing government engagement with producers. YOURHelping YouHelping YouWEEKLY WEEKLY FARM FARM NEWSNEWS UPDATES UPDATES Sign up for FREE today."We are going to lose some key people who have been involved in that program and I really hope that the Ministry of Agriculture people are able to step up and continue to engage producers as well as [CAI] have been," he says. "There's been some really good research and extension and farm-based research, which is becoming very popular. We've been at the forefront of that, and it's been very successful and recognized nationally as being very successful. I sure hope we don't lose momentum on that." Black, who conducts work in the Northern Interior, notes the exceptional work the CAI team did. It brought a substantial amount of capacity and resources into regions and organizations to address climate change challenges. "The supports provided by the team enhanced the quality of work completed through the program (in my experience), and the resources developed were very valuable," she says. "This past year we've seen the extreme events linked to climate change – heat domes, drought and ooding. As we all work through the long process of recovery, I hope the critical work that the program has supported is able to continue and that producers are able to get the benets of the investment of resources that the program has been providing to the sector." As climate projects across the province and the current CAP agreement wrap up, the province says it will engage stakeholders on future directions. "[The focus] is shifting from project identication to broader stakeholder engagement on how the governments of Canada and BC can deliver regional climate adaptation programming to support BC producers under the next federal-provincial-territorial agreement (2023-2028)," the province said in a statement.
Page 11
COUNTRY LIFE IN BC APRIL 2022 | 11Marketing British Columbia to the World®www.landquest.comToll Free 1-866-558-LAND (5263)"The Source" for Oceanfront, Lakefront, Islands, Ranches, Resorts & Land in BC®FAMILY HOME / ESCAPEOONA RIVER ON PORCHER ISLANDBARNSTON ISLAND ACREAGECHILCOTIN'S WATERFRONT RESORT AND MOTEL - NIMPO LAKE - CHILCOTINLARGE COMMERCIAL SHOP ON 51 ACRES - WOSS, BCLARGE LAKEVIEW HOBBY FARMOOTSA LAKE, BCXH BUFFALO RANCH70 MILE HOUSE, BCSLACK TIDE INN COX BAY - TOFINO, BCLOG CABIN PUBSPENCES BRIDGE, BCRECREATIONAL OFF-GRID ACREAGECHRISTINA LAKE AREACAPSTONE MOUNTAIN197 ACRES - BARE LAND5 bedroom, 2,496 ft2 home on 4.88 acres in the island community of Oona River; a beautiful seaside community on Porcher and live year-round. $299,900Live a quiet rural lifestyle, minutes from the city  $1,095,000 $1,100,000    2          uses. $825,0002 main house fully   access. $469,000    distribution system. $3,359,000     sauna, hot tub and much more. $2,399,0002event venue 3 hrs from YVR, or … $688,000lines dissect land at the south end. $125,000     trees. Well suited for a home, hobby farm or retreat. $279,000MATT CAMERON 250-200-1199matt@landquest.comRICH OSBORNE 604-328-0848Personal Real Estate Corporationrich@landquest.comFAWN GUNDERSON 250-982-2314Personal Real Estate Corporationfawn@landquest.comKEVIN KITTMER 250-951-8631kevin@landquest.comSAM HODSON 604-809-2616Personal Real Estate Corporationsam@landquest.comCHASE WESTERSUND 778-927-6634Personal Real Estate Corporationchase@landquest.comJAMIE ZROBACK 1-604-483-1605 JASON ZROBACK 1-604-414-5577ROB GREENE 604-830-2020rob@landquest.comMATT CAMERON 250-200-1199matt@landquest.comJOHN ARMSTRONG 250-307-2100Personal Real Estate Corporationjohn@landquest.comVisit our WebsitePETER MITHAM ABBOTSFORD – With pandemic restrictions lifting and demand for chicken stabilizing, BC poultry producers are renewing their focus on biosecurity to stave o some well-known infectious diseases aecting their birds. "Biosecurity continues to be a challenge for us," BC Chicken Growers Association president Dale Krahn told growers at their annual general meeting in Abbotsford, March 1. Disease caps the now-familiar litany of aictions the industry faced in 2021, including heat domes, forest res, ooding, atmospheric rivers that strained supply chains, increasing costs and endangering human and animal safety. The risks have quite literally gone viral as 2022 dawns, with highly pathogenic avian inuenza and infectious laryngotracheitis (ILT) threatening ocks. "The world is ghting with avian inuenza," says Krahn, noting that Europe, Asia, Africa and the US have all seen signicant outbreaks, in some cases with heavy losses. Atlantic Canada has reported an outbreak, and the virus was also identied in an eagle in Delta. "Growers are reminded to continue their heightened biosecurity as we see health challenges approach BC," says Krahn. "So far the BC poultry industry has had success staving this o by following our stringent biosecurity measures, which are continually updated by the BC poultry biosecurity committee." BC's last signicant high-path AI outbreak was in the winter of 2014-2015. Krahn notes that strong biosecurity measures are important against a host of threats, including ILT. "We know that the most likely route by which [the ILT] virus moves is on the wind from contaminated manure, or infected ocks being moved," he says. "As a poultry industry, we need to work together to mitigate this disease." Rising costs Growers continue to struggle with high costs that have eliminated margins and pushed many into loss positions. Despite two previous rejections for the A-173 and A-174 production periods, BCCGA is claiming exceptional circumstances for the A-175 production period in the hope of winning a price for growers that reects production costs. "Growers must have their costs addressed in any pricing solution for our industry to have any chance of sustainability," says Krahn. "These cost increases, including feed, chicks, sawdust and energy costs – as the membership well knows – are far beyond what our growers can sustain, and for which the current BC pricing formula cannot account. These extraordinarily high costs are expected to continue for some time." Yet neither the BC Chicken Marketing Board nor BC Farm Industry Review Board have accepted the requests for adjustments to pricing, although BC Chicken has acknowledged the issue. BC Chicken chair Harvey Sasaki told growers that wheat futures were $65 a ton higher than corn in June 2021, but the dierential had increased to $177 a ton by December. Grower prices are based o corn, the dominant feed grain in Ontario, whereas BC growers use wheat. The huge dierential is a huge pain for growers, on top of ination-adjusted prices that are half what they were in the 1970s. "Dale described it best in his presentation," notes Sasaki. "That's a pretty tough bill to be able to accommodate in the light of all these other challenges." BC FIRB took a hands-o approach at the meeting, saying industry must settle the pricing question itself. "BC FIRB is looking to the chicken board, and the broiler hatching egg commission, as the rst-instance regulators in the broiler chicken industry," FIRB executive director Kirsten Pedersen told growers in response to questions. Krahn was clear that the situation was dire before 2021, and is now unsustainable. "We have said it consistently since 2016, and we continue to remind our governing bodies that chicken growers' returns are not sucient to meet their ever-increasing costs as they farm chicken," he says. "We are farming our depreciation, and it is unsustainable." But there was some good news for growers on the nancial front. BC Chicken returned $943,000 in surplus levies from 2019 to growers, and more could be forthcoming if challenges this year don't intervene. Chicken Farmers of Canada rst vice-chair Nick de Graaf, a Nova Scotia producer, also urged growers to register for federal support through the Poultry and Egg On-Farm Investment Program, which compensates growers for market access concessions made under the CP-TPP and CETA trade deals with Pacic Rim and EU trading partners. BC growers have access to $48 million under the program. "We don't have to ask for the actual funds right away but we must all register. The challenge is that some farmers still haven't," he says. "I understand that not all of us will need or want the funds until later, maybe several years later, but we must ask you to register now." Registration will show appreciation for and demonstrate the importance of government support for the sector. Chicken growers on watch for avian influenzaDisease pressure, low prices follow disastrous 2021 season
Page 12
12 | APRIL 2022 COUNTRY LIFE IN BCDustin Stadnyk CPA, CAChris Henderson CPA, CANathalie Merrill CPA, CMATOLL FREE 1-888-818-FARM | www.farmtax.caExpert farm taxation advice: • Purchase and sale of farms • Transfer of farms to children • Government subsidy programs • Preparation of farm tax returns • Use of $1,000,000 Capital Gains Exemptions Approved consultants for Government funding through BC Farm Business Advisory Services ProgramARMSTRONG 250-546-8665 | LUMBY 250-547-2118 | ENDERBY 250-838-7337View over 100 listings of farm properties at www.bcfarmandranch.comBC FARM & RANCH REALTY CORP.Buying or Selling a Farm or Acreage?GORD HOUWELING Cell: 604/793-8660GREG WALTON Cell: 604/864-1610Toll free 1-888-852-AGRI Call BC's First and Only Real Estate Office committed 100% to Agriculture!PROFESSIONAL SERVICESOrganicBC pursues structural reviewThe growth in demand for organic certication in BC means changes ahead for the association representing the sector. Backed by provincial funding, the rst phase of a structural review is due for completion by April. This could result in signicant changes for the association, which marks its 30th anniversary in 2023. There are now more than 600 organic growers and processors across the province that hold certication from one of the eight organizations aliated with OrganicBC, the umbrella group for the province's certifying bodies. "To ensure that OrganicBC remains eective, sustainable and able to meet these challenges, we are currently engaged in a review of the organization's structure, fees and services with a goal to best support farmers and continue strengthening our community," says OrganicBC executive director Eva-Lena Lang. "There could be some changes to our regulations, our policies. We'll see what comes out of it." While signicant change is intimidating, Lang hopes the review will reinvigorate the organization, which is entering the nal year of a ve-year strategic plan. One of the plan's goals is to maintain a strong, sustainable representative organization. "There's a lot of opportunity for something new and refreshing," says Lang, who notes that the organization has a strong foundation on which to move forward. "Thanks to a visionary and dedicated group of BC farmers, the organic community in BC successfully combined innovative science and experiential wisdom to develop eective production methods for all commodities," she says. "I'm really excited about what can come out of this review on how we will be moving forward." Details will be provided at OrganicBC's annual general meeting in April. — Peter Mitham Online bull sale exceeds expectations COVID-19 has inltrated just about every aspect of life and bull sales are no exception. Over the past two years, most sales have transitioned from in-person (and heavy to social) events to a combination of live and virtual or, in the case of Richardson Ranch, online only. "Instead of selling our bulls scattered over ve dierent venues in the year," says Don Richardson, "we made the decision to market all our bulls online." Richardson catalogued 14 bulls from the ranch's purebred Hereford herd based on Haida Gwaii for its March 4-5 sale. All spent the winter on feed at Olds College as an extension of the Residual Feed Intake (RFI) trials started in 2011. Data collected includes weight, hip height and ultrasound results for backfat thickness, ribeye area and marbling score and are then packaged with EPD data. And it's that extra eort that pays o. Richardson reports that 13 lots averaged over $5,100 each, with the high-selling two-year-old, Tlell 6153 Headmaster 5H, selling for $8,250 to Warren Point Pastoral Company in Queensland, Australia. The ranch will arrange to export Ag Briefs EDITED BY PETER MITHAMsemen to breed 100 heifers this fall. A second two-year-old will earn his keep closer to home. Lot 11 sold to Telegraph Trail Ranch in Punchaw for $7,250. Telegraph Trail Ranch also paid top dollar for the high-selling yearling bull, Lot 6. Tlell 504C Red Duca 17J sold for $8,000. Two other yearlings sold for $5,750 each – one will stay in Alberta, heading to the Chittick Family Hereford Ranch in Mayerthorpe, and another will be heading back to BC to J Bar J Livestock in 100 Mile House. The sale grossed $66,400. — Cathy Glover Groundwater deadline passes Thousands of non-domestic groundwater users in BC are now drawing water illegally. March 1 marked the deadline for well owners to submit applications for licences that would have secured their historic water rights and given them priority to use groundwater in the event of restrictions during dry seasons. The province implemented the new regime in 2016, and gave owners three extensions to give them time to navigate what many saw as a complicated and frustrating process. But with the passing of the March 1 deadline, owners who didn't apply for a licence – more than 12,000, according to the province – found themselves drawing water illegally. Due to the incomplete nature of provincial records, some observers say the number could be much higher. But there won't be any immediate consequences for owners that aren't in compliance, the BC Ministry of Forests, Lands, Natural Resource Operations and Rural Development told Country Life in BC. "The government will continue to focus on the importance of regulating this important resource and supporting people in completing their application," a statement from the ministry says. "We are not going to be unreasonable with those who are not in compliance." Instead, the ministry is urging users to complete their applications, noting that a last-minute push over the nal four weeks before the deadline garnered more than 3,000 additional applications from well owners. "The additional sta and resources we have put in place are helping people to complete their application," a ministry spokesperson said. But well owners who did not apply by March 1 now face the prospect of being treated as new users. This means their applications will face greater scrutiny, higher costs, and they will not enjoy their historic priority. Users who continue to delay their applications will fall further behind in priority jeopardizing access to water during periods of drought. The province originally expected to licence groundwater withdrawals from an estimated 20,000 non-domestic wells. To date the agriculture sector has seen the single-largest rate of compliance with the new regime, underscoring water's importance to operations. — Peter Mitham Farm and Rural Residential Properties in the Peace Country are our specialtyAnne H. ClaytonMBA, AACI P App, RIAppraiserJudi LeemingBHE, AIC CandidateAppraiser250.782.1088info@aspengrovepropertyservices.caCALL FOR AN ESTIMATE LARRY 604.209.5523 TROY 604.209.5524 TRI-WAY FARMS LASER LEVELLING LTD.IMPROVED DRAINAGE UNIFORM GERMINATION UNIFORM IRRIGATION FAST, ACCURATE SURVEYING INCREASE CROP YIELDS We service all of Southern BC
Page 13
COUNTRY LIFE IN BC APRIL 2022 | 13Turkeys emerge from 2021 in a strong position Production increase planned after a challenging year"Serving and Supporting the Community Together"PROVINCIALLY INSPECTED ABATTOIR B.C. #34ALL SIZES MARKET GOATS & LAMBS604.465.4752 (Ext 105)FAX 604.465.4744 ashiq@meadowvalleymeats.comPETER MITHAM ABBOTSFORD – Turkey growers ended 2021 on a high note, despite the challenges of weather, disease and rising feed costs. Nationally, turkey stocks fell in 2021 even as domestic consumption decreased 6.6% to 133.4 million kg. Stocks ended the year at 9.2 million kg, less than half what they were two years ago, and bringing supply more in line with demand. "The industry started to see improvements with the change in COVID rules in the food sector and retail sales strengthening," Turkey Farmers of Canada chair Darren Ference told growers at the BC Turkey Marketing Board annual general meeting on March 9. "The year ended with stronger wholesale pricing and very trim frozen inventories. I feel we are in a good place as a sector." This has resulted in the national system raising its quota allocation to 143 million kg for the coming year. In BC, that translates to a stronger allocation despite the signicant challenges producers faced meeting targets last year. While producers felt no impacts from the ongoing pandemic, BC Turkey general manager Michel Benoit reported that farmers lost an estimated $2 million in farmgate revenue as a result of the extreme heat at the end of June. Six weeks after the heat dome, in mid August, nine outbreaks of blackhead were reported that cost growers another $1 million. Another round of losses BC Turkey Marketing Board general manager Michel Benoit was praised for his dedicated work on behalf of the sector over the past 15 years during the board's annual general meeting, March 9. BC's director at Turkey Farmers of Canada, Shawn Heppell, said Benoit's ability to speak both English and French helped build bridges within the industry that facilitated national collaboration. "All that you brought us at the national organization was invaluable," said Heppell, addressing Benoit at the meeting. "It's pretty signicant what you've given us over the years." Benoit's integrity and the respect he commanded among his peers and co-workers stood out for Heppell. "You always conducted yourself with poise and dignity," he said. TFC executive director Phil Boyd agreed. "Michel's colleagues have had nothing but good to say," he said. "You've been one solid, guiding light for the industry" BC Turkey Association president Steve Heppell said Benoit won the respect of growers despite "not having skin in the game." Benoit is leaving BC Turkey to become CEO of United Flower Growers Co-operative Association, a new position that separates leadership of the co-op from that of its parent, United Flower Grower Holdings Inc. Benoit recapped his 15-year run with BC Turkey noting that the past six years had been dicult ones for growers. Avian inuenza, COVID-19 and then the extreme weather events of the past year had challenged both individual farms and the industry as a whole. Cooperation within the industry is necessary to withstand challenges from outside, he noted. Pointing to the critical nature of diking infrastructure, he said growers need to take steps to protect their interests. Strategic planning must account for the threats, not just the opportunities. "I don't think we can trust government to do it for us," he said. When farmers work together, great things are possible. "The resilience and determination of farmers is outstanding," he said, noting last fall's ood response. Benoit expressed gratitude for the chance to work with the sector. "I will miss you, and thank you very much," he said. A replacement has not been announced. —Peter Mithamfollowed in November, when four farms were ooded and a further 2% of the sector's annual production was lost. All told, approximately 800,000 kg of production was impacted, keeping growers, procurement managers and marketing board sta busy trying to manage the shortfall. "The combination of the heat dome, blackhead losses and the ood put a severe stress on our ability to grow all the turkey allocated to the province," said Benoit in his report. Ultimately, 410,000 kg of production was leased out to Alberta and Saskatchewan producers, who stepped up to produce what BC could not. While broiler producers continue to be signicantly impacted by high feed costs, turkey producers dodged that bullet. While the situation looked dire last fall, negotiations with processors resulted in pricing that improved producer margins and avoid pushing them into unsustainable territory. With production increasing and falling in line with demand, keynote speaker Cameron Wilson of RBC Dominion Securities in Abbotsford expressed condence in the sector as he reviewed the economic outlook. "Turkey is a great protein," he says. "I think you're going to see more and more demand for it." YOURHelping YouOURng Young YouDon't forget to RENEW your subscription toCountry Lifein BCBenoit trades turkeys for flowersMichel Benoit
Page 14
14 | APRIL 2022 COUNTRY LIFE IN BCDREAM. GROW. THRIVE.You have a visionWe can help you achieve itIf you're a farmer under 40, we have the financing and resources to help move your business forward.Learn more at fcc.ca/YoungFarmer
Page 15
COUNTRY LIFE IN BC APRIL 2022 | 15Agri-industry project gets green light from ALCFeed mill prepares to break ground near ArmstrongBrothers Jon and Todd Couch will begin construction of a new feed mill in Spallumcheen this year. JACKIE PEARASE JACKIE PEARASE SPALLUMCHEEN – Construction of a feed mill on agricultural land is the rst project in a plan by the Township of Spallumcheen to establish an agri-industrial hub. The township successfully applied to the Agricultural Land Commission to allow Okanagan Valley Feeds Ltd. (OVF) to build and operate a feed mill on agricultural land along Hwy 97A. The application also included adding 1,500 square metres of gravel ll on about 1.2 hectares and subdividing the 34.3-hectare property into a 2.5-hectare lot for the feed mill and a 31.8-hectare remainder lot. The municipality received the ALC decision in early February 2021 and the sale of ve acres to OVF was nalized in September. "I think the ALC as a whole was very skeptical," says Mayor Christine Fraser. "We were very adamant with the ALC that we are one of the few municipalities in the province that actually put more into the ALR than we have taken out in the last 10 years and they need to give us a shot. Let us prove ourselves with this one and we'll show you we're going to do exactly what we say we're going to do." Shopping around OVF owners Jon and Todd Couch had been shopping around the North Okanagan for land to establish a feed mill without much luck. Spallumcheen councillor Gerry Popo, a fourth-generation farmer well known in the community, encouraged the brothers to explore his municipality. "If you don't try it, it ain't going to happen," says Popo. Todd Couch says Spallumcheen council welcomed OVF's idea, found an ideal property with highway and rail access and worked through the red tape with them, even submitting the ALC application to get the ball rolling. "We wanted to be with a municipal government who understood what we were See TOWNSHIP on next page oYOURHelping YouHelping YouWEEKLY WEEKLY FARM FARM NEWSNEWS UPDATES UPDATES Sign up for FREE today.John Glazema778.201.2474agri@bcfarmandranch.comGeorgia Clement250.378.1654georgiaclement_2@hotmail.comSusanne Walton604.309.9398sw.bcfr@gmail.comGord Houweling - PREC604.793.8660gordhouweling@gmail.comRajin Gill - PREC778.982.4008rajinrealtor@gmail.comGordie Blair250.517.0557gt.blair@live.caVeer Malhi - PREC778.241.7451virbinder77@gmail.comGordon Aikema250.306.1580gordon@bcfarmandranch.comSteve Campbell250.550.4321s.campbell.sells@gmail.comEmma Rose604.614.9825emma@bcfarmandranch.comBarry Brown-John250.342.5245b.brownjohn@gmail.comRobbi-layne Robertson250.453.9774rlr@bcfarmandranch.comTravis Walton604.226.9317travisjwalton@outlook.comGreg Walton604.864.1610greg@bcfarmandranch.comAlec Yun778.859.8011alecyun@icloud.comAmanda Leclair604.833.1594amandaleclair@live.comRuth Meehan604.309.2295ruthma.meehan@gmail.comwww.bcfarmandranch.com info@bcfarmandranch.com | 604-852-1180 | 1-888-852-AGRI (2474)Professional experience, industry connections and rst hand farming knowledge, our team gets the job done!
Page 16
16 | APRIL 2022 COUNTRY LIFE IN BCRoost Solar is committed to the highest level of quality, customer service and technical expertise. We are a licensed electrical contractor with Red Seal Journeyman electricians, and offer more than 15 years experience in solar.Contact us today for a free solar consultation and estimate.tf 1.877.707.5042 | 250.307.5042www.roostsolar.com | info@roostsolar.comGrid-connected | O-grid systems | Back-up power | Standby generatorsTOWNSHIP support crucial in feed mill location nfrom page 15doing and was behind us," he explains, noting that Spallumcheen is populated by small farms and has a specic agricultural focus. The brothers have plans ready for what they see as a much-needed amenity for the local agricultural community and beyond. They say current production capacity is pressed with just one feed mill producing pelletized feed in the valley. "We feel there's a need for competition. We're going to ll that void," says Jon. "The technology going into this mill is 21st century, not 20th. It's state-of-the-art. It makes an incredibly safe, quality feed – cleaned, sized, everything." The mill uses a roller crusher (rather than a hammer-mill) that will reduce power consumption by an average of 40-50%. The grinding system also auto-gaps the rollers, accommodating dierent grains and grinds automatically, thus ending the need to stop the machine to remove and replace screens as with old technology. "That's a huge technological advantage," noted Jon. "I've made over a million tons of feed in my life. Humans err; computers don't." A three-ton ribbon paddle mixer will reduce mixing time while producing a more consistent end product. A double micro-system for adding specialty ingredients and vitamins eases production of a quality, nutritionally balanced product. OVF will have one of the "most robust" pellet mills in the industry with a multiple-port steam injection system to reduce bacteria and a vertical cooling system. The feed mill includes a truck scale, milling equipment, storage bins and receiving pits. There will also be a warehouse for product, and agricultural supplies and feed to be sold on site. With two levels of parking and pavement, the entire site will occupy 2.5 acres, with the remainder being planted in wheat. OVF will lease the adjacent eld for growing wheat and seek out local grain sources for its product. The brothers bring a wealth of lived knowledge to the project. The Couch family established Sure Crop Feeds in Grindrod in 1957 and sold the business in 1987. Jon worked at feed mills until he was 34 then took on leadership roles in oil and gas industry construction projects. Todd and his family continued in the dairy industry and currently operate a specialty spraying, fertilizer and seed sales business. They assessed the need for an additional feed mill in the region by speaking with other farmers, then put their skills to work. "We have an incredible heart for animals and our community; it's just the way Couches are," says Jon. "When you see a need and you can do it, it's your responsibility to do it." OVF will produce feed for "every livestock species you can think of," with a focus on the local market but an eye to lling a need into the Interior and Columbia Basin. "We've designed the mill to handle everything in the valley if we can. If the need ever arises," says Jon. "We're going to be going after the small farmer in particular. We felt that when our family had Sure Crop, the small farmer was a huge factor in the success of that mill. We think they're being under-serviced right now in the area and we're going after that." "No oence to the people servicing those markets now but I think there's an opportunity to do it dierently," adds Todd. Open ears The township is interested in learning what other agri-industry might be included in its South Spallumcheen Industrial Area on the west side of Highways 97 and 97A between Armstrong and Vernon. It initiated a survey in late 2021 which was extended to March 8 that seeks input on the idea of converting the ALR property it owns into agricultural-based industrial use. The mayor says over 100 survey responses are expected. She predicts a positive response for providing more agri-industry on the property. She says the kinds of services to be considered must be specic to agriculture, including food processing, meat processing, cold storage and packinghouses. "The ALC has been really clear that it needs to be not – 'if you build it, they will come' – it needs to be there are people who want to build something very specic and we bring that forward as an application and then they'll make their decision on a one-by-one basis. Just like they did with Okanagan Valley Feeds," says Fraser. Hub potential The Couches are excited about the development of an agri-industrial hub and what it could mean for local agriculture. "I tip my cap to (the ALC) that they are willing to do something that they were unwilling to do in the past: take a piece of ALR land and turn it into agricultural industry. It's a special thing; that in itself is momentous," says Jon. "It's amazing what a business like this can grow into," adds Todd. "In ve years in this valley, who knows what will be happening with agriculture. We want to be able to roll and adapt with that." With development permit applications underway, OVF expects to open in early 2023, approximately 12 months after breaking ground this spring. All rights reserved. Case IH is a trademark registered in the United States and many other countries, owned by or licensed to CNH Industrial N.V., its subsidiaries or afliates. www.caseih.comREDEFINING CLUTCH TIME.The drive for productivity never ends. Neither does a Maxxum® series tractor. These workhorses move from eldwork to daily chores with ease — thanks to features such as the new ActiveClutch II™. It gives you the power to slow or even stop the tractor just by depressing the brake pedals, all without touching the clutch. To take productivity to the next level, visit caseih.com/activedrive.CONTACT US TODAY!Dealer Name 1 Dealer Name 2000.000.0000www.dealer_url.comDealer Address 1 Dealer Address 2 City, State Zip860 Riverside Rd. Abbotsford V2S 7P6 604-864-2273 www.caliberequipment.ca
Page 17
COUNTRY LIFE IN BC APRIL 2022 | 17TOM WALKER SUMMERLAND – There was a positive buzz to the BC Cherry Association's annual general meeting February 23-24. A healthy bank account, expanding market opportunities and a strong research program all point to continued success for association members. Despite the challenges of the last three growing seasons with frost, rain and, in particular, last year's heat dome, cherry growers are a resilient group, says BCCA president Sukhpaul Bal. "We bear down as an industry," says Bal. "Cherry growers adapt and the association plays a strong support role." The two-day event included a business meeting, committee reports, research updates and a variety of guest presentations. Like many associations, BCCA hasn't spent as much money over the last two years thanks to restrictions on events. But this means the association is in a position to improve and build on the programs that it has, says treasurer Erin Carlson. "We will spend a half-million dollars this year if we do everything that we have planned," she notes. Plans include continuing to support current and new export programs and ongoing development to commercialize new cherry varieties. Work at the Summerland Research and Development Centre in growing, harvesting and shipping techniques will continue. A recent priority is expanded monitoring for Little Cherry Virus, a concern that has not yet impacted BC growers. The association also hopes to be able to return to international trade events such as Fruit Logistica and Fruit Attraction, the latter to be held in Spain this fall. BC growers continue to nd success with exports. BC cherries are currently sold to China, Japan, the EU, UK, Thailand and the US. Richard Resilient cherry growers target exportsDespite extreme weather, growers are optimisticIsaacs of Global Fruit in Creston gave an update on new markets in his market access report. "South Korea is our next big opportunity," he says. "The pilot program planned for 2021 did not go ahead, but we are close to wording the nal agreement for this year." Isaacs notes that South Korea will not require fumigation or cold treatments before cherries are shipped, both of which have signicant impacts on the fruit's shipping quality and hence the price that growers achieve. The export pilot will involve two producers and two packinghouses this season. "The South Koreans want to have inspectors here in BC to monitor the process, and if not, then they will develop virtual inspections," Isaacs explains. "We are continuing to make steps forward with India," he continues. "They still require that the cherries be fumigated on arrival but as an alternative, we hope to be able to develop a systems-based approach to pest monitoring and control." A positive development in 2021 was the EU reducing maximum residue limits. "We jumped," Isaacs says. "We can now send out cherries to France again, which used to be a very good market for us." Mexico is the next market on BC's radar. "Washington and California send a fair amount of cherries to Mexico and it is a logical next step for us," Isaacs says. Developing the domestic market, particularly in Ontario, will be the focus of a media campaign this year to increase consumer demand. Canada is the largest market for US cherries, and domestic producers see opportunities to increase their share. "Canada is our largest market opportunity in the coming years," says Isaacs. "We cannot ignore the market we have right on our doorstep." The heat dome in June 2021 was the latest curve ball cherry producers faced. Matt Whiting of Washington State University presented on the physiological eects of heat on cherries. "With the increased warming trend we are seeing in the Pacic Northwest, this might become an annual event," he notes. Whiting cautioned that all plant processes are aected by temperature and there are a number of time factors that will determine the eect that a heat event will have on a plant. "The stage of the growing season at which the heat occurred, the length of the heat event, how quickly the temperature rose and fell and the temperature history throughout the season are all factors that will determine how your cherries are impacted," he explains. Whiting says there is no known correlation between heat and cherry rmness or stem retention, two qualities that consumers seek. However, he says much more research needs to be done. Don't forget to RENEW yourrget WSubscription toCountry Life in BCINSECTICIDEMultiple modes of action on your toughest pests. · Broad-spectrum, rapid insect knock-down control combined with extended residual control· Controls all damaging stages of target insects, including eggs, immatures and adults· Easy-to-use, pre-formulated mixture® CORMORAN is a registered trademark of ADAMA Agricultural Solutions Canada Ltd. Always read and follow pesticide label directions. © 2021 ADAMA Agricultural Solutions Canada Ltd.CORMORAN® INSECTICIDESerious Insect Protection
Page 18
18 | APRIL 2022 COUNTRY LIFE IN BCDivisions of First West Credit UnionBank. Borrow. Insure. Invest.THE HARDWORK ONLY OTHER FARMERS UNDERSTAND IF IT'S WORTH IT TO YOU, IT'S WORTH IT TO US.Contact our agribusiness specialists at agribusiness@rstwestcu.ca
Page 19
COUNTRY LIFE IN BC APRIL 2022 | 19Labour shortage has abattoirs hogtiedProducers explore options to ensure business continuityThe Sterritt family of Grand View Family Farm in Salmon Arm has a good working relationship with Rocana Meats to process their hogs. SUBMITTEDemail: audreycifca@gmail.comemail: okanaganfeeders@gmail.com308 St. Laurent Avenue Quesnel, B.C. V2J 5A3Producers can apply for an advance on calves, yearlings, lambs, bison, forage and grain up to $1,000,000.00 with the rst $100,000.00 being interest free. Plus, interest relief through the Advance Payments Program is available to association members on their feeder cattle purchases.Irrigation Pipe | Traveling Gun/Hose ReelsPivots | Pumps | Power UnitsCall for a quote on Irrigation Design and our current inventory of new & used Irrigation Equipment.Several used 1,200ft pivots & used hose reels available now.TALK TO BROCK 250.319.3044Dynamic Irrigation beyedynamic@gmail.com KATE AYERS SALMON ARM – A lack of skilled workers is squeezing meat processing capacity in BC, forcing some small and medium-sized livestock operations to book slaughter dates a year out – and even then, spots aren't guaranteed. When their processor removed pig slaughter dates from its calendar, rst-generation farmers Chelsea and James Keenan of Keenan Family Farms in Salmon Arm had to get creative. The family markets pasture-raise Certied Animal Welfare approved pork through farmers markets and an online store. They process around 150 pigs each year, about 10 to 12 animals each month. "We were taking them to Rangeland Meats in Heey Creek, who just notied us in January that they're no longer processing pigs," says Chelsea. "This is a huge thing. Essentially it shuts our business down if we don't have slaughter dates. We had already booked our slaughter dates through to the end of 2022." The Keenans had to act fast to get dates booked for future litters. "We were able to get some of our pigs into another slaughter plant in Kamloops, Kam Lake-View Meats Ltd.," Keenan says. But moving forward, the Keenans are exploring options that could include setting up an on-farm butcher shop and applying for one of the province's new Farmgate Plus licences to process cull animals. "That being said, we've always skirted these slaughter and butcher issues because we're booked all the way through until 2023. We had a great relationship with Rangeland, but they can only do so much. We were all of sudden left in a position where we were stuck," says Keenan. "It seems like you're either a hobby farmer or you have to go bigger. There's not a lot of space for the middle guy. You have to do it full-time, get your own butcher, or just do it as a hobby." Rangeland regrets having to scratch pork slaughter dates, but the work is not feasible for the business at this time. "It's tough. We feel horribly having to cancel on [producers] and stop with the pigs," says co-owner Anita Devick, whose family also operates Devick Ranch. "As producers, we've been in that position. We know what it's like to have animals that are done but you can't get them in anywhere." Unfortunately, the largest piece of the equipment in the abattoir, the pig dehairer, broke down. "It's very dicult to get parts or get it xed at this point in time. Parts take forever to get here," says Devick. "Basically, we'd either have to completely rebuild it or buy new. It's too expensive for us." While equipment failure has caused business disruptions, labour is another issue the provincially inspected abattoir faces. Labour woes "We've found it very dicult to nd enough people to help us," Devick says. "It's one of the biggest roadblocks of this whole thing. How can we even maintain let alone grow? We can only nd so many people who can work." See RED on next page oYOURHelping YouOURng Young YouDon't forget to RENEW your subscription toCountry Lifein BC
Page 20
20 | APRIL 2022 COUNTRY LIFE IN BCRED meat slaughter is dropping nfrom page 19Rangeland Meats doesn't kill every day, but workers cut and wrap every day during the week and on weekends if they're available. "Since COVID, we've been able to dip our toes into some retail stores and restaurants Producer Check-o Supports Beef Industry Projects.www.cattlefund.net 1.877.688.2333www.cattlefund.net 1.877.688.2333and other grocery chains locally. That's own o the handle in demand there. We could absolutely grow. There is no question," Devick says. "We could build another plant and be just as busy with that one as well. The demand is crazy." In Kelowna, Dave Semmelink of Lentelus Farms also cites labour as a challenge for his provincially inspected Class A facility. It's not yet fully booked but if it was, the labour crunch would be even more signicant for him than it already is. "Finding sta is tricky. Basically, it's me and one other person and I'm looking for somebody else," Semmelink says. While demand for local food has increased since the onset of the pandemic, meat processing numbers have not followed a steady upward trend in BC. In 2020, red meat slaughter in provincially inspected facilities increased from the year prior for cattle, hogs, and lamb and sheep by 17%, 6% and 8%, respectively. In 2021, cattle processing was at versus the previous year while hogs declined 7.2% and lambs and sheep fell 4.6%. Fortunately for Deb Sterritt of Grand View Family Farm in Salmon Arm, her family has been able to access processing since it started marketing its pasture-raised Kunekune pigs. She attributes this favourable situation to their breed choice, clientele and the exibility of Rocana Meats. "The ability for us to process locally means that we could take our pigs 15 minutes to the facility rather than what some farmers are having to do, which is [drive] hours," says Sterritt. "We've worked with [Rocana] and they've been very accommodating for us. I haven't had the situation where I have to book a year in advance." Rocana Meats does not oer cut and wrap, but the restaurants that Sterritt works with prefer to buy the whole carcass. Quails' Gate Estate Winery bought all of Grand View's nine processed pigs last year. The family looks to process at least 50 pigs this year and hope to sell their products to eight restaurants by the end of the year. "Cut and wrap is expensive so selling by the carcass makes it better for the restaurants because they want to be able to use nose to tail," Sterritt says. This business model requires strategic planning for all parties involved. "If I process a pig, I have to deliver it right away. There's a lot of coordination between the restaurant, ourselves and the processor," she notes. While Sterritt has not faced any processing problems, she's well aware of the risks involved in being a small-scale meat producer. And as a new farmer, she's still learning about production timelines and diet optimization. "Ideally, they could be processed on-farm but that's not an area we want to get into at all because we are so close to Rocana," Sterritt says. "I would like to see mobile processing facilities. It takes time to travel, load and unload," Sterritt says. She argues that it's hard for livestock farmers to grow their businesses if they cannot secure processing. Through a province-wide sector survey, the Small-Scale Meat Producers Association conrmed that access to slaughter is the number one challenge small-scale livestock producers face. In addition to protability and the lack of access to slaughter, producers named access to cut-and-wrap facilities, limited personal or sta time, access to land base and availability of insurance as signicant challenges.
Page 21
COUNTRY LIFE IN BC APRIL 2022 | 21No progress on livestock watering regulationsDiscussions ended a year ago, leaving ranchers waitingPROVINCIAL LIVESTOCK FENCING PROGRAMApplications Close: August 31, 2022View program updates at cattlemen.bc.ca/fencing.htmToll Free: 1.866.398.2848email: fencebc@cattlemen.bc.ca In partnership with:TOM WALKER KAMLOOPS – It's been a year since the provincial government ceased discussion on proposed livestock watering regulations, but BC ranchers aren't celebrating the anniversary. "Government has completely dropped the ball on this," says Bob Storey, a Smithers-area rancher and member of the water subcommittee of the BC Cattlemen's Association. "We gave them pushback on their proposals but they were not open to a whole lot of suggestions and, frankly, I don't think they know what to do next." BCCA's water subcommittee has been working on the regulations for more than a decade and Storey says the process has been immensely frustrating. "(Government staff) don't seem to be there to learn about our situation, they seem to be there to tell us the way it is going to be," he says. Storey adds that no one has actually come out from Victoria to talk to ranchers and learn first-hand what they are facing. In January 2018, the government released an intentions paper with one of the stated objectives being to "allow the diversion and use of water from a stream or aquifier for livestock watering without requiring an authorization." A document summarizing feedback followed in September 2019. In July 2020, a livestock watering policy was released that proposed requiring most livestock operations to register or license their water use, in addition to licensing wells. Low-volume users on private land (20 cattle or less) will not be regulated. However, if they access Crown land, their water use must be registered. Producers such as Storey running up to 200 animals on range (he breeds 120 cows a year) need to be registered and pay a water rental fee. Operations of more than 200 animals must complete a longer, formal licence application which will involve consideration of environmental flow needs and consultation with Indigenous governments and also pay to rent water. Registration and licensing would provide the holder with first in time, first in right privileges, but BCCA's position is that registering or licensing should be voluntary. A province-wide approach doesn't sit well with cattlemen. "Our members in the Nicola Valley have a totally different situation than I do," explains Storey. "I've got no shortage of water. When my cattle go up on range they pass numerous streams that come out of the alpine, but around Merritt you would want to license your water to be sure that you have some FITFIR." Storey says that the idea is a non-starter with many ranchers. "Certainly the people I talk to in my area wouldn't be licensing their livestock water," he says. Ranchers can't understand why any regulation of water is not tied in with their range applications. "We cannot turn our cows out if there is no water," says Storey. "The grazing permit and the water use should be considered together when determining the AUMs (animal unit months) that the range can handle." The status of dugouts is currently unknown. The intentions paper addressed them, noting that authorization is not required for existing or new dugouts holding less than 2,500 cubic metres of water, and with a dam or berm less than two metres. But they're absent from the latest proposed policy and the committee has not had an update on their status. "Dugouts are the lifeblood of the ranching community," says Storey. "I've got one on my own property that was built by my grandfather in 1921." Storey says dugouts have many benefits. "They provide for all sorts of wildlife, store water in case of a shortage and we have had helicopters bucketing out of them during wildfires," he says. "Most of them collect surface run-off. Why would anyone consider licensing that?" Storey believes there's a marked difference between the tone of the 2018 intentions paper and the 2020 proposed policy which appears to be influenced by the consultation feedback. "A lot of the issue is not around water security," he says. "It's about what comes out of the other end of the cow. There are lots of people out there who would like to put a stop to livestock ranching altogether." Have you herd? VBP+ TrainingWorkshops or Webinarsare Free!Looking to learn moreabout how to raisehealthy beef cattle?Open to producers of allsizes!free to all beef producersin bc!Soakin' up the sun Spring calving starts early at Clifton Ranch in Keremeos, but when you have 500 mother cows you need an early start. This Hereford/Angus cross bull calf was born February 11, and was taking life easy in mid-March as daylight hours lengthened. CLIFTON RANCH
Page 22
22 | APRIL 2022 COUNTRY LIFE IN BCOpposition Critic outlines priorities for BC AgricultureTo say the last two years have been dicult for farmers and ranchers across British Columbia would be an understatement. Between record-breaking high temperatures last summer, blazing wildres, an atmospheric river that completely devastated farms and ranches communities including Sumas Prairie, Merritt, and Princeton, as well as the steady rise in operating costs, this has been one of the most challenging periods for British Columbia's agriculture industry. In the midst of all this hardship, as both the Ocial Opposition critic for Agriculture and Food and MLA for Delta South, I reected on how I could oer my support to impacted farmers and ranchers. During the unprecedented heat dome, I quickly contacted several farmers in my constituency to organize hay donations to the Kamloops emergency evacuation centre for displaced animals. I am grateful for the support of Delta farmers and J. Wolzen Trucking for making three donations, totalling 1000 hay bales, possible. While British Columbia is a large province geographically, I believe we can all nd a way to lend a helping hand to those who need it. When the atmospheric river devastated farms in November, I jumped at the earliest opportunity to survey the damage high above the area via helicopter. I accompanied poultry producers from the Fraser Valley as well as the agriculture minister in two separate tours, to meet with farmers and fully grasp the massive impact of the ooding on their homes, barns, animals, crops, and farm equipment. As a former dairy farmer, myself, I know that in the face of adversity, farmers in British Columbia remain resilient and determined to return to the work they love doing. I also recognize this would not be possible without the farmers, neighbours, gurdwaras, volunteers, emergency personnel, and local heroes who stepped up to the plate to help producers evacuate to higher ground and provide them with necessary supplies. I want all of them to know their collective acts of heroism will never be forgotten. In my role as Ocial Opposition critic, I will be honest in my disappointment over the slow rollout of emergency aid to farmers and ranchers in distress. However, when the federal and provincial governments nally came forward with their joint $228 million Agri-Recovery package, I was pleased to see such a large sum of money put forward to support farmers and ranchers. ough it is still early in the application process, I am closely monitoring how quickly money is getting out the door and into the hands of farmers who desperately need it. is NDP government has struggled to disperse money through their COVID-19 economic recovery packages over the course of the pandemic, so I will work to hold the minister to her promise that money will get to farmers in a timely manner so they can fully restore their homes, farms, crops, and equipment. Outside of our province's recent climate disasters, I want to touch on the aordability of farming in British Columbia. Without question, the COVID-19 pandemic, rising ination, and the ongoing war in Ukraine are all contributing to the rising costs of equipment, feed, fertilizer, fuel, and transportation. However, this NDP government has also played a signicant role in the growing unaordability of farming. Between the introduction of the Employers' Health Tax, routine increases to British Columbia's minimum wage, increased carbon taxes without revenue neutrality, rising fuel prices, and higher insurance premiums, the NDP are making it more dicult for farm operations to be viable. Shifting the tax burden onto growers all at once does not support a strong agriculture sector, and it certainly does not support British Columbians who are grappling with rising food prices at their local grocery stores. I have consistently called for nancial incentives and tax relief for farmers such as carbon tax rebates, tax credits for farmers transitioning to electric farm equipment, and the expansion of the food donation tax credit. I believe these are prudent measures that would make life more aordable for farmers in the future and help those currently struggling to turn a prot. What is also concerning to me is the ballooning government bureaucracy that is hurting farmers. Most recently, the introduction of the Mandatory Entry Level Training (MELT) regulations to operate farm equipment outside a farm's perimeter has further burdened farmers trying to put food on the tables of British Columbians. How can the NDP possibly expect ood-aected farmers to complete a 140-hour long course to obtain a class 1 license, just so they can drive a silage truck? I certainly support the safe operation of complex machinery, but the minister must consider the time commitment and additional pressure this puts on farmers already stretched to their maximum. Is a 140-hour long course to drive a tractor down the road to the next eld going to be required next? ere are many more pressing issues facing the agriculture industry and they also deserve immediate attention by the agriculture minister. I will take every opportunity to remind the minister of her responsibility to ensure farming is aordable and viable for both the current and next generation of farmers in British Columbia. Looking ahead, I wish every farmer and rancher across the province much success with planting and look forward to touring your communities very soon. Paid communicationIan Paton MLA for Delta South 604-940-7930 ian.paton.MLA@leg.bc.caPETER MITHAM VERNON – The organic sector will be a key partner as the province moves forward with its vision for regenerative agriculture, says the director of the initiative. Recently transferred from her work overseeing industry development for the BC Ministry of Agriculture and Food, Georgina Beyers outlined the province's vision for regenerative agriculture and agritech as part of a panel at the annual conference of OrganicBC. "We see agritech as a fundamental component in enabling how we adopt and transition to regenerative practices on a larger scale," she says. "I look forward to the ministry's continued work and partnership with OrganicBC as we move forward with establishing our strategic approach to increase the adoption of or transition to regenerative practices, and supporting the adoption and demonstration of agritech solutions as a real enabler of how we get there." Three principles Three principles guide the ministry's ambitions for regenerative agriculture: responding to climate change, strengthening food security, and increasing farm protability and productivity. The ministry's work – and its partnership with the organic sector – will emphasize crop diversication; increasing the adoption of new varieties, and particularly seed production; increasing biodiversity; enhancing bee health and pollination; and regenerative grazing management for livestock. "The agritech component comes in as a foundational enabler of how we collectively achieve principles such as these," says Beyers. She gave the example of a pilot project that employs GPS collars on cattle for wildre management. It also allows ranchers to move cattle around with a few taps on a phone in the interests of regenerative grazing practices. While rotational grazing is laudable, panel moderator Rebecca Kneen urged producers to think carefully about how the conversation around regenerative agriculture is being reframed. Regenerative agriculture is often equated with enhancing soil health and sequestering carbon. But the benets are much broader. "Regenerative agriculture has to encompass way more than that. The complex ecological systems that we work with, they demand more complex responses," says Kneen. Land costs Unfortunately, the high cost of land and temporary nature of tenure works against long-term regeneration. "We're paying too much for land, which is forcing us to do unsustainable practices to make a living," she says. "And in the meantime we've got pressures from technology companies, whether that's tractors and equipment or chemical producers or software geeks to use their quick solutions, pressuring policymakers to adopt all those sexy, 'We can x it right now!' technologies. That might look like allowing container farms on ag land in BC or urban areas, things that actually require a lot of non-organic inputs to even function at all." This doesn't mean technology is bad, only that it can't be an end in itself. "We do need appropriate technology to assist in creating better regenerative systems, but technology must not be allowed to drive agricultural practices," says Kneen. "The health of soils and ecological systems must be the driver." Regenerative agriculture vision outlinedProvince's partnership with OrganicBC will advance agritech vision
Page 23
COUNTRY LIFE IN BC APRIL 2022 | 23Strong yields and new strategy for cranberriesGrowers are positive about the futureJack DeWit will sit on the BC Cranberry Marketing Commission board for three years. RONDA PAYNEFOR BAGGED or BULK ORDERSDarren Jansen Owner604.794.3701organicfeeds@gmail.comwww.canadianorganicfeeds.comCertified by Pro-Cert Organic Systems Ltd.RONDA PAYNE RICHMOND – The BC Cranberry Marketing Commission and its member growers enjoyed a few positives in 2021 despite facing o against weather, pests, an ongoing pandemic and other challenges. "Despite the trials and tribulations of 2021, our hard-working farmers persevered with a bumper crop of 1,012,785.95 barrels of cranberries," BC Cranberry chair Kalpna Solanki told growers in her opening comments at the board's annual general meeting March 3, held online. The crop was one of the largest of the past decade, ranking second after the 2018 harvest of 1,347,753 barrels. However, the average yield of 221 barrels per acre was the highest per-acre yield in 10 years. There are fewer acres of cranberries today than a year ago, however. Several smaller farms and one 100-acre site pulled out of production, dropping acreage from 6,500 in 2020 to 6,374 acres last year. About 1,200 acres have been replanted with newer varieties but are not yet at mature production levels. Still, growers are sweet on the tart red fruit. "We now have 74 licensed growers, seven producer vendors and three agencies," Solanki says. Pitt Meadows-based Hopcott Farms was licensed as a new producer vendor. The term producer vendor will be replaced by grower vendor going forward. "Our virtual AGM this year had better attendance than some of our in-person ones in the past and we will be seriously considering this format going forward," says BC Cranberry general manager Coreen Rodger Berrisford. Strategy and direction of the commission was claried in 2021 with the conrmation of ve strategic priorities: reinforce leadership by establishing stronger engagement of all stakeholders; strengthen collaborative relations with industry; support the adoption of up-to-date research, production methods and strategies; support industry and board succession; and provide increased industry promotion and review diversication opportunities. "In 2022, we will be developing actions to address all the strategic priorities identied in the strategic plan. We welcomed Kalpna Solanki as our new chair and her input into the strategic planning and regulatory review process was instrumental," says Berrisford of the change from Jack Brown to Solanki in 2021. Events like the Pacic Northwest Cranberry Congress, which has brought BC, Washington and Oregon growers together for education and information for two years in a row now, are proving benecial. "We had excellent attendance and reviews and the collaborations that were built in 2021 will continue to serve our industry," she says of the 2021 congress. Market development has continued at a steady pace, says Berrisford. More than 6,000 dieticians were reached in 2021 with weekly ads in an e-newsletter and a new dedicated one-pager e-blast. The one-pager was part of a virtual nutrition conference in June and was seen by more than 4,000 viewers. "We had several activities in 2021 and implemented a new tactic for the Dieticians of Canada," she says. "We found that the engagement of the dedicated e-blast was higher than the weekly ads." Three research projects were approved in 2021: ongoing variety trials with an emphasis on canopy management, prohexadione calcium for canopy management and assessing a herbicide layering strategy in newly renovated and established cranberry elds. These activities run in tandem with ongoing projects at the cranberry research farm in Delta. There were two positions open for registered producers on the BCCMC board but only Jack DeWit stepped forward for a three-year term. "We are okay to run with three elected members and can have up to four registered growers along with the independent director and the chair," says Berrisford. "We can ll the fourth position any time during the year but it is not necessary." Following the BC Cranberry AGM, the BC Cranberry Growers Association held its AGM. Grant Keefer and Joe Rodwell were named by acclamation to the board and one vacancy remains. info@reimersfarmservice.comCheck out our Einbock Tillage Equipment For Organic FarmingTine Weeders tRow Crop Cultivators Rotary Hoes & Camera Guidance SystemAND On In Stock AEROSTAR 900 Tine WeedersDELTA Drain Tile Cleaner Improves Drainage & Conditions Soil Economical & Reliable Low Maintenance Safe and ProvenSPECIAL PRICING On In Stock
Page 24
From rst cut to last bale, New Holland hay and forage equipment helps you make top-quality hay and make it more productively — day in and day out. That's the advantage of our over 125 years of invention and innovation. New Holland haytools save you time and money, all while maximizing quality and feed value. You'll also work more condently, knowing your local New Holland dealer is there with unparalleled service and support when it matters most. Cut, rake, bale, repeat — no one does hay better. Stop by today for more information and the latest 昀nancing incentives.CUT. RAKE. B ALE. REPEAT.™24 | APRIL 2022 COUNTRY LIFE IN BCGRASSLAND EQUIPMENT LTD. SERVING THE CARIBOO SINCE 1977 WILLIAMS LAKE 600 11th Ave N 250.392-4024 VANDERHOOF 951 Hwy 16 West 250.567-4446 TUOFNFSJVRFSZUJMJCJHJMFEOBTMJBUFESPGSFMBFEEOBMMP)XF/SVPZFF4EU-BEBOB$MBUJQB$MBJSUTVEO*)/$ZCMBWPSQQBEOBOPJUBDmJMBVRUJEFSDPUUDFKCVTOPJUBQJDJUSBQSFNPUTV$ZMOPFTVMBJDSFNNPDSP' $ HOJUBQJDJUSBQUBIDSB.MJUOVEPPHSFGG0ZGJMBVRZBNTUOBDJMQQBSPTSFNPUTVDMMBUP/EFSJVRFSFCZBNUOFNZBQOXP%ZMQQBMMJXTOPJUJEOPDEOBTNSFUESBEOBUTEU-BEBOB$MBUJQB$MBJSUTVEO*)/ / ªFDJUPOUVPIUJXOPJUBMMFDOBDSPFHOBIDPUUDFKCVTSFGG0FDJSQMJBUFSEFUTFHHVTOJEFEVMDOJUPOTUOFNIDBUUBSPTOPJUQPMBOPJUJEEBZSFWJMFEQVUFTUIHJFSGTFYB5BEBOB$OJTSFMBFEEOBMMP)XF $ MBJSUTVEO*)/$PUEFTOFDJMSPZCEFOXPTFJSUOVPDSFIUPZOBNEOBTFUBU4EFUJO6FIUOJEFSFUTJHFSTLSBNFEBSUFSBEOBMMP)XF/EOBMBUJQB$MBJSUTVEO*)/$EFWSFTFSTUIHJSMM"$--BDJSFN"MBJSUTVEO*)/ /TFUBJMmGBSPTFJSBJEJTCVTTUJ7ARMSTRONG HORNBY EQUIPMENT ACP 250-546-3033 CHILLIWACK ROLLINS MACHINERY LTD 604-792-1301 CHEMAINUS ROLLINS MACHINERY LTD 250-246-1203 FORT ST JOHN BUTLER FARM EQUIPMENT LTD 250-785-1800 KELOWNA ROLLINS MACHINERY LTD 250-765-8266 LANGLEY ROLLINS MACHINERY LTD 604-533-0048 WILLIAMS LAKE GRASSLAND EQUIPMENT LTD 250-392-4024 VANDERHOOF GRASSLAND EQUIPMENT LTD 250-567-44460% Financing*
Page 25
COUNTRY LIFE IN BC APRIL 2022 | 25Tree fruit growers struggle to source plantsRootstock is in dire short supply across North AmericaSam and Patti DiMaria of Bella Rosa Orchards in Kelowna are nding it a struggle to update their orchard with new trees because of a lack of rootstock. SUBMITTEDKATE AYERS KELOWNA – Weather challenges and growing demand over the past two years mean some tender fruit growers are struggling to secure new trees for their orchards. "My son and I attempted to source some peach trees for next spring and the spring two years from now and there's absolutely nothing. So, we tried to nd some rootstock. No rootstocks whatsoever for soft fruits anywhere," says Sam DiMaria of Bella Rosa Orchards in Kelowna. "This year we attempted to look for rootstocks for pears. It's been extremely hard. There's virtually nobody here in Canada, that's for sure. In the States, if you do happen to nd rootstocks, you're extremely lucky and then there are other problems." The nurseries supplying the sector say a number of factors, including the extreme weather events of recent years, have all contributed to the supply pinch. "We've experienced signicant losses in our crops over the last three years," says Mike Byland, vice-president and general manager of Bylands Nurseries Ltd. in West Kelowna. He says damage occurred "pretty much across the board with all of our commercial fruit trees." Bylands also brings in some rootstock from across the border and says the weather-related losses mean tree orders are "really backed up." "We don't have any trees left for 2022, and tree availability will be very limited in 2023 as well because it takes a few years to work through some of the challenges," says Byland. The diculties prompted Byland to change tack and streamline operations, growing to order rather than maintaining a large planting vulnerable to the weather. The high cost of labour for tending trees that may or may not sell was also a factor. "We used to grow on spec, but it takes four years to grow a tree from start to nish," he explains. "This long production time, along with high costs of rootstocks, labour challenges and issues with regards to losses, have really impacted our operation and forced us to adapt our practices." While the nursery will take orders for 2023 as usual, beginning in June, orders for 2024 and beyond will require a minimum order of 500 trees of a single variety. "We are moving towards custom growing for the industry," says Byland. "These custom orders will require a minimum order and for growers to work further ahead See SMALL on next page ohandlersequipment.comMORE BUILT-IN WEIGHTHEAVY DUTY STEEL FRAMETRACTOR TIMEVICTORIA 4377C Metchosin Rd. 250.474.3301 30 minutes from Victoria and 15 minutes from Hwy#1 in Metchosin.tractortime.comPREMIUM TRUCKPRINCE GEORGE1015 Great Street250.563.0696WILLIAMS LAKE 4600 Collier Place 250.398.7411premiumtruck.ca HANDLERS EQUIPMENTABBOTSFORD 339 Sumas Way 604.850.3601HOUSTON 2990 Highway Crescent 250.845.3333American Race Car Driver Tony Stewart on a Mahindra.
Page 26
26 | APRIL 2022 COUNTRY LIFE IN BCSMALL growers face bigger challenges nfrom page 25It's Mow Time.Some restrictions may apply. See dealer for details. Offer valid April 1 - April 29, 2022. Zero Series Mower Conditioners560M Round Baler· 8 models to choose from· Available from 8'wide to 16'4"· 4 conditioning options for a quicker drydownSmall Square Balers· 3 affordable models to choose from· Full-width feeding pickup· Large windrow capacity· Dry hay or silage· Optional pre-cutters· Optional MegaWide pickups· Net Wrap w/ 10,000 bale adjustPRINCE GEORGE | KAMLOOPS | KELOWNA | CHILLIWACK | LANGLEY | NANAIMO WWW.PCE.CA | 1-877-553-33730% FOR 48 MONTHSON ALL NEW MOWER CONDITIONERS & BALERSwith order timeframes, but these details still need to be nalized and communicated to our customers." Byland hopes BC does not get battered with another year of weather extremes. "It's got to the point where it's become dicult to be protable with commercial fruit tree sales," he says. "We've had three years in a row where environmental pressures have had huge impacts on our yield and ultimately, protability." Short supply makes diversification hard Stock shortages in Canada combined with the challenges of importing clean plant material from the US have BC producers looking high and low for plants to renew and expand their orchards. Katie Sardinha of Kaleidoscope Fruit Ranch in Summerland primarily grow organic apples, but the family-run farm is looking to diversify with pears, hardy kiwis and some soft fruits. Sardinha has struggled to nd a nursery that would fulll her 150-tree order. "We are a small grower with about 10 acres," Sardinha says. "That's very common around here, to be small-scale growers, so it makes sense for our business plan to do small replants on a regular basis." With the new minimum order requirements at Bylands, she called Van Well Nursery Inc. and C&O Nursery in Washington. Both say they're no longer accepting orders from Canada, with C&O citing business risks as the key factor. DiMaria says US nurseries are largely opposed to Canadian Food Inspection Agency rules requiring that incoming trees undergo fumigation to kill invasive species like the Oriental fruit moth, which is still unknown in BC. "Fumigation is quite an involved process and it's very expensive for the nurseries to do," he says. "In order for them to do fumigation, they require a minimum amount of trees for them to cover their costs." But even if producers are willing to place the minimum required order for fumigation and cover the costs, nurseries face issues getting their stock into Canada. The nurseries he's spoken with in Washington and Oregon all claim Canada Border Services Agency ocers impose all sorts of red tape that makes shipping to Canada extremely dicult. "It's not worth their trouble to ship those things into Canada even after they're fumigated," says DiMaria. "They were telling me that I would have to deal with [CBSA] and that I would have to try and resolve any issues that come out of [CBSA] at the border when importing any plant material. They've washed their hands of that and thrown it on our lap." DiMaria has gone through the process of importing trees from south of the border himself and notes it really is a hassle – "to the point where you're willing to say, 'forget it.'" To renew her aging orchard, Sardinha reached out to smaller nurseries in BC. She was eventually able to secure stock from Similkameen Nurseries Ltd. in Cawston, thanks to the business's exibility. "They only do apples and they agreed to try doing pears. We were lucky that they agreed to do that because otherwise we were basically going to have to do our own nursery, which is a whole new thing for us and kind of overwhelming," says Sardinha. She'll have to wait three years for their new stock to be ready, but it's easier than doing it herself. Still, the short supply of rootstock across North America makes it dicult for growers to plan ahead. "If I want to plant, what do I plant that can make me money? Where do I nd the plants,? Where do I nd the trees? What's the cost of the trees, and if I can nd them in the US, what are the hurdles that have to be overcome to bring them here?" asks DiMaria. "I'm afraid that a lot of tree fruit growers in the valley are putting o decisions to replant and renew their orchards. … Our choices have been very limited in terms of what we can plant." A resolution passed at the BC Fruit Growers' Association's annual general meeting in February directed the association to determine ways to improve access to fruit trees from nurseries.
Page 27
COUNTRY LIFE IN BC APRIL 2022 | 27Fumigation options Hot water baths may do the trickCFIA requires imported rootstock for peaches and other trees be fumigated before entering BC to prevent the introduction of Oriental fruit moth. That's causing a hardship for growers. FILE PHOTOTurnin soi sinc 1899. Cultivatin Craf Bee sinc 2019.Grown and brewed on-farm in Ladner, B.C.www.barnsidebrewing.caAsk for us at your local beer storeAsk for us at your local beer storeAsk for us at your local beer storeKATE AYERS SUMMERLAND – Oriental fruit moth was rst identied in the United States in 1916 and rapidly spread across North America. The pest was rst reported in Ontario in 1925. But natural barriers mean BC is now the only commercial peach-growing area in North America where the invasive species is not present, and the Canadian Food Inspection Agency wants to keep it that way. While CFIA sta work diligently to ensure the pest does not become an issue in the province, its eorts represent a cost to nurseries and growers because the common cure – fumigation – is complex and expensive. Researchers in Summerland and Ontario are hoping to come up with alternatives that will keep the industry safe with less hassle. "It's been on the industry's and CFIA's priority list for better than a decade. The regulations around fumigation get stricter and stricter," says Dan O'Gorman, a research biologist at the Summerland Research and Development Centre. "Nurseries that used to fumigate material coming into British Columbia no longer do that. Restrictions are too much or too costly. I'm not sure at the moment if there's any Washington State nurseries that are currently shipping to BC because of this issue." Oriental fruit moth primarily infects peach, nectarine, apricot, plum and cherry trees. In Ontario, apple and pear trees are also impacted by the pest. One alternative to methyl bromide fumigation is hot water baths. Researchers are focused on apples and cherries but have also done some preliminary tests on peaches. Hot water O'Gorman's lab in Summerland is looking at how well the trees tolerate hot water. Justin Renkema, a research scientist in Vineland, Ontario, is looking at the temperatures and conditions of the hot water bath that will kill the moth. "What he has determined is there's several set temperatures: 47°C for 35 minutes or 50°C for as low as three minutes will kill the moth," explains O'Gorman. Rootstocks and one to two-year-old trees are treated with the hot water bath. "The hot water treatment does stress them a little bit, especially at the beginning of the season. By the end of the season, leaf chlorophyll levels, which are an indicator of plant stress, seem to be fairly level when compared to the control," says O'Gorman. "Some of the hotter temperatures – 50°C for either three or ve minutes – seems to be tolerated better by both apples and cherries so far. It would be my guess that we're zeroing in on those higher temperatures for shorter periods of time." The researchers just wrapped up the third year of this project and hope to have recommendations for the CFIA by 2023. Quality Pre-Owned Tractors & EquipmentAGOC ALLIS 6690 W/LDR . . . . . 23,000 ANDEX 773 RAKE . . . . . . . . . . . . 12,500 DITCH WITCH 3500 . . . . . . . . . . . . 7,500 FELLA SM320 . . . . . . . . . . . . . . . . . CALL FORD 1900 4X4 W/LDR . . . . . . . . . 8,500 JAYLOR MIXER WAGON . . . . . . . . 13,500 JCB 409 . . . . . . . . . . . . . . . . . . . . . 47,000 KUHN FC313 MOWER TG . . . . . 20,000 KUHN 4 BOT ROLLOVER PLOW . . . . 19,900 KUBOTA BX2200 . . . . . . . . . . . . . . 7,500 KUB RM3006V ROLLOVER PLOW 35,000 KVERNELAND 4032 MOWER . . 16,000 K'LAND ES 5-BOT ROLLOVER PLOW . 35,000 MASSEY FERGUSON 1523 . . . . . . 8,500 NH 570 BALER . . . . . . . . . . . . . . . 16,000 TYCROP HIGH DUMP 16' . . . . . . . 9,500 WACKER NEUSON 750T . . . . . . . 62,500 WOODS DITCH BANK MOWER 15,000
Page 28
28 | APRIL 2022 COUNTRY LIFE IN BCMy favourite people are those on a quest to grow enough potatoes to satisfy their annual eating requirements. They never seem to grow quite enough, so I get to sell them both seed and table stock. My otherwise cold and grasping heart is warmed in a way that, say, a new housing development or a day at the beach fails to do. I wouldn't say it's a aw necessarily, but it does mean I am in the right business. I think about these people now because most of the potatoes I know are starting to sprout, signalling the inevitable end of the non-store-bought edible potato supply. Soon they will soften, and the sprouts will grow to an unreasonable length. This situation,will result in the consumption of alternative starches until the new crop is ready. During this period, these people will likely complain of feeling weak. It's a good time to challenge them to a race or a card game. They are not at their best. It's not a good time for a farm tour, though. Our farmyard is a mess. Talk about a situation: the snow is melting, the frost is coming out of the ground and it is perpetually raining or wetly snowing. Even when it isn't raining, it's dripping. Walking paths sink under the weight of a mere chicken. The roadways are passable, but there is an increasing need to gun it and hang on. Splashing about in rubber boots that don't leak feels like one of life's less-celebrated luxuries. One further note on the theme of messy spring farm: the snowpack is not aging well. Although it has snowed since the big dump of December, it doesn't tend to stick around, and we return to the original four feet or so. I do try to be clever with the loader when clearing new snow, and strategically smear fresh pack over the old stu, but it is a eeting reprieve, not to mention futile, never mind being a sad commentary on my over-concern with outward appearances. Further to the theme, to which I have warmed, I am also accumulating unattractive bins of cull potatoes. These are the ones that are somehow blemished. We nd it much easier to sell perfection, so the culls really add up. We'll plant heaps of them, seeing as they are perfectly good seed potatoes. We'll eat lots, too, up to a point. It leaves a lot for the compost. Except potatoes don't compost well. Although I am thankful that we no longer try to keep cattle on our boggy farm, I do miss their extraordinary enthusiasm and unmatched ability to turn potatoes into compost. Anyone who has witnessed slobbery bovine tuber ingestion will surely concur. In fact, the needs of cattle dovetail nicely with the exudes of long rotation, extensive cover-cropping potato farming, but we found our farm too muddy and, gosh, it was a lot of work in the winter – leaving me to gure out how to compost potatoes without cattle. The rst step, I believe, to making good compost is to use what ya got. We have freezing temperatures and frozen potatoes turn to muck. This is a good rst step. We also have lots of green stu. I layer this thinking with boundless optimism that it will create pathways in the muck for biological activity – worms, fungi, air, bacteria: all welcome. Hot summers mean the pile can really sizzle. My rst attempt is about to be unveiled, two years in making. I will apply it to the greenhouse, where we grow tomatoes, cucumbers and recently dahlias, of all things. None of this is for sale. It's not all about money and good looks, you know. Anna Helmer farms in the Pemberton Valley and misses cows with names.Cull potatoes are about to earn their keepTwo years of composting has turned them into greenhouse goldFarm Story by ANNA HELMERIt doesn't matter what's going on in the world, you are going to get up and go to work, feeding the world. Avenue Machinery wants to say - Thank You Farmers!THANK YOUFARMERSABBOTSFORD1-888-283-3276VERNON1-800-551-6411KELOWNA1-800-680-0233
Page 29
COUNTRY LIFE IN BC APRIL 2022 | 29Peter Robinson and Kristine Webber highlighted their efforts in riparian restoration during a tour of their Mayne Island farm. SANDRA TRETICKEmployers are responsible for the safety of their workers. Educate new and young workers to iden琀fy hazards and minimize risks.SANDRA TRETICK MAYNE ISLAND – Hedgerow Farm and Deacon Vale Farm on Mayne Island opened their gates on February 26 to welcome a group of 20 experienced, new and prospective farmers from the outer Gulf Islands for the nal eld day of a six-week introductory course on soil health hosted by the Gulf Islands Food Co-op in partnership with Kwantlen Polytechnic University (KPU). When farmers are starting out, there's a lot to learn and online resources can be overwhelming. There's often little that's specic to growing conditions in smaller regions such as the Gulf Islands. Closing that gap was top of mind for co-op president Roz Kempe when she reached out to Kent Mullinix, director of the Institute for Sustainable Food Systems at KPU. She was inspired by the Healthy Soil Initiative out of California and wanted to see if KPU could recreate that on a smaller scale. "If we could just have some support on the Gulf Islands to understand what soil health actually means," recalls Kempe. "Not just soil chemistry, but the entire ecosystem of soils and how to improve that. Kent was very enthusiastic." Mullinix was interested because no one else in BC was doing anything similar. Together they prepared a proposal and VanCity came through with a $20,000 grant through its Community Partnership Program. "The local piece is really important," says Kempe. "It's Pilot program bridges the extension gap Soil health provides local insight for Gulf Island farmersnot just learning from the United States or from the Lower Mainland or the Fraser Valley where [there's] so much large-scale farming. It's dierent here on the Gulf Islands." Hedgerow Farm co-owner Kristine Webber says the program provided much- needed on-farm extension support for farmers like herself. Webber received a degree in agriculture 20 years ago, but it taught her about conventional agriculture. That wasn't the direction she and her partner Peter Robinson wanted to go when they purchased the farm six years ago. "We're doing things dierently now," says Webber. "The science has changed. We're talking about healthy soil, not what [chemicals] you're putting on soils." Taking a whole-ecosystem approach is what program instructor Amy Norgaard, also a part-time instructor at KPU, was keen to impart to the group. Through a series of four evening Zoom sessions and four weekend eld days – one each on Saturna, Galiano, Pender and Mayne – the group learned the basics of See START on next page oBENEFICIAL MANAGEMENT PRACTICESAPPLICATIONS OPEN SOONBC Farmers & Ranchers!Don't miss out on your opportunity to participate in the on-farm cost-shared incentive program. From irrigation projects to equipment purchases and supplementary management plans, there are over 70 categories of practices and actions eligible for funding!The Bene昀cial Management Practices program will be accepting applications this spring. To be elibible for BMP Funding you must have a valid Environmental Farm Plan (EFP). For details and to learn how to apply, visit the website: www.iafbc.ca/bmp
Page 30
30 | APRIL 2022 COUNTRY LIFE IN BCRoz Kempe, president of the Gulf Islands Food Co-op, worked with Kwantlen Polytechnic University to offer a Healthy Soils course for southern Gulf Island farmers and food growers. sANDRA TRETICKSTART small nfrom page 29.DPORRSV%&%&/DUJHVWLQGHSHQGHQWDWWDFKPHQWGHDOHU2YHUDWWDFKPHQWVLQVWRFN*&/4LJETUFFS"UUBDINFOUT.PSF(TXLSPHQWFRP/RZ6KLSSLQJUDWHVsoil science, the role of nutrient management and cover cropping, why soil testing is important and how to take samples. Norgaard also provided links to useful resources, shared videos, brought in guest speakers and allowed plenty of time for questions and discussion. Farms around the Gulf Islands are as diverse as the islands themselves and local farmers jumped at the chance to have their soil tested. KPU student Julia Bendtsen, who is completing a graduate certicate in food security, had more volunteers for this aspect of the program than the grant funding could support. Five farms – some established and some bare land – were selected and each received a comprehensive nutrient management plan. Norgaard says soil health can be attained largely through a combination of cover cropping and composts. But it's rarely that simple. Soil health is really the result of an iterative process that people need to revisit year after year. "There's no silver bullet," she says. "Start somewhere. Make a small change and see how it performs. I think some people want to have all of their ducks in a row before they initiate a plan. The reality is there's all these microclimates, all these dierent soils, all of these dierent background characteristics that inform how somebody is going to go about managing their soil. There's no better way to know what's going to work best on your property than to get that direct feedback by making these incremental changes and ne tuning with your own observations." Webber says her biggest takeaway was nding out how much knowledge already existed in the farming community. "We got to meet experts to talk about soil and nutrient cycling and cover crops and soil health, but we also got to meet other small-scale farmers and learn from them what they've tried, what's been successful and what hasn't," says Webber. "I have a lot of people now I can ask for advice and some more friends to grow with." Lack of extension The lack of extension crops up in various regional agriculture plans, including the 2017 Southern Gulf Islands Food and Agriculture Strategy commissioned by the Capital Regional District. The strategy actually led to the creation of the co-op in 2018. Kempe knew there was a need for the course, which ran as a pilot this year, but she was surprised at the level of interest. They planned for 20 participants, but more than 64 signed up. Coordination across the islands proved challenging, but she credits the co-op's project coordinator Ben Dunsmuir for his eorts to pull together four eld days on four dierent islands while adhering to COVID-19 protocols. Kempe hopes the course will serve as inspiration for other communities looking for extension support, but she admits that they just scratched the surface in four Zoom lectures. "Soil health is so in-depth," says Kempe. "There's so much to learn. We could be doing this for years and years and still learn more about soil. It's a start." The BC Ministry of Agriculture and Food hasn't completely exited the world of extension services, despite what many believe. Under the New Entrant Strategy – part of Grow BC – there's the BC Land Matching Program and support from new entrant agrologists. Grow BC also enables producer organizations to provide extension and organize events ranging from workshops to on-farm demonstration projects, although small-lot producers in the Gulf Islands may not nd these a good t for their specic needs. There is also AgriServiceBC, the ministry's one-stop shop for farmers to connect with a qualied expert for one-on-one help to access the right funding programs, solve technical production problems, grow business or research opportunities. Some of the participants in the healthy soils course were previously unaware of these supports, but Norgaard addressed that and introduced Emma Holmes, the ministry's organics specialist. In retrospect, Norgaard said she wanted the participants to walk away from the program feeling empowered to farm more condently. "People almost hesitate to start and I see this lack of condence," says Norgaard. "I see that all over the map. Farmers think they're unique and they don't have the answers, but they think their neighbour does. I hope these eld days have provided some 'neighbour-to-neighbour' information sharing that can lower those risks of change and increase condence in adopting new practices." www.tjequipmentllc.com 360-815-1597 FERNDALE, WA ALL PRICES IN US FUNDS(pic) 2003 NH TV140 w/ ldr, bidirectional, 4WD, 140 hp, 8203 hrs, 3 range hydro, front 540 PTO, rear 540/1000 PTO . . . . . . . .$34,000 2006 JD 8330 4WD, 275 hp, 9079 hours, powershift, 1000 PTO, 4 remotes . . . . . . . . . . . . . . .$95,000 2001 JD 7210 w/ ldr, 4WD, 110 hp, Power Quad, recent motor rebuild, 2 remotes, 540/1000 PTO . . . $46,000 1983 JD 4250 2WD, 133 hp, 8615 hrs, Quad Range, 2 remotes, 540/1000 PTO . . . . . . . . . . . . $38,500 1985 JD 2750 w/ ldr, 4WD, 83 hp, only 4 hrs on complete motor rebuild, 8340 hrs . . . . . . . . . . . . . . . .$26,000 1982 IH 5288 2WD, 177 hp, 5718 hours, 1000 PTO, 3 remotes, STS 18 forward 6 reverse . . .$23,000 1984 JD 8650 4WD, 290 hp, Quad Range, 1000 PTO, 4 remotes, 13700 hrs . . . . . . . . . . . . . . . $21,000 2013 Kubota B3350 4WD, 33 hp, 1661 hours, hydro, 540 PTO, 2 remotes . . . . . . . . . . . . . . . $21,000 1976 JD 4030 2WD, 88 hp, Power Quad, 3 remotes, 540/1000 PTO, no AC . . . . . . . . . . . . . . . . . . $17,000 1980 Steiger Cougar III ST270 4WD, 270 hp, 8000 hrs, 3306 Cat, new clutch, 20 speed, 4 remotes . $17,000 1988 Case IH 485 w/ ldr, 2WD, 53 hp, 540 PTO, 2 remotes, 2661 hrs, 3 point . . . . . . . . . . . . . . . . . $15,500 1972 IH 966 Hydro w/ ldr & hay spear, 2WD, 91 hp, 540/1000 PTO . $14,500 1983 Ford 6710 2WD, 78 hp, 6556 hours, 3 remotes, 540 PTO . . $13,250 CALL FOR MORE TRACTORS COMING IN LOTS OF USED TRACTORS AVAILABLE
Page 31
COUNTRY LIFE IN BC APRIL 2022 | 31BCFGA president Peter Simonsen says he is optimistic about the future of the tree fruit industry, but government needs to step up. TOM WALKERPrime Power or Emergency back-up Mobile Rentals Dewatering PumpsTOM WALKER NARAMATA -- The new president of the BC Fruit Growers Association is a life-long farmer who believes he can inuence a change in the province's tree fruit industry. "I've been involved in farming all my life," says Peter Simonsen, an organic grower who was elected to head the 133-year-old association at its annual convention at the end of February. "I worked on a cousin's ranch when I was a teenager and I liked it so much I went and got an agriculture degree at UBC." He tended a strawberry patch in Victoria while his wife obtained her teaching certicate, then grew vegetables in the Lower Mainland before moving to Naramata, where his wife's family had farmed since 1910. Simonsen grows apples, peaches and pears on 45 acres. His son Andrew is now a fth-generation fruit grower and his daughter Annelise Simonsen and daughter-in-law Kaleigh Jorgensen run Creek and Gully Cidery, which uses some of the farm's fruit. "I've been involved in some aspect of the BCFGA since we started orcharding in 1987," Simonsen says. He was a convention delegate, eventually a board member and served as vice-president for three years. "I took a year o when I lost the VP position," he says. "When Pinder [Dhaliwal] was stepping down, he urged me to run for president. He phoned a lot of people and I phoned a lot of people and I won the vote on February 23." Simonsen has a strong mandate from growers. In an uncustomary move, BCFGA directors voted to reveal the results of the election; Simonsen received 121 votes, while current vice-president Jeet Dukhia received 63. Turnout was strong; more than 55% of the 332 association members cast votes. Simonsen will count on that support as he steers the association through some very dicult times. "We are into a ve-year crisis in the apple industry," he says. "We have been hit with multiple weather events and grower returns have been extremely poor for the last several years. There is a chronic labour shortage, apple acreage is at an all-time low and growers are planting cherries and grapes instead. We have board members who tell me if things don't change they won't be farming in three years." This wasn't always the case, Simonsen recalls. World leaders "During the 1990s, we were world leaders. We were getting a dollar a pound for Galas. Growers from other countries came to see our high-density planting systems and the Ambrosia apple that was developed here in BC was winning customers everywhere." The province can't all be planted in grapes and cherries, Simonsen says. "There are only so many sites that are suitable for soft fruit and grapes are a luxury item. We need the diversity that the apple industry provides," he says. An industry stabilization initiative led by the province recently completed a blueprint for the industry that contains 19 recommendations to resolve the issues plaguing the industry, but it has yet to commit resources to implementation. Simonsen is positive there is a future for the industry. "We have some of the top apple-growing conditions anywhere in North America," There is a future for BC's apple industryNewly elected BCFGA president eyes better days aheadSee LACK on next page owww.hlaattachments.com 1-866-567-4162 • Independent grapples for clamping of awkward loads• Tine and grapple tips are AR400 material• Compact models available• 1-1/4" shaft diameter• 2-1/2" spacing between tines• Points are 5/8" thick, 400 Brinell high strength steel• Compact models available• Grapple clamps on to any Class II fork frame with walk through guard Grapple shown mounted on HD55 pallet fork.BRUSH GRAPPLESINGLE ARM LOG GRAPPLESTONE FORK
Page 32
LACK of government support nfrom page 3132 | APRIL 2022 COUNTRY LIFE IN BCHIGH EFFICIENCY. HIGH ACREAGE. HIGH YIELDS. LOOK TO LEMKEN36#*/o5IFTVQFSJPSDMFBSBODFBOEVOJRVFTZNNFUSJDBMBSSBOHFNFOUPGwEJTDTFOTVSFTUIF3VCJODBOXPSLJOPSHBOJDNBUUFSUPBEFQUIPGwXJUIPVUESJGUJOH5IBUTBWFTGVFMBOEPQUJNJ[FT(14HVJEBODF$BMMZPVSMPDBM-&.,&/EFBMFSGPSBEFNPUPEBZ@strategictill | lemken.ca(604) 864-2273caliberequipment.ca(250) 938-0076agrigem.comVAN DER WAL EQUIPMENT(1989)LTD(604) 463-3681vanderwaleq.com0% Financing.Certain Conditions Applyhe says. "But there needs to be a change in attitude. Farmers are feeling defeated and we don't see any support from the government for our industry. To date there is no indication they will implement the report." Simonsen hopes that he can reset the sector's relationship with government. "There is not a lot of support for any agriculture within this government," he says. "BC spends $17 per capita on agriculture, Ontario $40, Quebec $80 and Saskatchewan $400." BCFGA priorities for the industry, as chosen by members, include a better labour strategy and improvements to regulations governing the Agricultural Land Reserve and municipal rules for worker housing. Seasonal labour is also an issue. Smaller orchards cannot employ a temporary farm worker full time, but current rules make it dicult to transfer workers between orchards. It is often dicult to get worker housing or summer camping approved by municipal jurisdictions. A one-time support payment would go a long way to addressing the industry's woes, and remains a key BCFGA demand of government. "Washington growers have had a seven-cent a pound support payment over the last two years," Simonsen says. "A support payment would help growers recover from the recent conditions. Many are wondering if they will have the money to spend on inputs for the coming year." Cash isn't enough But cash alone is not the answer. Innovation and technology, continuing the replant program and developing a solid extension program are also priorities. "The cherry industry has beneted enormously from the world-class research that has gone onto the cherry breeding program. We need continual development of new apple varieties as well," Simonsen says. "And renewing the replant program should have been settled over a cup of coee. For every dollar the government puts in, the industry puts in 10." The apple marketing commission outlined in the industry stabilization document and being promoted by the New Tree Fruit Varieties Development Council makes a lot of sense, says Simonsen. "Personally, I'm totally in favour of it. I think that all of us working together is the best strategy. I've heard there's up to 38 packing houses now. That's competition with the grower's money," he says. "We would like to see the packers embrace it, but in the end it will be a grower vote that decides." Simonsen believes the democratically elected BCFGA is the organization to continue to lead the industry. "I am happy with our new, leaner business model. I think that we can continue with programs that support our member growers while also being a lobbying organization for the whole tree fruit industry," he says. "We passed a solid set of resolutions at the AGM that will guide the board." Simonsen, who organized the Apple Farewell Tour at the Kelowna Farmers Market in October 2020, doesn't think the industry is ready to say goodbye. But many growers can't hold out much longer. Several have already left, with BCFGA member down a third from more than 500 a few years ago. "We sold apples for12 cents a pound which was what on average our growers were receiving," he says of the farewell tour event. "We need a change. I worry that it's getting awfully late." Visit our showroom to see more!WL60T ARTICULATED WHEEL LOADER WITH TELESCOPIC BOOM The WL60T telescopic wheel loader is equipped with a 101-hp turbo charged Perkins diesel engine and features a telescopic boom for additional height, added versatility and greater production. TH522 TELEHANDLER 23390 RIVER ROAD, MAPLE RIDGE, BC V2W 1B6 604/463-3681 | vanderwaleq.com VAN DER WAL EQUIPMENT (1989) LTD.
Page 33
COUNTRY LIFE IN BC APRIL 2022 | 33A warming world calls for new strategiesManagement and harvest methods need to adapt in a warming worldEven modern, high-density plantings will need to be reimagined to cope with increasing temperatures. MYRNA STARK LEADERMYRNA STARK LEADER KELOWNA – Rising temperatures underscores the need for more eective risk mitigation strategies in a warming world, according to speakers at Feeling the Heat, an online workshop the BC Fruit Growers' Association and Okanagan Horticultural Advisor's Group hosted at the end of February. OHAG is a newly formed organization for advisors to growers. It emerged from what was the Okanagan Packing House Group with a mission to increase the quality and availability of horticultural advisory services within the southern Interior. The event featured presenters from BC, Washington and Oregon, followed by a panel of orchardists, including Gary Wade of The Dalles, Oregon. Wade says the unprecedented heat dome last June claimed about half his fruit, the majority of which is sweet cherries. To his surprise, even cherries that had no sun exposure appeared to have cooked internally. Reginas and Skeenas went unpicked. Regina cherries looked ne but had internal damage. "It had soft spots inside and was brown … we left it hanging," he says. "We didn't spray it. Spotted Wing [Drosophila] was one of my major concerns, but we haven't seen it yet. I'm not sure yet what it did to the physiology of the trees." While the heat dome's epicentre was BC, its impacts were felt across the Pacic Northwest and as far inland as the Northwest Territories, says climatologist Faron Anslow. He heads the Pacic Climate Impacts Consortium at the University of Victoria. Anslow says record highs in excess of 40°C came at the best possible time during the 2021 growing season because rivers still had high ows, providing water to irrigate. Predicting long-term climate isn't easy. Climatologists typically base models on the frequency of certain conditions in the past to forecast what will happen in the future. But the lack of climate data from before the industrial age is a challenge. Anslow says existing models would classify last year's heat dome as a one in 6,000 year event. But Lytton reached almost 50°C, shattering old records by more than ve degrees. This was beyond the scope of anything existing climate change models predicted. He said last summer's heat YOURHelping YouHelping YouWEEKLY WEEKLY FARM FARM NEWSNEWS UPDATES UPDATES Sign up for FREE today.##!#"'''%##$!!)#( %##()&%)"#!'%)&)$CROWN ROYALE OrchardgrassSee IRRIGATION on next page oCOMMITTED TO AGRICULTURE in BRITISH COLUMBIA rollinsmachinery.comCHILLIWACK • 1.800.242.9737 . 44725 Yale Road West • 604.792.1301 LANGLEY • 1.800.665.9060 |. 21869 - 56th Avenue • 604.533.0048 CHEMANIUS • 1.250.246.1203 . 3306 Smiley Road KELOWNA • 250.765.8266 . #201 - 150 Campion Street TRACTORS JD 4040 CAB, 2WD, 9,400 HRS [CNS782] ............................ 21,000 JD 5090GN 900 HRS, CAB, 4WD, BERRY TRACTOR [U32597] 64,900 JD 790 4WD, LOADER [U32483] ........................................... 16,900 NH T3 80F 4WD, ROPS, 45 HRS [U50300] ............................ 41,500 NH TC30 4WD, LOADER [U32744] ......................................... 14,900 NH TS6.140 [N 31303] ......................................................... 93,500 QUALITY USED EQUIPMENT CUB CADET LAWN TRACTORS NEW 2021 UNITS, RIDE-ON, O'TURNS . CALL FELLA 4 BASKET TEDDER (CHEMAINUS) [U40094) .................... 4,950 KUBOTA DM2028 3 PT DISC MOWER, HYD FOLD (CHEMAINUS) [U40093] ..........................................................9,500 MCHALE FUSION VARIO 2017, 14,000 BALES, [U32135] ......... 85,900 MCHALE 3100 FRONT DISC MOWER [U32621]........................ 18,750 MCHALE R3100 REAR DISC MOWER [U32620] ....................... 18,750 NH C232 TRACK SKIDSTEER, DEMO SPECIAL, 500 HRS, ROPS, GOOD CONDITION [N31179] ................................................. 56,000 NH 185 SPREADER HYD ENG GATE, MECH APRON [CNS780] .. 13,000 NH 575 HAY BALER HYD PICKUP/TENSION [CNS779] .............. 16,000 NH 1432 DISCBINE 2 PT SWIVEL HITCH [CNS781] ................. 13,000 NH FP240 CORN/GRASS HEAD, CROP PROCESSOR [CNS786] .. 47,500 NH FX40 2006 PROCESSOR, GRASS & CORN HEAD [U32641] 135,000 NH W50C TC WHEEL LOADER 200 HOURS [U32646]............... 75,900 SUPREME 900T FEED MIXER, SINGLE AXLE DUALS, 1000 RPM CV, 10' FLAT CONVEYOR [U40115] ...................... 75,000
Page 34
34 | APRIL 2022 COUNTRY LIFE IN BCIRRIGATION strategies nfrom page 33Agricultural Grade Products - Made in the U.S.A. Contact your local Nelson Irrigation dealer today!NEW HANGINGSPRINKLER SOLVESPROBLEMS FORORGANIC GROWERS15-50 PSI8.5-75 GPH9-16' RAD.PREMIUM PERFORMANCE ON HOSE REEL TRAVELERSIntroducing the S7 Spinner - a new Nelson innovation designed to combatrising energy and labor costs. The S7's modular design allows quick and easynozzle exchange - and the Quick Clean (QC) technology reduces irrigatorhours — simply turn, flush and reconnect. Special insect protection helpsprevent plugging or stalling. Find out more at WWW.NELSONIRRIGATION.COM®wave was likely more of a one in 1,000-year event. However, by 2050, it could become a one in 10 or one in ve-year reality if the globe heats up by 2°C, as current modelling indicates. "We may need to look at how we assess heat waves, what antecedent conditions may exist to contribute to them, and we need to think about the impacts of a less severe but a longer event where the heat sticks around," he says. Record high overnight temperatures coupled with daytime highs mean plants don't have time to recover. For orchardists, there are few well-proven mitigation measures for such high heat. Washington State University assistant research professor Kirti Rajagopalan said while covering apples with netting to mitigate sun damage is working in the Pacic Northwest, it may not be the long-term solution growers need as the world heats up. "Netting worked well historically but it's not going to be as successful in the pretty near future – less than 20-25 years for Honeycrisp," she predicts. WSU assistant professor in horticulture Lee Kalcsits has been looking at short and long-term strategies to limit sunburn in apples. Sunburn happens not only from sun exposure but also when the core of the fruit is heated. With more trees trained to grow vertically in high-density plantings with tighter spacing, there's less canopy to shade the fruit. Kalcsits said rootstocks with more vigour and leaf area will fare better, as well as trees where there is greener groundcover. Overhead sprinklers are another potential mitigation strategy. By cycling 10-20 minutes on, and then allowing the water to evaporate, pulse irrigation can help lower orchard temperatures. But it has to be done in the right cycle, likely dierent for each orchard. Delivering the water as a fog or mist via overhead systems uses less water and may also be successful, but multiple irrigation systems will be expensive. Kaolin clay sprayed on apples to reect sun had some success in 2021 research but when the air temperature was high, it didn't. Growers were also advised to really check how far irrigation is penetrating the soil. "We are seeing unpredictable overall quality and conditions postharvest, and we don't really know what it means for length of storage, rmness, international markets," says Carolina Torres, who holds the endowed chair of postharvest systems at WSU Tree Fruit Research and Extension Centre in Wenatchee. Researchers at the Summerland Research and Development Centre concurred. Summerland research scientist Hao Xu says Ambrosia and Gala apples had higher rmness at harvest last year but lost it faster during ripening and shelf life was shortened. Another unknown is the impact of heat on bees. Warmer autumns could see bees foraging later in the season, which may result in colonies overwintering with a greater proportion of older bees. This could translate into more colonies in distress the following spring, just when orchards require pollination. Warmer temperatures may also result in harvests advancing by one or two weeks earlier than in the past, likely resulting in new issues for the fruit. Orchardists will need to be ready. Growers will also likely have to look at a combination of indicators to choose when best to pick fruit, such as starch, skin colour, esh rmness, internal ethylene concentration or external colour and soluble solids. "We think we need a new maturity index on apples and for sure on pears," says Torres. "Some were developed in 1950s and need updating." By 2050, a 1,000-year heat event like BC growers experienced last year could happen once every ve or 10 years. BC TERRITORY REPRESENTATIVEGord Vande Burgt 604.345.7877www.schippers.caSchippers Canada Ltd.
Page 35
COUNTRY LIFE IN BC APRIL 2022 | 35Heat dome, cold snaps hit some, miss othersNurseries, growers are optimistic about the coming seasonPim and Mary-Ann van Oeveren of Tasty Acres in Salmon Arm were able to dodge the worst of last summer's heat dome. SUBMITTEDKATE AYERS KELOWNA -- While some nurseries have been dealt multiple blows with less-than-ideal weather events in recent years, some businesses were spared from crop damage. "The reason we didn't lose a lot of crops is because our raspberries were not quite ripe when we had the heat dome," says Mary-Ann van Oeveren of Tasty Acres in Salmon Arm. "In the Lower Mainland, they were ripe, so they had quite a bit of damage. Ours were a week or 10 days later to ripen. We actually had a good crop of raspberries." Mary-Ann and her husband Pim manage an organic nursery and they make most of their own cuttings for fruits including strawberries and raspberries. They have not experienced stock shortages in recent years. "We had quite a bit of smoke here in Salmon Arm. In 2017, our late-crop strawberries didn't ripen. So, I was quite worried about (2021). But somehow, the crops ripened. We had strawberries until it froze," says van Oeveren. "Everything is still covered in snow so I can't say for sure, but it looks good. It's nice that there's a lot of snow right now because then we don't have frost damage." The plants at Fruit Trees and More in North Saanich on Vancouver Island also did not sustain much damage from the heat or cold weather, says owner Bob Duncan. "There is a little bit of die-back of stock and some potted plants that may not have survived. Hard to say right now. When temps approach -10°C, you can start to have some losses when overwintering g stock," he says. "I don't believe the heat dome did anything bad." He also avoided damage during the December cold snap. "I have it adequately protected," he says. "We did have -9°C at the nursery between Christmas and New Years and the material in the greenhouse or [that was] protected seems to be ne." However, temperature dips in the Okanagan may have caused some damage to soft fruits. Below-average temperatures last September, for example, may have damaged a variety of tender fruits. "I am concerned about it particularly for the soft fruits – peaches, cherries, apricots, even wine grapes. There will probably be a bit of bud damage on the soft fruits," says Sam DiMaria of Bella Rosa Orchards in Kelowna. Minor damage of cherries and peaches is manageable, DiMaria says, as it saves him some thinning work in the spring. "If Mother Nature helps to remove 25% to 30% of that, it would be a good thing for us," he says. Unfortunately, the more recent cold weather in December may be a cause for concern. While the Thompson-Okanagan had snow cover in December, it was largely gone when temperatures dropped in February. "Very young trees or vines that are not covered with snow, they might be a little bit in jeopardy. But we don't know right now. We'll have a better idea in May and June," DiMaria says. "I am a little anxious about potential damage, but I don't think it'll be a severe disaster." KuhnNorthAmerica.comVisit your local British Columbia KUHN dealer today!INVEST IN QUALITY®www.kuhn.comMatsqui Ag-RepairAbbotsfordNorthline EquipmentPouce CoupeHuber Farm EquipmentPrince GeorgeGA 8731+ and GA 9531+ Twin-Rotor Rotary Rakes25'3" - 30'6" working widths • Center-delivery • Trailed modelsCREATE FLUFFY, FAST DRYING WINDROWS• Masterdrive® GIII double-reduction gearbox for increased reliability during intense use• Double-curved tine arms form 昀uffy, uniform windrows for superior raking performance• One control switch box for all functions from the comfort of the cab• 3D rotor suspension for improved ground adaptation in changing terrains
Page 36
36 | APRIL 2022 COUNTRY LIFE IN BCWhy did you start CLHbid.com?As a lawyer and farmer in rural Alberta, I often witnessed the diculties and the stress farmers encountered when the time came to sell their land. Farmers know better than anyone the importance of using the right tool for a specific job, yet when the time came to sell, there was no tool tailored just for agricultural land. CLHbid.com is a function of trying to address the shortcomings with traditional formats, whether selling at the kitchen table, sale by auction, tender in the newspaper, or listing with conventional real estate.What is CLHbid.com's record?We are heading into our 6th year of selling farmland in Western Canada. Starting out in Alberta, a disproportionate number of our initial sales were there. With that said, we have a proven record of going into new areas and raising the benchmark for farmland prices. Much like an innovative piece of farm equipment — if a new grain bagger works at Rosetown, SK, or a TMR Mixer in Abbotsford, BC it will also perform in MB or AB. In addition to farmers and ranchers, we have sold farmland for Estates, Financial Institutions, Municipalities and Provincial Governments.I want maximum value and certainty when selling. How does that jibe with CLHbid.com when I don't know my selling price in advance?At CLHbid.com, we strive to control all variables to ensure maximum value on sale day. The on-farm analogy might be the selection of the optimal variety of blueberries, the latest soil preparation techniques combined with intensive post planting care. You may not know your exact final yield in advance of harvest, but you do know you have done everything possible to ensure maximum yield. At CLHbid.com, we also give certainty to potential bidders. Bidders tend to distrust a list price that is arbitrarily set when using conventional real estate methods. Using CLHbid.com, once outbid, bidders feel certain the value is there and rebid, and when outbid, they rebid again.I know that CLHbid.com is a law firm, not realtors. Does that make it the same as tender to a law firm in the newspaper?It has been said that single tender to a law firm is akin to playing darts blindfolded with just one dart. At CLHbid.com, we remove the blindfold and provide unlimited darts to bidders. Transparency puts all interested bidders at ease and allows them to bid with confidence.Our farm family holds its land inside a corporation. If we sell the land, can we still take advantage of the Capital Gains Exemption?Individuals holding shares of a family farm corporation may utilize their exemption with proper tax planning. In some cases, this may even mean multiple exemptions if there are several shareholders. CLHbid.com deals extensively with tax lawyers specializing in this area and works with the Seller's trusted advisors to minimize taxes in such cases. At CLHbid.com, we respect owners long term relationships with local advisors and work with them.What is the biggest factor influencing the sale price for land?Demand. Being Western Canadian-based, we can engage not only local but also outside buyers through our extensive marketing — everything from videos to mailer cards to social media and 53' vans. We have had multiple sales where buyers outside the local area have bought without viewing the land in person. We also know that packaging parcels correctly and using our unique 'en bloc' means more bidders stay engaged right to the end of bidding. Allowing bidders to bid in privacy, knowing their names will never be disclosed by our law firm, enables friends, neighbours, and even relatives to bid without risking relationships, equating to increased bidders.What aboutland held in an estate?Using the CLHbid.com format removes the stress for executors. Estates often mean multiple beneficiaries with diering attachment to the land and diering views on value. Using CLHbid.com, no one can argue the land did not sell for fair market value in the end. As a bonus, we oer a set exit day for all parties.How can CLHbid.com guarantee we will get appraised value for our land?It is much more dicult to accurately appraise farmland than houses in an urban setting. Several hard to value factors come into play such as the premium buyers will pay for assemblage. Our platform is able to take all these external factors into account. This is reflected in the fact that we have sold land for double a recent accredited appraisal. At the end of the day we can assure you that we will sell your land for its true market value.We are on stand-by. Your farm is as unique as CLHbid.com. The team at CLHbid.com can be called in to assist you in achieving full value when the time comes to sell. With no rehearsals at sale time, we know the importance of having an experienced team using a platform designed specifically for the job. Before you make any decision, be sure you know all your options including the unique CLHbid.com platform. Whether it be a call, email, video conference or meeting in person we are always ready to discuss how we can make a lifelong dierence in what may well be the biggest decision of your life.Selling Farm Land,It's All We DoRoy Carter, CEOCome Meet Usat the Paci昀cAgriculture Show Booth #1241
Page 37
COUNTRY LIFE IN BC APRIL 2022 | 37Boiler project cuts costs for Duncan farmClean tech provides multiple operation improvementsWhen natural gas wasn't going to be an option, a Duncan farm sought funding for a new biomass boiler that not only heats its egg barn but serves its greenhouse, too. SUBMITTEDKATE AYERS DUNCAN – A new biomass boiler is helping a Vancouver Island farm operate more eciently, with less impact on the environment. Eclipse Farms Ltd. on Bench Road in Duncan was home to a market garden and roadside stand until seven years ago, when it was purchased by Wiebeco Investments Ltd. Wiebeco director Hugh Wiebe proceeded to expand the operation, building a chicken barn and, in 2016, updated an existing greenhouse. In 2020, he brought Wes Schartner on board as project manager. "The greenhouse had never been fully operational, so we did some modications to it and have been producing lettuce in there," says Schartner, who with his wife, began working at Eclipse two years ago. "We sell directly to Quality Foods." Powered by wood chips from local mills, the biomass boiler benets both sides of the operation. Since starting up in December, the boiler has helped wean the greenhouse from propane heating. Its also making greater use of heat, eectively allowing the energy it uses to do more. "We have added water heat. Prior to that, we were not heating our irrigation water," says Schartner. "That's a big deal for us because we're a hydroponic system. So, we're able to keep the water at a constant 21°C all winter. That's a huge advantage and we're heating the air in there." The boiler also provides heat for the farm's broiler barn, which houses 25,000 birds each production cycle. "The big advantage in the chicken barn is not only the heat and propane cost savings, but also reducing the carbon dioxide levels inside the barn. That's a pretty big deal for our birds, especially in the rst two weeks," says Schartner. "We tried getting natural gas in lieu of this and we couldn't get that to an economical point. So, to us, it's a huge benet and a really big deal for our farm. We are really excited to have it here." Project funding was through Agriculture and Agri-Food Canada's Agricultural Clean Technology Program. Eclipse Farms was one of 60 approved projects in the rst round of ACT funding, which delivered $17.9 million to 60 projects across the country. The program supports three main areas: green energy and energy eciency, precision agriculture and the bioeconomy, all with the aim of helping farmers cut greenhouse gas emissions and adapt to a changing climate. Eclipse Farms received $160,256 for its biomass boiler installation through the program's adoption stream. Composter funded The program's other BC recipient, Cedar Grove Farms Ltd. in Abbotsford, received $46,000 through the adoption stream for a Green Machine composting system from Lucknow Products of Ontario. James Krahn and his family raise 1.2 million kilograms of turkeys each year at Cedar Grove, which together with Krahn Brothers Farms Ltd., makes up Paragon Farms Ltd. Delays have pushed back delivery until this summer, but once installed it will have multiple functions. "It's like an anaerobic digester," explains Krahn. "It's a composting system for dealing with the mortalities on farm. Any waste from the farm will go into this thing." The result is a rich, natural fertilizer, produced without the use of natural gas. "The reason we went with this is because currently we're using a lot of natural gas to deal with our on-farm mortalities," he says. "There's not only the sheer cost of natural gas and gas prices are Silagrow.com1.800.663.6022 | office@silagrow.comMulch FilmLandscaping FabricsShade Nets Bale WrapsBunker CoversSilage BagsTw i n eNet WrapsHay TarpsForage & Grain SeedVisGreenhouse Ground CoverGreenhouse FilmsProtection NetsSALMON ARM 5121 - 46 Ave S.E. SURREY 112-18860 24 Ave (PU & Delivery Only)Serving all of BCInsurance products and services are provided through Assante Estate and Insurance Services Inc. Please visit www.assante.com/legal.jsp or contact Assante at 1-800-268-3200 for information with respect to important legal and regulatory disclosures relating to this notice.Financial planning for farm families Farm transition coaching Customized portfolio strategy Retirement income planningDriediger Wealth PlanningMark Driediger, CFP, FEA, Senior Wealth AdvisorBrent Driediger, BAA, CPA, CMA, CFP, Wealth Advisorwww.DriedigerWealthPlanning.com | 604.859.4890 Assante Financial Management Ltd.going up, but more so the environmental impact it has." The installation should help the farm cut costs, increase eciency and be green, in more ways than one – exactly what the adoption stream of ACT aims to achieve. "Without a program like this, it makes it hard to justify implementing some of these projects on farm because of the sheer expense of doing them. It's a great tool to help farmers work to invest in their farm and their daily work," Krahn says.
Page 38
38 | APRIL 2022 COUNTRY LIFE IN BCThousands of BC farmers and ranchers turn to Country Life in BC every month to nd out what (and who!) is making news in BC agriculture and how it may affect their farms and agri-businesses! CREDIT CARD # _________________________________________________________________ EXP _____________ CVV __________ o NEW o RENEWAL | o ONE YEAR ($18.90) oT WO YEARS ($33.60) o THREE YEARS ($37.80) Your Name ______________________________________________________________________________ Farm Name _____________________________________________________________________________ City ______________________________________ Postal Code __________________________________ Phone _____________________ Email ______________________________________________________ MAIL TO: 36 DALE RD, ENDERBY, BC V0E 1V4 subscriptions@ countrylifeinbc.com A little tough love for Frank and KennethWhen we left o last time, Clay had escorted Ashley through her drive-by graduation and then on to a more intimate celebration at home, where Junkyard Frank showed up, uninvited. Rural Redemption, Part 145, continues ... Lois gave Frank a long stare. "Frank, there's something I need to say to you." "Fire away." "It's something you need to hear and to do that, you'll have to quit talking and just sit there and listen." "Does it have to do with those Hendersons? Cause if it does, I'm all ears. What do you know about any of that?" "I know two things about all that. First, I know none of it is any of my business. Second, I'm pretty sure none of it is any of your business, either." "I'm just saying what I saw is all." "No, Frank. You're passing judgment on what you think you saw. You showed up at Newt's house uninvited and came up with this whole Peyton Place pipedream and now you're here spouting it o to anyone who will listen." "That's not fair. You're the only one I've told," declared Frank. "That's only because I'm the only one here. If a dozen strangers walked through that door, you'd be giving them the same story in a New York minute. You need to do better than that." "What do you mean?" "I mean you don't have to keep dreaming up gossip about everyone. You could have walked in here and said, 'Lois, I spent the nicest time at Newt's place yesterday. They had a little do for Ashley and her whole family was there. What a nice young woman she's grown up to be." And I could say, 'Hasn't she, though? She's a ray of sunshine every time she walks through the door.' Instead of having to tell you if it keeps going the same way it has been, I'm going to change the coee to take-out only." "You couldn't close the coee club, Lois," said Frank. There was a touch of panic in his voice. "Oh, I most certainly could close it," said Lois. "For now, let's just say I'm putting it on probation, and we'll see if the conversation becomes a little more complimentary and a little less judgmental." "What about Harriet Murray from the paper?" "Harriet? Lovely lady, always nice to have her drop by." Lois smiled as Frank sat slack-jawed. "There now," said Lois. "See how easy that was?" vvv Sunday morning chores at the Fitzpatrick's were done. Hap and Clay headed for the house and Edna's traditional Sunday Special breakfast. During the rest of the week, breakfast could be an irregular aair but Edna insisted that on Sundays everyone in the house sit down together for breakfast. The fare was always a little extravagant, but no one was in a hurry and there was plenty of time to talk. Clay asked if Hap and Edna were planning to go to Frank's graduation picnic at the ball eld. Hap said he'd heard the graduation part had sort of zzled and it had turned into more of a work-bee instead. He said he was thinking of hooking up the brushcutter and taking the little Massey up to have a go at the broom plants that were creeping in from the right eld foul line. Edna told Clay she'd spent an hour on the phone talking to his mother. "How's mom?" asked Clay. "How are things back home?" "Your mom's ne. She didn't say how things at home were. You can probably ask her yourself. She's headed our way." "She's coming here?" "Yes, they are. They made it to Golden last night, and we should see them tomorrow." "Is dad coming, too?" "No. She's coming with Sylvie." Sylvie was married to Clay's brother Brian. She'd asked Clay to call her his belle-soeur, because it meant pretty-sister and sounded so much nicer than sister-in-law. "Is there anything wrong?" "I think there is," said Edna gravely. "What?" "Her son hasn't been home for more than two years and apparently he has fallen in love with a young woman she knows nothing about, so she's coming to see him and meet her." "Is Sylvie okay?" "Don't worry. All three of them are just ne." Clay begged Edna to stop talking in riddles and asked who was the third person coming with them. "No one knows for sure. Sylvie might be able to shed some light on it when they get here." Clay threw up his hands and shook his head. "And when will that be?" he asked. "Tomorrow morning, if all goes according to plan." vvv Kenneth announced to Newt and Susan he intended to stay on for a few days until Delta's truck was xed and her living arrangements were settled. Newt said he was welcome to stay as long as he needed to. Susan said he was welcome to stay until the truck was xed and Delta moved along. Kenneth said he was going next door to have a talk to Ashley. He found Deborah and Ashley chatting over coee on the front porch. "Morning, Daddy." "Good morning, Ashley. Deborah. I'd like to have talk with you." "With the two of us or who?" asked Deborah. "With Ashley." Deborah got up and invited Kenneth to take her place and asked if he'd like a cup of coee. "You stay here and nish your coee, Mom; Daddy and I will take a walk up to the blu." "What blu?" asked Kenneth. Ashley led the way and it became apparent Kenneth probably hadn't been anywhere near the back line of Tiny's property since he'd nailed no trespassing signs on the fence posts and tree trunks a week after he bought it. He arrived hung and pung at the top to nd Ashley sitting on the edge. "This is one of my favorite spots," said Ashley, motioning Kenneth to join her. "Ashley, I wanted to have this talk because I'm concerned about you." It sounded ominous, nothing like the "Congratulations" or "I'm so proud of you" she was anticipating. "What's on your mind, Daddy?" "This," he said pointing to her necklace. "It's pretty, isn't it?" she said smiling. "That's not what I mean." Alright, Daddy, let's cut to the chase. What do you mean?" "I want to get to the bottom of all this nonsense about Cowboy Clayton being in love with you. And, according to your mother, you told her you were in love with him, too?" "That's right. He loves me; I love him. Me, your only daughter and Cowboy Clayton. What a shock that must be, huh?" "Shock doesn't begin to describe it, Ashley. It's laughable. You're barely 18 and he's in love with you? Is that what you think? And he's decided he's going to be some kind of farmer? Then what? You're going to get married and live happily ever after? What is it about this whole dogpatch soap opera that makes you think anything like that could ever happen? I wish I could say I'm proud of you, but this is all ridiculous." Anger amed in Ashley's eyes as she stared at Kenneth. "Let me set your mind at ease, shall I? I'm not barely 18. I'm nearly 19. And I don't think Clay is in love with me. I know it. He's considering an oer to take over part of his family's farm, but he hasn't decided yet. I don't know if we are going to get married but if we do, there's two things that make me think we'd have a pretty good shot at happy-ever-after. First, we are in love, and second, there's nothing about Clay that is anything whatsoever like you. I wish I could say I'm proud of you, too, Daddy but you haven't given me much to work with." ... to be continued Woodshed Chronicles by BOB COLLINSwww.countrylifeinbc.com/subscribe
Page 39
Katie Bodin is one of several volunteers that help Shelbourne Community Kitchen grow their own food and keep Omnivore Acres operating, too. SUBMITTEDCOUNTRY LIFE IN BC APRIL 2022 | 39Farm partnership supports local non-profitOmnivore Acres offers land and tools for food production"Serving British Columbia proudly since 1946"Machinery LimitedROLLINS RToll Free 1-800-242-9737 www.rollinsmachinery.com info@rollinsmachinery.caChilliwack 1.800.242.9737 . 47724 Yale Rd W Langley 1.800.665.9060 . 21869 56th Ave Chemainus 1.250.246.1203 . 3306 Smiley Rd Kelowna 250.765.8266 . 201-150 Campion StToll Free 1-800-242-9737 www.rollinsmachinery.comChilliack 1.800.242.9737 | 44725 Yale Rd W Langley 1.800.665.9060 | 21869 - 56th Ave Chemainus 1.250-246.1203 | 3306 Smiley RdChilliwack 1.800.242.9737 . 47724 Yale Rd W Langley 1.800.665.9060 . 21869 56th Ave Chemainus 1.250.246.1203 . 3306 Smiley Rd Kelowna 250.765.8266 . 201-150 Campion StSPRING FEEDING MADE EASYKATE AYERS SAANICH – Omnivore Acres and the Shelbourne Community Kitchen in Saanich collaborate to provide quality and nutritious food for those in need. What started as a mutual appreciation for good food and community turned into an ongoing, mutually benecial partnership. "At least three or four years ago now, I became aware of Shelbourne Community Kitchen through an organization called 100+ Women Who Care," says Catherine Gowan of Omnivore Acres in Saanich. "It's a philanthropic group that meets three times a year and each person donates $100 and dierent non-prots have the opportunity to present their case for funding." Shelbourne Community Kitchen attended a meeting to present its bid for community support. Following the group's presentation, Catherine's husband Jim Gowan met with Shelbourne Community Kitchen Society program director Kim Cummins to learn more about the organization and meet the volunteers. From there, Shelbourne Community Kitchen and Omnivore Acres began fostering a partnership. "Every year we would have a surplus of eggs in January, plus peewee eggs," says Catherine. Upon the rst donation of eggs, the organization's model and vision resonated with the Gowans. "We did a donation to them and then we started developing a relationship with them," says Catherine. "Another year went by, and we donated more eggs. They became our go-to donation place." Shelbourne Community Kitchen has been operational since March 2015. It is the result of ve founding partner organizations that came together in 2012 to address growing poverty in their neighbourhoods. "Each was doing something on their own to support the community. They decided to combine their eorts," explains Cummins. "The community kitchen model is something they formed to create a space where they could build community through healthy food." The kitchen oers cooking, garden and pantry programs. "Our services really work for folks who have a variety of dietary restrictions. It's very accommodating because it's a self-select model," says Cummins. "About three weeks into the pandemic, we started a no-contact home delivery service, recognizing that quite a number of our folks are immunocompromised or have mobility barriers. We wanted to make sure we could get healthy food right to the people who need it most." The approach saw numbers triple in the rst year of the pandemic, and they continue to climb two years later. Last year, as part of its strategic plan, Shelbourne Community Kitchen partnered with farms to grow more of its own food locally. The kitchen approached Omnivore Acres with the idea of volunteers coming to the farm to tend to and grow crops. "We've had a really successful CSA box program here for about 10 years, but we were having trouble getting labour to carry that on and we were getting too old to want to keep doing it," says Catherine. With the Gowans ready to embark on a new chapter in their lives, a new season of growth with Shelbourne Community Kitchen began. "The more we talked to Bruce and the more we got to know Kim, and the more we looked at ourselves and wondered what we were See VOLUNTEERS on next page o
Page 40
40 | APRIL 2022 COUNTRY LIFE IN BCgoing to do with our property, it made all kinds of sense. That's how it got started," says Jim. Last year was the partners' rst working season and the group harvested about 8,040 pounds of vegetables from Omnivore Acres. The Gowans also donated 500 dozen eggs. "We have a 1,200-square-foot greenhouse, we have all the infrastructure for water, tools, and we had a lot of rhubarb and asparagus and raised beds that were not going to be used," Jim says. "And we have 399 laying chickens on a small-lot permit with the [BC] Egg Marketing Board so we have access to composted chicken manure. They took the garden over and it just took o." Omnivore Acres and Shelbourne Community Kitchen are continuing the collaboration this year. "It's a win-win, and if I look at it objectively, for a non-prot or infrastructure trying to transition because of age, such as Catherine and I, it's a really, really good model. It's worked well for everybody," says Jim. Volunteers are respectful, appreciative and hard-working, which keeps Omnivore Acres cared for and productive. "When a farm isn't working, it's kind of depressing, to be honest. You see the weeds and you can't do the work and you feel like it's a terrible waste of an asset," says Catherine. "So just having that energy around us is really pleasant. I can't imagine us not doing it now." The kitchen's use of local expertise and resources helps ensure families in the area have a secured access to fresh and nutritious food. "It's a beautiful partnership where I think there is a mutual passion for community building, healthy food, gardening and farming, of course," Cummins says. In addition to Omnivore Acres, Shelbourne Community Kitchen works with several organizations in Victoria. Working with Top Soil Urban Agriculture, the kitchen established a 250-pot container garden that oers space for workshops and hands-on skills training. With LifeCycles Project Society, it runs a team that picks fruit in the local community. The fruit goes into the kitchen's pantry program. Then there's Get Growing, Victoria. They use nurseries throughout Victoria to grow easy-to-grow food plants and distribute plant starts to a number of organizations like ours to support marginalized communities growing food at home," says Cummins. Overall, sourcing local food from local producers benets entire communities. "It's really about recognizing that non-prots have the opportunity to leverage their purchasing power and their programs to be able to promote sustainability. … Investing in food growing initiatives is a really incredible way where not only are you reducing your food costs as a food distribution organization, you're also able to oer and supply the best food that you can," says Cummins. "We recognize that investing in our local farmers and food producers is a way as a non-prot we can not only oer the best produce or the best food that we can to our members, but we're also supporting a more just and sustainable food system in a dierent way." VOLUNTEERS keep farm growing nfrom page 39Volunteer Val Connacher helps prep produce for Shelbourne Community Kitchen. SUBMITTEDCLAAS DISCO 9400C TRIPLE MOWERS $53,800 SOLD! CLAAS 860 SP FORAGE HARVESTER 12.5' PICKUP & 6-ROW CORNHEAD $93,700 CLAAS 880 CENTRE DELIVERY RAKE CALL! CLAAS XERION 4500 VC TRACTOR CALL FOR PRICING & DETAILS CLAAS JAG 870 SP FORAGE HARVESTER 10' PICKUP & 6-ROW CORNHEAD CALL FOR MORE DETAILS/PRICING CLAAS 970 SP FORAGE HARVESTER 10' PICKUP & 10-ROW CORNHEAD CALL FOR MORE DETAILS/PRICING CLAAS 4000 4-ROTOR RAKE CALL FOR DETAILS FELLA TS 880 CENTER DELIVERY ROTARY RAKE CONSIGNMENT UNIT $16,000 X 2 FENDT 930 MFD CAB TRACTOR CALL FOR DETAILS NH BB340 LARGE SQUARE BALER CALL FOR DETAILS NH T4.75 TRACTOR ROPS MFD WITH LOADER CALL FOR DETAILS SUPREME INTERNATIONAL 700T MIXER WAGON TWIN SCREW SOLD! TAARUP 338 10' MOWER COND. COMING IN SOON VEENHUIS MANURE TANKER TRIPLE AXLE WITH BRAKES $140,000 www.caliberequipment.ca STORE HOURS MONDAY-FRIDAY, 8-5 SATURDAYS 8–12604-864-2273 860 RIVERSIDE ROAD ABBOTSFORD More Crops. Less Ash.
Page 41
COUNTRY LIFE IN BC APRIL 2022 | 41Lanna Last and Rashmi Prakash have come up with an award-winning idea that will help reduce food waste and revolutionize menstrual health. SUBMITTEDTheir concept will provide a compostable option for womenGATORGATOR LOTTERYLOTTERYResourcesWWW.4HBC.CA/RESOURCESexplore 4-H BCSOIL SCIENCE VIDEOSAGRICULTURE CAREERS VIDEOS4-H@HOME PROJECTGARDENING BASICS VIDEOSLIVESTOCK JUDGING QUIZZESAVAILABLE AT EDUCATIONALRESOURCES:WWW.4HBC.CA/RESOURCESKATE AYERS VANCOUVER – A new use for food waste will help solve an old problem, if the founders behind Aruna Revolution Health Inc. in Vancouver are successful. Aruna was one of 18 semi-nalists competing for funding through the novel technologies streams of the Food Waste Reduction Challenge initiative Agriculture and Agri-Food Canada organized to address avoidable food waste, a $50 billion issue in Canada. Wasted food not only squanders the resources used to produce it but contributes to greenhouse gas emissions and other negative environmental side eects. But for Aruna co-founders Rashmi Prakash and Lanna Last, processed fruit and vegetable bres oer an opportunity to revolutionize menstrual health and education by providing compostable menstrual pads and tampons. They're radically inclusive and help address the stigma around periods. "Back in 2019, Lanna and I were taking an MBA course together and realized that we were both passionate about improving the quality and standards of menstrual health, making it aordable, accessible, inclusive and sustainable," says Prakash. "Current pads last in the landll for over 800 years and are not often inclusive or accessible to everyone, and not everyone is comfortable or able to use reusable pads to improve their sustainability." Prakash and Last will source bres for their products from food waste and food manufacturers in Canada. "We are keen to look into bres from other sources in the supply chain and encourage those with ideas, or farmers and manufacturers that have plant-based waste, to get in contact with us," says Prakash. "We're looking for anything from the stems of the plants to wasted produce." Indeed, every step of the production process will occur in Canada. The company will source food waste from Canadian businesses and its products will be made domestically. The menstrual products are not yet commercially available but should be on the market by January 2023. "We are still in the R&D phase, ironing out the specications of the pad and testing dierent materials," says Prakash. "After we complete our compostability certication, we are planning to launch our product." The federal funding supports the business partners' product development. Semi-nalists each received $100,000 and proceeded to the prototype development stage of the Food Waste Reduction Challenge. The pair hope to be chosen by AAFC as one of the six nalists who will receive an additional $450,000. Those chosen will compete to win one of two grand prizes of up to $1 million. While Prakash and Last are excited to uncover the sustainability potential of their products, they also look to make an impact beyond food waste reduction. They are working to revolutionize menstrual health by dissolving the stigma around it. "To accomplish this, we are creating a more eective educational curriculum to share with schools, as well as work on menstrual health- related activism," says Prakash. BC was also represented among the semi-nalists by WineCrush Technology Inc. of Summerland, which is developing a patent-pending biomechanical process to upcycle grape pomace and other products into high-performance food ingredients. Launched in November 2020, the Food Waste Reduction Challenge is focused on technological solutions to food waste by extending the life of perishable food, transforming food waste and accelerating their advancement in the Canadian market. BC entrepreneurs meet food waste challenge
Page 42
YOURHelping YouHelping YouHave You Moved?subscriptions@countrylifeinbc.com604.328.3814Or has Canada Post changed your mailing address? We won't know unless YOU tell us!42 | APRIL 2022 COUNTRY LIFE IN BCMouth-watering pork loin chop stuffed with prawns – how do you spell delicious? JUDIE STEEVESIt's time to dust off the barbecueI always associate April with rain. After a winter of quiet snowfalls, the rst spring rain sounds very loud. But then, even the birds have begun making morning noises and mating sounds, so I guess the quiet of winter is nally over. That reminds me it's time to clean up the barbecue, ready for more outdoor cooking. In preparation, I've dug out my favourite recipe for barbecue sauce to share with you and created a new way to barbecue pork, sweetening it with a few prawns and a couple of cheeses, for a really special avour. There are lots of sprouts around now, too, from fresh young chives in the garden, to young asparagus sprouts and lots of fresh herbs to add avour to whatever you're barbecuing. Try something new this year, whether it's a new barbecue sauce, some new fruits or vegetables on the barbecue or simply barbecuing. There's nothing quite like the aroma and avour of smoky, barbecued ribs or chicken, but try asparagus and baby bok choy on the barbecue as well. We've always loved little red potatoes cooked for a minute or two each in the microwave, then nished up on the barbecue, but try slicing up some russets fairly thickly and brown them on the grill, brushed with a smidge of melted butter and sprinkled with freshly ground pepper. Thickly sliced onions are another delicious barbecued vegetable, although you have to be careful you don't try and turn them more than once or they'll begin to come apart. Sweet peppers, quartered, are another great choice. As far as the meat goes, Jude's Kitchen JUDIE STEEVESyour options are almost endless and go far beyond the ordinary steak, chops and ribs to salmon, snapper, shrimp, lamb, chicken in all its forms and roasts. Kebabs are a bit of a nuisance to put together but once that's done, dinner's ready. You can do separate meat and vegetable skewers, or mix the two on the same stick. I use metal skewers but if you use wooden ones, make sure you soak them rst. With kebabs, you can marinade tough cuts of meat rst to tenderize them, then spear the chunks with cubes of onion, zucchini, cherry tomatoes, peppers, pineapple, scallops or prawns. A side of rice, pasta or a spud, and you're all set. This is a great blend of sweet and sour, salty and spicy, but it's made very mellow with the ale in the background. Use on chicken, chops or ribs. 1 small onion 1 large clove of garlic 1/4 c. (60 m) dark ale 1/2 c. (125 ml) ketchup 2 tbsp. (30 ml) cider vinegar 2 tbsp. (30 ml) brown sugar • Mince onion and garlic and cook over gentle heat in a drizzle of oil for just a few minutes until nice and soft. • Add the ale and stir, then add the remaining ingredients and cook for 10 minutes or so, stirring every now and then. • Refrigerate until ready to use.DRUNKEN BARBECUE SAUCEA boneless chop that's a bit more than an inch thick is needed for this to work, but this avour combination is very special. 1 lb. (454 g) thick pork loin chop 2 oz. (28 g) prawns (3 medium) 1 oz. (14 g) feta cheese 1 oz. (14 g) cream cheese 1 green onion or handful of chives • Carefully cut a pocket in the centre of a thickly-cut, boneless pork loin chop, but don't quite cut all the way through on three sides. • Prepare the lling by chopping the prawns, feta and green onion and mixing together in a small bowl. • Spread cream cheese all over the pocket in the pork chop. • Insert the lling into the pocket you created, pushing it right to the edges of the pocket • Sprinkle the chop with fresh lemon juice, a sprinkle of dried oregano and tarragon (or fresh if you have it) and salt and pepper, taste. • Barbecue 15 minutes or so on medium-high or until the internal meat temperature is 145°F. PRAWN-STUFFED PORK LOIN CHOPfresh lemon juice dried oregano dried tarragon salt and pepper, to taste 2 tsp. (10 ml) chili powder 1 tsp. (5 ml) Worcestershire sauce 1/2 tsp. (2 ml) dry mustard 1/4 tsp. (1 ml) red chili akes 1/4 tsp. (1 ml) black pepper 1/4 tsp. (1 ml) hot sauce
Page 43
COUNTRY LIFE IN BC APRIL 2022 | 43ZcXjj`Ô\[j7Zflekipc`]\`eYZ%ZfdfiZXcc1-'+%*)/%*/(+C@E<8;J1),nfi[jfic\jj#d`e`dld(*gclj>JK#\XZ_X[[`k`feXcnfi[`j%),;@JGC8P8;J1),gclj>JKg\iZfclde`eZ_M[WYY[fjcW`ehYh[Z_jYWhZi$TRACTORS/EQUIPMENTREAL ESTATEREAL ESTATEFOR SALE FOR SALEHAYSEEDBERRIESFor Tissue Culture Derived Plants of New Varieties of Haskaps, Raspberries, Blueberries, Blackberries, Saskatoon Berries and Sour Cherries, Please Contact:DISEASE FREE PLANTING STOCK OF NEW BERRY CROPS 4290 Wallace Hill Road, Kelowna, BC, V1W 4B6info@agriforestbiotech.com250.764.2224www.agriforestbiotech.com NEW POLYETHYLENE TANKS of all shapes & sizes for septic and water storage. Ideal for irrigation, hydropon-ics, washdown, lazy wells, rain water, truck box, fertizilizer mixing & spray-ing. Call 1-800-661-4473 for closest distributor. Manufactured in Delta by Premier Plastics premierplastics.com Feeders & Panels that maintain their value!ROUND BALE FEEDERS BIG SQUARE BALE FEEDERS FENCE PANELS CATTLE & HORSE FEEDERSHEAVY DUTY OIL FIELD PIPE CRADLE FEEDERS. Single big square or 2 round bales Outside measurement is 8 feet x 12 feet Silage bunk feeders For product pictures, check out Double Delichte Stables on Facebook Dan 250/308-9218 Coldstream DON GILOWSKI 250-260-0828 Royal LePage Downtown Realty Ltd BUYING OR SELLING OKANAGAN FARM, RANCH OR ACREAGE? COURTENAY HEREFORDS. Cattle for Sale: yearling bulls and bred heifers. John 250/334-3252 or Johnny 250-218-2537.PYESTERDAY'S TRADITION - TODAY'S TECHNOLOGYMANAGERS Phil Brown 250-293-6857 Catherine Brown 250-293-6858 ccr.princeton@gmail.com www.coppercreekranch.com PRINCETON, BC Raising registered polled & horned Herefords & F1s. BREEDING BULLS FOR SALE.RAVEN HILL MEADOWS: Coneygeers bloodlines - call for seedstock. 250-722-1882. NanaimoLIVESTOCKIt's the top linethat makes the Bottom LineBC SHORTHORN ASSOCIATION Scott Fraser, President Bob Merkley, BC Director 250-709-4443 604-607-7733MAY DEADLINE APRIL 23DeBOER'S USED TRACTORS & EQUIPMENT GRINDROD, BCUSED JD TRACTORS 60-100 HP JD 6405 4WD, 90 HP, LOADER AVAILABLE CALL JD 7200 4WD OPEN STATION PWR QUAD TRANSMISSION CALL JD 1630 W/LDR 16,000 JD 3155 4WD W/CAB 45,000 JD620 21' disc dbl fold 20,000 ROME 8' heavy duty disc 2,500 ED DEBOER 250/838-7362 cell 250/833-6699 CURT DEBOER 250/838-9612 cell 250/804-61471-888-770-7333Call Daryl 604-855-2287SHOP & INDUSTRIAL EQUIPMENT • BIG HYSTER FORKLIFT High Lift Lumber Style, 8 ft tines extensions on propane. $5,500 • 3PH HYSTER FORK LIFT Heavy Duty attachment. $,2200. Other fork-lifts and attachments. • FORD NH by-directional Attach-ments; Fork-Lift $3500, loader silage forks/grapple $1,000 • ROAD SANDER Dump or deck mount, self contained power unit, medium size. $2,200 • BIG ROAD SANDER S/A Semi Trailer with liquid additive applicator, S/C. Power, X. VGR Airport, mint condition. $12,500 • FORD 4610 Tractor, 60HP, Narrow and low profile 2WD, Nice Cond, $11,500 • GALLION CRANE All Terran 4X4, IH diesel, extension boom with cable winch. $4,750 • AIR COMPRESSORS Various electric shop and portable diesel trailer style. $750 to $5,500 • BAND SAW for metal, used little, $750. • SHOP WELDERS $250 and up. • BELT CONVEYOR gravel/soil HD in-dustrial 50'x3' electric on wheels. $7,500 • SCREENER Double Deck separator, belt driven, has been used for wood chip. $2,500 • LOADER ASSEMBLIES: FORD/NH 8360, CASE 56L, IH Ind, Allied 784, Tiger, etc. Call for details. • EXCAVATOR RIST A TWIST 50" cleaning bucket, NEW! $2,600. Many other buckets, call for details. • NEW SKID-STEER Bale Spear $550, Pallet Forks $950, Also used pieces. • OLDER FARM TRUCKS & PARTS Call Jim's cell for hard to nd items If you've been trying to reach me on my landline, please call or text my cell 604-556-8579 LOWLINE semen for sale (registered bull). Silverhills Lowlines 250-547-6465 littlecow@telus.netPurebred BLACK ANGUS cow/calf pairs born in October Bull now with cows, down sizing 12 pairs to go Call Ian @ 604-316-3517 or littlecookie_1994@hotmail.com Shadynook LowlinesImprove your efciency and moderate the size of your cows with top quality Lowlines 2-year-old bulls and yearling bulls and heifers available Enderby, BC 250-833-0491 vanderspoeld@gmail.comCUSTOM BALING 3x4 BIG SQUARES SILAGE BALING/WRAPPING ED DEBOER 250/833-6699 CURT DEBOER 250/804-6147EDVENTURE HAY SALES ENDERBYPacifc Forage Bag Supply Ltd.www.pacificforagebag.comCall 604.319.0376KOMONDOR Livestock Guardian pups for sale born in October. Currently living with sheep. Clearwater, BC. Contact Jeff 250-674-7111 or jeff@rootedbytheriver.caFOR SALE in Osoyoos: 2 electronic cherry PACKING LINES, 1 apple pack-ing line, harvest bins, and other as-sorted packinghouse equipment. Please contact Tony for more details 250-498-7705WANTEDAvailable now, 4- 1/4 mile Used VALLEY, ZIMMATIC, T.L. PIVOTS, 3- Used 1,000 ft, 1,250 ft Hose reels, 10,000 ft 12 in 8,000ft 10 in HDPE, Steel pipe in all sizes used. Dealer for Pierce Pivots, T.L Pivots, lease your new or used pivot, Hose reels, RM, Idrio, diesel pumps, centrifugal, sub-mersible, freq drives, pump stations, 30 years experience. Talk to Brock! 250 319 304420 ACRE HOBBY FARM near Merritt, set up for horses, miles of trails. www.offgridhobbyfarm.caALFALFA SEED: $2.90/lb, Tap root blend, North Okanagan produced, Common #2, 20 kg bags, seed analy-sis available. Call or text Larry 306-580-3002, Armstrong, BCCarrie Nicholson PREC* 250-614-6766 DISCOVER PRINCE GEORGE PRINCE GEORGE & AREA SUBDIVISION LOTS: PARADISE ESTATES: R2628217; R2628221; R2629299 and more lots available in this subdivision. GLADTIDING ESTATES: R2598853; R2598860; R2599054 and more lots available in this subdivision. PARADISE IN THE VALLEY 192 acre private estate, custom home, out-buildings to die for. MLS R2658619 $1,599,999 LOG HOME custom built, 30 fenced acres, 50x50 shop, MLS R2648543 $1,245,000 192 ACRES on edge of PG. Zoned forestry, ag, residential. MLS R2649969 $795,000 PRIVATE OASIS steps from Fran-cois Lk, 5.1 acres, 2 homes, MLS R2654629 R199,900 SAXTON LAKE ROAD: R2610535 R2610527; R2610554 and more lots available in this area. EQUESTRIAN/CATTLE RANCH. Out-standing 445 acre property w/~250 acres in hay/pasture, updated home, MLS R2604494 $1,650,000 CRANBROOK HILL 77 acres w/dev potential minutes from UNBC. MLS R2640598 $1,500,000 HART HWY 54.95 acres. MLS R2640583. $750,000. CLOSE TO DOWNTOWN 8.3 acres. MLS R2610880 $295,000 74 ACRES w/ 20,000 sq ft bldg., 40 acres cultivated. MLS C8041167 $1,700,000 ESCAPE the city. Two lots in Willow River, 22,500 sq ft. MLS R2591708, $28,900 69+ ACRES ON RIVER Approx 50 acres in hay. River, road access. MLS R2569334 $785,000 RANCH PARADISE 700 acres, 5 titles, 160 acres in hay. MSL C8038028 $1,244,421 55 ACRES Dev potential close to airport. MLS R2435958, $544,900 112.02 ACRES IN CITY LIMITS. Potential for development. MLS R2435725. $1,300,000 VANDERHOOF 2 homes on 160 acres (95 in hay) MLS R2660549 $925,000 TREED LOT on edge of the Fraser. MLS R2622560 $250,000 160 ACRES waiting for ideas. MLS R2622568 $ 229,900 2 LOTS IN ONE PKG! 3.55 acres residential Quesnel R2657274 $289,000 2 ACRES SALMON VALLEY 3 bed/2 bath mobile, RV storage, gh, MLS R2642918 $419,000 80 ACRES/TIMBER VALUE Zoning allows ag, housing, forestry & more. MLS R2665497 $495,000 15 MINUTES TO PG ~58 acres with timber value. Mostly flat lot with lots of potential. MLS R2665474, $395,000 HWY FRONTAGE 190 acres w/exc potential for subdivision/commercial ventures. MLS R2660646 $799,000 2 PARCELS near Francois Lk. Bring your ideas. MLS R2656229 $1,350,000 WRIGHT CR RD 195 acres undisturbed bare land. M LS R2655719 $699,000GOING CONCERN POULTRY FARM or QUOTA I'm interested in purchasing broiler, layer, or egg hatching operation. Must be located in BC. Manny 250-689-4119 NH 995 self-propelled combine w/pickup head; Hesston self-propelled swather, 10' cutting bar, Wisconsin engine; JD seed drill, 12' w/grass & fertilizer attach. Bill. 604-220-4903
Page 44
44 | APRIL 2022 COUNTRY LIFE IN BCkubota.ca | 1521 Sumas Way, Box 369Abbotsford, BC V2T 6Z6(604) 864-9568avenuemachinery.caAVE010kubota.ca | SOME CALL IT SPRING. WE CALL IT KUBOTA SEASON.As the snow melts, the anticipation builds: spring is the start of Kubota season. Whether it's a new build, a redesigned back yard or the family farm, Kubota has the equipment and attachments that t your needs—and your budget.1521 Sumas Way, Box 369Abbotsford, BC V2T 6Z6(604) 864-9568avenuemachinery.caAVE010kubota.ca | 1521 Sumas Way, Box 369Abbotsford, BC V2T 6Z6(604) 864-9568AVE010OLIVER GERARD'S EQUIPMENT LTD 250/498-2524 PRINCE GEORGE HUBER EQUIPMENT 250/560-5431 SMITHERS HUBER EQUIPMENT 250/847-3610 VERNON AVENUE MACHINERY CORP 250/545-3355 ABBOTSFORD AVENUE MACHINERY CORP 604/864-2665 COURTENAY NORTH ISLAND TRACTOR 250/334-0801 CRESTON KEMLEE EQUIPMENT LTD 250/428-2254 DAWSON CREEK DOUGLAS LAKE EQUIPMENT 250/782-5281 DUNCAN ISLAND TRACTOR & SUPPLY LTD 250/746-1755 KAMLOOPS DOUGLAS LAKE EQUIPMENT 250/851-2044 KELOWNA AVENUE MACHINERY CORP 250/769-8700 PROUD PARTNER OF