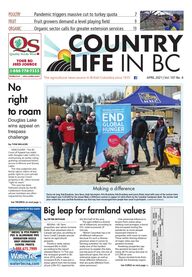 Return to flip book view
April2021
Page 1
Postmaster, Please return Undeliverable labels to: Country Life in BC 36 Dale Road Enderby, BC V0E 1V4CANADA POSTES POST CANADA Postage paid Port payé Publications Mail Post-Publications 40012122Vol. 107 No. 4The agricultural news source in British Columbia since 1915 APRIL 2021 | Vol. 107 No. 4POULTRYPandemic triggers massive cut to turkey quota 7 FRUITFruit growers demand a level playing field9 ORGANICOrganic sector calls for greater extension services19by PETER MITHAM REGINA – BC farm properties saw values increase faster than anywhere else in Canada last year, according to Farm Credit Canada's annual report on agricultural property. Province-wide, values increased 8% in 2020, according to the report released March 15. This was the strongest growth in BC since 2016, when values increased 8.2%. It was also a sharp uptick from the increase of just 2.9% FCC reported for the rst half of the year. The gain reects a diverse set of inuences, according to FCC chief economist JP Gervais. "British Columbia has a lot of dierent inuences because it's such a diverse province when it comes to farming activities," he said. "It's really one of the hardest provinces to explain the data, just because of one, the mix of agricultural types, the mix of enterprise types, as well as those dierent inuences … that are quite dierent from other provinces." One perennial inuence is buyers from urban areas seeking rural acreages, a trend that increased during the pandemic as more people expressed interest in properties with room to roam. Those within driving distance of major cities saw the greatest increase. Kootenay properties saw the greatest increase in BC, rising 28.1% versus last year to $15,300 an acre. "Buyers tended to be from outside the Kootenay region Denise de Jong, Bob Brandsma, Gary Baars, Andy Harrington, Pete Brandsma, Rob Brandsma and Lauren Klade stand with some of the auction items that helped raise $320,000 for the annual Make a Difference auction in support of relief efforts by the Canadian Foodgrains Bank. The auction took place online this year, and Rob Brandsma says that may have encouraged more people than usual to participate. DARREN MCDONALD Big leap for farmland values1-888-770-7333 Quality Seeds ... where quality counts!YOUR BC SEED SOURCESee SURGE on next page oNo right to roamDouglas Lake wins appeal on trespass challengeby TOM WALKER VANCOUVER – The BC Court of Appeal has sided with Douglas Lake Cattle Co., overturning an earlier ruling granting recreational shers access to Minnie and Stoney Lakes. The new judgment also rmly rejects claims of any public right to cross private lands to access Crown property in BC, often termed "right to roam." This case has been followed closely by the BC Cattlemen's Association whose members are often impacted by the public Making a differenceSee TRESPASS on next page oGrowing more with less waterwatertecna.comttttttttIRRIGATION LTD1.888.675.7999 888 6 9999888669999 Diesel & PTO Pumps PVC & Aluminum PipeIrrigation ReelsDRIP IRRIGATIONCentre Pivots
Page 2
TRESPASS case has implications for all landowners nfrom page 1SURGE in property deals unprecedented nfrom page 1trespassing on their private land. "We are, of course, very happy with this decision," says BCCA assistant general manager Elaine Stovin. "[But] this case is important to all farmers and anyone who owns land." Stovin says that it's frustrating that the popular press has frequently framed the issue as a David-and-Goliath story with recreational users being pitted against US real estate and sports magnate Stanley Kroenke. "It's not just about the largest ranch in British Columbia. We have many members who have small holdings and all farmers have issues with liability, environmental responsibility, re danger and biosecurity when people trespass on their land," she says. BC Supreme Court Justice Joel Groves ruled in 2018 that Nicola Valley Fish and Game Club members could access two lakes situated within the Douglas Lake Ranch northeast of Merritt. Groves found that there was evidence of both public road and historic trail access to the lakes, which are Crown waters, and ruled that DLCC could not restrict shermen from using the lakes. DLCC appealed. On March 5, BC appeals court Justice Peter Willcock ruled that the trail was not a public right of way, and that the public road did not reach the shore of either lake. BCCA was granted intervenor status in the case and presented on two parts of this issue. The rst consideration was whether the public can cross ooded private land against the wishes of the private landowner in order to access 'public' bodies of water for recreational purposes. "This was in reference to the Trespass Act," explains Stovin. "The BC act is the only one in Canada that specically mentions trespass on ooded lands." Justice Willcock agreed and deemed the ooded land to be owned by DLCC, not the province. "In my view, by issuing a shing licence, regulating shing or managing water resources, the Province does not exercise such control over activities on ooded lands as to be an occupier of those lands as that term is dened in the Trespass Act," he wrote in his decision. The second issue was whether or not a public right existed to cross private land to access the Crown waters of the lake on account of a "common law right of access" "This is the 'right to roam' concept that people talk about which has never previously been recognized in British Columbia legislation," says Stovin. "There were two private member bills introduced in the BC legislature in 2017 but neither went past rst reading." Willcock's judgment says the popular notion of a "right to roam" in BC has no legal basis, even if – as in the Douglas Lake case – it's to access a lake on land reserved 2 | APRIL 2021 COUNTRY LIFE IN BCPatrick is an experienced portfolio manager that brings a focused nancial and estate planning team to clients to ensure the best and most eective investment decisions are made now and in the future. The RBC Wealth Management investment and planning program provides income security and tax minimization in the context of a holistic nancial plan and road map for each client."Wishing all my farming friends a wonderful spring season and great crop year!"www.tractorparts4sale.caABBOTSFORD, BC Bus. 604/807-2391 email: tractorparts4sale@shaw.caWe accept Interact, Visa and Mastercard YANMAR FX42D 2WD OPEN STATION, 42HP PSHIFT TRANS, 4 SPEED PTO. 2961 HRS. . . . . . . . . . . . . . . . . . . . . . . . . . . . . . . . . $6,500 CLAAS 350T AND 370T PULL TYPE ROTARY RAKES . . . . . 4,500 & 6,500 SIP 165G THREE POINT DRUM MOWERS, GD COND. . . . . . . . 2,800 ea KUHN 1219 SINGLE AXLE MANURE SPREADER WITH GATE . . . . 6,500 JOHN DEERE 7000 4 ROW, DRY FERT, MECH MARKERS, NEW FINGERS . . . . . . . . . . . . . . . . . . . . . . . . . . . . . . . . . PENDING! 5,500 JOHN DEERE HD BALE CONVEYOR 40FT ON ADJ FRAME WITH AXLE, PTO DRIVEN . . . . . . . . . . . . . . . . . . . . . . . . . . . . . . . . . . . . . . . . . . . 1,200 MF 265 2WD, CAB, 60 PTO HP, INDUSTRIAL LOADER . . . . . . . . 10,500 GMC CAB OVER 5 TON DIESEL TRUCK WITH 18 FT TYCROP SILAGE BOX, GOOD CONDITION . . . . . . . SOLD! 14,000 LOEWEN 9612 VERTICAL MIXER . GOOD CONDITION . . . . . . . 14,000NEW REPLACEMENT PARTS for MOST TRACTORS & FARM IMPLEMENTSGD Repair LtdTractor/Equipment Repair Mobile Service Availableto the Crown for the benet of the public. "In my view, while this argument may attract considerable public support, it has no support in our law," Willcock writes. "Unlike other jurisdictions, British Columbia does not have public access legislation." The result was a victory for Douglas Lake. "In conclusion, it is my opinion that DLCC is entitled to restrict access to Minnie Lake and Stoney Lake and the Club has no statutory or common law right to cross DLCC's property, whether it is ooded or not, to access the lakes." In his 2018 ruling, Groves also ruled that DLCC should pay the costs of the trial, particularly because the Nicola Valley Fish and Game Club was acting "in the public interest." Willcock reversed that decision and ordered each party to pay their own costs of the 2018 trial. Since Douglas Lake had "substantially" won the appeal, Willcock also ordered the club to pay the full costs of the appeal. However, the matter is not over. The Nicola Valley Fish and Game Club is reportedly planning to take its ght to the Supreme Court of Canada. where values rose 32.4%. The popular cottaging destination southeast of Montreal saw prices rise to an average of $5,400 an acre – still quite aordable by BC standards. Outside the Kootenays, the Thompson-Nicola and Cariboo-Chilcotin regions saw values rise 16.7% and 12.9%, respectively. Both are popular with outdoor enthusiasts, but also for ranching and forage production. Landcor data indicates that ranch transactions dominated activity in these areas last year. Nielsen says it's mostly mid-sized properties that traded, however. "People are looking for cattle ranches, ones they can make a living from. … You've got to run at least a couple hundred cows to get enough income," he says, noting 2,000 acres would be a comfortable size. "They're looking for the smaller ranches, not the great big ranches, right now." While the Lower Mainland claimed the most expensive properties in the province with values averaging $100,000 an acre, this was up a mere 3.2% from last year. Meanwhile, the way FCC conducts its analysis meant that values remained unchanged in the Okanagan at $24,400 an acre. That's ludicrously low to many growers in the southern Okanagan and Similkameen, where prices command upwards of $200,000 and $300,000 an acre. But FCC removed fruit-growing land from its report this year, saying orchard and vineyard properties skewed the results. FCC reported an adverage value for the region last year, including these properties, of $103,288 an acre. "We thought there was just too much distortion in terms of the range of values that we were reporting, so we think this provides a clearer picture," Gervais says of this year's report. According to Pat Duggan, a former dairy farmer now an agent with Royal LePage Downtown Realty Ltd. in Vernon, fruit growers set the pace for land values in the north Okanagan, but forage land accounts for 75% to 85% of transactions. "We're not seeing values north of $35,000 an acre in the north Okanagan yet," he says. While small acreages command higher prices, Duggan says "$25,000 an acre for forage land in the north Okanagan is making sense." and larger urban centres, which created sudden and potentially short-term competition for land," reports FCC. "These buyers were drawn to what they considered aordable land and the opportunity to escape the more populated areas." That rings true with Rudy Nielsen, founder and partner of Landquest Realty Corp. in New Westminster, who has handled rural properties since 1964. "We've never been busier," he says. "I've never, ever seen a market like this." Data from Landcor, a sibling company that analyzes transaction data for Landquest, shows 50 farm property deals in the Kootenays last year across all sectors, dominated by livestock and forage properties. The two types saw notable appreciation. The surge in the Kootenays was second only to Quebec's Eastern Townships nationally,
Page 3
Province plans to overhaul meat licensing Regulation change expected to take effect this fallCOUNTRY LIFE IN BC APRIL 2021 | 3by PETER MITHAM VICTORIA – The province plans to revamp the licensing of abattoirs in the province, making it easier for smaller plants to start up and expand slaughter capacity. BC agriculture minister Lana Popham hopes to unveil regulatory changes this month that will simplify the licensing regime and increase inspections. "You're going to be so happy about the changes and the opportunities coming your way for small and medium-scale production," she told the Certified Organic Associations of BC annual conference at the end of February. While she gave few details, ministry staff said the existing four classes of plant licences would be eliminated and "new and improved inspection models" adopted to increase inspections. "We will be replacing the current outdated, complicated meat licensing system with new, simplified categories to better reflect the need of licence-holders while offering new opportunities," staff told Country Life in BC. The existing licensing structure has been in place since the mid-2000s and was unique in its day, allowing for both provincially inspected slaughter establishments as well as regulating local processors overseen by regional health authorities. However, the inspection question remained a bone of contention that set provincially inspected plants and local processors at odds. But meat inspection was consolidated within the agriculture ministry in December, opening the door to more substantive changes. The new regulation will reveal what shape those might be. Popham is on the record as favouring virtual inspections as well as mobile abattoirs and other innovative processing models. The changes promise to deliver the additional capacity small-scale processors say is needed. Demand for local meat surged during the pandemic as consumers stuck close to home, with local food deemed a safe alternative to mass-produced items and a way to support local businesses. But capacity couldn't keep up. Producers who found themselves having to book months in advance for processing slots before the pandemic now found themselves waiting even longer. Several producers threatened to shut down completely or faced significant maintenance costs waiting for abattoirs to schedule time for them. Ironically, the capacity crunch came just as government was making some of its biggest investments in the sector in recent memory. BC meat processors received the single largest allocation from a $55 million emergency processing fund the federal government established last spring to help food processors upgrade facilities and protect their workers during the pandemic. A total of 117 companies in BC received $16.9 million, with 33 meat processors – including the largest provincially inspected plants – receiving $5.1 million. Recipients were announced March 5, though the funds were disbursed and spent by last September. Berry processors ranked second, with 19 packers receiving $3.2 million from the fund. Egg plants ranked third, with two companies receiving $669,000. All other sectors received less than $500,000. While the federal funding is significant, the province chipped in, too. In late February, the province announced awards under the $100 million Community Economic Recovery Infrastructure Program. The Salt Spring Abattoir Society received $222,525 to expand processing capacity to support farmers and meet demand for local meat. (Sources indicate to Country Life in BC that as many as a half-dozen abattoir projects considered applying for CERIP funding. Some found the application window too short, while most were unsuccessful.) The province also granted funds in February to 64 farms as part of its small-farm business acceleration program, also positioned as a recovery initiative. In a first for such programs, the province considered infrastructure projects eligible, not just advisory services, up to $800,000. Grants were made to 11 PLOWING POWER HARROWINGSEEDING SEED BED PREPARATIONLAND LEVELLING"A good crop is the result of a great seed bed which starts with a great plowing job."Terra Seed Corp 1.800.282.7856 terraseco.comlivestock operations as well as 53 crop and horticulture operations. Breakdown by recipient was not provided. IAFBC will also soon announce recipients of $500,000 made available last fall that was leftover from the Livestock Waste Tissue Initiative of the mid-2000s. While the funding benefits existing plants, it does little to bring fresh slaughter capacity on-stream. This is where regulatory change is essential, says Julia Smith, a rancher in Merritt and president of the Small-Scale Meat Producers Association, one of the unsuccessful applicants for CERIP funding. "There needs to be a fundamental change to the regulations to enable small-scale facilities to operate within small-scale budgets," she says. "This is one of the biggest problems we have with solving the capacity problem. Unless the government wants to subsidize all smaller scale processing facilities, something has to give." Ready. Set. Grow!The Greenery Garden Centre opened in February this year, the earliest ever for the Kelowna nursery. Head grower Bob Hackman says they've ramped up production to meet increased demand for tropicals and garden plants, one of the relatively few retail perks of the pandemic. Customers lined up on opening day to get an early touch of spring. MYRNA STARK LEADER
Page 4
Advertising is accepted on the condition that in the event of a typographical error, that portion of the advertising space occupied by the erroneous item, together with reasonable allowance for signature will not be charged, but the balance of the advertisement will be paid for at the applicable rate. In the event of a typographical error which advertises goods or services at a wrong price, such goods or services need not be sold at the advertised price. Advertising is an offer to sell, and may be withdrawn at any time. All advertising is accepted subject to publisher's approval. All of Country Life in British Columbia's content is covered by Canadian copyright law. Opinions expressed in signed articles are those of the writer and not necessarily those of Country Life in British Columbia. Letters are welcome, though they may be edited in the interest of brevity before publication. All errors brought to our attention will be corrected.36 Dale Road, Enderby BC V0E 1V4 . Publication Mail Agreement: 0399159 . GST Reg. No. 86878 7375 . Subscriptions: $2/issue . $18.90/year . $33.60/2 years . $37.80/3 years incl GSTThe agricultural news source in British Columbia since 1915 Vol.107 No. 4 . APRIL 2021Published monthly by Country Life 2000 Ltd. www.countrylifeinbc.comPublisher Cathy Glover 604-328-3814 . publisher@countrylifeinbc.com Editor Emeritus David Schmidt Associate Editor Peter Mitham news@countrylifeinbc.com Advertising Sales & Marketing Cathy Glover sales@countrylifeinbc.com Production Designer Tina Rezansoff Hoppy Easter, Peter Wabbit Down to earthTwenty-ve years ago (as this issue goes to press), the British government ocially acknowledged a link between eating beef and variant Creutzfeldt-Jakob disease. Within the week, the European Union had imposed a worldwide ban on British beef exports and fears of bovine spongiform encephalopathy – BSE, or 'mad cow' disease on account of its devastating neurological eects – went mainstream. The ban came down shortly before Easter. A church in Edinburgh challenged those who passed by with a mural of a beef animal hooked to a cross. "My God, my God, why hast Thou forsaken me?" it said, quoting the words of Jesus on his own cross. When you're in a crisis, things can look pretty bleak. But crises are seldom the nal act. This is what Easter, and spring, are all about. Second chances happen. Canada reported its rst case of BSE in 2003 and has faced international restrictions ever since. Next month, it could nally be deemed a country of negligible risk in the international community, with full export privileges. That's good news. But the crisis in the UK provoked soul-searching in the industry. The long-standing practice of feeding meat by-products to cattle fell into disrepute, and the public – increasingly divorced from farming – demanded a greater say in how its food was produced. Yet public concern focused mostly on practices, tools and logistics. Producers, meanwhile, focused on something more fundamental: the relationship between the public and agriculture. This is a question of ethics. Writing in 1949, US conservationist and author Aldo Leopold lamented that no ethics had yet been articulated for our relationship "to land and to the animals and plants which grow upon it," noting, "We can be ethical only in relation to something we can see, feel, understand, love, or otherwise have faith in." With just 2% of the population engaged in farming, is it any wonder what happens on the farm and what people think should be happening are at odds? The recent controversy over hard butter, not to mention how governments think farms should be managed to address a more variable climate, speak more to an ongoing divorce from agriculture than to a renewed relationship with it. Earth Day on April 22 will see many well-meaning people focus on environmental concerns. But those looking to make a dierence could start by listening to the people working in partnership with it on a daily basis: our farmers and ranchers. On March 5, the BC Court of Appeal overturned the 2018 BC Supreme Court ruling that the Douglas Lake Cattle Co. (DLCC) could not restrict public access to two lakes surrounded by its property. So ends the latest episode in the ongoing dispute between DLCC and the Nicola Valley Fish and Game Club. In the latest decision, Justice Peter Willcock found the 2018 ruling by Justice Joel Groves allowing the public access to Minnie and Stoney Lakes was in error. Willcock concluded, "It is my opinion that DLCC is entitled to restrict access to Minnie Lake and Stoney Lake and the Club has no statutory or common law right to cross DLCC's property, whether it is ooded or not, to access the lakes." While Minnie Lake and Stoney Lake might seem a long way o, the precedent and reasons for Willcock's decision pertain to every rancher and farmer in the province. The issue has been a bone of contention on our farm for more than 70 years. The eastern boundary of the property runs along a world-renowned salmon shing river for three-quarters of a mile. We were advised by the man who was here for 30 years before us not to allow public access to the river. In retrospect, we should have taken his advice to heart sooner and more strenuously than we did. Once the word was out that the new owners weren't quite as strict about trespassing as the old one, it turned into a free-for-all: almost no one bothered to ask, vehicles were parked anywhere and everywhere, fences were cut, gates left open, campres were lit and left, the entire riparian area became a latrine, dogs chased the cattle, and there was all manner of garbage and refuse along the river from one end of the farm to the other. Twice over the years I had to break up st ghts between anglers. When confronted, the trespassers were often belligerent: "I didn't ask because I gured you'd say no." "This didn't look like it was anybody's place." "We've got hunting licences and you can't stop us from shooting ducks in the sloughs." "A guy at the tackle shop said we could come here." "Here, I've got a letter from my lawyer that says I'm allowed to cross your place to get to the river whenever I want." And on it goes. While the characters will dier, you can nd similar plotlines unfolding on farms and ranches from Saanich to Cecil Lake. Willcock's decision is available online [https://www.bccourts.ca/jdb-txt/ca/21/00/2021BCCA0099.htm] and is enlightening regarding trespass and right-to-access law. While the matter at hand has been settled for now, the decision could still be appealed to the Supreme Court of Canada. Even if the current decision stands or survives a Supreme Court appeal, the whole issue of public access, or right to roam (as it is popularly known), seems destined to endure in the court of public opinion. Not surprisingly, the concept has considerable backing in the urban population, and if it becomes a political issue, the agricultural community will nd itself neck-deep in politicians clamouring to turn it into votes. Less than 14% of British Columbians live in rural areas, and ranchers and farmers account for 2%. Go gure. Right to roam is a reality in Sweden where it is referred to as allemansrätt, literally, 'every man's right.' Roughly stated, it embraces the principle that what isn't forbidden is allowed. Among permitted activities: the right to camp for two days, collect wood, light a campre, pick berries or mushrooms, cross harvested elds, and even engage in commercial guiding activities. Extrapolating how something similar would play out on our farm in shing season is downright hair-raising. Ranchers and farmers can take some solace in the Willcock decision, but the day might well come when the right to roam crashes headlong into the right to farm. The agriculture sector needs to keep the whole question rmly on its radar. Bob Collins raises beef cattle and grows produce on his farm in the Alberni Valley.The Back Forty BOB COLLINSRight to farm takes on right to roam We acknowledge the financial support of the Government of Canada.4 | APRIL 2021 COUNTRY LIFE IN BC
Page 5
Salmon farm closures should raise alarmGovernment ordered depopulation of fish could have broadreaching implicationsCOUNTRY LIFE IN BC APRIL 2021 | 5Recent moves by the federal government to close down salmon farms in BC and force companies to destroy young sh are cause for concern. Can you imagine if a government imposed changes on any other livestock sector, resulting in thousands of healthy young animals being euthanized? Suppliers of pullets to the egg industry destroy millions of male chicks every year simply because they can't lay eggs. The practice has rightly attracted the attention of animal rights activists, and industry is embracing new technologies to eliminate the issue. But the federal government's eorts to transition the sh farming industry by 2025 is creating a similar problem. Salmon farmers have begun destroying millions of smolt thanks to a December 17 directive from the federal Department of Fisheries and Oceans that will see 19 farms in the Discovery Islands o the east coast of Vancouver Island closed by 2022. The farms represent 24% of salmon farming capacity in BC. Fish currently in the pens may be raised to harvest, but the pens can't be restocked. That puts farmers in a bind. Raising young sh requires more than two years of advance planning, including breeding, hatching and raising the smolts to adequate size to be placed in the ocean pens. Millions of sh that were scheduled to go into pens this spring are being euthanized as there's nowhere for them to go. Ottawa's short notice of the closure plans gave salmon farmers no chance to adjust stock management, meaning up to 10 million broodstock, eggs and young sh will have to be destroyed. Salmon growers estimate that the loss translates to taking 210 million meals out of the food chain. How can any government support destroying food? BC's own sheries minister, Lana Popham, declared that "part of my new mandate is to encourage greater food security and local economic growth," when she spoke at the BC Fruit Growers Association annual convention in late Feburary, but where is her support for sh farming? When the BC government sought to close salmon farms in the long-disputed Broughton archipelago two years ago, it sat down with sh farmers and First Nations together and worked out a solution over a period of months, giving farmers ample time to adjust their production schedules and seek new farm sites. At least 20 First Nations have economic agreements with sh farms, including allowing Viewpoint by TOM WALKERthem on their traditional territory, and the farm companies were able to nd new places to put their sh. Federal sheries minister Bernadette Jordan doesn't even pretend that she tried to nd an alternative. While she says DFO consulted seven First Nations, two of those involved – and who support the closures – have called the action "abrupt" and say they were "railroaded" without the opportunity to arrive at an autonomous decision in accordance with the United Nations Declaration of the Rights of Indigenous Peoples. The federal government has endorsed UNDRIP and recently introduced a bill to bring Canada's laws in line with the document. Similarly, the mayors of Campbell River, Port Hardy, Port MacNeil and Gold River joined with the BC Salmon Farmers Association to say they weren't consulted, despite Jordan's claim to have consulted industry. "Our North Island communities deserve more from you than a hasty and confused process taken without consideration of the widespread impacts to local businesses and communities," they told her in a letter. Farmed salmon is BC's top-value agrifood export. The industry employs an estimated 6,500 people in rural communities, many on northern Vancouver Island, bringing good wages for their families. Layo notices have begun for up to 1,500 lab, hatchery, sh health, transport, on-farm and processing jobs and that will have a profound eect on those communities. Seeing a government – at the desire of a small number of First Nations and a few lobby groups – unilaterally close down farming operations without consulting the farmers or their communities and forcing farmers to destroy their animals should have every famer in the province worried. "Canada can be a global leader in sustainable aquaculture when done in collaboration with Indigenous peoples, industry, local communities and local governments," is how Jordan's order to close down the Discovery Islands farms reads. The minister needs to follow her own advice and collaborate with all concerned to nd a solution. Tom Walker is a regular contributor to Country Life in BC. He has followed the aquaculture industry as a writer for various sh farming publications. He enjoys eating both farmed and wild seafood. Langley 1.888.675.7999 Williams Lake 1.855.398.7757Contact Your Watertec Sales Rep for a Free Estimate.CENTER PIVOTS & LINEARSDowntown Realty 4007 - 32nd Street, Vernon, BC V1T 5P2 1-800-434-9122 www.royallegpage.caPAT DUGGAN Personal Real Estate Corporation Royal LePage Downtown Realty Ltd. Farm | Ranch | Residential Bus: 250/545-5371 (24 hr) Cell: 250/308-0938 patduggan@royallepage.cawww.OkLandBuyers.ca Build your dream home! 44 acres of irrigated property ready for your new home, orchard, cattle or crops. Mostly usable land with shop. All perimeter and cross fenced ready for your ideas. Great valley views from all sides. MLS®10204233 $1,395,000Downtown Realty 4007 - 32nd Street, Vernon, BC V1T 5P2 1-800-434-9122 www.royallepage.caPAT DUGGAN Personal Real Estate Corporation Royal LePage Downtown Realty Ltd. Farm | Ranch | Residential Bus: 250/545-5371 (24 hr) Cell: 250/308-0938 patduggan@royallepage.ca475 BLUENOSE RD, COLDSTREAMwww.OkLandBuyers.ca "Farmers helping farmers with their real estate needs"53 acres with this beautiful 4 bed/2 bath log home 25 minutes from Vernon. 10 cleared acres in pasture/livestock paddocks. 28x50 shop/barn w/loft, 24x50 cattle barn w/hay storage, 20x32 chicken coop, run. Good water supply. MLS®10226726 $1,495,000YOURHelping YouOURng Young YouDon't forget to RENEW your subscription toCountry Lifein BC
Page 6
6 | APRIL 2021 COUNTRY LIFE IN BCTHAT'S WHY WE UNDERSTAND WHAT YOU DO IS A WAY OF LIFE. OUR ROOTS ARE IN AGRICULTUREKeeping it Simple®We have a team of agribusiness experts here to support you every step of the way, helping to choose the right solutions for your unique needs. Whether you are looking to buy a new piece of land or in much need of new equipment to keep your operation running smoothly, we can help.WHAT MAKES US UNIQUE?― OUR ROOTS ARE IN FISHING, FARMING AND AGRICULTUREOur credit union was founded by the farming community. Over the last several decades, our cooperative has grown to $14 billion in assets, and counting. ― WE ACT LOCALNot only is our team of experts geographically dispersed to serve you where you are; decisions are made locally across the table, not across the country. ― WE HELP OUR MEMBERS AND COMMUNITIES THRIVEAs a nancial cooperative, a portion of our prots go back to our members and communities. Like you, we live and work here, so investing in our communities is at the cornerstone of who we are. We can't wait to learn more about your business. Contact your local Agriculture Advisor today: Amrik Gill Agriculture Advisor Serving the Lower Mainland604-309-6513 amgill@envisionnancial.caToby Frisk Director, Agribusiness Serving the Okanagan, Enderby and Similkameen regions778-212-3415 tfrisk@rstwestcu.caCash Reumkens Agriculture Advisor Serving Lower Mainland and Vancouver Island250-701-3426 creumkens@islandsavings.caDivisions of First West Credit Union
Page 7
COUNTRY LIFE IN BC APRIL 2021 | 7by DAVID SCHMIDT SURREY – 2020 was "a year like no other" and not just because of COVID-19, BC Turkey Marketing Board general manager Michel Benoit said at the BCTMB and BC Turkey Association virtual annual meeting, March 11. After beginning the year with a huge oversupply of turkey in eastern Canada, things turned into "an outright disaster" when COVID hit and food service sales plummeted, BC's Turkey Farmers of Canada director Shawn Heppell said. That prompted Turkey Farmers of Canada to initiate the single biggest quota cut in its history. Although TFC cut the overall quota allocation by 7.2%, BC was able to escape the brunt of the cutback, dropping its allocation only 3.5%. When that did not clear up the backlog, TFC instituted a second 8% quota cut. As a result, BC's allocation dropped from 85.6% of quota in 2019/20 to 76.5% in 2020/21, Benoit reported. The production cuts plus increased whole-bird demand at Easter and Thanksgiving brought Canadian turkey storage stocks to their lowest level on record at the beginning of January. As a result, TFC has approved a small quota increase for 2021/22, meaning BC's provincial allocation will go from 76.5% to 80.7% in the quota year that begins May 1. Since whole-bird prices are also starting to improve, it may not be long before growers see improved returns. Growers are also looking forward to being compensated for losses they took in recent trade negotiations. The government has announced the poultry sector will receive $691 million over the next 10 years in compensation for market access it gave up as part of the CP-TPP agreement. Pandemic triggers massive cut to turkey quotaBC producers fared slightly better than their national counterpartsHowever, it has not yet released details of how much each of the four sectors (chicken, egg, hatching egg and turkey) will get nor how the money will be distributed. What is known is that it will not come in the form of direct payments to growers, as is the case in dairy. Instead, it will likely involve support for marketing and/or infrastructure improvements. TFC chair Darren Ference said the sector continues to negotiate with government regarding compensation for market losses incurred in the more recent CUSMA agreement. That is essential, Heppell says, noting "it will be dicult for the turkey market to outgrow what we're committed to bringing in." Antimicrobial ban BC growers are also asking TFC to rescind its decision to ban the preventative use of the antimicrobial bacitracin (BMD) in feed. Although both Chicken Farmers of Canada and TFC had initially agreed to ban its use, only TFC followed through on the commitment. As well, BMD is still allowed in the US, meaning it may be used to produce all other Canadian poultry as well as all imported turkey. The reason growers are sales@baumalight.com | BAUMALIGHT.COMDale Howe 403-462-1975 | dale@baumalight.comMFG A VARIETY OF ATTACHMENTS INCLUDING: BRUSH MULCHERS | ROTARY BRUSH CUTTERSSTUMP GRINDERS | PTO GENERATORS | AUGER DRIVES | TRENCHERS | DRAINAGE PLOWS | TREE SAWS & SHEARSTREE SPADES | BOOM MOWERS | TREE PULLERS | FELLER BUNCHERS | EXCAVATOR ADAPTERS | SCREW SPLITTERSLocate A Dealer Onlineanxious to get BMD back is because of a huge increase in outbreaks of blackhead on BC turkey farms. "We had six outbreaks in 2019 but 20 in 2020, including four in December," Benoit reported, noting BC had only ever seen one outbreak in previous Decembers. "Our estimated farmgate losses for the 20 outbreaks is $1 million." BMD is used to improve gut health in turkeys. Although there is no scientic research linking the loss of BMD to the blackhead outbreaks, Benoit says growers are convinced it is too much of a coincidence that the huge increase in outbreaks occurred right after BMD was withdrawn from use. "We initially supported the ban but when we saw the eect on our ocks and the fact no other sector banned it, we want it brought back." Vic Redekop remembered The meetings also took time to pay tribute to Vic Redekop, who passed away just before Christmas. Redekop had stepped down as a BCTMB director after selling his farm in late 2019. He had previously served as president of the BC Chicken Growers Association and a director of the BC Chicken Marketing Board as well as a director of the BC Hereford Association. Redekop "contributed greatly to our industry and was a great man. He will be missed," BCTA president Steve Heppell said. YOURHelping YouWEEKLY FARM NEWS UPDATEScountrylifeinbc.comSign up for FREE today.YliYlbc.comThe province is extending its quarantine program for temporary foreign workers coming to BC for seasonal farm work. Last year, the government spent $17 million on accommodations, meals and laundry services for 4,997 workers who came to be BC between April 13 and December 31 – or just shy of $3,500 each. But the BC program is lauded as a role model for other jurisdictions across Canada. Workers are tested on arrival and quarantined for 14 days before sent to their host farms. Only 64 tested positive for COVID-19 last year; all recovered in care. The province expects some 11,000 temporary foreign workers this year. By the end of March, more than 3,000 had arrived. FILE PHOTOThis one's for you
Page 8
8 | APRIL 2021 COUNTRY LIFE IN BCMarketing British Columbia to the World®www.landquest.comToll Free 1-866-558-LAND (5263)"The Source" for Oceanfront, Lakefront, Islands, Ranches, Resorts & Land in BC®CHILCOTIN WILDERNESS CATTLE RANCHANAHIM LAKE, BCINVESTMENT OPPORTUNITYHEFFLEY / SUN PEAKS REGIONROCKING HORSE PUBNANOOSE BAY, BCELEGANT LAKEFRONT RESIDENCE ALONG THE BANKS OF LAC LA HACHEAFFORDABLE MID-SIZE RECREATIONAL ACREAGE - EDGEWATER, BCNEWLY UPDATED FAMILY HOMEBELLA COOLA, BCESCAPE THE CITY TO THE SERENE SIMILKAMEENRARE FREEHOLD LAKEFRONT ACREAGELITTLE SHUSWAP LAKE, BCPONDEROSA RANCH COBBLE HILL, BCESCAPE TO YOUR CABIN IN THE WOODS WITH COWICHAN LAKEFRONT ACCESSSaddle Mountain Ranch is 806 acres, 6 titles, former buffalo ranch, about 310 acres in hay production, a super comfortable off-grid home with solar power at the edge of wilderness in stunning mountain setting. Ideal for families who like adventure, self-sufficiency and privacy. Priced right $875,000Welcome to the Mel-Bar Ranch homestead; offering buildings, ranch infrastructure and 19 prime acreages, most with road access and power. 2,118 acres + range permit. This is a real estate re-sale, executive ranch or holding opportunity. Outstanding location and beauty. $4,195,000Well established Country Pub on 5.31 acres located in an area of equestrian acreages. Licensed for 134 inside & 38 patio occupants + off-premise sales. Upper level contains a newly renovated suite, ofce space & storage. 26 stall, 7,000 ft2 horse stable. Great upside potential! $1,950,000Lac La Hache, BC. Stunning lakefront home at the north end of Lac La Hache. 3,136 ft2 residence is the perfect option for a family or anyone looking for a serene getaway. An open oor plan & large windows bathe the interior with sunlight, providing picture perfect views out onto the lake. NEW PRICE $779,000Mostly forested piece of land on the edge of Edgewater. Land is full of established trails. Set up a simple camp, build a cabin or get more established with a year-round home. Great price for 60+ acres of land! Power connection nearby. $265,000 + GSTStunning 4 bdrm, 3 bath home on 1.16 acres boasts stainless appliances, covered deck and a den with a bar. 3 oor modern family home is fully fenced, gated & landscaped acres in a quiet, family friendly subdivision. Beautiful mountain views, good sun, outdoor BBQ area, RV parking and greenhouse. $550,000Scenic 3+ hour drive from Vancouver to the Similkameen Valley, where this lazy river snakes along the Crowsnest Highway from Manning Park through the warm, picturesque valley, where fruit & wine abound! Remodelled rancher perched on 1.1 acres above the river just a few minutes west of Hedley. $479,0005.4 acres with 380 ft of lakefront. Rustic off-grid cabin on a pristine, south facing property with gorgeous pebble beach and deep water! Lake intake for water, outhouse, wood stove, deck & dock for swimming & your ski boat. Prime spot to build your dream cabin. $925,000Stunning private estate on 50 acres with valley, ocean and Mount Baker views. 30 minutes from downtown Victoria. Main home, caretaker / guest home, barn, workshop & equipment storage. Turnkey, meticulously maintained grounds and improvements. $4,350,000Completed to lock-up stage, so interior room arrangement & nishing is to your own taste. 1,000+ ft2 of main, & auxiliary guest cabins, on sloping lot above the lake, 4 km of paved road past Youbou, near Pine Point Campground. Beautiful beachfront for swimming or boating. No services connected. $299,999RICH OSBORNE 604-664-7633Personal Real Estate Corporationrich@landquest.comJOHN ARMSTRONG 250-307-2100john@landquest.comKEVIN KITTMER 250-951-8631kevin@landquest.comCOLE WESTERSUND 604-360-0793 CHASE WESTERSUND 778-927-6634MATT CAMERON 250-200-1199matt@landquest.comFAWN GUNDERSON 250-982-2314Personal Real Estate Corporationfawn@landquest.comROB GREENE 604-830-2020rob@landquest.comSAM HODSON 604-694-7623Personal Real Estate Corporationsam@landquest.comJASON ZROBACK 1-604-414-5577 JAMIE ZROBACK 1-604-483-1605LYLE BRAITHWAITE CCIM 1-877-701-7888lyle@landquest.comby PETER MITHAM ABBOTSFORD – BC chicken producers have been given a teaser of how federal compensation packages will roll out to poultry producers hurt by market access conceded under the CP-TPP and CETA trade deals with Pacic Rim and EU trading partners. Preliminary details indicate that BC broiler producers will receive $48 million of $372 million allocated for chicken producers nationally under a $691 million package announced at the end of November. "Chicken farmers will receive $372 million of that, and of that amount, $347 million is dedicated to farmers for on-farm investments. $25 million has been earmarked for promotional programs," says Abbotsford grower Derek Janzen, the province's director with Chicken Farmers of Canada. Janzen updated growers during the BC Chicken Marketing Board's annual meeting on March 3, which attracted 100 participants. The meeting would normally taken place at the BC Poultry Conference, deferred now until 2023. Cash earmarked for on-farm improvements will be allocated on the basis of quota holdings, likely as of January 1, 2021. The cash will be available to growers for a 10-year period. The money will cover up to 70% of the cost of on-farm improvements, with growers expected to cover 30%. "Activities need to contribute to on-farm modernization, including eciencies, productivity and animal welfare. Eligible expenses will include new barn construction, new equipment which addresses eciency, food safety and animal welfare," says Janzen. "CFC is currently working on the development of these programs and we expect details to be announced this spring." The allocation to broiler producers leaves $319 million for the national broiler hatching egg, egg and turkey sectors. Details of those programs could be available in April. The good news was welcome following a tumultuous year that saw the industry take some of its rst-ever cutbacks in production allocations. Cutbacks Chicken Farmers of Canada chair Benoît Fontaine told the meeting that producers were asked to reduce production by 10.5% during period A-163, then 9.75% in A-164, which ended August 29. "We were not used to that kind of news. We were used to great growth," said Fontaine, who framed the challenges in a positive light. "But when COVID hit, our entire sector worked hard to determine how to adjust the production levels so we could respond." While production fell, broiler producers in Canada did not have to depopulate their farms, as some hog producers did when processing capacity fell short. BC Chicken Growers Association president Dale Krahn had earlier remarked that BC producers did what they could to ensure birds did not become collateral damage in the pandemic. "Our processors and hatcheries have experienced COVID shutdowns, challenges and labour inconsistencies," he said. "As a result, some of our growers have faced the threat of depopulating some of their mature birds or overholding them. Some farmers even held the birds to the point where the ocks went into lay." BC Chicken Marketing Board chair Harvey Sasaki also praised the resilience of the production chain. "The collective effort and cooperation throughout the chicken supply chain both nationally and within the province has enabled the industry to continue to grow and process chicken in BC to service our provincial markets with a full range of products without interruption," he said. But the industry isn't out of danger. While the marketing board ended the year in a strong nancial position, it isn't quite ready to distribute $2.2 million in surplus funds back to growers as it would normally do. "Given that we're still facing consequences or potential risks of COVID, we as a board made a conscious decision to not make a decision on returning surplus to growers at this point in time," Sasaki said. While the board also maintains a dedicated contingency fund of $2.3 million, it claims the money would be used up in just four days if a plant shutdown related to COVID triggered a draw. Growers also look forward to news of federal compensation for market access granted under the Canada-US-Mexico trade agreement. "Our farmers have also suered signicant losses as a result of CUSMA," says Fontaine. "We will continue to press government ocials to assess CUSMA support programs." Another outstanding issue is phasing out Catgeory 3 antimcrobials, particularly bacitracin. While phase-out was set for the end of December, processors and producers have yet to reach agreement on a compensation formula for an anticipated increase in production costs. "This remains a priority for CFC and we will move forward on this as soon as we can," Fontaine told growers, urging them to prepare now for the change to come. "This is integral to our public trust commitments." Chicken growers wait for compensation detailsBC broiler producers expect to receive $48 million for trade concessions
Page 9
Barb Heaney prunes peach trees in preparation for a new season on the 10-acre farm she and her husband Henry Paynter operate in West Kelowna. In addition to peaches, the farm produces apples, apricots, table grapes and other fruits that are sold wholesale and at the farm's fruit stand. ALISTAIR WATERSCOUNTRY LIFE IN BC APRIL 2021 | 9by TOM WALKER KELOWNA – The BC Fruit Growers Association's 132nd annual convention held by Zoom on February 25 was a bad news/good news aair. "On top of two dicult growing seasons for cherries and disastrous apple prices, 2020 was a very challenging year for growers," says BCFGA general manager Glen Lucas. "It is heart-breaking to see highly productive apple acreage removed." Growers have been removing apples trees because they can't justify the inputs to grow fruit given the low returns they are receiving for their apples. Apple orchards are being replanted with cherries or grapes or the land's simply being left fallow while growers hope for better times. In addition to poor weather, apple growers have faced low prices, often below the cost of production (typically 25-30 cents a pound) and cheaper, subsidized apple imports from Washington. "Washington growers received a seven cent a pound support payment to oset weather, trade and COVID diculties last year and they expect to receive another seven to 14 cents a pound subsidy this year," says BCFGA president Pinder Dhaliwal. "When you include the water available for irrigation and the subsidized electricity for pumping provided by the Columbia River Treaty, we are not on a level playing eld." Delegates called on government to recognize "the real nancial situation of apple producers" and take immediate action by freezing the minimum wage, continuing the replant program and imposing taris on imports of apples from Washington. "We really need the government to step up and give us support this year," says BCFGA director Tarsem Goraya. There was some good news. BC Tree Fruits Cooperative CEO Warren Saranchan gave an update on the co-op's progress over the past year, including being able to pay apple growers Fruit growers demand a level playing field US subsidies are among the challenges to BC growers' profits60% more on their rst advance than they received for their nal payment last year. Saranchan attributed the progress to the co-op's apple quality assurance program, its work in sales and marketing and eorts to reduce operating costs. The co-op handles 40% of the fruit produced in BC. "We are all buoyed up when the co-op does well," says Peter Simonsen, an organic grower from Naramata and outgoing BCFGA vice-president. BC agriculture minister Lana Popham gave no indication in her remarks at the convention if government was considering direct nancial support to growers or continuation of the replant program. She did recount that $35 million has been invested in See BCFGA on next page oBill Everitt 250.295.7911 ext #102 beveritt@xplornet.ca tToll free 1.877.797.7678 ext #102Princeton Wood Preservers Ltd. 1821 Hwy 3 Princeton, B.C. V0X 1W0KILN DRIED PRESSURE TREATED ROUND WOOD POSTS AND RAILSPreferred supplier for British Columbia Ministries & Parks Canada.&ARMs/RCHARDs6INEYARDs"ERRY4RELLISINGMotorized screens up to 40ft. wideOversized & Standard Retractable Doorswww.q2qscreens.ca 778.551.0855 t jkiers@q2qscreens.caServing the Lower Mainland
Page 10
BCFGAnfrom pg 910 | APRIL 2021 COUNTRY LIFE IN BCby TOM WALKER KELOWNA – BC Tree Fruits Cooperative CEO Warren Saranchan is positive about the future of the tree fruit industry in BC following 18 months of signicant change for the co-op. Saranchan was hired as CEO, new faces were elected to the board of directors, and new governance rules for the board were approved. Properties were sold, an incentive for growers to deliver quality fruit was introduced and packing lines were consolidated and upgraded. The co-op has also worked to boost transparency and build trust with members. It oers weekly updates to growers by videoconference and regular webinars. A recent presentation showcased investments in the Wineld packing facility that promises to increase its eciency and improve returns to growers. This year's rst advance to co-op members was 60% better than last year's nal payment, and on par with the 2018 average of 20 cents a pound but it remains well below the cost of production. The next advance at the end of March will give a better idea of the full crop outlook. BC agriculture minister Lana Popham Minister has also announced an industry stabilization plan that will see ministry sta work with the industry. It will build on improvements the co-op has made, but the objective aims to support the entire tree fruit industry. "This is an industry-wide plan," says Laurel Van Dam, the co-op's director of strategic initiatives. "It is important to have ideas and recommendations from all aspects of the industry. That includes the BCFGA, New Varieties Development Council, Summerland Varieties, BC Cherry Association and others." Stakeholder meetings began in early March and a work plan is in place for the coming months. "I am impressed by the leadership and resources that the ministry is putting behind this critical initiative," says Saranchan. "The focus now is on implementing sustainable solutions." All going well, the co-op may one day resume eld services. "We are calling it 'grower support' and it is one of the things we have heard our members say that is important to help them grow the highest quality fruit," says Saranchan. "That is what is going to generate the returns for our growers." Saranchan hopes the stabilization plan unveiled this fall will include actionable ideas that will deliver sustainable returns for growers. "My fundamental wish is that the industry comes together, that we implement the required changes and that we move back to a stable tree fruits industry in British Columbia," he says. BC Tree Fruits turns over a new leafHard decisions lead to better daysthe industry over the last seven years through Production Insurance, enhancements to AgriStability, the Tree Fruit Replant Program and the Tree Fruit Competitiveness Fund. She acknowledged that some growers are not seeing the benets of this investment. "We want to make sure that our programs are working properly so we can help you become more competitive," she says. "The entire BC tree fruit industry and the local economies that depend on it deserve a chance to thrive." Indeed, the 2016 census pegged the annual economic activity generated by the BC tree fruit industry at $776.6 million. Popham did oer support, however. "Our government is committed to the lasting sustainability of the tree fruit industry," she says. "That commitment means working with you going forward on a new tree fruit stabilization plan." BC Tree Fruits' improvement over the last year is a factor in that support. The ministry has provided two sta to guide the co-op's board through the new governance rules and help it navigate various business issues. "The co-op has responded to the ministry's eorts by taking leadership and ownership and consequently it now has an opportunity for success," says Georgina Beyers, director of the ministry's industry development unit. "It was that achievement recognized by the industry and the BCFGA that provided the impetus for this project." Beyers says the stabilization plan will involve extensive stakeholder engagement over three phases: research and analysis of the current situation to begin immediately, a report and draft plan by the end of July, and a nal implementation plan by October 29. The replant and competitiveness funds will be considered, as well as labour, new varieties, extension services, retail price structures, the role of the sterile insect release program, marketing, innovation and leadership. In a rst for the BCFGA, a drive-by voting took place with polling stations at Growers Supply locations in Penticton, Kelowna and Creston. Jeet Dukhia was elected vice-president with Joginder Dhand and Mani Gill the new north regional directors and Ravinder Gill a new south regional director. Pinder Dhaliwal remains as president. Magniva Forage Inoculants (formerly Biotal) inhibit yeasts and moulds that damage the silage and livestock, and it improves the shelf life of silages.Talk to us!Pacic Forage Bag Supply Ltd.Alexis Arthur 604.319.0376 r pacicforagebag@gmail.comwww.pacicforagebag.com
Page 11
COUNTRY LIFE IN BC APRIL 2021 | 11Potato plantings reflect pandemic purchasing shifts Stronger retail sales, national conditions guide seedingBC Fresh president and CEO Murray Driediger says BC producers continue to tweak plans for this year's crop as the potato market outlook evolves. SUBMITTEDProudly offering quality farm equipment and wholesale farm product delivery across BC.Call, email or visit us onlineinfo@reimersfarmservice.com855.737.0110reimersfarmservice.comCheck out our Einbock Tillage Equipment For Organic FarmingTine Weeders t3PX$SPQ$VMUJWBUPSTr3PUBSZ)PFT $BNFSB(VJEBODF4ZTUFNAND On In StockAEROSTAR Tine WeedersDELTA Drain Tile Cleaner *NQSPWFT%SBJOBHFr$POEJUJPOT4PJMr&DPOPNJDBM 3FMJBCMFr-PX.BJOUFOBODFr4BGFBOE1SPWFOSPECIAL PRICING On In Stock by PETER MITHAM DELTA – BC potato growers continue to tweak plantings as a second year of the COVID-19 pandemic begins, with intentions on par with last year's 6,500 acres. "We are still assessing what a 'reopening of the economy' will look like at some point in 2021 and the gradual impact it may have on the various marketing channels," said Murray Driediger, president and CEO of BC Fresh Vegetables Inc. "We are still tweaking some plans for 2021." Seeding for the foodservice market will be down but strong retail demand means growers are optimistic. Driediger was one of several BC participants in the Canadian Spud Congress, an online event February 24-25. Kevin MacIsaac, general manager of United Potato Growers of Canada, told attendees the potato sector nationally weathered the pandemic's challenges relatively well. "Our industry has probably been positive as a result of some of the happenings of the pandemic versus some of the other competing vegetables and fruit crops," he said. BC is "a big fresh producer overall," he said, meaning it was less impacted than other provinces which produce for the processing market. The biggest challenge last year was weather, which has put stocks in Atlantic Canada well below their three-year average for this time of year and lowered the national average. "There's denitely some regional dierences there that will have some repercussions," MacIsaac said. Total holdings in Canada on February 1 were 7.4% below the three-year average, but BC saw stocks up 12.2%, with 621,000 hundredweight (cwt) in storage. The majority was table potatoes, with volume 22.6% above the three-year average. Seed potato stocks are relatively low, said MacIsaac. "Based on the current supply that we have, demand will be certainly matching supply," he told growers. "It will be tight on most varieties and perhaps a little short on some of the chip and red varieties that growers may need." BC seed production has been declining overall, and this year stocks are down 10.5% at 156,000 cwt. The most planted variety is Yukon Gold, a yellow variety which overtook Chieftain, a red variety. Kennebec, popular for home-cut fries, ranks third. "We certainly don't have any extra seed to move around, no extra room there to make any changes at the last minute," said MacIsaac. By the same token, last year has left many growers anxious about over-planting. Total acreage last year was down 1.4% nationally, with BC growers paring acreage 3% to 6,500 acres last year in the opening weeks of the pandemic. "Basically, that was related to the uncertainty in the industry at planting time due to COVID," explained MacIsaac. "Growers were told about cuts to the contract volume, markets were uncertain at the time and growers made decisions not to plant those potatoes." The uncertainty continues this year as it's unknown how quickly vaccines will roll out in Canada, and how consumer habits will change. "How does this aect our markets in terms of French fries, in terms of our quick-service restaurants. Are consumers actually getting tired of being at home, cooking at home, and will consumption of fresh potatoes drop o as we go along?" said MacIsaac. "We have to track this as we get closer to planting." BC growers also face an unknown as the Canadian International Trade Tribunal assesses whether or not to renew a long-standing anti-dumping order against certain white potatoes from Washington. A hearing on the matter is scheduled for March 31, with a nal decision due June 2. MacIsaac says trade issues should be a minimal threat to growers overall, however, thanks to his organization's good relationship with its counterpart, the United Potato Growers of America. "It's nice to have an open communication forum where we can discuss things like trade issues back and forth, so I'm positive looking forward," he told Canadian Spud Congress participants. "We've had a decent relationship in the past … We look forward to continued good relationships back and forth." Growers also need to make sure they're planting for known markets, rather than second-guessing demand. "Plant for a known customer at a known volume at a known price," he said. "[But] be ready to change as the market changes." 403.347.2646rtf 1.888.500.2646rhugh@kelloughs.com Clean machineLIKE NEW0JMCBUI#FBSJOHTtwYw/PUDIFE#MBEFTw"MMPZ4UFFM(BOH4IBGUT %VBM8IFFMT-Yw5JSFT wYw):%$ZMJOEFS)PTF(SPVQ%FQUI4FHNFOUT5JQT#3, 7491-49 Ave., Red Deer, AB
Page 12
12 | APRIL 2021 COUNTRY LIFE IN BCDustin Stadnyk CPA, CAChris Henderson CPA, CANathalie Merrill CPA, CMATOLL FREE 1-888-818-FARM | www.farmtax.caExpert farm taxation advice: • Purchase and sale of farms • Transfer of farms to children • Government subsidy programs • Preparation of farm tax returns • Use of $1,000,000 Capital Gains Exemptions Approved consultants for Government funding through BC Farm Business Advisory Services ProgramARMSTRONG 250-546-8665 | LUMBY 250-547-2118 | ENDERBY 250-838-7337View over 100 listings of farm properties at www.bcfarmandranch.comBC FARM & RANCH REALTY CORP.Buying or Selling a Farm or Acreage?GORD HOUWELING Cell: 604/793-8660GREG WALTON Cell: 604/864-1610Toll free 1-888-852-AGRI Call BC's First and Only Real Estate Office committed 100% to Agriculture!PROFESSIONAL SERVICESProudly certifying Producers and Processorswithin BC and Alberta.FVOPA provides year round certification services compliant with the Canadian Organic Standards (CAN/CGSB) and in accordance with the BC Certified Organic ISO 17065 recognized program. Products may be sold Canada-wide and in international markets. FVOPA ensures an efficient, professional certification process for all farm, processing and handling operations. Inspectors are lOlA trained and qualified making FVOPA a leading Certification Agency.Message 604-607-1655Email: admin@fvopa.cawww.fvopa.caPhone 604-789-7586P.O. Box 18591Delta, BC V4K 4V7Phone: 778-434-3070 PO Box 19052 Email: admin@fvopa.ca Delta, BC V4L2P8 www.fvopa.ca FVOPA delivers year-round certication services to all regions of Canada, in compliance with the Canadian Organic Standards, the BC Certied Organic Accreditation Equivalent Program, and ISO 17065. Products may bear the Canada Or-ganic logo and be marketed Canada-wide and internationally. FVOPA provides procient certication services for all types of Producers, Processors, Packers and Distributors. FVOPA is a self-sustaining, proactive, leading edge Certication Agency. Proudly certifying Producers and Processors across CanadaSave the Nitrogen in your Slurry Use the amomonia loss calculator ONLY ON farmwest.com CALL FOR AN ESTIMATE LARRY 604.209.5523 TROY 604.209.5524 TRI-WAY FARMS LASER LEVELLING LTD.IMPROVED DRAINAGE UNIFORM GERMINATION UNIFORM IRRIGATION FAST, ACCURATE SURVEYING INCREASE CROP YIELDS We service all of Southern BCSurveillance plans are in place to keep tabs on the Asian Giant Hornet this year, in the hope of preventing it from gaining a foothold in the Fraser Valley and elsewhere. BC ocials will continue last year's surveillance programs with the help of beekeepers and the public. This year's eorts include comprehensive surveys in Nanaimo and the Cowichan Valley on Vancouver Island, and in the Fraser Valley from White Rock to Aldergrove. Traps will be set in areas where there were previous ndings. In addition, outreach and networking will continue with beekeepers, local governments and partner agencies in those areas. Public awareness is also key. All conrmed reports of the pest in BC have come from the public. Six hornet specimens were collected in the Fraser Valley last year with the public's help. Surveys on Vancouver Island last year, undertaken in partnership with local beekeepers, resulted in no sightings or specimens being collected. Ocials hope that Vancouver Island could be declared hornet-free this year if no specimens are reported. Originally from Asia, the hornet is believed to have arrived in BC with a shipment of goods. Specimens can be up to 5 cm in length and a swarm can destroy a bee colony in hours, prompting signicant eradication eorts. The rst known nest in North America was destroyed in Nanaimo in September 2019, and a second nest was located and destroyed near Blaine, Washington, last November. — Peter Mitham Farmers market restrictions lifted Non-food vendors are once more allowed at BC farmers markets, following a revision of the public health orders put in place to ght COVID-19. A surge in COVID-19 cases last fall prompted provincial health ocer Dr. Bonnie Henry to limit farmers markets to food sales in early December as part of a wide range of measures aimed at curbing the pandemic's second wave. Similar restrictions on farmers markets were in place during the rst wave, until mid-June. However, food sales were deemed an essential service whereas sales of non-edible products such as cut owers and handicrafts were not. A revision March 18 to the order regarding gatherings and events lifts all restrictions for outdoor markets, while indoor markets are limited to "food for human consumption, owers, plants, seeds or compost." The latter will allow events such as seed sales to proceed. BC agriculture minister Lana Popham had repeatedly acknowledged the concerns expressed by vendors and the public, but the restrictions were under the jurisdiction of the health ministry. An online petition launched by the Front Yard Flower Co. of Vancouver gathered more than 9,200 signatures that urged Henry, health minister Adrian Dix and Popham to change the rules for the sake of small businesses that focus on farmers markets. "There is no logical reasoning to disallow ower farmers and artisan vendors from farmers markets," the petition said. "For some small businesses, the farmers market is their only means of sales and for others, it comprises a large portion of their overall sales." — Peter Mitham Top marks for food safety Canada has scored top marks for the quality and safety of its food supply. According to The Economist Intelligence Unit, Canada leads the world when it comes to safety net programs ensuring access to food, its nutritional standards and the quality of its proteins. The three areas lead the 13 strengths that won Canada a twelfth-place ranking overall for its food systems out of 113 countries. While the public and pundits have both expressed concern about rising food prices, the rankings indicate that Canada has seen a third of the ination experienced by the world at large. Our food systems continue to provide aordable food, with virtually no political or social barriers to safe and nutritious food. A relatively low rate of poverty and a diverse range of crops means most people can access culturally appropriate foods. BC alone produces more than 200 agrifood products, and is home to 3,000 food processors catering to diverse appetites and dietary preferences and requirements. Moreover, market access and the nancial services needed to support farm businesses are in place to ensure what farmers and processors produce can reach the people and markets that require it. While no challenges were called out, Canada does have notable weak spots. Its natural environment is highly sensitive, particularly with respect to water. Political willingness to address adaptation and invest in agricultural research and development could also improve. — Peter Mitham Bee tech team BC agriculture minister Lana Popham had a honey of a gift for beekeepers at their semi-annual meeting and education day on March 20. Popham announced $100,000 in funding for the rst year of a technology transfer program, something the BC Honey Producers Association has been seeking for years. BC is the last province in Canada to develop such a program. "It will be amazing to get the technology transfer program o the ground," says association president Heather Higo. The funding comes at the end of the government's scal year, which ended March 31. A second year of funding was not promised. Technology transfer programs in other provinces have typically received start-up funding from government, then developed with the assistance of contributions from industry and research partners. — Tom Walker Surveillance continues for giant hornetsAg Briefs EDITED BY PETER MITHAM
Page 13
Richmond lawyer and longtime cranberry grower Ralph May is being remembered as a devoted family man and advocate for farmers. He is survived by his wife Judy and their children. SANDRA LEUNG / YALETOWN PHOTOGRAPHYCOUNTRY LIFE IN BC APRIL 2021 | 13Richmond's ag community mourns a leader May's community service a defining legacyby ANITA DESAI RICHMOND – Richmond farming advocate Ralph May has died. He was 71. May, a lawyer as well as a prominent cranberry grower, was distinguished by his love of family and commitment to service. "Ralph was always proud of his farming heritage and history in Richmond and felt very strongly about giving back to the community that had been so good to his family," says his son, Spencer May, speaking on behalf of the family. Ralph grew up in East Richmond and farming always remained a big part of his life. He went on to become the founding partner in the law rm of Campbell, Froh, May and Rice, serving with the rm for 40 years. It counted many farmers among its clients. "Professionally, Ralph was happy that he could combine his love of farming with his love of law. Many of his clients and his work centered on the combination of both," says Spencer. Personally, Ralph took great pride in his family. "Ralph was very much a family man and with [his wife] Judy established a very close and warm family with three kids, their spouses and (collectively) their seven grandchildren," says Spencer. Over the years, he dedicated his time within the local farming community. He chaired the BC Cranberry Growers Association, the Cranberry Institute of North America, was a director of Ocean Spray Cranberries and founding director of the BC Expropriation Association. May remained very active in the community, being the founding chairman of the Richmond Community Foundation, a former member of the Richmond Gateway Theatre Society and more recently, a director of the Richmond Hospital Foundation. In 1992, he received the 125th Anniversary of the Confederation of Canada Medal, issued to recognize Canadians "who have made a signicant contribution to their fellow citizens, to their community or to Canada." May was honoured, says Spencer, "to get this acknowledgement for his community work." May's work in support of agriculture made a lasting impression on industry. Valuable counsel "Ralph became our lawyer in 1971 for personal and farm services. He was one of the most knowledgeable lawyers for the farm and ranch groups in BC," says Peter Levelton, owner of East Richmond Nurseries Inc. "As a cranberry farmer, Ralph was acutely aware of the needs of farmers and the pitfalls we face. He gave us valuable counsel to facilitate our succession plan to our children, based upon farm logic." Ralph's legal expertise proved valuable for his own family's business during construction of Hwy 91, which split the farm in two. It was an epic challenge. "After several months of negotiations with the transportation ministry, a settlement was reached and the May family bought acreage in Delta to continue their cranberry operation," says Levelton. But a few years later, the South Fraser Perimeter Road was developed and the Mays' farm was once again impacted. In another instance, Levelton says, May challenged Richmond's rezoning of a hillside property that resulted in ooding on the farm below. "The city was held accountable and the farmer got fair compensation," states Levelton. May is survived by his wife of 50 years, Judy, along with their sons Warren and Spencer, daughter Lindsay and their families. He is also survived by his brother Bruce and sister Louise and their families. Subscription toSubscription toCountry Life Country Life in BCin BCto RENEW yourSubscriptionDon't forgetVAN DER WAL EQUIPMENT (1989) LTD. 23390 RIVER ROAD, MAPLE RIDGE, BC V2W 1B6 604/463-3681 | vanderwaleq.com Quality Pre-Owned Tractors & EquipmentFARMKING RB10FK WHEEL RAKE . . . . . . . . . . . . . . . . . 7,500 FORD 6610 CAB . . . . . . . . . . . . . . . . . 13,500 HESSTON S260 SPREADER . . . . . . . 9,000 JAYLOR MIXER WAGON . . . . . . . . 13,500 JCB 409 . . . . . . . . . . . . . . . . . . . . . 47,000 JD 3720 . . . . . . . . . . . . . . . . . . COMING KUHN FC313 MOWER TG . . . . . 20,000 KUHN 4 BOT ROLLOVER PLOW . . . . 19,900 KUBOTA BX2200 . . . . . . . . . . . . . . 7,500 KVERNELAND 4032 MOWER . . 16,000 MASCHIO B205 ROTOTILLER . . . 9,000 MASCHIO DC4000 POWER HARROW . . . . . . . . . . . .12,500 MF 1523 . . . . . . . . . . . . . . . . . . . . . 9,000 MF 6616 4WD LDR . . . . . . . . . . . .95,000 NEW HOLLAND TM150 . . . . . . . 47,000 NEW HOLLAND TS 115 . . . . . . . 25,000 SUNFLOWER 7232 23' HARROW 17,500 TYCROP HIGH DUMP 16' . . . . . . . 9,500 WHITE 2-55 . . . . . . . . . . . . . . . . . . .4,000 JUWEL – EASE OF USE AND SAFETY OF OPERATIONFOR ANY STRATEGIC TILLAGE PRACTICELOOK TO LEMKENJuwel mounted reversible ploughs from LEMKEN combine operational reliability and ease of use to deliver excellent performance.@strategictill | lemken.caVanderWal Equipment is now a LEMKEN dealer.■ Optiquick for ploughing without lateral pull ■ TurnControl for safe plough turning ■ Hydromatic for disruption-free ploughing even in stony soils ■ Skimmer with easy adjustment options – all without tools■ Also available as M version with hydraulic turnover device
Page 14
Grants help finance initiatives to keep nutrients out of watershedA grant from the Shuswap Watershed Council aided the purchase of riprap for a river stabilization project at Hillside Dreams Goat Dairy in Salmon Arm. SUBMITTED14 | APRIL 2021 COUNTRY LIFE IN BCby JACKIE PEARASE SHUSWAP – Shuswap farmers and landowners can improve their nutrient management strategies with a new round of funding from the Shuswap Watershed Council. SWC is accepting applications until April 30 to its Water Quality Grant Program for projects focused in the valley bottoms of the Shuswap and Salmon rivers. Barrie and Merel Voth were successful applicants in 2020. The Salmon Arm couple combined the grant with their own money and cost-shared funding for their environmental farm plan to undertake several projects at Hillside Dreams Goat Dairy located alongside the Salmon River. In early spring, they used the EFP funds to build an engineered berm to keep ood waters at bay while SWC grant money was used to create ponds at the top of their property to mitigate seepage. The Voths then used more of the SWC grant money to purchase riprap for a riverbank stabilization project. A third project to replace a dilapidated plywood manure bunker with concrete blocks also utilized SWC funds. The Voths used their own funds to erect fencing along the river up to a roadway bordering their property. "The river on our side of the river is completely protected by fence," says Merel Voth. BC Cattlemen's Association program manager Lee Hesketh assisted with the riverbank restoration work and berm at the Voth farm. Hesketh says the SWC grant program is a good way to engage farmers, local governments and organizations to achieve positive results. "I think these partnerships are great," he says. A joint project between the BCCA and Splatsin First Nation to provide fence posts to farmers along the Salmon River was put on hold due to the pandemic but is scheduled to get underway this spring, Hesketh notes. In 2020, the watershed council distributed $65,470 to ve farm-based water quality improvement projects. In addition to the Voth and BCCA-Splatsin projects, funds went toward seed costs for a cover crop project at Lakeland Farms; an euent collection tank at Swaan Farms; and pipes to a new concrete lagoon for the cheese plant at Grass Root Dairies. Up to $85,000 is available this year. "After the positive outcomes achieved with the 2020 program, we're very pleased to oer our grant program for a second year," says SWC chair Paul Demenok. "We look forward to creating new partnerships in the Shuswap to protect our water quality while simultaneously helping farms and other land holdings reduce their phosphorus footprint." SWC program manger Erin Viera says the program's goal is to aid farmers, landowners and others with projects that will keep nutrients in the soil rather than being washed away through rain, snowmelt or ooding. "It's open to anybody who has a farm in the Shuswap watershed. It's also open to large land holdings that aren't a farm necessarily, for example, a golf course," Viera says. "This is about demonstrating new management tactics on a farm or on a piece of property that would make improvements to nutrient management." With an understanding that many application processes can be overly onerous, she says a lot of eort went into streamlining this grant application process. "We really tried to make this process fairly easy for people." Voth says the application process is simple and condential with knowledgeable project managers to provide guidance and assistance. "I hope more people take advantage of the grant. You need to be able to do some creative projects that you maybe normally wouldn't prioritize," she adds. A video available online showing the 2020 projects will also help farmers considering submitting a project. "I think it will help potential applicants understand what it is we're trying to do with this grant program and what our objectives are," Viera notes. The grant program is the result of a three-year research project between SWC and UBC Okanagan that showed the greatest proportion of nutrients in the lakes, especially phosphorous, enter from the settled valley bottoms of the Shuswap and Salmon rivers, where there are farms and homes. The nutrients contribute to algal blooms, which harm water quality. New round of funding available for Shuswap farmswww.tubeline.ca 1.888.856.6613@TubelineMFGFind us onSPREADERSACCUMUL8 & BALE GRABSBALEWRAPPERS ACCELERATOR
Page 15
Kalpna Solanki became the new chair of the BC Cranberry Marketing Commission on March 10, succeeding Jack Brown. Solanki was previously on the board of IAFBC and has undertaken strategic planning and training in both for-prot and not-for-prot organizations. RONDA PAYNECOUNTRY LIFE IN BC APRIL 2021 | 15Employers are responsible for the safety of their workers. Educate new and young workers to iden琀fy hazards and minimize risks.Insurance products and services are provided through Assante Estate and Insurance Services Inc. Please visit www.assante.com/legal.jsp or contact Assante at 1-800-268-3200 for information with respect to important legal and regulatory disclosures relating to this notice.Financial planning for farm families Farm transition coaching Customized portfolio strategy Retirement income planningDriediger Wealth PlanningMark Driediger, CFP, FEA, Senior Wealth AdvisorBrent Driediger, BAA, CPA, CMA, CFP, Wealth Advisorwww.DriedigerWealthPlanning.com | 604.859.4890 Assante Financial Management Ltd.by RONDA PAYNE RICHMOND – Three years ago, Jack Brown had served two three-year terms as chair of the BC Cranberry Marketing Commission. He assumed he'd be retiring from the role, but was asked to stay on. Now, after nine years of service, he's handed the reins to Kalpna Solanki Solanki's appointment took eect March 10. It was announced at the commission's annual general meeting, held online March 3. and took eect March 10. "Our rst and hopefully last virtual annual general meeting," remarked Brown, who says working with the board and growers was a highlight of the last nine years. "No question. They are a great group of people. It's been a pleasure on my part for sure," he says. Solanki says she has "big shoes to ll." Brown started working with the commission as a special advisor in 2006, when former agriculture minister John Savage was the chair. Brown came to the role with an extensive farming background. He had been a dairy farmer until 1972, then farmed potatoes and other crops until he switched to breeding Red Angus cattle in 1991. He dispersed his herd in 2012. He was also active in the Canadian Federation of Agriculture, serving 12 years as a board member including two as president. Solanki remains CEO of the Environmental Operators Certication Program, which certies wastewater treatment plant personnel. She is also a founding partner of Operators Without Borders. Her background includes environmental work, strategic planning and educating in both for-prot and not-for- prot organizations. She was formerly a board member with the Investment Agriculture Foundation of BC. "In every role I have been able to contribute but also learn," she says. "I have a keen interest in Canadian agriculture, research and value-added products, and I look forward to working with the cranberry growers to grow the industry even more." Brown will stay involved in the cranberry industry as he accepted a request to serve a three-year term on the BC Cranberry Research Society board, which oversees the industry's research farm in Delta. The society operates independently of the commission. "It's kind of the apple of everybody's eye," he says of the farm. "It's been a tremendous value to the industry." Higher-yielding varieties Work on new, locally adapted cranberry varieties to generate higher yields for BC growers is the farm's greatest value, says Brown. Todd May reported on the farm's activities at the meeting. He noted six research projects were approved by the board, four of which build on previous work: variety trials, pollination decit, vole control and moisture sensors. Prohexadione calcium for canopy management and herbicide layering were both delayed due to COVID-19 but could begin this year. "The BC Cranberry Research Farm has obviously been tasked with investigating and demonstrating how to grow cranberries eectively in our ever-changing West Coast environment," says May. "These new cranberry cultivar evaluations are key for the BC cranberry industry as we move forward into the next decade." The BC Cranberry Culinary Contest was a new partnership with Black Press that saw more than 400 recipes submitted from about 270 people in all age groups from across BC. Their preferred cranberry product, by far, was dried cranberries. In 2020, 75 cranberry growers produced 1,003,998 barrels of fruit on more than 5,750 acres. Approximately 750 additional acres are being replanted in higher-yielding varieties. This was a signicant increase over the 631,045 barrels in 2019 and on par with 2018's harvest of 1,347,753 barrels. The lower production volume in 2019 meant a reduction of about $200,000 in levy income for 2020. Fortunately, COVID-19 saw a reduction in expenses that oset this drop. There was only one position open on the board. Je Hamilton was elected to the position by acclamation. The annual general meeting of the BC Cranberry Growers Association followed that of the commission. Chair Lynn Kemper noted the 2020 harvest was the rst using the DigiEye optical assessment tool at Ocean Spray receiving stations. This will ensure accurate, consistent, ecient colour measurement. The new BCCGA board was approved by acclamation. New chair appointed to cranberry commissionKalpna Solanki takes over Jack Brown's role
Page 16
16 | APRIL 2021 COUNTRY LIFE IN BCARMSTRONG HORNBY EQUIPMENT ACP 250-546-3033 CHILLIWACK ROLLINS MACHINERY LTD 604-792-1301 CHEMAINUS ROLLINS MACHINERY LTD 250-246-1203 FORT ST JOHN BUTLER FARM EQUIPMENT LTD 250-785-1800 KELOWNA ROLLINS MACHINERY LTD 250-765-8266 LANGLEY ROLLINS MACHINERY LTD 604-533-0048 WILLIAMS LAKE GRASSLAND EQUIPMENT LTD 250-392-4024 VANDERHOOF GRASSLAND EQUIPMENT LTD 250-567-4446GRASSLAND EQUIPMENT LTD. SERVING THE CARIBOO SINCE 1977 WILLIAMS LAKE 600 11th Ave N 250.392-4024 VANDERHOOF 951 Hwy 16 West 250.567-4446© 2019 CNH Industrial America LLC. All rights reserved. New Holland is a trademark registered in the United States and many other countries, owned by or licensed to CNH Industrial N.V., its subsidiaries or affiliates.The denser. The better.New Holland's Roll-Belt™ Round Balers produce denser and higher-quality round bales that drive down your production costs, all while driving up the nutrition of your bales, and your profits. In fact, a competitive comparison showed New Holland Roll-Belt™ Round Balers offer an estimated $18,680 Total Net Wrap Savings experienced over 8 years when harvesting 500 acres cut four times annually.Learn firsthand about the benefits of higher round bale density at betterbaling.comnewholland.com
Page 17
A small patch of perennial forage is all that is left of an East Delta eld hammered by birds on the Pacic yway. Farm owner Clarence DeBoer says he's switching to annual crops. ROOHI SAHAJPALCOUNTRY LIFE IN BC APRIL 2021 | 17Funding programs aren't enough to compensate for damageFarmers cry foul over bird pressure in DeltaKen S Uppal MBA P.AgDistrict ManagerAbbotsford & Fraser Valley604-621-3350kanwar.uppal@td.comRamil Biclar B.CommRelationship ManagerAbbotsford & Fraser Valley604-867-2214ramil.biclar@td.comConnor Watson B.CommAccount ManagerAbbotsford & Fraser Valley778-201-5753connor.watson@td.comDave GillAccount ManagerAbbotsford & Fraser Valley604-807-4761baldev.gill@td.comRahan AhmadAccount ManagerAbbotsford & Fraser Valley778-847-1566rahan.ahmad@td.comAlyssa BarrAccount ManagerBC Interior250-575-5047alyssa.barr@td.comTed HallmanAccount Manager BC Interior250-470-7557ted.hallman@td.comJeremy SiddallDistrict Vice PresidentPacic Agriculture ServicesBritish Columbia250-681-4656jeremy.siddall@td.comMichelle CurcioAccount ManagerVancouver Island250-246-0859michelle.curcio@td.com® The TD logo and other trade-marks are the property of The Toronto-Dominion Bank.Meet our Agriculture Services TeamWe are dedicated to helping you achieve your business goals and creating a exible and customized banking solution that is right for your farming operation.by ROOHI SAHAJPAL DELTA – After another year of intense bird pressure which has left his 200 acres of winter forage completely bare, Clarence DeBoer is planning to make some big changes. "We're fed up as producers to pay the bill for society all of the time. Nobody really wants to put any serious money into this issue so we're going to make some big changes to the Pacic yway," he says. DeBoer of Eagle View Farms Ltd., a 350-head dairy operation and cranberry producer in Delta, says that with the increase in development and concentration of waterfowl and other birds grazing on his elds, he'll be switching from perennial forage to annual forage. "We did a bunch of research and trial work of our own with growing annual so we're going to move from perennial forage to annual forage," he says. "We're coming to a point now that if nobody wants to do anything, we're not going to do anything either. … Once we switch from perennial to annual, there will no longer be winter forage in the eld; it will just be bare, so the birds will have to go somewhere else." The grass in enclosures set up around the elds is around 12 inches high, showing what the potential forage crop could have been. DeBoer says that after doing some irrigation equipment upgrades, he'll plan for one more year of perennial grasses, then switch to annuals. Over the last 15 years, DeBoer has made some changes on his farm to reduce the waterfowl impact, including laser-levelling the elds to reduce ponding, which is said to make them less attractive to waterfowl, and switching to lower-quality forage. Nevertheless, the damage waterfowl cause continues to increase. DeBoer says it's been an ongoing battle for more than 30 years for him and other farmers along the Pacic yway, a key migratory bird route that runs from Alaska to Patagonia in South America. Waterfowl travelling the yway cause around $150,000 a year worth of damage to DeBoer's elds. He says that he's approached Canadian Wildlife Service, Ducks Unlimited and the provincial and federal governments about his concerns. The BC Ministry of Agriculture, Food and Fisheries tells Country Life in BC that, "The ministry is in close contact with local stakeholder groups working to nd solutions to mitigate damage to agricultural crops." It says producers receive compensation for losses due to wildlife through the Agriculture Wildlife Program. Drew Bondar, executive director with the Delta Farmland & Wildlife Trust, speaks regularly with farmers about their concerns. "It is getting worse," he says, citing the loss of farmland to development in Delta and across the region, increasing populations of snow geese and other waterfowl, and the conversion of grass forage elds over the decades to other forms of agriculture that don't support the same level of waterfowl. With fewer elds to forage on, hungry waterfowl congregate on what's left as they refuel for their onward ight. The Delta Farmland & Wildlife Trust established a winter cover crop stewardship program more than 25 years ago to provide alternative grazing areas for waterfowl and to improve soil fertility. Its forage enhancement program supports forage producers with the costs of overseeding and reseeding elds as a result of waterfowl grazing. Over $4 million has been disbursed through these two programs to assist local growers since inception In 2020, 3,197 acres were planted in their winter cover crop program. After completing a cost-benet analysis last year of its winter cover crop program to see what it was costing farmers in Delta to plant a cover crop compared to their share of costs, Bondar says the main hurdle to grower participation is securing sucient funding to increase coverage of growers' costs. "The amount of acres that can be planted varies signicantly from year to year, depending on weather and the crops planted that season. We've had some years where we've had up close to 4,000 acres planted and other years we're closer to 2,000, which is a signicant variance in cost," he says. Bondar would like to see long-term funding available to support the cover-crop program.YOURHelping YouOURng Young YouDon't forget to RENEW your subscription toCountry Lifein BC• Increase milk production• Increase heat detection• Reduce hoof & leg injuries• Reduce cull ratesCall For A 10% -15% DISCOUNT TODAY1.877.966.3546www.agritraction.com | CHILLIWACK
Page 18
18 | APRIL 2021 COUNTRY LIFE IN BCABBOTSFORD1-888-283-3276VERNON1-800-551-6411The next generation of Fendt Vario tractors place game changing precision tools into the hands of modern farmers. Give yourself The Advantage of technology that further unlocks the full potential of your land. SOLUTIONSSOLUTIONSGIVE YOURSELF T H E AVENUEAs you confront climate change, are you ready for "carbon farming"? Or more to the point, is it ready for you? While new management structures are emerging, it may take time for them to become useful to BC farmers. In early March, the federal government proposed regulations for a federal Greenhouse Gas (GHG) Oset System, intended to "encourage voluntary project activities across Canada that reduce GHG emissions or remove them from the atmosphere by allowing the generation of oset credits." Each credit will represent a reduction of one tonne of carbon dioxide (or equivalent). To claim credits, GHG reductions need to meet six criteria: they must be real, additional, quantied, veried, unique and permanent and follow an approved oset protocol. BC manages oset projects through the BC Carbon Registry [carbon registry.gov.bc.ca]. Guidance documents for that system are under development. The federal system is intended to build on but not replace provincial systems; you will not be able to register the same project under both systems. The federal criteria mean that reductions need to have a credible baseline and be measured with a public and peer-reviewed method, monitored and veried by third parties and registered to avoid double counting. "Permanent" means that any reversals must be accounted for and replaced, or credits will be clawed back. The reporting term for soil organic carbon (SOC) sequestration projects will be for the duration of the project plus 100 years. BC farmers may want to comment on this framework before the consultation period closes on May 5. Here's why. Not ready Apart from the level of eort required to verify carbon osets – which sounds similar to that for establishing credentials like Certied Organic – science and measurement tools are not yet ready to meet all six criteria. "Permanent" is particularly problematic: soils are dynamic, with constant inputs and outputs of gas, minerals and water; it's dicult to evaluate SOC gains and losses. Depending on soil and land management practices over time, soils may hold more or less SOC. But there is an upper limit to the amount of carbon soils can absorb. And for measurement over time at any scale, you need a reliable baseline. Field-validated data are lacking, according to Dr. Sean Smukler of the Sustainable Agricultural Landscapes Lab at UBC. To date, just one BC baseline study has been published, measuring SOC in the Fraser Valley from 1984 to 2018. Findings showed SOC in decline on 61% of the agricultural land evaluated. While we wait for science and measurement to catch up on SOC, all farmers remain on the front lines of the climate emergency as both contributors and potential problem-solvers. Carbon is not the whole of the climate story. Smukler says: "We have to do the counting on not just what is getting pulled out of the atmosphere but also what is going back out in terms of other GHGs." Farm operations may contribute to methane and nitrous oxide emissions, which are 30 to 300 times more potent contributors to climate change than carbon dioxide. Practices that aect GHG emissions include livestock and manure management; eld management (tillage, application of fertilizers and pesticides); amount of land converted from, or to, natural or semi-natural areas (wetlands, forests); and fossil fuel and on-farm energy use. Your best climate mitigation strategy may involve dicult trade-os. And climate is not the whole of the sustainability story. Smukler also comments that although climate change is a priority right now, climate solutions should not displace other farm "ecosystem services" that support food production, water quality and biodiversity for the long term. Each operation's approach will evolve as more mitigation information and tools become available. The BC Ministry of Agriculture, Food and Fisheries provides climate mitigation information. BC's Farmland Advantage Program, started by farmers in 2014 to protect and conserve natural values, works in partnership with environmental farm plans. BC farmers need peer support, and extension support on site, to strengthen their climate mitigation eorts. With its unique soil and microclimate diversity, BC has distinct opportunities to contribute to national climate solutions. The GHG oset systems under development are too cumbersome and will act too slowly to reect, in a timely way, the full spectrum of ecosystems services BC farms can oer. We need other nancial mechanisms to recognize those values, and we need them yesterday. Kathleen Gibson is a policy analyst and founding member of the Capital Region Food and Agriculture Initiatives Roundtable (CR-FAIR), the BC Food Systems Network and Food Secure Canada. Viewpoint by KATHLEEN GIBSONAre soil organic carbon promises overstated?Farmers need strategies to address climate change that will work
Page 19
Organic sector calls for greater extension servicesOn-farm advice can't be left to corporate interests Mary Alice Johnson of Full Circle Seeds in Sooke was noted as a "huge inspiration"when COABC members awarded her the Bedrock award during their conference in late February. SUBMITTEDCOUNTRY LIFE IN BC APRIL 2021 | 19Sell your farm products easily through our web site developed for BC Farmers and Consumers.We take care of the Ordering, Finances and Marketing.You receive the orders weekly and deliver to the customer.Contact Michelle or Jeannie with any questions.250.830.8262 | 1.888.515.3609farmfreshdelivery@gmail.com"Serving British Columbia proudly since 1946"Machinery LimitedROLLINS RToll Free 1-800-242-9737 www.rollinsmachinery.comChilliack 1.800.242.9737 | 44725 Yale Rd W Langley 1.800.665.9060 | 21869 - 56th Ave Chemainus 1.250-246.1203 | 3306 Smiley RdChilliwack 1.800.242.9737 . 47724 Yale Rd W Langley 1.800.665.9060 . 21869 56th Ave Chemainus 1.250.246.1203 . 3306 Smiley Rd Kelowna 250.765.8266 . 201-150 Campion StToll Free 1-800-242-9737 www.rollinsmachinery.com info@rollinsmachinery.caby PETER MITHAM VERNON – Government extension workers are needed more than ever as Canada's farmers face the twin threats of climate change and low incomes, and BC's agriculture minister seems to be listening. "We need the federal government to hire at least 1,000 public servant agrologists," Darrin Qualman told Certied Organic Associations of BC members during the online portion of the association's annual conference February 28. Qualman, a Saskatchewan farmer and director of climate crisis policy and action at the National Farmers Union developed the NFU report Tackling the Farm Crisis and the Climate Crisis: A Transformative Strategy for Canadian Farmers and Food Systems. He told COABC that organic agriculture oers solutions to problems energy – specically, energy generated by fossil fuels – poses. Natural gas is the foundation of many synthetic fertilizers used in agriculture, and every tonne requires the equivalent of two tonnes of gasoline. Qualman notes a fertilizer plant in Manitoba is the province's single largest contributor to greenhouse gas emissions. "We're literally taking fossil fuel calories from the ground, creating nitrogen fertilizer, pushing it into the food system and pushing increased food calories out the other end," he says, noting that in some regions nitrogen fertilizer use has quadrupled in recent years. He blames eld sta employed by the big supply companies. "If you're getting your soil tested at the place that sells fertilizer, and you're getting your agrology information from the place that sells fertilizer, it's not surprising that you're going to use a lot more fertilizer," he says. "People who want to pursue low-input approaches need those independent public-servant agrologists that can help them nd ways to reduce input use." The way forward lies rst and foremost with organic agriculture. "Organic agriculture is a real solution here," he says. "Organic farmers have found ways to farm without nitrogen fertilizer. There are practices that we need to move into non-organic farms." Extension workers needed While speaking to COABC was aectively preaching to the choir, Qualman says government plays an important role. It can provide extension workers as well as use taxes to discourage fertilizer use. He applauds Ottawa's move to reduce emissions from nitrogen-based fertilizers 30% by 2030, but says it needs to be more aggressive. He thinks a specic tax on fertilizer could accelerate the shift. "We need to be really intentional about reducing tonnage," he says. "We maybe need a tax on fertilizer, which would be 2% or 3%, then take that money, which would be hundreds of millions of dollars, and ow it into research to help farmers use less fertilizer and to nd alternatives." The call for greater government involvement in extension work was echoed in BC agriculture minister Lana Popham's comments to the conference. She pledged greater support for organic practices in partnership with Kwantlen Polytechnic University and COABC. "We'll be working with KPU and COABC to gure out how we can do extension services, and that includes to our Indigenous partners," she says. Details of what that might look like have yet to be announced. The ministry's budget was pared by $3 million last year, with science and technology spending taking the greatest hit. Popham says she has fought hard for allocations in this year's budget, set for delivery on April 20. "They know I bring a pitchfork with me," she quipped. "I'm a tough customer when it comes to trying to get some of that funding." The need for greater education both inside and outside the organic sector about agriculture and the opportunities it oers surfaced frequently during a visioning session that closed out the day. COABC president Heather Stretch said the discussion was an opportunity to check-in after the "strange year" of 2020, and mid-way through the association's ve-year strategic plan. North Okanagan Land to Table Network executive director Liz Blakeway facilitated the exercise, which focused on three topics: how the pandemic had aected participants, key takeaways or insights from those experiences, and how COABC could be engaging with the new reality. "I'm seeing a lot of things See MORE on next page o
Page 20
Arzeena Hamir joins an elite group of recipients of the Brad Reid award presented annually by COABC in recognition of service to the organic industry. SUBMITTEDMORE training nfrom page 1920 | APRIL 2021 COUNTRY LIFE IN BCWe are BC's only brokerage devoted 100% to agricultural real estate. If you are thinking of selling or looking to buy farm or acreage property big or small, trust our experts in the eld.With 200+ years combined experience, industry connections and rst hand farming knowledge, our team gets the job done!info@bcfarmandranch.com | 1-888-852-AGRI (2474)about labour and needing training support," Blakeway said, summarizing the results participants wrote into an online Google document set up to collect feedback. While technology made the virtual conference format possible (most presentations were delivered as podcasts), Rebecca Kneen of Left Fields Farms in Sorrento said the rush online this past year also highlighted the need for new types of training and inclusiveness. "It's a dierent kind of training that we need now, in order to farm that way, in order to sell that way," she said. While many certication bodies embraced virtual inspections to respect public health protocols last year, she said not everyone was set up to accommodate them. Some lacked cell service in their elds. "We've got people who are super-connected and want computer apps and are looking for computer apps that are going to help them with their record keeping and run stu, but we've also got people where everything is long-hand," she says. "In the rush to make everything super-ecient and computerized, we need to not lose the rest of our community that doesn't operate that way. Because, rst of all, that's just rude, and secondly a lot of these people are storehouses of vast amounts of knowledge and experience that we need to keep in our community." The contributions made by those with years of experience was recognized in the annual awards program. Awards presented The relatively new Bedrock Award was presented to two leaders: Mary Alice Johnson of Full Circle Seeds in Sooke and Rod Reid of Abbotsford. "You've been an inspiration to many, many farmers around the province," said Stretch of Johnson, noting appreciation for her mentorship of younger female farmers on Vancouver Island. "You've been a huge inspiration for all of us." Reid, a founding member of COABC, built an organic animal feed business that has supported many small-scale organic livestock producers. "We couldn't run our business of integrity if it wasn't for Rod running his business of integrity the way he did," said Tristan Banwell of Spray Creek Ranch in Lillooet. Reid expressed gratitude for the relationships built with Banwell and other producers. "It's really great to deal with all the small-scale livestock producers," he says. "There's a lot of brand new stu to learn, and we all can benet from an exchange of ideas, and I feel a special place in that web." The Brad Reid Award, recognizing service to the industry, went to Arzeena Hamir of Courtenay. A long-time director who has served with both the COABC and other farm organizations, Hamir said she was inspired to serve by the example of others. "You're always forward-looking," Stretch told Hamir during the award presentation. "You have deep expertise, but you can also manage to be the fresh eyes, because you contribute in so many ways to our sector." Anne Macey, a long-time COABC accreditation board member who received the Bedrock Award in 2019, was also acknowledged on her retirement. Macey's rst project post-COABC is overseeing the Salt Spring Island abattoir expansion, which recently received a $222,525 provincial grant.
Page 21
Sidd Paul and researcher Lyndsey Dowell studied soil organic content at farms throughout the Fraser Valley, but they didn't forget to have fun while doing the eldwork. SUBMITTEDCOUNTRY LIFE IN BC APRIL 2021 | 21Study sets baseline for soil organic carbonBuilding soil health requires a long-term visionHave you herd? VBP+ TrainingWorkshops or Webinarsare Free!Looking to learn moreabout how to raisehealthy beef cattle?Open to producers of allsizes!free to all beef producersin bc!Silagrow.com1.800.663.6022 | office@silagrow.comMulch FilmLandscaping FabricsShade Nets Bale WrapsBunker CoversSilage BagsTw i n eNet WrapsHay TarpsForage & Grain SeedVisGreenhouse Ground CoverGreenhouse FilmsProtection NetsSALMON ARM 5121 - 46 Ave S.E. SURREY 112-18860 24 Ave (PU & Delivery Only)Serving all of BCby BARBARA JOHNSTONE GRIMMER ABBOTSFORD – UBC researchers are reporting a decline in soil organic carbon (SOC) across 61% of the lower Fraser Valley from 1984 to 2018. There was also an increase in SOC in 12% of the valley, with the remaining 27% experiencing no change over the same time. "The results were somewhat anticipated," says Sidd Paul, a postdoctoral fellow at the Swedish University of Agricultural Sciences who co-authored the study as a doctoral student with soil scientist Sean Smukler of UBC's Faculty of Land and Food Systems. "Our study provides a good baseline for this whole region. This study is dierent because it has a time lapse and provides a continuous prediction of SOC." As a component of soil organic matter, SOC is linked to soil health, contributing to increased water inltration, water holding capacity, nutrient storage and cycling, tilth and disease resistance. Soil is also recognized as a major carbon sink and has the potential to help with greenhouse gas mitigation eorts. "It is kind of crazy that carbon is such an important indicator of soil health, but we really don't have a good handle on it, or a good baseline for it," says Smukler, associate professor and chair of Agriculture and Environment in Land and Food Systems at UBC. "At a provincial and a national level, this is an important rst step, getting that benchmark." The research project examined land use and land use cover (LULC) and soil organic carbon (SOC) dynamics at both eld and landscape-scale using Landsat satellite imagery, machine learning and digital soil mapping techniques. The predicted maps were validated with recent and archived soil sample data. Variability There is variability in the predicted SOC from 1984 to 2018, with some areas gaining in SOC, some with loss and others with no change. Over the 34-year period, SOC declined at an average rate of 0.4% per year, ranging from a loss of 2.2% a year in some parts of the study area to a gain of 1.9% a year in others. The predicted maps show that distribution of SOC across the valley was similar between 1984 and 2018, with higher SOC in the wetlands and cranberry elds. Forests also had higher concentrations of SOC. Lower SOC values were in the annual crop lands, particularly in the southwestern and northeastern areas. LULC changes were minimal, with a gradual increase in built-up or bare land of 14.7%, with a forest decline of 13.75%. Changes in farmland included a decrease in annual cropped land by 8.5%, and grassland by 5.75%. Shifting of land use to perennial crops resulted in an increase of 30.4%. By 2018, they observed that approximately 32% of the land was in perennial crops. "LULC was a main driver of SOC loss, but agricultural lands that had not changed their use lost carbon as well," says Paul. "When you do not have a massive amount of land change, you generally don't expect to see a big loss of carbon. However, we interestingly saw the lands [that were] consistently in perennial or annual cropping lost carbon over time. It made sense because of agricultural practices such as tillage, drainage, high nitrogen fertilization, etc." There were also gains in SOC within the same land use types. This may have been from soil conservation methods, such as reduced tillage, cover cropping, compost amendments, grassland set asides or rotational grazing. "Soil is extremely heterogenous. Even two neighbouring elds can have dierent characteristics based on how they are managed," See MORE on next page o
Page 22
22 | APRIL 2021 COUNTRY LIFE IN BCsays Paul. "Remote techniques are always a challenge with how we are going to capture these dierences." Further work This large-scale study highlighted areas for further work to tease out the cause-and-eect resulting in the predicted soil organic carbon changes. "We are planning on generating some condence interval maps. There is a student working on this," says Paul. "Unfortunately, we did not test statistical signicance. We are currently planning to run a separate analysis for such testing." The modeling was limited to 0-15 centimetre depth and could not capture some impacts on SOC dynamics due to the limitations of the Landsat imagery resolution. "The Landsat spatial resolution is 30 metres, so it may not capture some of the variability in the landscape," says Paul. "Much of the cropland has hedgerows or perennial grass strips, and our resolution could not capture this. So, I suggest that future analysis should incorporate this. Perennial eld margins usually have more carbon and could promote more carbon sequestration." Smukler aims to rene the analysis going forward. "Sidd did a great job with the tools that were available," he says. "We now have some advanced remote sensing methods and we are in process right now trying to pull apart that data set more to get a better handle on why soil carbon is increasing in some areas and decreasing in others. What is really driving the loss? We don't have management data at a resolution that is helpful enough, except for Delta." Several projects underway in Delta Smukler's team is working with Delta farmers and the Delta Farmland and Wildlife Trust on several projects that are intended to improve soil quality for the area. "Delta is consistently lowest in carbon throughout the study period. We think it is related to the soils, which are extremely ne-textured, intensively tilled and drained," says Paul. He talked to farmers who have had to till two to three times before planting on some of the elds. "We are seeing the impact now. Usually, the carbon is in proportion with the clay, but we are seeing the reverse in Delta – more clay, less soil organic matter," he says. Delta farmers have additional challenges. They must contend with naturally occurring salts and increasing salinity. Migratory waterfowl are another problem. "Delta is a hot spot for birds. They are really pretty, but tough for the farmers to manage," says Paul, who adds that most farmers he worked with are concerned about soil health. "They understand the benets, not just in terms of their prots but also in terms of environmental sustainability. The farmers realize that we need to work to improve our soil quality, especially soil carbon." Practices to build soil carbon should be promoted extensively, according to Paul. He emphasizes that if farmers across the valley do this, they need to do it for an extended period and can't just stop in a few years. Both Paul and Smukler say that changes to soil carbon take time. Many farmers are practicing carbon-building methods, and soil quality may have measurable improvements before carbon increases are detected. "We now have a baseline throughout the valley, where 50% of our farm revenue is for BC. This is the status of our carbon," says Paul. "Now we should talk about how we can improve it going forward." MORE study needed to determine cause-and-effect nfrom page 21There are several soil quality projects underway in Delta. SUBMITTED
Page 23
Producers beef up support for Island cattleNew cattlemen's association gains traction on the IslandBrad Chappell is the founding president of the Vancouver Island Cattlemen's Association. SUBMITTEDCOUNTRY LIFE IN BC APRIL 2021 | 23 April 10April 10, 2 202021 1 46th Annual Vanderhoof All Breeds Bull Sale April 15 & 16,April 15 & 16, 2 2021 84th Annual Williams Lake Bull Show & Sale BCHA Secretary Janice Tapp 25050-69999-6466466 BCHA President John Lewis 25050-21818-253537 British Columbia "Serving and Supporting the Community Together"PROVINCIALLY INSPECTED ABATTOIR B.C. #34ALL SIZES MARKET GOATS & LAMBS604.465.4752 (Ext 105)FAX 604.465.4744 ashiq@meadowvalleymeats.comProducer Check-o Supports Beef Industry Projects.www.cattlefund.net 1.877.688.2333www.cattlefund.net 1.877.688.2333by KATE AYERS COURTENAY – Vancouver Island beef producers have banded together to establish a regional aliate of the BC Cattlemen's Association. Vancouver Island producers have been able to join the association in the past as individual members, but the new Vancouver Island Cattlemen's Association will give the local industry ocial standing alongside 17 other regional organizations. "We do have about 12 direct members, but it is dicult for them to have that same input or seat at the board table [as VICA will]," says BCCA general manager Kevin Boon. Island producers had a cattlemen's association in the 70s but beef cattle numbers dwindled to the point that members decided to dissolve the group. But the Vancouver Island herd is increasing and producers want a united voice when discussing the impact of government regulations on their businesses. In December, a core group of 30 ranchers led by Brad Chappell of Heart of the Valley Farms in Courtenay met virtually to discuss the potential and logistics of forming a BCCA aliate. Chappell serves as the association's founding president until the association's rst election in the fall. The inaugural board has 11 members. Ken Ellison of Dellison Farms in the Cowichan Valley is vice-president while Graeme Fowler of G&C Farms in Comox is secretary and treasurer. The lack of formal representation from Vancouver Island to the BCCA was what encouraged Ellison to support the new association. "I realized I had no voice, so went to nd out what I could do," he says. Ellison is concerned about government roadblocks and insucient programs that aect his 140-head beef ranch. "Wildlife damage has been a big issue on the Island. When you have a herd of between 50 and 90 elk on your property year-round, they tend to do some damage," he says. He is also concerned about access to groundwater. "The Ministry of Forests, Lands, and Natural Resource Operations took away our water sources a few years back and my permits have still not been approved from 2017," he says. The lack of processing capacity, especially in the southern section of Vancouver Island, and farm-retail restrictions are other issues Ellison would like to see addressed at the provincial level. "A lot of beef producers are doing great things here and there is more power in numbers," he says. While it has similarities to other regions within BC, "the Island is quite a bit dierent," he says. "We need a voice and representation." VICA is in its initial stages, but the group plans to boost Island beef production and address barriers to entry for young producers. "It's important that we have access to programs that are run locally and managed provincially," Chappell says. The top item on VICA's agenda is a BC Ferries livestock and agriculture action plan, says Chappell. "BC Ferries has categorically changed and digressed the ability of Island agriculture to operate here with integration with the mainland. The corporation has driven up the cost of food here and lowered the amount of ag on the Island," he says. VICA also wants to work with the province to address water capacity and storage during the fall and winter months, improving water capacity for livestock, irrigation and forage production. VICA oers three key benets, says Chappell. First, the organization will provide opportunities for ranchers to nd cost savings within a producer association. Second, the organization will be able to advocate for producers, and advance causes provincially through the BCCA. Most important, VICA will be able to develop programs that meet local producers' needs. "Most ag programs (on Vancouver Island) are very broad," says Chappell. "But if you have programs developed by ranchers for ranchers, you are far more likely to successfully distribute programs to people who need them. That would denitely encourage beef production." By early March, more than 130 ranchers expressed interest in joining VICA. For a $150 fee, VICA members gain representation on BCCA's ve committees: public aairs, Indigenous relations and aairs, land stewardship, environment and livestock industry protection. "The time is right to come together and work as an industry that includes the whole province, so that we don't have the Island separated," says Boon. "There are some very unique things about production on the Island that we need to be aware of and advocate for those producers."
Page 24
24 | APRIL 2021 COUNTRY LIFE IN BCby KATE AYERS CALGARY – Canada's bid to have the international community recognize it as a low-risk country for bovine spongiform encephalopathy (BSE) is a step closer to reality. In March, the scientic commission of the World Organisation for Animal Health recommended that the OIE's 182 delegates recognize Canada as a country of negligible risk, a step up from the controlled-risk designation it's had since 2007. Canada's application "fullls the necessary requirements," according to the Canadian Food Inspection Agency (CFIA), which noted that the OIE recognises Canada as "a top-performing country for its veterinary services and a leading example in meeting international standards." "There is a signicant threshold you have to go through to submit a negligible-risk application," says the Canadian Cattlemen's Association's executive vice-president, Dennis Laycraft. The CFIA and CCA worked together closely, along with provinces and other industry stakeholders, to prepare the application CFIA submitted to the OIE last summer. Criteria for the application included a demonstration that infected domestic animals were born more than 11 years prior to an application for the designation. The last case of BSE in Canada was in 2015, in a cow born in 2009. BC has reported just three cases, the last in 2008. But "the committee does not just consider the presence or absence of disease in a country, but they look at the degree of producer BSE education that we maintain, such as symptom recognition and the importance of collecting and submitting samples for the surveillance system," explains Laycraft. "CCA handles a lot of the producer education initiatives. We demonstrated that Canada's sector maintains those activities, encourages surveillance throughout the entire process and has eective control measures." Laycraft says the scientic commission's recommendation "recognizes the great work that's gone into eliminating BSE from the country." The recommendation is now up for scrutiny by OIE delegates, who will ocially comment and vote on Canada's application at their next general session, scheduled for the end of May. "We have a bit more of the process left to go, but we have a very strong application and remain quite optimistic," says Laycraft. Canada's high-quality veterinary services, which continue despite the challenges of the pandemic, supports his optimism. "We had excess of 30,000 samples submitted every year. We have one of the most robust testing programs in the world," says Laycraft. "The beef sector has a continuous commitment to fully eradicate foreign animal diseases through a suite of animal health programs to ensure we produce the safest and healthiest animals." This change in status to negligible BSE risk could expand available markets for Canadian beef products. For example, countries with this designation can trade cosmetic and pharmaceutical products that are derived from animals, Laycraft says. This potentially new designation "gives us an opportunity to get rid of any remaining trade restrictions related to BSE and to put that chapter behind us," he adds. BC Cattlemen's Association general manager Kevin Boon agrees. "BC is part of the beef supply that Canada relies on for both domestic and export markets. The new designation will soften some of the trade barriers that have been created because of BSE and gives our industry a stronger bargaining position with countries we export to," he says. "The designation also allows us to utilize more parts of the carcass that have been classied as SRM (Specied Risk Material). This change will lower our processing costs for domestic production and make us more competitive with other countries." BSE has undeniably left a mark on Canada's beef sector. "The rst few years after the initial infection in 2003 were really hard," Laycraft says. "There were estimates of up to $10 billion in losses from BSE. We saw a number of producers leave the industry because of the hardships they faced. We saw quite a bit of native grasslands converted to crop land." Despite the ebbs and ows of the market, the beef sector has stayed competitive and innovative. "Over the last number of years, we've had record values for our beef exports," Laycraft says. "We proudly share our sustainability story. With our Canadian Roundtable for Sustainable Beef, we have the rst certied sustainable beef claim in the world. "We are well-positioned to meet the future growth in demand for beef and to step up and help people know how farmers produce their food," he says. BSE, also known as "mad cow" disease, is a degenerative disease of the central nervous system found in cattle. The disease is linked to a rare, fatal disease in humans called variant Creutzfeldt-Jakob Disease (vCJD). Canada had one report of vCJD, but it was linked to a person who lived in the UK for an extended period during their BSE outbreak in the 1990s. No vCJD cases are linked to eating Canadian beef and BSE poses an extremely low risk to human health, according to Health Canada. Canada eyes negligible-risk BSE statusBeef producers welcome step towards open markets
Page 25
Online dam safety workshops enjoy high attendanceUpdates share details on Environmental Farm Plan fundingCOUNTRY LIFE IN BC APRIL 2021 | 25PROVINCIAL LIVESTOCK FENCING PROGRAMApplications Close: August 31, 2021View program updates at cattlemen.bc.ca/fencing.htmOce: 1.778.412.7000 Toll Free: 1.866.398.2848email: fencebc@cattlemen.bc.ca In partnership with:email: audreycifca@gmail.comemail: okanaganfeeders@gmail.com308 St. Laurent Avenue Quesnel, B.C. V2J 5A3Producers can apply for an advance on calves, yearlings, lambs, bison, forage and grain up to $1,000,000.00 with the rst $100,000.00 being interest free. Plus, interest relief through the Advance Payments Program is available to association members on their feeder cattle purchases.by TOM WALKER LAKE COUNTRY – The recent series of three dam safety webinars was well received, thanks to timing and an online format that made them more accessible to participants. "I think we hit the nail on the head," says Aaron Hahn, a dam safety engineer with Interior Dams, an engineering rm in Lake Country specializing in dam safety. "We had an average of 60 attendees at our online sessions and the feedback we got was very supportive." The fact the workshops took place on Saturday afternoon was a factor in their success, says Hahn. "That meant people weren't juggling other weekday commitments," he explains. "We also broke the presentations into three 90-minute sessions rather than the day-long workshop." Hahn adds that they were able to open the webinar sessions to as many registrants as possible. "When we present in a community we are usually in a small conference room and have to limit the number of people who attend, but by going online, we could have as many participants from across the province as were interested." Attendees were an interesting cross-section of the 2,500 dam owners across the province. Over 60% were agriculture producers, who own 800 of the dams in the province. Cariboo dam owners represented 43% of attendees. More than half had owned their dams for more than 15 years and over 55% own dams that are rated as "high," "very high," or "extreme" in terms of the risk to life, of habitat destruction and economic loss if the dam fails. BC dam regulations haven't changed since 2016, but attendees found the sessions informative, providing new information or refreshing them on what they already knew. (At over 500 pages, the BC dam safety manual covers a lot of material.) "There is such an information gap out there," says Hahn. "No one who doesn't do this full time for a living has time to learn it all." Interior Dams has updated many of the examples, photos and diagrams in its 2021 presentation and tried to use as many actual case studies as possible. "Emergency response was an area that people really engaged with," says Hahn "The videos kind of woke people up as to why we are requiring them to draw up an emergency response plan." A key responsibility of dam owners is the dam safety review that must be conducted every 10 years for a dam that is classied as high consequence or greater. "A dam safety review can cost from $20,000 to $40,000," notes Hahn. "They are a lot of work." However, the province's Environmental Farm Plan program can help with those costs if it is an agricultual dam, says EFP advisor Pete Spencer. "EFP pays 100% of the rst $5,000 of the cost of creating the dam safety review and 80% of the balance," says Spencer. And if there are multiple dam owners, Spencer says the owners can each apply for funding and pool their grants. "I worked on a project where there were 10 dam owners and a number of them were farmers," he says. "Each of them could access the initial $5,000 of support." While the online workshops are the preferred choice of attendees for future sessions, Hahn isn't sure if that will happen. "It would be great if we could run these live webinars again," he says. "I am not sure if we will be able to archive this last presentation, nor if it would be the best way to connect with owners. I know myself, if something is available on demand at any time, I don't always get around to doing it." BabysitterWhen you pick momma cows for their maternal traits, you're bound to get a good babysitter in the herd. They can be worth their weight in gold. TRUDY SCHWEB
Page 26
26 | APRIL 2021 COUNTRY LIFE IN BCNO COSTLY DPFMatsquiag RepairSales, Service & Partsest. 1989@matsquiagrepairCall today to demo any of our McHale models today!www.matsquiagrepair.com34856 Harris Rd, Abbotsford BC V3G 1R7604-826-3281BUILT TO LAST THE NEW V8950 BALERThe new V8950 variable chamber round baler has been designed with the demands of today's farmer and contractor in mind. High-quality build with high output, the new V8950 can create bales from 2' to 6'3".
Page 27
Jason Smith says good training for pruning labour is essential. "If someone isn't trained properly, they can cost you a lot of money," he says. "It's not just about cutting the right branch, it's also about not cutting the wrong branch." RONDA PAYNECOUNTRY LIFE IN BC APRIL 2021 | 27Blueberry pruning should aim for balancePruning will improve fruit quality if done properlyIrrigation Pipe | Traveling Gun/Hose ReelsPivots | Pumps | Power UnitsCall for a quote on Irrigation Design and our current inventory of new & used Irrigation Equipment.Several used 1,200ft pivots & used hose reels available now.TALK TO BROCK 250.319.3044Dynamic Irrigation beyedynamic@gmail.com by RONDA PAYNE ABBOTSFORD – Blueberry growers might be tempted to cut back on pruning in order to reduce labour costs, but doing so will only result in lower quality fruit the following year. Jason Smith of Fraser Berry Farms in Abbotsford says correct pruning stimulates new growth, creates necessary air ow through the plant and allows for proper spray applications. "More and more elds are not being pruned adequately," he says. "You are shaping it to a point, but there's more to it than that." The importance of pruning is something Bernadine Strik, extension berry crops specialist at Oregon State University, regularly speaks to BC growers about, most recently at the Lower Mainland Horticultural Improvement Association short course in January. "If you prune too light, you have too little growth and if you prune too much, you have too much growth," she says. "It's more rare to prune too much than to prune too little, so nd that good balance between good growth and good yield. The canes that aren't pruned well will age prematurely." Balance is the key word. Pruning allows for shoot and root growth and encourages fruit set and seed set. She says leaving too many buds will delay fruit harvest and increase labour costs due to a lengthened season and the potential for more rain events to impact harvest. But those who prune too heavily can literally cut yields. Smith says growers should generally remove about 30% of a plant, though this will vary by season. Winter pruning increases the vigour of spring shoots and leads to more consistent yields. Strik recommends growers use a consistent pruning strategy to focus on the best four to six laterals with the thickest diameter as these will produce the largest fruit. Thin, short twiggy branches should be removed to prevent draining the plant's energy. She suggests growers prune one plant as a reference point for the pruning team. Winter pruning also leads to consistent costs, which are easier to work into a budget. Wood that has become unproductive should be pruned back to the last vigorous lateral. Keeping the best fruiting laterals and removing low, less productive growth, will increase yields over time. Pruning should encourage upright growth. Low-vigour or stressed plants will require more aggressive pruning to allow for increased root growth and plant strength the following year. "Don't be afraid to cut back the number of fruit buds," she says. "Just remove the tip and that will increase fruit size." Growers who leave extra buds hoping for higher yields set themselves up for a greater number of small berries. Quality will suer because the plant's energy isn't focused. Strik cautions growers to avoid hedgers, a non-selective pruning tool that reduces yield partly because it won't remove the non-productive and excess laterals. She advises growers to avoid summer pruning. While it's tempting to make use of harvest labour to get a jump on pruning, next-season yields will suer. Harvest practices also inuence pruning techniques. Some cultivars produce more new growth than others so growers should learn the traits of their varieties. Smith returns to the concept of balance, saying a variety like Duke produces a lot of little twiggy dead ends. "If you spend the time to take every one of those [o]… you're wasting time," he explains. "It's not going to return anything." Cargo is susceptible to blueberry shock virus and if this occurs, Strik says the plant will use its energy reserves to produce new shoots. "That really weakens the plant," she says. "After the shock year in Cargo, prune exceptionally hard because you'll see a lot of shoot growth and buds." Pruning can be lighter if a slightly smaller berry is acceptable, but quality is always key so it's not a step that can be skipped. "Yes, it's a lot of work… you want really good quality for the fresh market," she says. "This [adequate pruning] really needs to be done." USED EQUIPMENT N/H FP230 27P GRASS HEAD . . . . . . . . . . . . . . . . . . . . . . . . 17,500 CLAAS VOLTO 1050 8 BASKET TEDDER . . . . . . . . . . . . . . . . . 12,500 KV 9469S VARIO, 2014, RAKE, 1 OR 2 ROWS . . . . . . . . . . . . . . 18,500 NH 1033 BALE WAGON, 105 BALES . . . . . . . . . . . . . . . . . . . . . 3,000 USED TRACTORS KUBOTA T2380 2017, 48" DECK . . . . . . . . . . . . . . . . . . . . . . . 4,500 KUBOTA BX2360 2010, 1,900HRS, TRAC/MWR . . . . . . . . . . . . . 9,750 2x TORO 3280 52" FRONT MOUNT MOWERS . . . . . . . . . . . . . . . . CALL NEW INVENTORY: *NEW* GREENWORKS COMMERCIAL CORDLESS BLOWERS, CHAINSAWS, STRING TRIMMERS, HEDGE TRIMMERS, LAWNMOWERS. 82/48 VOLT NEW MODEL- JBS MISP1436 IN THE YARD KUBOTA RAKES, TEDDERS, MOWERS, POWER HARROWS . . . . . . . . CALL JBS VMEC1636 VERT. SPREADER, SAWDUST & SAND THROWERS CONSTRUCTION KUB SVL75-2 2016, ROPS, 1,700HRS . . . . . . . . . . . . . . . . . . 53,500 KUB U35-4GA 2015, CAB, RUBBER, THUMB, 1,500HRS . . . . . . . . CALL TRACTOR & FARM EQUIPMENT HEADQUARTERSYour Vancouver Islandwww.islandtractors.com ISLAND TRACTOR & SUPPLY LTD. DUNCAN 1-888-795-1755NORTH ISLAND TRACTOR COURTENAY 1-866-501-0801
Page 28
28 | APRIL 2021 COUNTRY LIFE IN BCRENN Mill Center Inc. has a corporate policy of continuous improvement and development; therefore models and specifications are subject to change without any advance notice.Twin-Flex MergersMerge five 16' windrows while travelling in either direction thanks to 28' of continuous merging with two independent 14' heads. Patented Center-Cam, Center-Drive design Merge right, left, or split direction No need for a Cross-Connection ConveyorH&S Rakes Available in 12, 14, and 16 wheel models The most flexible rakes on the market Overhead frame design for high capacityRENN Mill Center Inc., RR#4 Lacombe, AB T4L 2N4The full line of H&S agricultural equipment is available from RENN Mill Center, the exclusive distributor in Western Canada.Call to find your local dealer.TEL: 403-784-3518 | www.rennmill.comA recent study published in Scientic Reports has shown that glyphosate-based herbicides (GBHs) such as Roundup are capable of disrupting the gut microbiota and negatively inuencing human health. GBHs are currently the most widely used herbicides in the world and glyphosate is the main active ingredient in hundreds of products. This organophosphate revolutionized weed control when it was rst produced in 1974 and introduced to the market as Roundup by Monsanto (now Bayer). Since then, about 9.4 million tons of GBHs have been sprayed globally, representing nearly half a pound of glyphosate on every cultivated acre of land. And the use of glyphosate products continues to grow worldwide. Genetically modied Roundup Ready crops developed to withstand the eects of glyphosate came on the market in 1996, rst with Roundup Ready soybeans and, in 1998, Roundup Ready corn. Glyphosate is the most widely used herbicide in Canada and continues to play an important weed management role in agriculture and non-agricultural land management. Products containing glyphosate are used to control weeds including invasive weeds as well as toxic plants such as poison ivy. But the health implications of their use have faced scrutiny for years. People can be exposed to the applied herbicides in a variety of ways, not only through direct use but through residues found in food, drinking water, ground water, crops, animal feed and windblown in the air. In spite of aggressive defense of the product by Bayer and many agricultural and non-agricultural land managers, it continues to face increasing restrictions or complete bans in countries around the world. In 2015, the World Health Organization's International Agency for Research on Cancer found glyphosate to be a "likely carcinogen." However, in Canada the Pest Management Regulatory Agency carried out a science-based re-evaluation for pesticides containing glyphosate to ensure that they continue to meet modern standards for human health and environmental protection. Its ndings published in 2017 stated that, when used according to the label instructions, products containing glyphosate are not expected to pose risks of concern to human health or the environment. Glyphosate is in over 130 products sold in Canada and PMRA's review looked at more than 1,300 studies. Despite that, there has been continued intense public debate on the use and exposure to GBHs at various dosage levels including even low doses established as safe use guidelines. Across Canada, 40 communities have restrictions or bans on glyphosate. Vancouver has banned its use from public parks and gardens. Emerging evidence Now, the new research paper has found emerging evidence that GBHs may inuence health outcomes that include reproductive toxicity, endocrine disruption, diabetes, gastrointestinal and cardiovascular disorders, and abnormalities in neurodevelopment. The study was conducted by researchers with the Icahn School of Medicine at Mount Sinai in New York in conjunction with scientists with the Ramazzini Institute in Bologna, Italy. The animals used in the study were Sprague Dawley (SD) rats, a breed of albino rat extensively used in medical and nutritional research. Among its attributes are its calm nature and ease of handling. The test animals were exposed to either glyphosate or Roundup through drinking water. Their urine and feces were then collected for metabolomics analysis. Metabolomics is the study of unique chemical ngerprints that cellular processes leave behind and the study of small molecule proles. "Although our sample size was small, our results showed that gestational and early-life, low-dose exposure to glyphosate or Roundup signicantly altered multiple urine metabolomic biomarkers in both dams and ospring," the authors wrote. They said that to their knowledge this is the rst study on GBH-induced urinary metabolomic changes at doses currently considered safe in humans. "Metabolomic analyses revealed dierences in urinary metabolite levels associated with GBH exposure," the researchers wrote. "Limitations of this study include sample size and analysis of only a single urine sample. Therefore, further studies should include a larger sample size, especially for subgroup analysis, as well as longitudinal samples to investigate underlying mechanistic associations and windows of susceptibility more comprehensively." Assessing the use of glyphosate products is essential in looking at sustainable land management programs and the recent report underscores the need to be cautious and vigilant when protecting human health. Study casts new shadow on glyphosate useReport looks at effects on human health outcomesResearch by MARGARET EVANS
Page 29
Kent Fawcett, Kamloops food hub coordinator with the Kamloops Food Policy Council, holds a tray of onions in front of the new Gardengate Training Centre in Kamloops. The centre opens in April and will be used by the Gardengate Horticultural Therapy Program as well as food hub clients. MURRAY MITCHELLCOUNTRY LIFE IN BC APRIL 2021 | 29BC adds seven food hubs to provincial network$5.6 million invested KuhnNorthAmerica.comVisit your local British Columbia KUHN dealer today!INVEST IN QUALITY®www.kuhn.comMatsqui Ag-RepairAbbotsfordNorthline EquipmentPouce CoupeHuber Farm EquipmentPrince GeorgeSmithersDRY WITH THE SPEED OF LIGHTExclusive DigiDrive® couplers provide low maintenance and long lifeMultiple options and adjustments for tedding in various crop conditionsReduce drying time with steeppitch angles and asymmetrical tinesHydraulic folding provies easy transport between work and 昀eldGF 102 / 1002 SERIES Rotary Tedders8'6" - 56'5" working widthsby JACKIE PEARASE VICTORIA – Provincial funding announced in February means seven more food hubs across BC are in the works to provide value-added products, skills training and product-specic food processing. The latest expansion to the BC Food Hub Network will add food hubs to Abbotsford, Kamloops, Creston and the Kootenay-Boundary region. Three more food hubs will be located on Vancouver Island in Victoria, Bowser and the Cowichan Valley. Each food hub is unique, created in collaboration with the community in which it is built. The food hub in Bowser will focus on seafood innovation, while Victoria, Cowichan Valley, Creston and Kamloops will work with local farmers and food processors to help grow their businesses. The Boundary Community Ventures Association is working with the Regional District of Kootenay-Boundary to ll a long-standing need for meat processing with $750,000 in funding, part of $5.6 million the province allocated for food hub development last year under the BC Economic Recovery Plan. The funding builds on a $500,000 rural community grant the province awarded the regional district last year for scaling up the region's meat sector. "We've been in bottleneck here for years. So many people want to raise animals and chickens and everything and it's really made it hard; there's a real demand," says interim food hub manager Sandy Mark. The goal is to establish a new meat-processing facility at Riverside Centre in Rock Creek, plus a commercial bakery and food-testing lab to be run out of Barbara Diane Colin Memorial Ball Park in Greenwood. Mark says the bakery should be operational this spring but the meat processing facility won't open until September or October at the earliest, pending the completion of negotiations. "On the meat side, we have a lot more to do to pull that together but we are working like mad on that part as well," Mark says. "All I can say is we know we're going to do it. We just don't know how or when. We know where; we just don't know all the details yet." The Kamloops Food Policy Council and City of Kamloops are using a multifaceted approach to food security. Their funding of $750,000 is going to a space-sharing arrangement with the Gardengate program for entry-level processing, a mobile processing unit for Indigenous processing in remote areas, and leasing and outtting a HACCP facility for commercial product development and processing. "It gives us this whole big picture. If you're a new business, we have this facility for you. And if you're an existing business that wants to level up, then we have this facility for you," says Kamloops food hub coordinator Kent Fawcett. "The two facilities will help make Kamloops food available in Kamloops at the farmers market and places like that. Having the HACCP facility, we can promote Kamloops food across BC." The Kamloops HACCP facility will focus on preservation methods such as dehydration and canning. Additional business coaching and development is also part of the plan, as it is with all food hubs. KFPC food policy implementation lead Lindsay Harris says the creation of a food hub to provide shared resources for local food processing was a key outcome of a collective impact process done in 2019. "We really do have that systems-level vision for the food hub," Harris says. "Being able to diversify their revenue stream by having the ability to See FOOD on next page o
Page 30
FOOD hubs nfrom page 2930 | APRIL 2021 COUNTRY LIFE IN BCinnovate with value-added products is huge, I think, for local producers." Ongoing partnerships between producers, local government and grassroots organizations focused on food security are key to the success of any food hub, Harris notes. She says the opportunities for collaboration between producers and agri-food entrepreneurs are endless with the right infrastructure, leadership and assistance. "We see so much potential for those mutually reinforcing partnerships to take place between food processing and production in the region," she says. Central Kootenays funded The Regional District of Central Kootenay is partnering with Fields Forward to develop a food hub in Creston with $500,000. Fields Forward executive director Elizabeth Quinn says local eorts toward a food hub go back more than a decade. A mobile juice press has proven to be quite successful and local producers have pushed to have it moved indoors for the past three years, Quinn says. It has been dicult nding a suitable existing building for the hub in a region dominated by agricultural land but the group is expanding its search to include land where a steel warehouse could be erected and then renovated for shared food and beverage processing space. Oers of additional nancial investment from local producers once the food hub is established would increase its viability and success, Quinn adds. "People are taking us much more seriously now that we have funding," she says. "We have people coming forward and they are ready. We just don't have a location." In Abbotsford, the Mission Community Skills Centre Society is spearheading a food hub in partnership with the District of Mission. The group secured $750,000 for equipment and start-up costs through the food hub program and another $999,450 through the Community Economic Resilience stream of the Community Economic Recovery Infrastructure Program to retrot and upgrade a downtown Abbotsford building into the Fraser Valley Artisans Food Hub. MCSCS executive director Stephen Evans says this "incubator of ag-food businesses" is expected to open in September. The food hub will have a focus on skills training for those wanting to be an agri-food entrepreneur. "It is those kinds of things that we want to bring to the table. We want to help celebrate food and we want to particularly pay attention to local food," Evans says. "We've created the Fraser Valley Artisans Food Hub Inc. and it will be made up of entrepreneurs that want to participate in our food hub in helping diversify and develop the local supply chain." The province also provided $2 million for food hubs on Vancouver Island. The new facilities in the Cowichan Valley and Victoria will cater to farmers and processors wanting to create value-added products, while the Bowser hub will focus on seafood processing at Vancouver Island University's Deep Bay marine eld station. Three food hubs are already operating in Vancouver, Surrey and Port Alberni, with additional hubs in Quesnel and Salmon Arm opening later this year.Kent Fawcett stands in Gardengate's HACCP-certied commercial kitchen that will facilitate a focus on preservation methods such as dehydration and canning. MURRAY MITCHELLMeadow View Lodge 16 Bed B&B / Hobby Farmt7JFX"DSFTXJUI$SFFLt.BJO)PVTF#FE#BUIt#FESPPN#VOLIPVTFt,ZS3FWFOVF1SPQFSUZFort St. James, BC $679,000Call/Txt Linda 604.997.53996,000 sq/ft Luxury Estate Home on 20 Treed Acrest#FE#BUI8JOUPO#VJMU)PNFt)FBUFE$BS(BSBHFt)ZESPOJDIFBUJOHXPPEt*O&YDMVTJWF4QJVT&TUBUFTMerritt, BC $1,590,000Call/Txt Freddy 604.997.5398BC's Lifestyle Properties>Call 604.491.1060 info@thebestdealsinbc.com www.theBestDealsinBC.comCustom Equine Barn60x160 Riding ArenaStone Ridge Meadow Ranch ] 137 Acres ] Fort St. John, BC #FE-VYVSZ-BLFWJFX)PNF&RVJOF'BDJMJUZ $1,725,0004500 sq.ft Log Home10 Peaceful Acres & BarntCFECBUI$VTUPN-PH)PNFtLJUDIFOT#FESPPNTVJUFt'FODFEIPSTFCBSOHBSEFOt1SPöUBCMF&RVJOF(VFTU3BODILone Butte, BC $1,125,000Call/Txt Freddy 604.997.5398t"DSFTTRGU-PHMPEHFtDBCJOT37TJUFTtTRGU0XOFSTSFTJEFODFt0OQFBDFGVM6ODIB-BLFSouthbank, BC $1,065,000Call/Txt Linda 604.997.539948 Lakefront AcresMoosehorn Lodge Resort t#FE#BUITRGUt1BOPSBNJDMBLFWJFXøPPSQMBOt3BEJBOUIPUXBUFSBNQTt2VFTOFMMBLFXBUFSGSPOUHorsey, BC $700,000Call/Txt Linda 604.997.5399800 ft of Private Beachfront Custom Home on 2.79 Acres t+VTUIPVSTGSPN7BODPVWFSt2VJFUTQFFESFTUSJDUFEMBLFt1PXFSQIPOFBUMPUMJOFt0XOFSöOBODJOHBWBJMBCMFLots Priced from $295K - 475KCall/Txt Sabine 778.363.27501.2 -1.4 Acre Waterfront #VJMEJOH-PUTr#JH#BS-BLF t"DSFTIBZ(SB[JOHMFBTFtXBUFSGSPOU3PCFSUT-BLFtTRGUIPNFPVUCVJMEJOHTt(SBWJUZGFETQSJOHXBUFSXFMMHorsey, BC $699,900Call/Txt Freddy 604.997.5398150 Acre Ranch with 4 Bdrm Lakefront Homet#FE#BUINPEFSOIPNFt$IFSSZ#JSDILJUDIFOt3FBMIBSEXPPEøPPSJOHt%FDLFTUBCMJTIFEHBSEFOTChetwynd, BC $589,000Call/Txt Linda 604.997.53998 Acres in 2 Titles with 2146 sq.ft Custom Home
Page 31
Tyler Chartrand's business, Ogopogo Salsa, adds value to local produce. ANNA ZEITNER COUNTRY LIFE IN BC APRIL 2021 | 31FOR BAGGED or BULK ORDERSDarren Jansen Owner604.794.3701organicfeeds@gmail.comwww.canadianorganicfeeds.comCertified by Pro-Cert Organic Systems Ltd.by MYRNA STARK LEADER KELOWNA – Tyler Chartrand saw a hole in the market he decided to ll. Since 2014, he's been growing tomatoes and peppers and processing them to make Ogopogo Salsa. The business idea came to him while he was pursuing an accounting degree at Okanagan College. During an entrepreneurship class, students were tasked with creating a full business plan. Part of his research included learning that salsa was outselling ketchup in the US. "The other two guys in my group dropped the class so I had free rein. I'd always made salsa with my family in year-supply batches. We had a good recipe and it was a tradition. I didn't see anybody making it and selling it locally," says Chartrand. With a completed business plan in hand, he built a 12x12-foot kitchen in his parent's basement. He designed the kettle and baskets which were fabricated at a local welding shop. Then he skipped his rst month of classes the following September to make salsa. The venture reached a milestone last September, moving from selling at Kelowna's farmers market to having the salsa on shelves at local grocers Nature's Fare, Peter's Independent Grocer and Paynter's Fruit Market, a seasonal fruit and vegetable stand in West Kelowna. He also started selling online. Chartrand grows about 4,000 pounds of tomatoes and 1,000 pounds of peppers on just under an acre of land provided free of charge by Anne Dyck. She and her grown children live on her 15-acre parcel in Kelowna's Lower Mission neighbourhood, a parcel in the Agricultural Land Reserve that's mostly been used for hay. Where Chartrand grows was always garden but Dyck's children were never interested in farming, nor are her grandchildren. So, when Chartrand approached her, even though she didn't know him, she agreed to let him use the land in return for some fresh produce. "I was so encouraged to see a young person interested in the land," says Dyck. "And he's such a hard worker. He didn't really know much about growing but he's not afraid to approach other growers and learn. He's such a sweetheart." Chartrand calls Dyck's contribution a blessing. Without it, his current business model wouldn't be protable since it's funded by savings. "I'm pretty risk-adverse, so the business is in the green. But if I had to pay for the land, I probably would have dropped out of the farming business in the rst couple years due to the labour involved, the learning curve of failed crops and the cost to keep going," he says. Although his father grew up on a farm, his dad had a teaching career so everything Chartrand has learned about farming has been through trial and error, YouTube, and connecting with other local growers like Jennay Oliver, owner of Paynter's Fruit Market. "I called her once to ask her how to change the rototiller on the tractor," he says of Oliver, whose family has been growing in the Okanagan since 1926. Seed starter Chartrand grows his plants from seed. Greenhouse and eld tomatoes include varieties like Oxheart, San Marzano and others geared towards sauce making. He also grows a mix of hot and sweet peppers. Peaches for the peach salsa are sourced from Paynter's as well as Crosby Organics in Kelowna. Recognizing that great soil is the foundation of his business, Chartrand will focus on soil health this year. "I've partnered up with Optimize Organics. They've got their compost tea brewing and are just total nerds on the soil science and microbe synergies. So, I'm very excited to do as much soil-building as possible," he says. "Getting healthy soil is years in the making but I'm genuinely most thrilled about that this season. It's part of investing in the future." Chartrand works as a builder in the o season, skills he also applies to his farm. In 2014, he built a 500-square foot commercial kitchen/processing facility at his home, a big update from the original basement kitchen. "My favourite part of the process is the blanching of peaches or tomatoes, because I have this crane now. I can pick up 100 pounds, put it in the boiling water, take it out, College assignment sparks salsa businessCommercializing a family recipe created a path to growing the ingredientsSee SALSA on next page oAlthough Willmar® pull-type spreaders can't control the volatility of fertilizer prices , they can certainly help improve your mar gins by delivering product more ac curately and eciently than any other spreader. What more could you ask for?For Small to Large Farm Operations
Page 32
Tyler Chartrand built a commercial kitchen on his Kelowna property to give him full control of processing his locally grown tomatoes for Ogopogo Salsa. ALEX VANDELAAR 32 | APRIL 2021 COUNTRY LIFE IN BCtake it over to my cold sink bath and it just tilts and everything pours in. In my rst kitchen, it was a lot of me scooping and lifting things above my shoulders manually. The iteration process has been a neat journey on the processing side. I also understand now why there isn't a local salsa. It's easy to make hundreds of jars but it's hard to make thousands," he admits. His new kitchen allows him to process 240 jars in an eight or nine-hour day compared to about 200 in a 14-hour day in the former space. Last year, he made 5,000 jars of salsa, up from 700 in 2014. His ultimate goal is to produce 10,000 jars a year. Chartrand is grateful for friends who want to come help in the garden and get paid by the hour. He says he planted the whole acre a few times but was unable to manage the eld work and processing at the same time. "Last year is the rst year I was able to really capture everything that I grew, whereas years before, as it turns out, it's easy to grow a ton of food but trying to time everything like harvesting and processing has been challenging. I've made a lot of compost over the years so, you know, it's not a bad thing," he says with a laugh. Although the farmers market was a good way to introduce his product to consumers, especially when people could taste-test the product, Chartrand knows he needs to nd new markets if he wants to grow the business. "I'm slowly getting that mindset in gear but marketing is a full-time thing. As well, I want to grow at a pace I can manage nancially and from a growing and processing side," he says. Chartrand continues to be motivated at the prospect of building a business that outlives him, one with more employees and bigger production. But he's taking it one step at a time. "I graduated, became a live-in caregiver and was able to aord a house in Kelowna before the market went crazy," he says. "I had this idea of urban homesteading, living more self-suciently within an urban setting as opposed to out in the bush. Ogopogo Salsa is recession-proof in the sense that all the overhead costs have been kept under my own living expenses. The factory in my backyard. It's under my control, and it's food which everyone needs." SALSA nfrom page 31CLAAS 780L CENTER DELIVERY RO-TARY RAKE COMING IN SOON CLAAS 860 SP FORAGE HARVESTER 12.5' PICKUP & 6 ROW CORNHEAD $93,700 CLAAS 970 SP FORAGE HARVESTER 10' PICKUP & 10 ROW CORNHEAD CALL FOR MORE DETAILS/PRICING CLAAS JAG 960 W/GRASSHEAD & CORNHEAD CALL CLAAS 4000 4-ROTOR RAKE CALL FOR DETAILS X 2 FENDT 930 MFD CAB TRACTOR CALL FOR DETAILS FERRI DITCH BANK MOWER $3,500 NH BB340 LARGE SQUARE BALER CALL FOR DETAILS SUPREME INTERNATIONAL 700T MIXER WAGON TWIN SCREW CALL FOR DETAILS TYLER F45 FERTILIZER SPREADER $7,500 VEENHUIS MANURE TANKER TRIPLE AXLE WITH BRAKES $140,000 Pre-owned Tractors & EquipmentWe cut everything, except corners. www.caliberequipment.ca STORE HOURS MONDAY-FRIDAY, 8-5 SATURDAYS (AFTER EASTER) 8-12604-864-2273 34511 VYE ROAD ABBOTSFORD
Page 33
Conversations with consumers begin early. For Bev Whitta, sharing her knowledge of poultry with students is never work. BEV WHITTA COUNTRY LIFE IN BC APRIL 2021 | 33by KATE AYERS NANOOSE BAY – COVID-19 has made people more interested than ever in where their food comes from, and Bev Whitta is helping keep Vancouver Island consumers in the know. Earlier this year, Whitta received the Scotiabank Champion of Agriculture Award at the BC Agriculture Council's annual gala on January 28 for her work with Poultry in Motion. Whitta's farming roots run deep. She grew up on a dairy farm in Nanaimo and has been farming in Nanoose Bay with her husband Brian since 1979. They built their mixed-farming operation from scratch, originally raising beef and sheep. In 1995, the couple were selected for the BC Chicken Marketing Board's new entrant program and added broilers. The couple now work on the farm full time with their son Jason. They have quota holdings of 66,000 birds and also manage feeder cattle, corn and forage crops. It's a switch from the early days when Brian worked o farm as a mill mechanic and Bev worked as an educator with School District 69. But they wouldn't trade one moment. "I love driving the John Deere tractor to rake or bale hay, I love working in the barn and I do the paperwork," explains Bev. "I do whatever needs to get done. When she left the school board in 2011, her desire to continue working with students didn't stop. In 2015, she joined Poultry in Motion, an initiative of the BC Chicken Growers Association and BC Broiler Hatching Egg Producers Association. Program volunteers take Poultry in Motion trailers to events and schools, demonstrating broiler production practices in BC. Whitta oversees the program on Vancouver Island. "Vancouver Island didn't have a trailer, so we had to borrow one from the mainland to go to fairs and schools," she says. "However, two years ago, we successfully lobbied for a trailer on the Island, which was very exciting! It has been busy, but very successful." "The trailer is set up with three units to go through the chicken's lifecycle. I talk about equipment, animal welfare and what farmers do during each stage of the chickens' lives," she says, noting that she visited 33 schools and spoke to 9,700 students in 2019. Whitta also visited ve fairs, including the Saanich Fair, the Island's largest. "We want to dispel the myths that abound about chicken farming and pass on information about Canada's very high standards," she says. Utopia COVID-19 hit pause on Poultry in Motion but not Whitta, who developed a video to keep the program moving. It's now used across the province. For Whitta, championing the ag industry is not work. She enjoys engaging in conversations with students and consumers and looks forward to doing so once again, soon. "I love working with kids and I love agriculture. When you combine the two, for me, it's like a dream come true. I call it a utopia," she says. Whitta initiates thoughtful conversations with people and answers questions about food production and animal welfare. "There was a time when everyone could visit a farm or knew a farmer, but now due to biosecurity and fewer farms, those opportunities aren't there quite so much," she says. "People are very curious about the food value-chain and they have standards on how they want their food produced and how animals are treated." She says building relationships with consumers requires good listening skills, not just good information. Farmers who want to "communicate with consumers need to respectfully listen and acknowledge what consumers are saying." "Then introduce what you know and consumers will pay attention to what you are talking about," says Whitta. "Do not argue with consumers, but rather present information and perhaps pass on a website where they can nd further information or verify what they learned." Whitta often discusses how farmers follow mandatory animal care programs and that farms are certied by auditors on food safety and animal care. The Scotiabank Champion of Agriculture Award recognizes the importance of these conversations, and her contributions. "I am humbled and honoured to receive this award. I enjoy being able to speak up for farmers," says Whitta. "I want people to have a positive attitude about agriculture and to respect and trust farmers." Bev Whitta shares her passion for poultry farmingChampion of Agriculture is the Island's Poultry in Motion expert Province Wide DeliveryIdrofoglia Reel Model G1 63/200 (2.5x656ft.) $11,895.00Langley 1.888.675.7999Williams Lake 1.855.398.7757No More Moving Your Sprinklers!Save TIME & MONEY with an Automated Irrigation Reel Ideal for any Crop, Vegetable/Corn or Forage. COMMITTED TO AGRICULTURE in the FRASER VALLEY, SOUTH OKANAGAN & VANCOUVER ISLAND rollinsmachinery.comCHILLIWACK • 1.800.242.9737 . 44725 Yale Road West • 604.792.1301 LANGLEY • 1.800.665.9060 |. 21869 - 56th Avenue • 604.533.0048 CHEMANIUS • 1.250.246.1203 . 3306 Smiley Road KELOWNA • 250.765.8266 . #201 - 150 Campion Street TRACTORS CASE 35B 4WD, ROPS [CNS755] ........................................... 13,000 JD 5100 MH, HIGH CLEARANCE, 3 REMOTES [CNS757] .......... 70,000 JD 5500 6300 HRS, ROPS, LOADER, 4WD [U32428] ............. 31,500 NH 8560 4WD, 6,250 HRS [U32312] .................................... 45,900 QUALITY USED EQUIPMENT AERWAY 11' TRAILER, AERATOR, NICE CONDITION [U40045] .... 9,000 FELLA TS800 RAKE [U32578] .................................................. 8,500 FRONTIER 12' DISC, TANDEM 21" FRONT NOTCH, 21" REAR SMOOTH [U32343] ................................................ 7,900 GEHL 3250 SQ BALER, S/N20743, CRANK BALE TENSION,78" PU, 1/4 TURN BALE CHUTE, GOOD CONDITION, SHED-STORED [U32407] ............... 7,900 KOMATSU LOADER BACKHOE, 7100 HRS, 4 POST, ROPS, 4WD [U40043] .................................................................... 25,000 KUHN PRO 150 MANURE SPREADER, VERTICAL BEATERS, GOOD CONDITION [U32236] ................................................ 28,500 JD 1620 ZEROTURN MOWER, 1,900 HRS [CNS718] ................ 9,500 MCHALE FUSION VARIO 2017, 14,000 BALES, NEW BELT SUPPLIED (NOT INSTALLED - $6,000 VALUE) [U32135] ......................... 89,000 NH 258 RAKE 260, HITCH [U32143] ........................................ 4,950 NH 795 MANURE SPREADER [U32010] .................................... 7,595 NH 1044 BALE WAGON [U32420] ............................................ 7,000 NH 7550 DISC MOWER 13' - PIN HITCH [U32358] ..................... SOLD! NH C232 TRACK SKIDSTEER, DEMO SPECIAL, 500 HRS, GOOD CONDITION [N31179] ................................................. 61,000 NH TV145 BI-DIRECTIONAL TRACTOR, FRONT MOUNT TIGER BOOM MOWER, GOOD CONDITION [U16916] ................................... 47,500 TAARUP 4036 DISC MOWER, REBUILT CUTTERBAR [U32093] ... 14,500
Page 34
34 | APRIL 2021 COUNTRY LIFE IN BCTOLL FREE: 1-877-553-3373 WWW.PRAIRIECOASTEQUIPMENT.COMPRINCE GEORGE 250-561-4260 | KAMLOOPS 250-573-4412 | KELOWNA 250-765-9765 | CHILLIWACK 604-792-1516 | NANAIMO 778-441-3210* Get $650 off the agreed upon purchase price of a new John Deere 1-4 Series Compact Utility Tractors or a new John Deere 5 Series Utility Tractors. Offer may be combined with purchase financing offers. Attachments and implements sold separately. Some conditions apply. Contact PrairieCoast equipment for details. Offer subject to availability and may be discontinued or modified. Taxes, setup, delivery and freight charges not included. 0% APR purchase financing for 72 months on new John Deere 1-4 Series Compact Utility Tractors and new John Deere 5 Series Utility Tractors. O.A.C. Down payment may be required. Offer valid from March 1 until April 30, 2021. Limited time offer which may not be combined with other offers.0%FOR 72MONTHS*ON JOHN DEERE COMPACT UTILITY TRACTORS 1-4 SERIES & 5 SERIES UTILITY TRACTORSDRIVE GREEN DISCOUNT$650*My last column was a smashing success in terms of goading winter into making an appearance. In the days following submission, temperatures took a gratifying plunge well into the negative 20s and the wool pants were pulled on. We all know that I tempted fate a little too recklessly though, and sure enough, it snowed all through market in the city that weekend. Snow in the potato display is not a great look. At this point, I feel compelled to inform the readers who may not have experienced the phenomenon of winter markets that the bike racks and the parking lots were remarkably full. You see, people are doing their weekly shopping at the market and atrocious weather does not deter. Not soft, these city people. That's why we have a business. I should have been a little more prudent and I should have been more specic in my weather requests: I wanted winter to last for ages. The winter that I conjured up only lasted a week. Now, we have rapidly melting snow and daytime temperatures well above zero. I suppose there is a chance of winter returning, but I doubt it. It's time for mud. The situation is thus: until the ground thaws to the point where the snow melt can be absorbed, the upper layers are transformed into quagmire. Even the most reliable surfaces are compromised; well-packed driveways are not immune. Tires, boots and even duck feet cause deep ruts that can remain for the entire summer season, only later to be pounded down by the heavy rains of early winter. The extent of it cannot be over-stated and I fear new landowners may nd it dents their bucolic visions of Shangri-La. There really isn't enough gravel in the world to keep the idyllic country estate dream alive during this phase of early spring. Not to say it is not thought of, however, and plenty of Class 1 soil languishes beneath expensive truckloads of drain-rock and 3-inch minus gravel. It is generally noted to be a futile eort. In fact, mud, along with mosquitos and the crushing heat of summer, form the trifecta of conditions that ultimately may preserve this region from being thought of as soft. The odd easy winter may pass our way, but these three will always turn up, one after another, to test our fortitude. The mosquitos are relentless. I hardly need describe that. They will drive everyone from farm crews to wedding parties to distraction, and often further than that. The toughest among us don't even admit to their presence. And then there's the heat. It must be welcomed in certain quarters by those who wish their irrigated potatoes and mixed vegetables to explode in growth. It can overwhelm, however, and in recent years outside workers, or even people who wish to go outside, must discover for themselves the limiting eects of 40° on the human frame conditioned to northern latitudes. The raging heat can only be eectively combatted with a pool, both of water and money. We are doing one on a budget. We had a big excavator on the place last fall and that operator frankly talked us into making a natural swimming pool. Currently, it more resembles a hippo wallow: a large pit in which the ducks have been swimming. See mud, above. I am just not seeing a path to the kind of swimming facility I had giddily imagined, though Dad has a plan, I am sure. I wish spring would hurry up so we can execute. Anna Helmer farms in the Pemberton Valley and thinks about farms all over the province all the time. Mud: what separates winter from summerFarm Story by ANNA HELMERFILE PHOTO
Page 35
Finding a better way to cool hot potatoesClimate change driving research to understand heat stressCOUNTRY LIFE IN BC APRIL 2021 | 35Serving the Okanagan and Fraser Valley We've been proudly family owned and operated since opening in 1976. And with two blending plants, we're one of BC's largest distributors of granular, liquid and foliar fertilizers. Our buying power and proximity to the Fraser Valley makes us the logical choice for truckload shipments. OKANAGAN FERTILIZER LTD 1-800-361-4600 or 250-838-6414by BARBARA JOHNSTONE GRIMMER ABBOTSFORD – Some potato growers across Canada are experiencing a reduction in yield and quality of the cool-climate crop due to rising summer temperatures and heat waves linked to climate change. Kevin MacIsaac, general manager with United Potato Growers of Canada, singled out the changing climate as one of the top three long-term trends impacting potato growers in a market roundup at the Canadian Spud Congress, held online February 24-25. "The climate for growing potatoes seems to be changing. We've had more than one season now in the eastern part of Canada where it's been hot, dry (and) really lowered yields substantially," he said. "It's been hot (and) dry in Western Canada as well, and certainly in those areas where they also require the snowpack to be able to supply their reservoirs with water in the coming year … [there's] not really the amount of snowfall we'd like to be able to ll those reservoirs." Xiu-Qing Li and his team at Agriculture and Agri-Food Canada's Fredericton Research and Development Centre is addressing the challenge. Li's research focuses on understanding the mechanism of heat tolerance and improving the ability of potatoes to withstand heat. Li presented recent research at the Lower Mainland Horticultural Improvement Association's short course, held virtually on January 29. Li's team evaluated 55 varieties of potatoes for their tolerance to heat stress, nding that some could tolerate heat more than others. They have also identied genes linked to pathways involved in heat tolerance regulation. The potatoes were grown in a temperature-controlled greenhouse with daytime temperatures of 35° Celsius and nighttime of 28° C. A control group was grown under ideal growing conditions of 22° C during the day and 18° C at night. Compared to the control group, all the potatoes grown under higher temperatures had smaller tubers and leaves, taller heights and a higher chlorophyll index. Russet Burbank was severely aected, producing only one single small tuber under temperature stress conditions. The varieties that showed the most tolerance were Eramosa and Chieftain. Eramosa is an early variety, and Chieftain is mid-season. Photosynthesis Li explains that when a potato plant is photosynthesizing, its photosynthesis products are translocated from its leaves to its tubers and stored there as starch. Modern potato varieties have been bred to be very ecient at this. Under heat stress, the products of photosynthesis stay in the above-ground parts of the plant instead of going to the tubers. If heat stress occurs as tubers are developing, the plants can produce misshapen tubers, knobs and sprouts. "We now know that there is a correlation among changes of plant height, the chlorophyll content of leaves, and the tuber mass under heat stress," says Li. "These ndings on genetic variation of potato varieties serve as a basis to identify the genes responsible for heat tolerance, improve existing varieties and breed new heat-tolerant varieties." There is a particular interest in modifying the response in Russet Burbank, which performed very poorly under heat stress in the study. This variety is highly important to the potato processing industry. His team has also examined the eect of high temperature on the maturity of potato varieties to see if heat stress can alter the number of days to maturity. Li has observed that early varieties are less aected by heat than late cultivars, partly due to the short growing time and avoidance of summer temperatures. If early varieties are exposed to elevated temperatures, they do not show any sign of early maturity, but they do show greater tuber weights and plant growth than later varieties, indicating that they reprogram their plant maturity under heat stress. The researchers are currently looking at the genetic variations of potato varieties under heat stress to nd a way to switch the signal to growing tubers. Already they have identied 771 genes that are upregulated due to heat stress, and 649 genes that are downregulated. The genes are involved in many metabolic pathways and provide insight into the mechanism of heat tolerance regulation. Less of an issue in BC Susan Smith, industry specialist for eld vegetables at the BC Ministry of Agriculture, Food and Fisheries, says heat stress is not yet a widespread problem in BC. Most potato production occurs in the Fraser Valley, which is cooler thanks to coastal inuences, while seed potatoes are primarily grown in the Pemberton Valley, where they are harvested earlier. "In 2020, BC growers had a fairly good growing season, with timely rains and not under heat wave conditions," says Smith. "Growers are interested in learning [about heat stress], and if they have a better understanding and know what the symptoms are, they can modify their operations. In BC, we grow 30 dierent varieties, and heat stress can aect some varieties, but some are more tolerant to heat conditions." Smith says that BC growers plant around the May long weekend for the main crop. "Planting can be February-March for the early nugget potatoes that start to be marketed on the May long weekend," she says. "Seed potatoes are also harvested earlier because they want them to be smaller. Knowing that plant genetics are aected by heat stress, growers are in a better position to adapt management." Li welcomes producers to contact him if they would like more information. He can be reached by email [xiu-qing.li@canada.ca]. Research scientist Xiu-Qing Li works out of AAFC's research station in Fredericton. SUBMITTED
Page 36
36 | APRIL 2021 COUNTRY LIFE IN BCTRACTOR TIMEVICTORIA 4377C Metchosin Rd. 250.474.330130 minutes from Victoria and 15 minutes from Highway#1 in Metchosin.tractortime.comPREMIUM TRUCKPRINCE GEORGE 1015 Great Street 250.563.0696WILLIAMS LAKE 4600 Collier Place 250.398.7411premiumtruck.caHANDLERS EQUIPMENTABBOTSFORD 339 Sumas Way 604.850.3601HOUSTON 2990 Highway Crescent 250.845.3333Contact your local Mahindra DealerMahindra 1626 with Box BladeMahindra 1626 with Box Bladehandlersequipment.comby RONDA PAYNE LANGLEY – Small weeds can be a big problem for cranberry growers, who have few herbicides at their disposal for weed control. While a few weeds here and there aren't going to impact a cranberry bog's harvest, growers who ignore the upstarts can nd things easily spiral out of control. "The biggest challenge is when you're renovating and trying to get a new bog going and trying to get ahead of the weed population," says Jack DeWit of Creekside Cranberries in Langley. "You need to stay ahead of the weeds because eventually they do take over the bog and they do impact production." Growers are likely to face more than one kind of weed, so control strategies must be built with information from experts like Thierry Besançon, weed science extension specialist and assistant professor at Rutgers University, and Kim Patten, extension professor emeritus at Washington State University-Long Beach, who spoke at the Pacic Northwest Cranberry Congress, held online February 18. Strategies must reect the realities of the individual crop, eld and time of year. Besançon discussed pre-emergent herbicides, which are for when weeds are just coming up through the soil. Water is essential for these to work, washing the herbicide about seven inches below the soil surface into the weed germination zone. However, the ip side is that humidity and heat will speed up degradation of the products, so growers need to understand the target weed in order to apply the herbicide at the right time. "They will not prevent seeds from germinating and they will not kill dormant seeds," explains Besançon. Controlling weeds may require more than one herbicide. This can deliver a one-two punch, and help prevent resistance from developing. "You can not rely on one single herbicide all the time," says Besançon. Callisto, for example, is available for both pre-emergence and post-emergence use. It's a powerful tool that can help control broadleafs, rushes and sedges, but certain weeds can develop resistance after seven years of continual use. Patten suggests the rst "tool of war" is starting with a clean bog and keeping it clean. He says barnyard grasses have about 7,000 seeds per plant that last three to ve years. Birdsfoot trefoil (Lotus corniculatus) has upwards of 10,000 seeds per plant that can last up to 1,000 years in peat beds. "If you let these things go to seed, it's a problem you're going to be battling forever," says Patten. He recommends a combination of Devrinol and Callisto for spot treatment of birdsfoot trefoil. Lontrel can also help with suppresion. While he doesn't have any data to support its ecacy, Patten has heard anecdotally that a tank mix of Devrinol and Stinger may help control the plant during its dormant season. Some weeds are particularly problematic once they're introduced to a bog, such as brambles. While multiple applications of Callisto help, these can damage the crop. Perennial grasses are also extremely dicult to eliminate once they're established. Controlling vetch risks harming the crop, too, because it primarily occurs later in the summer as cranberries are ripening. False Lily of the Valley is yet another troublemaker. "I don't know how to control this plant," says Patten, which he blames birds for bringing to bogs in the form of seeds. Vinegar can help but it also damages the cranberry plants. Weed control in cranberries takes planningGrowers need to make wise use of limited toolsWhile cranberry growers in Canada have a limited toolkit of herbicides for weed control, presenters at the Pacic Northwest Cranberry Congress, held online February 18, called out a few worth knowing: Casoron: Provides pre-emergence control in sheep sorrel. Eective on annual broadleaf weeds and controlling horsetail. Devrinol: Provides pre-emergence grass control. Lontrel: Oers partial control of sheep sorrel at high applications. Poast Flaxmax: A broadcast spray of this herbicide can control perennial grass seedlings. Select: Eective at eliminating barnyard grass in chemigation treatments. —Ronda Payne Weed fighters
Page 37
Jack DeWit says the ability to develop high-quality cranberries that yield well in local conditions was a key reason for establishing the BC Cranberry Research Farm in Delta. RONDA PAYNECOUNTRY LIFE IN BC APRIL 2021 | 37Six years of cranberry data goes onlineVariety trials help growers make better selectionsby RONDA PAYNE DELTA – The BC Cranberry Research Farm in Delta is making it easier for growers to choose varieties that are best for BC's unique climate. Not only are farmers able to visit the farm and see the varieties in action, they can now look at data for up to six years of trials. Varieties at the farm are the product of breeding programs at Rutgers University and Wisconsin-based Valley Corp. Collecting data at the farm is a project of Renee Prasad, an associate professor in agricultural technology at the University of the Fraser Valley. Prasad outlined the data available to growers and researchers at the 2021 Pacic Northwest Cranberry Congress on February 19. All Rutgers varieties at the farm averaged more than 300 barrels per acre over the past six years, though yields varied in 2020. "Vasanna is the highest yielding over the six years at 483 barrels per acre [in 2020]," says Prasad. Demoranville, another Rutgers selection, was the lowest-yielding variety last year at under 300 barrels per acre. Of the Valley Corp. varieties, Valley King performed best with a ve-year average of 288 barrels per acre. Prasad cautions growers to not take the yield results for any particular year as denitive, as the plots for each variety are just three feet square each. However, yield averages are helpful for comparing performance among varieties. Jack DeWit, owner of Creekside Cranberries in Langley, says low prices drove the need for more productive varieties. "The reality in the cranberry industry is that we always want to improve production," he says. "Extremely low prices, I think, accelerated the desire to renovate and get our production per acre up to get the cash ow." Prasad's analysis of the data looks at a variety of factors including the development of upright foliage moving from dormancy towards bloom. Upright development would be checked once every one to two weeks. This analysis of development stages not only helps determine harvest timing, but also aids in timing for product application to the crops. Not all varieties need the same treatment at the same time. Knowing how quickly a variety progresses will impact chemical treatments in individual elds as well as other management practices. "In 2020, every one was still dormant on March 28," she says. "June 25, we're all the way from 50% to 80% bloom, but Haines is all the way back here at 20%." Prasad encourages growers to focus on how each variety develops rather than general rules. Growing regions like Quebec may have completely dierent varieties from BC because of the dierent growing practices due to climate. The need for local information was part of the impetus behind creation of the research farm, says DeWit. "New varieties [are] always something to strive for, to do better, and good production," he says. "That was the intent of the research farm, to do the variety trials to give you maximum production in this part of the world. Some of the varieties perform completely dierent here." Performance data also includes fruit quality. Prasad looks at rmness and colour, which are important because these measures can result in premium incentive payments from Ocean Spray when berries meet certain www.hlaattachments.com 1-866-567-4162 • Independent grapples for clamping of awkward loads• Tine and grapple tips are AR400 material• Compact models available• 1-1/4" shaft diameter• 2-1/2" spacing between tines• Points are 5/8" thick, 400 Brinell high strength steel• Compact models available• Grapple clamps on to any Class II fork frame with walk through guard Grapple shown mounted on HD55 pallet fork.BRUSH GRAPPLESINGLE ARM LOG GRAPPLESTONE FORKqualications. Berries are hand-harvested at the farm, so rmness scores are relative in the online data. "They're going to get bashed up much more and are going to receive dierent rmness scores [in commercial elds]," she says. Later colour development has been a key factor in BC growers' interest in the Rutgers variety RS-11, while the Midnight varieties from Valley Corp. have been removed from the BC trials because they get too dark by harvest. But Prasad found some concerns when it came to colour in 2020. "The main nding from this year was that all varieties, whether they were harvested in September or October, they all came under this score of 15 that Ocean Spray wants," she says. Within six years of trial data now online, growers can dig into harvest data by variety at [https://bccrf.ca/]. Data on fruit quality data will be added soon. Growers are also able to direct questions to Prasad through the site. Don't forget to RENEW yourrget WSubscription toCountry Life in BC
Page 38
Battlelines drawn when the bulldog bites back38 | APRIL 2021 COUNTRY LIFE IN BCCREDIT CARD # _________________________________________________________________ EXP _____________ CVV _____________ Thousands of BC farmers and ranchers turn to Country Life in BC every month to nd out what (and who!) is making news in BC agriculture and how it may affect their farms and agri-businesses! o NEW o RENEWAL | o ONE YEAR ($18.90) oT WO YEARS ($33.60) o THREE YEARS ($37.80) Your Name _______________________________________________________________________________ Address _________________________________________________________________________________ City ________________________________________ Postal Code __________________________________ Phone _________________________ Email __________________________________________________ www.countrylifeinbc.com/subscribeMAIL TO: 36 DALE RD, ENDERBY, BC V0E 1V4 | subscriptions@countrylifeinbc.com Please send a _______ year gift subscription to ________________________________________________ Farm Name ______________________________________________________________________________ Address _________________________________________________________________________________ City ________________________________________ Postal Code ________ _________________________ Phone _________________________ Email _________________________________________________ SubscribeThe agricultural news source in BC since1915 spun slowly back to life. The gossip was idle at rst, but it was full steam ahead once Junkyard Frank convinced Lois at the store to let him sit at the coee club table for his morning coee. She put danger tape around the table so no one could get within six feet of him, forbid him to invite anyone to join him, and made him promise to behave himself. A month of COVID isolation had been a terrible hardship for Frank and he was chomping at the bit to make up for lost time. He wasn't half-way through his rst cup of coee when Old Jimmy Vincent walked through the door. "Hey there, Jimmy! Long time, no see. How're your pigs doing?" said Frank. "'Bout the same. Always hungry, you know." "That's good. I don't suppose you've heard the news about Pullman and Henderson's mother yet then?" "Can't say that I have," said Jimmy. "Car wreck or something?" "Oh, hell no! Way better than a car wreck! I'll be damned if he hasn't got her shacked up at his place. We're all living in Peyton's Place now, boy." Jimmy's eyebrows raised. "Old Newt must of been pretty quick o the mark then. She hasn't been around very long, has she? You don't suppose it's some kind of shotgun deal, do you? Willard Freemont had come into the store and was standing on the red dot six feet behind Jimmy. He was ddling with his hearing aids. "Somebody looking to buy a shotgun. I've got one I wouldn't mind selling," he said. "Not that kind of shotgun," hollered Jimmy. "We're talking about a shotgun kind of wedding." "Well, we haven't had one of those in a long while, have we?" said Willard. "Who needs to marry who else?" Frank jumped back into the fray. "You'd never guess it. It's Pullman and Henderson's mother." Willard looked puzzled. "You sure? Those two seem a little long in the tooth for that kind of trouble, don't they? Anybody think of calling the Guinness Book of World Records?" The door swung open just as the words left Willard's mouth. "What's this about the Guinness Book of World Records then," asked Harriet Murray. "It's about time we had some good news in the paper." ... to be continued When we left o last time, Deborah had taken the advice of her new lawyer, Elizabeth "Bulldog" Kelly and rejected Kenneth's demand to sign the papers drawn up by his lawyer. Rural Redemption, part 133, continues. Four days after their phone conversation, Beth Kelly called Deborah. "I've studied your husband's proposal and done a little poking around. I am emailing you a counter-proposal I'd like you to read through. We'll talk again when you're done." Deborah read through it several times. She was abbergasted by the value Beth had proposed and said so when she called back. "I was surprised at how much money you proposed." said Deborah. "I'm not sure we have anywhere near that kind of money." "To be honest, it's a bit of a shing trip. You said you were surprised by how low his proposal was. I'm certain he was trying to low-ball you and the best way to handle that is to go the other way. Mr. Berkovic's no dummy. I'm willing to bet we'll see something far more reasonable once he sees this. And you never know, this might be closer to the mark than you think. "I can't imagine Kenneth agreeing to this amount," said Deborah. "I'll be disappointed if it doesn't make him squeal," said Beth. "At the very least, it should set the table for an honest reckoning of what you should expect." ttt The day after he left, Kenneth Henderson told his lawyer Larry Berkovic that Deborah had refused to accept his settlement proposal and had hired her own lawyer. "Did she say who it is?" asked Larry. "She just said her lawyer would be contacting you." "Did you manage to get her to agree to anything?" "No. She's being totally unreasonable and put everything in the lawyer's hands." "Okay," said Larry. "We'll have to wait to hear from whoever it is. I'll keep you posted." A week later, Kenneth got a text message from Larry. "We need to meet ASAP." They were sitting in the conference room at the law oce an hour later. "I take it you've heard from Deborah's lawyer," said Kenneth. "Do you know him?" Larry shook his head. "I don't know him because he is a she. But I do know her." "So, where do we stand?" "Well, Ms. Kelly has reviewed your proposal and responded with one of her own." Larry slid three pages across the table. Kenneth sat back in his chair and began reading. By the time he was halfway down the rst page, he was muttering profanities. By the time he got to the second page, the receptionist at the front desk texted Larry and said that everyone in the oce could hear every word his client was saying. Kenneth threw the pages onto the table when he nished reading. "This is ludicrous. There's no way this is fair. This is just a shing expedition." "Ms. Kelly probably told Deborah the same thing about your proposal." "They just pulled this number out of a hat. There's no way she could prove I have that kind of money." "It's all he said/she said. You would have to prove you didn't have it, which means declaring what you do have or lying about it. And you might want to think twice about trying to b your way past Ms. Kelly, believe me. The court takes a pretty dim view of it and if the judge doesn't think you're being entirely honest, the whole thing will swing Deborah's way." "So, what's the answer then?" asked Kenneth. "Exactly what I told you to begin with. Start by splitting all the assets, including cash and securities and your pension down the middle. If we can negotiate child support and alimony, there's a good chance you could settle this without anyone contesting it. Ms. Kelly would expect full nancial disclosure and you and Deborah would have to be on the same page about access to the children. Bottom line? It will cost a pile of money if it's contested and if it is, Ms. Kelly will go straight for the jugular. I've seen her in action. They don't call her Bulldog for nothing." Kenneth weighed his options for a day, then agreed to meet again with Larry to tally up all the assets and propose a 50/50 split. He asked if they might not try to keep his pension out of it. Larry agreed to try, but only because it would end up looking like a concession for them and a win for Ms. Kelly. ttt While the divorce negotiations were underway, Susan and Newt settled into their relationship and the community rumour mill, which had been more or less idle since the pandemic came, Woodshed Chronicles by BOB COLLINS
Page 39
Education centre showcases maple syrup productionCOUNTRY LIFE IN BC APRIL 2021 | 39Gary Backlund prepares to tap one of the bigleaf maple trees in his 70-acre forest. SUBMITTEDFarm and Rural Residential Properties in the Peace Country are our specialtyAnne H. ClaytonMBA, AACI P App, RIAppraiserJudi LeemingBHE, AIC CandidateAppraiser250.782.1088info@aspengrovepropertyservices.caby RONDA PAYNE BRACKENDALE – Two short videos of maple syrup production at the Cheakamus Centre in Brackendale highlighted the Growing Chefs annual general meeting, held online March 7. The videos – part of a series of 20 virtual eld trips – were part of how Growing Chefs rejigged its programs last year when the COVID-19 pandemic kept it from working directly in classrooms to educate students about food systems from seed to plate to compost. The videos were viewed an average of 3,500 times each, while printable colouring sheets, recipes and activity ideas rounded out the virtual oerings. "We thought it would be a really nice way to have that two-way street with the classroom," says Growing Chefs program manager Selma van Halder. The videos featuring Cheakamus Centre, a 165-hectare environmental education facility owned by North Vancouver School District, follow the centre's executive chef Wade Rowland through the bigleaf maple forest on site and on to syrup production. Most people who tap maples in BC do so to create their own syrup rather than produce it commercially. "Here we have a very long tapping season," he says. "It's multiple months compared to back east." The bigleaf maple is native to the Pacic Northwest. Its sap has about half the amount of sugar as the sugar maples of eastern Canada. That means it takes about twice the amount of sap to make syrup. A single litre of bigleaf maple syrup can require 60 to 150 litres of sap. "Making maple syrup is not an easy or fast thing to do," says van Halder. Sub-zero temperatures at night and above-freezing during the day trigger sap ow. The sap being collected also needs to be protected from marauding critters eager for a sip from the buckets that collect it. "Many creatures will steal the sap when it's in the jug," says Rowland. "It's like juice boxes for them." By the book Other maple syrup producers like Gary Backlund of Vancouver Island, near Ladysmith, learned the practice of tapping at a master woodland course taught by Harold Macy, a farmer and forester in Merville. Backlund has been tapping maples for about 20 years on his 70-acre managed forest. His daughter Katherine Banman has been involved as well and the pair published their book Bigleaf Sugaring: Tapping the Western Maple in 2004. "There's still demand. Most of our book sales now are in Oregon and Washington," he says. However, there is a small cottage maple syrup industry in BC, which is very dierent from the commercial production in eastern Canada. Quebec reported 4,776 syrup producers in the 2016 Census of Agriculture while BC reported just ve. It was only recently that maple sap and syrup revenues were recognized as contributing to farm income for a property's farm class status with BC Assessment. Knowing when the sap is Little & Large, Local & Long, Europe & N. AmericaPort to Dealer, Farm to Farm & Anything in BetweenSee TAPPING on next page oHundreds of people tap trees in BC but few sell their 'liquid gold'
Page 40
Agricultural Grade Products - Made in the U.S.A. Contact your local Nelson Irrigation dealer today!TAP INTO OUR WEBINAR SERIES! NELSONIRRIGATION.COMROTATOR®TECHNOLOGYREIGNSNEW HANGINGSPRINKLER SOLVESPROBLEMS FORORGANIC GROWERS15-50 PSI8.5-75 GPH9-16' RAD.Introducing the S7 Spinner - a new Nelson innovation designed to combatrising energy and labor costs. The S7's modular design allows quick and easynozzle exchange - and the Quick Clean (QC) technology reduces irrigatorhours — simply turn, flush and reconnect. Special insect protection helpsprevent plugging or stalling. Find out more at WWW.NELSONIRRIGATION.COMGlenn Janzen stands outside his sugar shack in Black Creek. SUBMITTED40 | APRIL 2021 COUNTRY LIFE IN BCTAPPING is more art than science nfrom page 39Forest Discovery Centre in Duncan where even small tappers have been known to sell a bottle or two. "We always have more than 1,000 people attend and they have to pay to attend," says Backlund. "That says a lot." The bigleaf maple may be dierent from the sugar maple, but it clearly has fans of the hard work required to produce syrup. "It gets you outdoors when you wouldn't probably go outdoors," he says. "It's work. It's like farming. It's not a get-rich-quick scheme." Kids need a better understanding of where their comes from. "Some of our kids can't even identify a bean or a pea," says Kara-Leigh Bloch, executive director of Growing Chefs!, which also operates LunchLAB, a hands-on lunch program. Prior to COVID-19, a record 193 volunteers were ready to take food education to 60 classrooms. In 2020, however, LunchLAB partnered with Fresh Roots, a youth empowered food-growing non-prot, to provide chef-prepared meals to students and their families. More than 67,750 meals were distributed to 575 individuals each week of a ve-month period. Growing Chefs also started Vegeta-Pals where elementary school kids were paired with chefs, farmers and other food system champions in a virtual pen-pal interaction. –Ronda Paynerunning is a bit mystical. Temperature is a guide, as is snipping a branch a little thicker than a pencil to see if the sap runs. But it's no guarantee. "We understand when to tap less than we understand teenagers," says Backlund. "It's like checking the mail. You never know what's going to be there." He estimates about 1,000 people on the island harvest sap – more than anywhere else in BC – with just a handful selling syrup commercially. Glenn Janzen of Beneath the Bark Sugar Shack in Black Creek is one, selling his syrup for up to $160 a litre. Demand outstrips supply. His son David does the tapping, Glenn does the evaporating (as the sugaring process is known), then David nishes the process to bottling. "We tapped 300 trees this year," says Janzen. "It's a very dark syrup; it's very rich avour. A little goes a long way." While few sell their syrup commercially because "it's too precious," according to Janzen, the annual Bigleaf Maple Syrup Festival has drawn upwards of 2,000 people in non-COVID years. The event is held at the BC Good food for kids
Page 41
Jessica Birdsall, left, of Crestview Farms and Jessica Piccinin of Root and Vine Acres, holding three-month-old son Felix and a Mangalitsa piglet, make deliveries of Creston Valley meat and produce around the West Kootenays. BRIAN LAWRENCE COUNTRY LIFE IN BC APRIL 2021 | 41Catering to rising demand for local foodOpen to all youth across BC in 2021Indulge yourself in the opportunity to touch, taste, smell, and feel locally grown, healthy ingredients and form memorable connections!Details will be announced by 4-H BC in May 2021 at www.4HBC.caby BRIAN LAWRENCE CRESTON – When the uncertainty of a pandemic blanketed the world, Jessica Piccinin didn't sit back to wait out the tough times. She jumped into action, recognizing that concerns about food security were high. "There was a huge shift to local food," says Piccinin. "There were a lot of customers who didn't want to go to the grocery store, and didn't want to go out in public. People got scared there would be nothing at the grocery store." Piccinin, who owns Wynndel's Root and Vine Acres with her partner Je Sass, had already been delivering her own pasture-raised Berkshire heritage and Mangalitsa specialty pork throughout the West Kootenays. Their booth and food truck had been popular xtures at the Creston and Nelson farmers markets. Seeing an increased need during the pandemic, she started making deliveries twice a month along with lamb producer Jessica Birdsall of Crestview Farms in Creston. Customers were appreciative, but wanted – and still ask for – more meat and produce from the Creston Valley. That led to deliveries of microgreens, chicken, garlic, spices and honey, among other things, eectively turning their truck – and sometimes, truck and trailer – into a mobile grocery store, one that oers the freshest food from more than a half-dozen Creston-area farms. "We're picking it up the day before," says Piccinin. "We're not storing stu." Their 365-km "Kootenay Loop" takes them along Kootenay Lake's east shore to Crawford Bay, across the ferry and north to Kaslo, then south to Nelson, Castlegar and Salmo. They plan to start delivering in the East Kootenays this year, as well. "This way, we nd a connection in a time when nobody has a connection," says Piccinin. "Sure, it's from six feet, but you're still making a connection." The connection created by providing food is unlike any other, she adds, thinking of a youth whose mother visited the Root and Vine booth while she was pregnant. "I fed her in the womb, I fed her as a child," says Piccinin. "You feel like you're part of someone's family because you're feeding them." Fifteen years earlier, Piccinin's life was much dierent – after growing up on the family farm in Erickson, she was ready for something dierent and moved to Grande Prairie, Alberta. She worked in safety and equipment administration for a survey company in the oil elds by day and bartended at night. But in 2007, her grandma needed help on the farm, so she moved back to Erickson, fell in love with farming and started Root and Vine Acres in 2008. She moved the farm from Erickson, east of Creston, to Wynndel, north of Creston, in 2015, onto a 10-acre property that already had raspberry bushes, and cherry and apple trees, to which she added a two-acre garden and farrowing barn. For Birdsall, teaming up with Piccinin came at the right time, having launched Crestview Farms in the months leading up to the pandemic. "From a very young age, I always wanted to farm," says Birdsall, who works the farm with her husband, Aaron, her parents and brother, continuing a family farming tradition that began in 1908 with her great-grandparents' Lower Mainland dairy farm. Birdsall's parents eventually bought the dairy farm, moving it to Creston in 2011. Birdsall followed in 2016 after three years of grading grain and loading train cars at a grain elevator in Olds, Alberta. She wasn't interested in milking cows, though, so her mom suggested milking sheep. Birdsall was intrigued, but ultimately decided to start with meat, after participating in the Local Entrepreneurship Accelerator Program (LEAP), designed by SFU and Creston's Kootenay Employment Services to help entrepreneurs evaluate and test business ideas. "People said it was hard to nd lamb," says Birdsall. "So you just do it," says Piccinin. "Raise more lamb." That "just do it" attitude is spreading throughout the region, she's discovered. More people have expressed an interest in raising their own food and the demand for piglets is so great that Piccinin has expanded from ve sows to over 20. To support new growers, the province released a small-lot pork producer manual to ensure they've got the information needed to be successful. The increase in interest is something Piccinin loves to see. "There are so many people that need to eat," she says. "Everyone has to work out their own niche, but we need to grow food." Mobile market makes the rounds
Page 42
couA perfect way to cook and serve pork — hot off the grill. JUDIE STEEVES42 | APRIL 2021 COUNTRY LIFE IN BCHigh off the hogThis would make a quick meal or appetizer, and is delicious served with steamed sugar peas, fresh from the garden, and a mound of rice. 1 tbsp. (15 ml) vegetable oil 1 lb. (454 g) diced pork sirloin or loin 3 shallots, sliced 2 cloves garlic, minced 1 tbsp. (15 ml) fresh ginger, minced 1 hot Thai chili, split Garnish: sliced green onion, chopped peanuts, cilantro leaves and lime wedges • Heat the oil in a heavy-bottomed frypan over high heat. Add the pork, making sure to brown it on all sides. Once browned, remove the pork to a plate. (It won't be cooked through.) Reduce the heat to medium and add the shallots, garlic, ginger, hot chili, bell pepper and celery. Cook, stirring, until the shallots are softened and lightly browned to golden, about ve minutes. Stir in the beer and brown sugar, then turn up the heat to medium-high and boil, stirring occasionally, until reduced to a syrup consistency and the bubbles are quite small, about ve to 10 minutes. • Add the pork back to the sauce, stir well, and season with the sh sauce and sriracha. Cook until the pork is just cooked through and the sauce coats it like a glaze, two to three minutes more. • Top with garnish and serve with rice and steamed sugar peas. • Makes 4 servings. CARAMELIZED CHILI PORK, WITH PEANUTS AND LIMEThese are essentially Italian kebabs or skewers of meat, which can be made using pork or beef. They make a great appetizer and are lovely cooked on the barbecue, which you've probably just dug out and dusted o for the season. Saskatoon Berry Sauce: 16 6-inch bamboo skewers 1 lb. (454 g) boneless pork loin, centre cut 1 tbsp. (15 ml) olive oil 1 clove fresh garlic, minced For grilling: 1 tbsp. (15 ml) olive oil 2 tbsp. (30 ml) fresh parsley, chopped 1 tbsp. (15 ml) balsamic vinegar • Soak the bamboo skewers in water for an hour to help prevent them from burning on the grill. • Trim the pork of extra fat and silver skin and cut into small, bite-sized pieces. Toss the pork with the oil, minced garlic, chopped rosemary, pepper and salt. Marinate in the fridge for at least 10 minutes and up to two hours. • Thread the pork onto the skewers. Leave a space at the blunt end for a handle, but make sure the sharp end of the skewer is covered by pork to avoid scorching. • For grilling, mix the olive oil, chopped parsley and vinegar in a small dish. Heat the grill to medium-high and fold a 12-inch sheet of foil twice to make a three-inch strip. Place this on the grill to protect the handles of the skewers. Then lay the skewers of pork on the grill, side by side, so the handles are all on the foil. • Use the rosemary sprig as a brush, dipping it into the oil and parsley mixture and basting the Spiedini as they grill. Cook until they reach an internal temperature of 155°F, about four minutes a side. • Serve on a platter with the lemon wedges and rosemary sprigs to garnish. SPIEDINII was flabbergasted to look out the window and see pig after pig passing by on the way to my vegetable garden. I yelled, "Who left the gate to the pigpen open?" and jumped into my rubber boots by the door in preparation for a chase around the yard. The dogs joined in and the chickens got in the way. The kids were less than helpful and their toys kept tripping me up. We were able to get two or three back into their fenced compound, but every time we opened the gate to shove another in to join them, they rushed the gate and got loose again. Finally, we all heard a familiar sound and pigs suddenly just appeared from everywhere, romping in from the bush, coming around the corner of the hen house, pushing under the wire from the lettuce patch – all heading to the feeding trough. I just had to open the gate and they all tumbled in. Who knew the dinner bell –just a wooden spoon on the old pail we dumped scraps in –would have such an effect on porcine behaviour! It was a lesson to us all. We even used it to entice them into the back of the pickup for the trip down the road at the end of the season. We enjoyed the end of the season: spicy barbecued chops, ground pork for stuffing vegetables; succulent roasts with sage and other herbs from the garden; saucy ribs; smoked hams, bacon, sausage, salami and other deli meats. And, it's apparent that so do married chefs Michael and Anna Olson. He has penned the ultimate book on prepping and cooking pork, with more than a hundred recipes and whole chapters about the buying and butchering, and then cooking every bit of the delicious beastie. Titled Living High Off the Hog, in these 288 pages are a banquet of ideas for different ways of preparing pork, from mouth-watering appetizers When Pigs Fly to Joe Meatloaf, Tuesday Tacos and Garage Chops and finally, roasting the animal whole. This book is one for the cookbook collector with pages and pages of useful basic information, plus a wide range of recipes for how to serve pork, including the Easter ham and the pork hocks remaining after the ham has been smoked. Jude's Kitchen JUDIE STEEVES1/2 red bell pepper, diced 1 stalk celery, diced 3/4 c. (180 ml) lager beer or water 1/3 c. (80 ml) packed dark brown sugar sh sauce or salt Sriracha sauce2 tsp. (10 ml) chopped fresh rosemary 1 tsp. (5 ml) ground black pepper 1 tsp. (5 ml) salt1 fresh rosemary sprig, plus more for serving lemon wedges, for servingTRACTORS/EQUIPMENTDeBOER'S USED TRACTORS & EQUIPMENT GRINDROD, BCLOOKING TO BUY USED JD TRACTORS 60-100 HP JD 6140D 2013, MFWD, CAB, 140 HP, 4350 HRS, 24 SP FWD/12 SP REV, HI LO PWR REV $79,000 JD 7810 COMING SOON! IHC 474 W/LDR SOLD! JD 2750 4WD, RB & LDR 26,500 JD 5105 2WD, 2006, 1,400 HRS 15,000 [ADD LOADER TO 5105 3,500] JD7600 MFWD 45,000 JD 230 24' DBL FOLD DISK 16,500 HAY - BIG SQUARES CALL! ED DEBOER 250/838-7362 cell 250/833-6699 CURT DEBOER 250/838-9612 cell 250/804-6147MASCHIO C280 ROTILLER c/w gauge wheels 110" width 2002 model but used very little. Always sheded,exc condition. $7000 250 567-2854 or 250 567-8172TRACTOR WITH BRUSH MOWER in good condition. $12,500 obo 604-217-3197 or 778-242-2620 EQUIPMENT DISPERSAL • LOEWEN AGITATOR 18', 100 HP prop, nice condition, $2,500. • LOEWEN SUB SOILER two shank, big shoes, mint, $3,000 • LOEWEN SUB-SOILER 5-shank, small points, as new, $4,500 • LOEWEN MANURE TANK 3,000 gal tandem, diamond-tread, flotation tires, very nice. $30,000 • LOEWEN 4,000 gal manure tank new-tandem Diamond tread, flotation tires, twin pumps, pre-vac, big boom with roller Nice condition $65,000 • HAY WAGON 20', flotation tires, $1,600 • NH 520 Single axle manure spreader 2ft side extension top beater rear pan hydraulic end gate Mint condition, $13,500 MAY MARKETPLACE DEADLINE APRIL 23
Page 43
COUNTRY LIFE IN BC APRIL 2021 | 43ADVERTISING THAT WORKS!couADVERTISING THAT WORKS!WEB HOSTINGProfessional Local Web Hosting ServicesPROUD HOST OFwww .countrylifeinbc.comwebsitehosting.caZcXjj`Ô\[j7Zflekipc`]\`eYZ%ZfdfiZXcc1-'+%*)/%*/(+C@E<8;J1),nfi[jfic\jj#d`e`dld(*gclj>JK#\XZ_X[[`k`feXcnfi[`j%),;@JGC8P8;J1),gclj>JKg\iZfclde`eZ_M[WYY[fjcW`ehYh[Z_jYWhZi$MAY DEADLINE APRIL 23countrylifeinbc.comvisit us online TRACTORS/EQUIPMENT LIVESTOCKLIVESTOCKREAL ESTATEACCOUNTINGWANTEDFOR SALEFOR SALECOURTENAY HEREFORDS. Cattle for Sale: yearling bulls and bred heifers. John 250/334-3252 or Johnny 250-218-2537.HAYHAYSEED1-888-770-7333PYESTERDAY'S TRADITION - TODAY'S TECHNOLOGYMANAGERS Phil Brown 250-293-6857 Catherine Brown 250-293-6858 ccr.princeton@gmail.com www.coppercreekranch.com PRINCETON, BC Raising registered polled & horned Herefords & F1s. BREEDING BULLS FOR SALE. Call DON GILOWSKI 250-260-0828 Royal LePage Downtown Realty Ltd INTERESTED IN BUYING OR SELLING OKANAGAN FARM, RANCH OR ACREAGE? BERRIESRAVEN HILL MEADOWS: Coneygeers bloodlines - call for seedstock. 250-722-1882. NanaimoFor Tissue Culture Derived Plants of New Varieties of Haskaps, Raspberries, Blueberries, Blackberries, Saskatoon Berries and Sour Cherries, Please Contact:DISEASE FREE PLANTING STOCK OF NEW BERRY CROPS 4290 Wallace Hill Road, Kelowna, BC, V1W 4B6info@agriforestbiotech.com250.764.2224www.agriforestbiotech.com HAYLAGE EXCELLENT QUALITY HAYLAGE 950-1100 LB BALES Delivery available on Vancouver Island and along the Trans Canada Hwy corridor in BC. Reasonable prices. 250-727-1966NEW POLYETHYLENE TANKS of all shapes & sizes for septic and water storage. Ideal for irrigation, hydropon-ics, washdown, lazy wells, rain water, truck box, fertizilizer mixing & spray-ing. Call 1-800-661-4473 for closest distributor. Manufactured in Delta by Premier Plastics Inc. premierplastics.com. Feeders & Panels that maintain their value!ROUND BALE FEEDERS BIG SQUARE BALE FEEDERS FENCE PANELS CATTLE & HORSE FEEDERSHeavy duty oil field pipe bale feeders. Feed savers, single round bale feeders outside measurement is 8'x8.5.' Double round bale feeder measurement is 15'x8'. Silage bunk feeders. For product pictures, check out Double Delichte Stables on Facebook Dan 250/308-9218 ColdstreamFARM EQUIPMENT and PARTS • ROLLOVER PLOWS 3 and 4 BTM, in-furrow, and on-land, $3750 to $6750 • FORD and OLIVER Semi Mount Plows, 5 or 4 BTM, $1600 each. • HD BREAKING PLOW, 1Big BTM on wheels, $3,600 • HD V-SPADE Root Cutter on wheels, 1 ripper spade, $2800. • CO-OP 26' CULTIVATOR, drawbar pull, HYD fold, $6500. • CRUST-BUSTER, 24' drawbar pull, S-Tines and Harrows, $4,600. • 2 NEW CULTIVATORS, 5' and 6', S-Tines, 3PH, $650 each. • JOHN DEERE CULTIVATOR, Row-Crop 4 row, $1000. • CULTIVATOR DUCK FEET TIPS, New and Used, bigger sizes. • NORTHWEST ROTOTILLER, Straw-berry/Row Crop 2 row, $2500. • IH SIDE DRESSER, Granular fertil-izer, Cultivator, 4 row, $1800. • RIDGE MULCHER TD 2000, hydride, draw-bar pull, near new, $5500. • CROP SPRAYERS, Truck, Trailer and 3PH models, 150 to 850 Gal, Call for details. • JIFFY and CRAWFORD HYDUMPS, 14', $2900 and $5900. • FEEDER HAY, 400 -16'x18' bales, $6 each • GRAIN BINS, small to medium sizes, $700 and up. • LEWIS CATTLE OILERS, Offers. • TRUCK RIMS or TIRES, many sizes,. • PICKUP BOXES, New and Used long boxes, Dually or Single wheel. • OLDER TRUCKS and Parts. Call Jim for hard to nd items, Abbotsford BC at 604-852-6148 Toll Free 1-888-357-0011 www.ultra-kelp.comREGISTRATION NO. 990134 FEEDS ACT Keeping Animals Healthy The Natural Way FLACK'S BAKERVIEW KELP PRODUCTS INC Pritchard, BC (est. 1985)It's the top linethat makes the Bottom LineBC SHORTHORN ASSOCIATION Scott Fraser, President Bob Merkley, BC Director 250-709-4443 604-607-7733PREMIUM HAIR BRED LAMBS FOR SALE Foundation breeding stock lambs: Purebred St. Croix (maternal excellence, parasite resistance, height/length, small bone/less fat) and Registered White Dorper (impressive bulk, rapid gain). Commercial Royal White market lambs available for your pasture finishing. Robust, fast gain, large carcass with high meat yield. All lambs available June 2021. Also, limited PUREBRED WHITE DORPER ewes available. Starter flock packages arranged. All excellent health, ideal conformation, clean genetics. Reserve your selections with deposit, while supplies last. 250-375-2528 proudewe@gmail.com www.harmonykennelandlamb.comGREAT SELECTIONQUALITY PRICETerra Seed Corp1.800.282.7856terraseco.com• 2015 INTERNATIONAL TERRASTAR 4WD extended cab, automatic trans, custom factory built flat deck with hydraulic lift gate, duel large under deck high quality polished stainless locking storage boxes. This truck is just like new out of the show room with only 17000 km. Perfect truck for any one who wants to improve their business efficiency with a better image. Ideal truck for farmers, land-scapers, traffic control business. Also great truck for delivery work for feed stores. This truck is a must see. Contact Carl 604-825-9108 or email ourgoodearth@live.comFirst cut feeder grade ALFALFA. 3x4s, weed free, barn stored. From $150/ton FOB Creston. Stuart 604-308-6222Excellent 2nd cut ROUND BALE HAY. Limited amts. South Surrey. $65/bale. 604-538-4435First cut HAYLAGE, 4x4, wrapped. Tap-pen. Delivery available. 250-835-2211Wanted: Good condition NH166 hay inverter Call John 604-894-6745 or email johnvanloon58@gmail.comExcellent Agricultural BUSINESS OPPORTUNITY: Water Buffalo Dairy herd for sale. Italian Mediterranean water buffalo herd, approximately 100 females from top Italian genetics. Ages range from weaned calves to approxi-mately 10 years. Some pregnant and some ready to milk. Purebred Italian Mediterranean bulls also available. For more information, contact Ontario Water Buffalo Company at 613-395-1342 or email us at ontariowaterbuffalo@mail.com Pacifc Forage Bag Supply Ltd.www.pacificforagebag.comCall 604.319.0376Vtw|ÄÄtv etÇv{REGISTERED BLACK ANGUS YEARLING BULLS GEORGE OR MAGGIE 250-372-9721— KAMLOOPS — JD 716A FORAGE WAGON, front unload, on JD 740 running gear. Always kept under cover. $5,500 250-546-6586LOWLINE semen for sale. Silverhills Lowlines 250-547-6465 littlecow@telus.netDISCOVER PRINCE GEORGE COUNTRY SUNSETS & quiet mornings on the back porch. Custom built executive home. MLS R2546868 $949,900 MASSIVE BEAUTIFUL HOME on 70.48 acres with air strip and hanger. MLS R2531909 $933,300 CONCRETE & GRAVEL BUSINESS Full line of equipment. Comes with lease for gravel extraction. MLS C8020796 $599,900 10070 MCBRIDE TIMBER RD. An outstanding agricultural 445 acre property enjoys a pastoral private setting & lovely views of moun-tains to the east. This attractive home was extensively renovated in 1998 plus some recent updates. MLS R2490397 NEARLY 500 ACRES of prime farm land on Fraser River, almost all in cultivation. 5 bed/3 bath home, outbuildings. Turn-key cattle ranch and/or prosperous haying enterprise. MLS®R2444096 $1,400,000 2 ACRE BUILDING LOT, PG, MLS R2446743, $79,900 55 ACRES Development potential close to airport. MLS R2435958, $599,900 112.02 ACRES IN CITY LIMITS. Potential for development. MLS R2435725. $1,300,000 MOUNTAIN RESORT on 82.2 acres. 17 furnished chalets, 50 RV campsites. MLS®C8019821 $5,500,000 PRINCE GEORGE & AREA RURAL LOTS see MLS: R2531431; R2531443; R2460090; R2460086; R2460089; R2461054; R2475847 Carrie Nicholson PREC* 250-614-6766 Carrie Nicholson PREC* 250-614-6766 STUNNING MOUNTAIN RESORT on 82.2 acres. 17 furnished chalets, 50 RV sites. Year round business – perfect wedding, family renion venue MLS®C8019821 $5,500,000
Page 44
44 | APRIL 2021 COUNTRY LIFE IN BCSOME CALL IT SPRING. WE CALL IT KUBOTA SEASON.As the snow melts, the anticipation builds: spring is the start of Kubota season. Whether it's a new build, a redesigned back yard or the family farm, Kubota has the equipment and attachments that t your needs—and your budget.kubota.ca | 1521 Sumas Way, Box 369Abbotsford, BC V2T 6Z6(604) 864-9568avenuemachinery.caAVE010OLIVER GERARD'S EQUIPMENT LTD 250/498-2524 PRINCE GEORGE HUBER EQUIPMENT 250/560-5431 SMITHERS HUBER EQUIPMENT 250/847-3610 VERNON AVENUE MACHINERY CORP 250/545-3355 ABBOTSFORD AVENUE MACHINERY CORP 604/864-2665 COURTENAY NORTH ISLAND TRACTOR 250/334-0801 CRESTON KEMLEE EQUIPMENT LTD 250/428-2254 DAWSON CREEK DOUGLAS LAKE EQUIPMENT 250/782-5281 DUNCAN ISLAND TRACTOR & SUPPLY LTD 250/746-1755 KAMLOOPS DOUGLAS LAKE EQUIPMENT 250/851-2044 KELOWNA AVENUE MACHINERY CORP 250/769-8700 PROUD PARTNER OF